31 Awesome 3D Printed Computer/Laptop Accessories to Make Now (Free)
Computers and laptops are known to always come with many component parts. However, for convenience and efficiency, most computer users don't know what cool models and accessories are out there.
Thankfully, 3D printers can help. You would be amazed at the cool and effective accessories you can print using your 3D printer. This led me to compile a list of some of the ones I find most amazing and handy. Enjoy!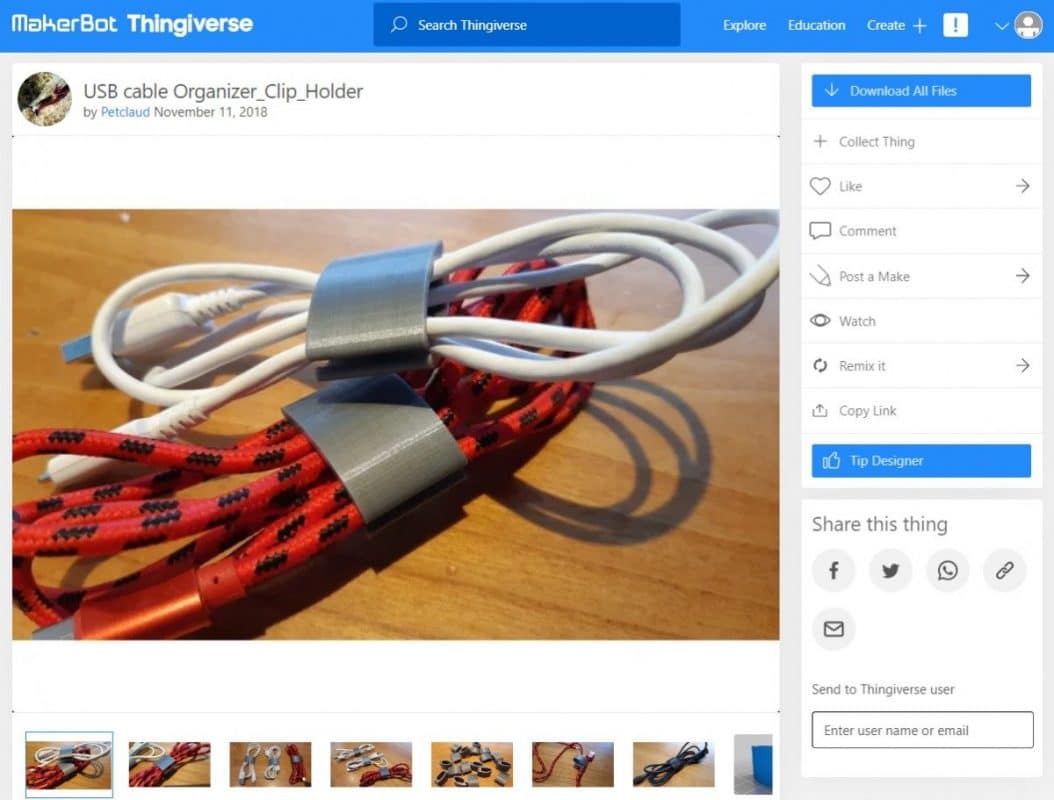 Cables generally can be a bother sometimes, thus the need for a cable organizer. These were designed by Petclaud taking inspiration from the old Nokia USB cable and they come in various sizes.
Now you can pack your cord neatly when taking a trip without fear of it getting entangled.
Created by Petclaud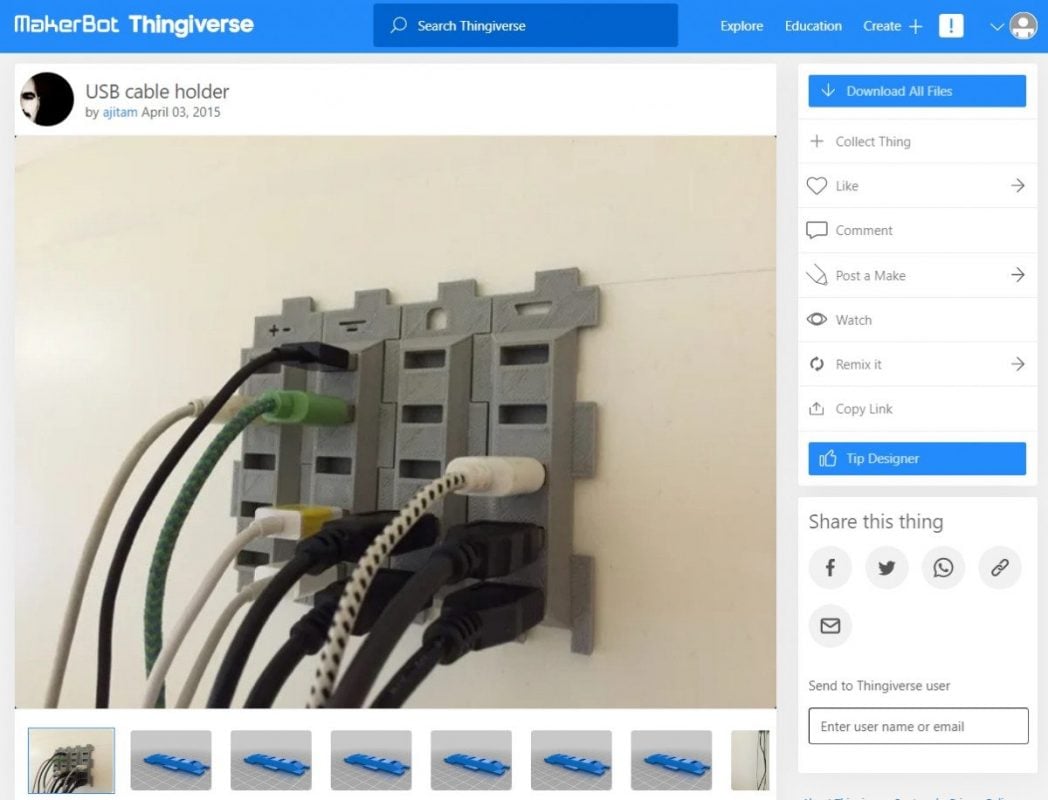 This is a stackable USB holder with a variation of USB types ranging from mini to USB-C and the USB 3.0 micro B. With a USB holder, you need not have USB lying on the ground.
Created by ajitam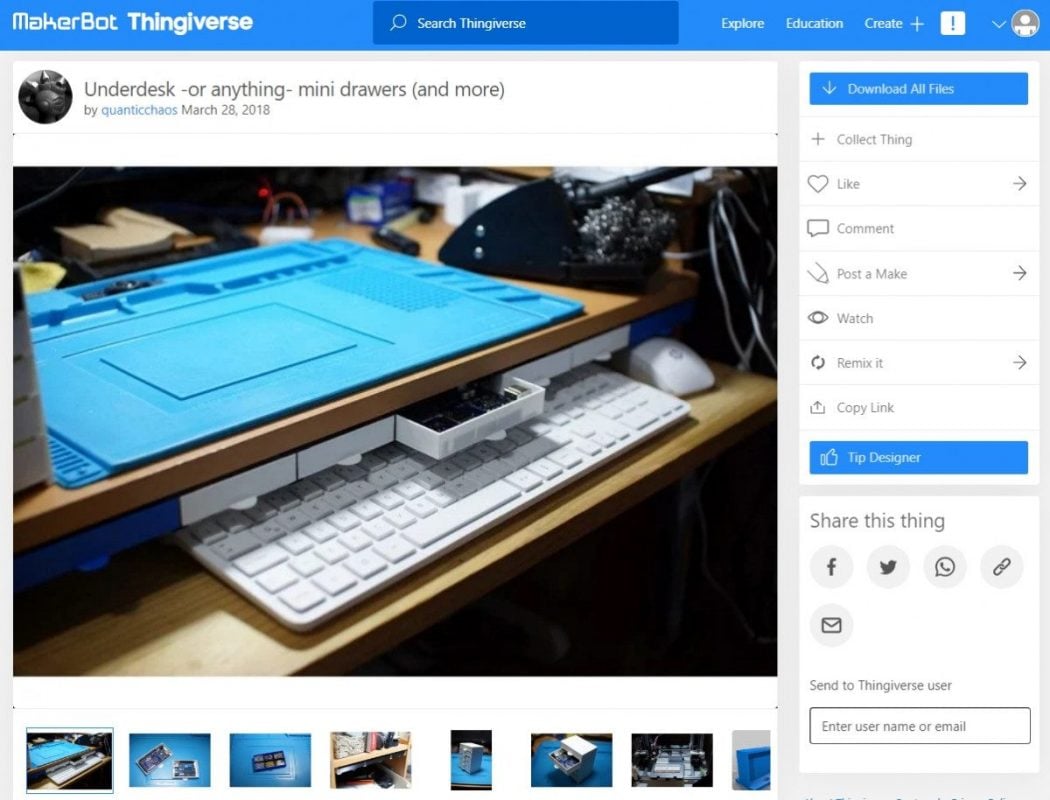 Organization makes for an easier existence. With a mini drawer, that you can screw under your desk or any surface at all, there is a place to put your accessories. I find it most useful for putting my memory cards, earbuds, microchips, etc.
You may find it useful.
Created by quanticchaos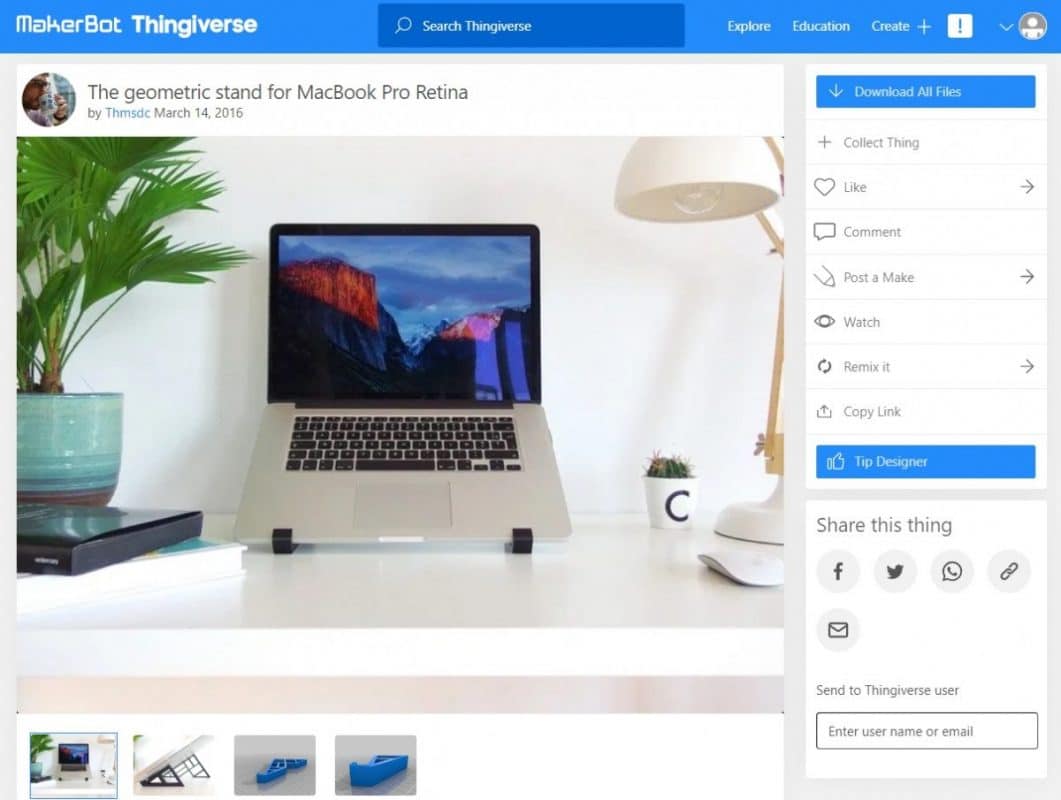 This stand raising the screen of your laptop to give you a better viewing and working experience. It is built to accommodate the weight and screen opening angle of your laptop.
Although the designer, designed it using the MacBook Pro Retina laptop, it can be remixed to suit other laptop models such as the 16″ MacBook Pro and the Dell Inspiron 15 7000″.
Created by Thmsdc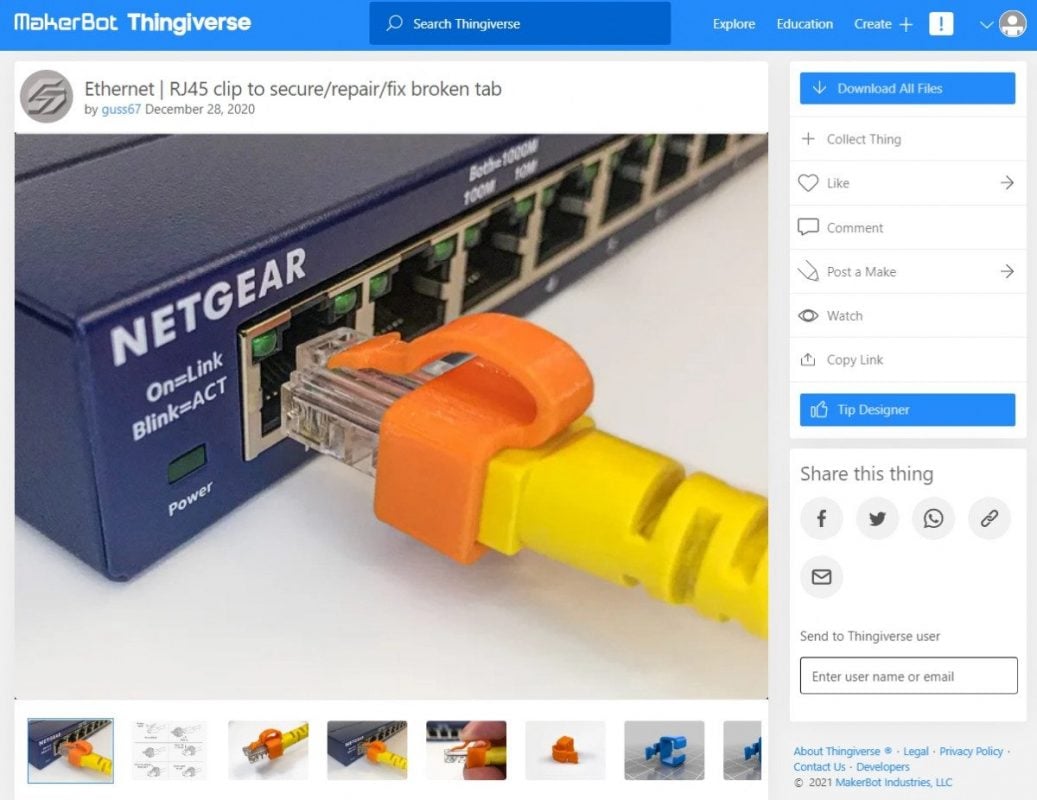 Ethernet clips very easily get broken but with your 3D printer, this can be resolved using a substitute. Wear it on your Ethernet cord with a broken clip, press down till you hear the tap sound, and it's good to go.
Created by guss67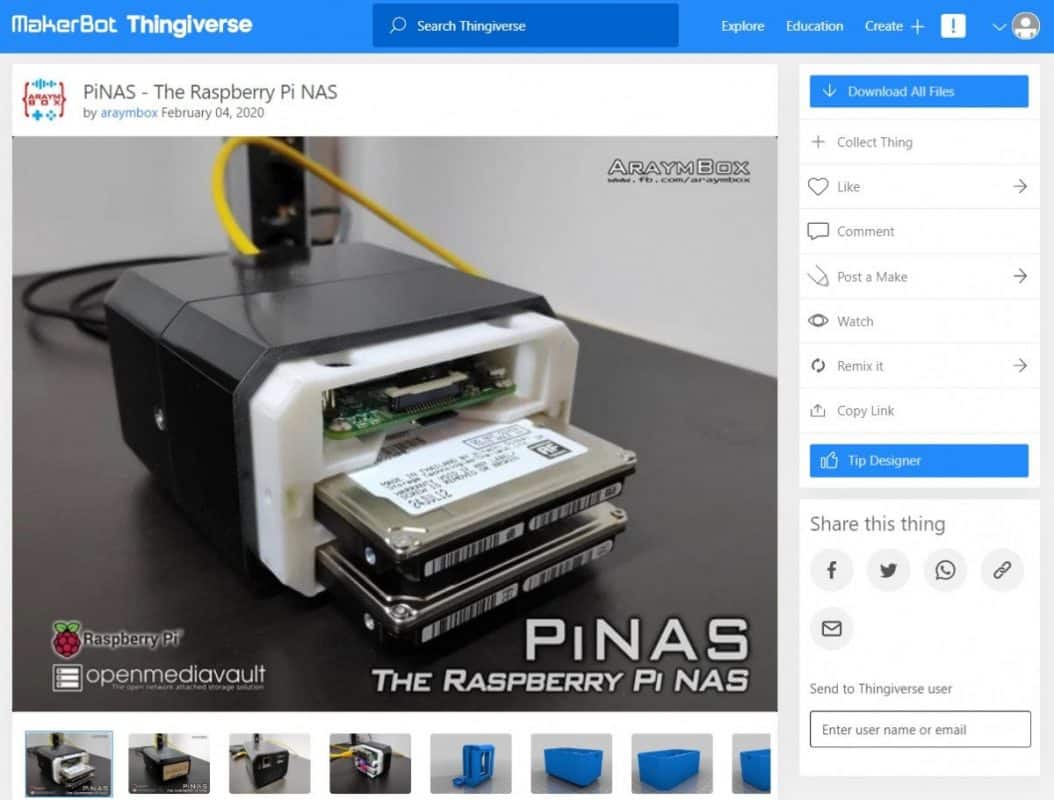 This single board computer network attached Storage was created by araymbox. Making one of these can be quite technical but you can get a detailed step-by-step guide to put you through on Instructables.
Created by araymbox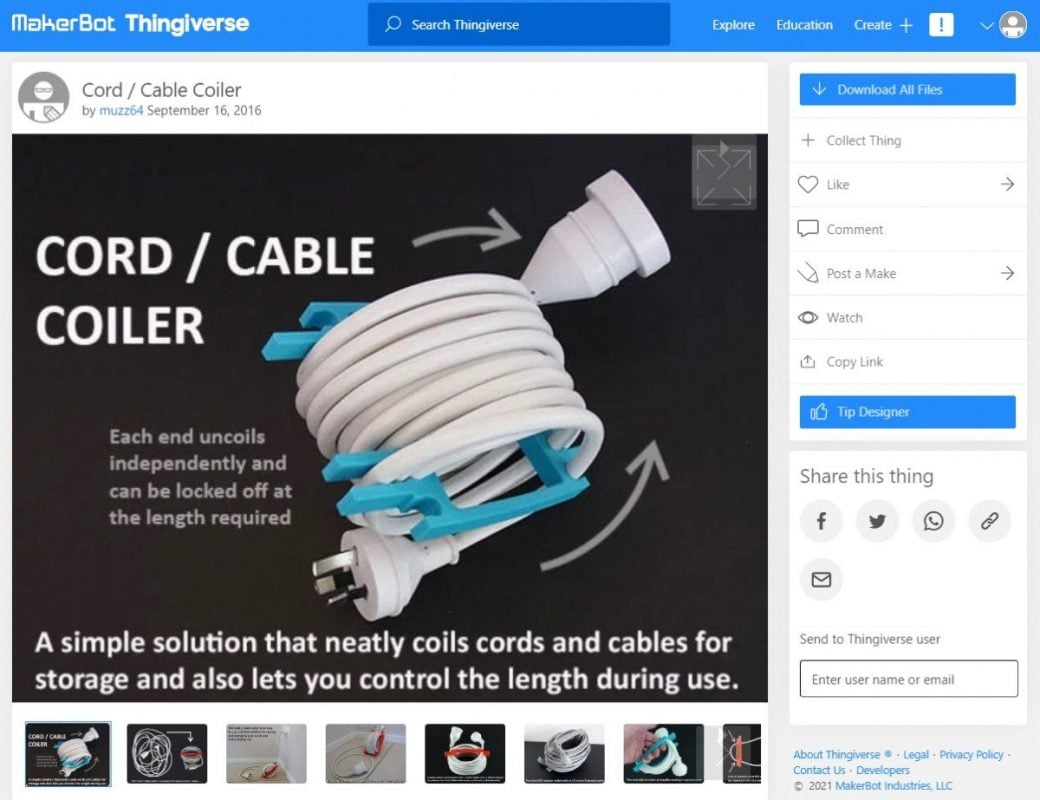 Don't you ever get wish your cords weren't so long and untidy? Well, thankfully with this cable coiler that allows you coil your cables for safekeeping and also controls the length uncoiled per time, your wishes are met. Additionally, it is exceptionally easy to print.
Created by muzz64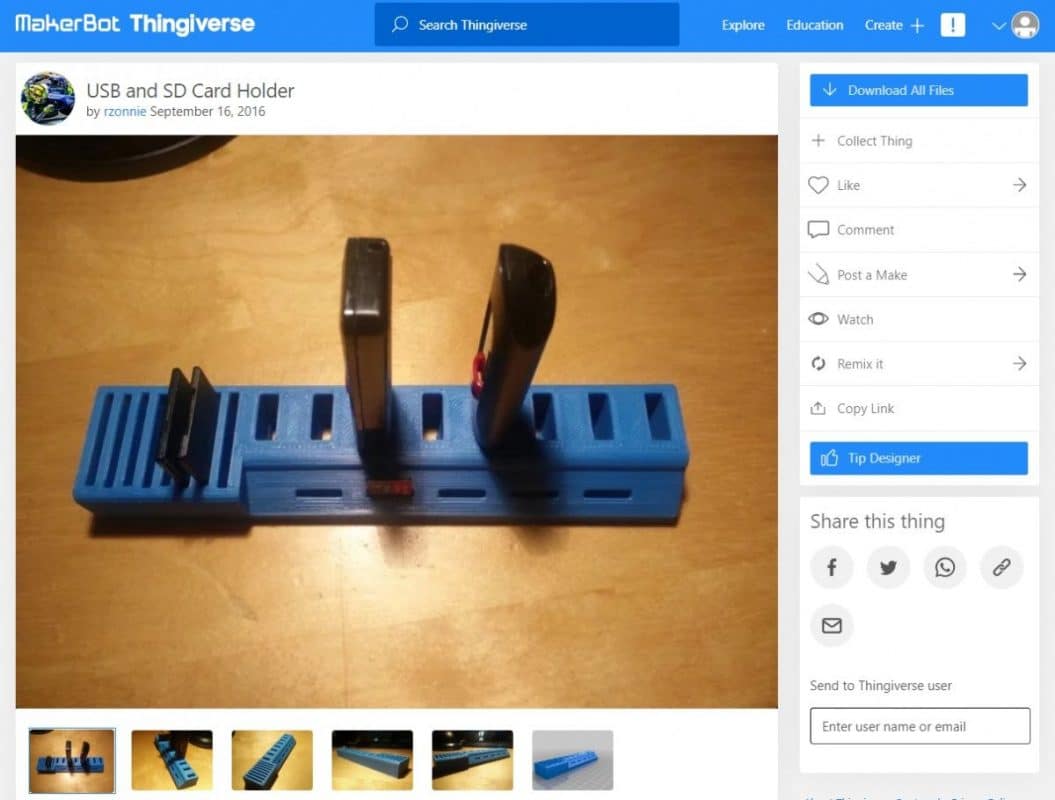 No need for misplaced SD cards, USB cords and flash drives.
Created by rzonnie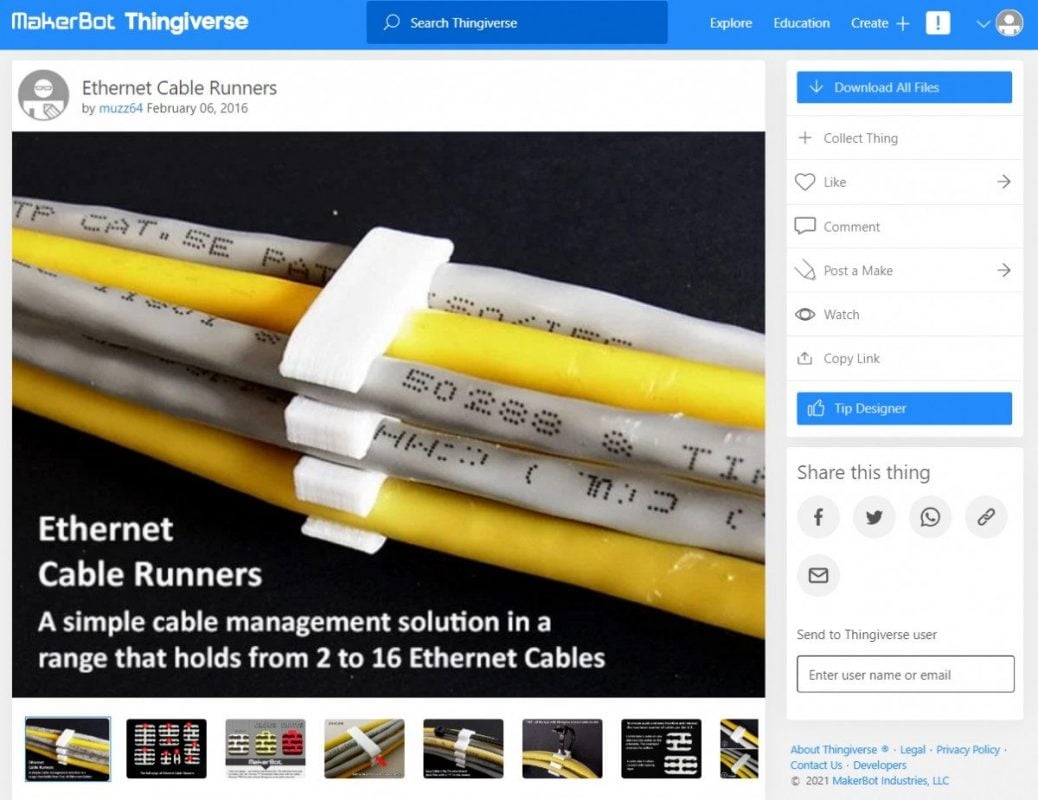 Cord management need not be nerve racking. With this very simple but highly effective accessory you can hold and manage from as little as two cords to as many cords as possible.
Created by muzz64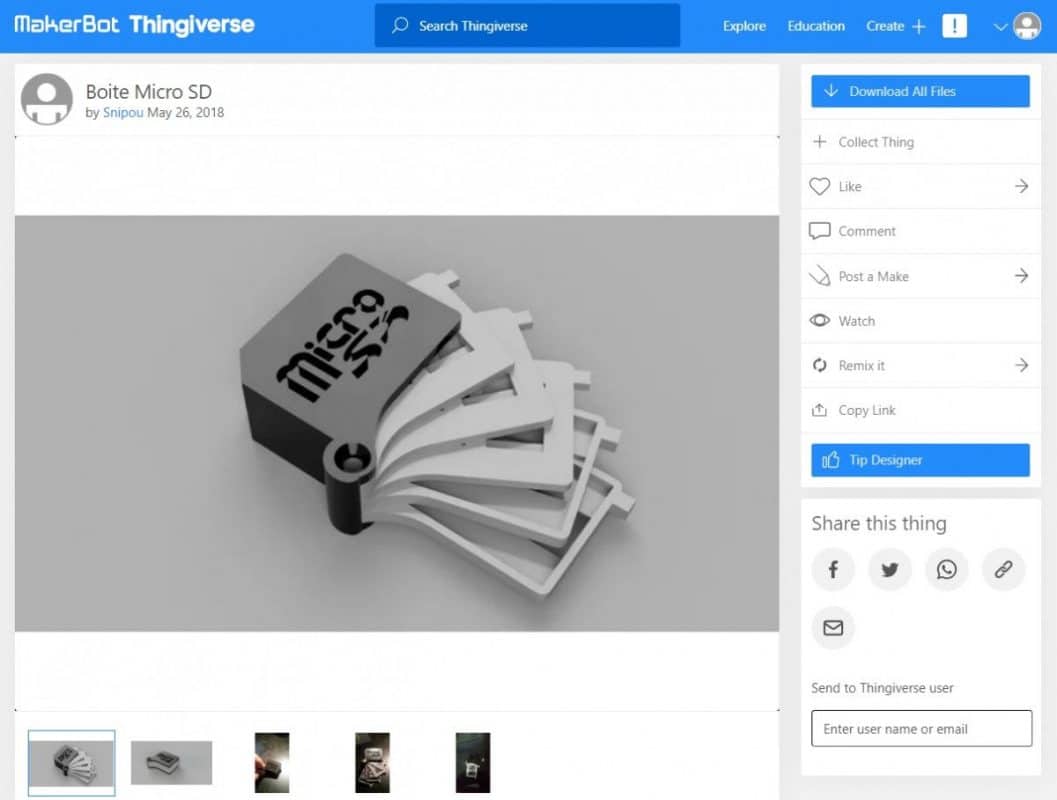 This compact Box helps hold all your SD and Micro-SD cards in place. And it can be modified to also fit sim cards as well.
Created by Snipou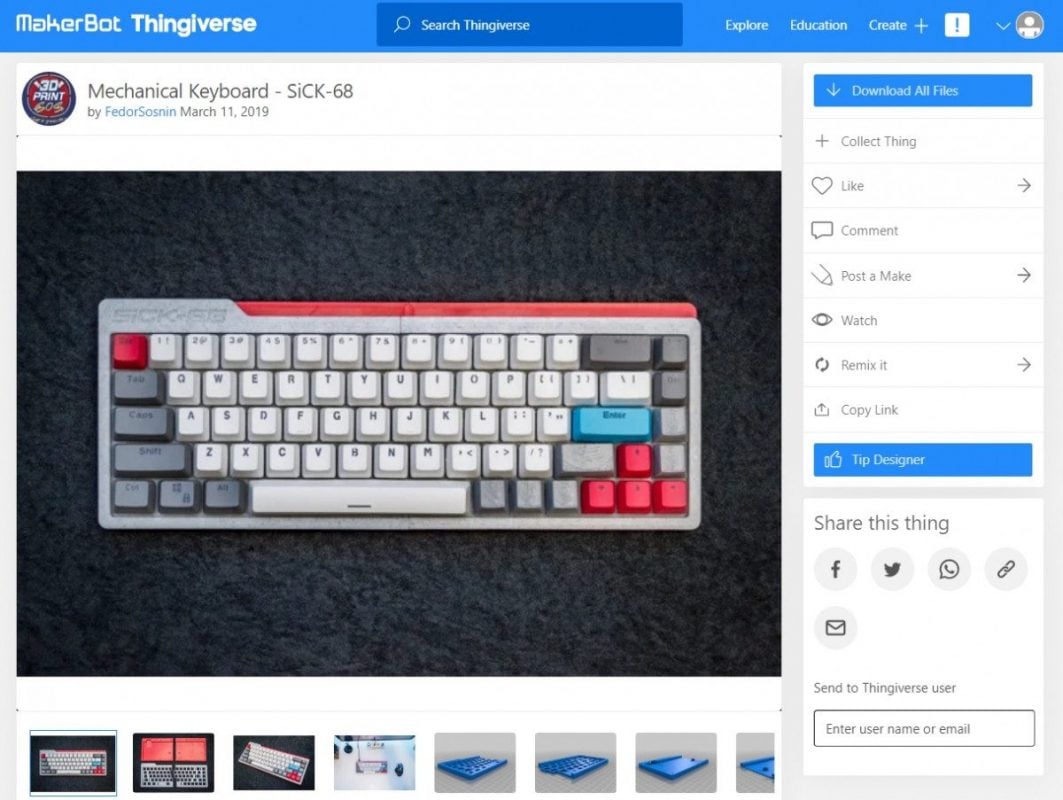 Design and 3D print your own keyboard, all it requires is a lot of patience and a learning curve; but in the end you would be rewarded with a keyboard that works and is peculiar to you.
Created by FedorSosnin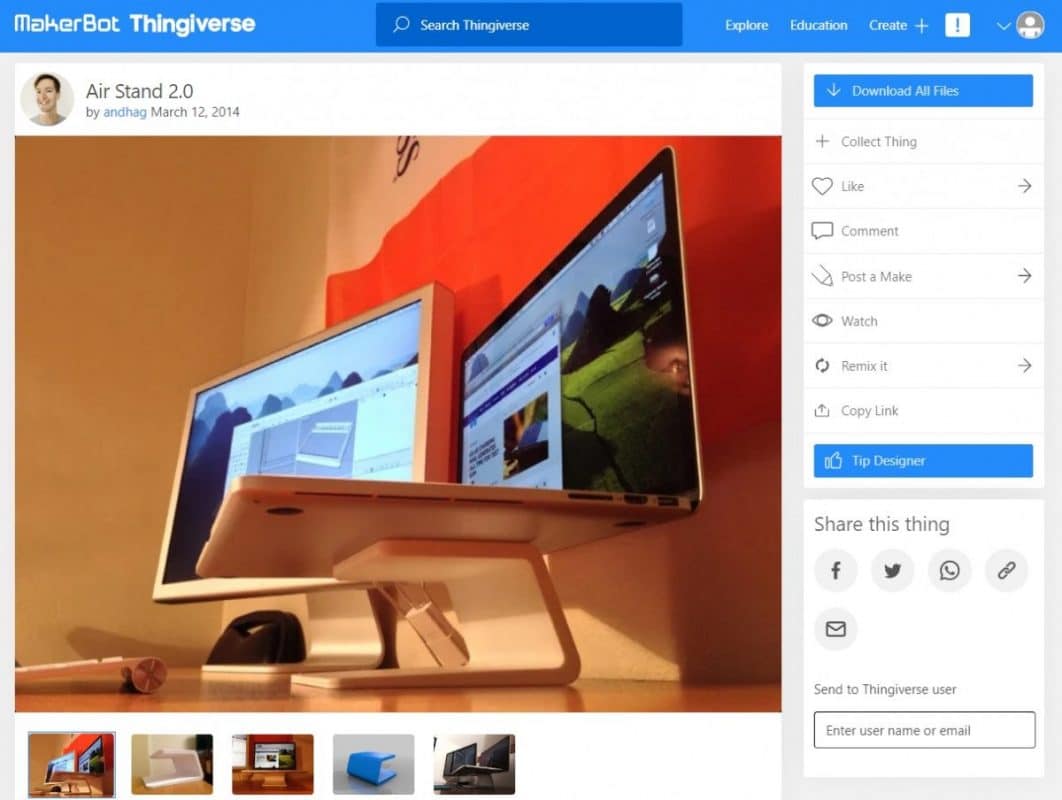 A PC Air stand that provides a perfect cooling system for your PC, gives you elevated cinematic view and an organized desktop space.
Created by andhag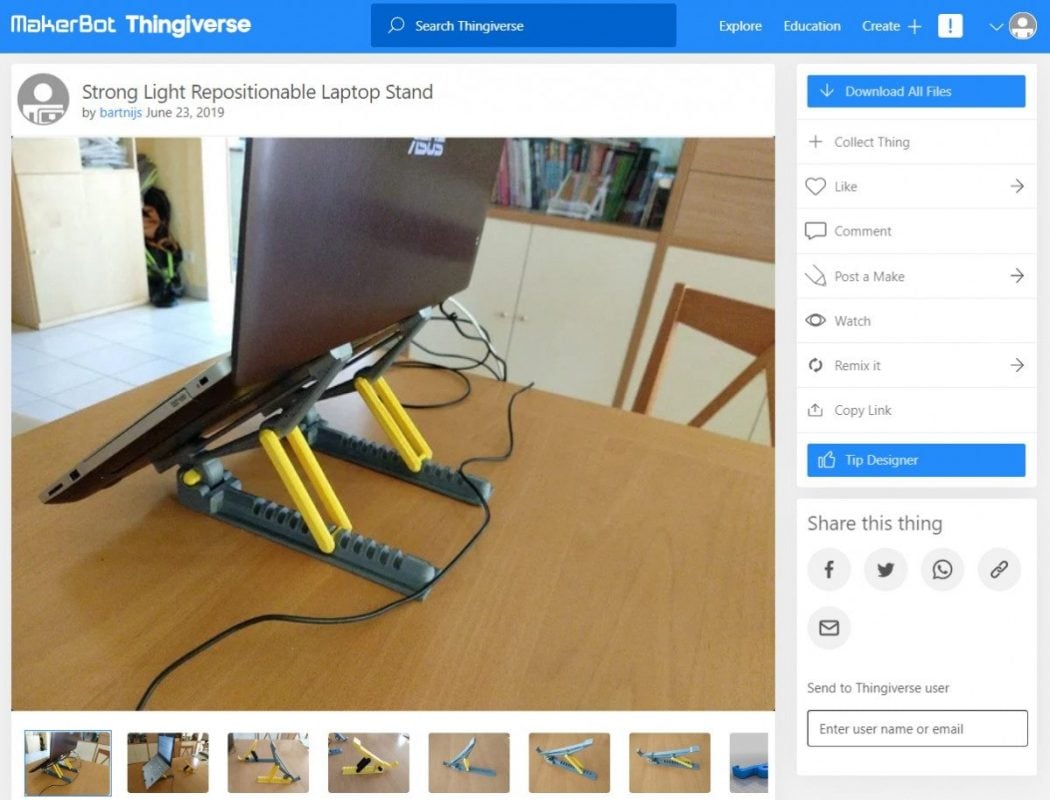 Adjust your laptop tilt position to suit your workspace needs. Could also double as an air stand depending on the height and design you decide to print.
Created by bartnijs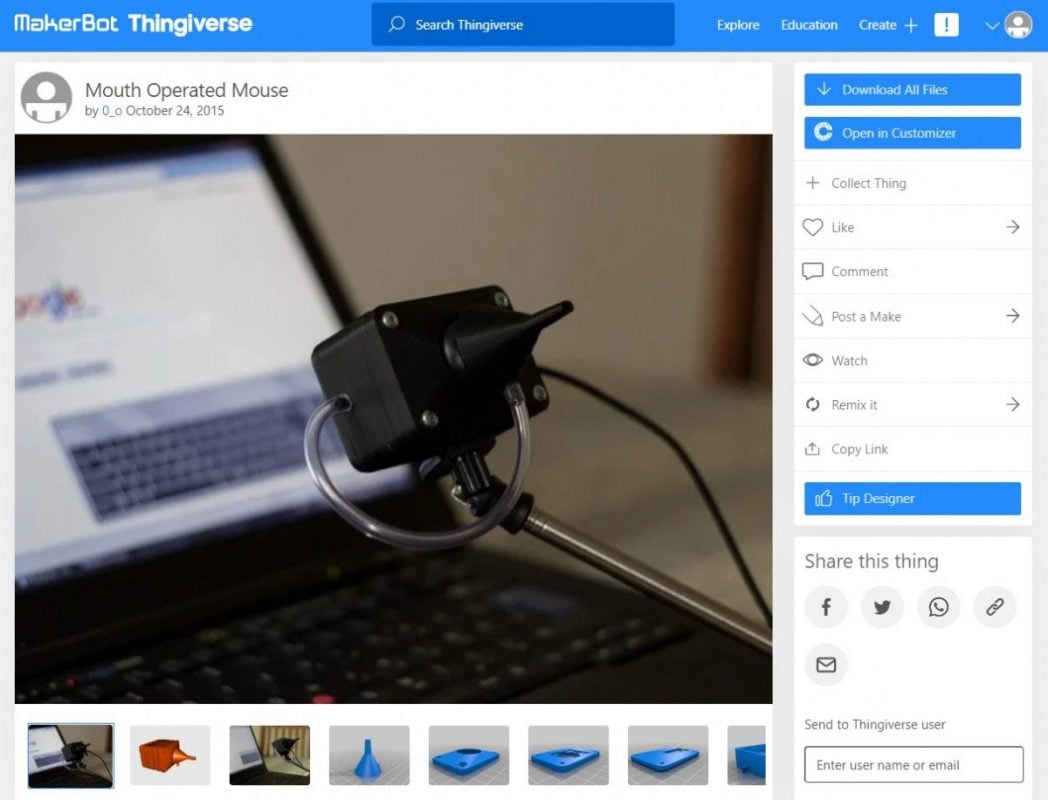 This mouse  was created to help special needs people. The mouse can be used on any PC using a tripod and the joystick technology. Thankfully, it doesn't cost more than $30.
Created by 0_o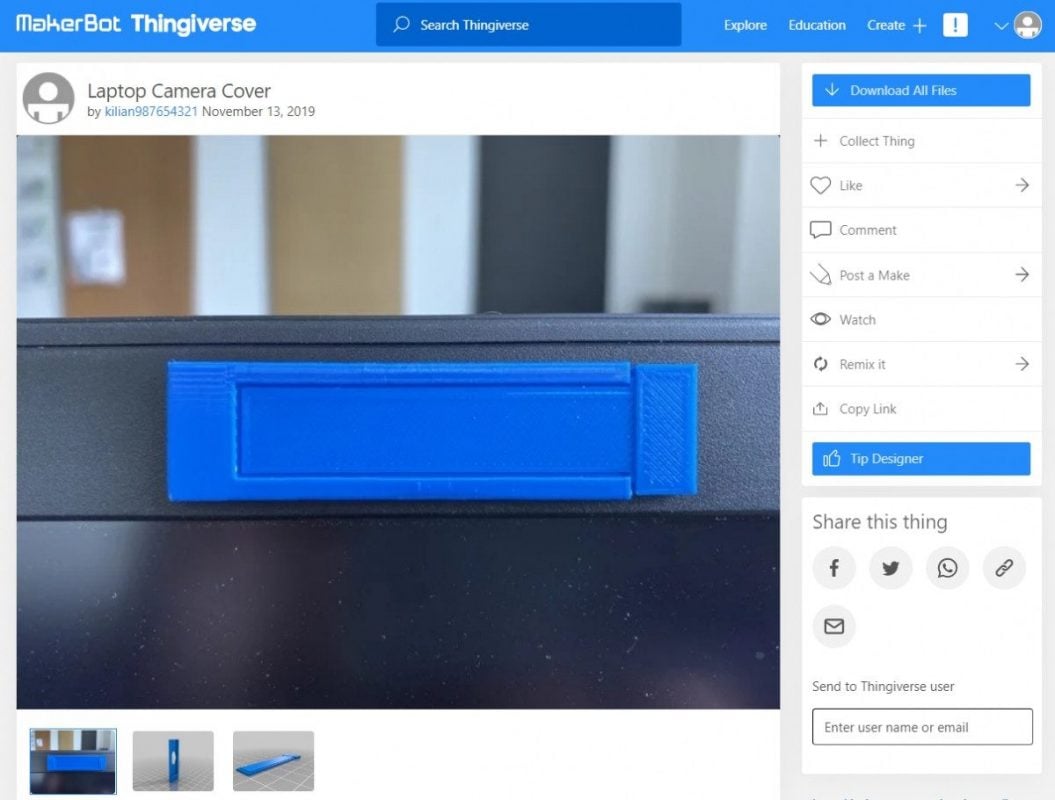 The importance of privacy cannot be overemphasized. With a cam cover, you can protect yourself from being watched through your laptop camera. It works with every laptop model and can be printed using even the most low-end 3D printer.
Created by kilian987654321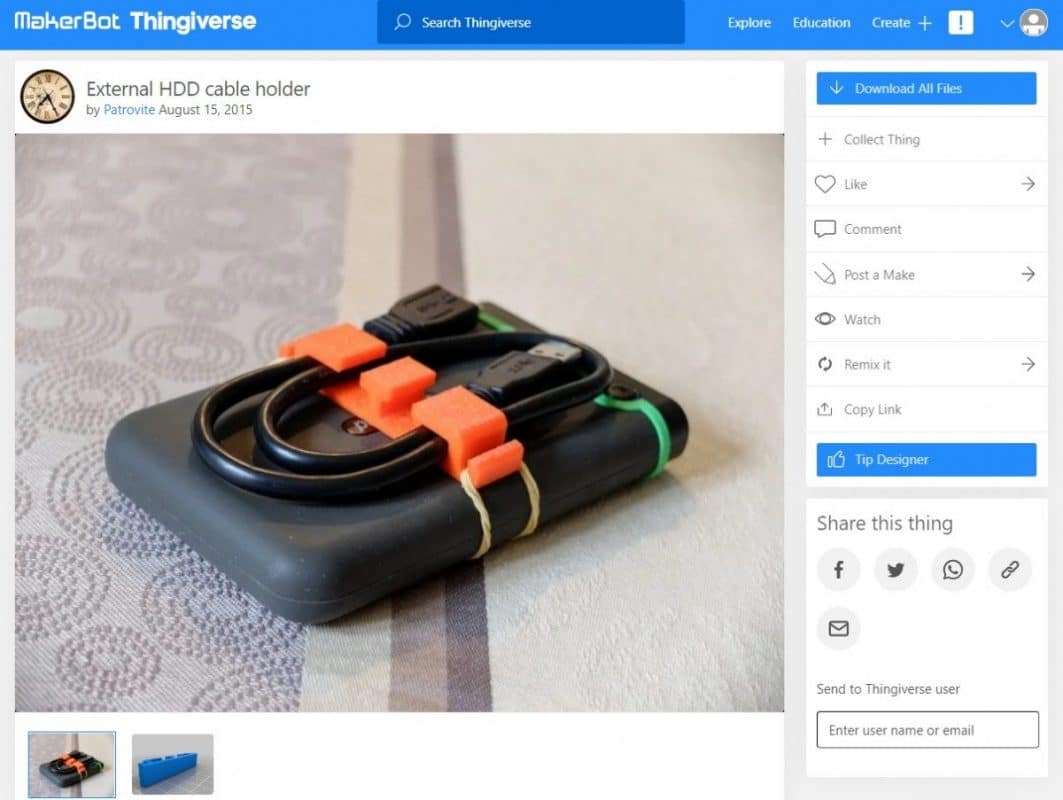 Have your HDD or SSD drives in the place as their cables. All you need is a simple cable holder and some elastic bands.
Created by Patrovite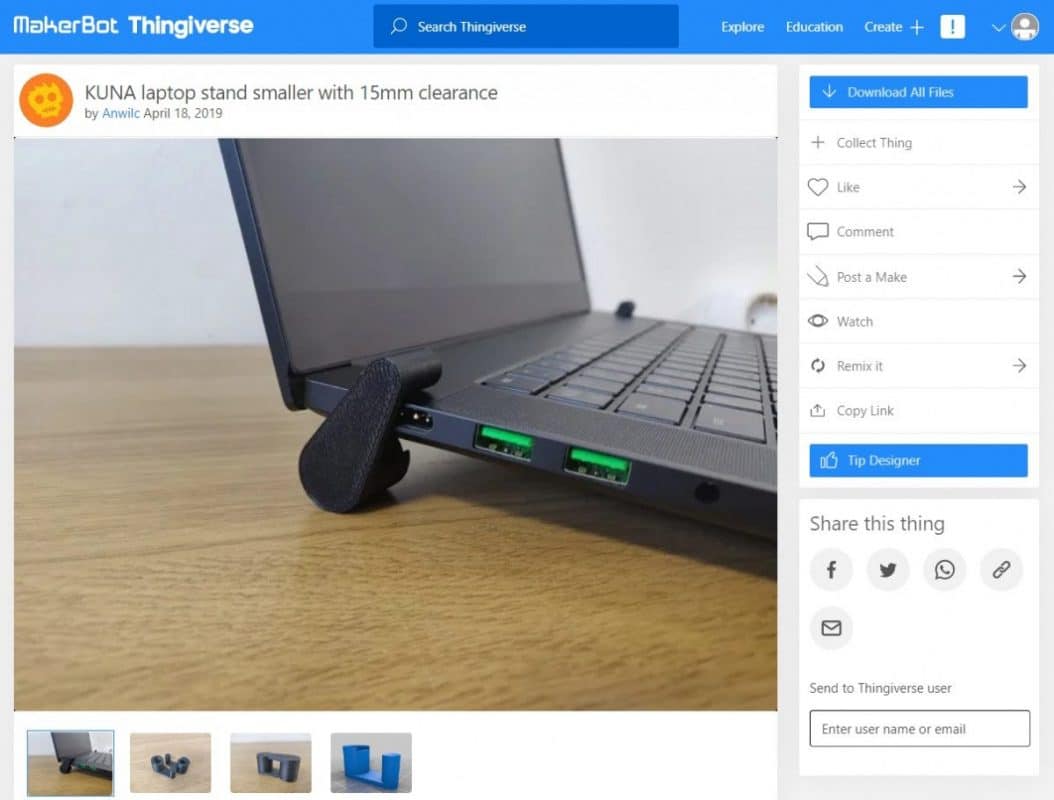 If you find it discomfiting working with a highly elevated laptop, you can try out this Laptop Stand. With just about 15mm in clearance, this laptop stand makes typing easier.
Created by: anwilc
Leaving a cable freely lying on the floor is not only untidy; it is also very unsafe. With Cable corners, you can prevent these long cables from coming off the corners. Better still, it can be printed fast and easily.
Created by muzz64
The designer created a Raspberry Pi display case fitted with a touchscreen LCD screen and an external memory card slot.
Creator by ftobler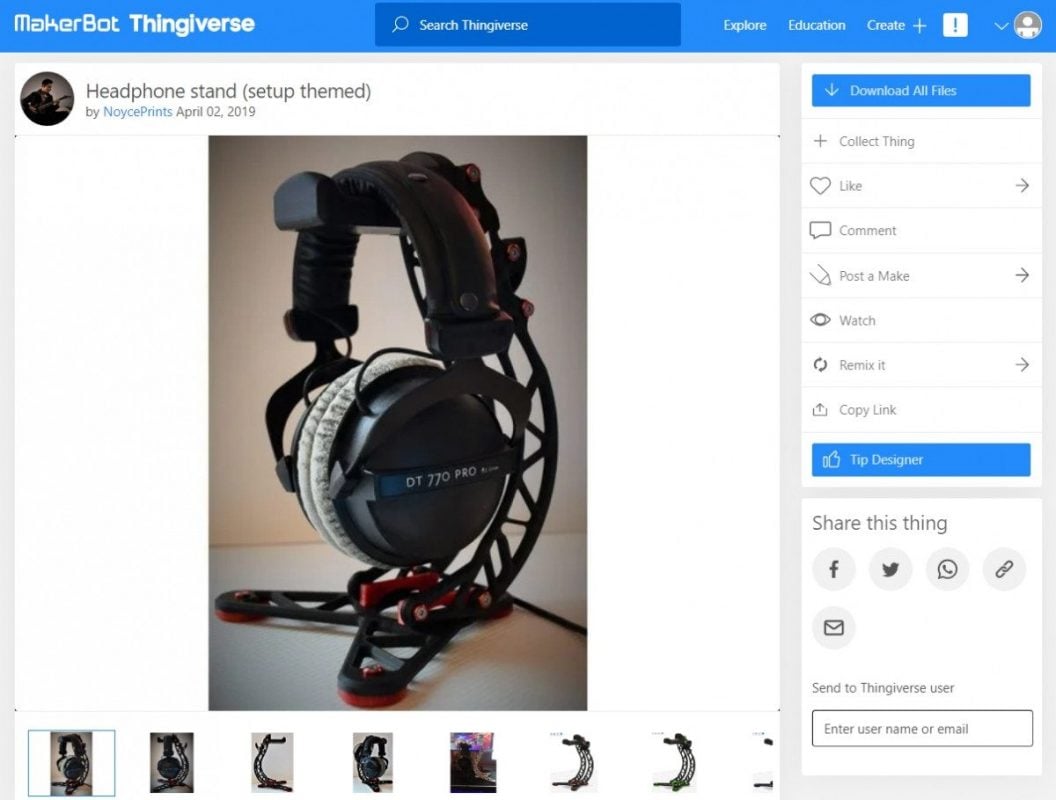 A self-themed stand that came with a cable hook so you can safely put away your headphones.  Although the designer recommended you use a M3x10mm screw users have found that it works best with a M3x12mm screw.
That aside it has been found to be a very effective model.
Created by noyceprints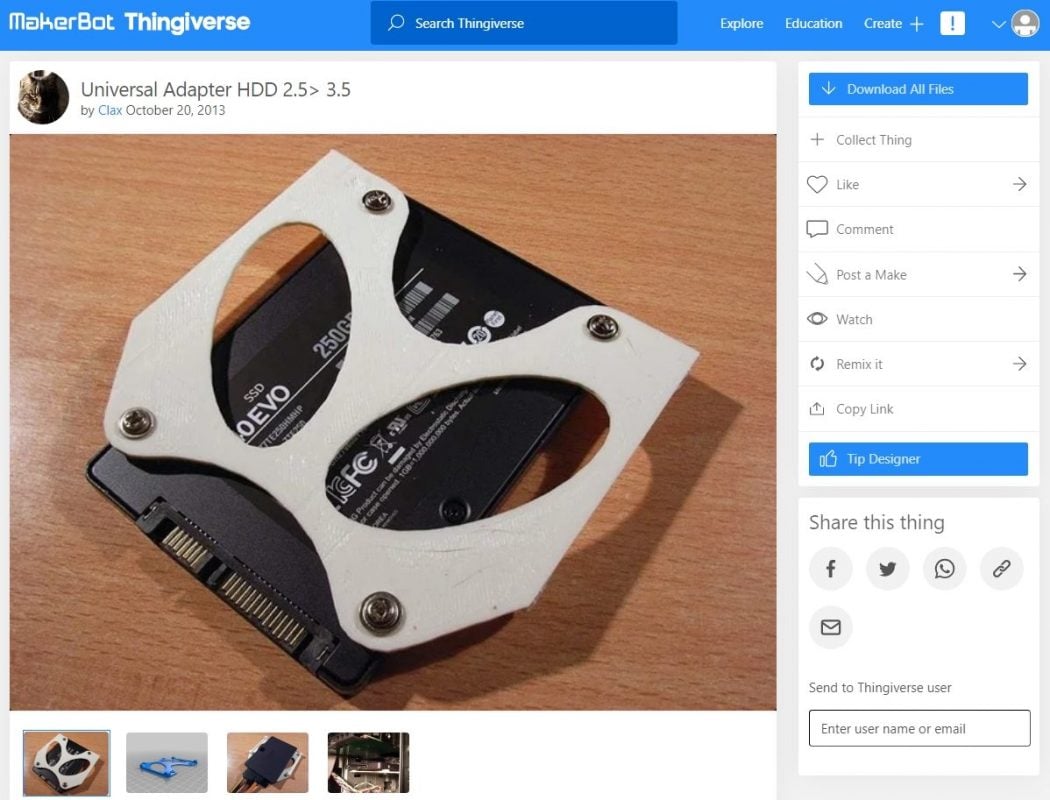 This adaptor is shaped to adapt your 2.5 HDD to a 3.5 computer or even to an SDD. While most users found it easy to print, a few had a hard time printing it. Overall, it is a wonderful product.
Created by Clax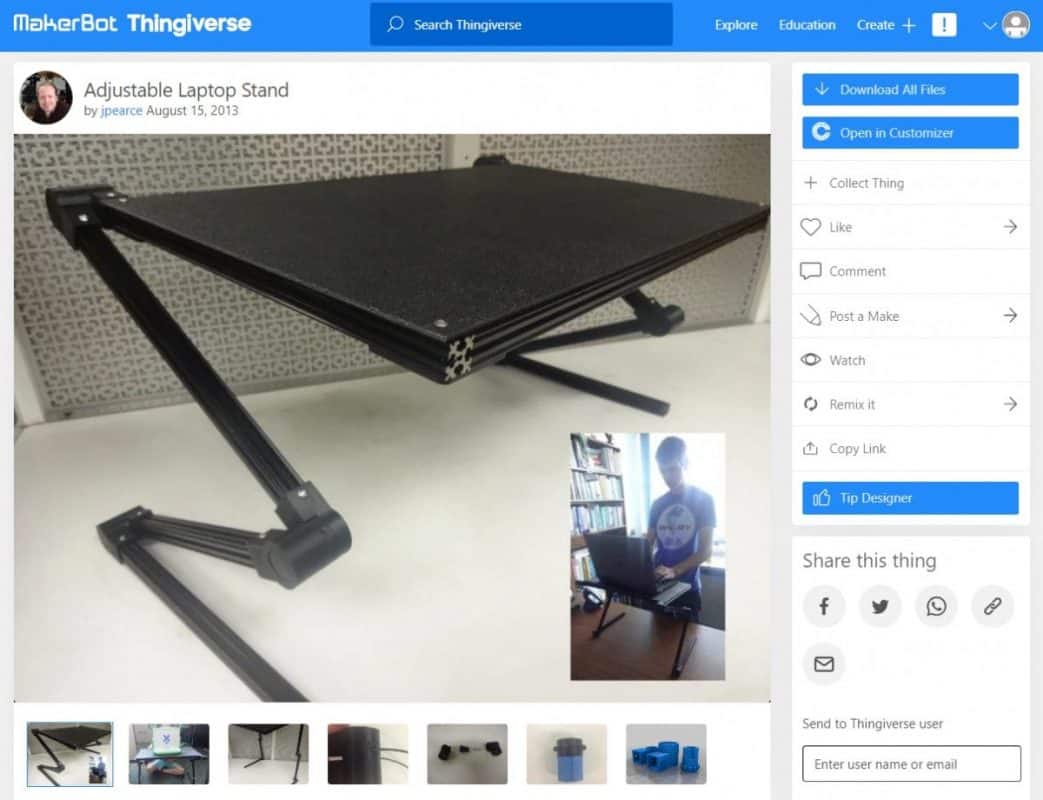 Sitting for long hours can be detrimental to one's health as well as boring. With this laptop stand/table you can flex yourself and switch between sitting and standing during work.
Created by jpearce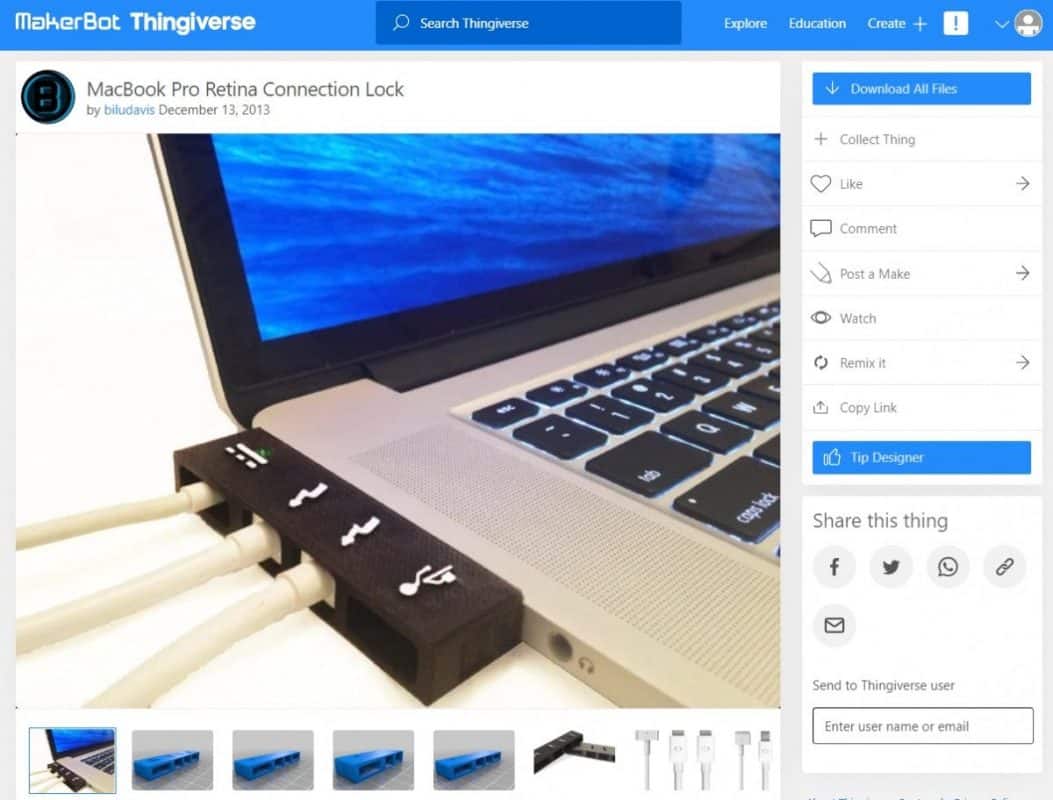 This accessory holds cables connected to a laptop in place to prevent them from falling off. This particular model was designed using a MacBook Pro Retina; however, it can be adapted to suit any other laptop.
The Invention of biludavid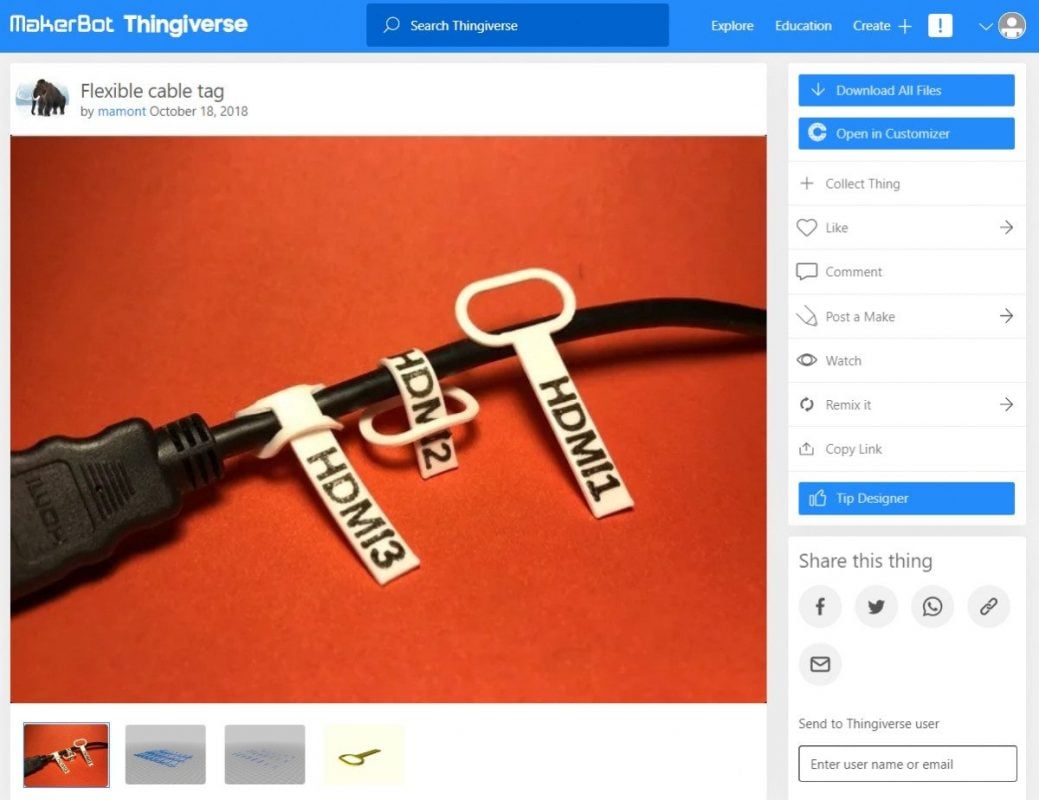 This cable tag comes with a loop that can easily fit any cable of reasonable size. It allows for better cable tracing and is reusable since it has two printable sides.
Created by mamont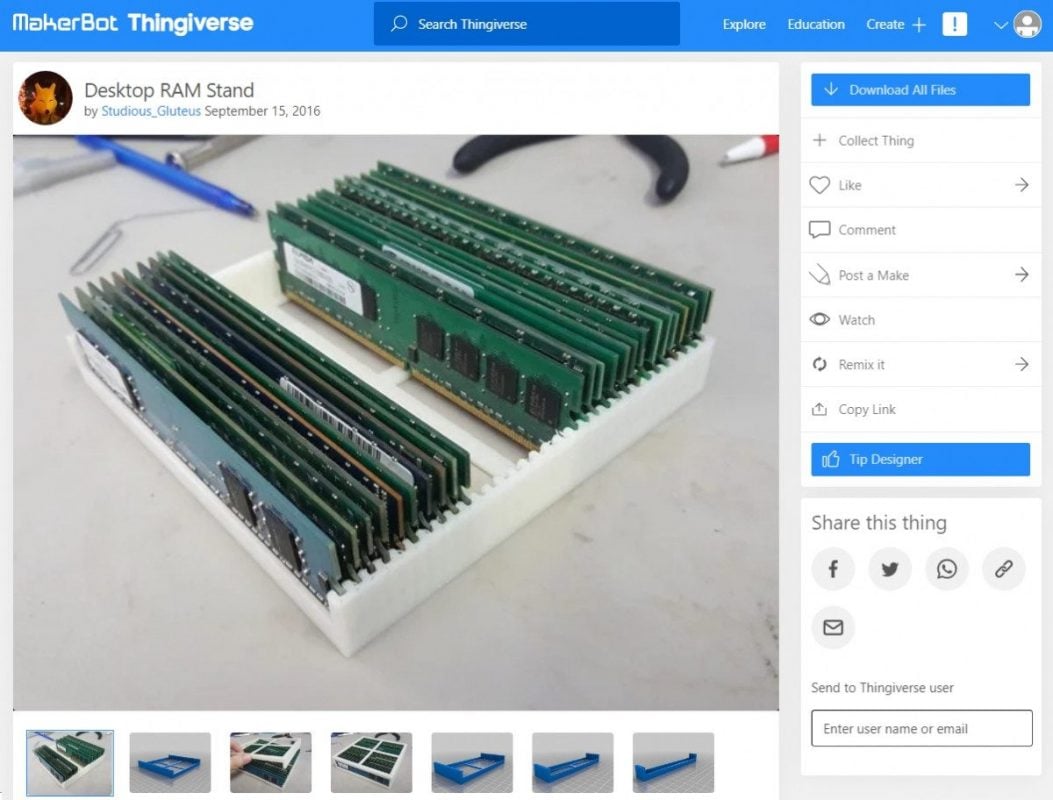 If your work requires the possession of various desktop RAMs, this accessory is a perfect way to have them all neatly sorted and maintained.
Created by Studious Gluteus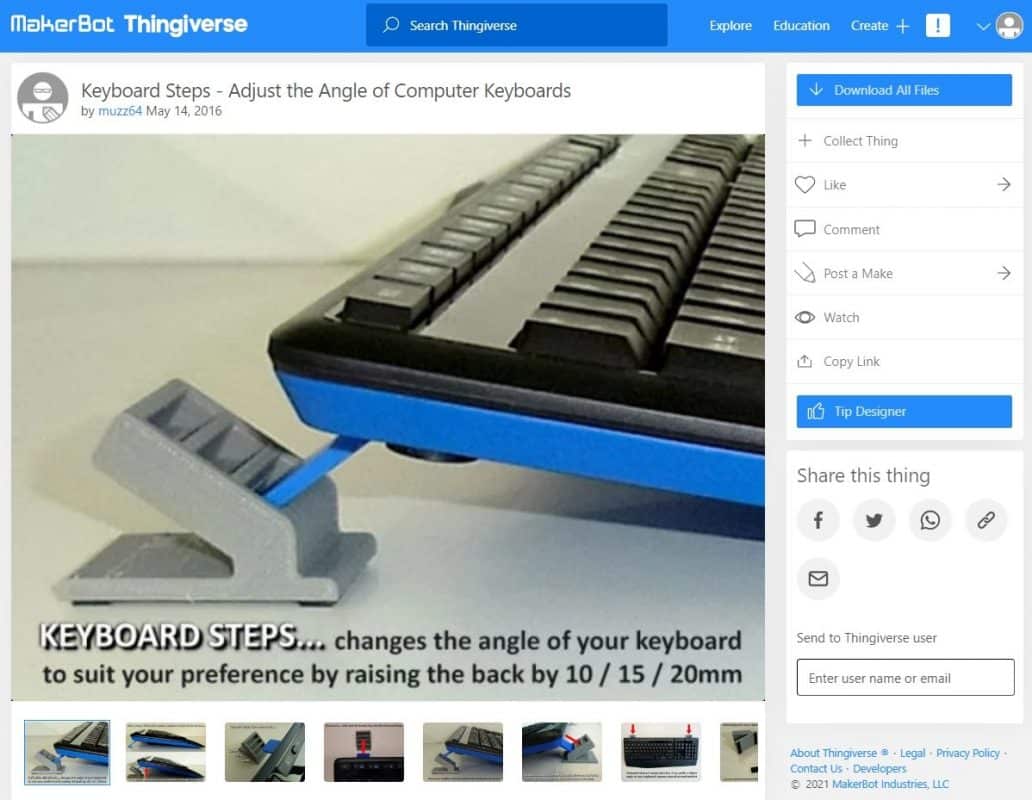 Keyboard steps work exactly like laptop ramps, except that this time it's for users of external keyboards. A must-have for people who do a lot of typing.
Created by muzz64
Tired of having you Mouse wire just messing with the aesthetic value of your worktable? You can get a mouse bungee that can hold your wire in place without restricting your mouse movement.
It was created by mer_at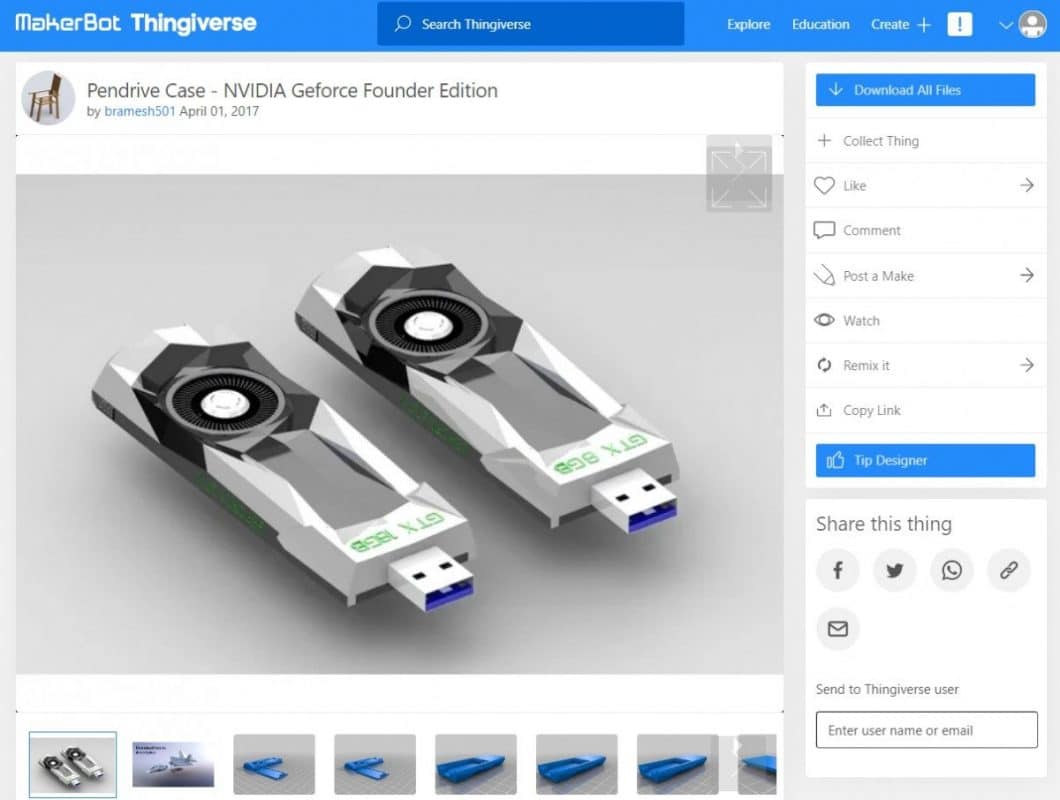 The creator of this masterpiece,  modeled it after the  NVIDIA GeForce. However, it goes to show that you can model yours whichever way you desire.
Created by bramesh501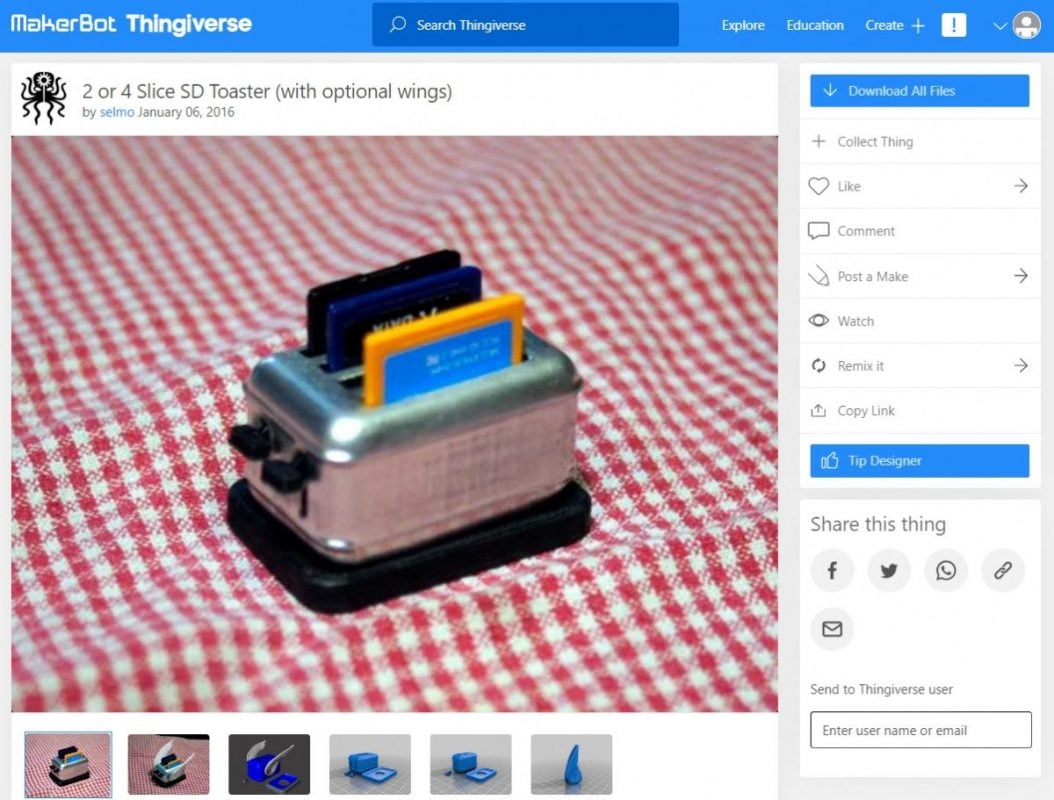 SD cards very easily get lost but not anymore because you can 3D print an SD Card case modeled after a toaster.
Once you can find your toaster, you can find your SD Cards; all you need do is slide into the slice slot and pull the lever down or up to either bring up the cards or take it down. Cool, right?
Created by selmo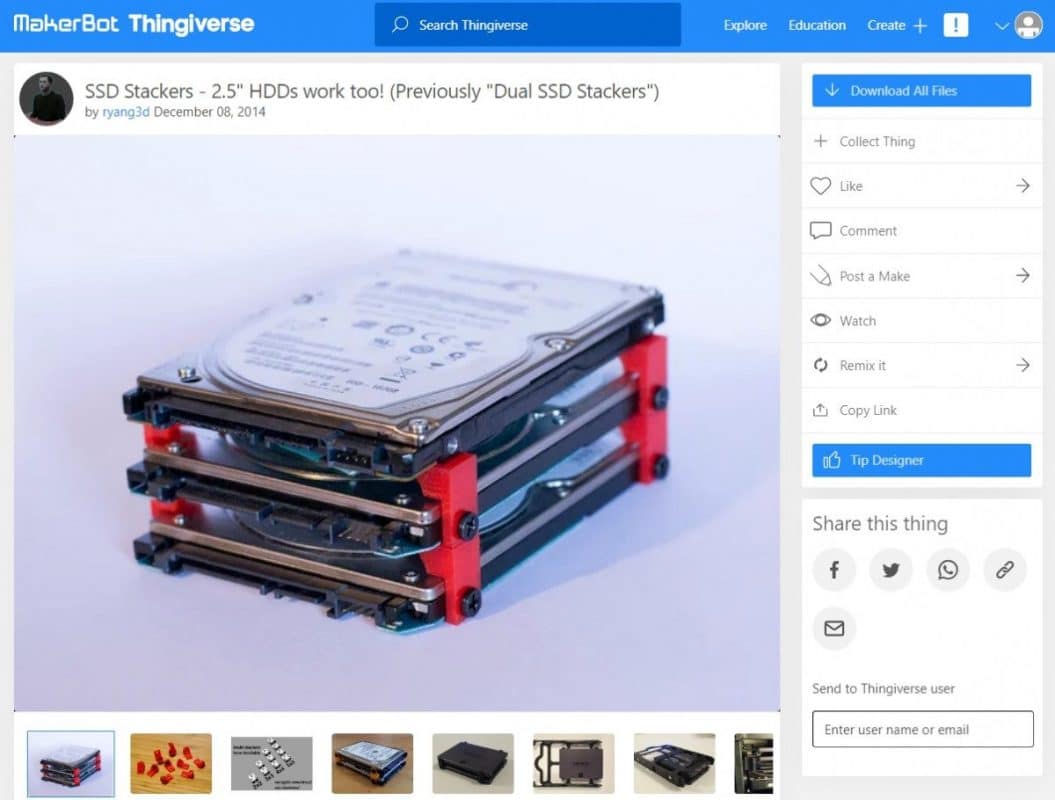 HDDs and SSDs always have tons of valuable data that we wouldn't want to lose. To this end, we have to handle for them with every sense of care. With an HDD stacker you can store them in a place, conserve space and elongate its lifespan.
Created by ryang3d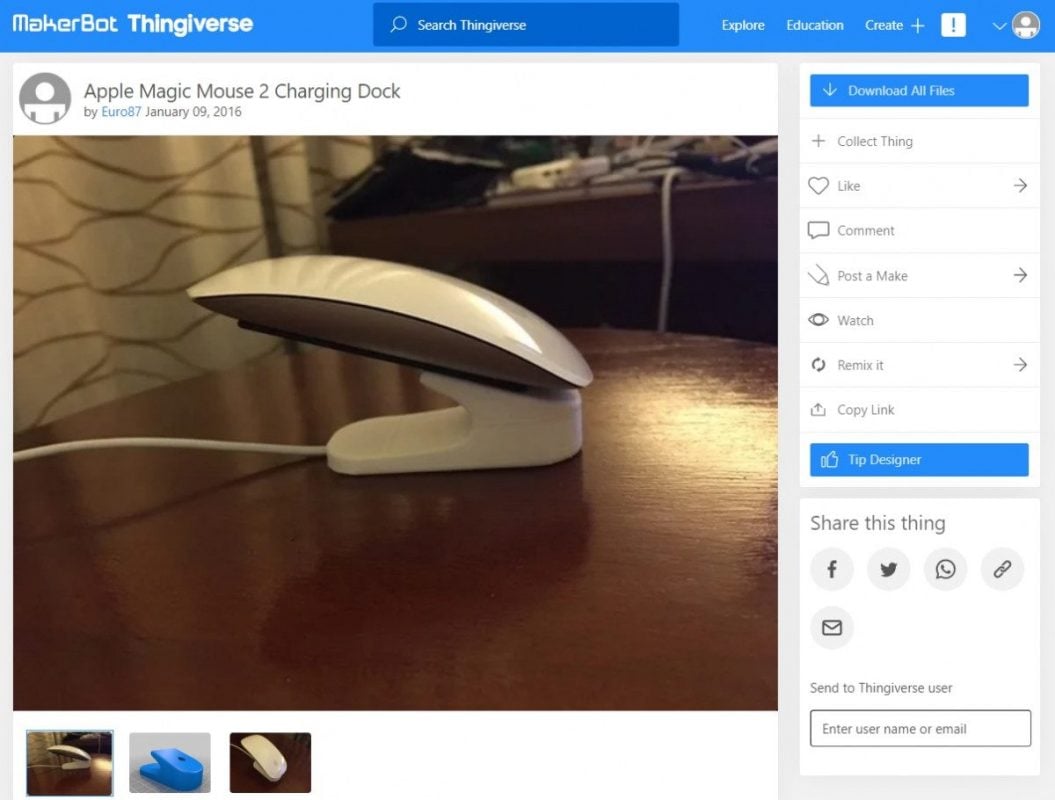 If like me, the Apple Magic Mouse reminds you of an airplane, then you wouldn't be opposed to putting it in a hanger. A lot of people believe the design is flawless, and I think so too. You should give it a try.
Created by Euro87
You made it to the end of the list! Hopefully you found it useful for your 3D printing journey.
If you want to check out other similar list posts I carefully put together, check out some of these: