Do 3D Printed Phone Cases Work? How to Make Them
3D printers can make all sorts of objects, so people wonder if 3D printers can make phone cases and whether they work. I decided to look into this and give you guys the answers.
3D printed phone cases are good for protecting your phone as they can be made out of similar materials as your usual phone case. TPU is a favorite for 3D printed phone cases which is a more flexible material, but you can also choose rigid materials like PETG & ABS. You can create cool custom designs with a 3D printer.
There's more that you'll want to know about 3D printed phone cases, especially if you want to create your own, so keep on reading on for more.
How to Make a 3D Printed Phone Case
To 3D print a smartphone case using 3D printing, you can download a 3D model of a phone case on a website like Thingiverse, then send the file to a slicer to process. Once the file is sliced with your ideal settings, you can send the sliced G-Code file to your 3D printer and begin printing the case.
Once you've printed the case, you can then finish and design it further using methods like painting, hydro-dipping, etc.
Let's take a closer look at how you can print out a phone case with your 3D printer.
Step 1: Get a 3D Model of a Phone Case
You can get a model from an online 3D model repository like Thingiverse.
Search for the type of phone case you want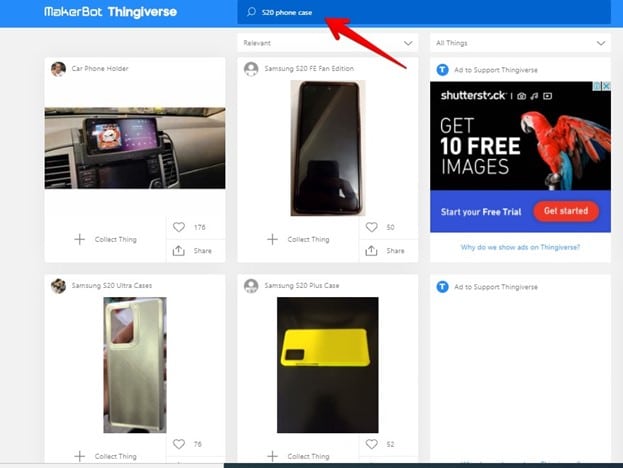 Select a model and download it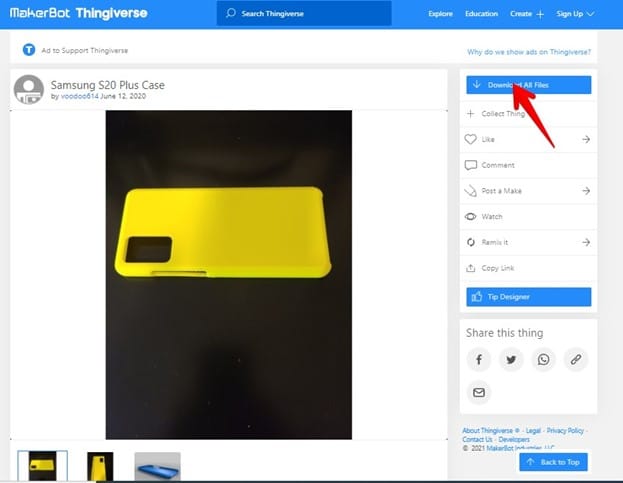 Step 2: Input the Model in Your Slicer & Adjust Settings then Slice
Open Cura
Import the model into Cura using the CTRL + O shortcut or dragging the file into Cura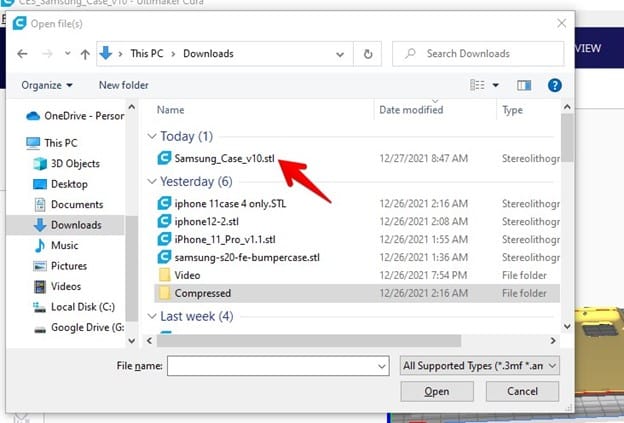 Edit the print settings to optimize the model for printing such as layer height, print speed, initial layer pattern & more.
It shouldn't need supports because 3D printers can bridge across without needing a foundation underneath.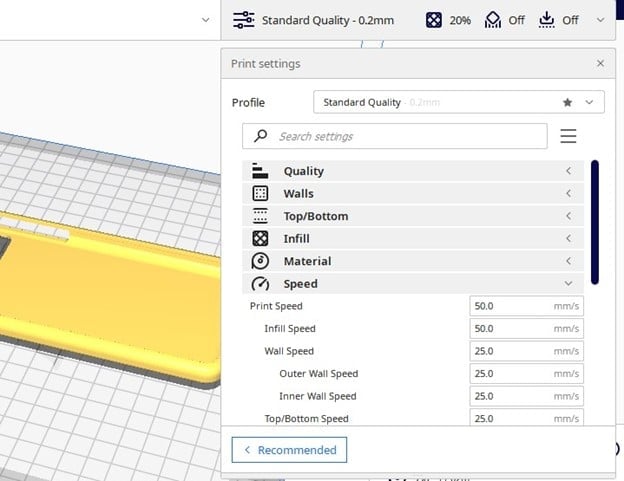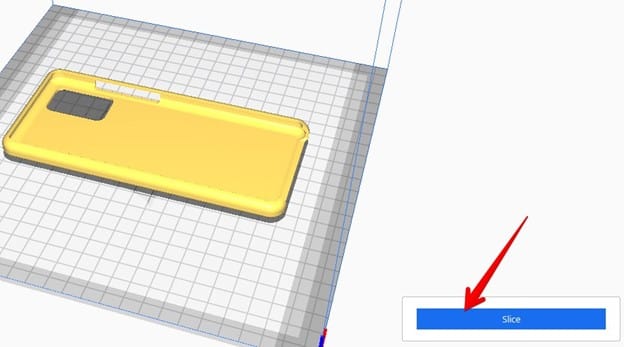 Step 3: Save the Model to an SD Card
When you're done slicing the model, you have to transfer the sliced G-Code file to the printer's SD card.
Click on the Save to Disk icon or directly to the "Removable drive" when your SD card is inserted.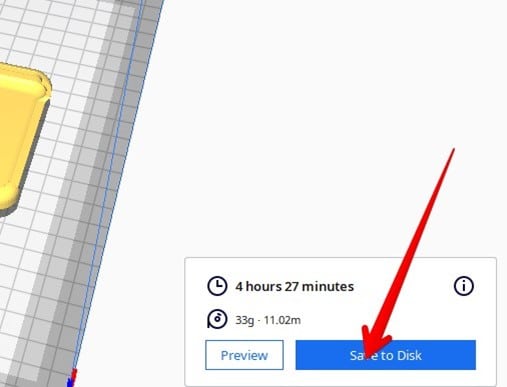 Select your SD card from the list
Click on save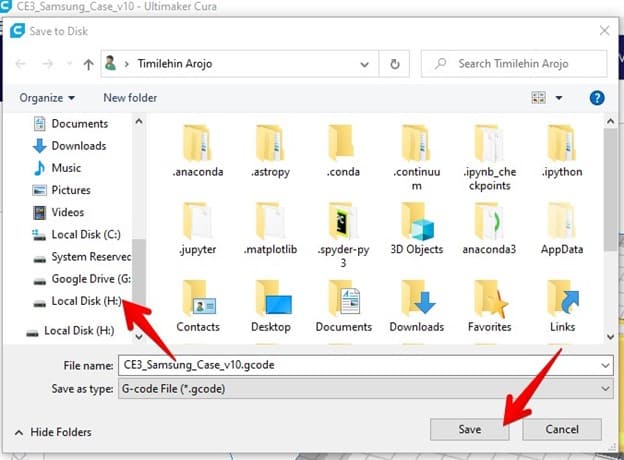 Step 4: Print the Model
Once the G-Code is saved on the SD card, remove the SD card from your PC and insert it into your 3D printer.
Select the model on your printer and start printing.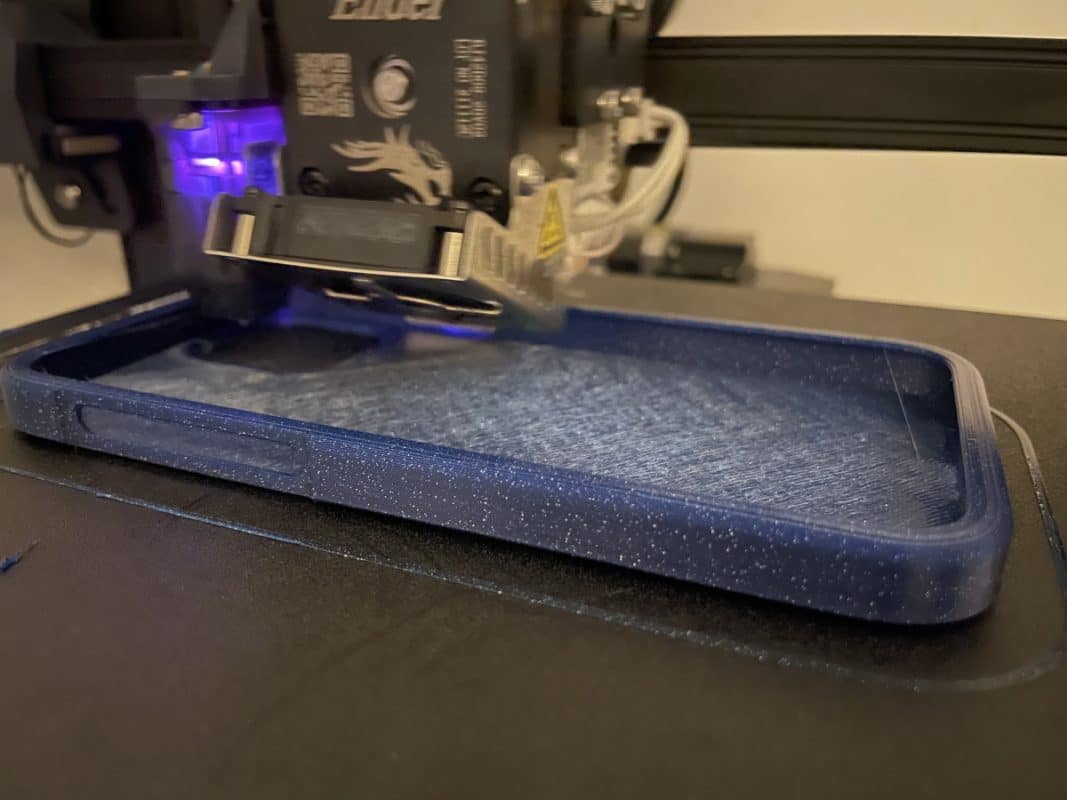 Do keep in mind that when you create these phone cases, some of them you should print in a softer material like TPU. These are the full cases where you need to move the edges to fit the phone inside like the one below.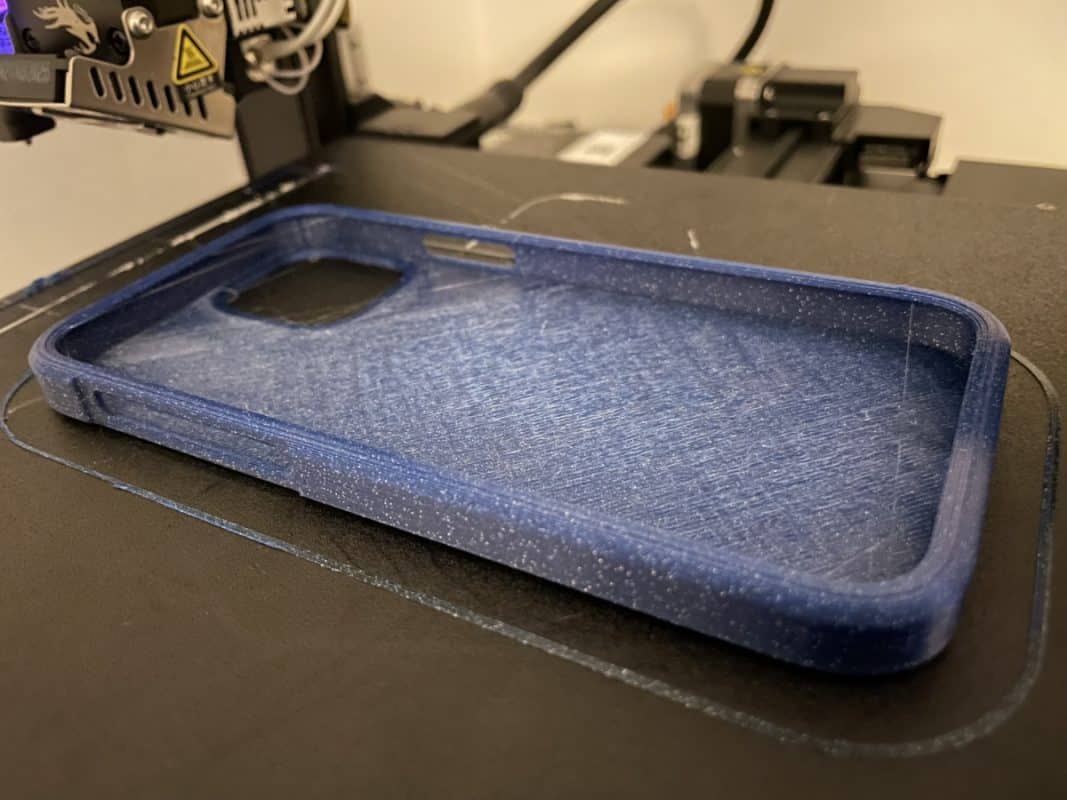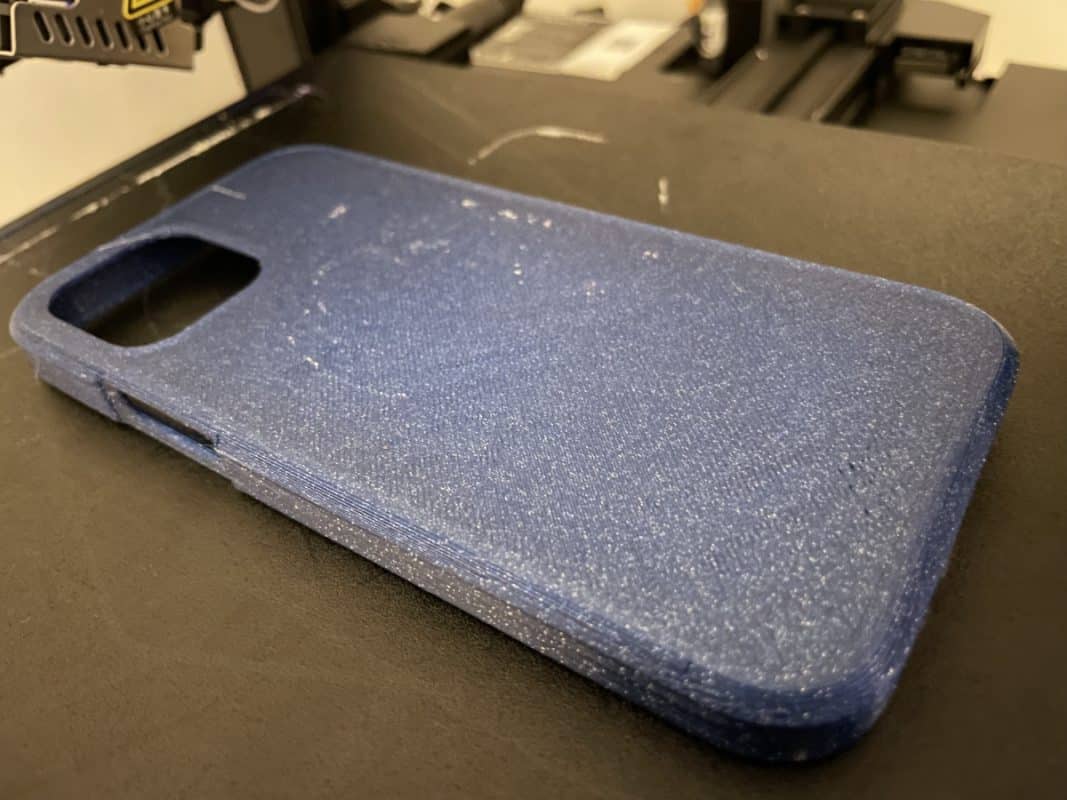 For designs that aren't full and have a more open shape, those can be printed in more rigid materials.
I also made the case in black TPU.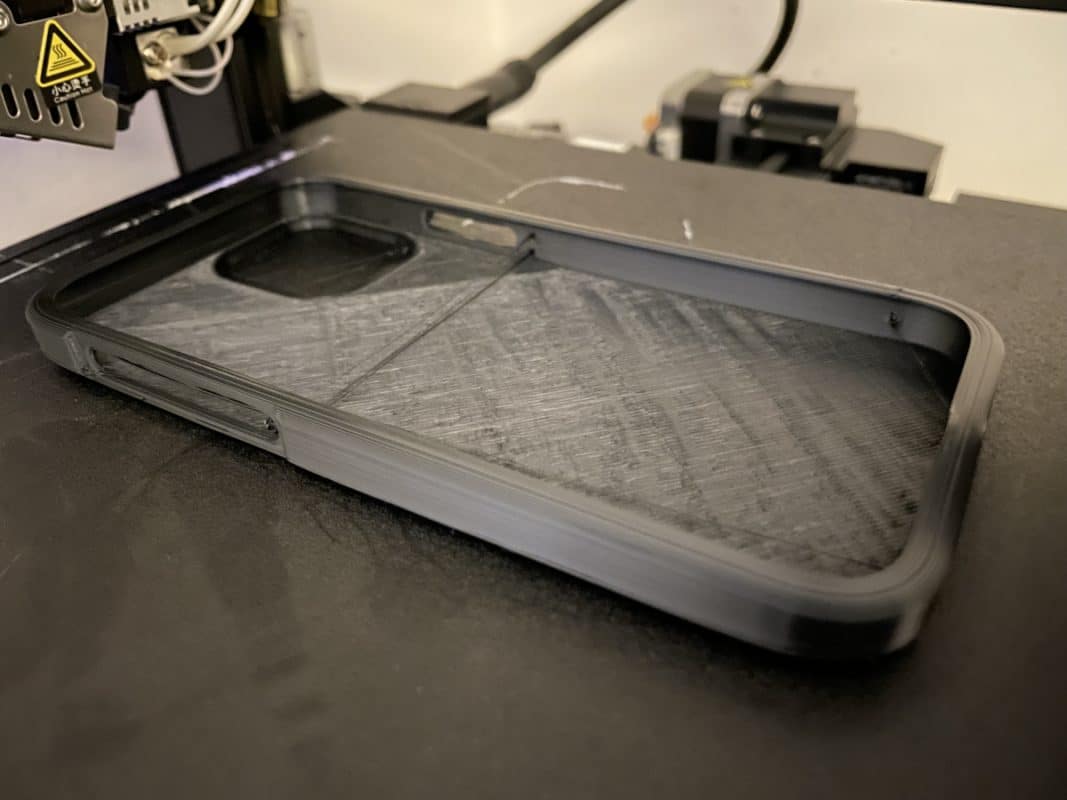 How to Design a Phone Case for 3D Printing
Designing a case involves creating a model of the case you want in 3D modeling software. This model case must conform to the specifications of the phone you want to use the case for.
So, you have to measure all the phone's features and reproduce them accurately in the model case. These features include the phone's dimensions, camera cutouts, headphone jacks, and button cutouts.
After this, you can add personal touches like motifs, patterns, and more to the cases. However, this is a very long process.
The easiest way to design a phone case is to download a template and modify it. You can find these templates on sites like Thingiverse.
Using 3D modeling software like Autodesk Fusion 360, you can now customize the phone case in any way you want.
Here's a great article on how to design these cases.
You could actually hire yourself a designer who has the relevant experience and knowledge on how to make 3D models. Places like Upwork or Fiverr also give you the ability to hire from a range of people who can help design a 3D phone case to your specifications and desires.
Check out the video below for a cool guide on how to customize 3D printed phone cases.
How to Make a 3D Phone Case in Blender
The video below by TeXplaiNIT shows you how to create a 3D printable phone case with Blender & TinkerCAD by getting the measurements of the phone.
The video above is quite outdated but it should still be okay to follow along.
Another video I came across below was okay to follow but did move quite fast. You can look at the keys pressed on the bottom right and follow along to create a 3D printable phone case in Blender.
You want to pay attention to what is highlighted in the Blender platform so you are editing and adjusting the correct parts of the model, as well as when the user is holding down SHIFT to select multiple faces or vertices.
One thing that's not shown properly is how to create the straight lines when using the knife tool. You simply have to press C while in knife mode to enable Angle Constrain.
Best Filament for 3D Printed Phone Cases
The most important consideration in the printing stage is material selection. When choosing a material to print your case, you have to make sure it's aesthetically pleasing and functional.
Here are a few materials I recommend:
ABS might be a little difficult to print, but it is one of the best materials for creating hard shells for your phone. Apart from its structural rigidity, it also possesses a beautiful surface finish that cuts post-processing costs.
PETG is another incredibly strong material that offers a unique perk, Transparency. You can print clear hard cases for your Smartphone using this material.
This clear surface provides you with a blank template for easy customization of the case.
This is one of the strongest and most durable materials that you can 3D print a Smartphone case out of. Additionally, it has a glossy finish that will make the printed case look better.
TPU is a flexible material you can use in making soft, Silicon Smartphone cases. It provides an excellent handgrip, has excellent impact-resistance capabilities, and has an elegant matte finish.
Note: Be very careful to avoid or limit warping when printing with these filaments. Warping can ruin the tolerance and fit of the case with the phone.
Post-processing comes after the printing process. Here, you can take care of any defect leftover from the printing. You can also spruce up and design the case as you want.
Common finishing methods include sanding (to remove blobs and zits), heat gun treatment (to remove stringing). You can also paint, engrave, and even use Hydro-dipping to design the case.
How Much Does It Cost to 3D Print a Phone Case?
You can 3D print a custom phone case for as little as $0.40 per case with your 3D printer. A smaller phone case that requires around 20 grams of filament with a cheaper filament that costs $20 per KG would mean each phone case would cost $0.40. Larger phone cases with more expensive filament can cost $1.50 and upwards.
For example, this iPhone 11 case on Thingiverse takes about 30 grams of filament to print. Realistically, you could get about 33 of these from a 1KG filament spool.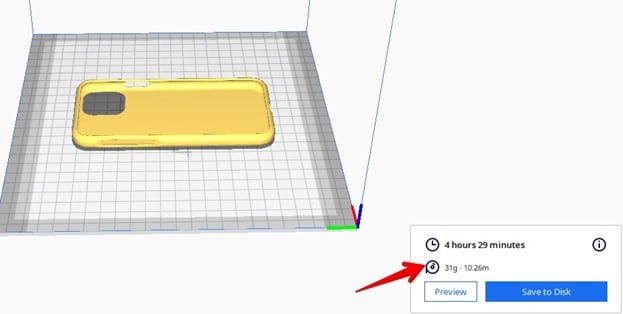 Assuming you are using a reel of high quality TPU filament like the Overture TPU Filament, your unit cost would be about $28 ÷ 33 = $0.85 per case.
There are other minor costs associated with 3D printing such as general maintenance and electricity, but these are only a very small percentage of your costs.
However, if you do not have a 3D printer, you will have to print the case through Cloud printing services. These services will accept your phone case design, print it out, and send it to you.
Using these services is considerably more expensive than printing the case yourself.
Here's the price from a website called iMaterialise which specializes in creating and delivering 3D printed models. £16.33 translates to around $20 just for 1 phone case, made out of Nylon or ABS (same price). With a 3D printer, you could get around 23 phone cases at $0.85 each.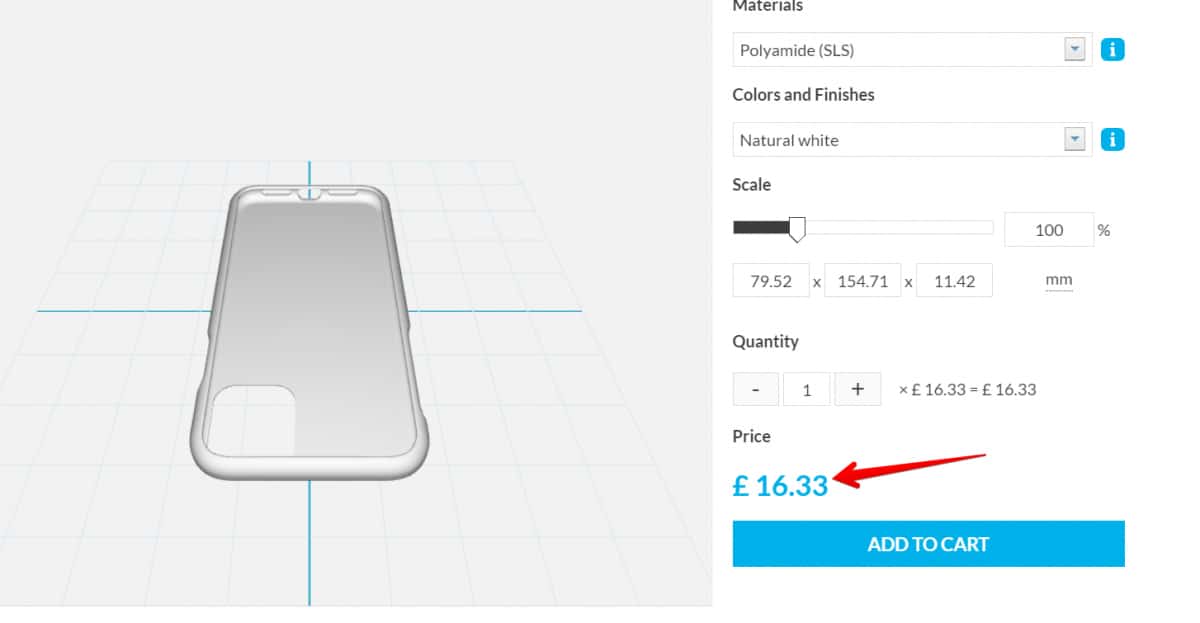 How Long Does it Take to 3D Print a Phone Case?
Printing a plain, decently sized case phone case can take about 3-5 hours. However, if you want better quality, it can take longer.
Below are some examples of how long it takes to 3D print a phone case:
For better quality, you'll need to lower the layer heights which will increase the printing time. Also, adding designs and patterns to the case can increase its printing time, unless it means you are extruding less material like having gaps in the phone case.
This iPhone 12 Pro case took exactly 4 hours and 43 minutes as you can see below.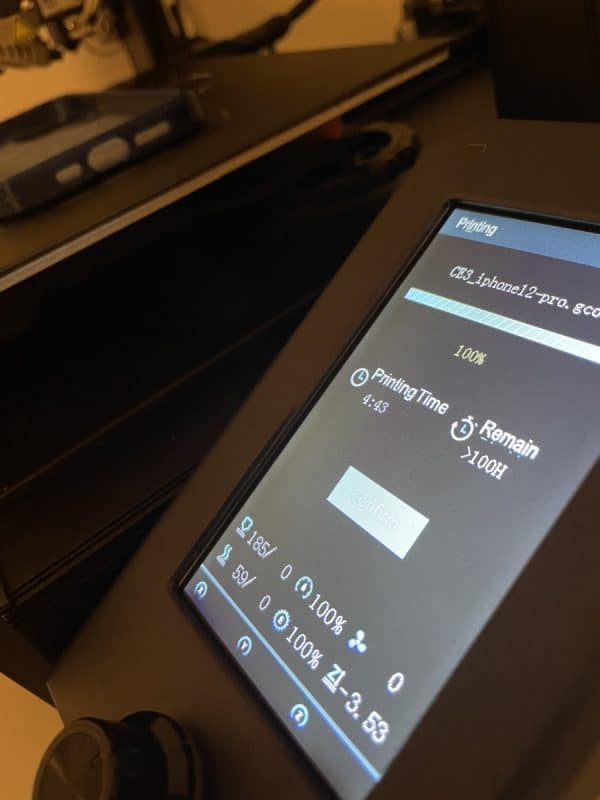 Can You 3D Print a Phone Case Out of PLA?
Yes, you can 3D print a phone case out of PLA and use it successfully, but it doesn't have the most flexibility or durability. PLA is more likely to shatter or break due to the physical properties, but it can definitely still work well. Some users said a PLA phone case lasted months. I'd recommend getting a soft PLA.
PLA's structural strength is less than that of PETG, ABS, or Polycarbonate. This is an important factor as the phone case must be strong enough to withstand drops and protect the phone.
In fact, some people using PLA cases have reported that their cases couldn't withstand more than two drops before breaking. This isn't optimal for protective case.
PLA is not very durable which means that cases printed out of PLA deform in the presence of strong sunlight, and they also become more brittle when exposed to UV light.
Lastly, its surface finish isn't all that great. PLA doesn't produce a great surface finish like most other materials (except for Silk PLA). You'll want to do quite a bit of post-processing to get the final phone case to look the part.
Best 3D Printed Phone Case Files/Templates
If you want to print a phone case, and you don't want to design a model from scratch, you can easily download a template and modify it. You can modify the STL file using a variety of 3D modeling software.
For more information on how to modify STL files, you can take a look at my article about Editing & Remixing STL Files. Here, you can learn how to remix 3D models using a variety of software.
There are several sites where you can get STL files and templates of phone cases to print. Here are some of my favorites.
Thingiverse is one of the largest repositories of 3D models on the internet. Here, you can get an STL file of almost any model you want.
If you want an STL file for a phone case, you can just search for it on the site, and hundreds of models will pop up for you to choose from.
Here is an example of the variety of phone cases on the site.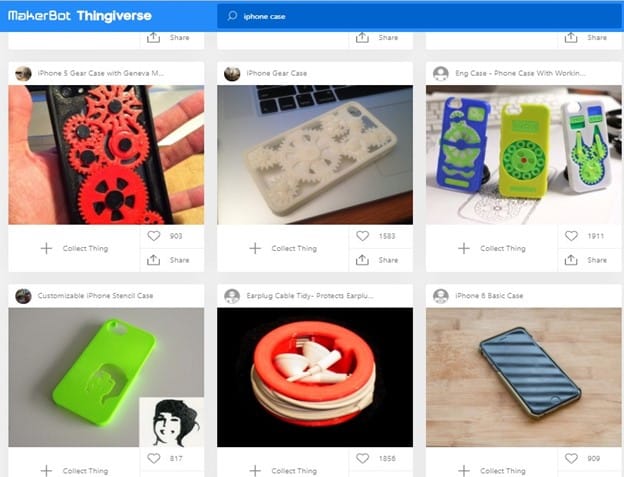 To make things even better, you can use Thingiverse's customizer tool to refine and edit the model to your preferences.
MyMiniFactory is another site that has quite an impressive collection of phone case models you can download. On the site, there are plenty of phone cases for popular phone brands like Apple and Samsung that you can pick from.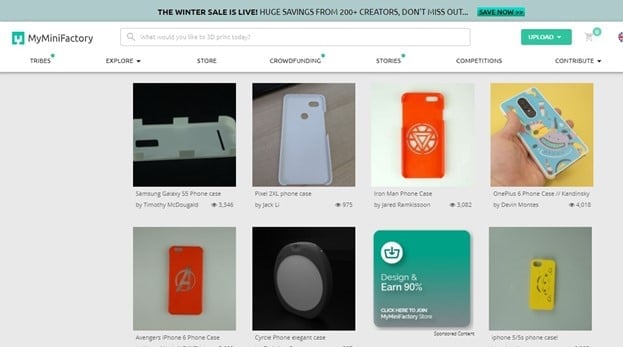 You can access their selection here.
However, you can only download these files in an STL format. This makes editing and customizing them somewhat difficult.
This site contains a wide variety of both free and paid 3D phone case models for printing. However, to get the best ones, you'll have to search quite a bit.
You can browse through these phone cases to see if you can find a perfect one.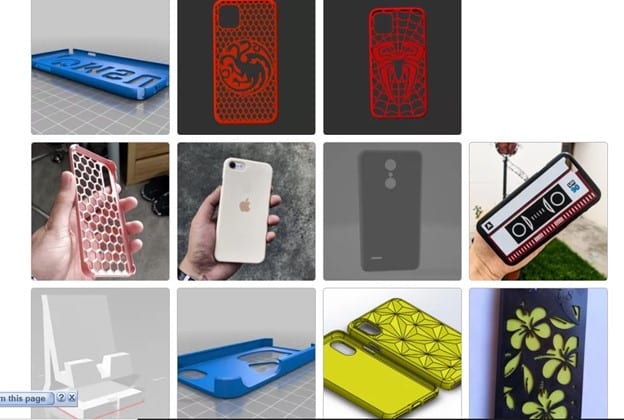 It is a very good site, especially if you're looking for a plain model to easily edit and customize.
CGTrader is a site that offers 3D models to Engineers and 3D printing hobbyists. Unlike the other sites on this list, if you want a phone case model from CG Trader, you'll have to pay for it.
However, this fee is worth it because most of the models found on CGTrader are high-quality ones. Also, these 3D models come in various formats, so you can easily modify them.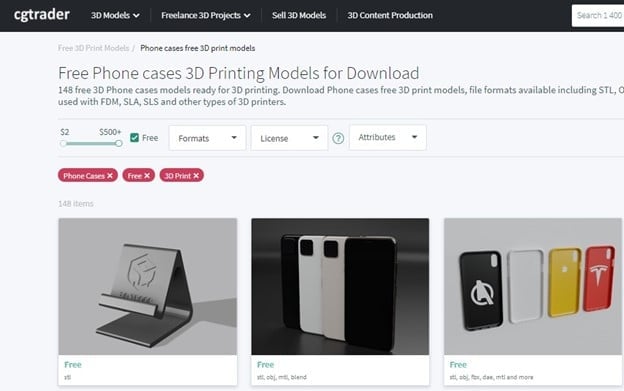 If you have the money to spend on the model, I recommend giving this site a try. So, look through CGTrader and see if you can find a phone case that's good for you.
Best 3D Printer for Phone Cases
We've talked about the 3D models and the filament; let's now talk about the central part of the puzzle, the 3D printer.
To print a phone case using high-quality materials like Polycarbonate and PETG, you need a good, sturdy printer that can handle these materials.
Here are some of my favorite picks.
The Ender 3 V2 is a name that is well known to many 3D printing hobbyists. This printer is a highly customizable workhorse that offers far more value than its price suggests.
Thanks to its heated Carborundum glass bed and upgraded hotend, you can easily print your phone cases out of materials like ABS and TPU.
However, if you want to print Polycarbonate with this printer, you need to buy a printing enclosure. Also, you have to upgrade from a Bowden hotend to an All-metal one to handle the temperatures Polycarbonate requires.
Pros of the Ender 3 V2
It is highly modular and easy to customize to your needs.
It provides great value for its price.
Cons of the Ender 3 V2
It doesn't come with an enclosure or an all-metal hotend.
Printing Polycarbonate and PETG phone cases on its glass build plate can be problematic.
Some of its features (control knob) are somewhat hard to use.
Check out the Ender 3 V2 on Amazon for your 3D printed phone cases.
The Qidi Tech X-Max is the perfect printer for printing smartphone cases. It is easy to set up and operate, making it an excellent choice for non-tech savvy users.
Also, it has an enclosure for printing temperature-sensitive materials without any hassle. The final perk of the X-max is that it comes with two hotends.
One of these hotends can reach temperatures up to 300⁰C, making it suitable for printing almost any material.
Pros of the Qidi Tech X-Max
It is very easy to use and setup.
You can print a wide range of materials – including Polycarbonate – with it using its swappable, dual nozzle.
It comes with an enclosure to protect the print from temperature fluctuations and warping.
Flexible magnetic build plate makes removing prints easier.
Cons of the Qidi Tech X-Max
It is way pricier than most budget FDM printers
It doesn't have a filament runout sensor
Get yourself the Qidi Tech X-Max from Amazon.
The Sovol SV01 is another great, low-budget workhorse that is also beginner-friendly. This printer can print materials like PETG, TPU, and ABS right out of the box with great quality.
However, to print phone cases from Polycarbonate, some upgrades are in order. You'll have to get a new all-metal hotend and an enclosure.
Pros of the Sovol SV01
Can print at fairly fast printing speeds with great quality (80mm/s)
Easy to assemble for new users
Direct drive extruder which is great for flexible filaments like TPU
Heated build plate allows for printing filaments like ABS and PETG
Cons of the Sovol SV01
You have to install an enclosure to print Polycarbonate and PETG successfully.
You have to upgrade the hotend as the stock version cannot print Polycarbonate.
Its cooling fans make quite a bit of noise during printing
Check out the Sovol SV01 on Amazon.
Printing custom phone cases is a great project which can be very fun. I hope I've been able to provide some help and answer your questions.
Good luck and happy printing!