30 Cool Things to 3D Print for Dungeons & Dragons (Free)
Since its creation in the 80s, Dungeons, and Dragons is still the most popular table game in many parts of the world. This is evident from the series of awards the game has amassed over the last three decades.
I have researched and compiled lists of cool things from Dungeons and Dragons ranging from the characters to the terrains that you can 3D print from your 3D printer. Buckle up as I take you through this list of amazing stuff.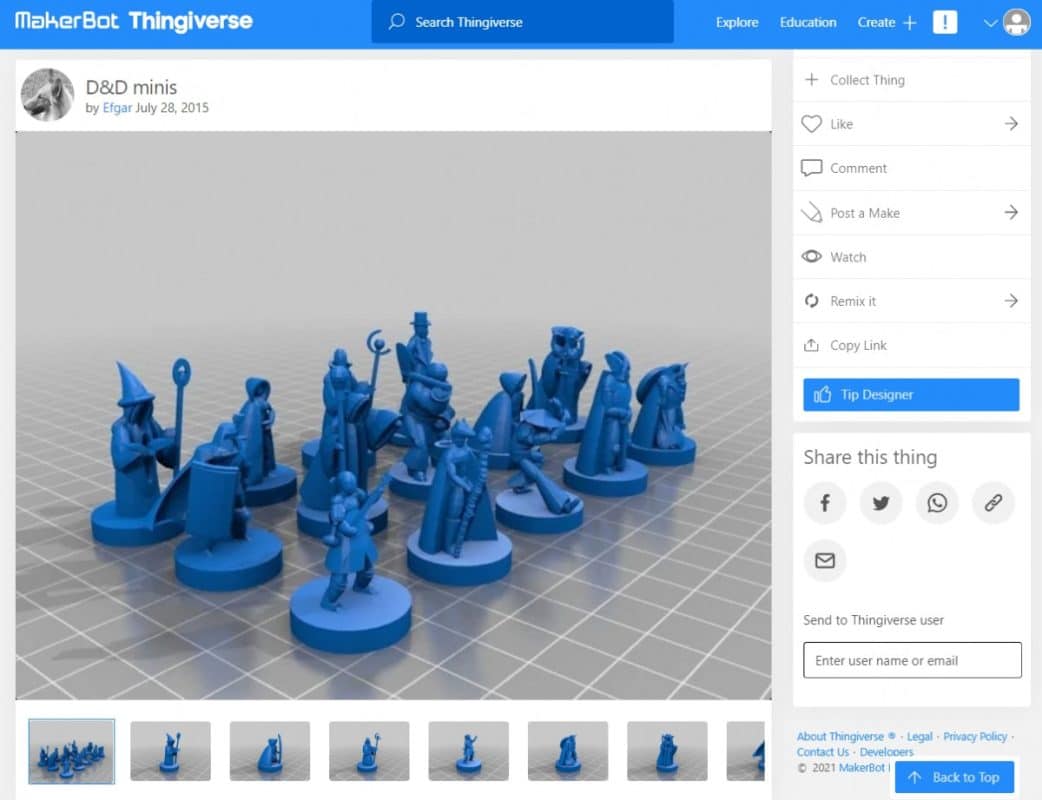 By choosing this wholesome pack, you'll get to print a whole package containing; Wizard (2 versions), Rogue (Halfling), War Cleric (Dwarf), Fighter (Dwarf), Ranger Warlock, Barbarian, Tempest Cleric, Bard, Monk, Paladin, Druid, Dungeon Master.
Created by Efgar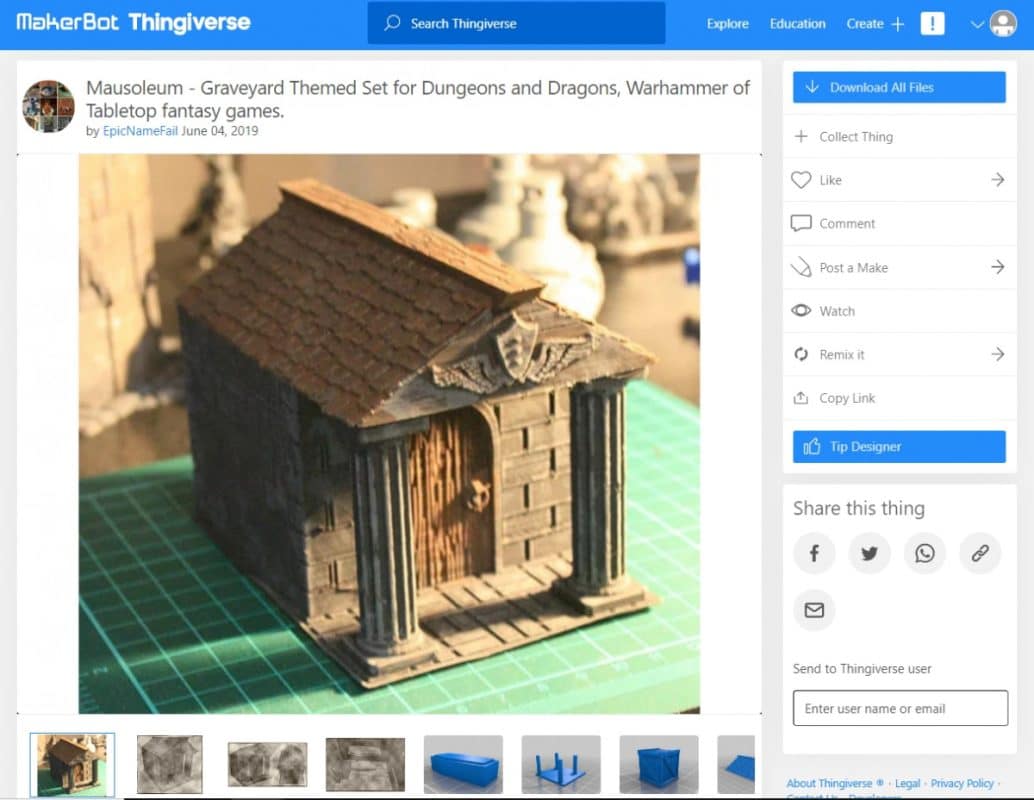 This is the time for something scary! The graveyard-themed set is an item I suggest you print. Get that spool of filament or resin into your 3D printer and do print something frightening.
Created by EpicNameFail
These dungeon doors come in different styles that blow your mind. It will make more sense if you give it a good coat! Excellent addition to your DnD games. You'll find this on MyMiniFactory rather than Thingiverse.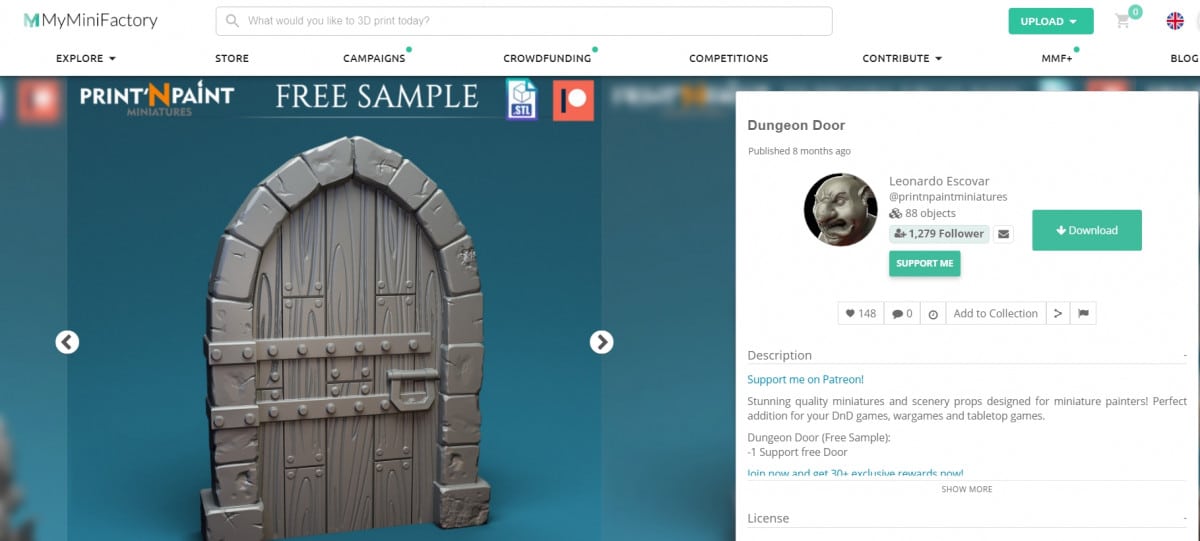 Created by Leonard Escover
Having walls to mark your D&D territory is cool, but you know what is even cooler? A wall with a torch.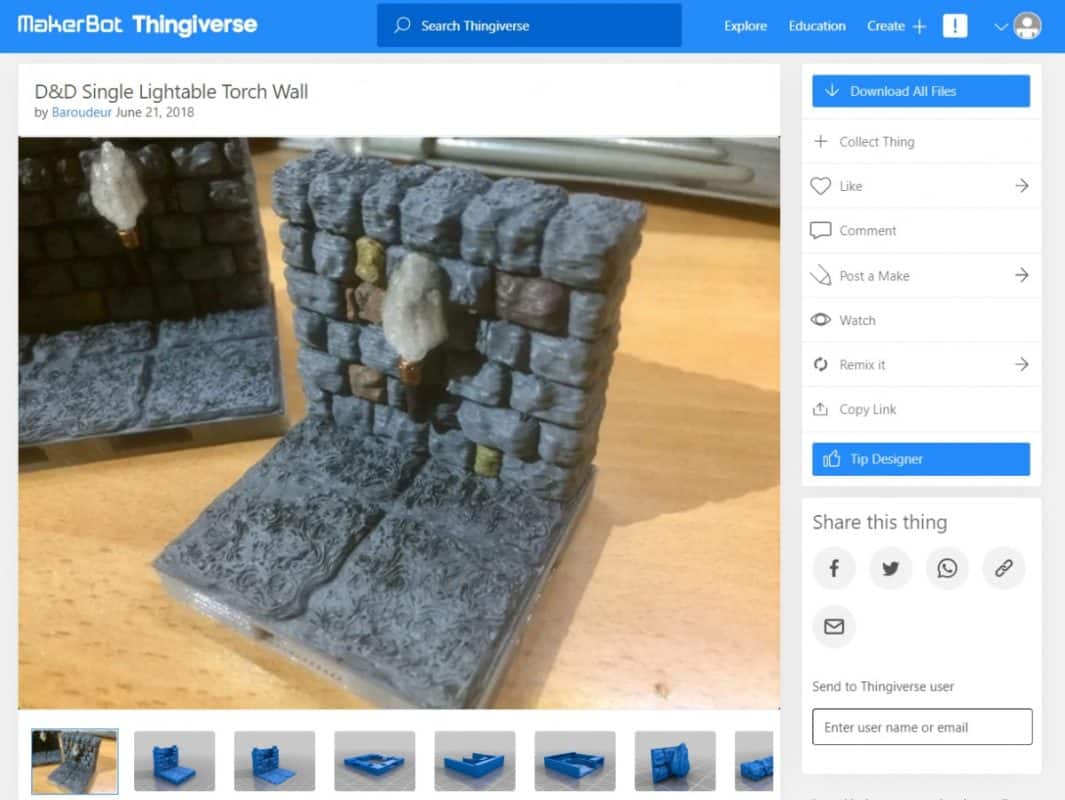 Created by Baroudeur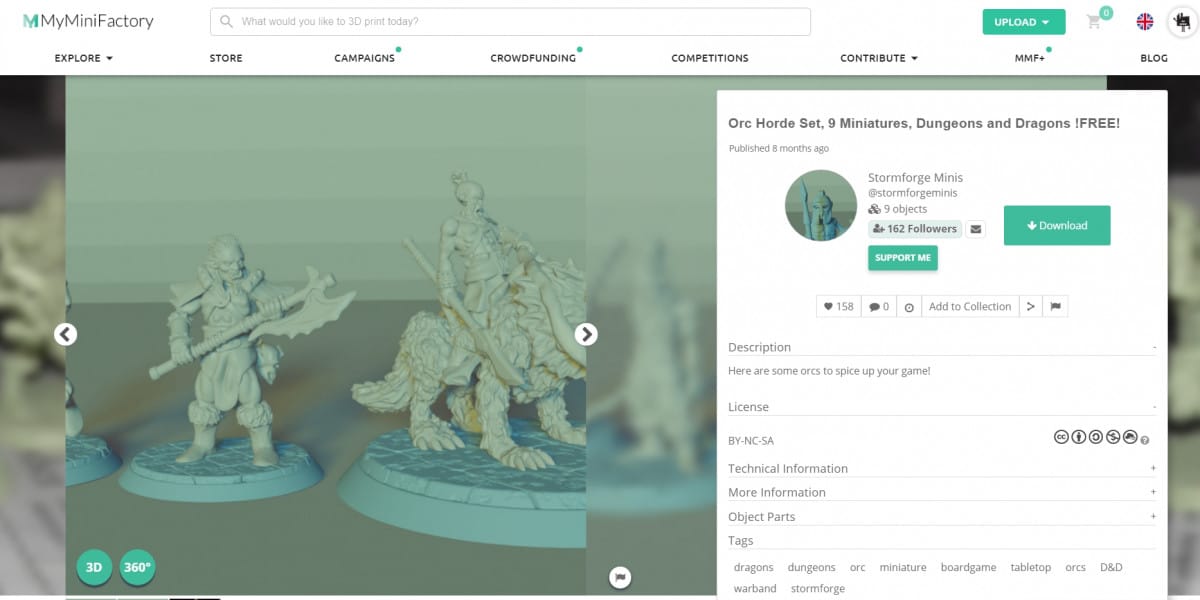 Spice up your game with diverse characters.
Created by Stormforge Minis
When you find it, you'd love it. Manticores are rare, and a good one as such.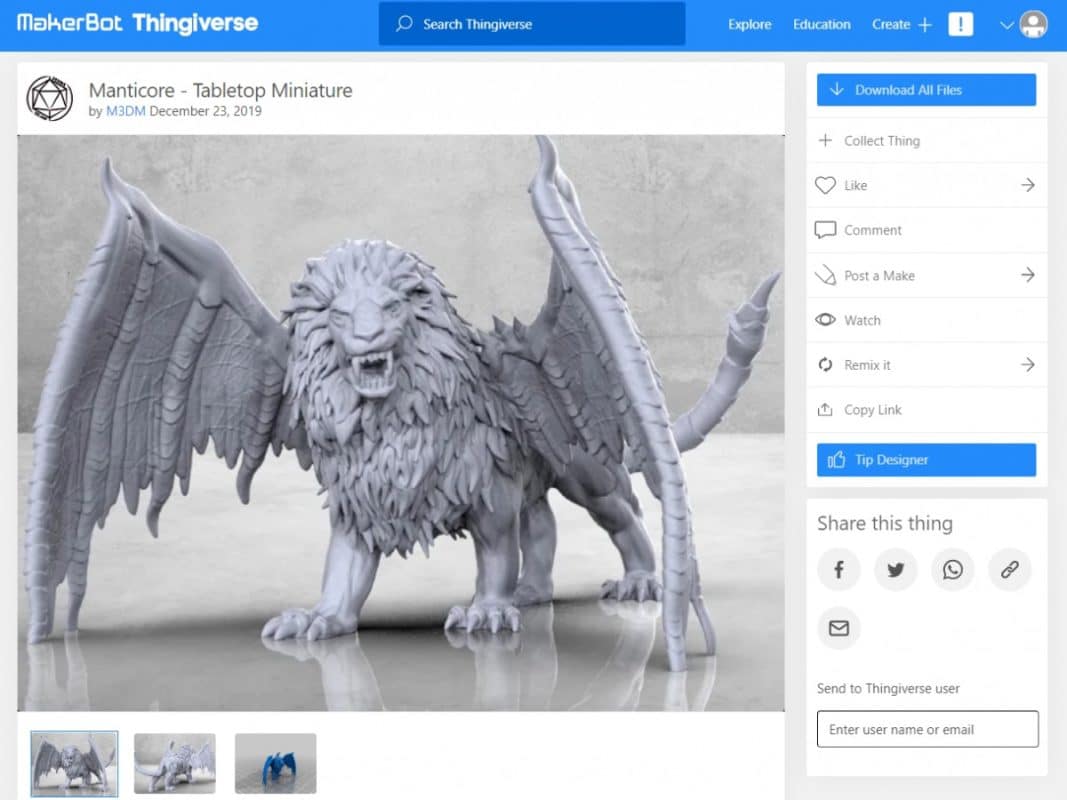 Created by M3DM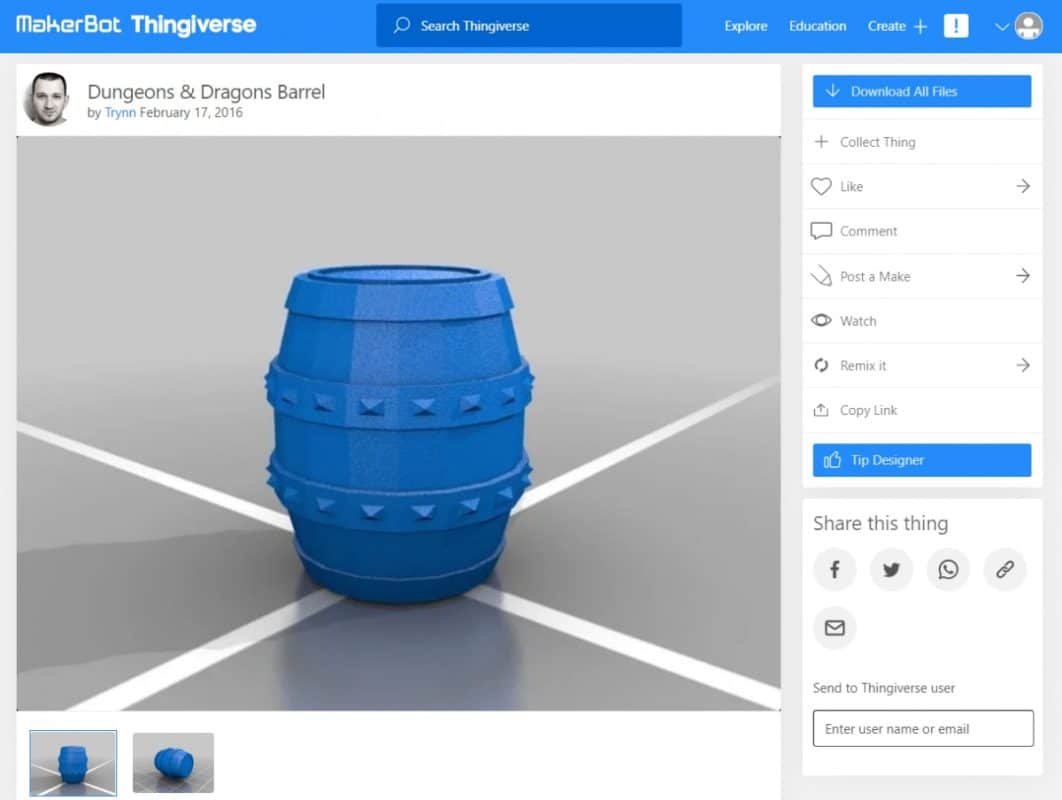 To give your tabletop game a facelift, you'd be needing some props. One of the props you can't go wrong with are some good quality barrels.
Created by Trynn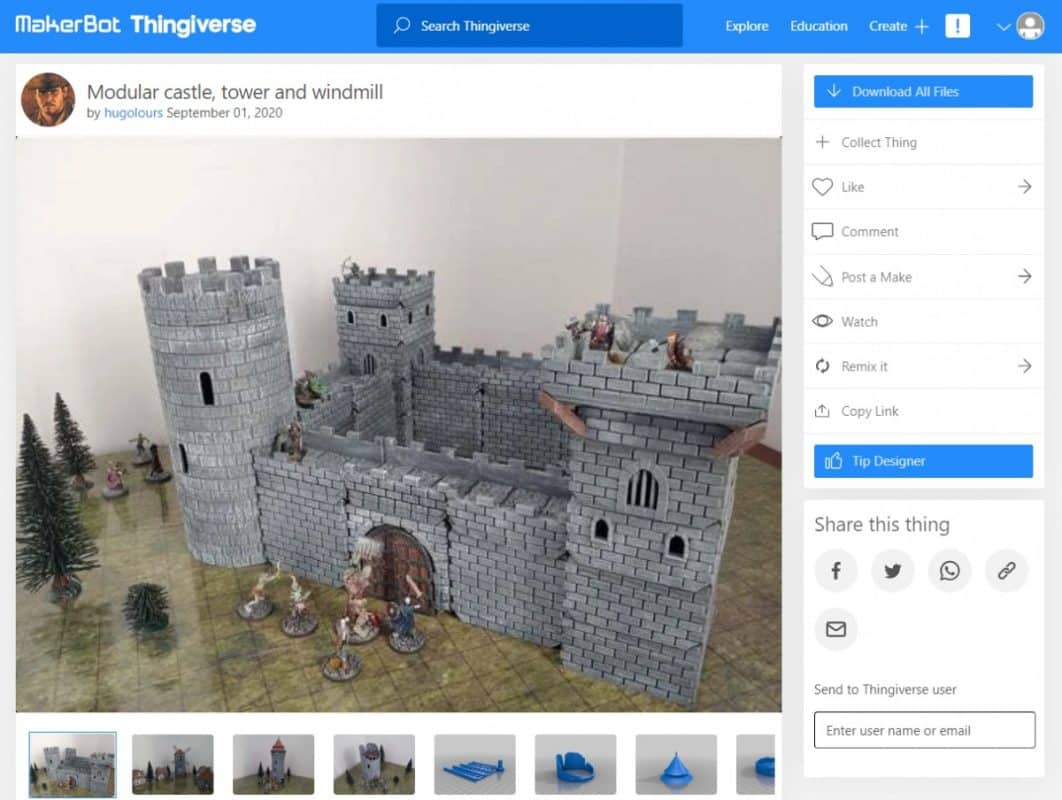 Created by Hugolours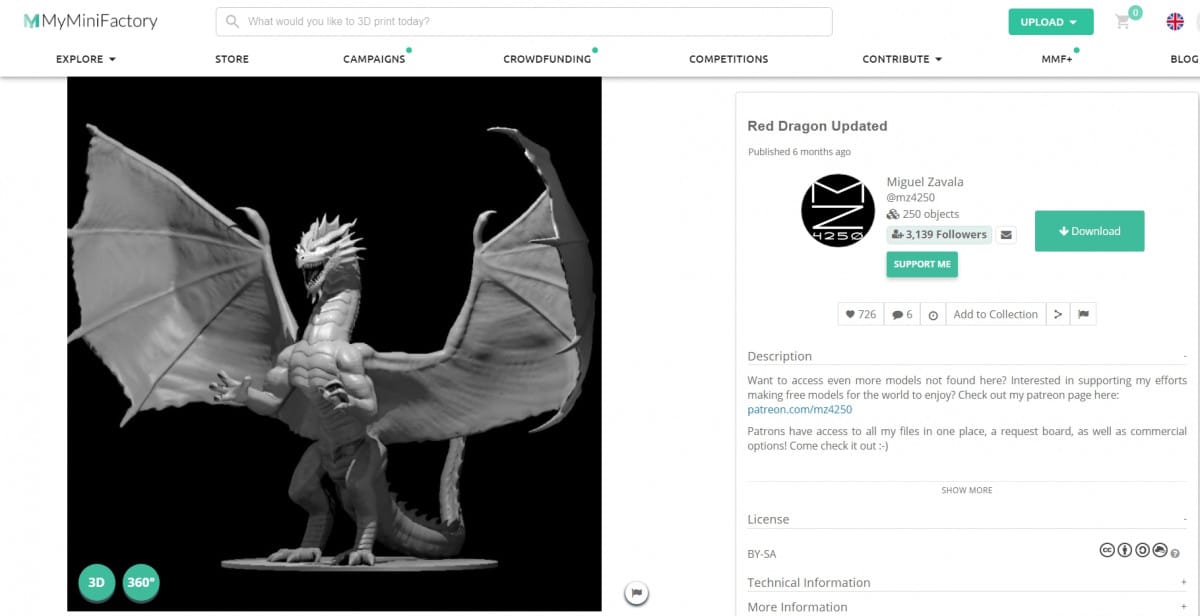 It's the details and the pose for me. Get the game rolling with this tabletop Dragon.
Created by Miguel Zavala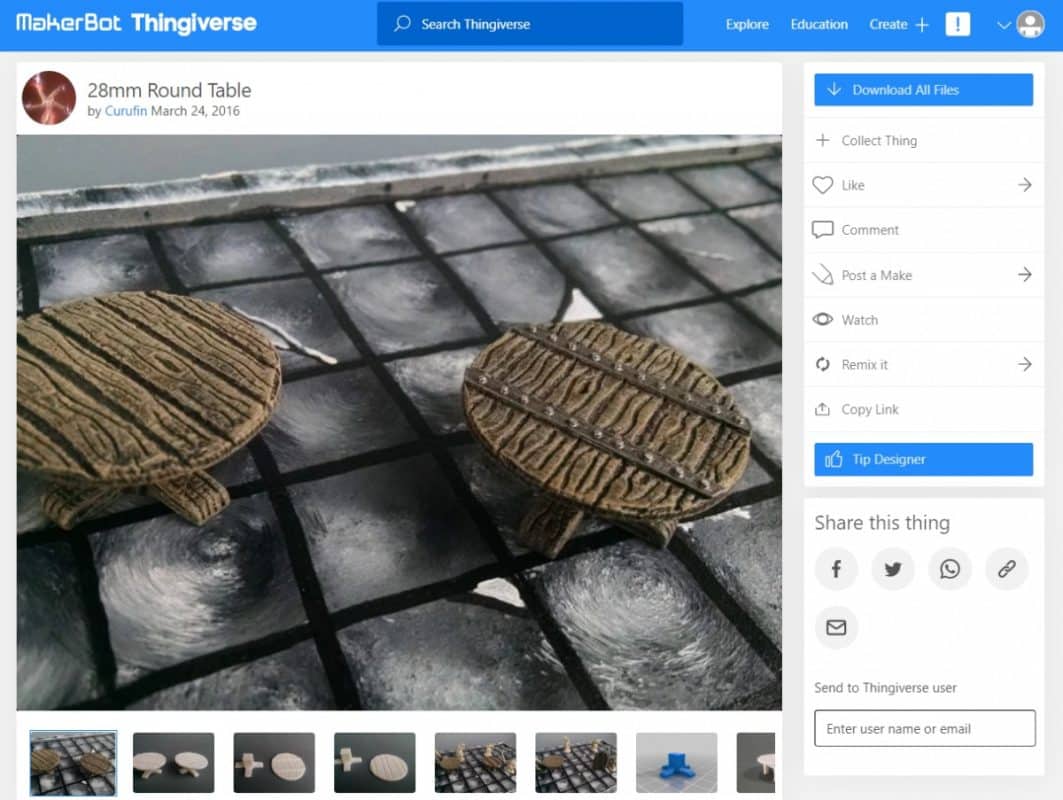 The tabletops measure 1.5 inches in diameter but should be able to be scaled to suit your gaming needs.
Created by Curufin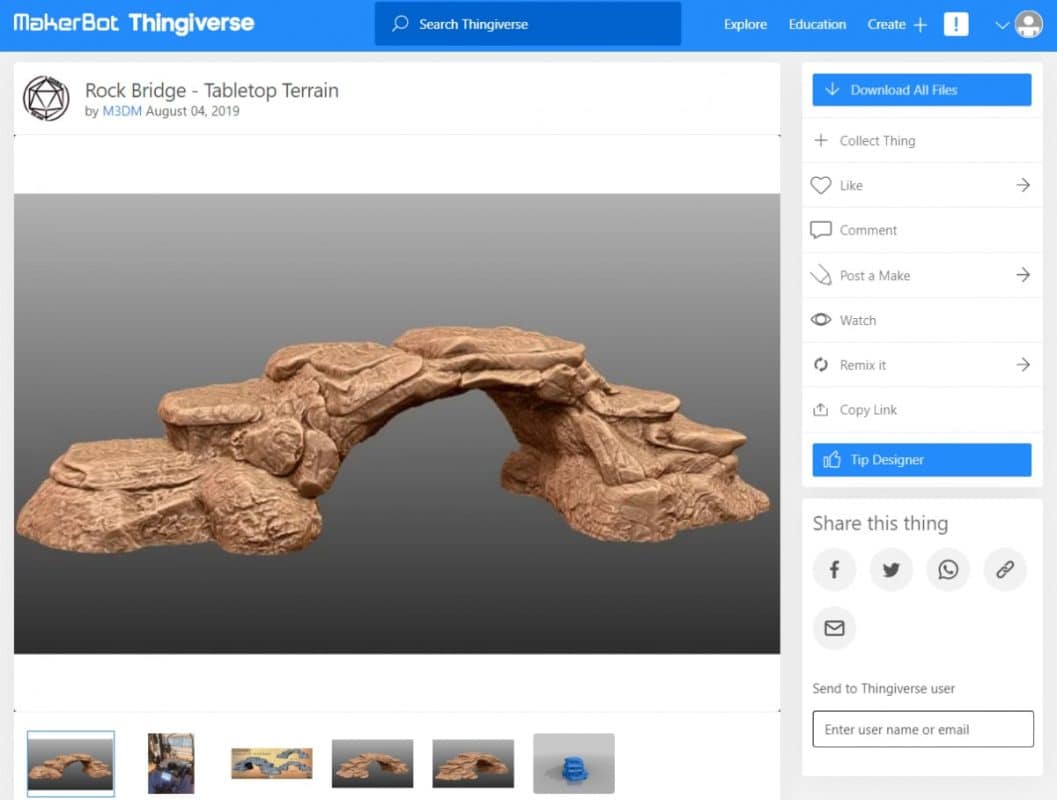 Having something to beautify your terrain and give it that appealing look is something we all look forward to. A rock bridge can serve that purpose in a great way.
Created by M3DM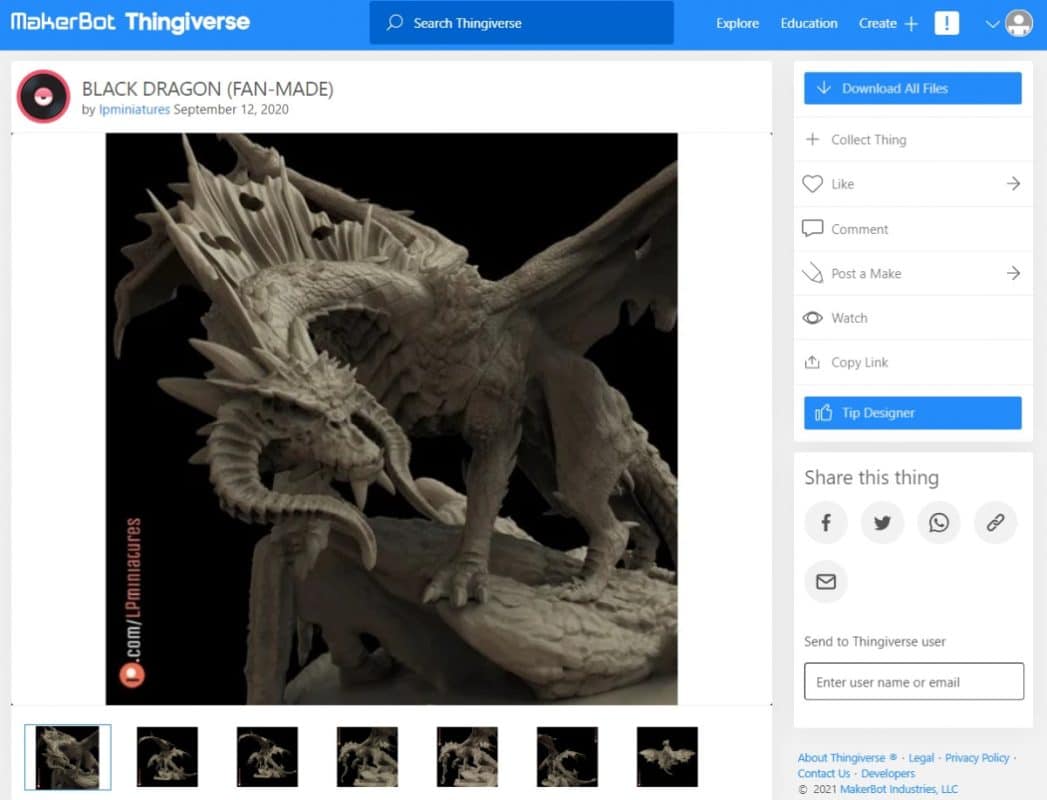 This is one of the coolest things you can 3D print. Lovers of Dungeons and Dragons know the importance of a dragon in their game.
Created by Ipminiatures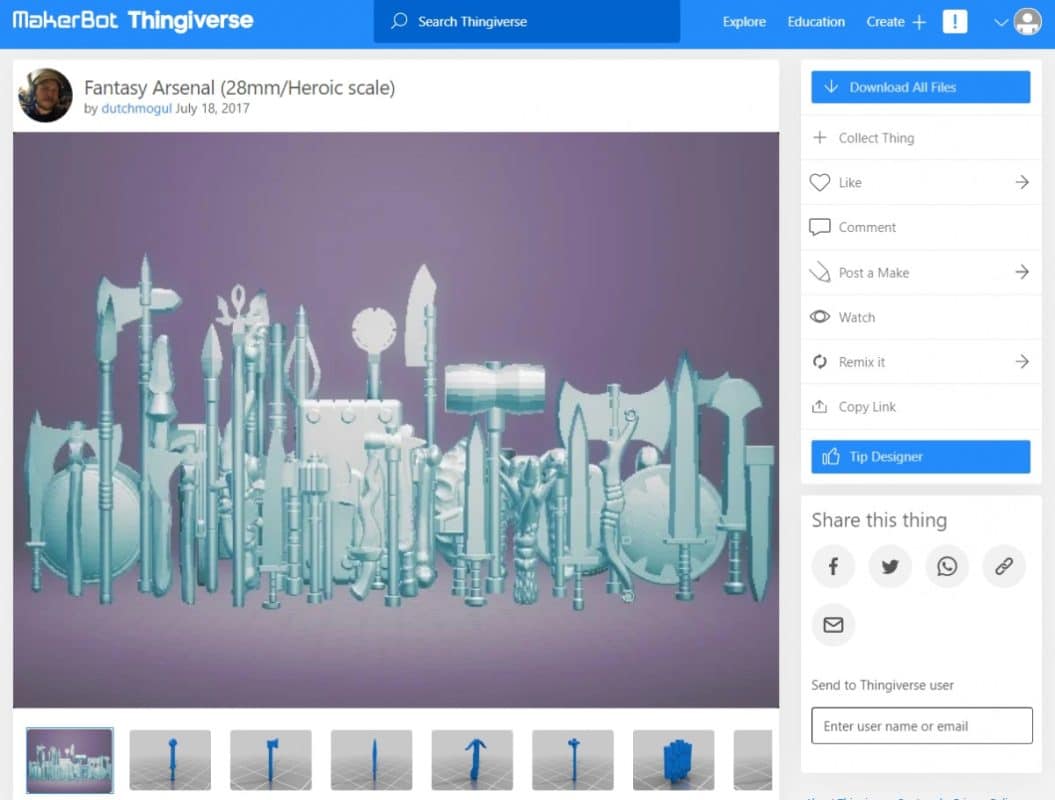 One of those who downloaded and 3D printed this exclaimed in the comment section, "this might be one of the most useful things I have ever found on Thingiverse!" I agree with him, for many reasons. Who goes to war without a loaded arsenal?
Created by dutchmogul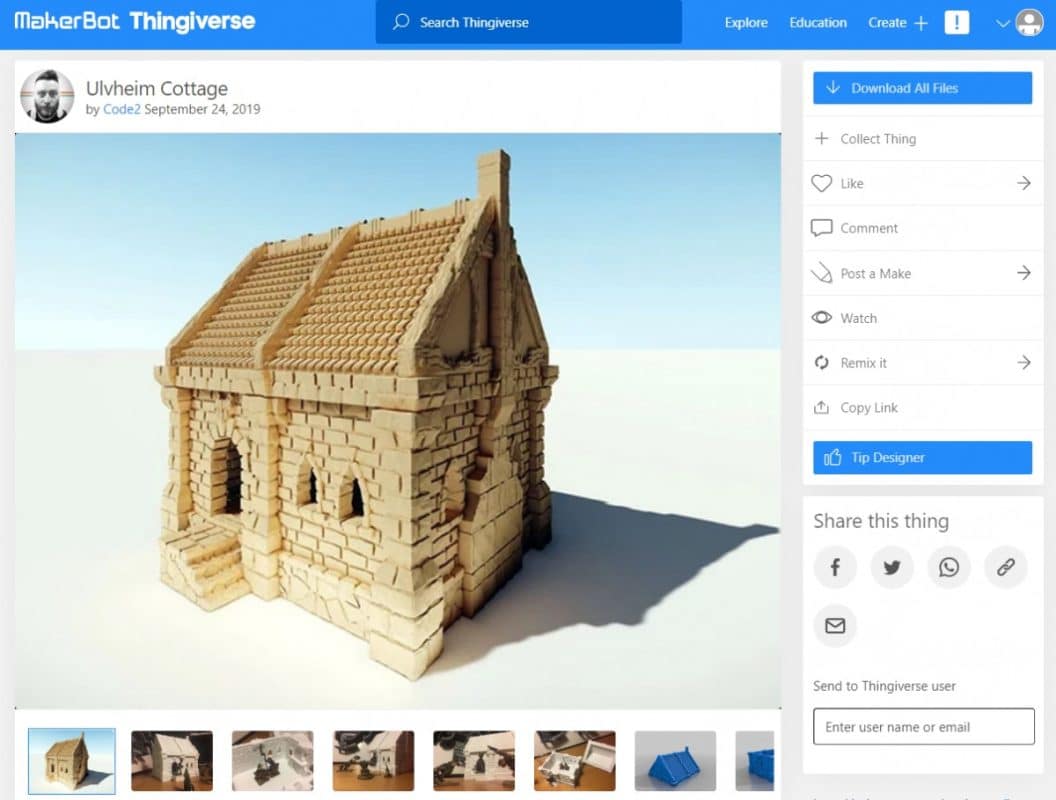 Adding a cottage to your DnD isn't a bad idea in any way. It might take a lot of assemblages, but it is worth it!
Created by Code2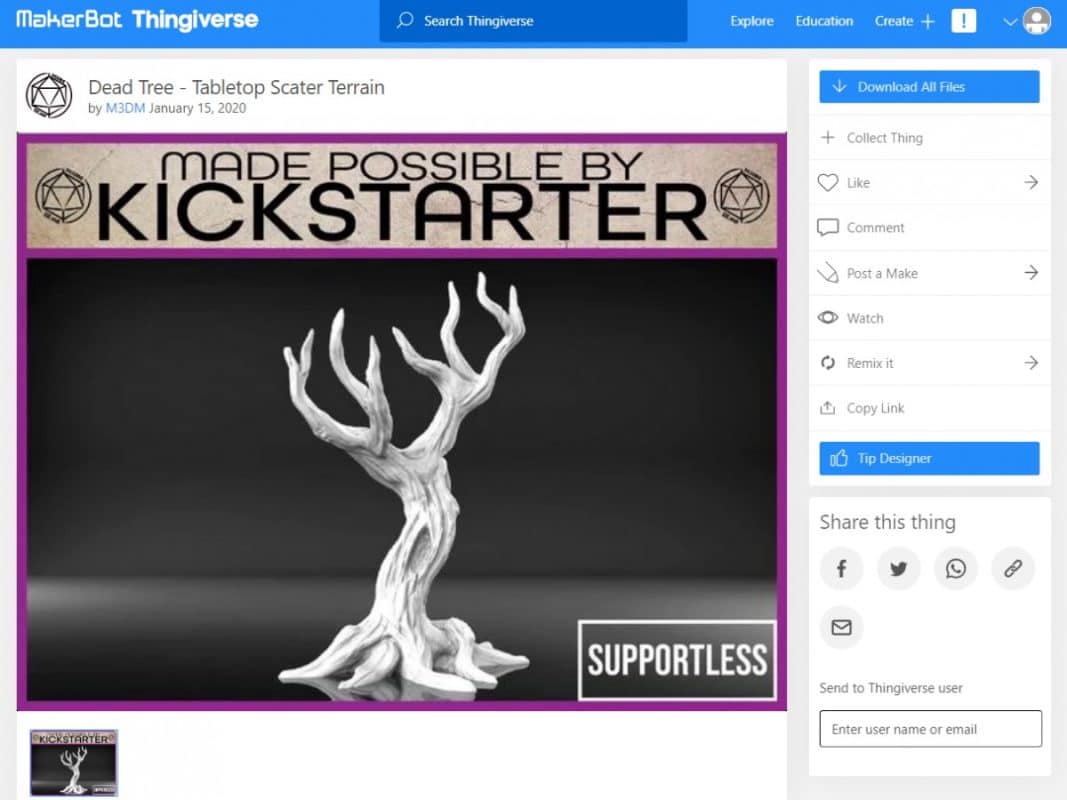 It's called Dungeons and Dragons for a reason; some props that give the feel should be printed. The dead tree to me is one of the cool stuff you can 3D print on your own to add to your D&D tabletop collections.
Creator M3DM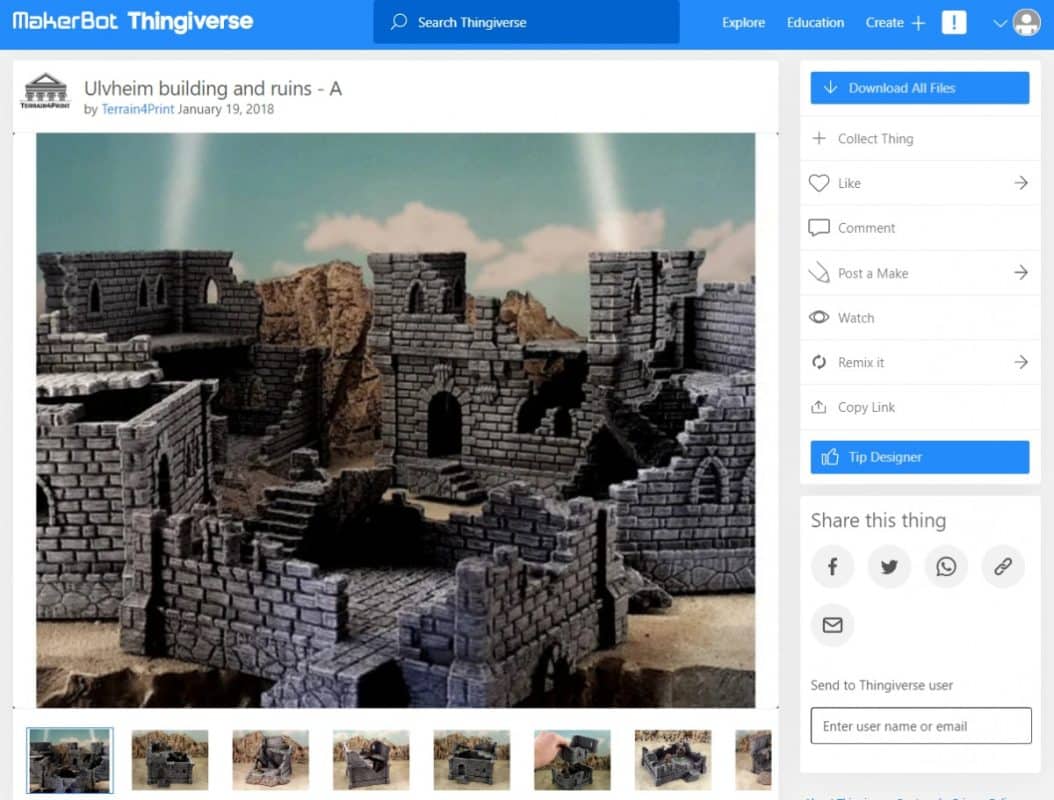 If you want to give your Dungeons and Dragons game a medieval touch and add some little imperfections to it, printing this is a great idea. It is a story building with no roof.
The excessive use of filaments shouldn't scare you because it has just about 5% infill and requires no support.
Created by Terrain4Print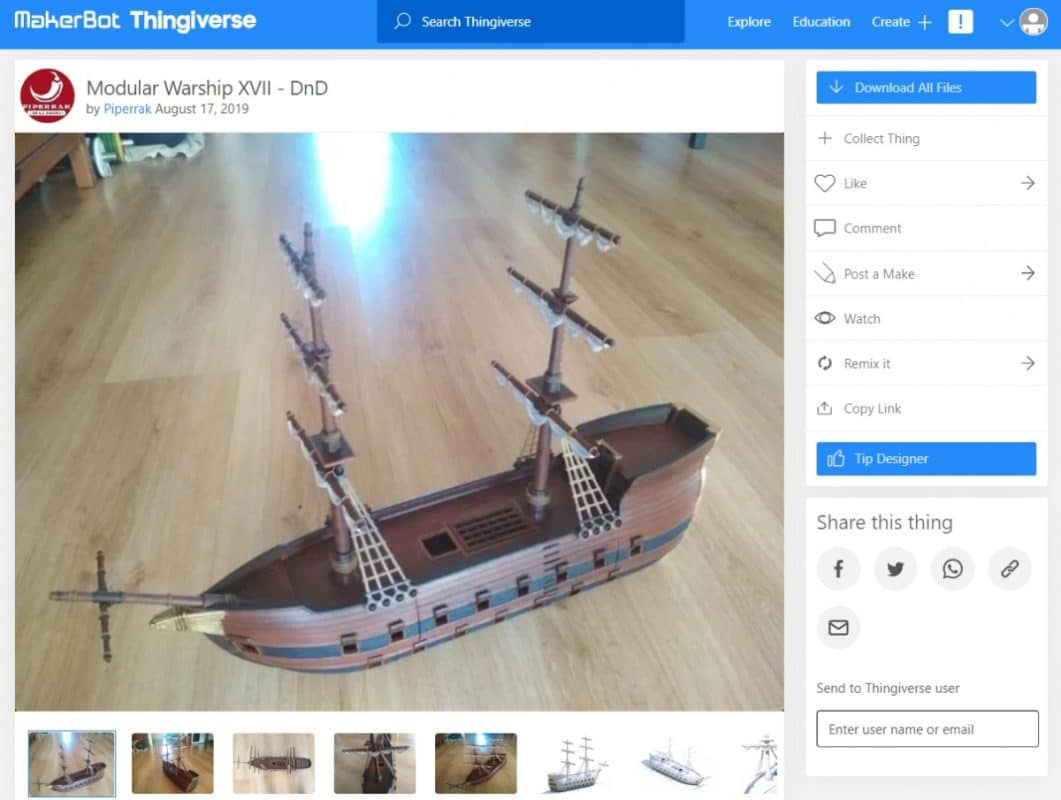 This VII-XVIII-inspired warship is a private collection of the creator. However, the ship has also some related art to Dungeons and Dragons and it is well integrated with the shipping line.
Created by Piperrak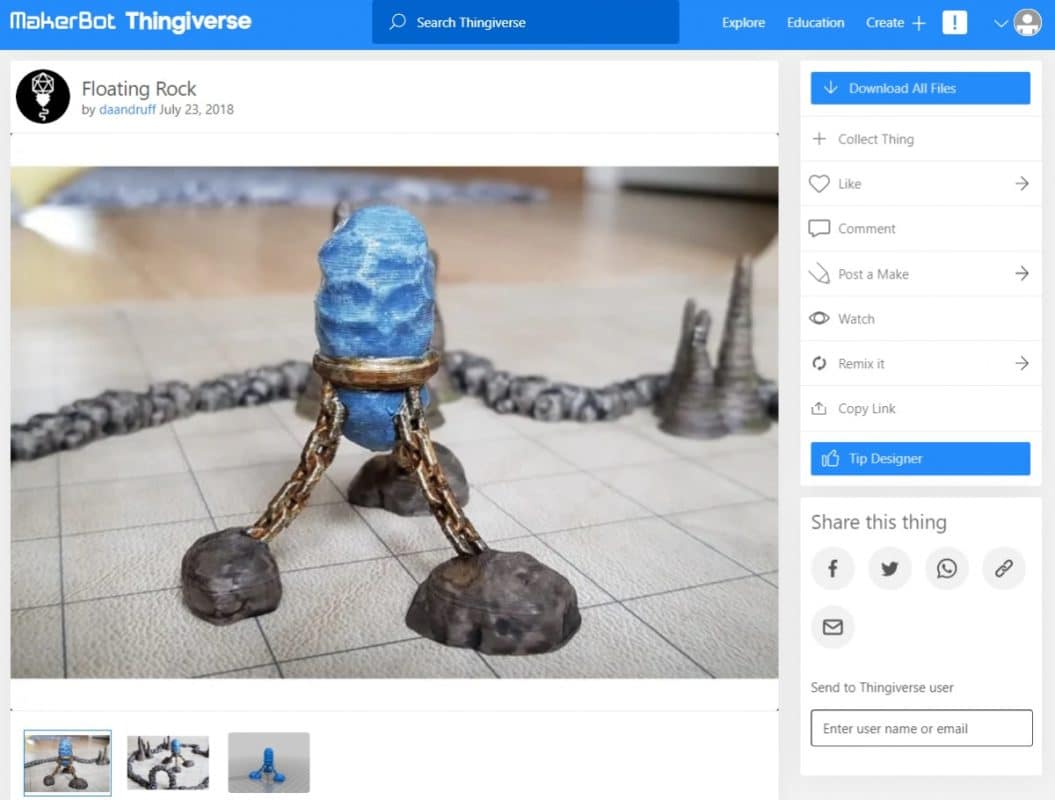 A bizarre floating rock chained to the ground. A perfect mystic piece to use in your dungeons.
Created by dandruff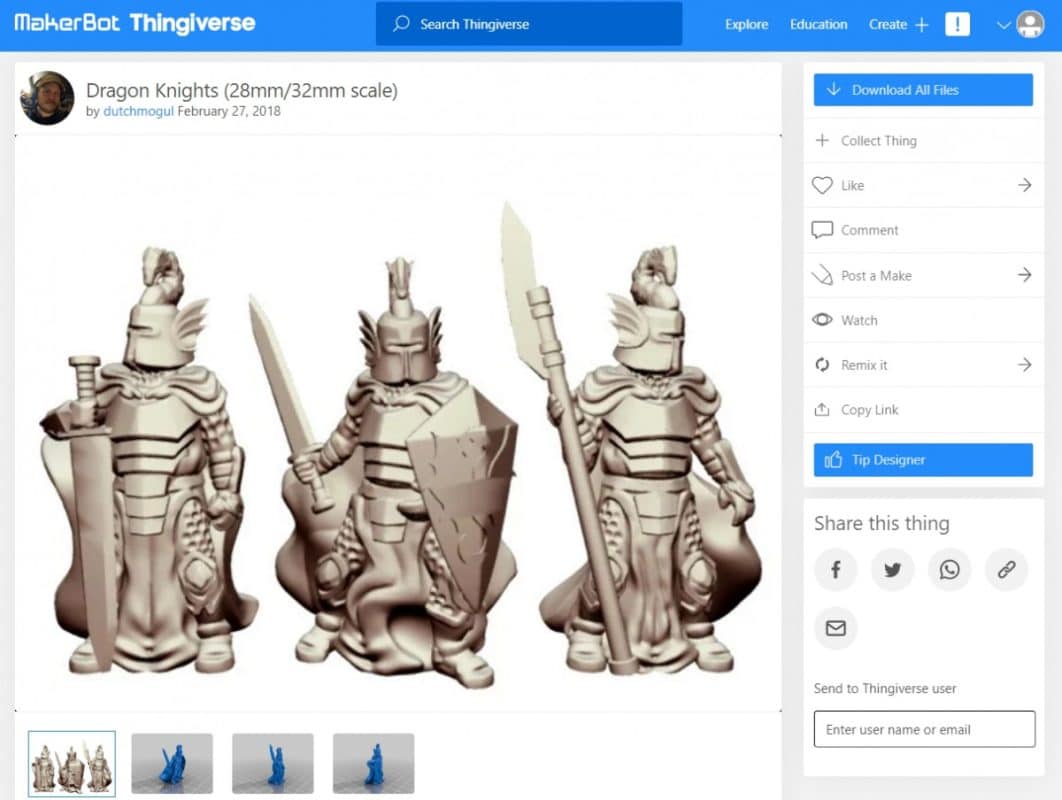 The cool thing about these RPGs will definitely be the captain of the knights. You get to have knights and their gaffers. So cool! No raft or support is needed, just download and print.
Created by dutchmogul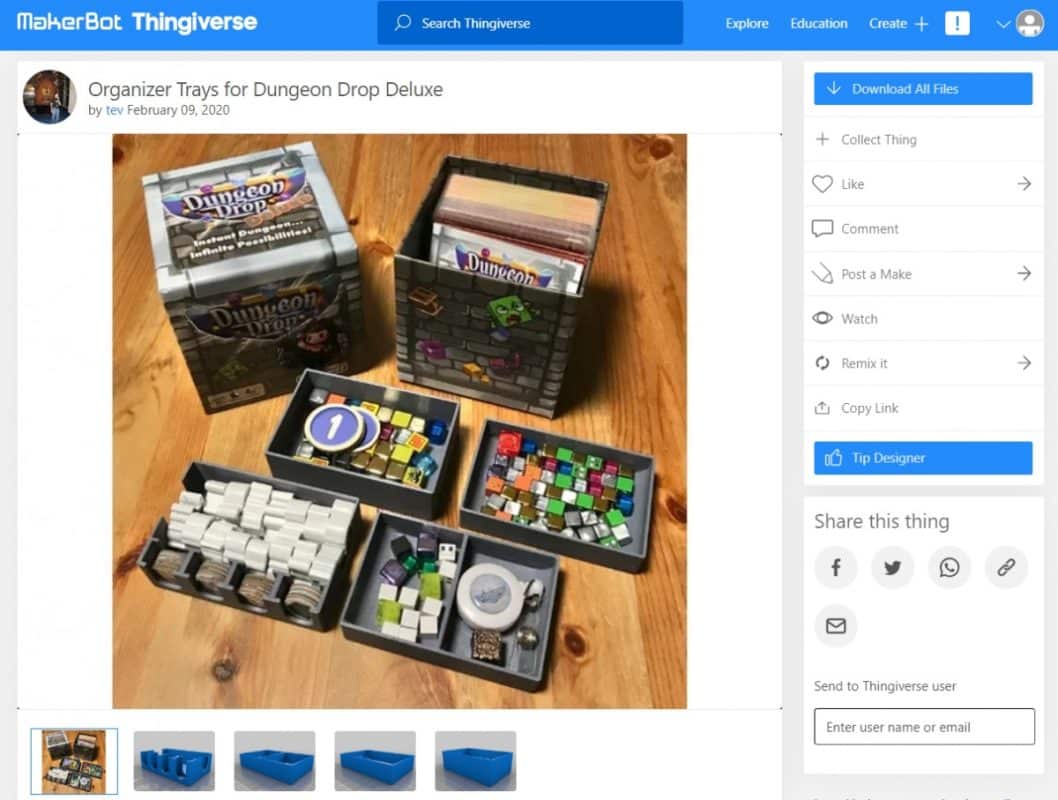 Don't lose any of your D&D props by having a tray in which you can put everything in. Your character tokens, cubes, and dragons, etc.
Created by tev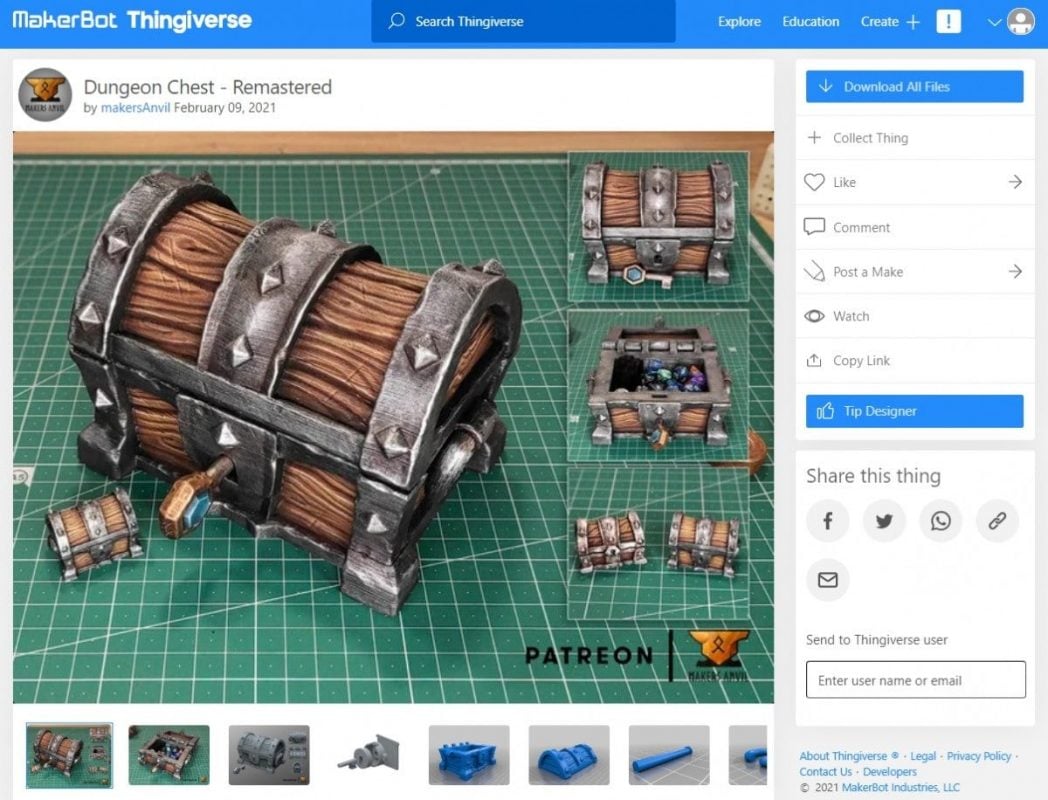 The chest has amazing features: a lock system which was not in the previous model.
There are a few pieces but should be easy to assemble, also you should not need to glue any part but depending on your printer, maybe you will want to glue the hinge rod. All pieces should fit and stay without problems.
Created by makersAnvil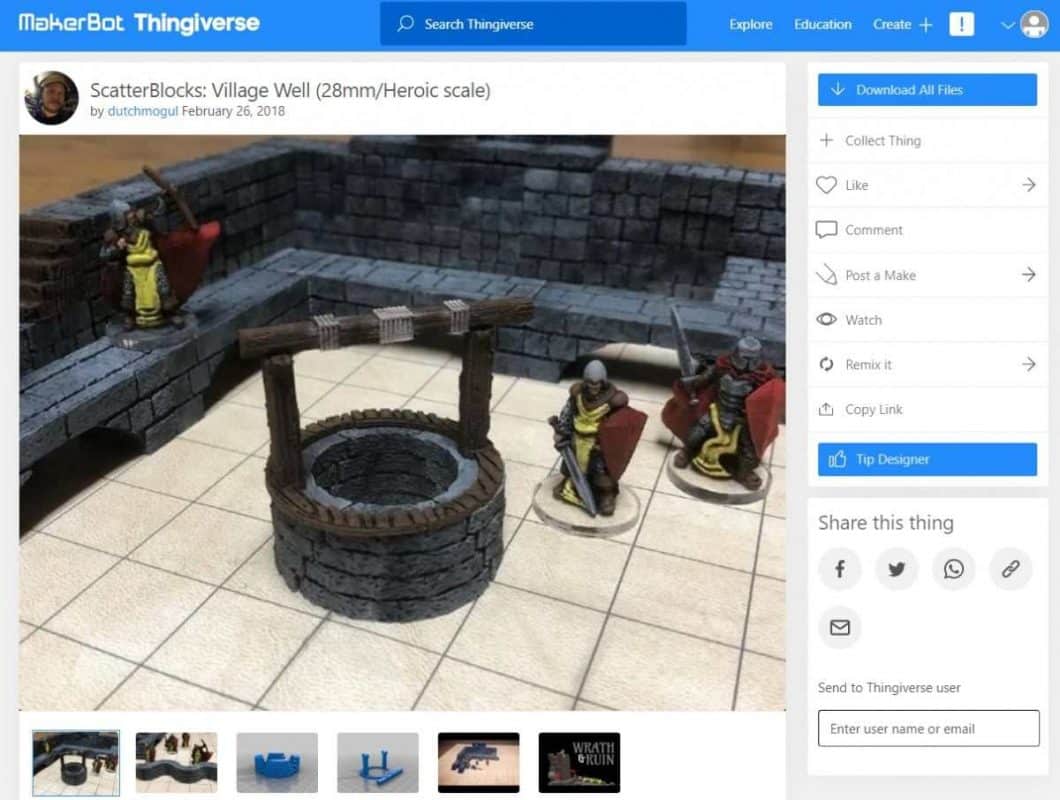 This special kit makes a well, or you can rearrange the stone segments into a low, winding wall. If you want to print a set of blocks now, you can find the Cyclopean Stone set here on Thingiverse. Like all ScatterBlocks, it prints quickly and without the need for rafts or support.
Created by dutchmogul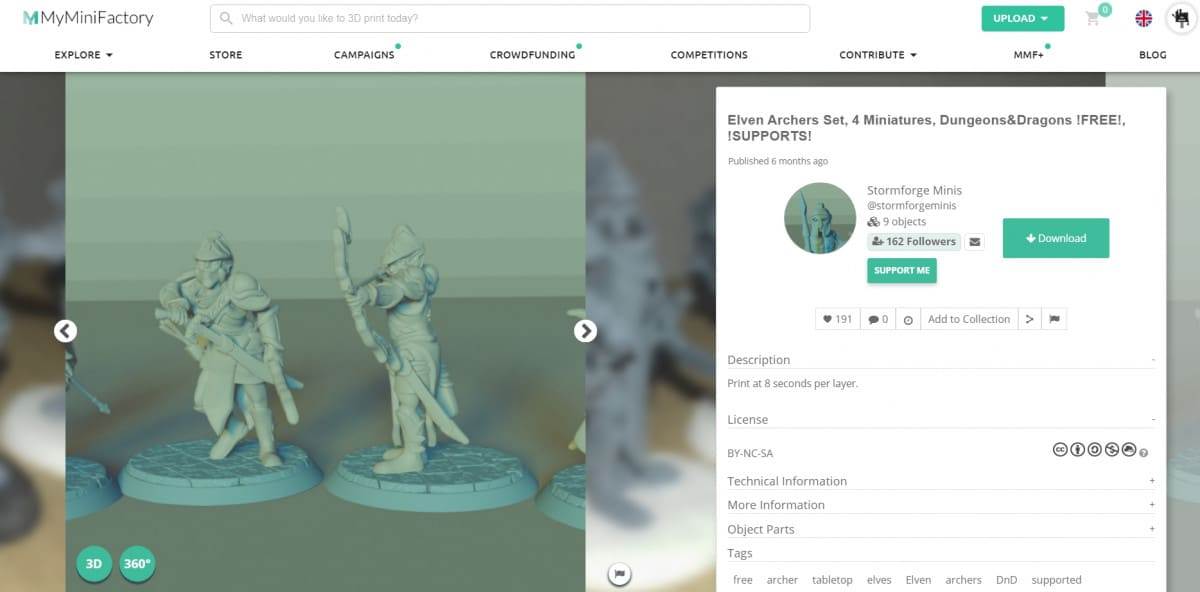 Created by Storm Forge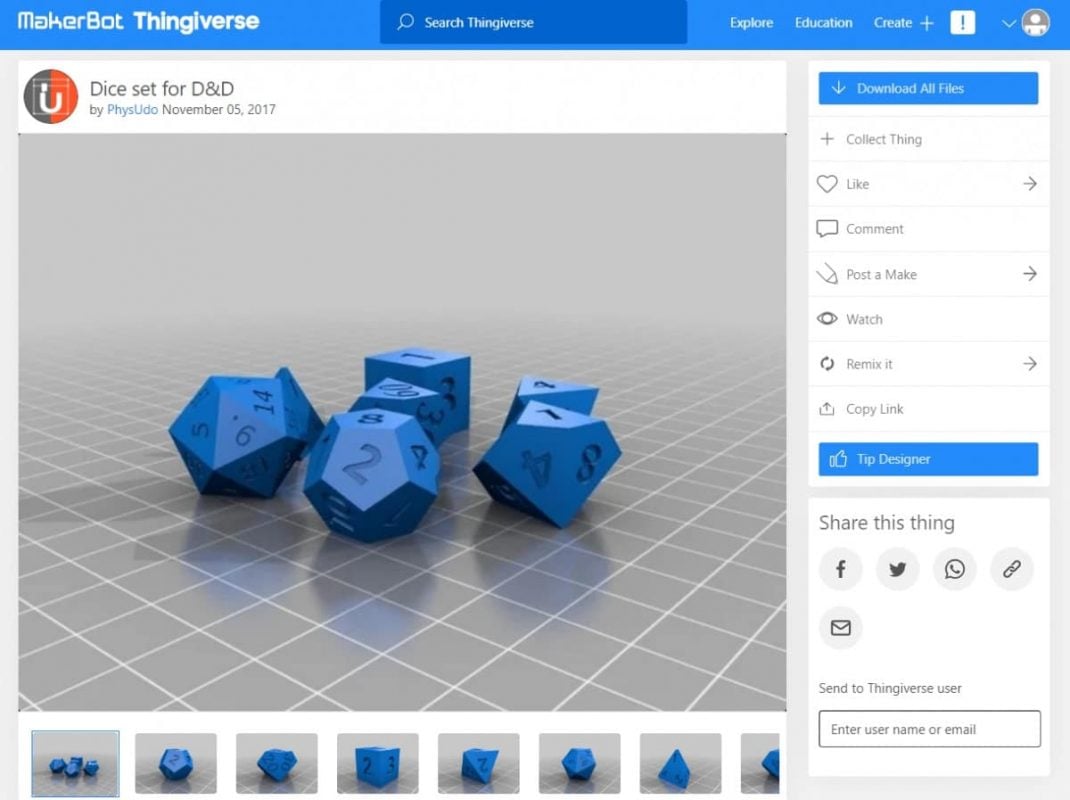 Probably one of the coolest things about Dungeons and Dragons. The dice set containing D4, D6, D8, D10, D12, & D20 is a recommendable thing to 3D print.
Created by PhysUdo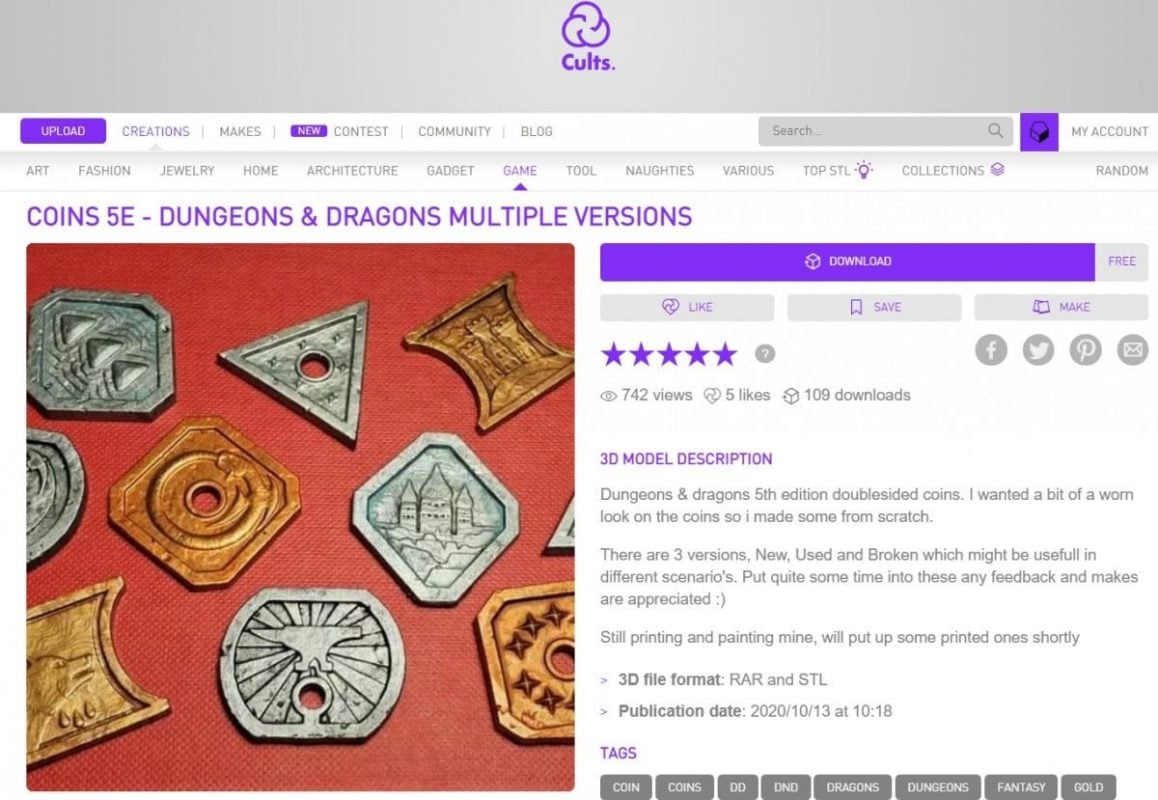 I love coins. Especially when you coat them in golden or brass paint to give them that real look. This can be found on Cults3D.
Created by agroeningen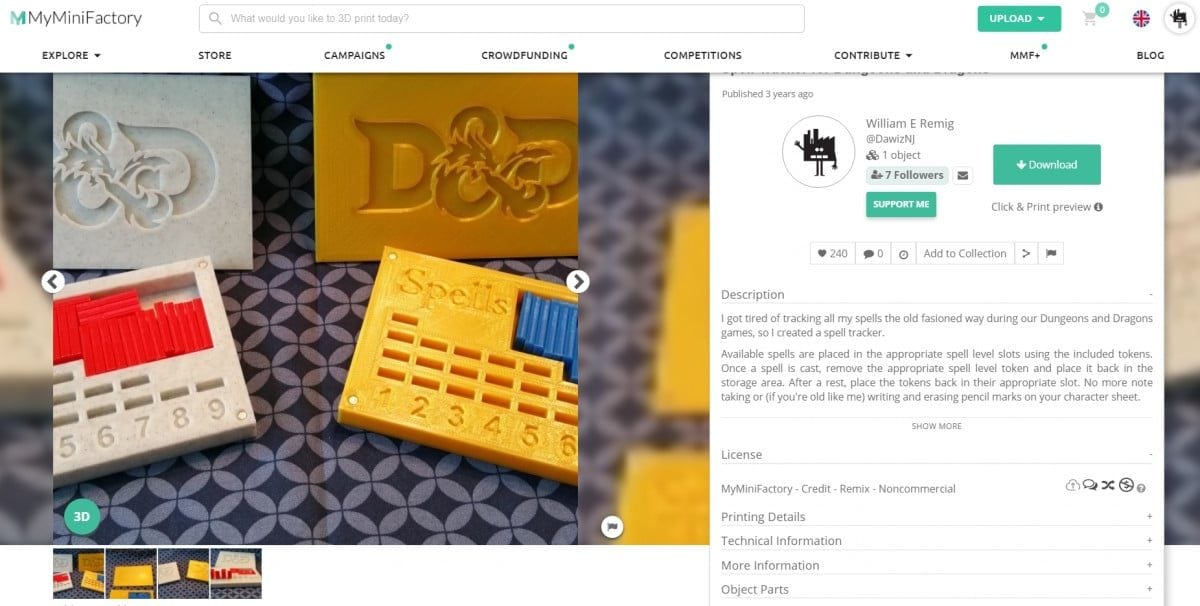 If the old-fashioned idea of tracking your spells irks you, then this innovative spell tracker is for you. The spells are racked up in this container and it is only taken out when it has been used.
Created by DawizNJ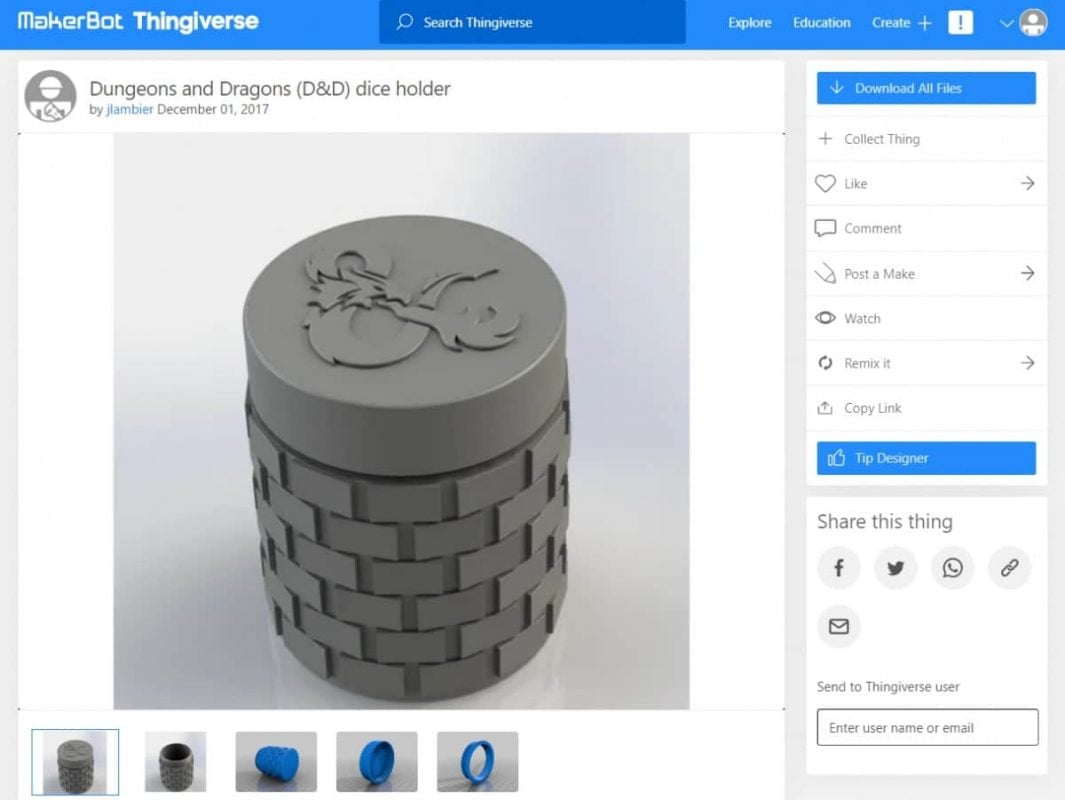 You may want to consider 3D printing a dice holder especially when it is a familiar problem that the hinges of the original dice holder might sever from heavy usage. A screw holder like this one is a more preferred choice for holding dice.
Created by jlambier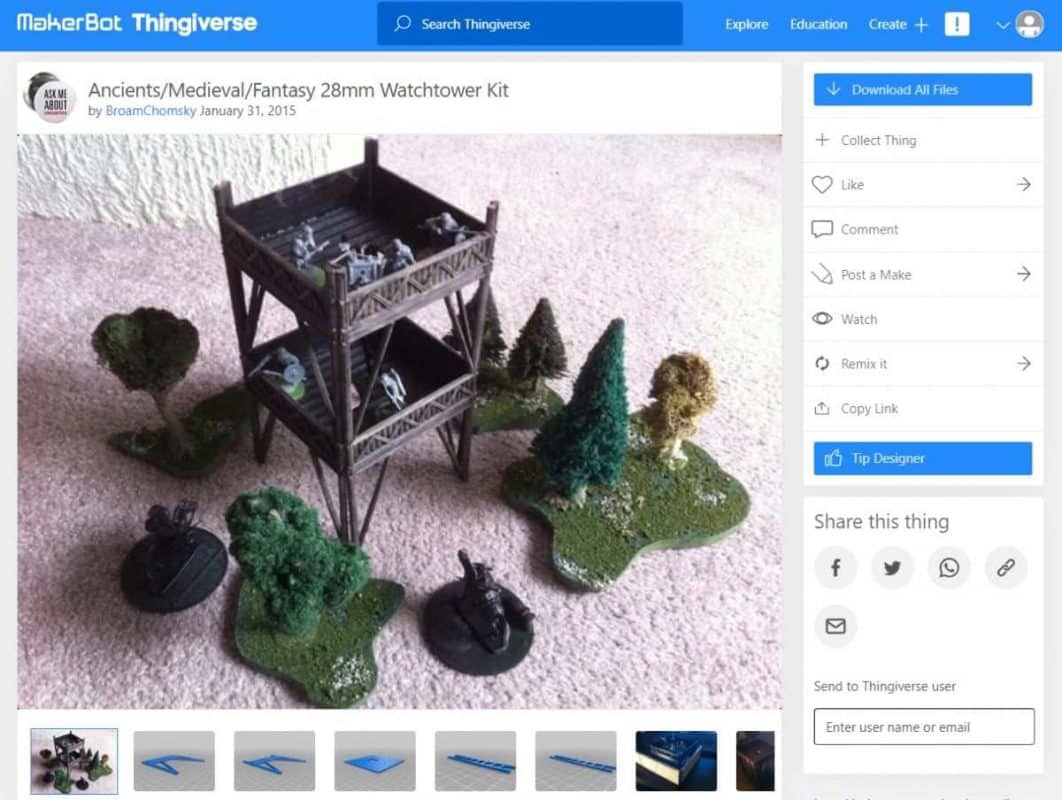 The watchtower kit includes; the poles, the roof, the stepping board, and the ladder.
Created by BroamChomsky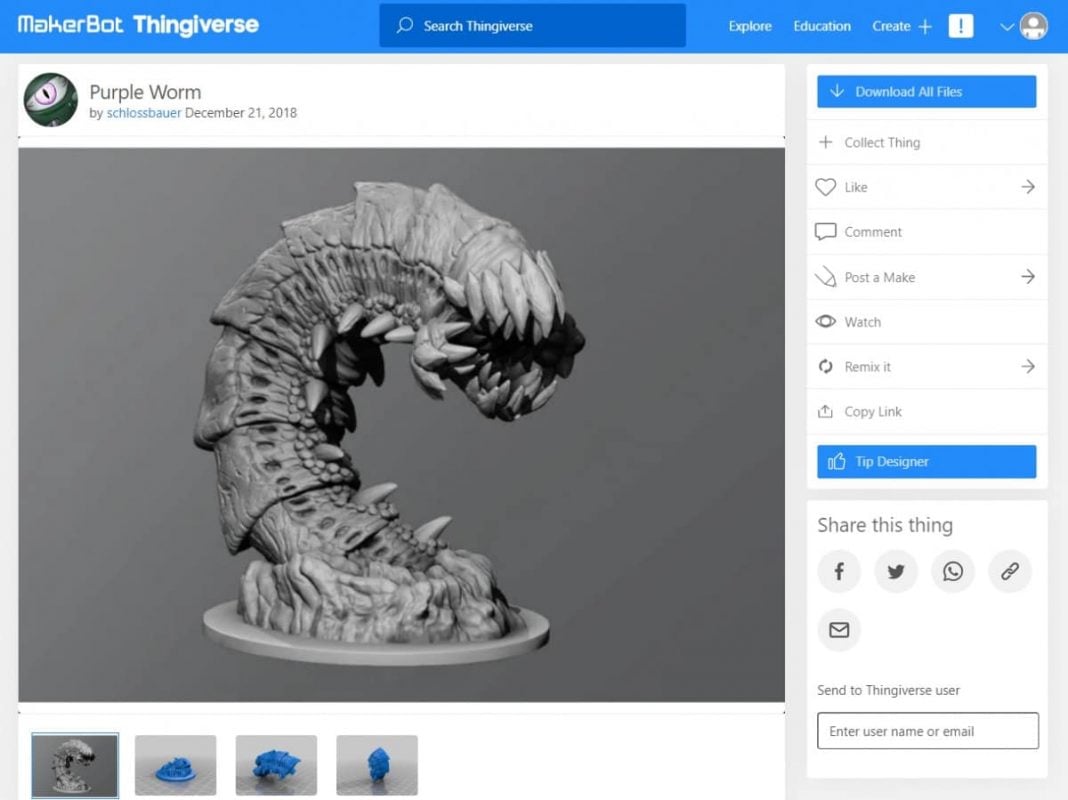 The purple worm is another yet amazing stuff from DnD that you can 3D print. To get a better print, slice the 3D design into three parts. Once that is done, you're on your way to getting an awesome result.
Created by  schlossbauer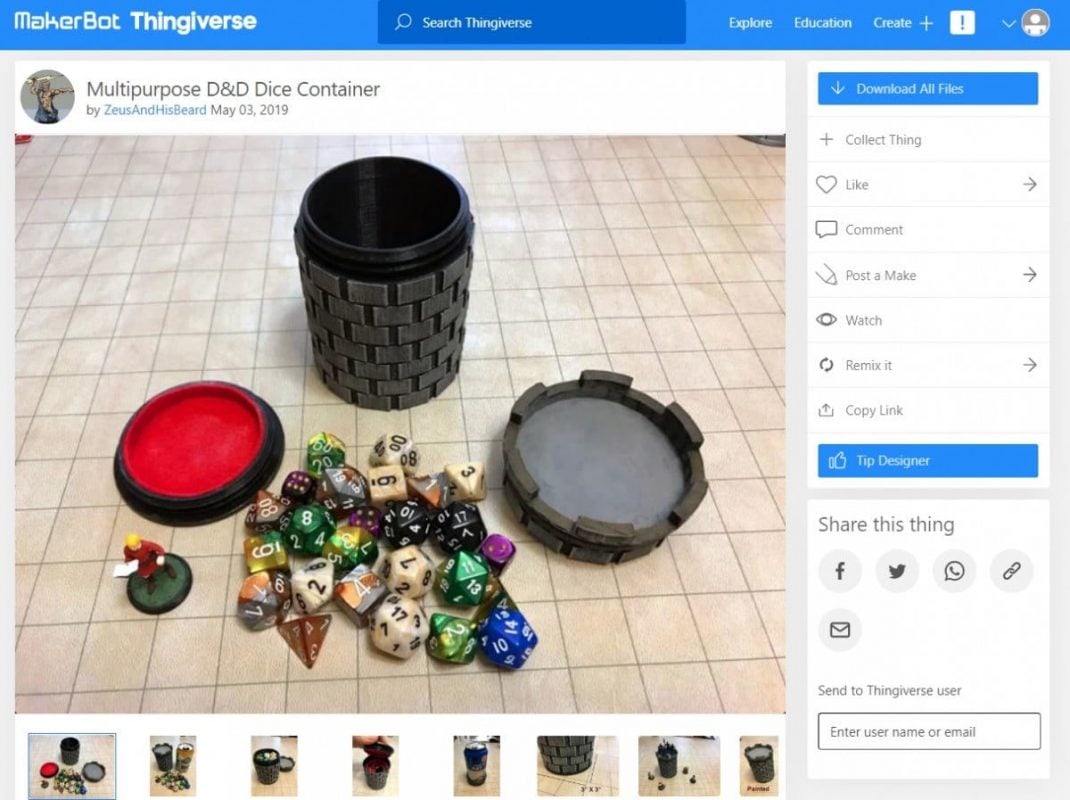 The multipurpose dice holder can serve a great number of purposes for you:
Can hold your dice.
Holds your miniatures
Can hold your can of beer (or soda)
Created by ZeusAndHisBeard
Dungeons and Dragons pieces are delightful to print. Either you want to use the piece to replace the old one or keep it as a souvenir. Whichever reason motivated you to try it out, just know it's worth it!
You made it to the end of the list! Hopefully you found it useful for your 3D printing journey.
If you want to check out other similar list posts I carefully put together, check out some of these: