35 Genius & Nerdy Things That You Can 3D Print Today (Free)
There are so many different 3D models to choose from when it comes to 3D printing, so how do you decide what to actually 3D print?
It's a difficult challenge that many users have, but to make things slightly easier, I decided to put together a list of 35 genius & nerdy things you can start 3D printing today.
These models consist of cool projects, some educational models, some movie props and plenty more, so come through on this journey to see some cools models.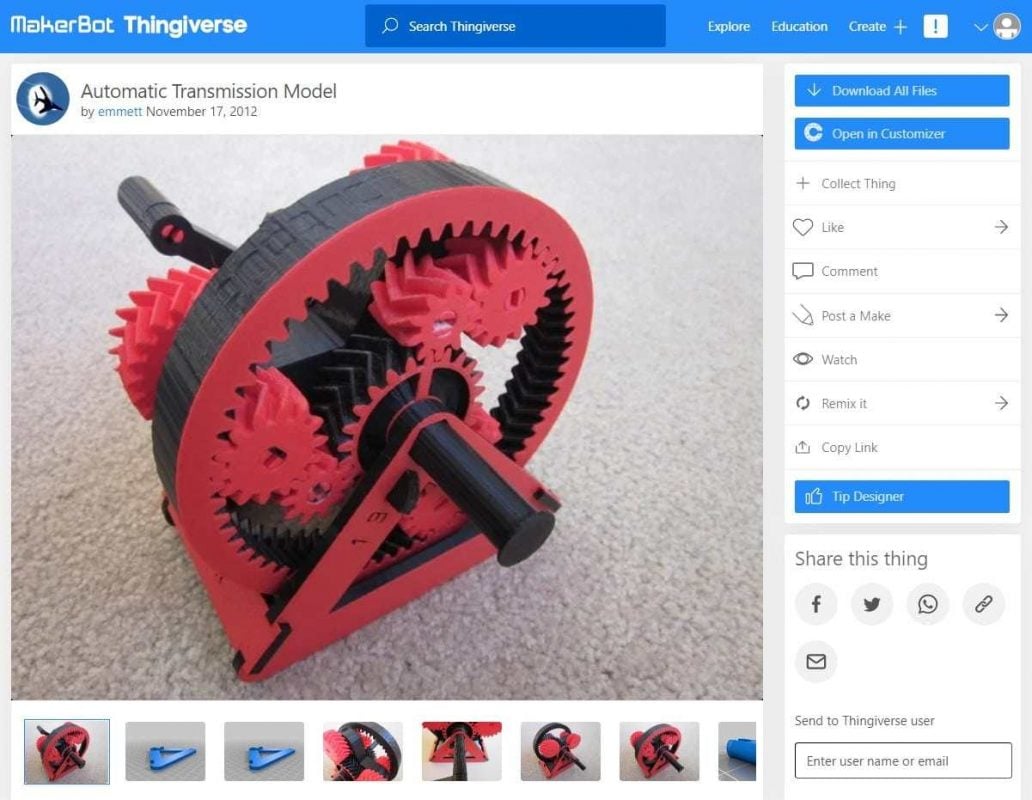 If you ever wondered how an automatic transmission works, you'll love this 3D print. It has six forwards speeds as well as one reverse.
When you look at real automatic transmissions, they have either a hydraulic or electrical system that engages different clutches and breaks to shift gears.
You can control those yourself with this model. The actual ratios of each gear was designed to be close to what real cars use.
1st Gear: 1 : 4.29
2nd Gear: 1 : 2.5 (+71%) increase
3rd Gear: 1 : 1.67 (+50%)
4th Gear: 1 : 1.3 (+28%)
5th Gear: 1 : 1 (+30%)
6th Gear: 1 : 0.8 (+25%)
Reverse: 1 : -3.93
Created by emmett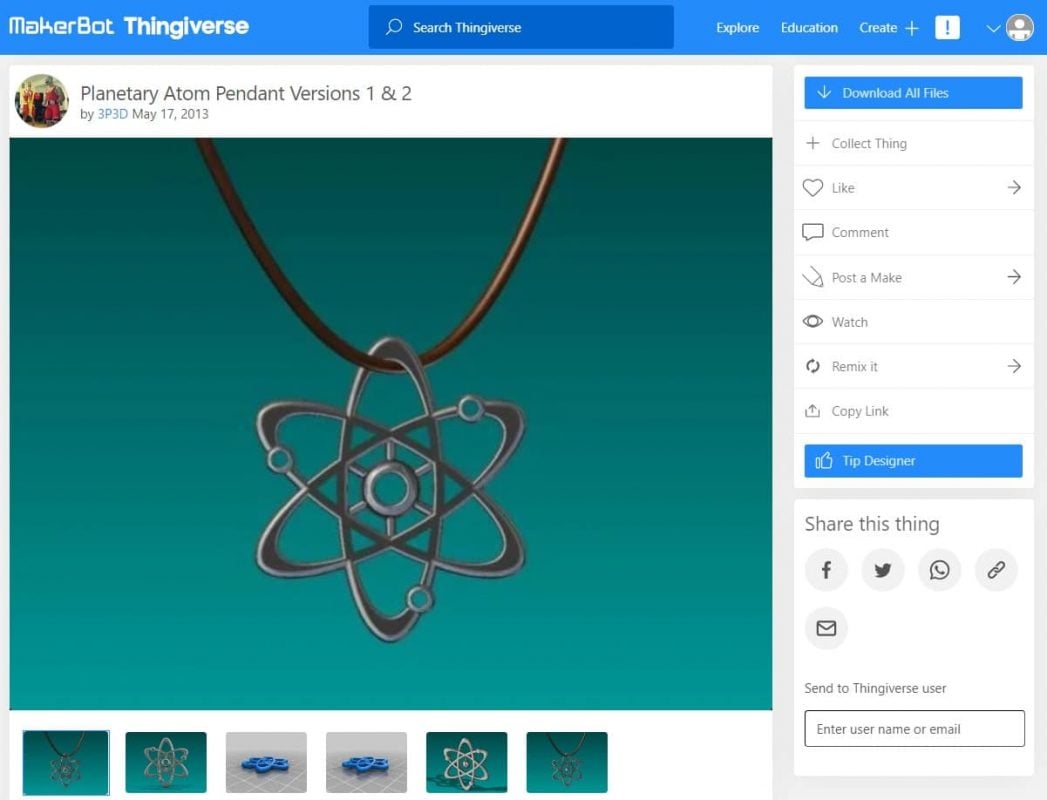 This pendant is great for anyone interested in science as it depicts the atomic planetary model, showing the paths of 3 electrons in orbit around the nucleus. You'll have to get the materials to create the whole necklace.
Created by 3P3D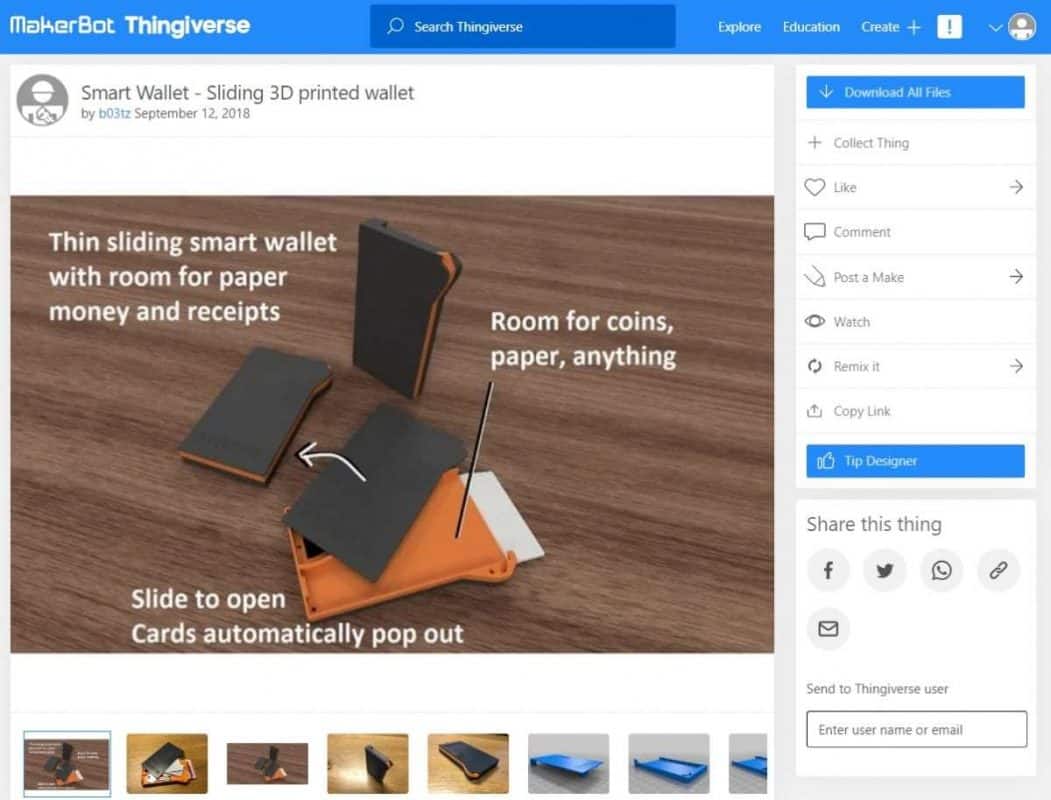 This wallet has room for 5 different cards as well as room for keeping coins. Apart from money, there is also room for keys and SD cards. It is super slim and easy to print.
Some people have had mixed results with the wallet with it being flimsy, so you can print the model with an increased wall thickness to account for this.
Created by b03tz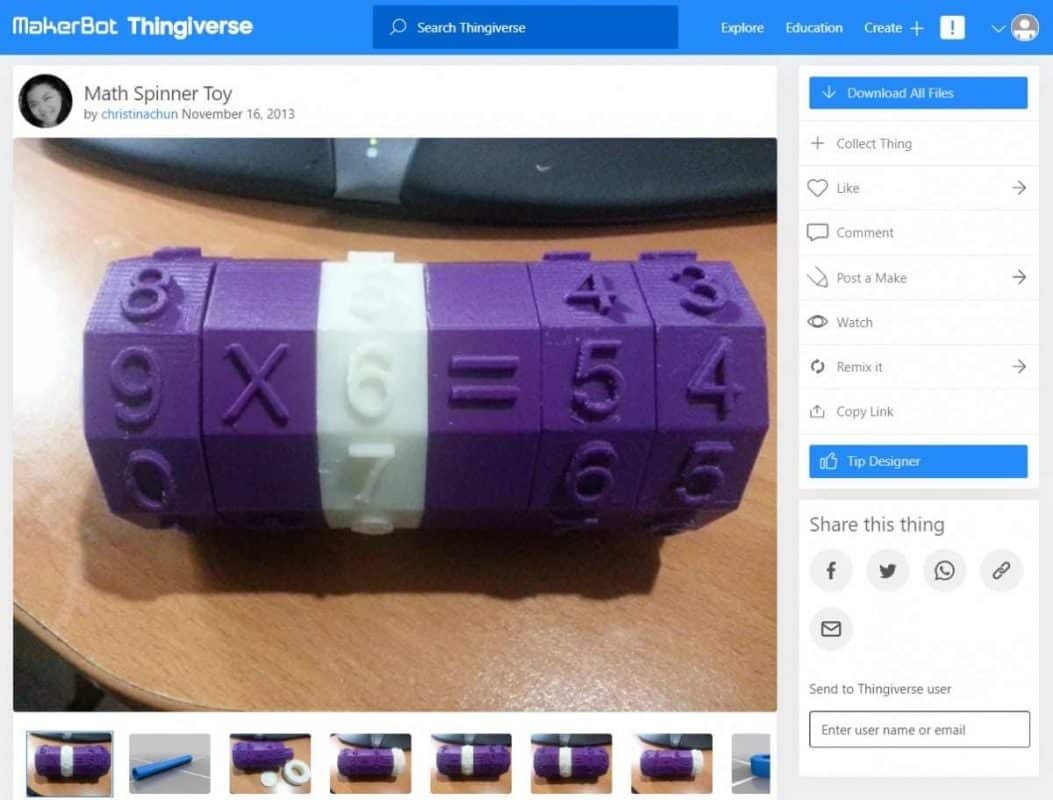 This is a 3D model for everyone interested in quickly finding answers to math problems that involve addition, subtraction, multiplication, and division. It's great for teaching kids their numbers.
Created by  Christinachum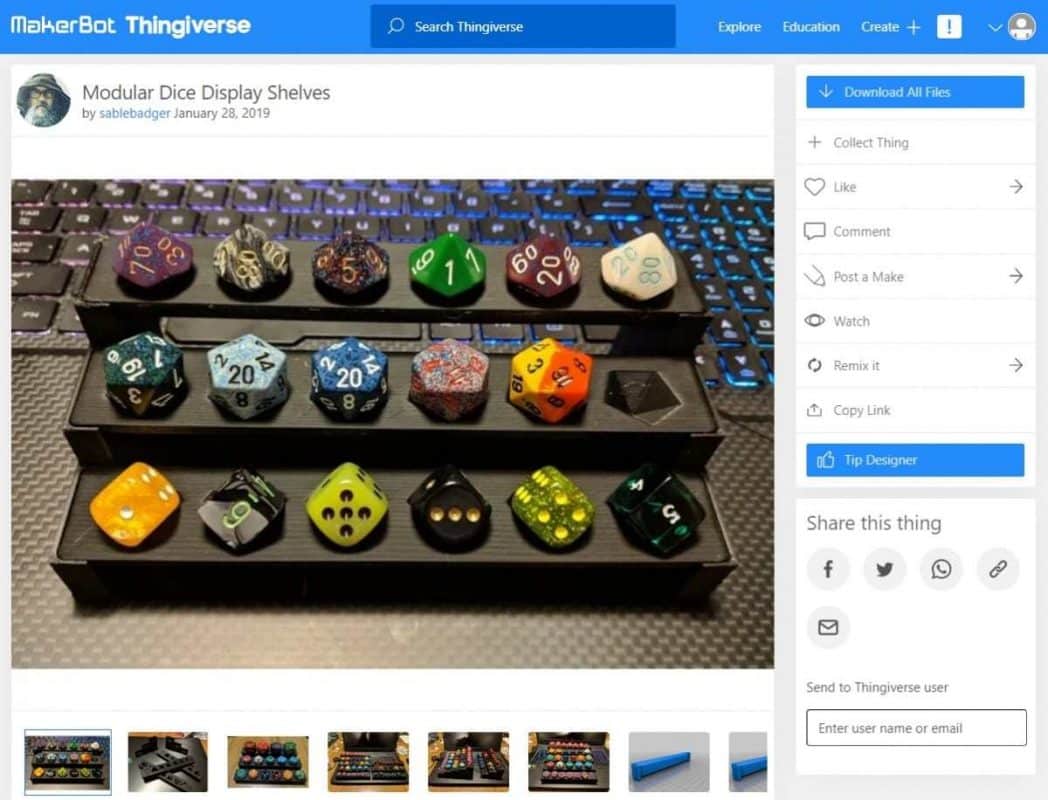 This model gives you safe and secure storage for various shapes and sizes of dice you may have. They are designed to have one face showing forward while each dice sits securely in a shaped pocket.
For the Dungeons & Dragons fanatics out there, you can organize your dice with ease.
Created by Sablebadger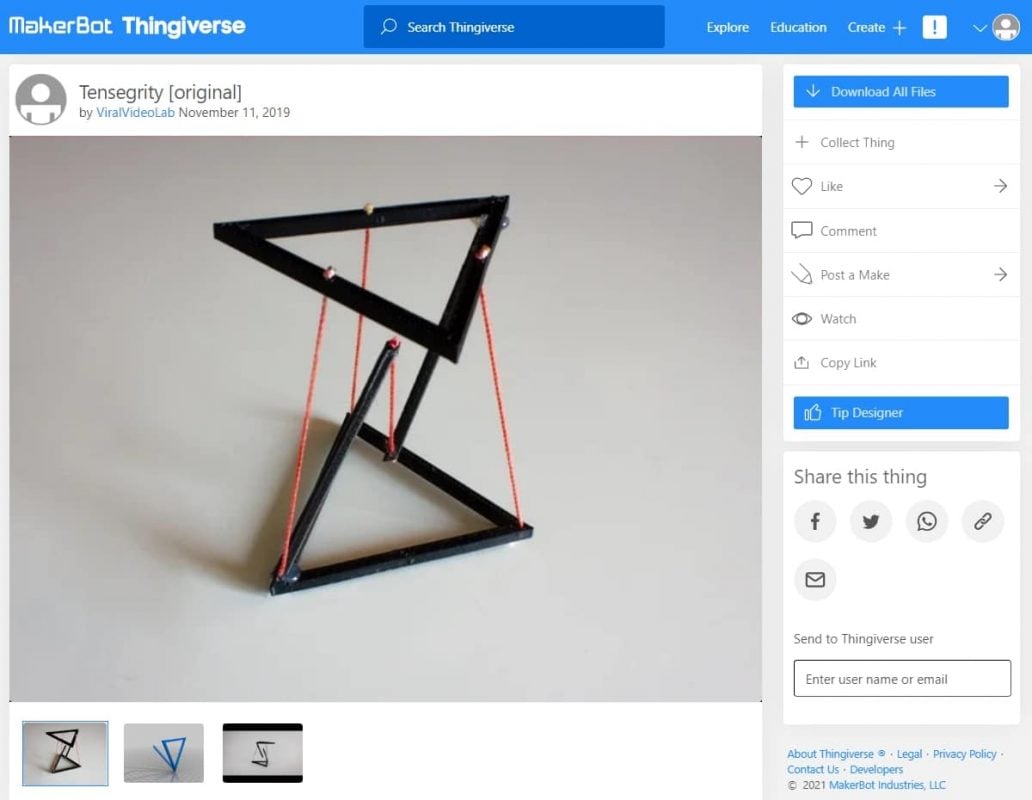 Being able to show off some of the amazing phenomenons in physics is possible with this model. It creates a levitating string illusion for people to be amazed, including yourself. You want to have 1.5mm strings or below for this to work best.
Created by ViralVideoLab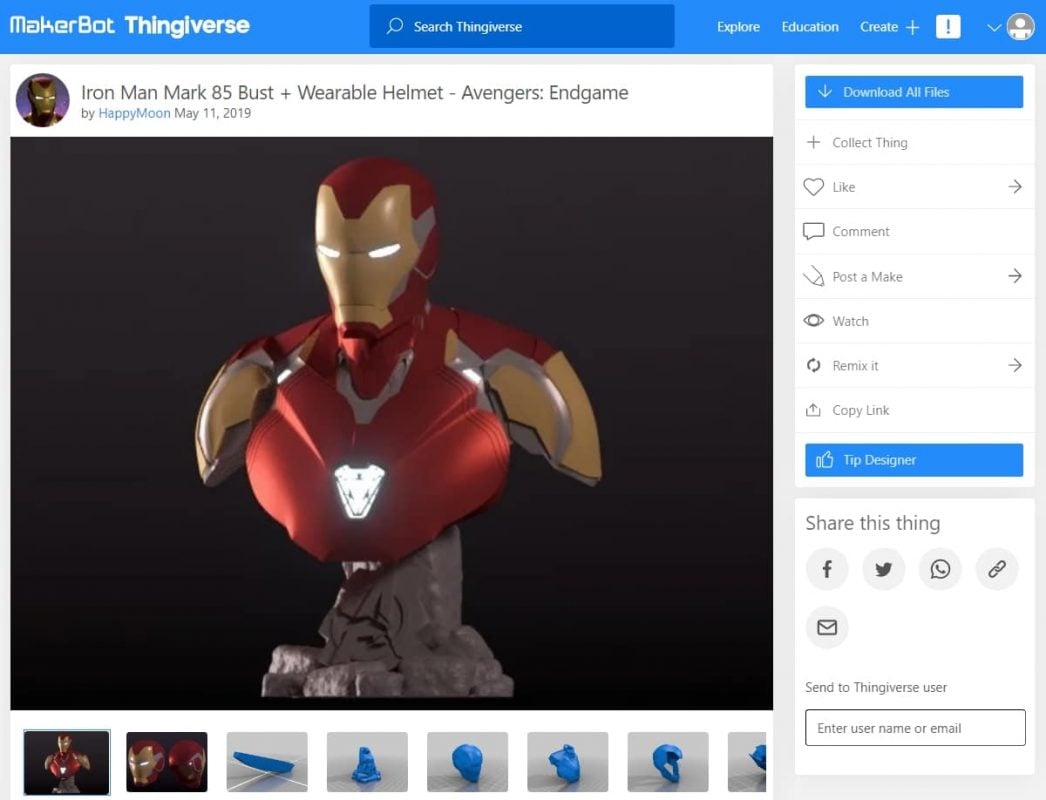 A fan of the avenger series will love this 'Endgame Armor' that features a hollow base and channels up to the eyes + arc reactor. The creator stated that is pretty easy to 3D print.
Created by HappyMoon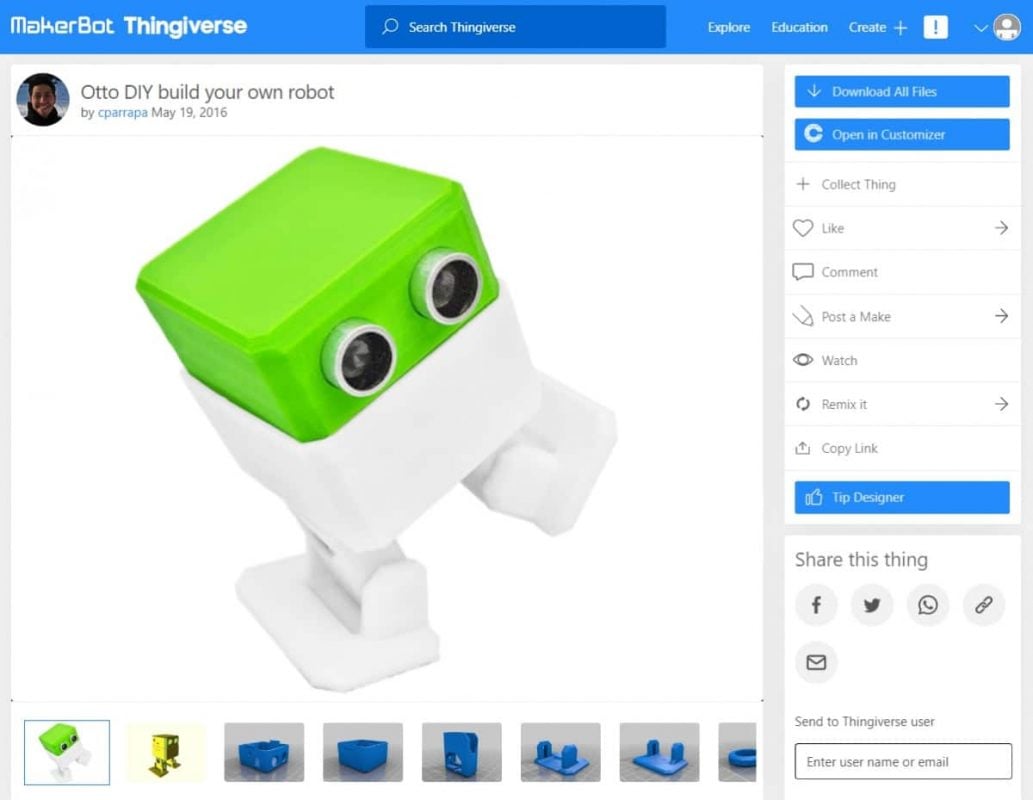 Build your robot from the scratch without any soldering when you 3D this model. It is an interactive bipedal robot, and its design, materials, and duration of print are all available on their page.
Created by cparrapa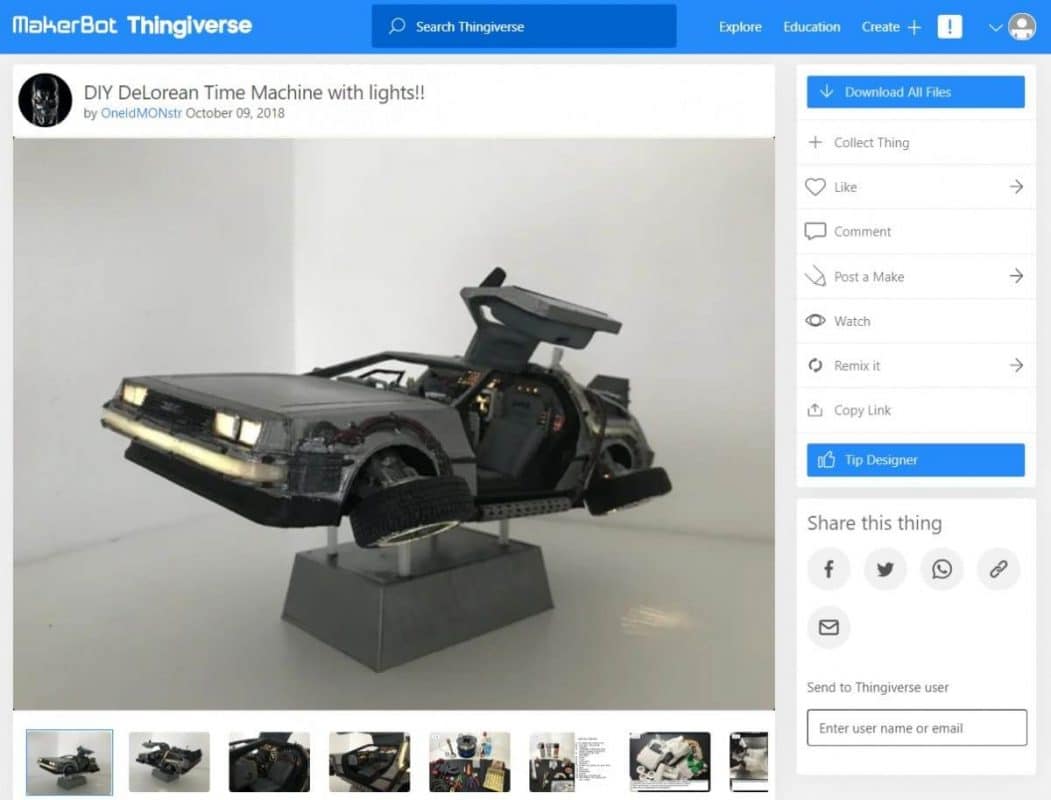 This model features an easy to print rugged vehicle that can make for a great addition to your collection of genius 3D prints. It will always be a timeless classic that you can enjoy for years anywhere around your living space.
Created by OneIdMONstr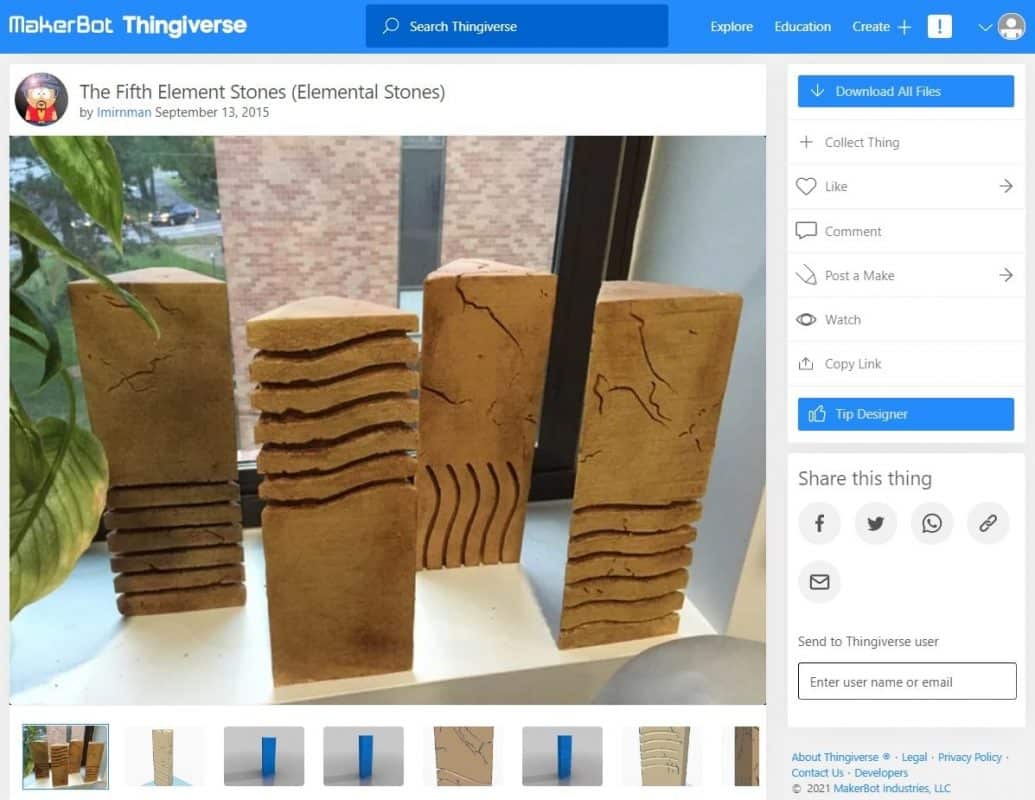 If you are a fan of the movie The Fifth Element, you'll love these 3D printed Elemental Stones. They have been created to be at a 1:1 scale and captures the important details such as the cracks, as close to where they are on the props.
You can finish these models off with a good sanding of the corners, as well as a finish of tinted resin to get the specific sparkle finish as seen in the movie.
Created by Imirnman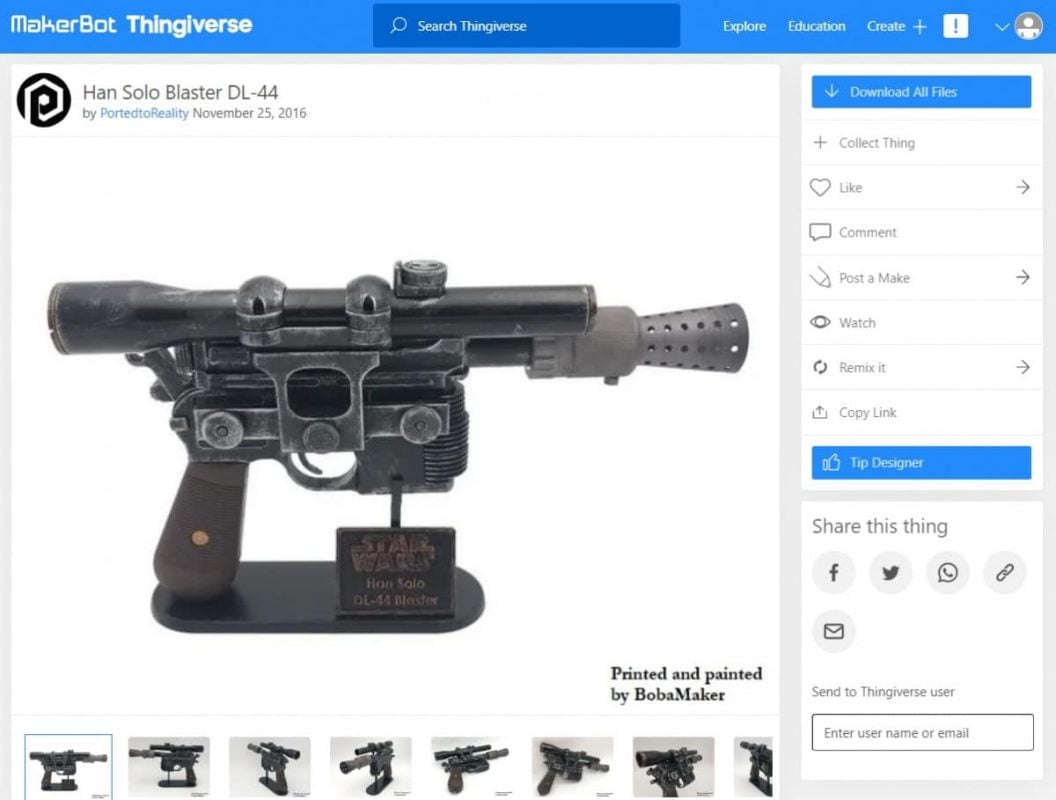 One designer poured hundreds of hours to create this fantastically detailed Han Solo Blaster DL-44 model from Star Wars. It was done using a series of components from other gun parts.
You can press-fit these parts together and should come out seamless without needing filler. You can use superglue to ensure the part stays together.
Created by PortedtoReality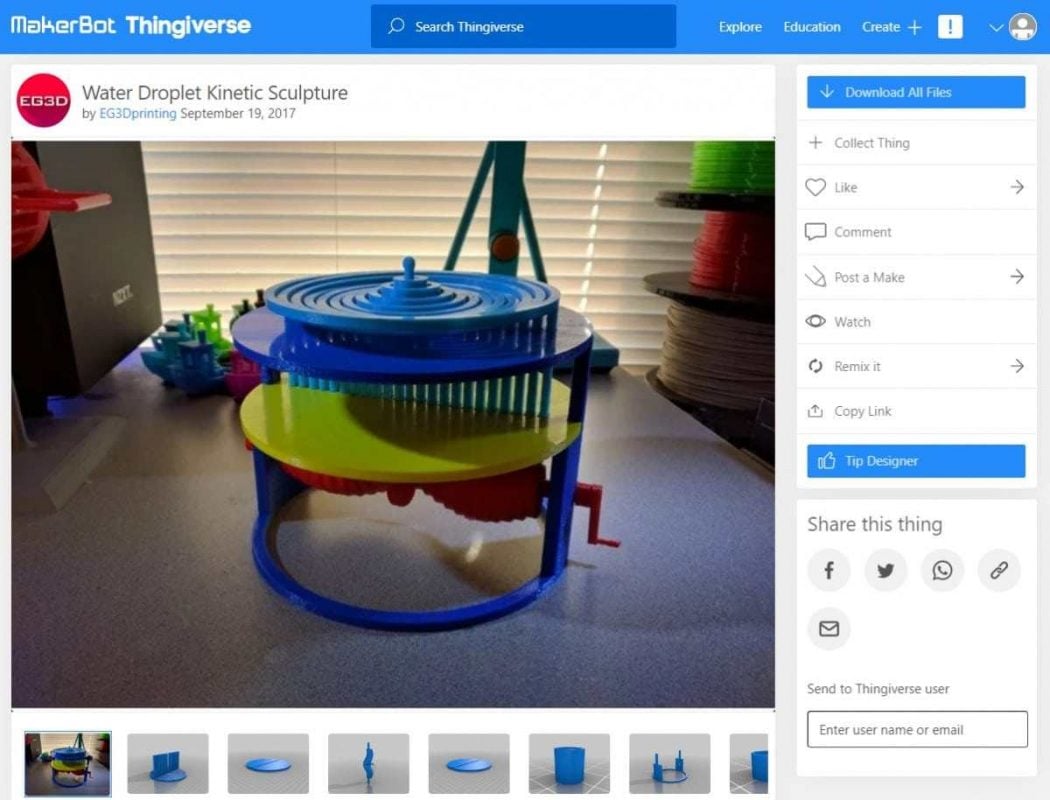 With more than 5000 likes, this water droplet desk toy moves like a wave-like pattern in imitation of water droplets landing in water.
Created by EG3printing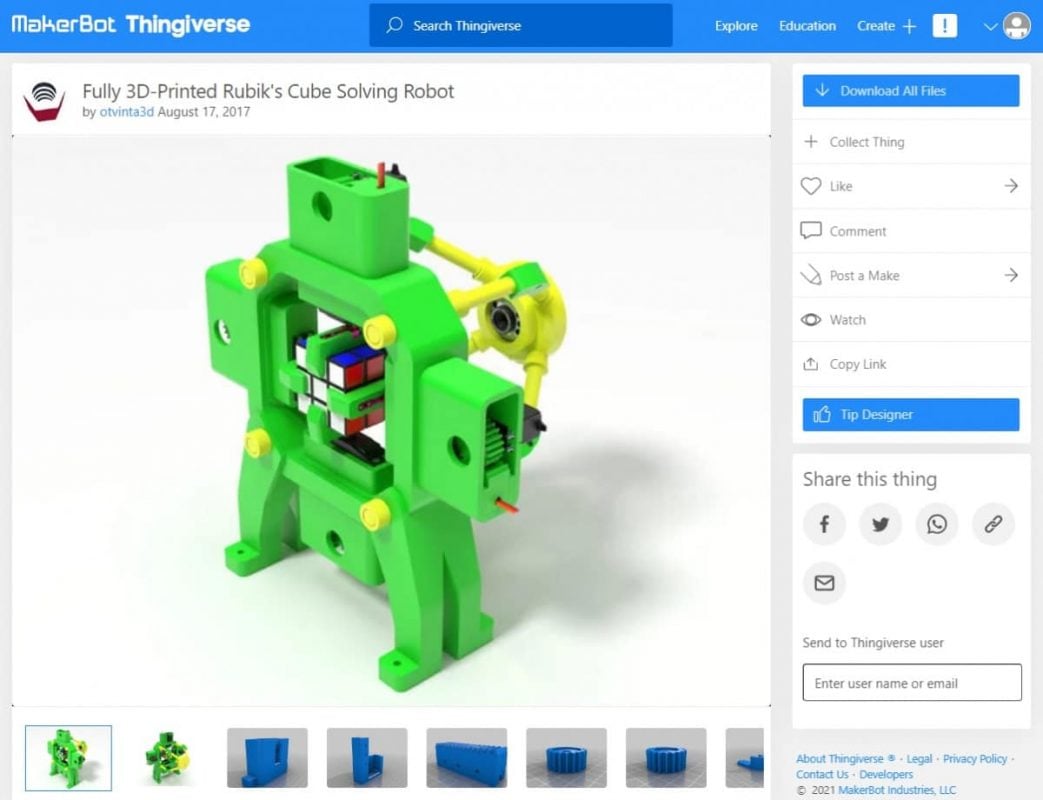 For all lovers of the Rubik's Cube, this robot that has every part expected of a robot is equipped to solve any unraveling problem within minutes. The model is easy to print regardless of the printer you own.
It can take around 65 hours to print at this model full size and use around 900 grams in filament.
Created by Otvinta3d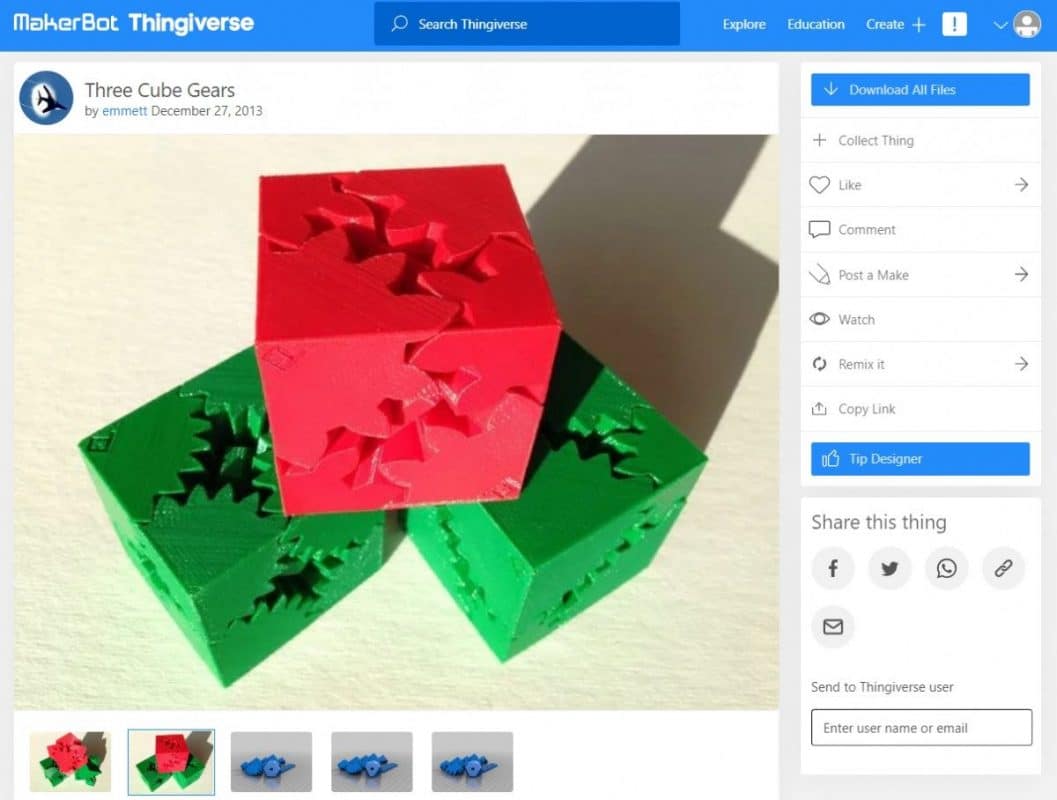 You are able to snap these cool cube gears together with this new modern design. The previous design wasn't as robust or reliable, so we can definitely appreciate the work that went into this model.
It has been made and remixed several times, showing just how popular of a model it is.
Created by emmett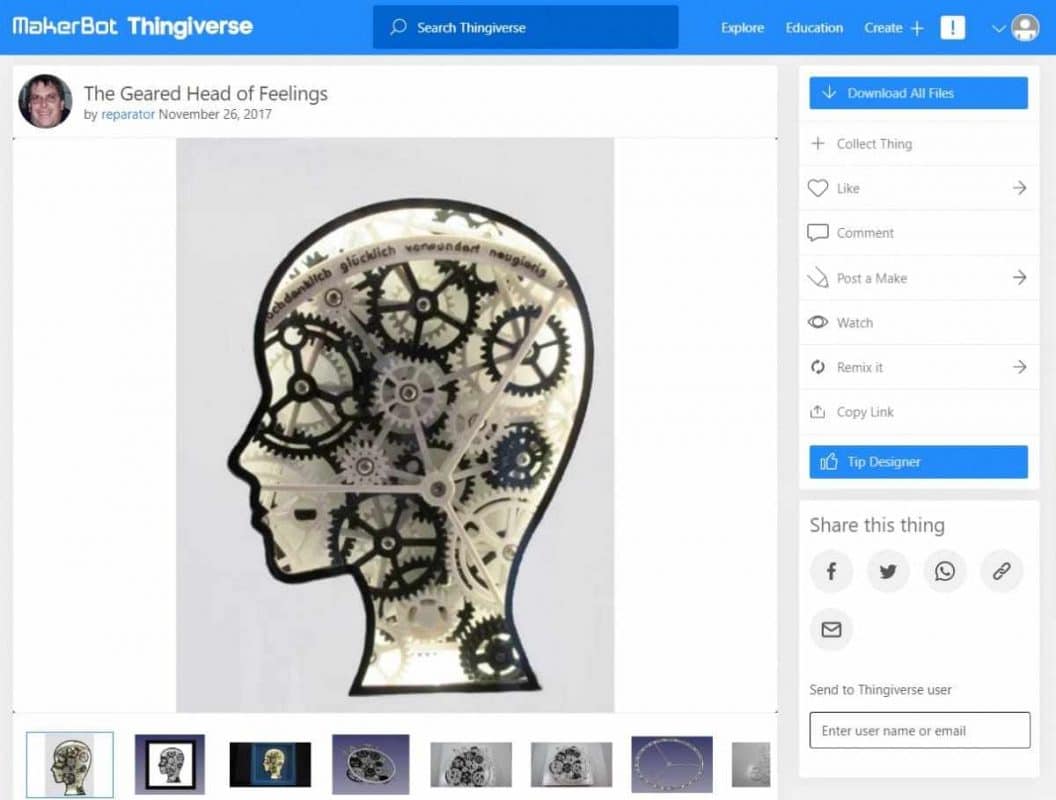 This model comprises 35 gears moving systematically in two layers. The mechanism features a form of mask in the head with small wheels running. It is a symbol of how our minds and feelings are controlled.
Created by Reparator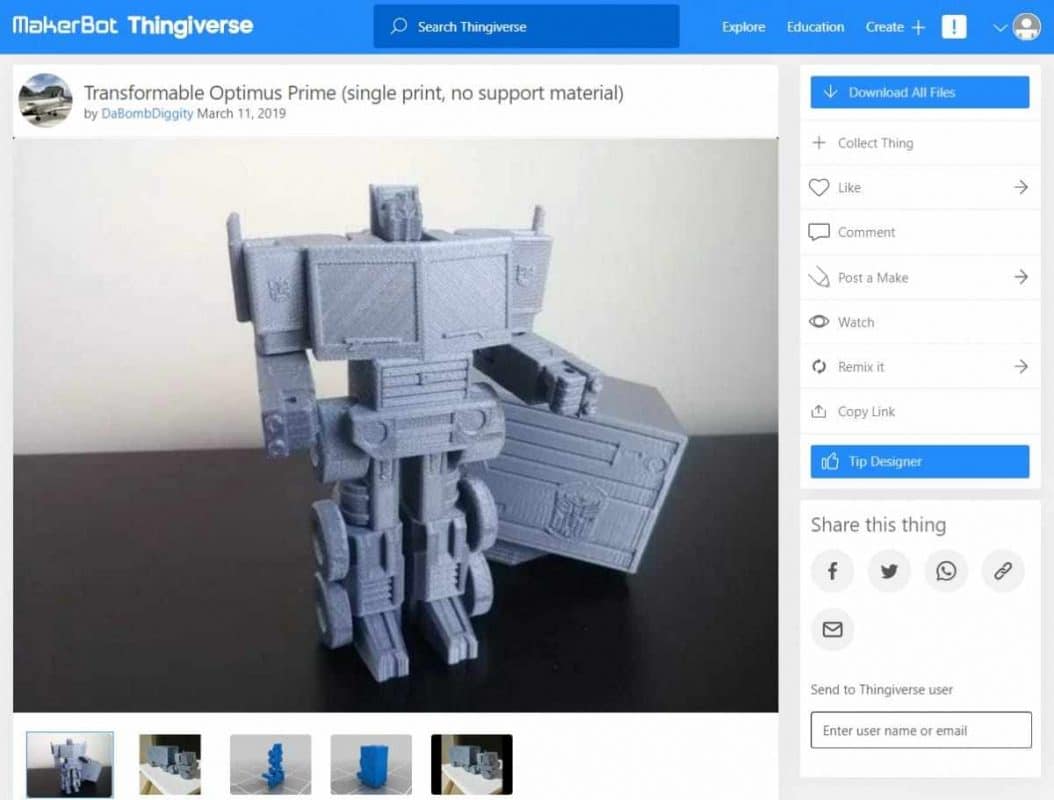 The genius creator of this model made it printable in a single piece without any need for support material. It also requires no assembly. Who doesn't love Optimus Prime?!
Created by DaBombDiggity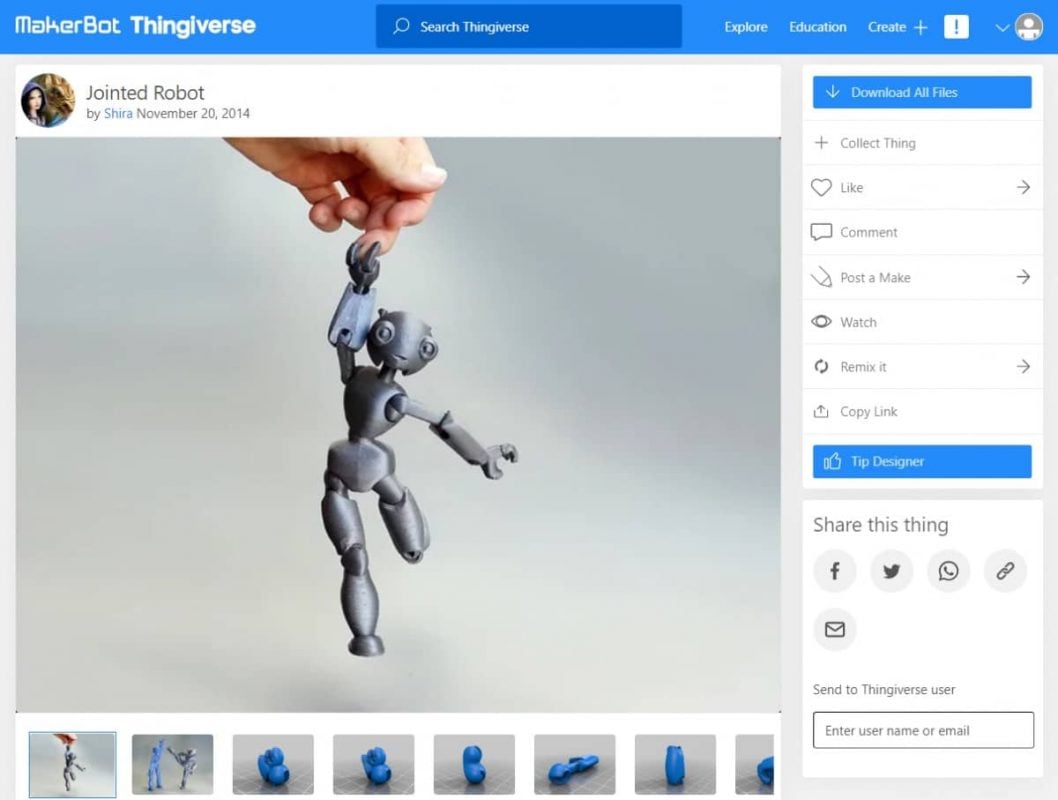 There is no need for any screw, but all parts are jointed. There are ball joints and some hinge-like joints, coupled with the use of an elastic cord for easy positioning. It's a really cool model to have 3D printed, being a change from the usual sturdy and normal 3D prints.
Created by Shira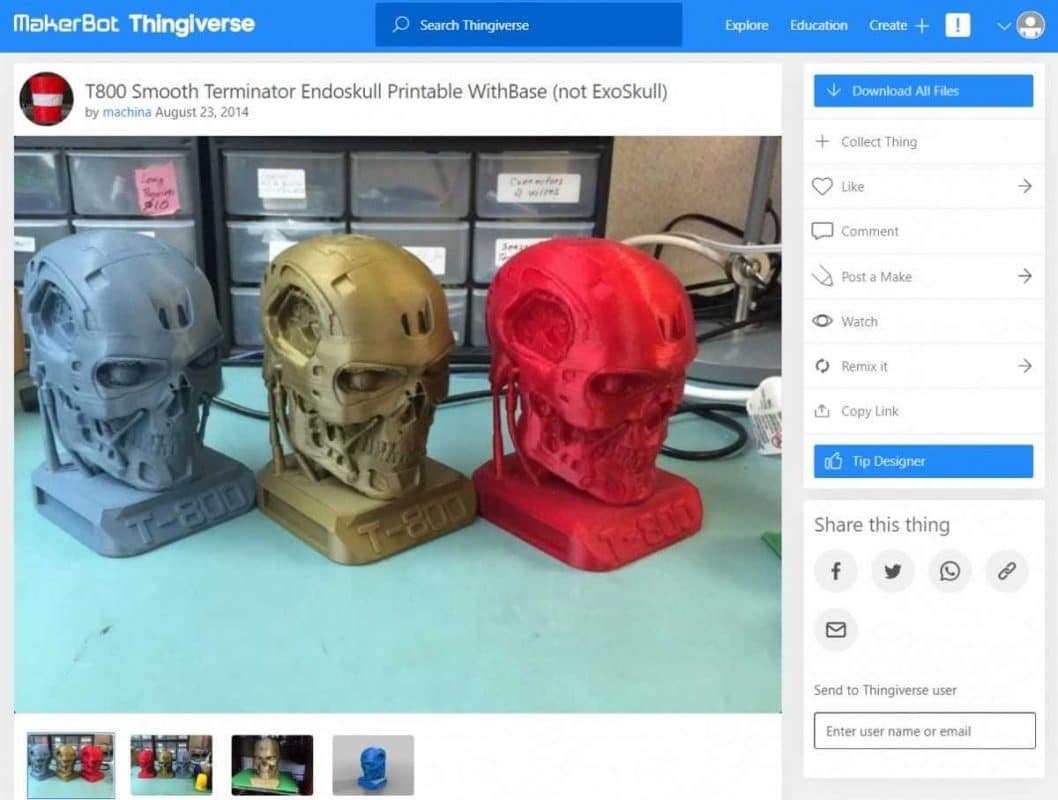 If you love the Terminator series, this 3D model is just for you. The model creator made the model such that is easy to 3D print. The file slices nicely with Cura and isn't too difficult to print. It has been downloaded over 200,000 times from users.
Created by machina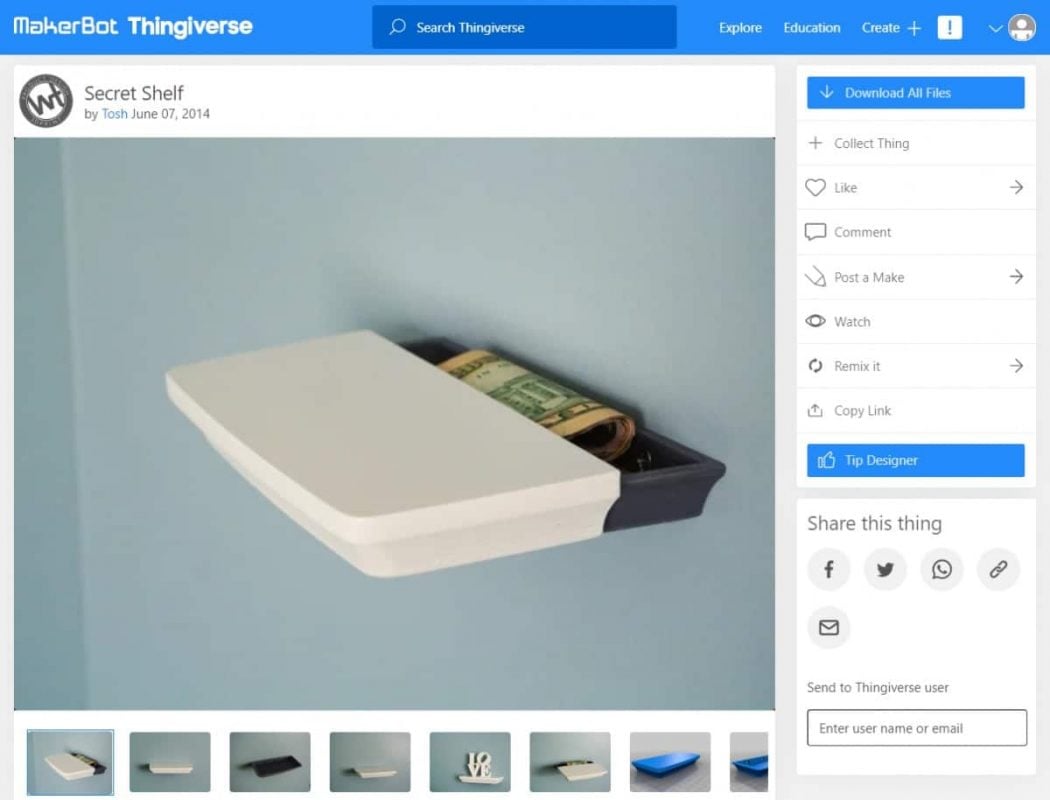 A really smart 3D model that can keep your valuable safe in a location where no one will ever suspect. Its printing is pretty easy, though finding the secret shelf, not so much!
Created by Tosh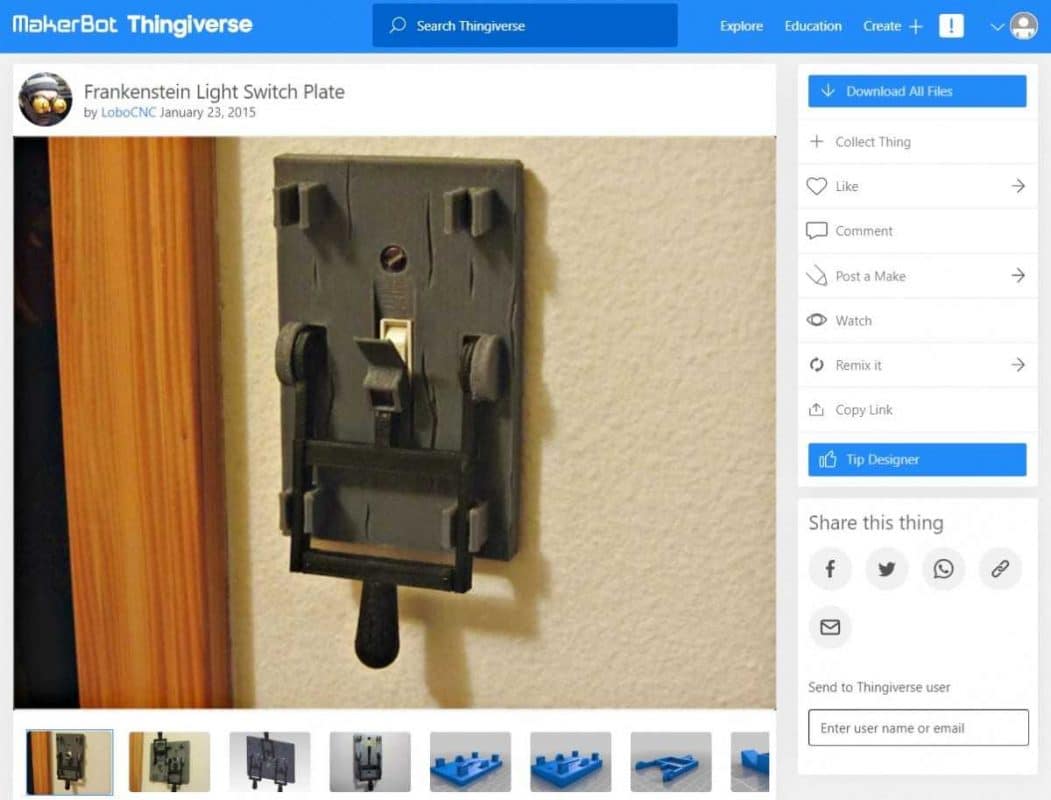 The Frankenstein Light Switch Plate is a very popular model that brings that old-school, haunted feel to your house. It's a really cool feature that actually have functionality to turn your lights on and off. There are 1, 2, and 3 switch versions.
It's perfect for Halloween!
Created by LoboCNC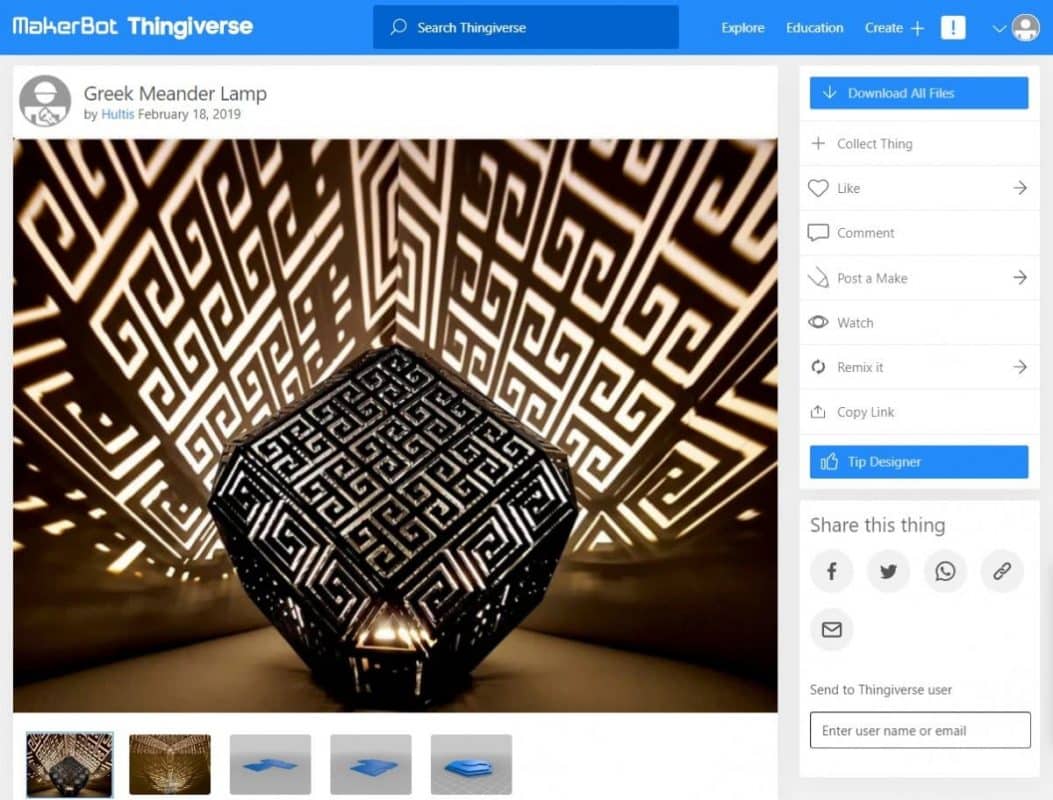 Having an Ancient Greek Meander Lamp pattern in your home is very possible with this cool model. It's very easy to print since it's printed flat and can be scaled to fit all kinds of sizes. This model has been downloaded over 400,000 times by curious users.
You can click into the "Makes" tab on the Thingiverse page to see over 50 other models that people have created and shared.
Created by Hultis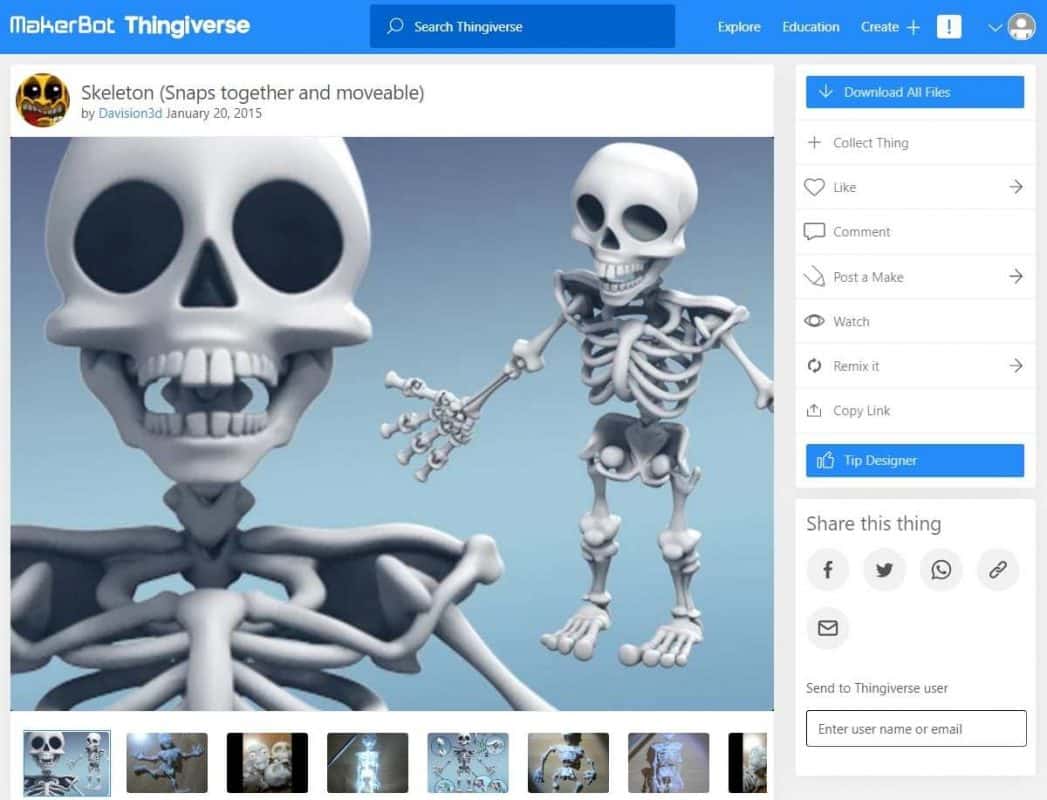 This skeleton model is really cool to 3D print for those that like those decorative and even educational types of models. It is styled with modeled bones that can be easily assembled without any glue, bolts.
Created by Davidson3d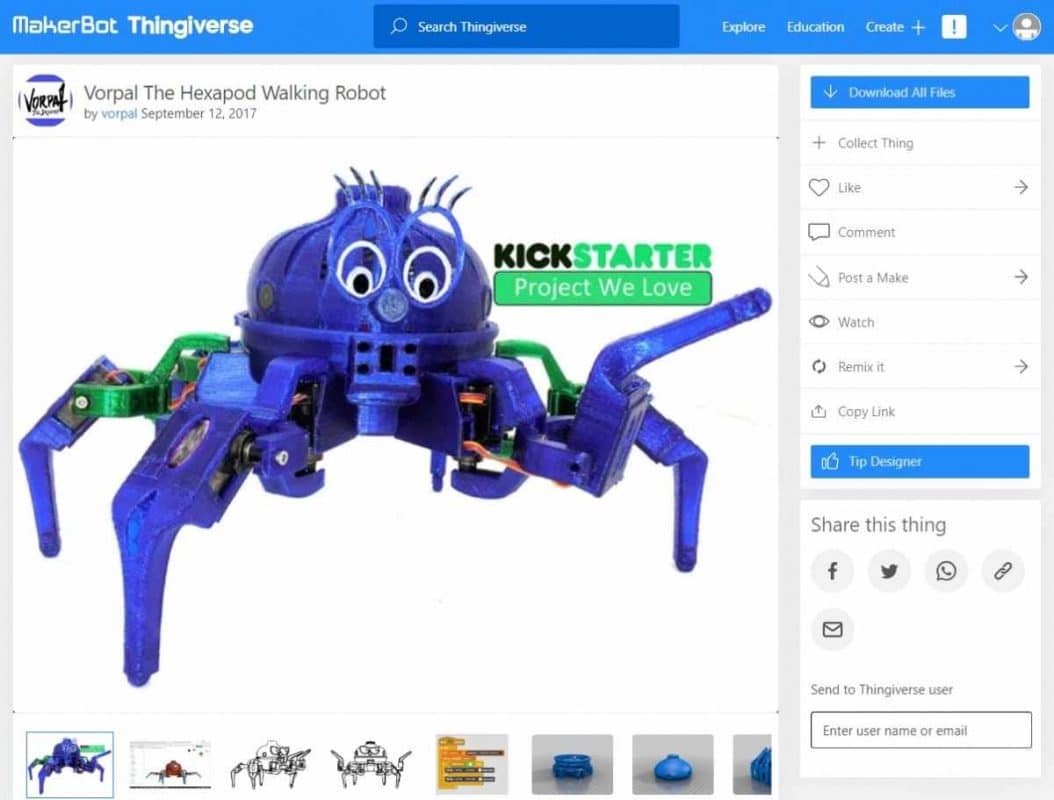 A walking robot that can run around the home with simple programmed errands? I'd definitely try this out if I wanted to do a big project. You can actually control this model with Bluetooth and it is fairly easy to 3D print.
Created by Vorpa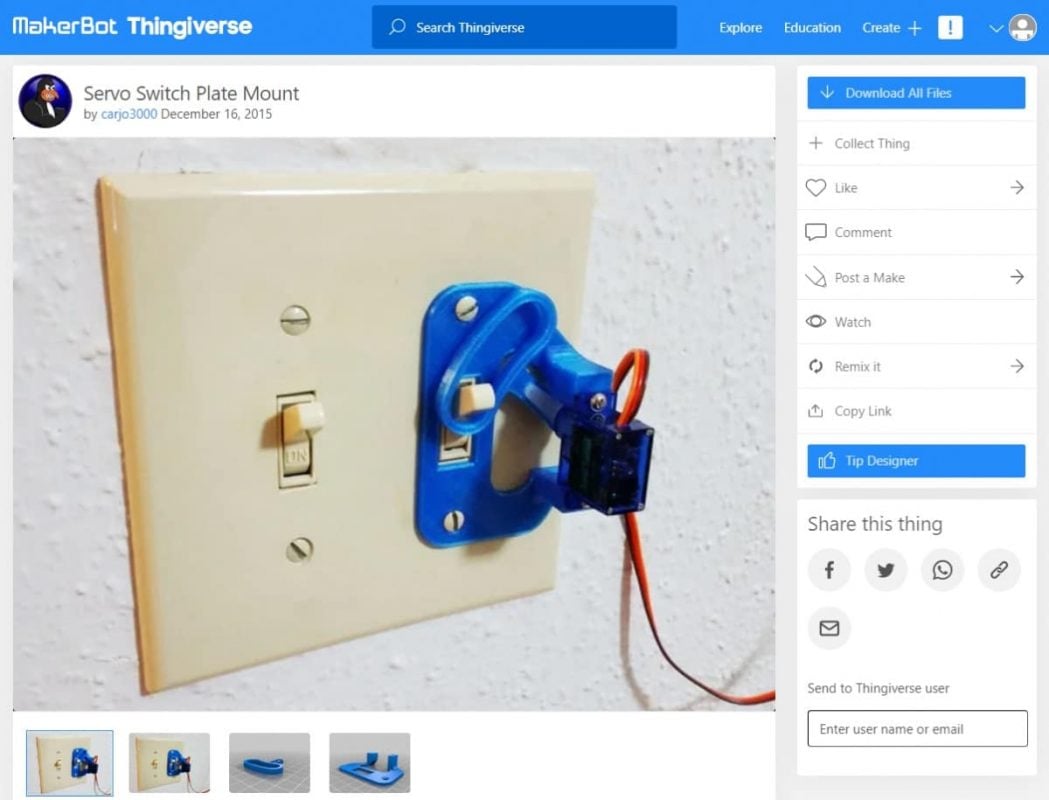 A home automation project is appealing to many, especially if you've never done anything like it before. This model is a Servo Switch Plate Mount that attached to any standard switch plate.
You can connect it to a microcontroller for easy control. One user said that they "printed this and loved it. Perfectly supports my laziness".
Created by Carjo3000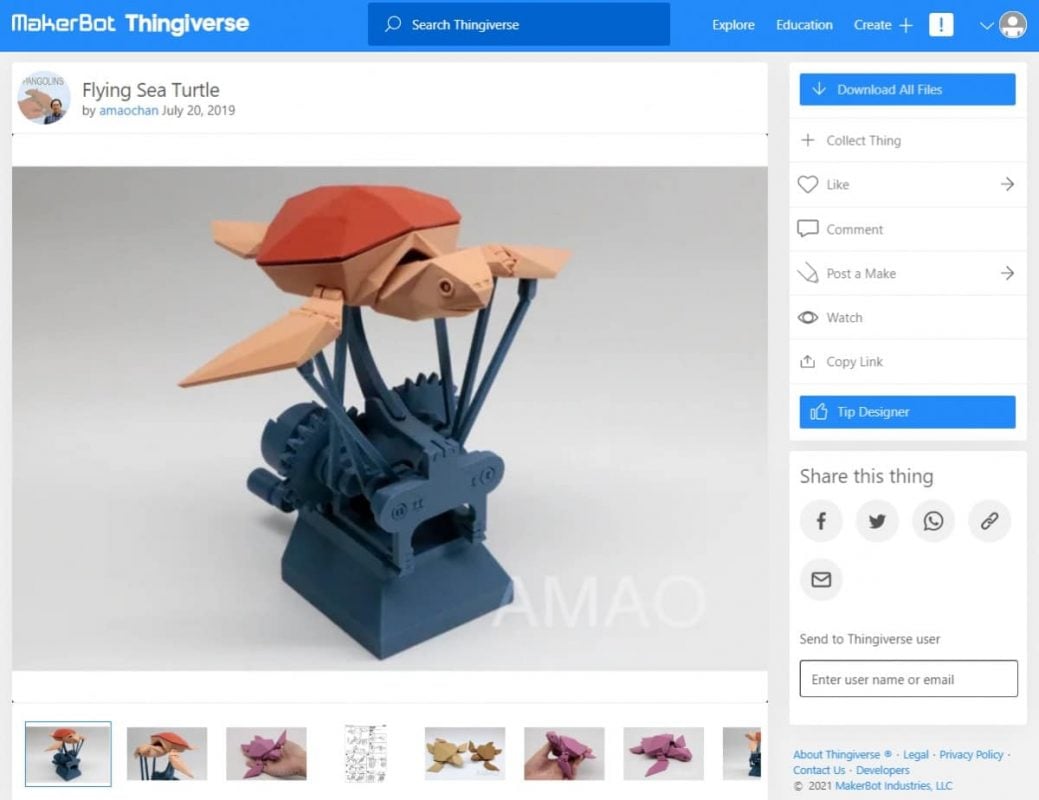 The mechanics of the Flying Sea Turtle is really cool and allows you to animate the model using the handle. The designer suggests printing this at a 0.2mm layer height, with a flow of 95%. Make sure to add oil on the moveable parts.
It's a great addition to decorate office tables or around the home.
Here's a demonstration of how the model works.
Created by Amaochan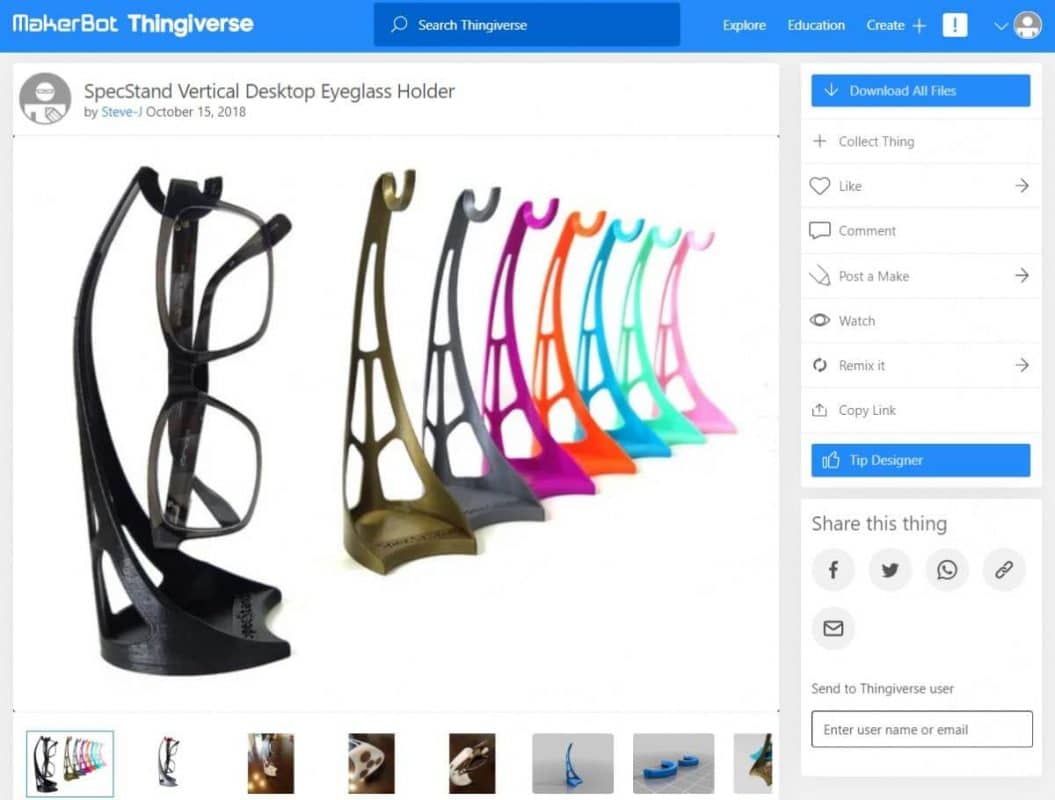 With this model, you no longer have to constantly search for your eyeglasses whenever you need them for work. Follow the settings to get a good 3D print, then start hanging your glasses every time you need to drop them.
Created by Steve-J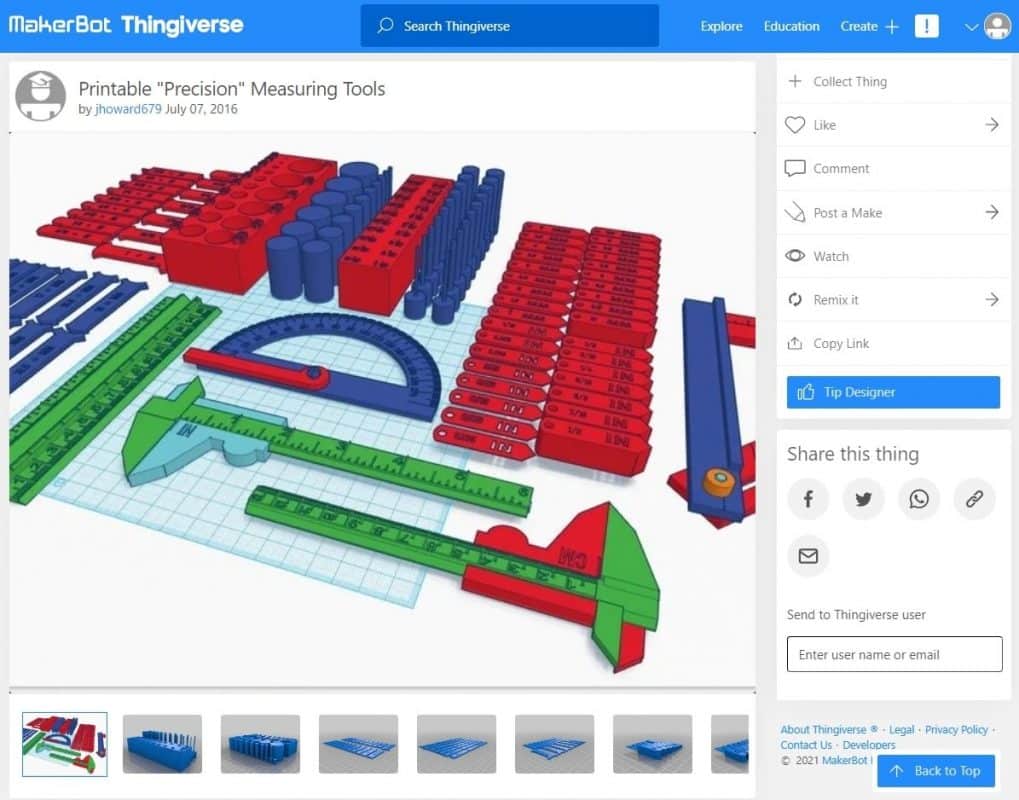 The ultimate 3D printable measuring tool package. There are 12 different files that you can make use of for your measuring needs, including fillet gauges, calipers, hole gauges and more.
It is advisable to print this model using the highest resolution settings of your 3D printer. Although it is still a work in progress, the creator has provided all the files you need on his page.
Created by Jhoward670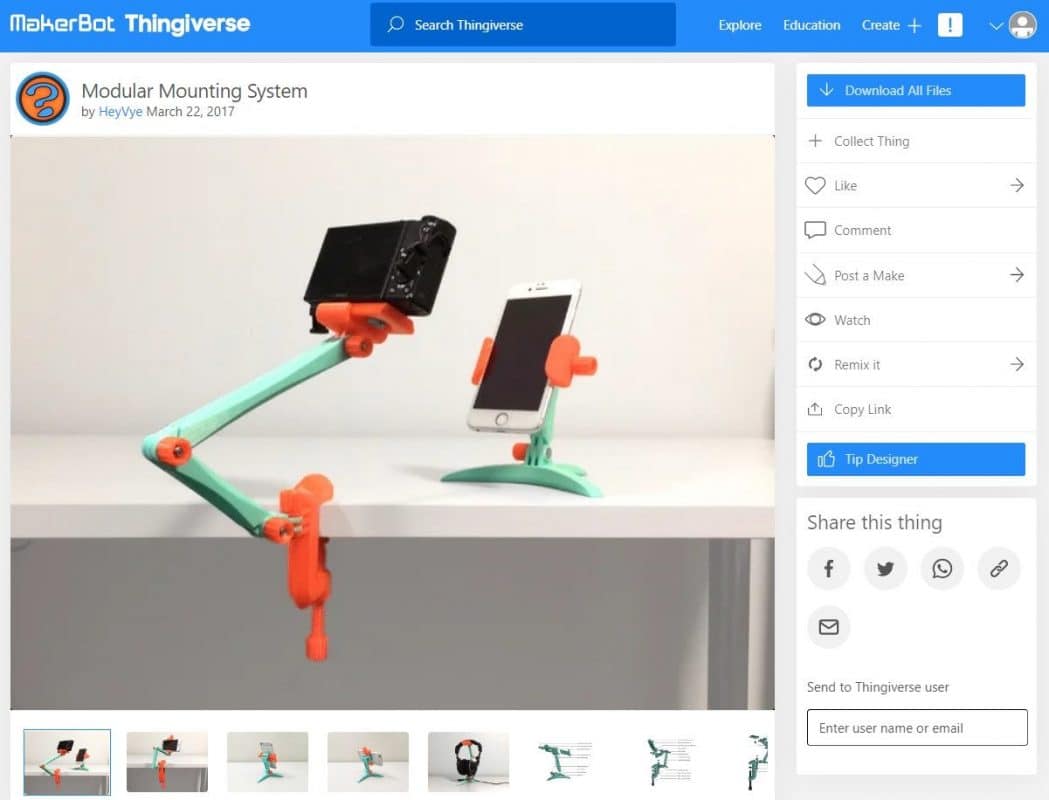 This model can substitute as a mounting system for items that are not too heavy in the home-like mobile phones and small cameras. It's a very popular model for a reason, it just works.
Created by HeyVye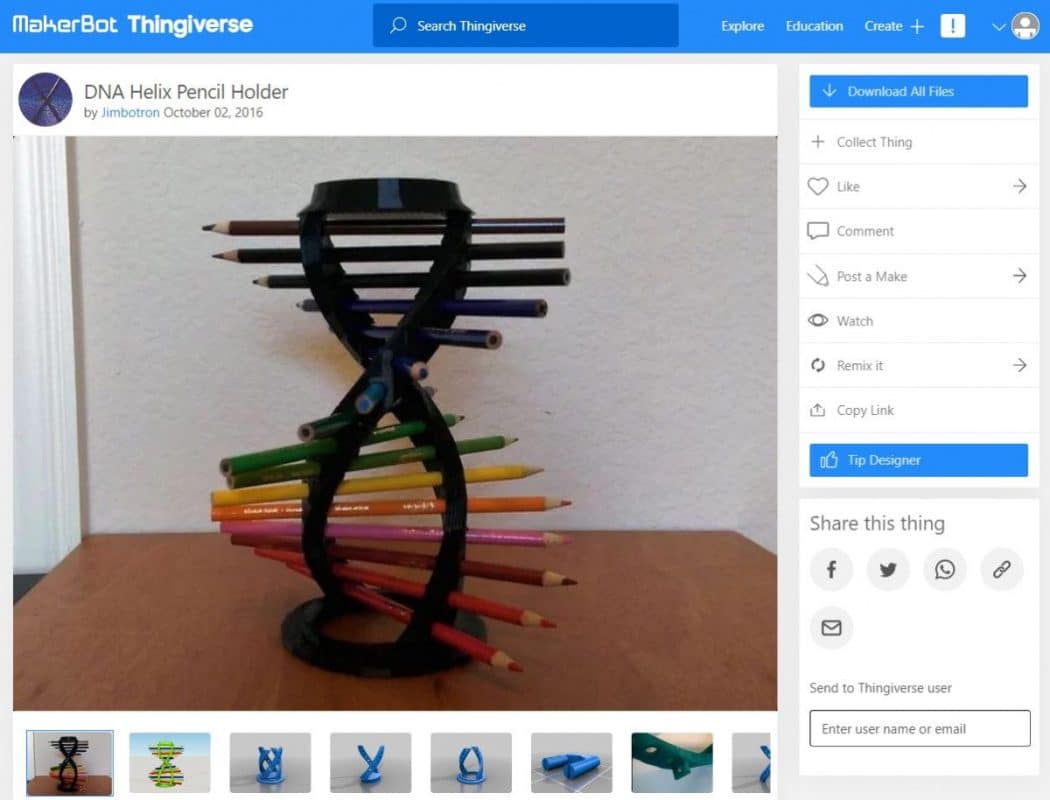 If you have a collection of pencils that you always wanted a cool way to store, this cool pencil holder comes in the shape of a DNA helix. It prints in two parts and doesn't even need supports.
Created by Jimbotron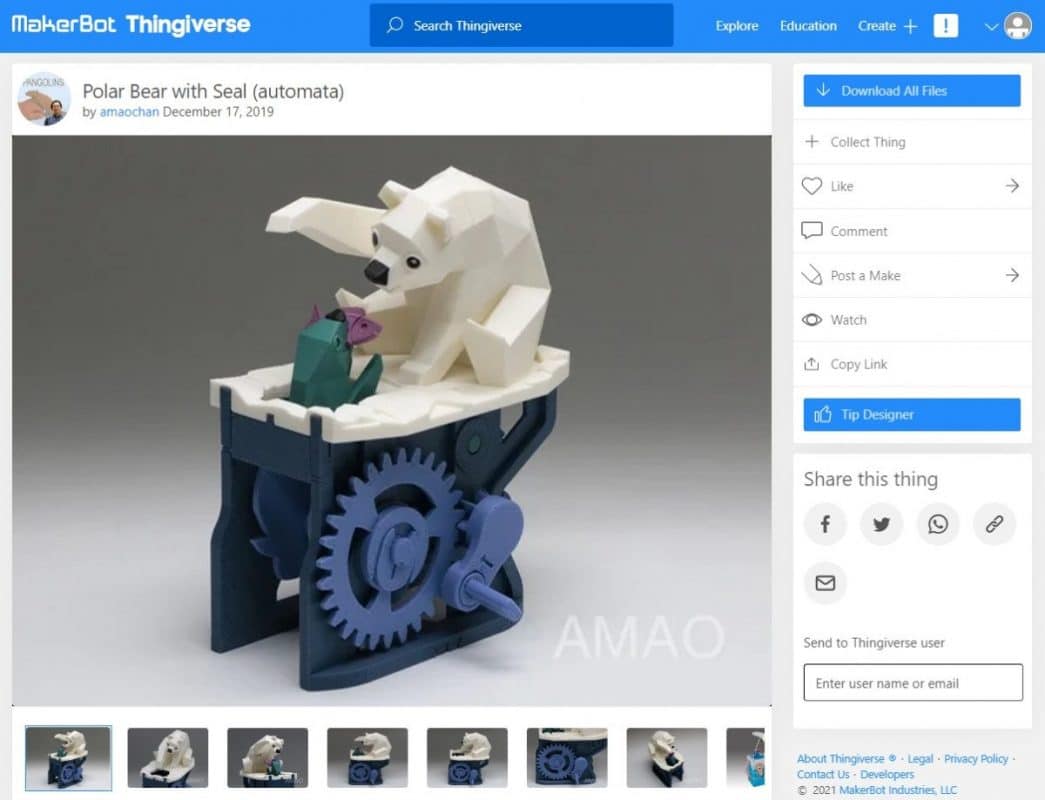 As another genius 3D model, similar to the Flying Sea Turtle, illustrates how famished polar bears have become because of the worsening weather condition of the planet.
Created by Amaochan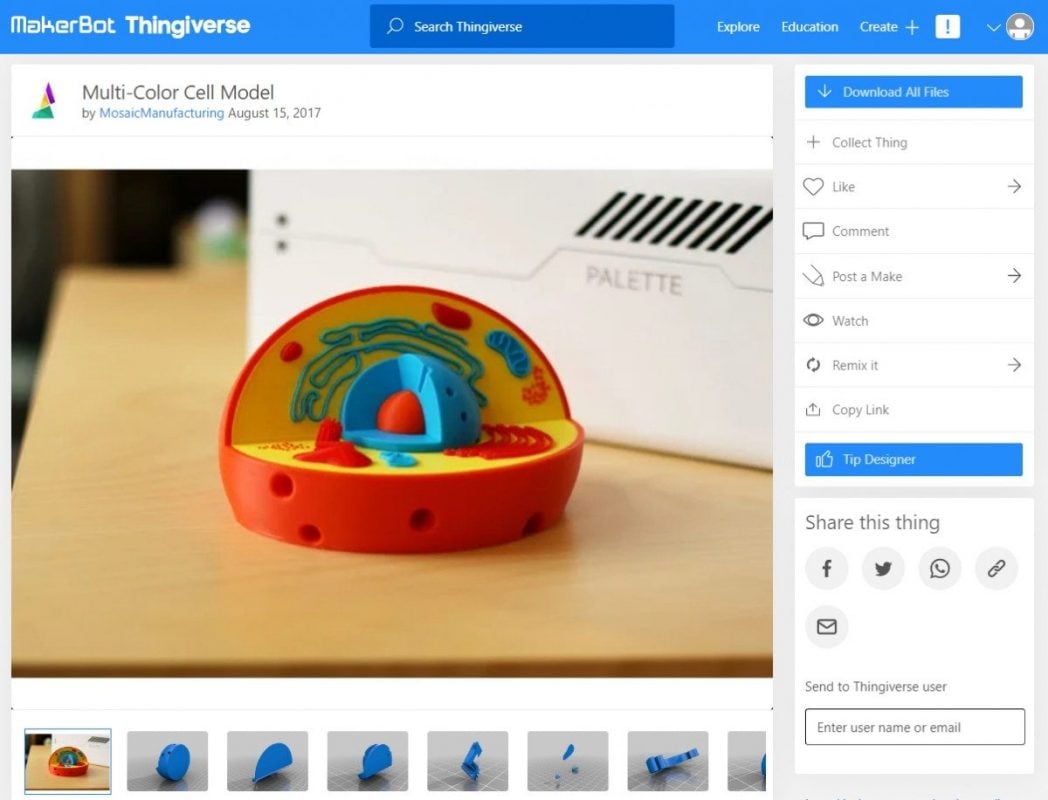 For the science lovers out there, this Multi-Color Cell Model is a cool 3D printed display of a cell that can be used to educate in the medical field and in schools. It shows different levels of the cell, as well as highlighting important areas.
Created by MosaicManufacturing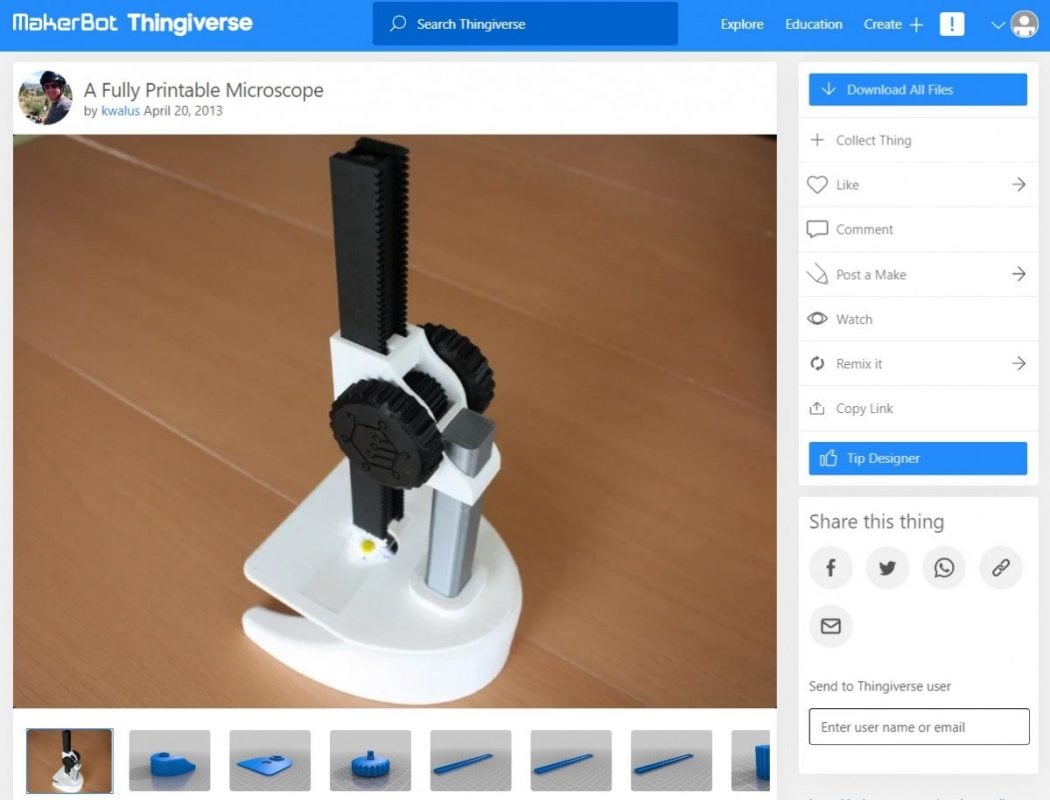 The Fully Printable Microscope provide everything you need except for the 4 lenses and light source. You could potentially find a photography shop which should have an abundance of lenses that you can use.
Created by kwalus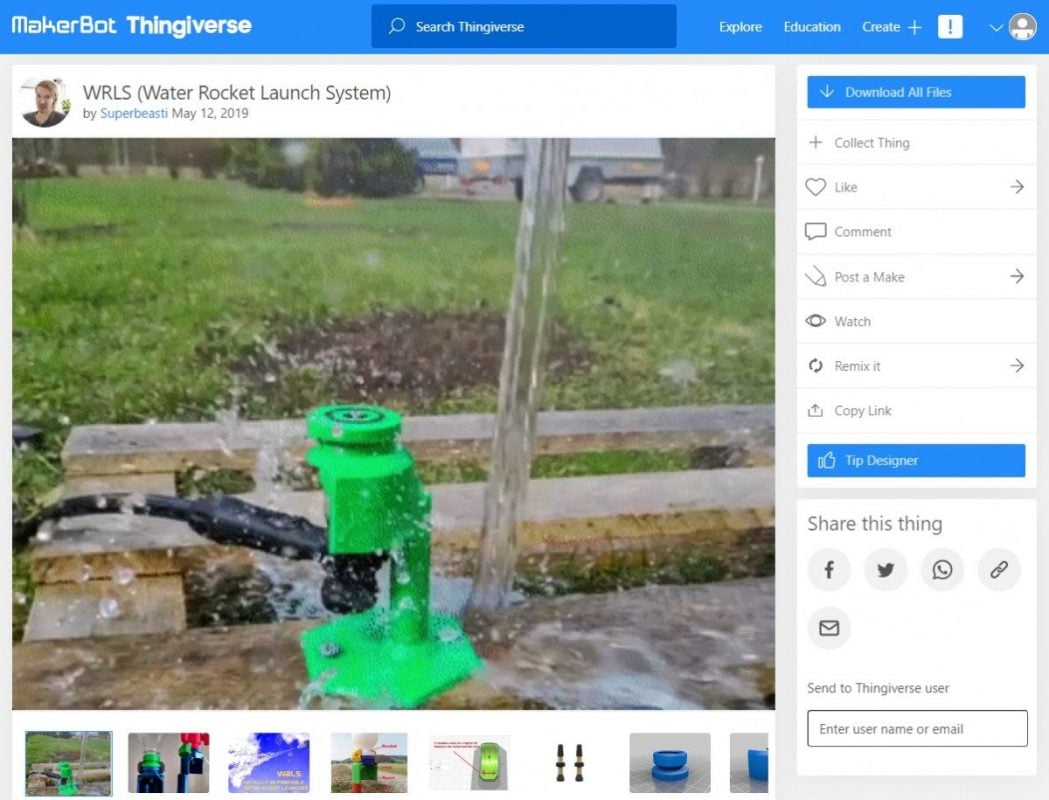 3D printing a rocket?! It's possible with this Water Rocket Launch System which can be fully 3D printed by using a TPU seal, or you can just use a 19 x 2mm O ring.
It's going to be a project for sure, but rest assured, there are plenty of instructions to follow along with on the Thingiverse page.
Created by Superbeasti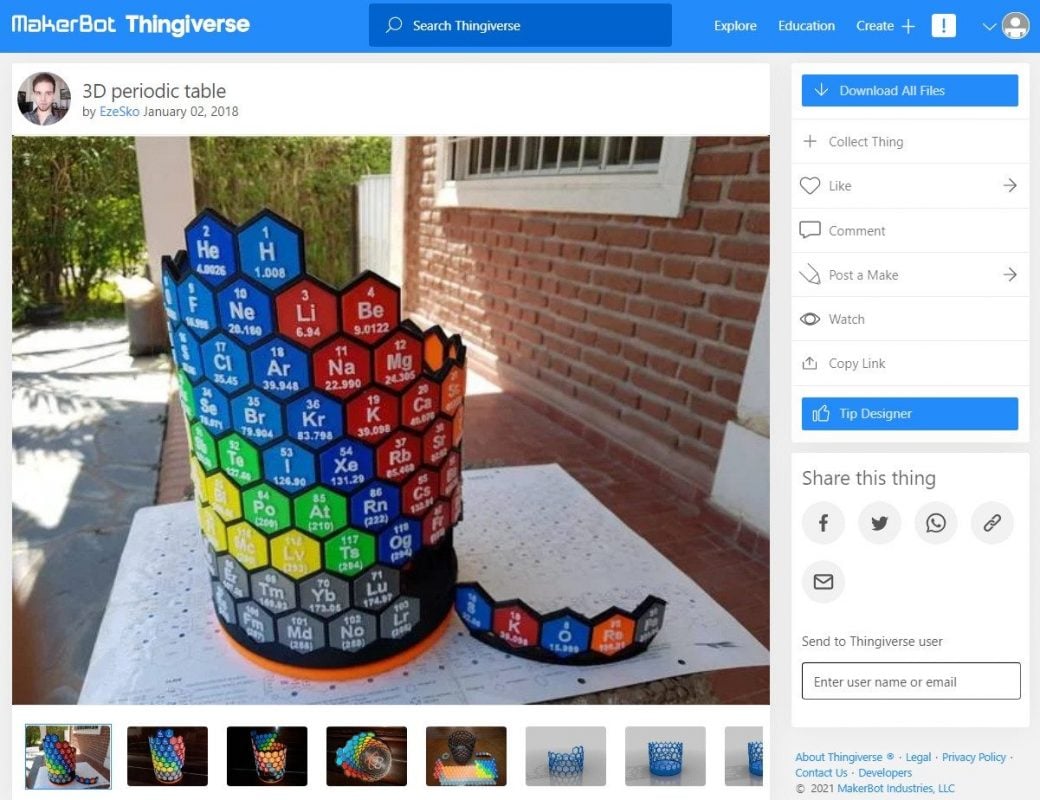 This is no basic periodic table. It's a rotary cylindrical periodic table with hexagonal patterns, with each element showing its abbreviation, mass, and atomic weight.
Check out the video below for a better look at the model.
Created by EzeSko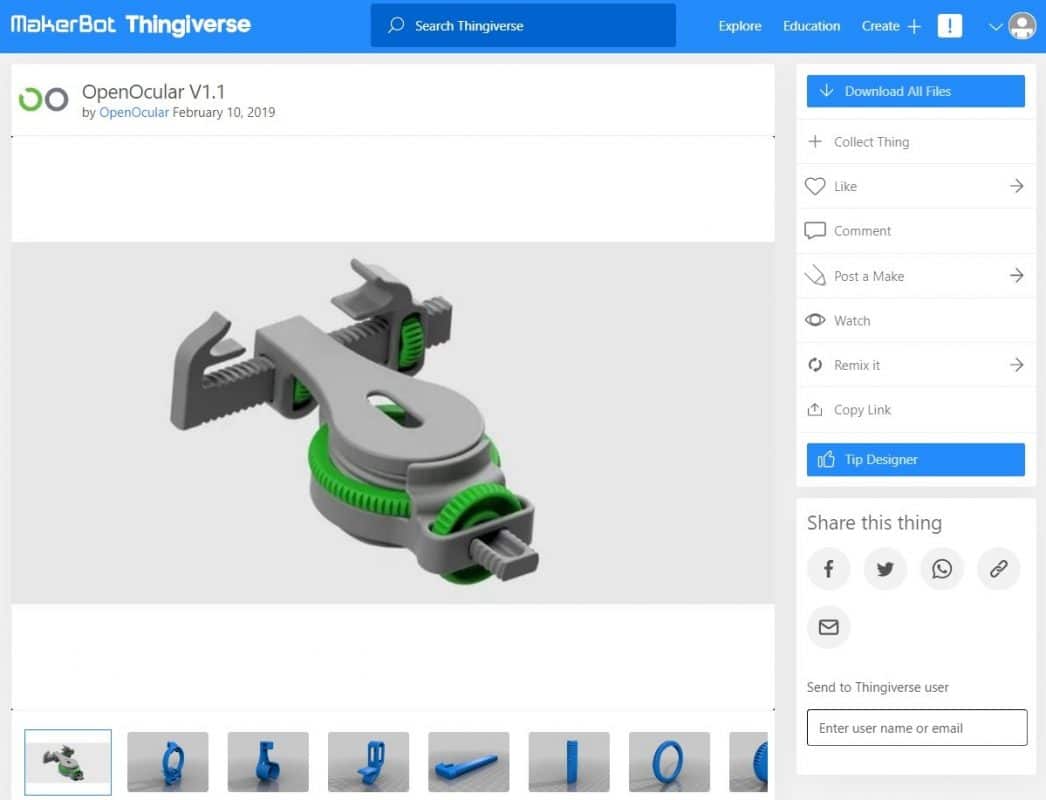 If you have a smartphone that you want to capture images from a microscope or telescope, then the OpenOcular V1 is the perfect model for you. Yes, many people don't have one of these devices, but who knows, this model might inspire you to get one.
You can setup and clamp your smartphone securely to align with the lens, then fasten the adapter onto the ocular.
One user said it was 100% perfect, while another said it works very well.
Created by OpenOcular
You made it to the end of the list! Hopefully you found it useful for your 3D printing journey.
If you want to check out other similar list posts I carefully put together, check out some of these: