How to Make 3D Print Earrings – 6 Steps
3D printing is getting more popular by the day, making designing and crafting unique earrings more possible. I understand it can be tricky if you're a newbie. That is why I wrote this article to guide you through the process of 3D printing your own earrings.
To make 3D print earrings, gather the necessary supplies, choose a 3D printing filament, design your earrings, or download a model of earrings online. Import the model into a slicing software and make any necessary adjustments, then slice it. After that, print your earrings, post-process, and assemble them.
This is just a basic explanation. Stick around to learn more about the process of making 3D printed earrings.
How to Make 3D Print Earrings
Gather your supplies
Design the earrings or download a model of earrings
Slice your earrings model
Print your earrings
Post-process your 3D printed earrings
Assemble your earrings
1. Gather your Supplies
Before you begin 3D printing earrings, you should gather all the necessary materials and tools that you would need. These include:
3D printer: You can 3D print earrings using a resin or FDM printer. However, if you're a beginner, going for an FDM printer may be preferable since they are cheaper and easier to use.
One user recommended the Prusa i3 MK3 for printing earrings. However, if you find its price a bit steep, you can go for any other ordinary FDM printer, e.g., the Ender 3 V2. They should get the job done just as well.
A user made various sets of earrings using the Creality Ender 3 Pro.
You can find the Creality Ender 3 Pro on Amazon.
Another user printed some Dragonair earrings using an Elegoo Mars 3 printer. It was his first time using an SLA printer, but the prints came out great.
3D printer filament: Next, you'll need to pick a 3D printing filament. The most commonly used filament when it comes to printing earrings is PLA. This is because it is beginner-friendly and safe for use.
However, if you want sturdier earrings, you should go for PETG since it is stronger and more durable than PLA.
One user settled for the Hatchbox Silk Bronze PLA filament to make his Black Lives Matter fist earrings, which turned out great.
Check out the Hatchbox Silk Bronze PLA filament that you can find on Amazon.
A set of hoops, hooks, and rings: This will be used to assemble the earrings and attach the printed pieces to your ears.
Needle nose pliers: These are used for holding the hooks and rings while you attach them to your printed earrings.
This Jewelry Pliers Set that you can find on Amazon would work fine.
2. Design the Earrings or Download a Model of Earrings
Next, you'll need to design your earrings using 3D modeling software. The three commonly used options are TinkerCAD, Fusion 360, and Blender. However, TinkerCAD is more popular since it is free and much simpler to use.
Start by sketching your ideas on paper, which will help refine your design concept. After sketching, you can now begin the 3D modeling process. Here is how to do it in TinkerCAD:
Go to TinkerCAD and log in to your account. If you don't have one, sign up to create it.
Depending on the type of earring you want to create, drag and drop any basic shape onto your workplane using your mouse. You can find the shapes on the panel on the right side. In this case, I dragged a star onto the work plane.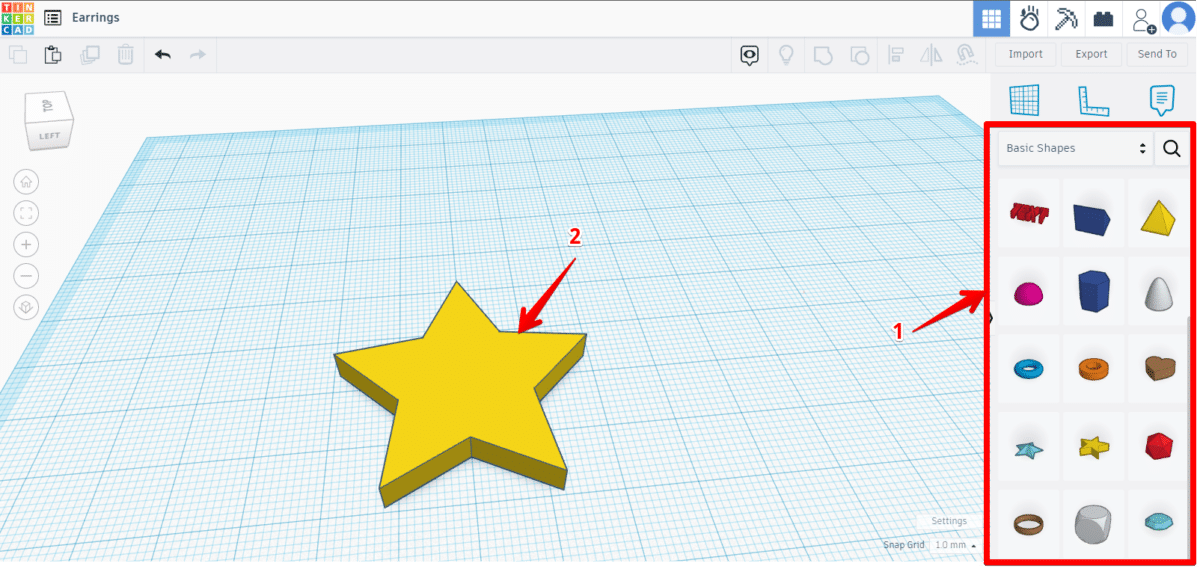 Next, create a hole where you'll put your hooks for you to wear your earrings. To achieve this, drag the cylinder shown below onto your workplane (that is, if you want a circular hole; otherwise, you can use any other shape to create a hole).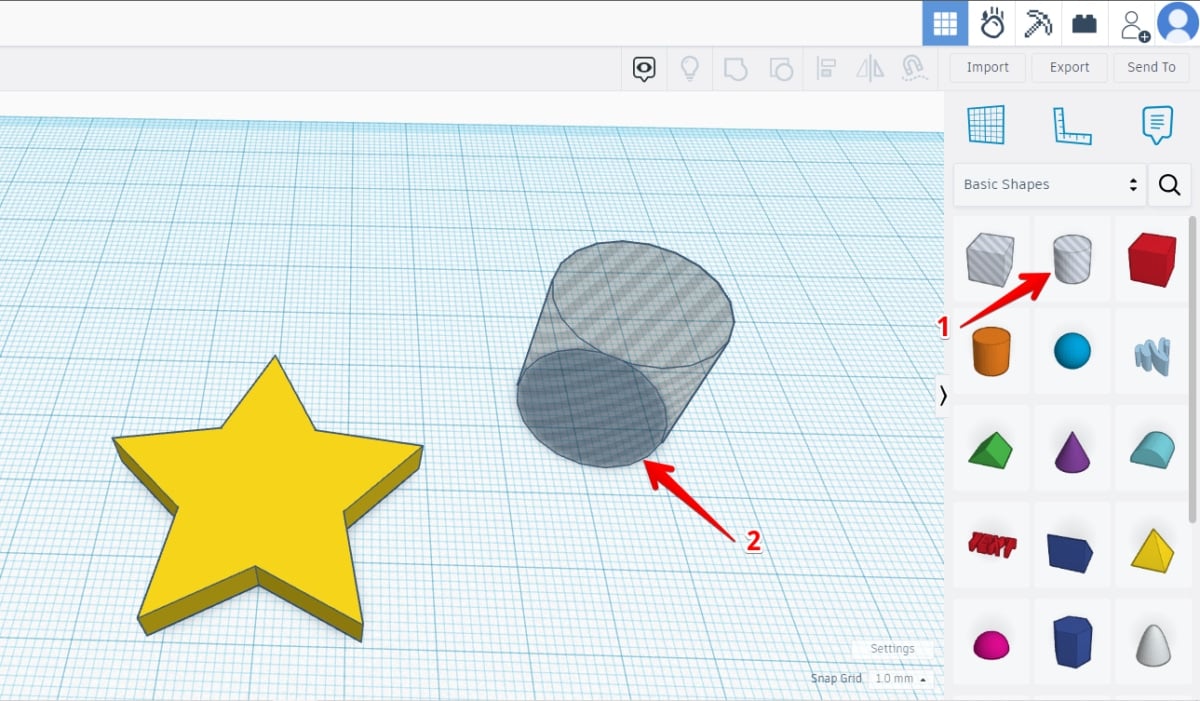 Position the cylinder on your model and then adjust its size. You can input the specific dimensions you want your hole size to have. Alternatively, You can drag the small white squares to make the model bigger or smaller.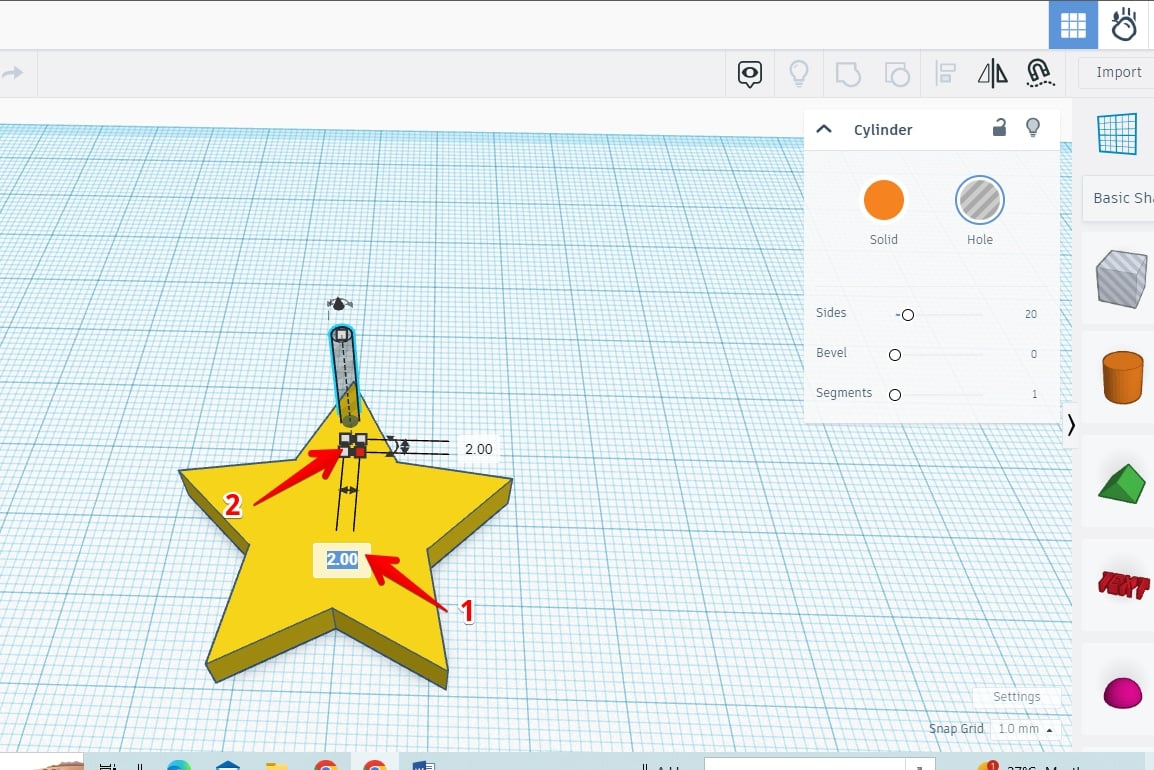 To create a hole in your earring model, you'll need to merge the cylinder and star. You can do this by highlighting the two objects using your mouse and clicking the group icon on the top right.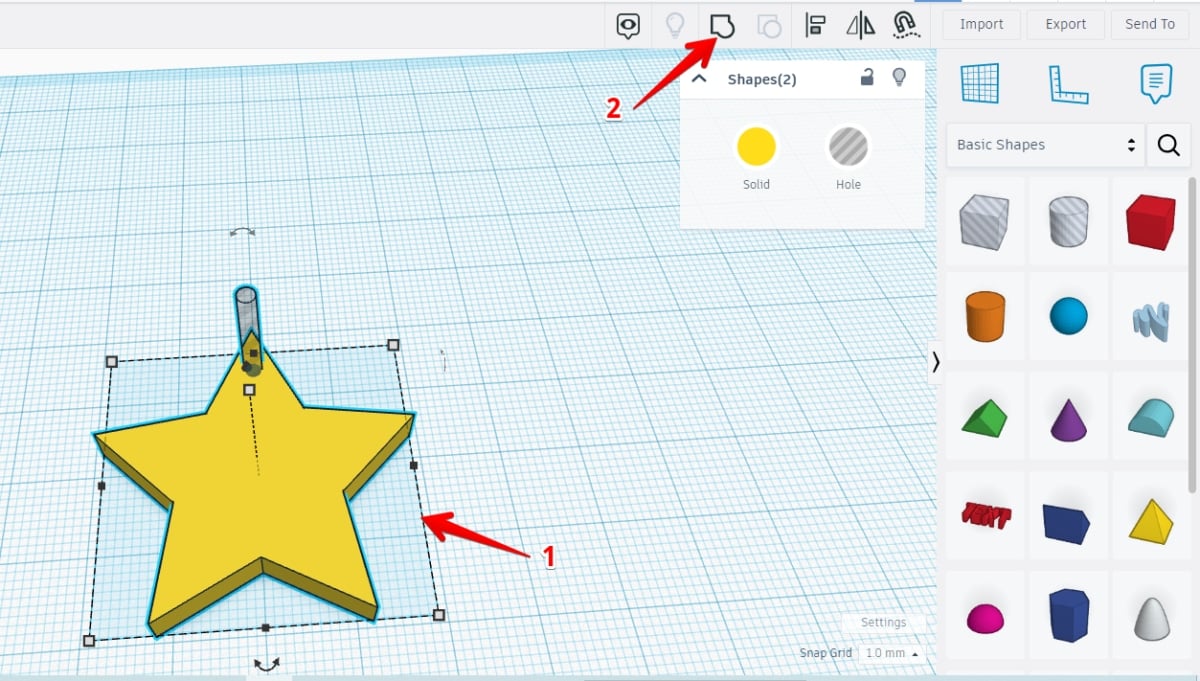 This will create a hole through which you can put the earring hooks.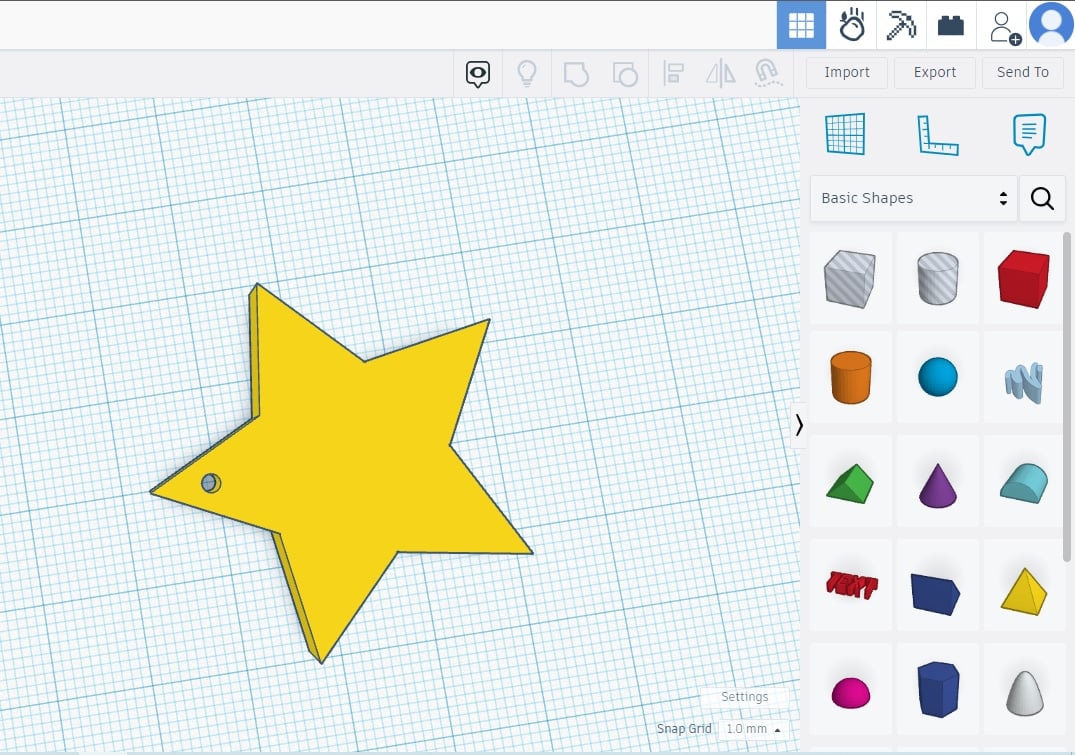 To create a duplicate of the earring, highlight the model and click the copy icon on the left side of your screen. Next, click the paste icon. A duplicate of the object will appear on the workplane.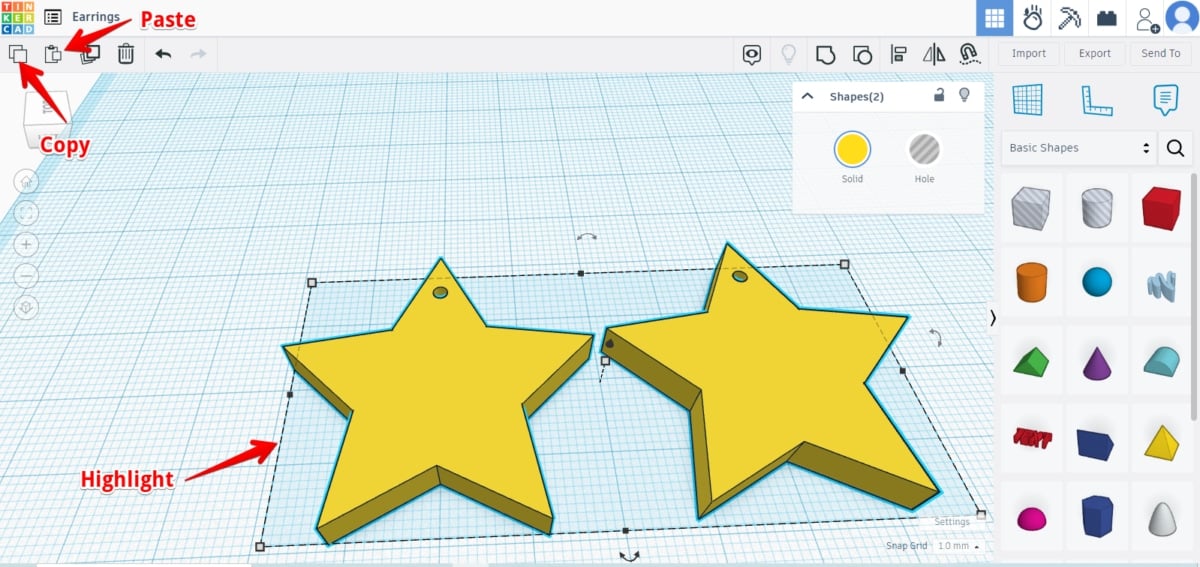 Once you're satisfied with how your earrings look, export your design by clicking the export button on the top-right side. Select "everything in the design" and choose the STL format.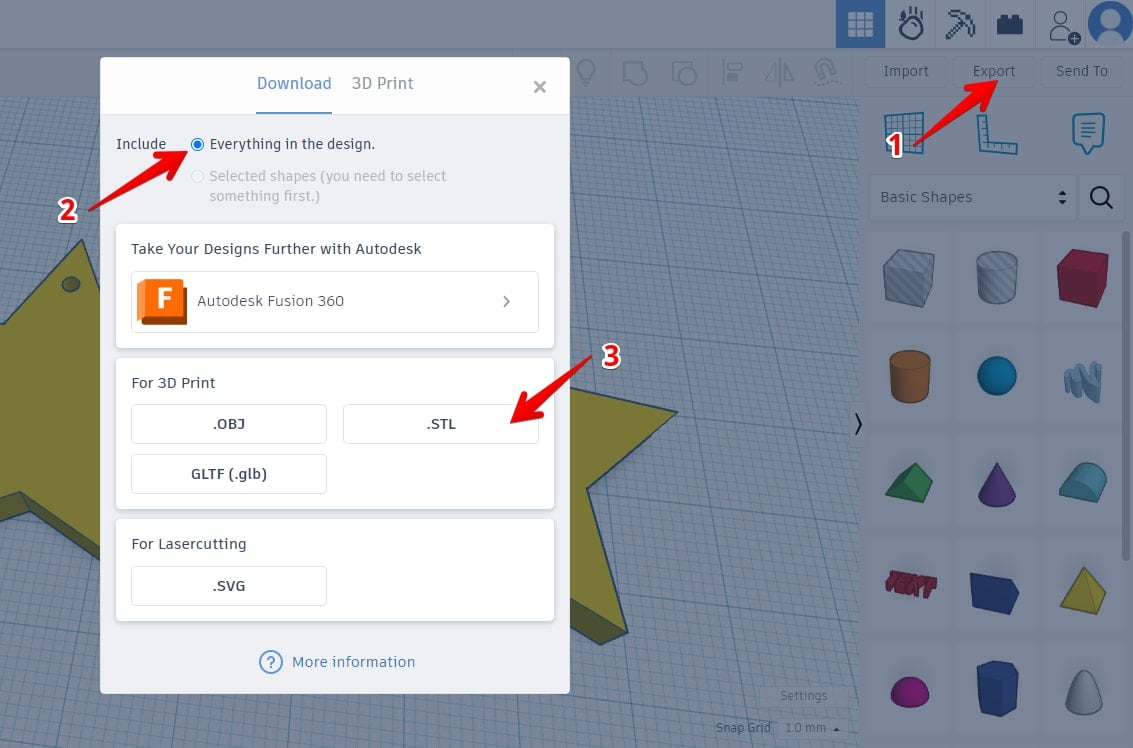 Choose a folder to store it on your computer and click "save".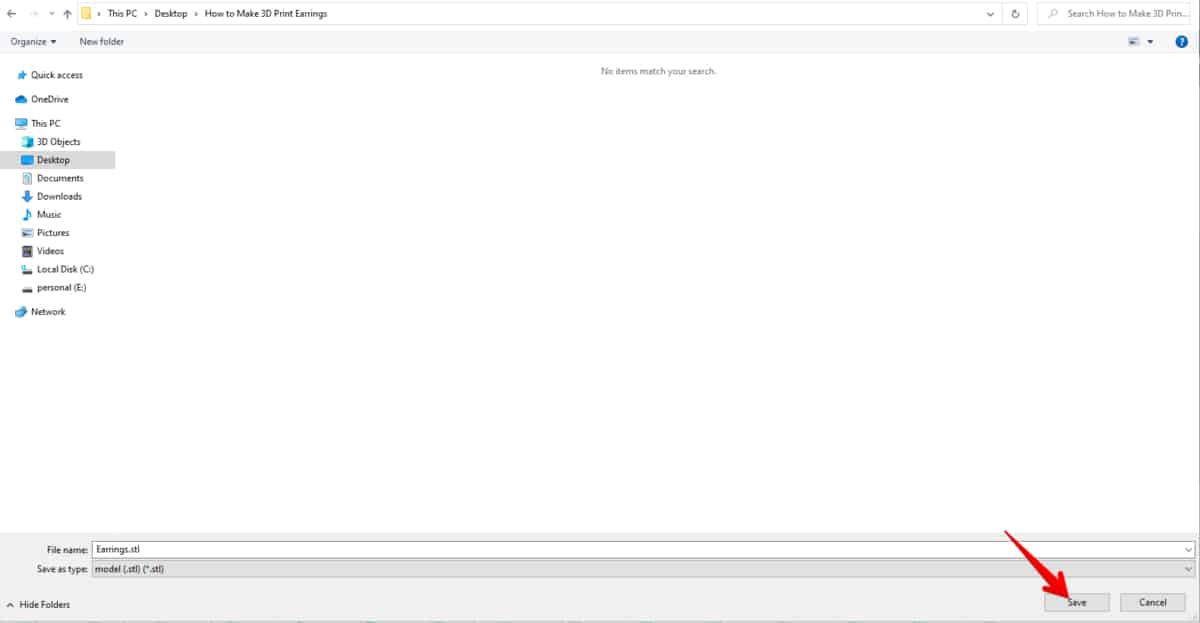 This video can guide you through creating earring models in TinkerCAD.
If you don't want the hassle of designing your earrings, you can easily download one from Thingiverse. Here's how to do it:
Go to Thingiverse from your browser and type earrings in the search box at the top. Click on the earrings you like, and you will be redirected to the download page.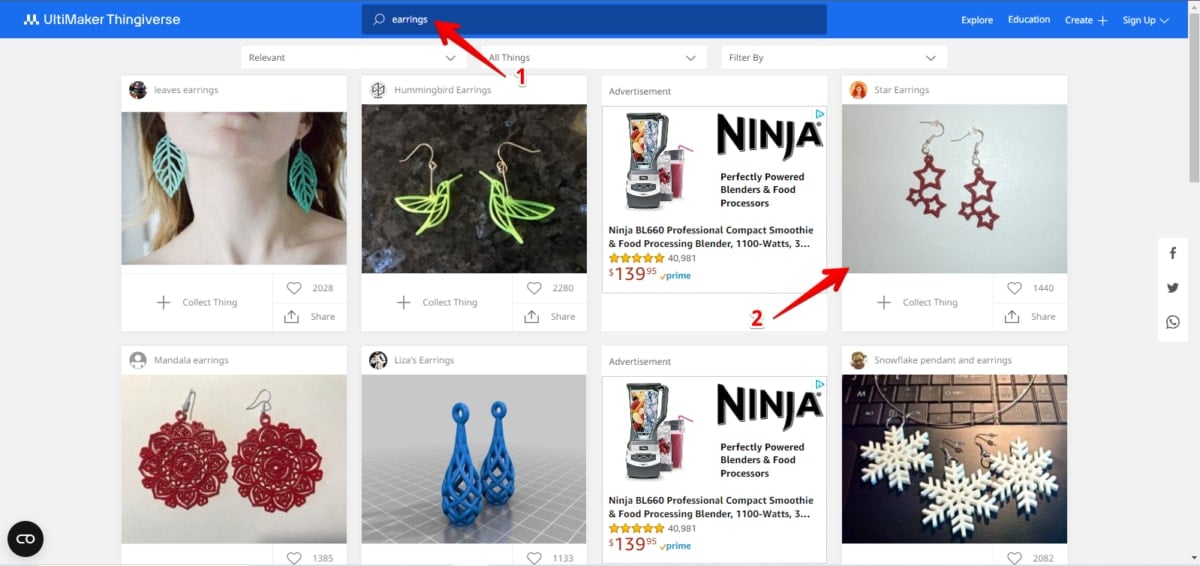 Select "Thing Files" on the download page and then click the download button to store it in a folder on your computer. Ensure you only select files that are in STL format. You can also click "Thing Details" for instructions and tips on printing the earrings.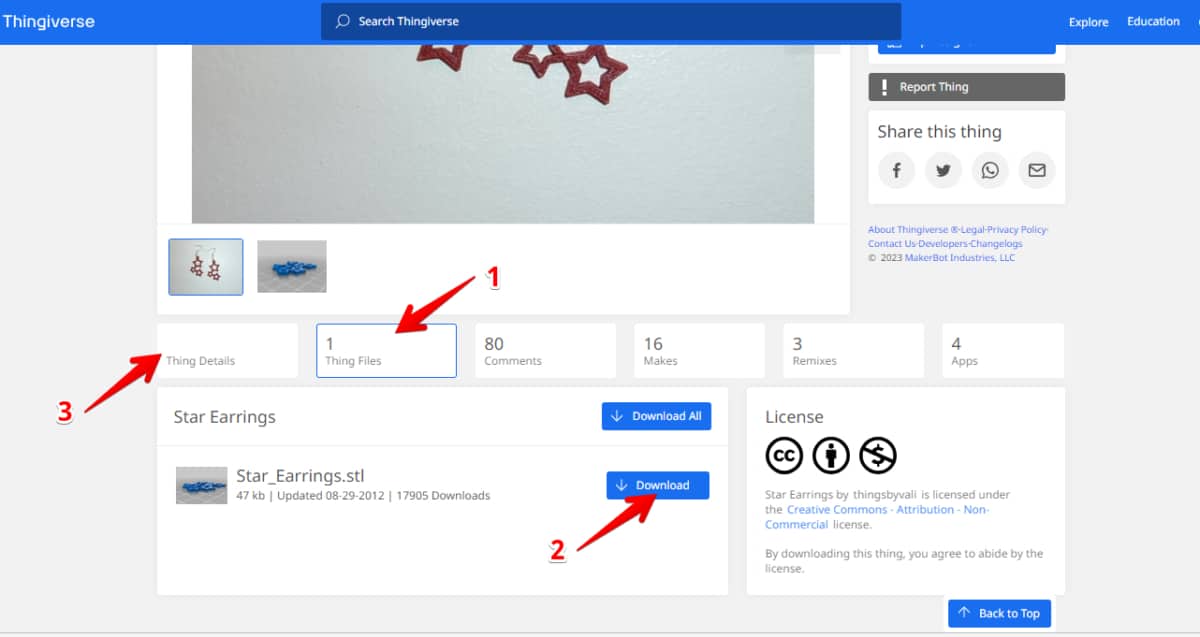 3. Slice Your Earrings Model
After you've designed your earring model or downloaded one from Thingiverse in STL format, the next step would be to slice your model. Slicing your model converts it into G-Code (a format your printer can understand).
You'll need to download and install slicing software compatible with your 3D printer. Some popular choices include Cura, PrusaSlicer, and Slic3r. I like to use Cura since it is free and easy to navigate. To slice your model in Cura, follow these steps:
Import your 3D model: Click the folder icon on the top menu, select your STL file, and click "Open".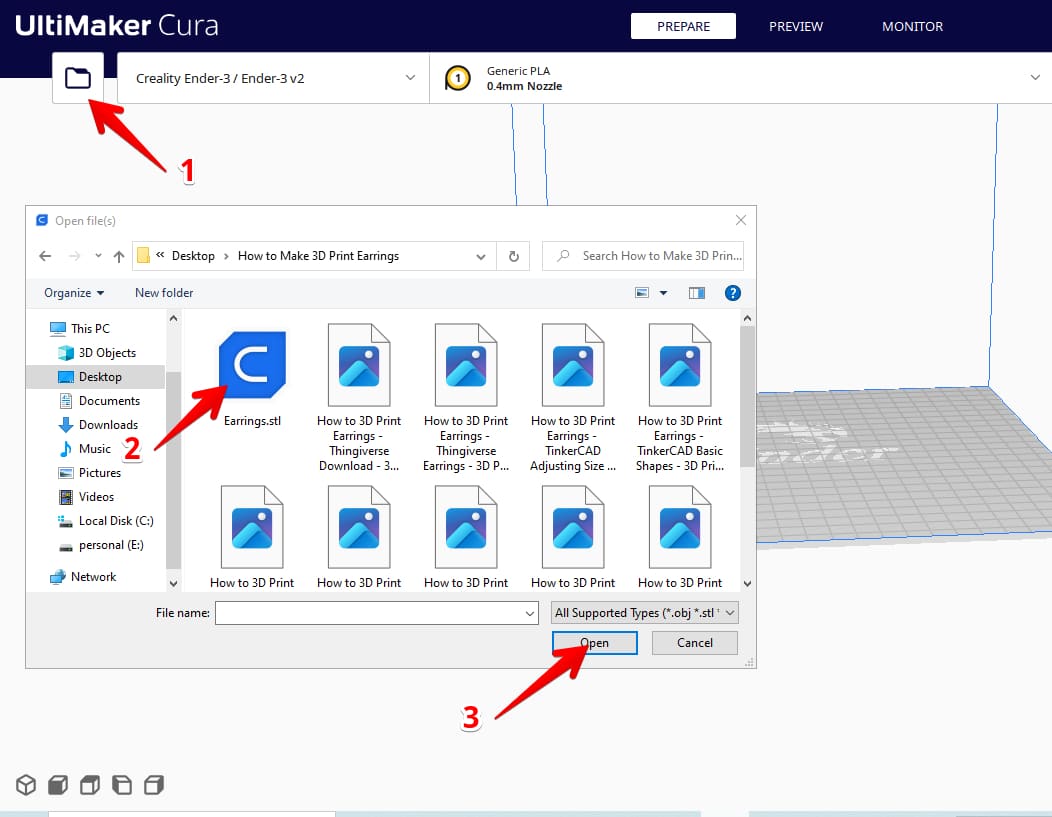 Adjust the print settings: Next, you'll have to adjust your print settings depending on your design to get the best results. Adjust the layer height, infill density, and infill pattern, to mention a few. Once you've adjusted the print settings, press the slice button.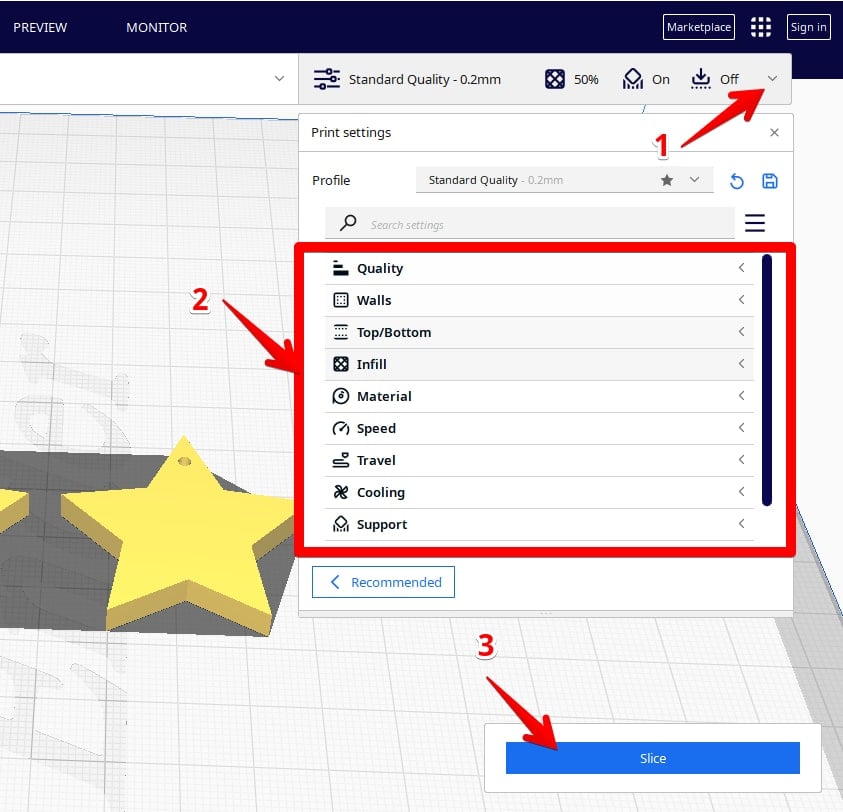 Preview the model: Click the preview button and use the slider on the right side to scroll up and down the model to see how each layer will print.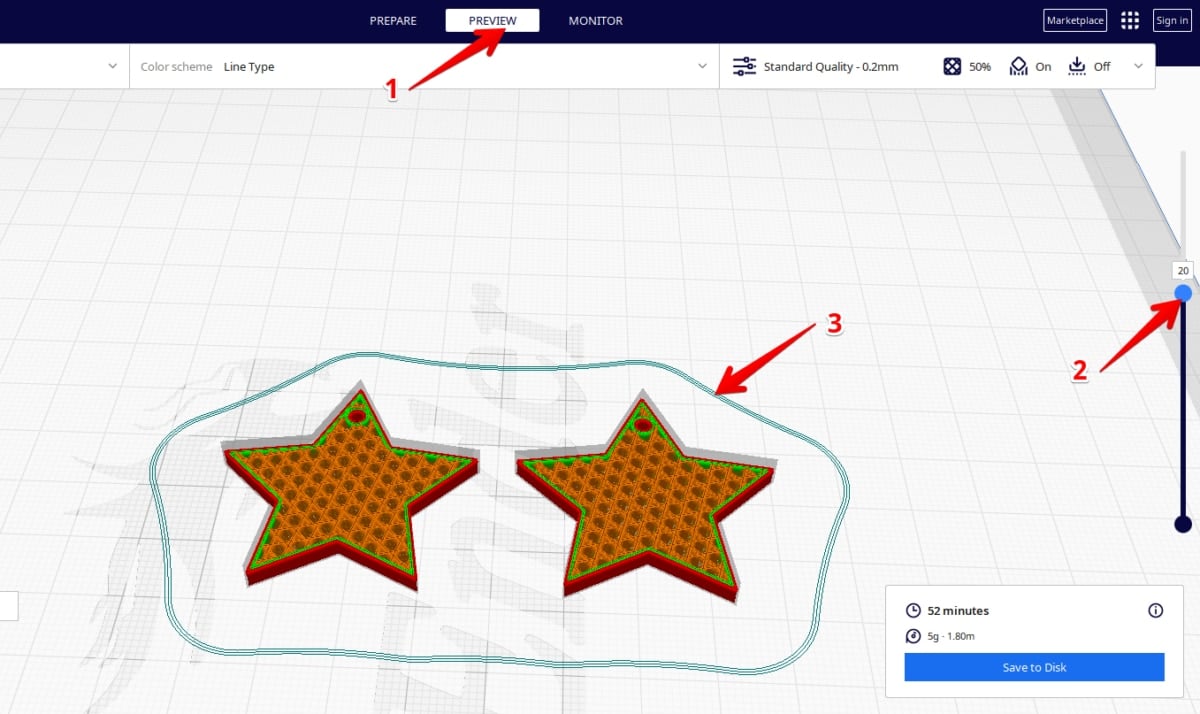 Finally, click the "Save to Disk" button and choose where to save your file on your computer. The file will be saved in G-Code format.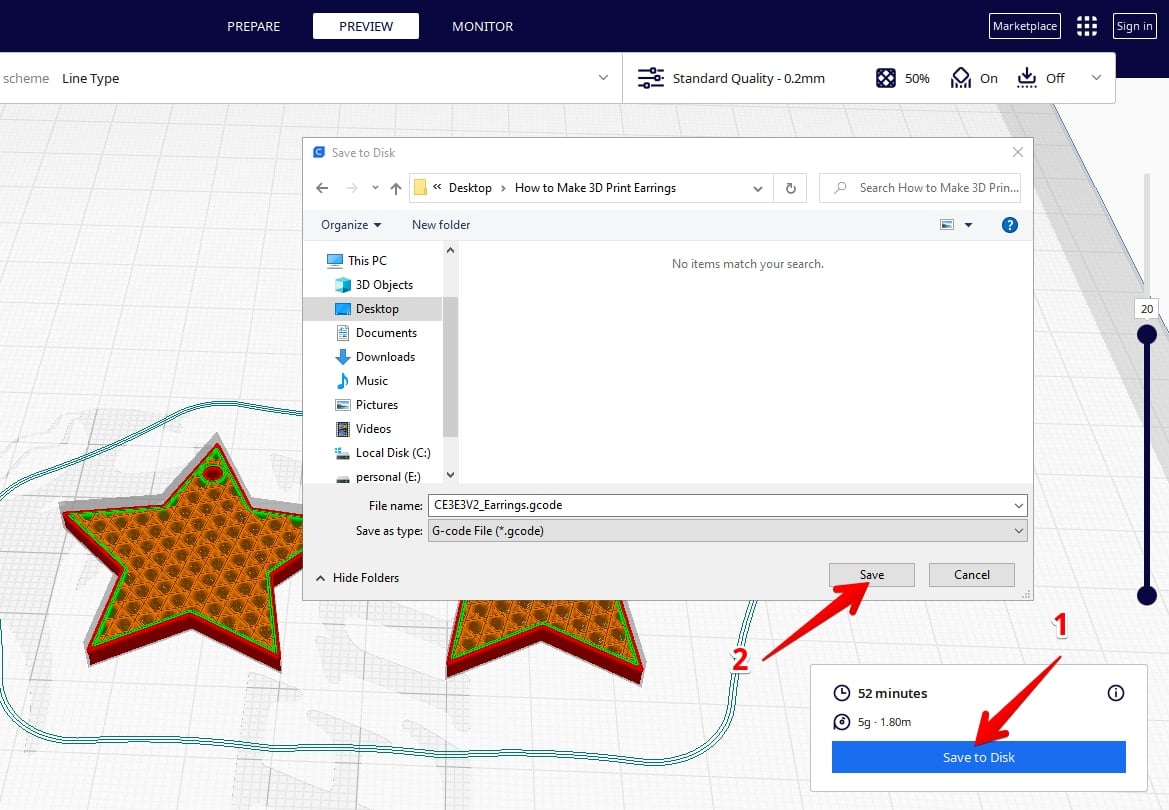 This video lets you learn how to slice your Earrings model in Cura.
4. Print the Earrings Model
Printing your earrings is usually a straightforward process, but first, you'll need to level your printer's bed correctly to ensure successful prints.
CHEP perfectly demonstrates how to level the Ender 3 bed in this video.
Once you've leveled your bed and loaded the filament correctly, export the G-Code file from your computer to an SD card. Insert it into your 3D printer and start the printing process.
Keep an eye on the printer throughout the printing process to ensure there are no issues, such as warping or filament jams.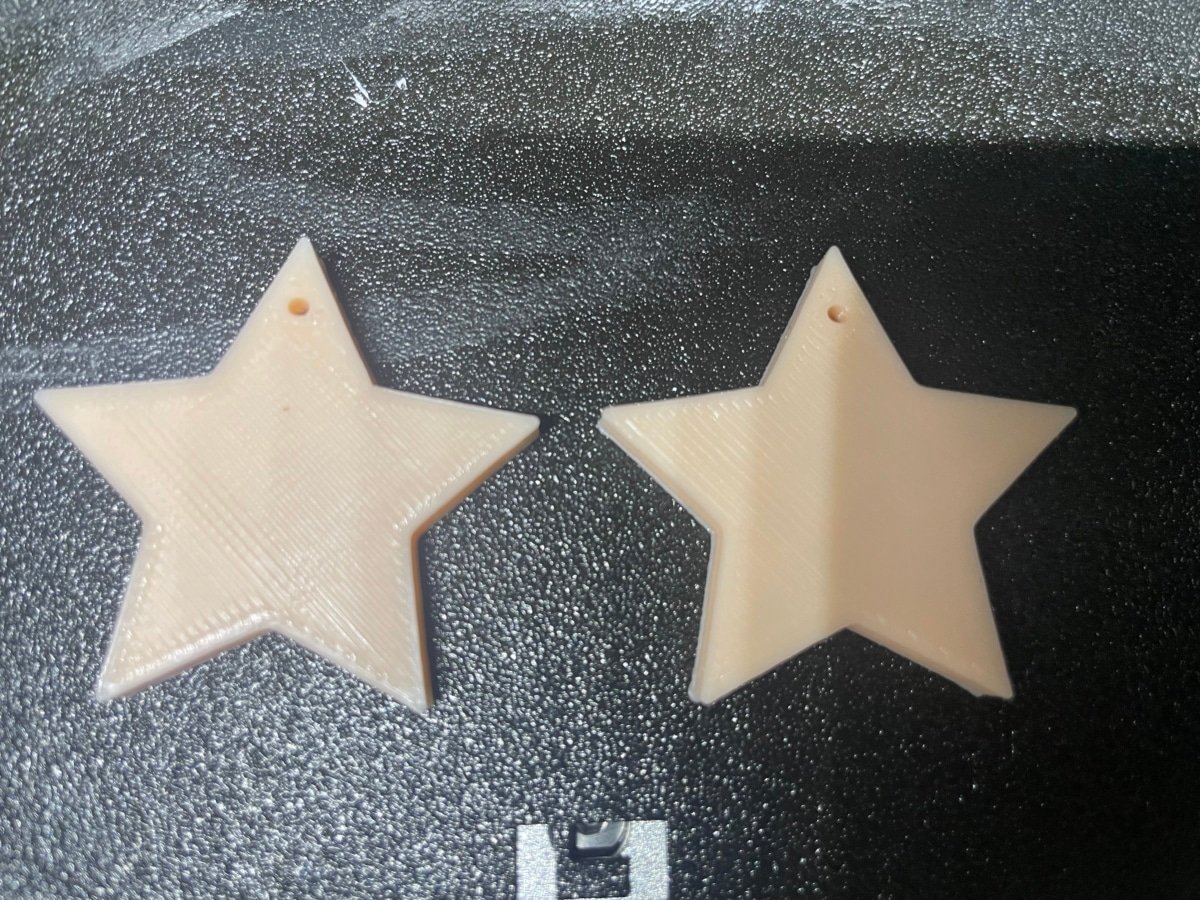 5. Post-Process Your 3D Printed Earrings
You can post-process your earrings to enhance their appearance or leave them as printed. Post-processing can involve several activities, such as sanding, cleaning with a soft brush, and painting your 3D printed earrings.
One user said he used multiple coats of acrylic paint with a thinning solution to airbrush the earrings for a consistent finish, then sealed them with a super reflective triple-gloss clearcoat.
This Rust-Oluem Clear Triple Thick Spray will help you get a glass-like finish.
Prices pulled from the Amazon Product Advertising API on:
Product prices and availability are accurate as of the date/time indicated and are subject to change. Any price and availability information displayed on [relevant Amazon Site(s), as applicable] at the time of purchase will apply to the purchase of this product.
Another user said he uses the DecoArt Metallic Acrylic paint to give his earrings a shiny metallic finish.
You can find the DecoArt Metallic Acrylic Paint on Amazon.
6. Assemble the Earrings
The final step is to attach earring hooks to your 3D printed earrings. Push the hooks into the holes in your 3D printed earring using your fingers and use the pliers to fasten them in place securely. You can do this as shown in the video below.
Your earrings should now be ready to wear.