10 Best Free Commercial Use STL Files – Free to Sell
3D printing presents lots of ways for creators to make money. Most people often print models for sale and sell successfully, even making a living from home doing it. However, if you're selling 3D printed models of a creator's designs, you need to confirm that the model is licensed for commercial purposes.
This is why I decided to compile a list of the best free commercial use STL files that you can 3D print and sell. Go ahead and check them out below.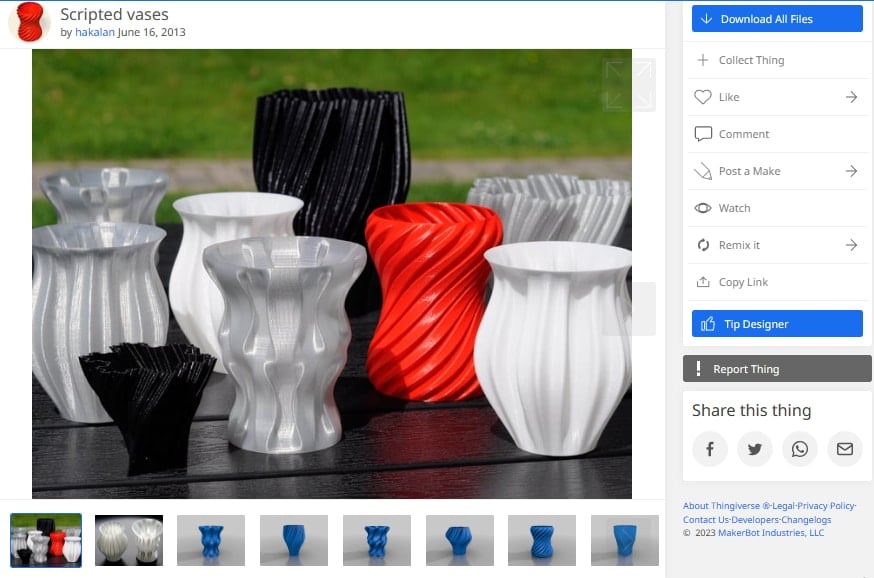 For people looking to spice up their home or workspace, this model is a great product for them to buy. You'd be surprised at how many people will be willing to buy this vase.
This model contains various vases with varying shapes/designs that your prospective customers can choose from.
Even with the various vase designs in the model's catalog, it's still available for free. However, it's still under the Creative Commons Attribution License, meaning that while you can redistribute it in any format, you must credit the original owner of the model.
You can put up this model for sale on Etsy, Amazon, eBay, Shapeways, or other e-commerce platforms. On average, similar models sell for between £10-40 depending on how complex or unique the design is.
You can offer competitive prices for these models since there is a huge demand for them, especially for new home or office owners.
Other factors that can determine your prices maybe if the customer wants some custom requirements, like their initials, a particular color, shipping location, etc.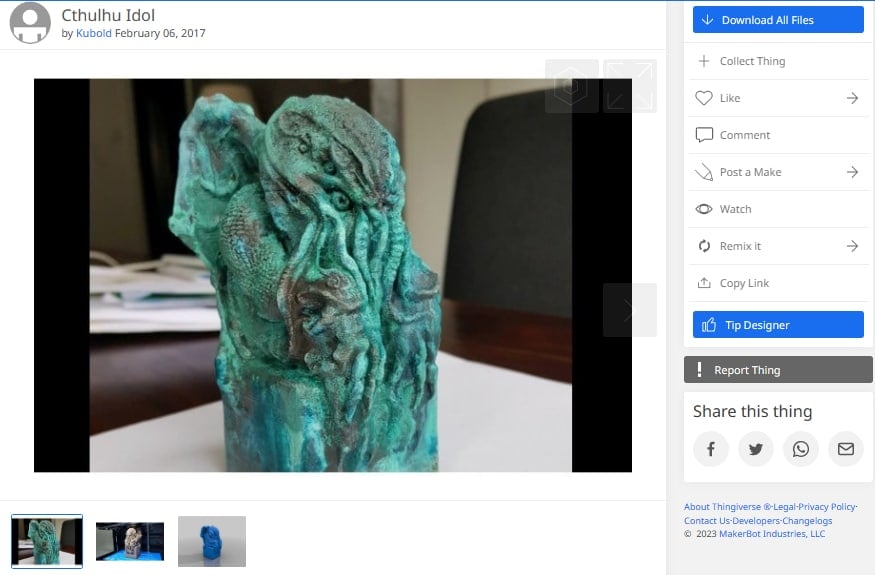 A must-have for fans of Lovecraftian horror, which already has a huge following. Die-hard fans would be willing to spare about £30 for the Cthulhu idol, which is around the average cost that other sellers list for sale.
Also, for the extra cash, you can print in different sizes at different prices.
If you know how to use 3D modeling software, you can create a hole at the top so that it can be used as a pendant for necklaces or as a wrist bracelet when it's scaled down. This is possible since it is licensed under the Creative Commons – Attribution license.
For a more unique finish, the designer recommends coating it with bronze fill and aging it with salt and vinegar mixture, giving it a more mystic appearance that the buyers will adore.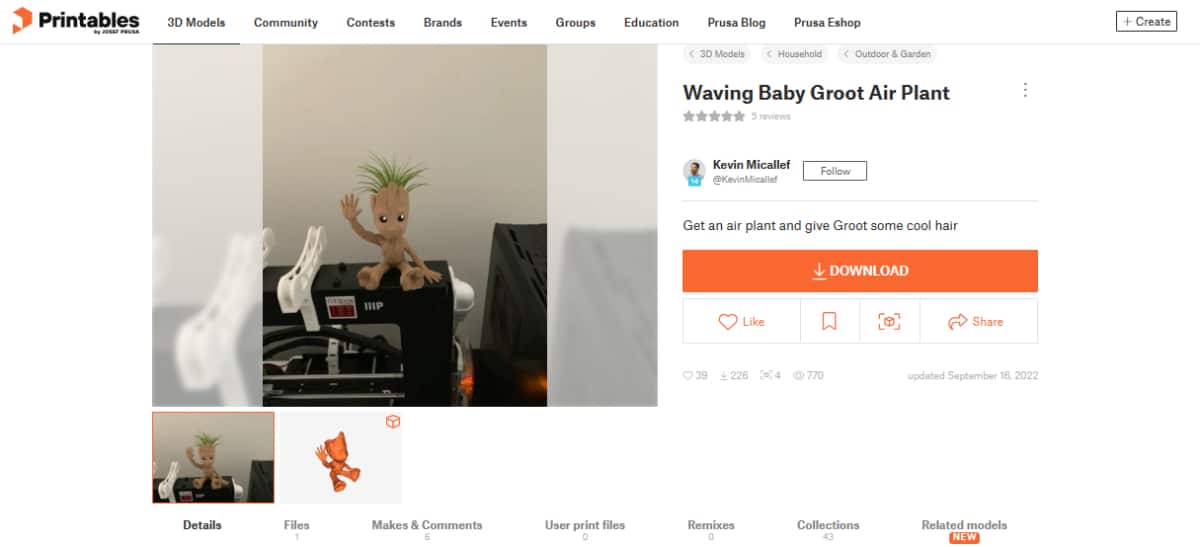 This Baby Groot model from the Marvel Cinematic Universe is definitely one that catches the eye. It is a simple piece that you can 3D print and sell to customers.
This model is licensed under only Creative Commons Attribution License making it possible for commercial use. Since it's already a household name, you should have no worries about its demand.
Groot's cheerful eyes will captivate prospective buyers even if they didn't intend to buy at first.
Also, if you have experience with 3D printing software, you can rescale the Waving Groot Air Plant so that it can serve different sizes of air plants. You could also shrink the model so that it could be used as a key-holder.
If you intend to list this model for sale, the possibilities are endless since it can be used across all ages. With the right publicity, you shouldn't have a problem selling this model on popular e-commerce sites like Etsy and Amazon.
For £10, you should have a decent profit margin on each sale since it doesn't consume much filament. For custom orders, you can charge a premium for your time and effort.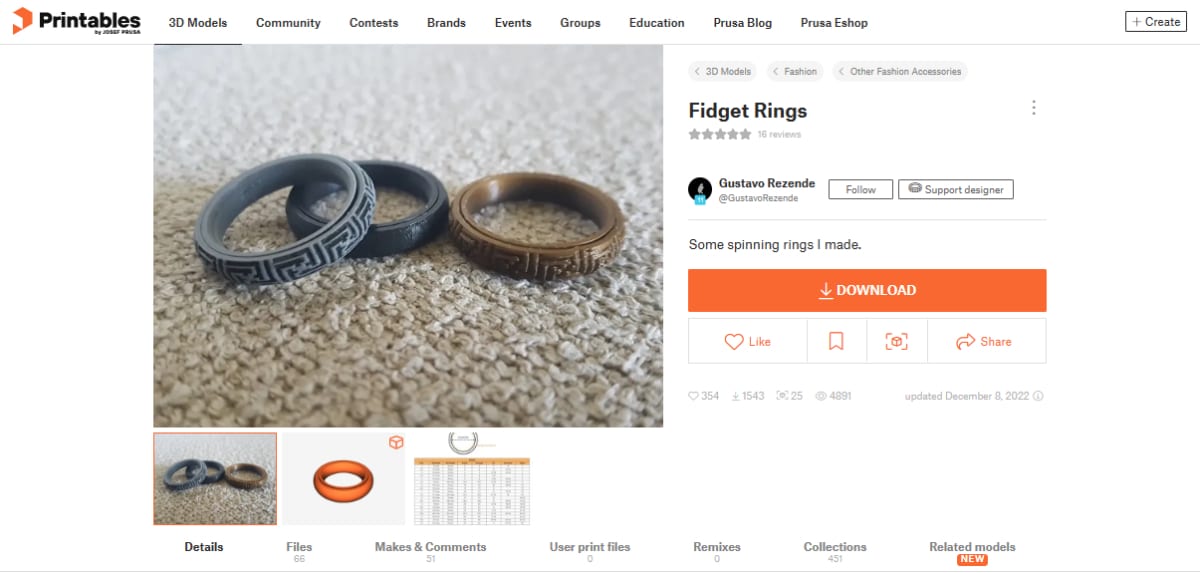 Whether it's made of resin, filament plastic, or even metal-cast jewelry, 3D-printed jewelry is a lucrative industry. There are many listings with high costs for innovative and distinctive styles of 3D-printed jewelry if you search online.
This 3D-printed fidget ring is one that people would want to have. It would serve as the ultimate stress-relieving accessory that keeps one's hands busy and mind calm.
On average, similar rings are sold for around £14 on Etsy, but you could offer competition to existing buyers by selling for less. You can offer it for sale in different sizes so that no customer is left out.
You may need to understand ring measurements so that you can properly size the rings for intending buyers.
For additional profit, you can paint the rings based on the customer's demands so that they can blend with their outfit, style, and personality.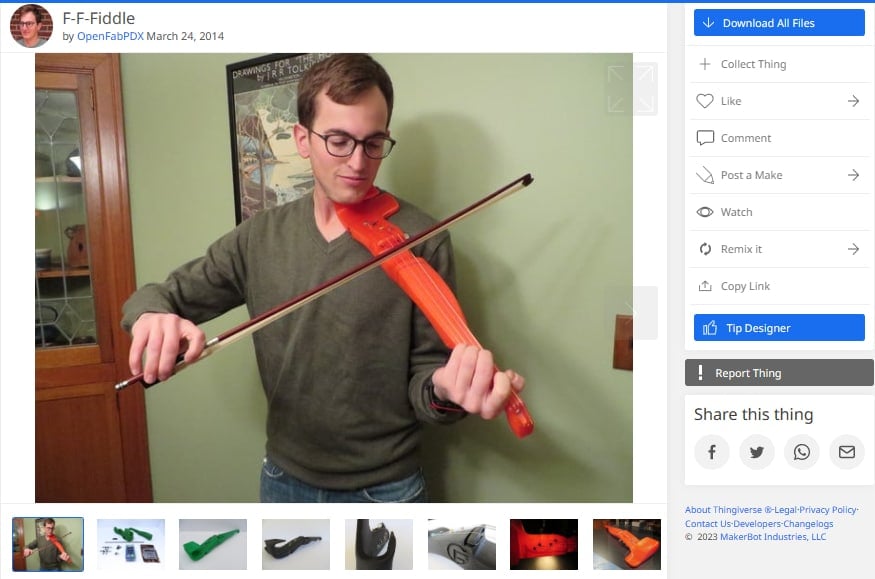 Here is a great model for music lovers. The F-F-Fiddle (pronounced eff-eff-fiddle) is a full-size custom electric violin that can be 3D printed from start to finish. This custom piece is one that violinists and other music enthusiasts would appreciate.
While they may not like the sound quality of the instrument, they can hold on to it as a collector's item.
The F-F-Fiddle assembly kit goes for anywhere between $95.00 and $350.00 on the OpenFabPDX site. When you consider its price, it fits right into the price range for beginner violins.
While this type of model has been on the market for a considerable period, it is yet to hit the mainstream.
If you embark on selling this model, you'll need to spend a considerable sum on adverts and promos to spread awareness about this model. When you consider its price, it fits right into the price range for beginner violins.
This 3D printed violin has been repeatedly updated until finalized as the light and compact instrument currently available.
You can check out this video from David Perry for a demo of its sound quality once it's fully assembled.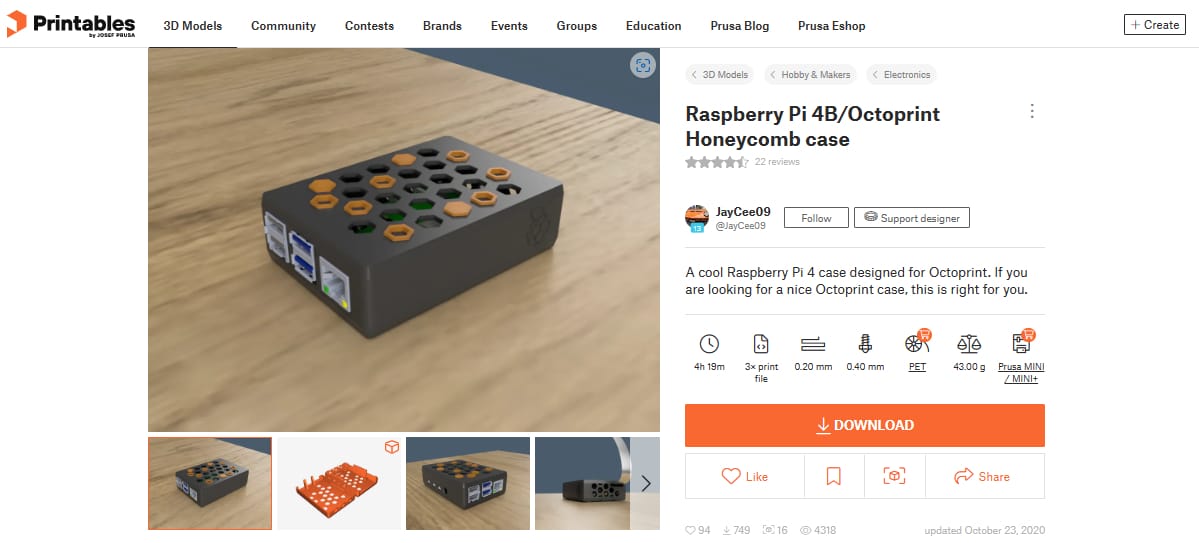 Another functional model you can offer for sale is the Raspberry Pi 4B honeycomb case. This model helps to solve one of the problems with the design of the Raspberry Pi.
It helps to protect the internals of the device from dust, debris, and accidental bumps without compromising on aesthetics while being easy to work with.''
The Raspberry Pi case is one model that will continue to be in constant demand for the foreseeable future. Since you're 3D printing this case, you can offer competitive prices when compared to the industry-made cases whilst you have a wide profit margin.
On average a 3D printed Raspberry Pi costs between $10-$40 on eBay and £5-15 on Etsy, depending on the uniqueness of its design. For example, this 3D-printed N64 mini case is listed on eBay for $29.99. You can also offer the Raspberry Pi 4B in different colors for your customers.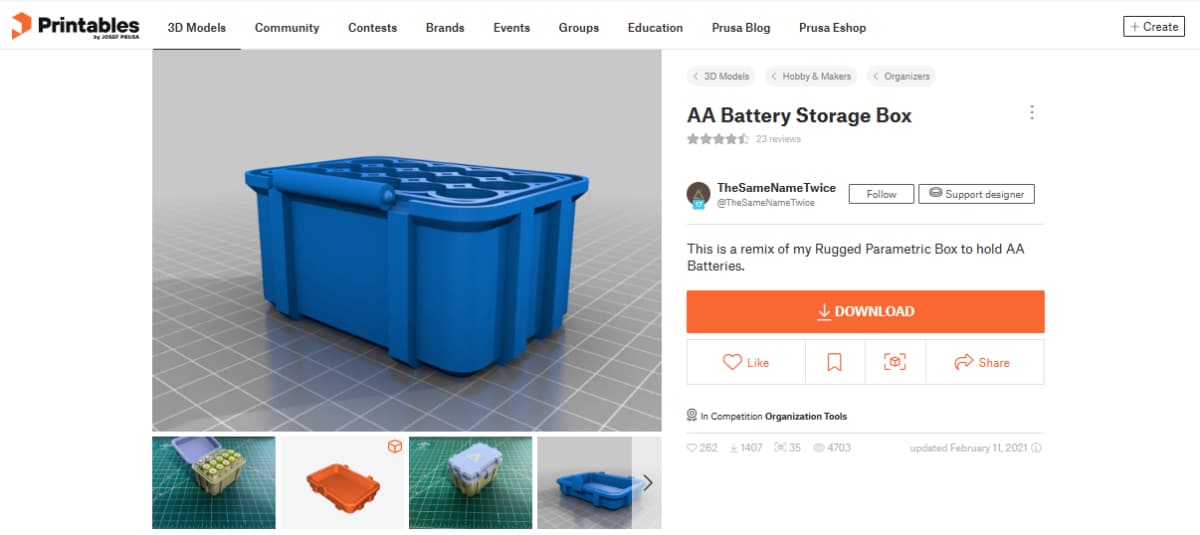 The AA battery storage box is another model that every household should have. For people who make use of portable electronics in their day-to-day lives, this model will help store your batteries very well.
You won't need to rummage through drawers or bags as you can easily find the right battery to power up your devices.
Before you decide to list this model for sale on e-commerce stores like Etsy and eBay, you need to know that there are lots of sellers with similar models there. For example, this 3D Printed Army Style Battery Case is available on Etsy for £11.99 at time of writing
This JJC AA Battery Case Holder is also listed on Amazon for around $20.
While the market for these battery holders is pretty huge, you may need to reduce your selling price to offer competition in the market.
Anyone getting this model would rest assured that their batteries are always neatly organized without taking up unnecessary space. It's the perfect solution for small homes, offices, or on-the-go adventures.
Also, you can easily keep track of the number of batteries you have available.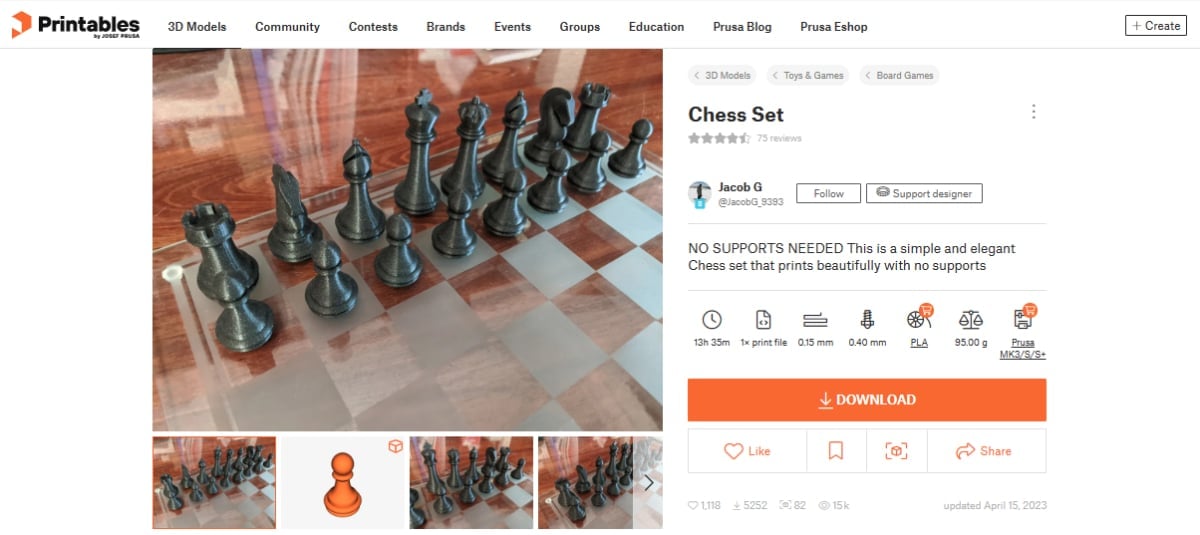 Players of the popular board game Chess will definitely be fascinated by this model. Each piece in this Chess Set is meticulously designed with intricate details for aesthetics and firm grip.
This Chess set is licensed under the Creative Commons – Attribution, No Derivative license. This means that while it can be used commercially, the license prevents you from editing the models.
You can sell on Etsy, Amazon, eBay, or other e-commerce platforms at great prices. 3D-printed Chess sets are not that popular on Etsy, so Etsy could be a great place to get started.
On eBay, this Black & White 32 Piece Spiral Chess Set sells for around $30, while chess sets with more unique designs are listed for over $100.
This chess set can be purchased and given to friends who are chess enthusiasts, igniting their passion for the game. Also, people can purchase this set so that it can serve as a backup or spare once any of their current pieces go missing.
When purchasing this set, customers can request custom colors to personalize these pieces to reflect their style.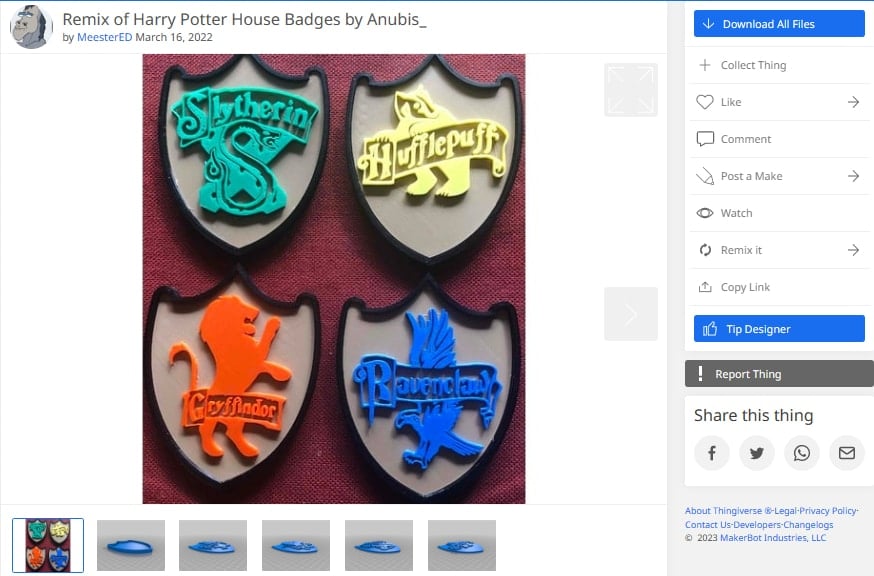 These badges are inspired by the popular fictional story Harry Potter. These magical house badges are a must-have for any true fan of the beloved wizarding saga.
From bags to clothing or simply as a display piece, these 3D-printed badges will allow people to showcase their Hogwarts house pride wherever they go.
You can sell these badge collections for around £16.00 since other sellers sell for more. This seller lists his Full Set of Harry Potter Crests for £20.00 on Etsy. Also, you can offer prints in various colors or glow-in-the-dark filaments to simulate a magical touch.
For other customers who may not want to buy the complete badge crest, you can offer individual badges for sale.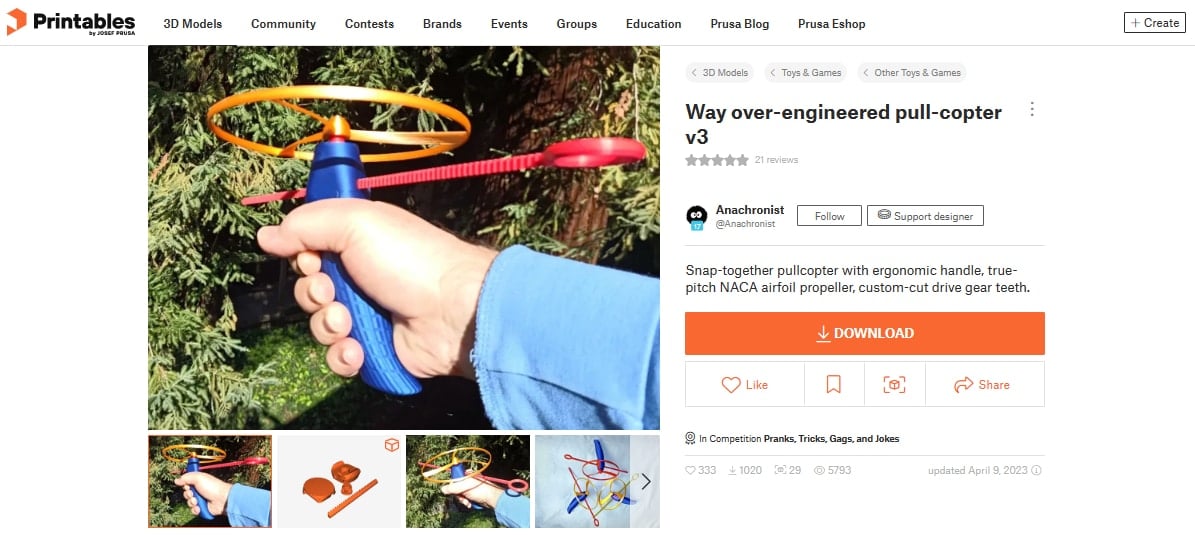 Kids Toys is a booming business, so don't underestimate how much money people are making by selling items like this. This Pull-copter is a pretty fun model that would surely fascinate kids in various age ranges.
This model is licensed under the Creative Commons – Attribution License, which allows you to make money from its sale. You can list it for sale on Etsy, Amazon, or eBay for £15.00. Similar models sell for as high as £22.00 on Etsy, like this Pull-Copter from 3DAnno.
You can offer it in different sizes and colors as long as the original owner of the designer is credited.