7 Best Places for Free STL Files (3D Printable Models)
Finding STL files or 3D printer design files is an important part of getting some of the best 3D prints that you can create. There are definitely STL files that are higher quality than others, so when you figure out the ideal places, you can improve your 3D printing experience.
There are a few places where you can get STL files, so keep on reading through this article for more information for free downloads and paid models.
Through my experience in 3D printing, I have been able to come up with a list of sites where you can find STL files for 3D printing.
If you want to learn how to make your own 3D models, check out my article How Do You Make & Create STL Files for 3D Printing.
Thingiverse is one of the most popular and most visited websites with the most STL files available to download. It was launched by a 3D printer manufacturing company in New York called Makerbot.
They started it as a project in 2008, and it grew to be one of the most resourceful websites to get STL files to download.
They have over 1 million downloadable files available for users and these files are absolutely free to download. I started out my 3D printing journey sourcing files from this site as they really have great designs that can be used by most 3D printers.
Another thing that sets Thingiverse apart is its community of creators and users. There is a whole wealth of ideas and designs to draw from the conversations within this community.
There are active conversations between users about 3D models, and in fact other things that may be related in a way to 3D. This is one of the things that keep drawing users and creatives to the website.
If you are worried about having to create an account with them before being able to download a file, you should know that you don't have to sign up to download a file on Thingiverse.
They never run out of files to download, and they keep updating the website with new and sought-after designs. This is why most users really find it a great source for their 3D designs.
Most popular 3D printing designs usually originate from Thingiverse. Some popular designs are:
You can try out Thingiverse if you are looking for a place to get free 3D printable STL files with little commitment or resources.
If you'd still like to look further for other websites to download free STL files for your 3D printer, MyMiniFactory is definitely a place to look at.
The site has close affiliations with iMakr, a company that sells 3D printing accessories. Although you may see some pricing on a few models, a lot of them can be downloaded for free.
All you have to do is to select "free" in the search box and you'll find some amazing downloadable free designs pop up.
One of the amazing things about this 3D print design repository is that you can request a special design from a professional designer if you are not able to find what you are looking for.
This is because there are times that you may not find the design you want just by searching through the site or search box.
Also, if you are a designer, you get an opportunity to promote your work through their store which got launched in 2018. You can also buy designs from other designers as well if you find a great model that fascinates you.
Check out MyMiniFactory for some high quality 3D printer files that you can download for free.
Another great site to get free STL files is Printables. Although this site has just been newly launched in 2019, they have their own list of well-sorted great 3D print designs that you can download for free.
Since its launch in 2019, it has continued to grow rapidly almost meeting up with its counterparts that have started long before it did.
It has also maintained its standard of high quality and has over 40,000 free STL files that are downloaded and can be accessed by an average user.
They are mostly compatible with all FDM printers. PrusaPrinters also have their own unique community that contributes immensely to its growth.
If you want something new and outstanding, you can try out Printables and you may just want to stick with it.
Thangs is another state-of-the-art 3D print repository that is not like the regular ones you may have come across. It was founded in 2015 by Paul Powers and Glenn Warner and was termed the repository with the first geometry search engine 3D models in the world today.
This means that you can find 3D models that are geometrically related by uploading a model through the search engine. Doing this will help you find models that are potentially related to one another and also parts that can be used as components for the 3D model that is uploaded.
It is easy to think that with this technology that Thangs have, it may require a huge commitment to join. On the contrary, Thangs is easy to join and you don't need to pay a fee to sign up.
Thangs will help you find 3D models in an accurate and quick manner. You can also find models by other models' physical properties, qualities, features, and measurements. You can also find them by their similarities and other differences.
This can also help bring out the creativity in you by learning how to use related components to create a unique design.
This will help you find new designs faster and make creativity easy. Like most sites, you can join forces and with other users or designers and work on a project together. You can also create a portfolio for work and can be easily accessed from your profile.
You'll find all kind of designs on Thangs such as:
They also have a great high-quality email newsletter that keeps users up to date on trending designs that are available for you to download.
Check out Thangs today and not only find great 3D models but also unleash the creativity in you.
YouMagine is another repository founded by Ultimaker and is home to over 18,000 STL files available to download by users. It has a great interface and products are displayed in an appealing manner.
For each product, you get a vivid description and attribution of the products. You also get to see the materials and methods used for each product when you click on any of them.
You can also filter the uploaded models by ranking which ranges from Recent, Featured, Popular and Trending. This will further help your search and reduce the time you spend navigating the site for a particular model.
They have guides and tutorials that can help you in your 3D printing journey. There is also a blog within the site where you can find useful 3D printing regardless of your level of expertise in 3D printing. You should ensure to constantly check the site as they upload useful models and designs regularly.
YouMagine can be a great source to get your STL files for 3D printing.
Cults was founded in 2014 and since then, has grown into a large community whose members are actively engaging and contributing to the site. You may have to sign up to be able to download models from the site.
However, this is worth the cool designs and opportunities that you will get from the site upon signing up.
They make use of GIFs to show the models moving around in order to get you a clearer sight of the models in motion. Not all the products are free and some have a price to them and you will have to pay to be able to download them.
There are a series of STL files collections that are grouped under similar segments to help users find what they are looking for in a seamless manner.
It is amazing to know that there is a feature called the Thingiverse Synchronization which helps you automatically import all your 3D models shared on Thingiverse to Cults. When you click on this feature, you may be prompted to sign up if you have not done that yet.
And like most 3D print marketplaces, it lets you make a special request from a designer if you have not yet found the models you are looking for.
Sign up to Cults today and open yourself up to a whole new world of 3D print models and other amazing opportunities.
PinShape is another 3D marketplace that connects more than 80,000 users around the world with great and useful designs from professional designers. It is home to a vast number of downloadable STL files.
You can also buy and sell models as they offer both free and premium paid models for 3D printing.
It was launched in 2014 and has since then continued to grow into a large community. Like some 3D printing repositories, they sometimes hold contests for their designers giving them chances of winning amazing offers and gifts.
They offer a file streaming opportunity where users can edit and slice a model directly on the site without having to first download the model. This is a quality that draws most 3D printers to the site.
When you visit the site, the first category you see are trending models which you can choose from and you can also decide to browse all the categories without a filter.
There are also featured designs which are the latest 3D models added to the community. This is where you can find the newest designs to print.
PinShape is open to new and old users and you can always visit to check out its offers.
How to Download 3D Printer Files (STL)
Now that you know where to download STL files for 3D printing, you may need to know how to download these files from the sites to your computer for use. The following are the steps you can follow to download STL files that are common to most sites.
How to Download Files From Thingiverse
Find a model design you like by searching or browsing the home page
Click the model picture to bring up the page where you can download the model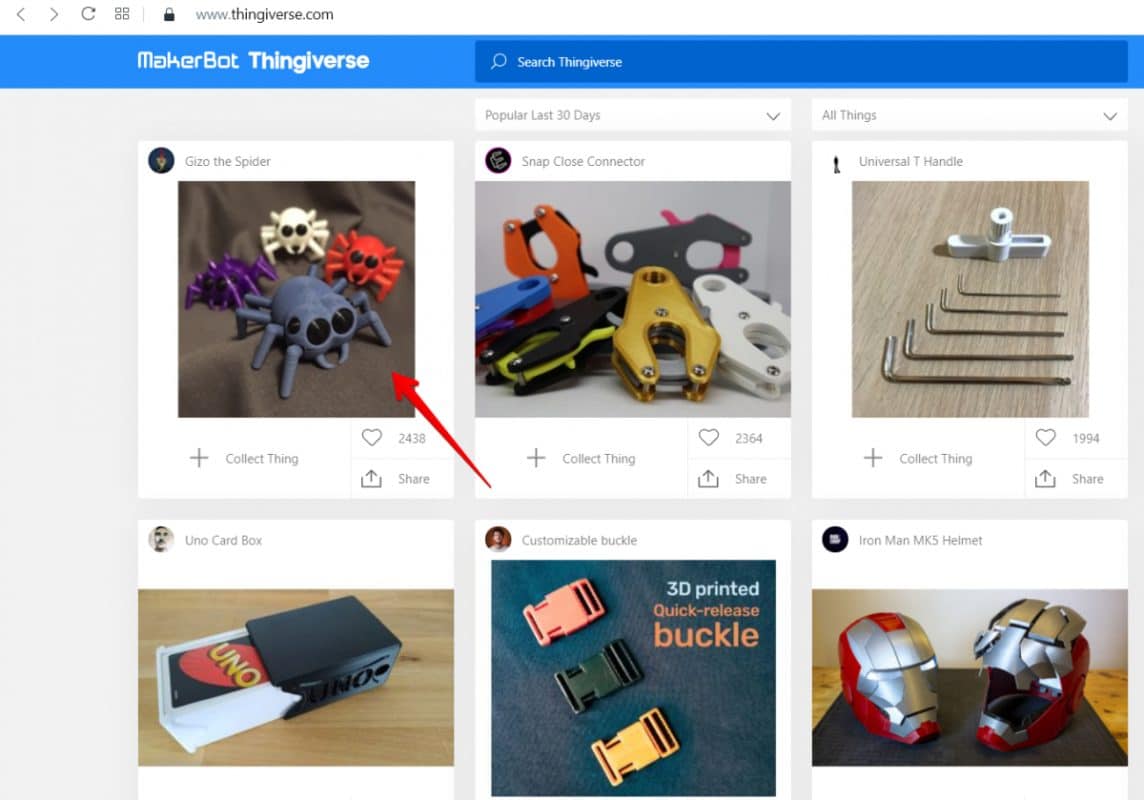 There's a box in the top right named "Download All Files"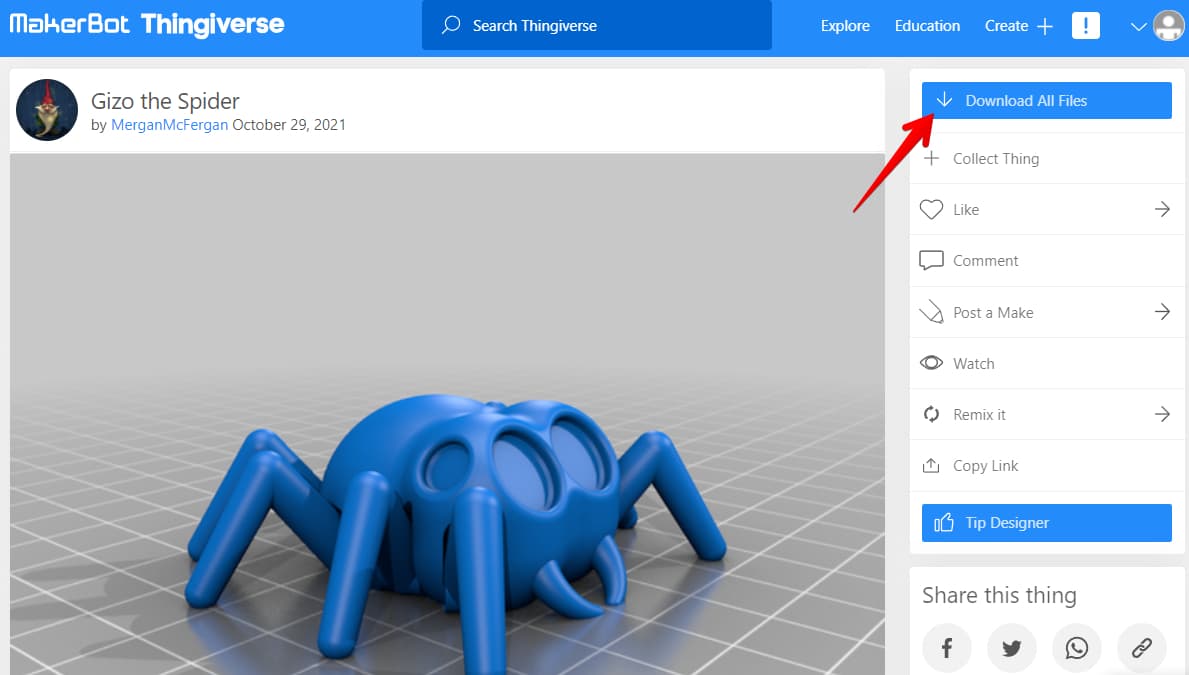 This will download a ZIP file that you can extract and get the STL file
You can also click the box below the main picture called "Thing Files" to download the STL files individually.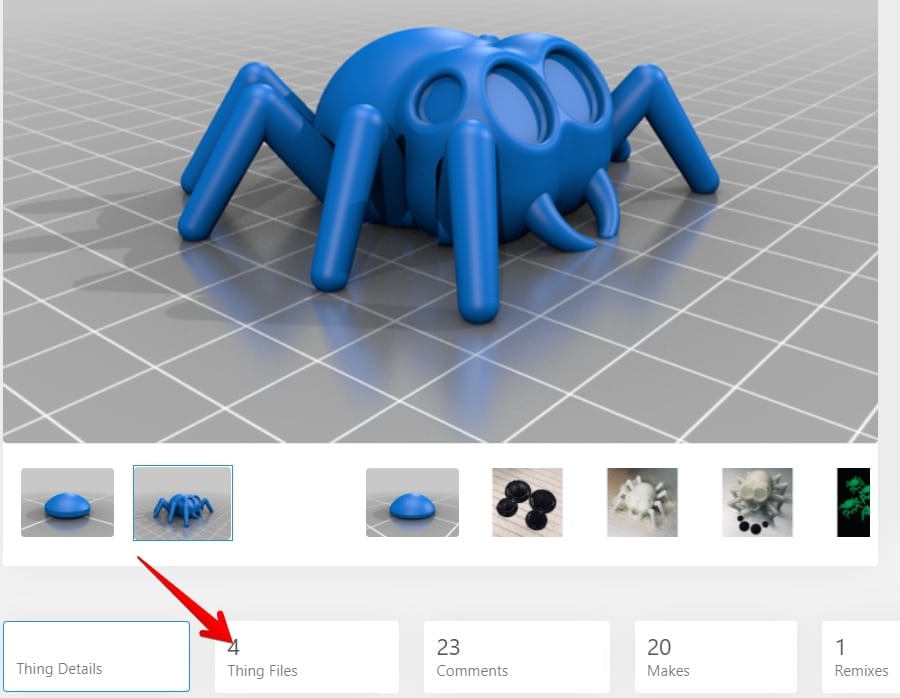 Simply click the "Download" buttons on the side.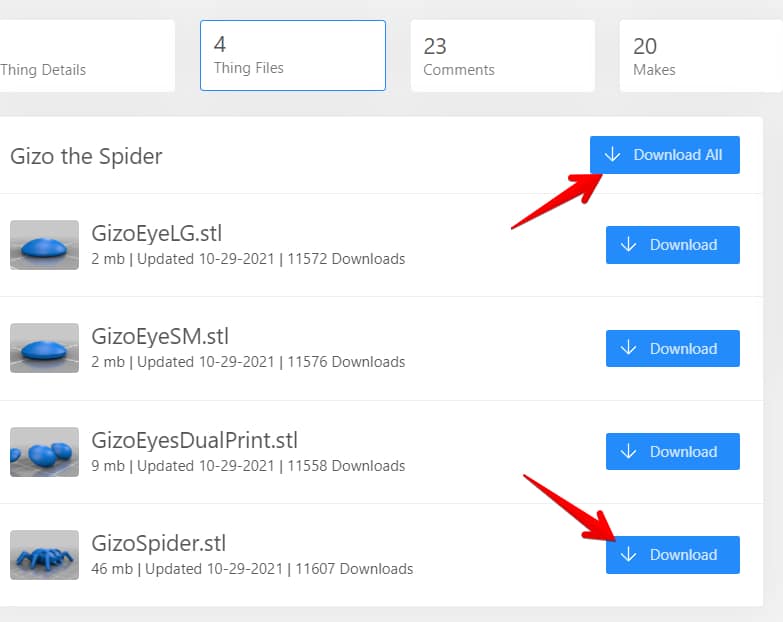 For some models, there can be several files and variations that you might not necessarily want, so it's a good idea to check how many "Things" are in the folder before you download the model.
After this, you can simply import the STL file to your chosen slicer, convert it into a G-Code file and start printing it.
How to Download Files From MyMiniFactory
Go to MyMiniFactory and find a model – usually through the "Explore" tab at the top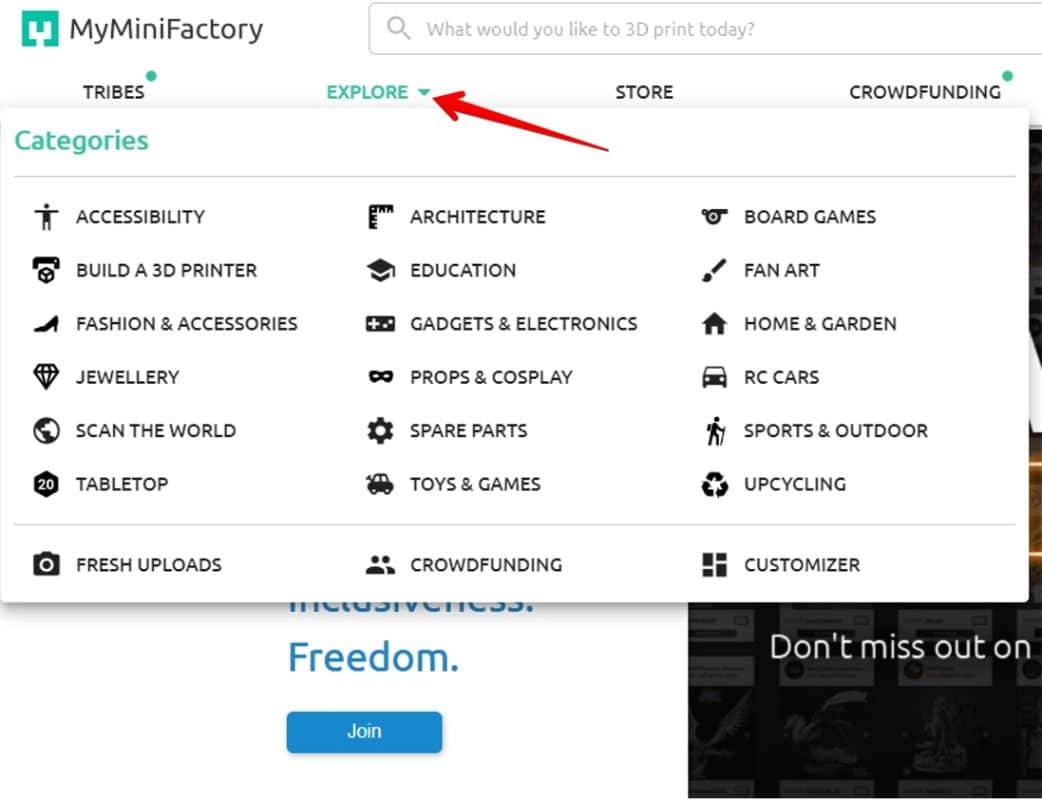 Select your chosen model and bring up the model's main page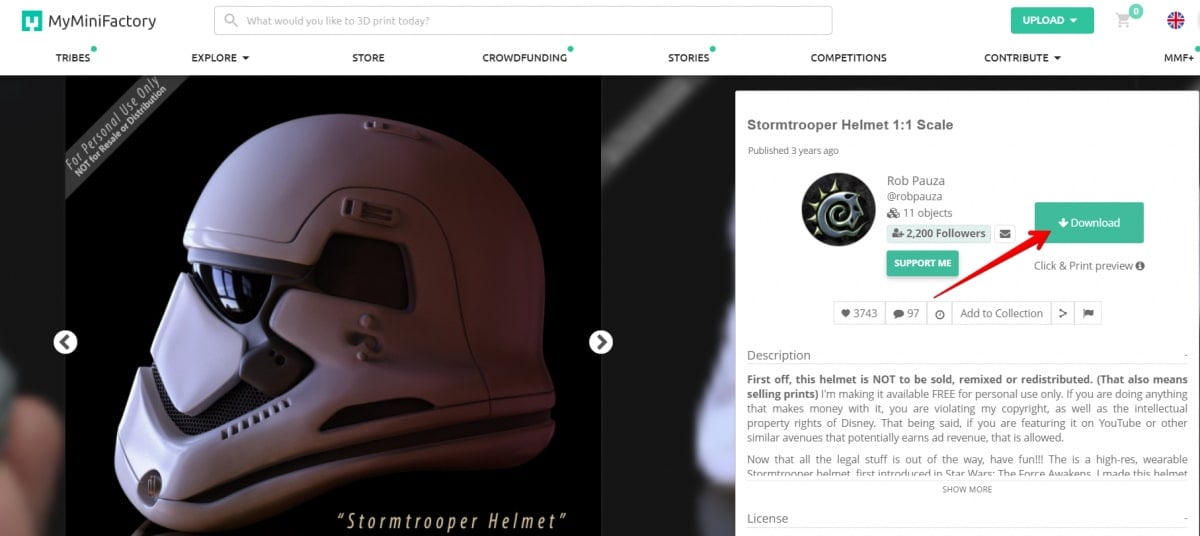 When you select "Download" at the top right, you may be prompted to create an account to download a model
There's also an option where it pops up a message prompting you to "Download + Join" or just "Download" the model.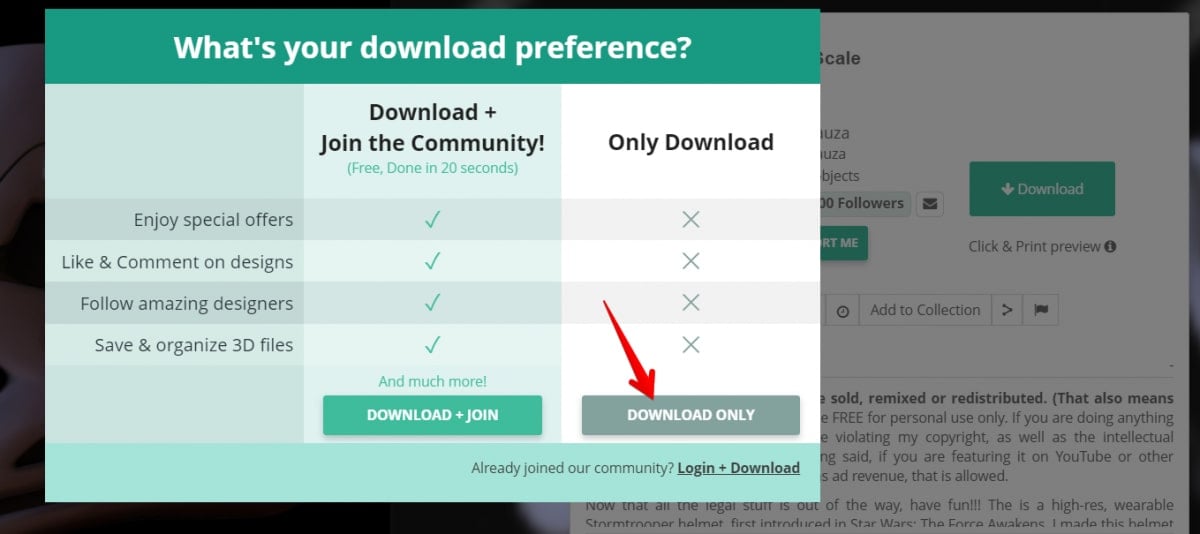 I'd recommend joining MyMiniFactory so you can unlock more features such as following designers and creating a list of favorites that you can come back to.
How to Download Files From Cults 3D
Visit Cults3D and use the search bar in the top right to find a model
Toggle the "FREE" button to filter all the free models from the paid models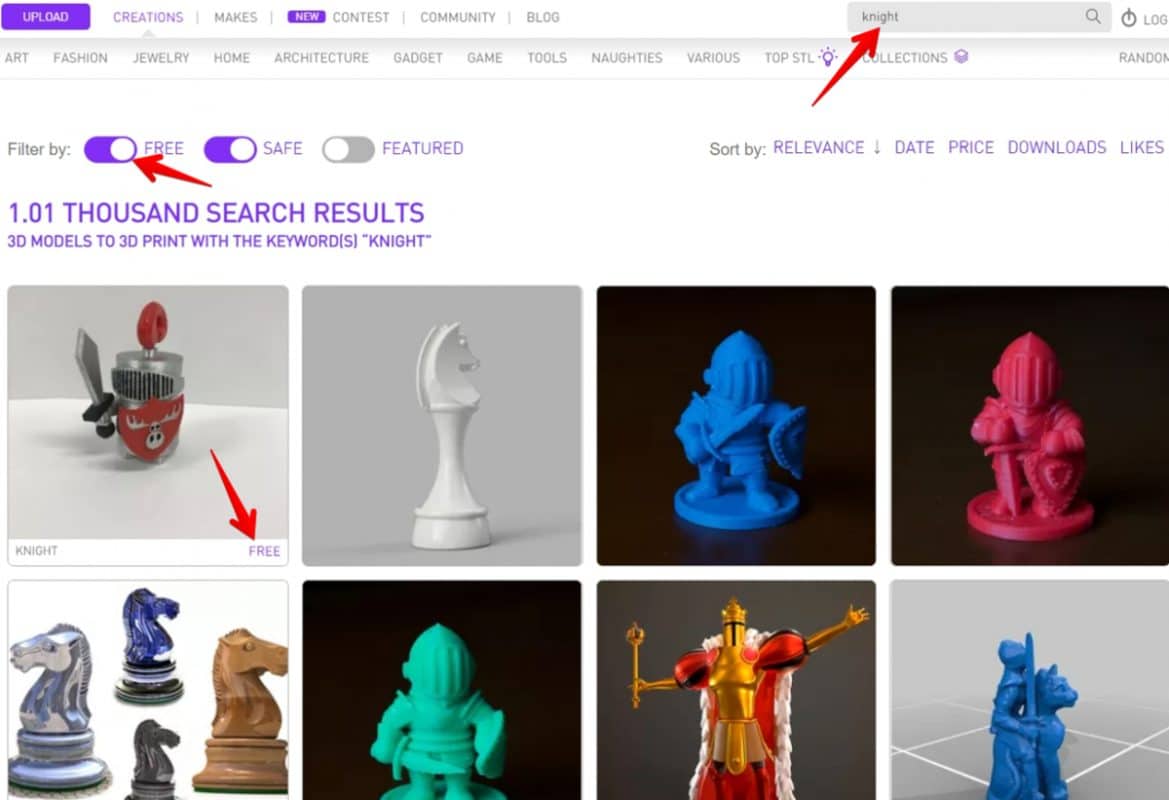 Once you find a model, you simply hit the "Download" button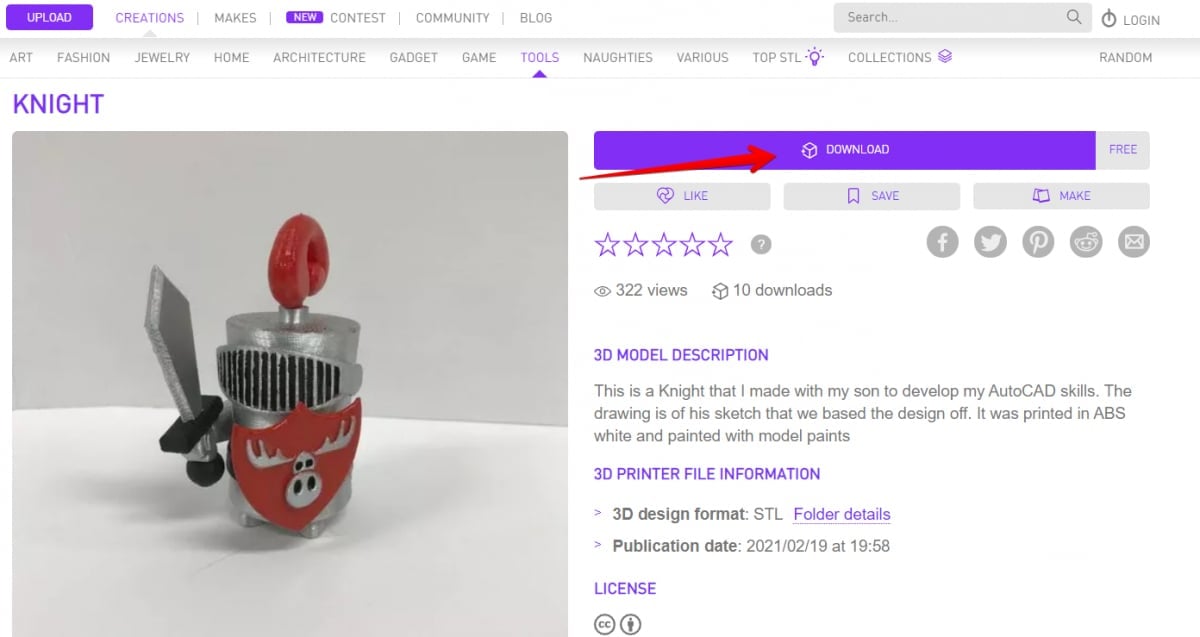 You'll be prompted to sign up for Cults3D before you can download a model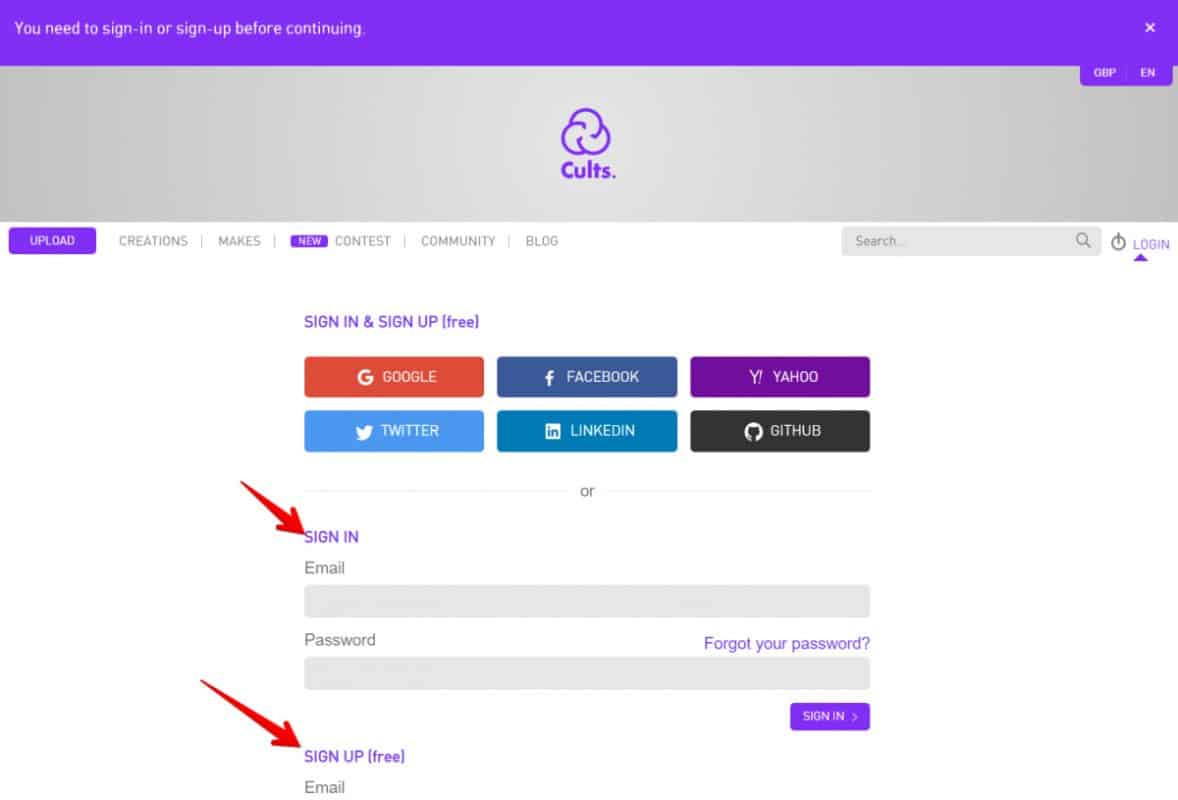 Once you sign in, it will bring you to a confirmation page where you can download the ZIP folder that contains the STL files.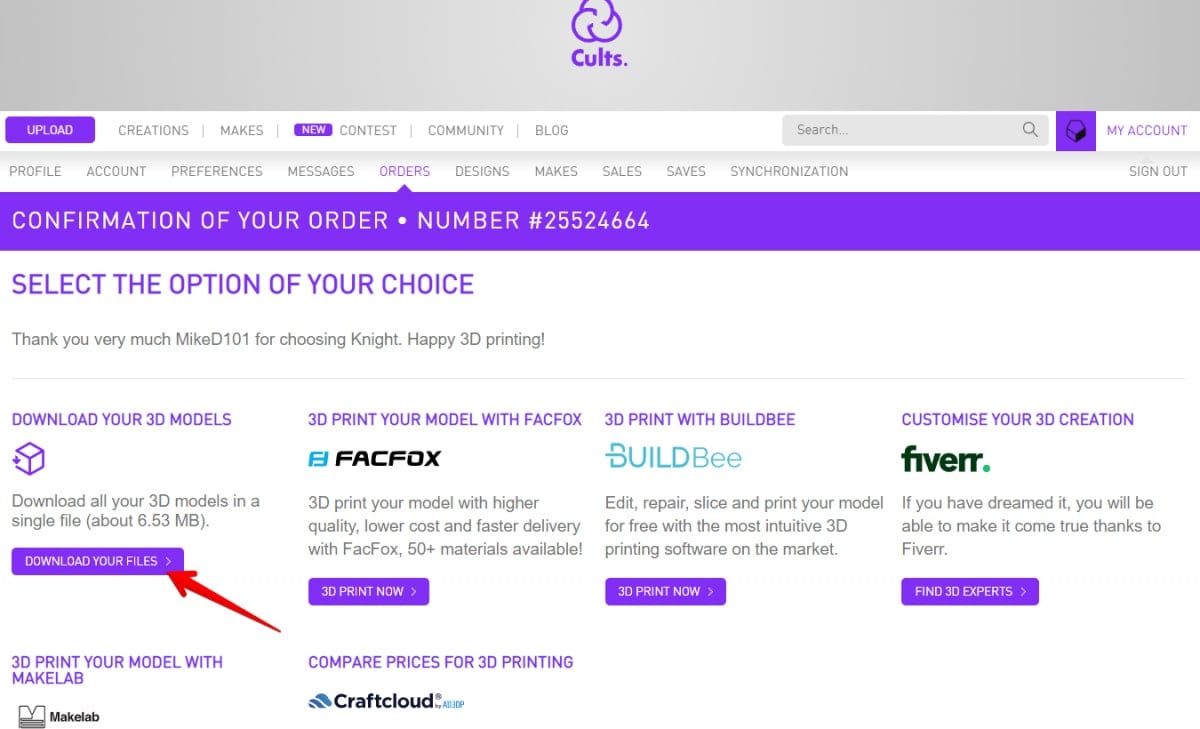 Best STL Files for Resin SLA Prints
There is no doubt thousands of STL files out there for resin SLA prints are available for download. However, you want to ensure you get the best STL files to download for great print results.
I have compiled a list of the best STL files which you can download for your resin SLA prints and they include:
The list is inexhaustible so you can find many more STL files for resin SLA prints on any of the websites listed in the first section of this article. You can do this by just typing in resin in the search function of the site and this will pull up all files that are tagged with resin.
Look out for STL files as other things such as printers can also be tagged with resin on the site. When you find a resin-tagged STL file, then you know you have found an STL file for resin prints.
You can follow the same process listed in the last section to download these STL files and you're good to go.