10 Best Free STL Files for 3D Printing Miniatures
There are lots of free miniatures STL files for 3D printing available out there, but some are usually of low quality and are not printable.
If you are wondering where you can find some of the best free STL miniatures, you're at the right place. This article will provide a list of the best free STL files for 3D printing miniatures
Best Free STL Files for 3D Printing Miniatures
Here is a list of the best free STL files for 3D printing miniatures:
Let's now have a more detailed look at them.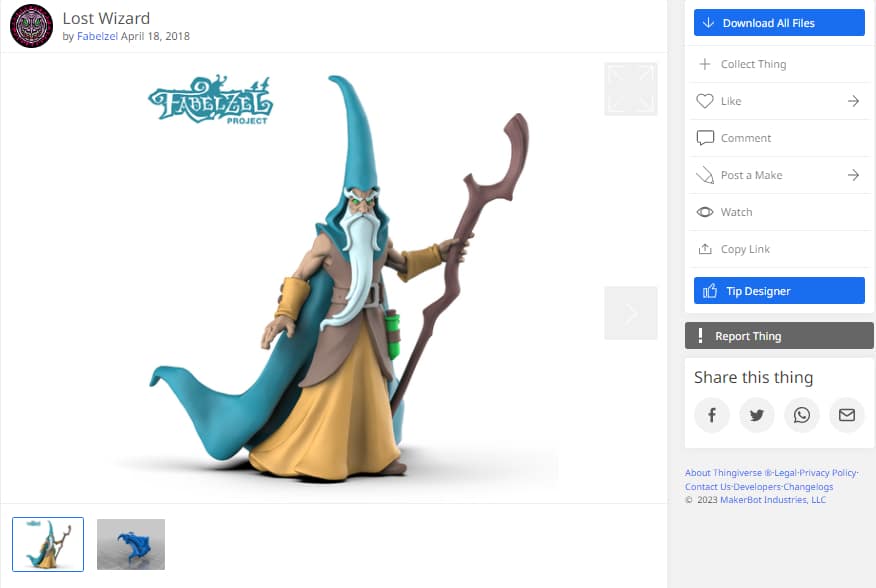 The Lost Wizard is one of the characters of the fantasy wizard world named Fabelzel. The model is simply a copy of the popular wizard character Gandalf, its long beard, pointed hat, and wooden staff give it away.
This model is one of the first pieces made by the creator for his fantasy world. It is a single-piece model as it does not require any assembly, so it can be printed in one go. For most users, the print came out well, but others, they had the same issue concerning the hand of the model.
One user stated that he printed the model after scaling it 3X and the model was positioned standing straight up. He sliced it with Cura 5.0 with support-to-print bed and it came out well.
However, he pointed out that no matter what you do, you'll need to make a little finger for his right hand.
Another user stated that he printed the model with PETG at a 2X scale on a Monoprice Mini Delta with some supports. It came out okay, but the hand was a bit stringy.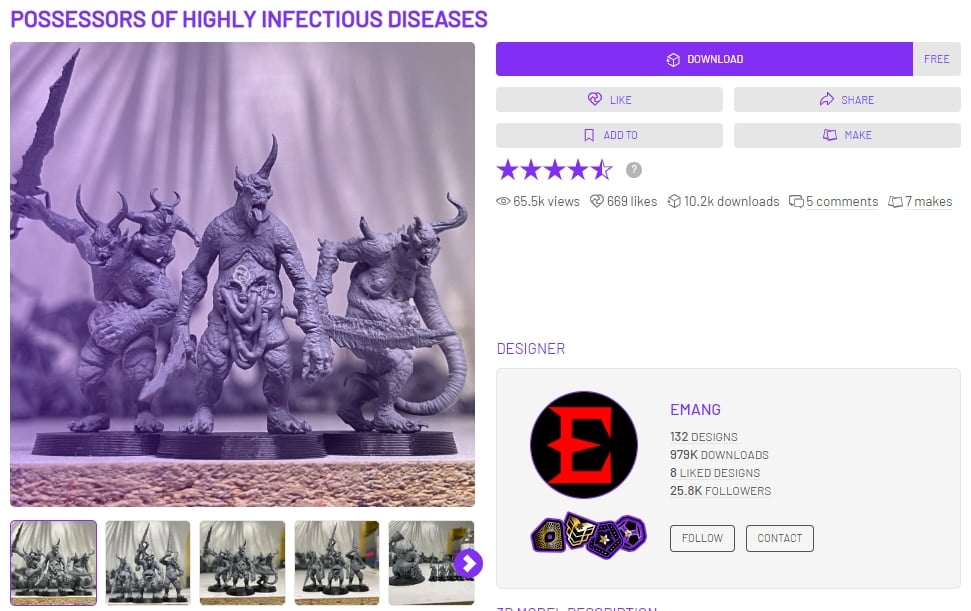 Possessors of Highly Infectious Diseases (Plague Bearers) are the rank-and-file soldiers of the plague god from the Daemon collection. Each model in this collection has similar yet unique features.
Their skin is covered with boils and the rough details on their skin show that they have undergone rot, with their internal organs on full display.
Also, each one of them has a pus-weeping cyclopean eye and a large horn that protrudes from their head. The plague bearers carry large rusted spiky plague swords, which enhances their already threatening demeanor.
The Plaguebearer collection contains 22 character poses. These models are not pre-supported unless you are getting them directly from the Patreon channel.
The designer stated that the models are going to be larger than their Kit-based counterparts.
He did this intentionally because he wanted them to be large and intimidating while still fitting the bases they are required to adhere to, according to the game's rules. You can scale them down to 80% to get the exact one-to-one dimension.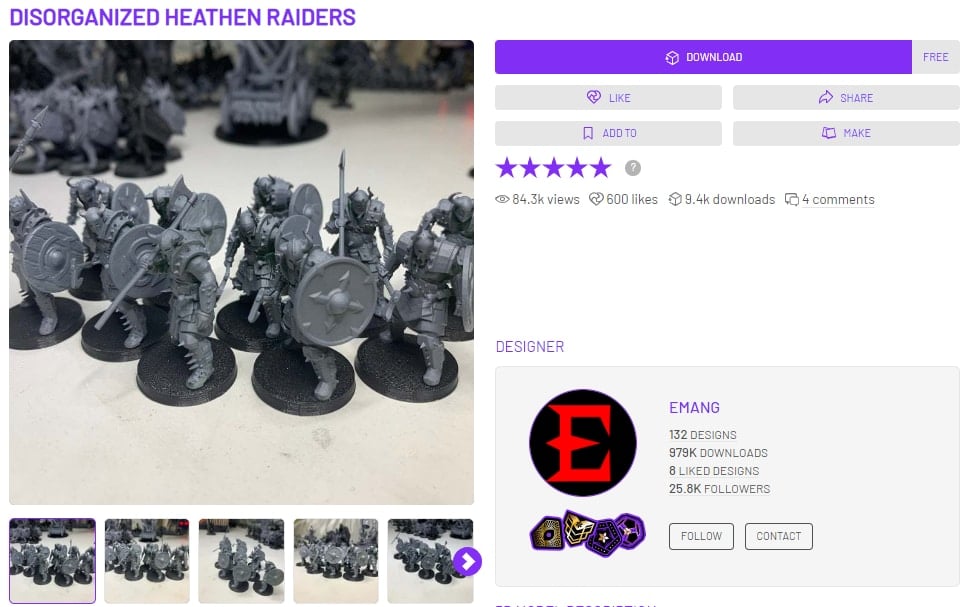 The Disorganized heathen riders is another wargame character from the Defenders of Disorganization catalog. They are also referred to as the Chaos Marauders.
Each pose is a warrior dressed for battle with horns on either side of their helmet. These fierce-looking character poses are prepped and ready for battle in their war armor. Also, their battle armor and boots are decorated with spikes.
This catalog consists of 17 warrior poses wielding axes and shields, including 5 with Dane axes. The models are not pre-supported unless you are getting them from the Patreon channel.
The designer stated that the .3mf file "Chaos Marauders" includes all the models for those that want to be able to resize and place them on the print bed as they see fit.
Also, the supported versions (4) of the marauders for SLA printing are included in the download pack. He said that the models can also be printed using FDM printing, but he recommends SLA printing.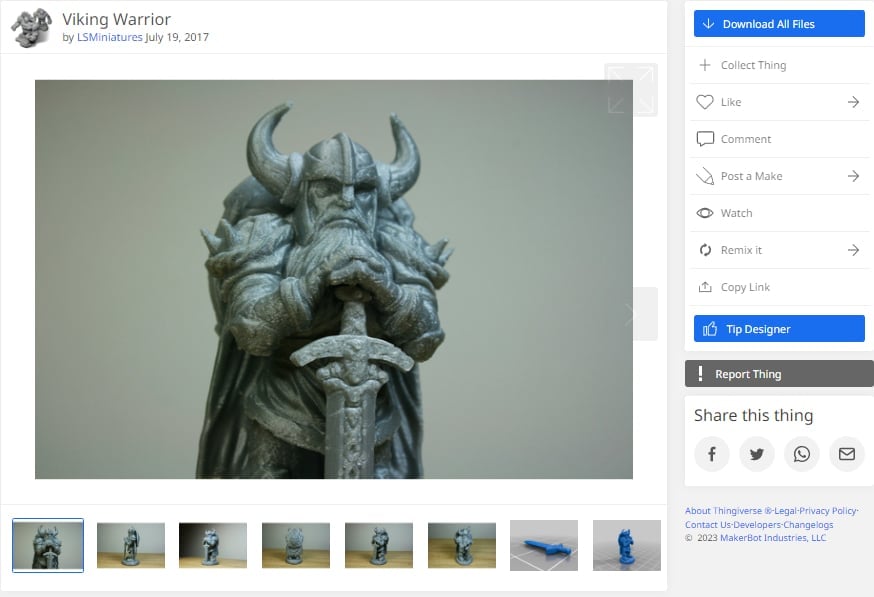 Just like its name implies, it's a miniature model of a Viking warrior. The model is a figure of a Viking at rest, with his sword pointing downwards and his hands resting on the bottom of his sword.
The model is a two-piece assembly, with the sword and the Viking being two separate parts. The Viking is dressed for battle with his body armor, helmet with horns at both sides, and shield strapped to his back.
Once you're done printing both the sword and the Viking figure, you need the sword to the Viking figure with some form of glue to hold it firmly in place.
Many users who printed the Viking warrior model were pleased with the final outlook of the model.
One user stated that he didn't have any complaints about the model, that it was detailed and he loved it. He printed the model on his CR-10S, scaled upward at 5X and without any support.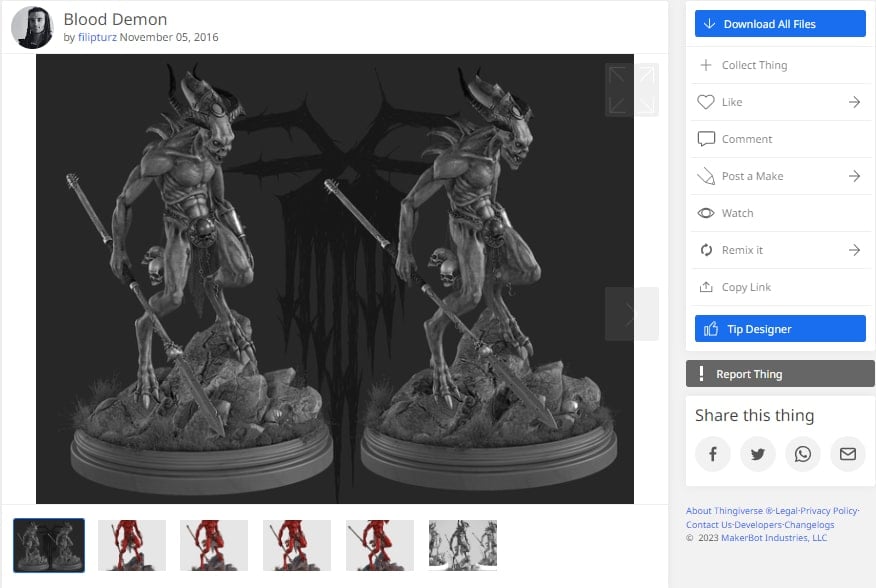 The Blood Demon model is based on the fantasy world of Bloodletters and Khornes (forms of demons). Bloodletters are Khorne's most numerous warriors, the mainstay of the daemonic legions.
Their skin is the color of hot blood, and their angry eyes resemble burning coals. The blood demon wields a long spear with the skulls of enemies hanging on their waists. The model is fierce looking with its facial features playing a huge role in this. It has long horns with an elongated head
The designer recommends printing the model with supports (dense), with a resolution of 0.1-0.15mm, and an infill density of 15-20%.
One user recommended printing the model much bigger, as it was hard to remove the supports without breaking the spear. The model also snaps at the ankles if it's too small.
Another user said he loves the model, though it is hard to print in one piece. He recommended splitting the model into parts to ensure it is easier to print.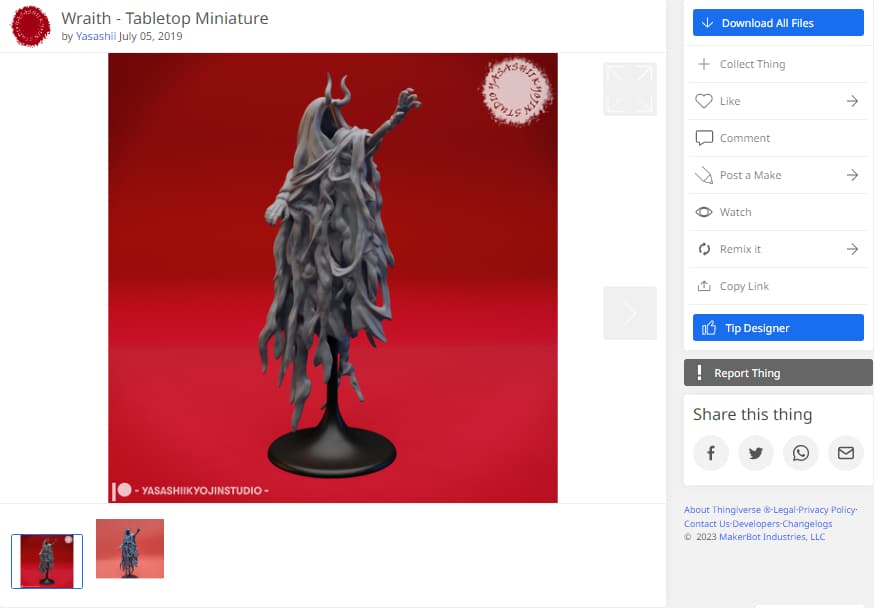 Another fantasy miniature is the Wraith model by Yasashii. It is an undead creature born of evil, appearing as a sinister spectral figure robed in darkness.
It despises light and all living things. Wraiths can drain the life from living creatures, turning them into new wraiths upon their death.
It is a two-piece model comprising the base and the wraith figure which needs to be assembled once printing is completed.
The designer stated that the model is set to 54mm scaling for easier printing to ensure they are much stronger. Also, you can reduce it to 60% for a 28-32mm scale.
One user stated that he was able to print the model on his resin printer in clear blue resin and it was gorgeous.
Another user tried printing the model 3 times on his FDM printer and he couldn't get it to come off the supports well.
Many other users found it difficult to print on an FDM printer and those who were able to print it ended up breaking the model when removing the supports.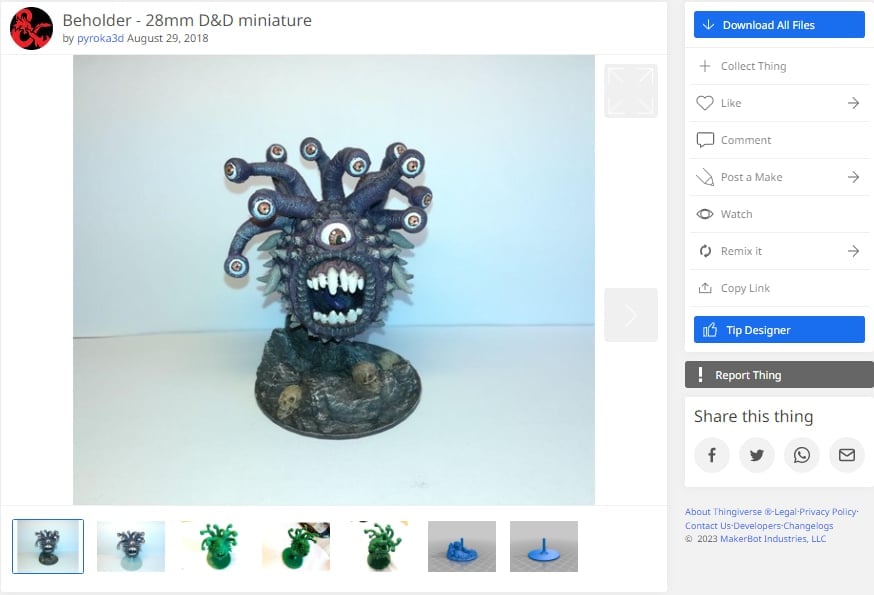 This model is based on the fictional monster from the Dungeons and Dragons fantasy game. The Beholder is a floating orb of flesh with a large mouth, a central eye, and many smaller eyes on tube-like extensions connected to the head.
The Beholder model is in two parts, the base, and the beholder figure. However, there is a version that is a solid print that joins the base and the beholder figure together, so you can print it in one go.
The designer recommended printing the model with supports, at a resolution of 0.1mm, and an infill of 15%. He also recommended printing the split model instead of the solid model. Ensure the mouth of the model faces up when printing.
One user stated that he printed the single-piece version on his Mars 2 Pro resin printer, and it came out perfectly. He said he did no cleanup after he removed the supports.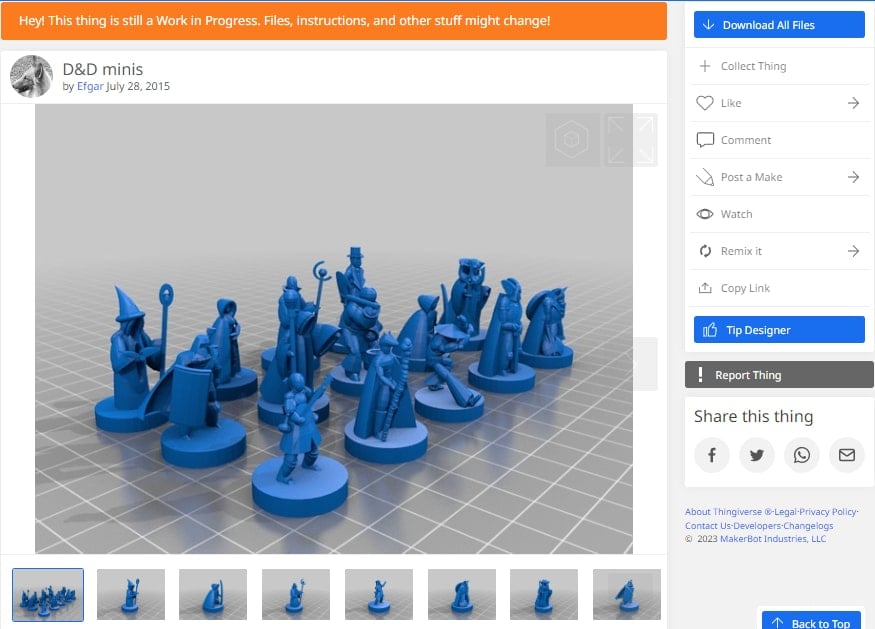 If you are a fan of D&D games or you are looking to replace your current set of minis, then this model is for you. This catalog consists of 14 different characters for you to spice up the fun in your D&D games.
The models include Ranger, Wizard (2 versions), Rogue (Halfling), War Cleric (Dwarf), Fighter (Dwarf), Warlock, Barbarian, Tempest cleric, Bard, Monk, Paladin Druid. Each model has it file, or you can print all models at once with the group file provided.
One user stated that the wizard is slightly above the build plate, and you would need to adjust it before slicing the model.
Another user said the sticks on the model are too thin and you need to increase their width to make the prints more likely to succeed.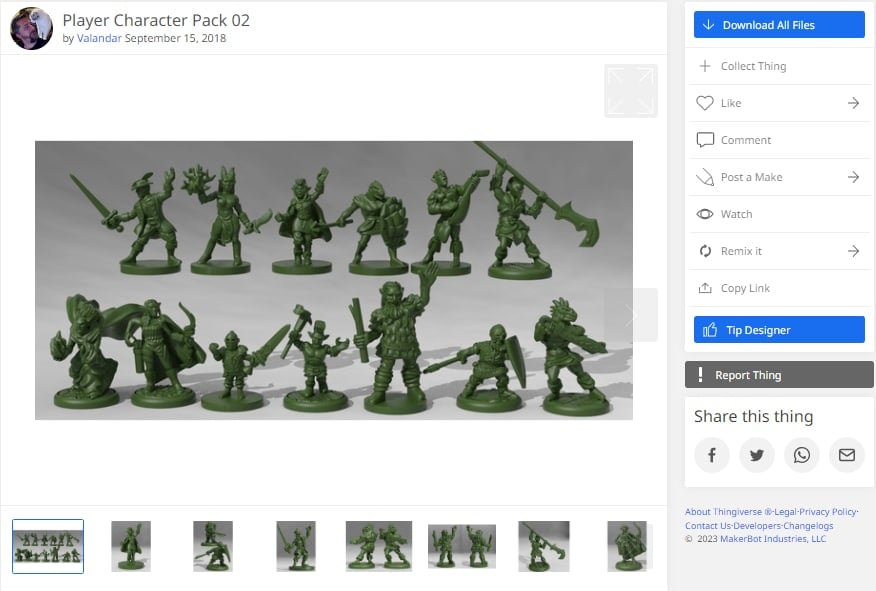 This is another catalog of player characters for D&D games to spice up the fun. The details on the model are very high, making them more realistic, especially when you paint them. This level of detail will help add extra appeal to your games.
It consists of 13 distinct characters including giants, dwarfs, wild beasts, and human figures armed with various weapons like swords, axes, bows, and so on. With this character pack you can recreate battle scenarios or build impressive war scenes.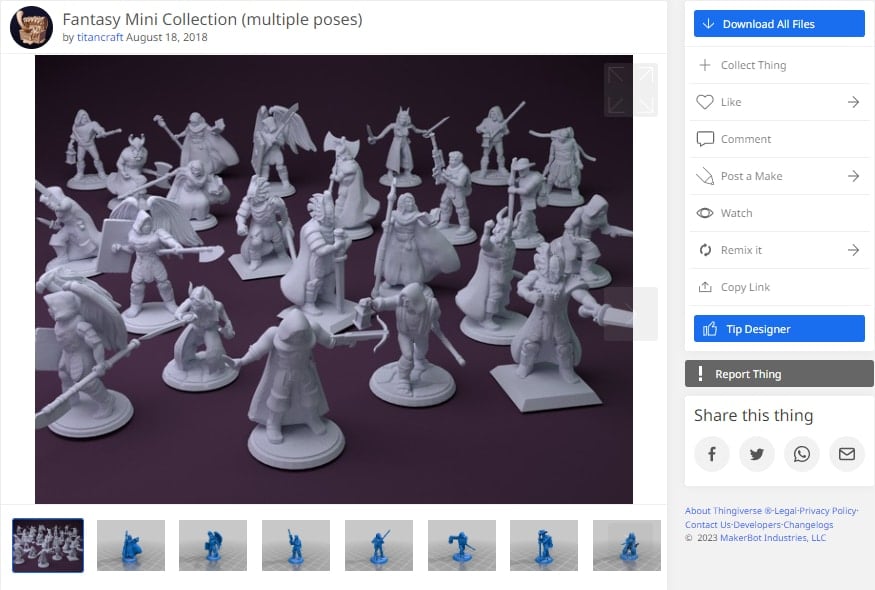 You can also print this Fantasy Mini Collection for D&D games. It also comprises unique character pieces for a better gaming experience. They include Tiefling, Humans, Halfing, Dragonborns, Mages, Dwarfs, Goblins, and so on.
With this character collection, you can bring your favorite fantasy world to life with these highly detailed figures. This brings creativity and immersion to your next campaign with these miniature figures. Their realistic design adds a compelling aesthetic to any tabletop gaming setup.
Once you are done printing, you can paint the miniatures to get even more detail and aesthetic appeal.