Best Filament to Use for 3D Printed Miniatures (Minis) & Figurines
There are so many different types of filaments to use but you might wonder which one is best for 3D printing miniatures and figurines. Filament is the main tool for getting great 3D prints so keep reading to find out which filaments will have you creating the optimal figurines.
What is the best filament to 3D print miniatures/figurines? eSUN PLA+ is a great choice for 3D printing miniatures and figurines because they are reputable, high quality and come at a very reasonable price. PLA+ is the stronger version of PLA and is not only easier to print with, but is more durable for your important 3D printed minis and other characters.
You might think you need to go above and beyond having to spend a premium to get the highest quality miniature 3D prints but it isn't what you think. In this post, I will detail which filaments are the best and some other important details you'll want to know.
If you are interested in seeing some of the best tools and accessories for your 3D printers, you can find them easily by clicking here (Amazon).
What Filament Works Best for 3D Printed Miniatures & Figurines?
There are plenty of different filaments out there that people use for miniatures and figurines, but some are definitely better than others.
The reason PLA is so widely used as filament for minis is because of the ease at which you can post-process your parts. You can sand, paint, prime and make models look amazing. PLA also handles slow prints pretty well.
Overhangs can be a problem and PLA handles them pretty well. A good quality PLA makes a huge difference when making small figures because low quality filament is a lot more likely to warp and gives inconsistent results at this scale.
The following are some of the top filaments people use to 3D print these models:
PLA+ is the best choice and probably the most widely used filament for miniatures and other objects in the gaming world. It has an extra flexibility and durability that makes supports removable without actually snapping the main model which is very important.
You might want to avoid 3D printing your models with transparent filament because they don't come out as sharp as other filaments. Although the quality is still up to standard, you don't get the same fresh, popping look when using colorful filament.
You'll be able to see more of the shadows, angles and details when using the proper filament.
If you do, however, need some clear filament for a specific model, you're best off going with YOYI Clear PETG. It's very translucent and made with strict quality guidelines so you know you have a great filament.
YOYI is the premium stuff so if you want something cheaper that does the job pretty well, go with eSUN's Clear/Glass PLA.
Although ABS can be easily smoothed out with acetone and is cheaper, it's not so easy to print with at such a small scale and the smell isn't too great either.
Which ever filament you do use, it will take a lot of fine-tuning of settings and understanding the printing process better to get to a level where prints are coming out flawlessly.
What is the Best Filament Color for Unpainted Minis?
Sometimes people are just looking for a filament color which they want to use for a wide range of models, objects and items and just want to have consistency without having to constantly switch out filament.
If you want a filament color that shows great detail light gray, gray or white is the best choice.
Some objects might make a good case to have a specific color used, or just having a color that's easy to be painted with.
When you print with lighter colors, you always have the ability to paint them darker colors so they are a good choice if you haven't decided what colors you might want to paint with.
Mostly, you should be applying primer to every model before you paint it so it doesn't matter too much in this case.
What Filament Should I Avoid for Miniatures & Figurines?
Clear/transparent
WoodFill, CopperFill, or any 'Fill' filament
High temperature filament
Black
When it comes to semi-transparent or clear filament, these are generally less flexible and stiff because of the make-up of the filament. They have less pigment for colors and more plastic, also making the supports harder to remove.
You can definitely still use them for whatever you wish but just keep this in mind.
It's also good to remember that filament with additives in them such as those 'fill' filaments, they don't hold up well for strength and durability, although they can look really cool.
3D printing minis are of course, small objects so it correlates to your hotend not moving around the bed as much. The less movement that is happening, the more time spent giving off heat to your model while it's being extruded.
If you use black or darker filament, they can end up retaining this heat and result in printing issues due to under-cooling, so the ideal colors are lighter such as white to reflect heat away.
This is in the same way that when you go outside with the sun shining, darker colors retain heat and you get very hot quickly!
Where Can I Find the Best D&D/Warhammer 3D Print Files?
Scouring the internet for files can be a troublesome task so I've done it for you and got a list of places to find great Warhammer STL files. There are many repositories which house tons of files so you will have plenty of models to choose from.
One of the favorites that I noticed was MyMiniFactory's Warhammer tag, where once you click the link you'll find over 64 pages of Warhammer models, characters, figurines, terrain, accessories and all sorts!
Just this website alone will definitely keep you busy with printing out objects to your heart's content.
Keep in mind there are some limitations on what you can print depending on how high quality and well-tuned your 3D printer is. Printing out objects like vehicles are easier because they aren't as detailed but some other models like infantry can be tough.
A good idea is to search for specific skilled designers who specialized in creating miniature models, one amazing designer I've seen is Harrowtale from Thingiverse. Although the selection isn't much, you can just see the extremely high quality in these models.
You can use these profiles as a reference and look at their likes to find other like-minded designers or similar designs that you might like.
Here are some other quality designers I've seen on Thingiverse:
Here is a cool Fantasy Mini Collection (made by Stockto) with multiple poses that you can start printing right away. If you check out his profile he has some other sweet miniature designs too!
How Do I Design My Own Mini?
Designing your own mini seems like it would be the hardest thing in the world, but there are a few ways around it!
The model below is a design directly from DesktopHero and printed by PropheticFiver, a Thingiverse user.
It was printed on an Ender 3 (link to Amazon) printer, one of the staple 3D printers for beginners, to experts with outstanding quality and great features.
The printer settings were 0.1mm resolution (layer height), 25mm/s printing speed, with rafts, supports and 100% infill.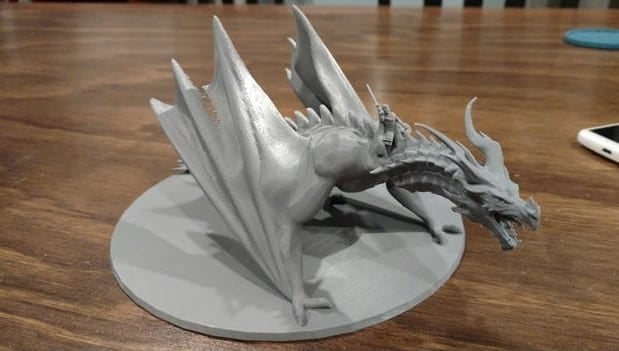 The user used the body from GDHPrinter's Blender Dragon Project and the head from Alduin from Skyrim, and it looks awesome! So, it doesn't necessarily take editing knowledge and practice of a CAD software to create a new object.
Below is a neat video to show you how the process works and just how easy it is. This is a developing online-based modelling app that is growing fast, with much praise from 3D printer modelers and users around the world.
It's a freemium model app which has several free features that you can make use of and be satisfied with. If you want to explore the more detailed and higher tiers of items, clothing or even familiars, you can purchase different packs such as the DesktopHero Sorcery, Modern & Sci-Fi packs.
I'd definitely recommend you to have a little play around and even create a login to export some professional looking STL files, ready to print.
I had a quick go myself and managed to create this sweet model and get him printed out, all within 6 hours.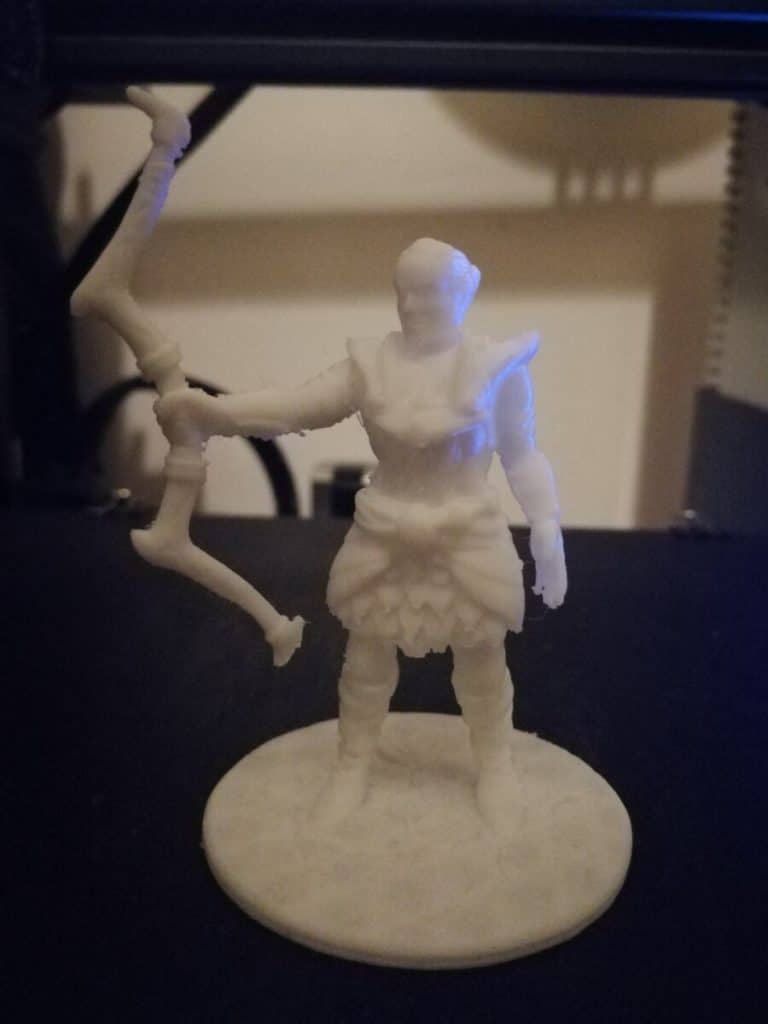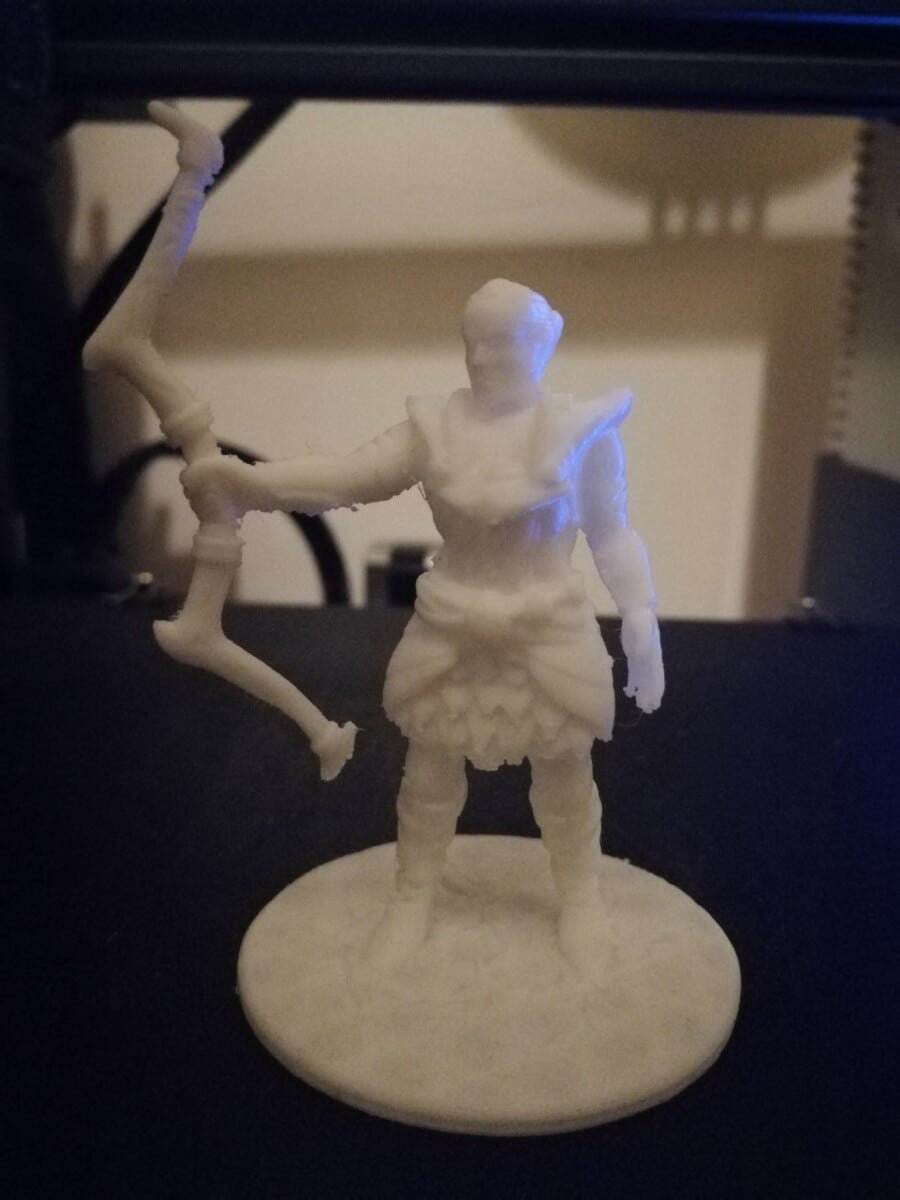 A great channel that specializes in 3D printing minis and figurines is Tomb of 3D Printed Horrors. Below is part 1 of a mini 3 part series on 'How to 3D Print Better Miniatures' and there's are tons of great tips there.
---
If you love great quality 3D prints, you'll love the AMX3d Pro Grade 3D Printer Tool Kit from Amazon. It is a staple set of 3D printing tools that gives you everything you need to remove, clean & finish your 3D prints.
It gives you the ability to:
Easily clean your 3D prints – 25-piece kit with 13 knife blades and 3 handles, long tweezers, needle nose pliers, and glue stick.
Simply remove 3D prints – stop damaging your 3D prints by using one of the 3 specialized removal tools.
Perfectly finish your 3D prints – the 3-piece, 6-tool precision scraper/pick/knife blade combo can get into small crevices to get a great finish.
Become a 3D printing pro!