Best Filament Colors for 3D Printing – Unique Options
There are different color filaments in the market today. In this article, I am going to cover some of the best filament colours for 3D printing, their characteristics, share tips on how to print with them, and some amazing prints that can be achieved using them.
MatterHackers' Quantum Filament is a modern twist to color changing filament, providing a unique blend of two colors front to back, as well as on the sides of the spool. It creates a very cool shimmering effect on 3D models when moved around, and it comes in several color combinations.
These are setting very fast due to their popularity, so I'd get your orders in as soon as possible. If you want to create visually striking 3D models, you'll want to get yourself some spools of MatterHackers Quantum filament.
Check out the color combinations it comes in:
White-Green
Silver-Purple
Silver-Gold
Pink-Purple
Pink-Yellow
Purple-Gold
Blue-Green
Blue-Yellow
Blue-Raspberry
Green-Raspberry
Silver-Raspberry
Raspberry-Gold
You can get this filament in 1.75mm or 2.85mm diameters, having a dimensional accuracy of +/- 0.02mm which is top of the line.
There are no other filaments currently on the market that can produce this same effect on 3D models.
In order to test the best color alignment on your 3D printed objects, you can 3D print a Quantum Alignment Tower. It's really helpful to ensure that your colors are printed in the way you want it to be.
To get a good print with Quantum PLA, a hotend temperature of 210-215°C and a bed temperature of around 50°C are required for proper bed adhesion. Users with a layer lock powder coated PEI have found that 65°C is the most ideal bed temperature for this filament.
Check out the video below to see an example of this dichromatic 3D printing filament in action.
This is a high-quality silk PLA filament that contains changing silk glossy smooth silver color and shiny galaxy blue colors, it is sold at a price of around $35 on Amazon. It has a rating of 4.4/5.0 as reviewed by over 300 customers on Amazon at the time of writing.
This filament is considered good for larger prints, and prints at a dimensional accuracy of +/- 0.02mm.
To get a good print with AMOLEN Shiny Silk PLA, a hotend temperature of 190-220°C and a bed temperature of around 50°C are recommended.
It is a good practice to pass the filament through the fixed hole to avoid tangles after using this filament. This spool comes packaged in a vacuum bag to keep it dry and maintain the filament for a much smoother and good print.
Users are happy with the good print quality of shiny silk filament as 3D prints come out strong and smooth, having a good bed adhesion and no jams.
However, users have had difficulties with nozzle clogs which can be caused from the filament absorbing moisture in the environment, also known as being hygroscopic. This can easily be avoided by storing the filament in a vacuum bag.
This Wand Holder with Empty Plaque was printed using shiny red and silk gold multicolor AMOLEN PLA filament, it has two files to download and try out.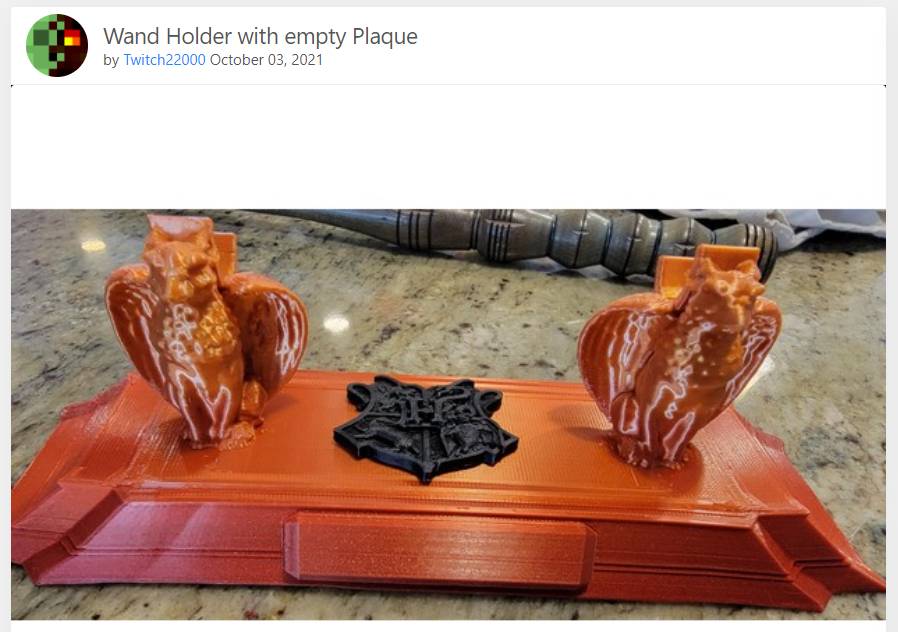 Rainbow multicolor filaments are a really popular design in the 3D printing world. They deliver a shiny and silky smooth appearance in a range of colors, which have a nice blend between them. It's PLA-based so it prints easily and at low temperatures.
This specific rainbow filament is known to be fast-changing so you should be able to use its effects without really large 3D prints.
There are other filament colors in the Amazon listing, but overall, it has a global rating of 4.5, rated by over 300 users at the time of writing.
The printing experience is good for users, as it has been reported to have a smooth extrusion and a stable printing performance. Users are particularly happy with the spectacular shiny rainbow colors of items printed when using this filament.
Since the filament is hygroscopic, it comes with a sealed vacuum bag to keep it dry and maintain its printing quality.
A few users noted that some filament spools are tangled, needing to unspool the tangled part and re-wind it, though this isn't a common occurrence and may have been from bad quality control in the past.
Some users also had trouble with bed adhesion, but increasing the bed temperature and printing temperature should help a lot. A printing temperature of 205-215°C and bed temperature of 60-65°C works for most people.
Check out this 3D printed model using AMOLEN PLA Rainbow Filament.
Temperature Color Changing Filament is a unique filament with a PLA base material that can change its color with temperature changes. There are a few brands out there that create these types of filaments.
They have color combinations such as pine green to brown to yellow, purple to red, blue to white, blueish green to yellow green and more.
It's compatible with your standard FDM 3D printer and has a filament diameter of 1.75mm.
One user who said they've never worked with color changing filament mentioned how it prints smooth and easy with no clogs or warping. They got great results from the first print, and enjoyed how the model changed color just being in their hands while peeling away supports.
You can splash some warm water on your 3D prints to show the effects nicely.
A cool idea by one user was to 3D print a phone case, so when you remove your hand from the case, it shows a hand print, as well as hot spots on your phone. You can reset the color changing ability by putting the 3D model in your fridge for a few minutes.
Check out the examples below of color changing filaments in action.
Here's an electronic case showing off the color changes.
This Glow in the Dark PLA filament is a great color for users to 3D print, having a very unique property. This specific listing on Amazon contains 20% glow powders that glow in the dark after it absorbs light energy.
It works best when exposed to strong sunlight or UV light for about 30 minutes, but make sure not to expose it for too long since it can reduce the glowing effect. They recommend going with the green color since it has the best luminous effects.
These filaments are known to be quite abrasive, so you'll want to use a hardened steel nozzle rather than brass if you plan to 3D print a larger model.
Another thing to keep in mind is how glow in the dark filament is not as strong as normal PLA, so keep a good angle going to the extruder without a sharp bend. It has a filament tolerance of +/-0.03mm which is pretty average.
You can bring life to many 3D models such as a 3D printed wallet, phone case, or sculptures.
One user decided to 3D print some alien flying saucers that glow in the dark. It shines brightly for around 2 minutes, then returns to a softer glow for around 30 minutes.
Some people did have issues with getting the filament to adhere to the print bed, but you should be able to fix this by raising the printing temperature and bed temperature, along with using an adhesive on the bed and a Raft.
Marble is another great color that I've used many times to 3D print statues and busts. It has a great aesthetic property that brings models to life, along with strong physical properties. It's usually based on PLA with additives.
It has a filament tolerance of +/- 0.03mm so you shouldn't get any clogs or jams while you are 3D printing. Many people love ERYONE filament, and are thoroughly impressed by the printing quality and quality control.
The filament comes neatly wound and is pretty consistent according to one user. It comes in a vacuum sealed packaging with a pack of desiccant to ensure the filament doesn't absorb moisture from the environment.
One user who tested the ideal temperature for this marble filament found that a printing temperature of 205°C and bed temperature of 60°C worked great.
To get a good adhesion to the print, make sure your bed is level and look towards using a separate adhesive like a glue stick or hairspray.
Check out the Marble PLA 3D prints below to see how great it looks.
The details in this one looks really good.
Lastly, we have Diamond PLA, a lovely filament blend that incorporates a glittery effect, especially under a light. I've used this PLA before and it provides a really unique and special 3D model that stands out from the rest.
ZIRO are probably one of the best manufacturers that produce this Diamond PLA, so I'd definitely check them out.
It's sold at pretty competitive price as well, being around $25 for a 1KG spool. They have over 400 reviews which are mostly positive, with an overall rating of 4.5/5.0 at time of writing.
Here are some of the colors they sell:
Diamond Blue
Diamond Black
Diamond Purple
Diamond Green
Diamond Silver
Twinkle Black
Twinkling Transparent
Twinkling Bright Red
Diamond Red
Twinkling Blue
To get a good print with this filament, a hotend temperature ranging 190-220 C is needed. Users have suffered less under extrusion with about 220°C and using a heated bed of 50-60°C makes the print to get a good bed adhesion.
I'd recommend 3D printing a temperature tower to see what temperature works best for your particular set up and filament. Print your first layer slow at around 20mm/s so you can get good first layer adhesion, then use a normal printing speed between 30-90mm/s.
I usually stick to around 50 or 60mm/s.
Some users had issues related to the filament absorbing moisture, storing the filament in the vacuum-sealed bag helps to maintain the filaments by keeping them dry.
Users like the textured surface that this filament produces as it allows the embedded flakes to shine better.