8 Ways How to Improve PETG Bridging in 3D Printing – Simple Tips
Bridging can be quite difficult when it comes to PETG specifically due to the physical properties of the material. This article will detail some simple ways you can improve the bridging of your PETG 3D prints.
The best way to improve PETG bridging is to decrease your printing temperature, increase your cooling fan speeds, and use a good fan duct that directs cool air to the filament. Try low printing speeds of 10-25mm/s, or higher speeds of 70-80mm/s to see what works best. You can enable settings just for bridges.
This is the simple answer but there's more detail to it, so keep reading to get the full answers.
How to Improve PETG Bridging in 3D Printing
In simple words, bridging is the process of extruding filament between two raised points at a distance without adding any supports beneath it.
Although PLA is the most common and widely used filament in 3D printing, PETG is definitely growing in popularity. It's known to bridge better than PLA, but you do need to dial-in your settings to get things right.
If you can form these bridges without getting any hangs, sags, deformation, or breakage in-between, it can significantly improve your overall printing experience, and even reduce failures.
Below are some of the most prominent solutions and ways that can help you to tackle the problem and improve PETG bridging in 3D printing.
Lower your printing temperature
Enable cooling fans at a high speed
Try adjusting the print speed for bridges
Enable bridge flow settings
Print model in thin layers
Change the geometry and orientation
Get rid of moisture in PETG filament
Provide supports to the long bridges
Check out the video below for a cooling example of bridging in 3D printing.
I wrote an article about How to 3D Print PETG Filament Like a Pro, so feel free to check that out for some general tips and advice about 3D printing with PETG.
1. Lower Your Printing Temperature
Print temperature is probably the major reason behind most of the 3D printing issues and looking into this factor should be your first step.
The purpose of print temperature is to soften the filament so that it can come out of the nozzle and form layers according to the designed pattern. The level of temperature plays an important role in various aspects where time, print quality, success, and failure are the most prominent.
You want to adjust your printing temperature to an optimal level to get the best bridging with your PETG 3D prints.
The usual printing temperature for PETG is around 230-250°C, so you want to find the lowest temperature that you can extrude filament successfully. This means testing out temperatures and gradually lowering them in 5-10°C increments.
A really useful method of doing this more efficiently though, is to 3D print a temperature tower. This is a tower with multiple blocks where you can run a script to automatically adjust the temperature during the printing process.
You can do this directly within Cura pretty easily. Check out the video below.
Within one short 3D print, you'll be able to directly contrast and compare various temperatures for your PETG filament.
Best Suitable Print Temperature for PETG Bridging: 230-240°C
2. Enable Bridge Settings – Cooling Fans at a High Speed
Another really good method for improving the bridging for your PETG prints is to enable your cooling fans at a fairly high speed. The main reasons that bridges fail is because the filament was either too hot during extrusion, or there wasn't enough cooling.
When your PETG filament cools, it hardens and stabilizes in place, leading to a better bridge between two points. If you have low cooling settings for PETG, you are not going to benefit from that faster cooling process, leading to worse bridging.
In these cases, you'd need to add supports because it would start sagging and drooping.
There is a tradeoff here though because PETG tends to produce better quality models when the cooling is low, so you may experience a slight decrease in print quality.
You can set the fan speed specifically for bridging by checking the "Enable Bridge Settings" box in Cura. Simply search for "bridge fan speed" in the search bar.
This is important because you might not want to enable the fans for the rest of the model since it can reduce layer adhesion and ruin the integrity of the print, especially with PETG.
I'd recommend running some tests with a small model to see the effects of different cooling fan speeds.
It's actually possible to 3D print a tower, similar to the temperature tower, but for cooling instead. You simply have to adjust the script to change the cooling fan speeds rather than the temperature.
Some users who ran their own tests mentioned that they get a great quality PETG bridge with a cooling fan speed between 70-80%, though others get the best results with a 100% speed.
Bridge Fan Speed: 70-100%
Another really important thing with cooling is to use a good fan duct for your 3D printer. The Petsfang Duct from Thingiverse is a popular option that has worked for thousands of users out there.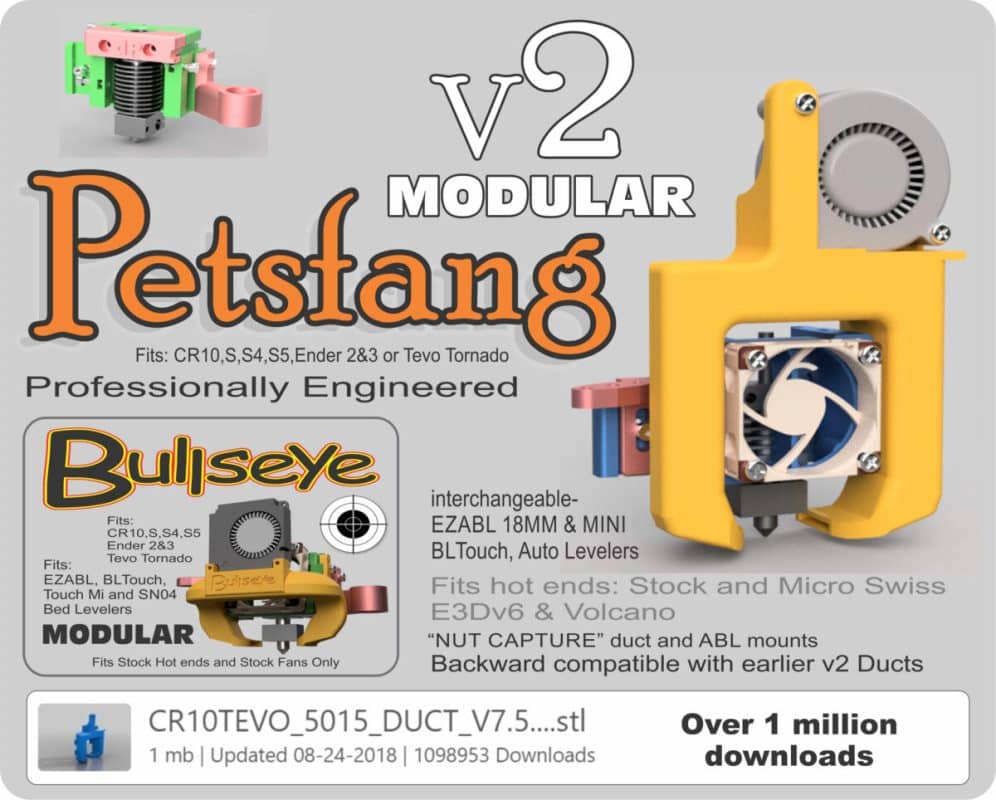 3. Try Adjusting the Print Speed for Bridges
The next thing I'd try doing is to adjust your printing speed within your slicer. There needs to be a decent balance because a print speed that's too high will mean your filament will move too fast to get cooled properly, and on top of this, faster print speeds usually require higher temperatures.
As previously mentioned, higher temperatures aren't good for bridging for your PETG prints.
On the opposite end, a print speed that's too low will cause a lag in the extrusion of the bridge, leading to the filament drooping or sagging before it gets to the other side.
In the video below, you can see the print speed is relatively slow, but with really good cooling, as seen with the fan ducts on either side.
Rather than change your overall print speed, you can actually adjust the print speed for bridges specifically. In Cura, you want to find the "Bridge Wall Speed" and "Bridge Skin Speed" which should show after searching for "Bridge" and checking "Enable Bridge Settings".
It's more common for your printing speed to be lower than higher, so I'd recommend slightly increasing the bridge speed settings by anywhere from 10-25mm/s, and comparing the results.
Users have claimed that a print speed ranging from 70-80mm/s usually works best for them while some go to the other end with 10-25mm/s. This does also depend on what 3D printer you have and how well-calibrated it is.
Print Speed for Bridges: Low: 10-25mm/s – High: 70-80mm/s
4. Enable Bridge Flow Settings
When filament flows above what it should, it takes relatively more time to cool and get solidify. This can decrease the quality of bridges but decreasing extrusion multipliers can get the desired results.
It's not usually recommended for users to adjust flow rates as an initial solution.
Similar to the specific settings for bridging within the "Enable Bridge Settings", we also have multiple settings for flow rate:
Bridge Wall Flow (default 50%)
Bridge Skin Flow (default 60%)
Bridge Second Skin Flow (default 100%)
Bridge Third Skin Flow (default 110%)
These default settings should work fairly well, but you can try making adjustments to see how it affects your PETG bridging.
Later in this article, I'll provide some great bridge tests that you can use effectively.
5. Print Model in Thin Layers
Since the main factors for good bridging is cooling, it also matters just how much material needs to be cooled. If you 3D print your PETG models with thinner layers, it could lead to better bridging, but not too thin.
I think there's a balance between the amount of filament to be cooled, as well as the structural integrity of the bridge layers itself.
Some users have mentioned that printing with thinner layers have improved their bridges without changing other settings, so something like a 0.12mm layer height rather than 0.2mm.
Thinner layers will cool more quickly, as well as have less downward force to droop or sag. It should also provide you with better quality bridges since there are more layers to act as a foundation.
6. Change the Orientation of Your Model
In some cases, we may be able to reduce the need for bridging simply by rotating or orienting the model differently. This can either lead to not needing to bridge at all, or reducing the bridging distance to improve changes of success.
I'm sure there are many cases where people will not take a good look at their orientation and just slice the model as it came. I've definitely done this in the past, but now I take some time to figure out the best orientation.
Another solution suggested by a user on a post is to print bridging parts in different small pieces and then glue them together afterwards.
Although all these tips and tricks are not suitable for most of the 3D models being printed with PETG, they can still help you out with some design and solutions to improve the bridging in 3D printing, especially for simple, flat models.
I wrote an article about the Best Orientation of Parts for 3D Printing, as well as The 45 Degree Rule in 3D Printing – Optimal Orientations.
7. Get Rid of Moisture in PETG Filament
PETG is known to be very hygroscopic, which means to absorb moisture from the environment. When this happens, it can cause printing issues, especially in the case of bridging.
It's a good idea to take your spool of PETG and dry out the moisture using something like the SUNLU Filament Dryer from Amazon.
If you are hearing a cracking or popping sound while extruding PETG, or you see bubbles forming, then it means your PETG is being affected by moisture.
Some people choose to use an oven to dry their PETG but this can be a problem since most ovens aren't calibrated very well at lower temperatures. You could end up ruining your spool of PETG, so it's better to use a specialized filament dryer or a food dehydrator.
8. Provide Supports to the Long Bridges
There are high chances that you will have the best quality bridges using PETG after giving a try to the above-mentioned solutions but there are possibilities that you may not be able to print some long bridges even after applying everything.
Adding supports can allow you to get rid of all the bridging issues because they only occur as they don't have any supports beneath them.
Adding supports may increase one step during the post-processing but it may be worth it, especially if printing bridges of high quality is almost impossible without any support.
Even just using one support in the middle of a bridge can significantly help improve your overall bridging success.
I'd recommend checking out custom supports in Cura, since they have some really useful supports that you can place tactically.