Creality Resin 3D Printer Energizing Creation – Creality Halot-One Pro & Plus (Sponsored)
Creality's new resin 3D printers—the HALOT-ONE PRO & PLUS featured by larger LCD, intelligence and higher precision aim to bring creativity to an upper level. New products Creality introduces this year include the HALOT-ONE PRO & HALOT-ONE PLUS.
Since the differences between the PRO and PLUS are the size of LCD and build volume, Creality would like to show you the HALOT-ONE PLUS here!
Larger LCD, More Printing Possibilities
The HALOT-ONE PLUS comes with a 7.9-inch mono LCD of 4K HD resolution. The 172 x 102 x 160mm build volume has increased by 73% compared to the 6-inch LCD, enabling large model printing and small models printing at one time.
Getting favorite models printed with vivid details is no longer a challenge!
High Precision Printing Powered by New Technology
Creality has developed a brand-new technology named Integral Light Source, which has been applied in both the HALOT-ONE PRO & PLUS.
Different from the well-known Parallel Emission, Integral Light Source's working principle is based on reflection and refraction, giving assurance to the printing precision by vastly improving the lighting evenness and reducing the impacts from broken LED units.
To print a perfect model, the HALOT-ONE PLUS is right there to assist you.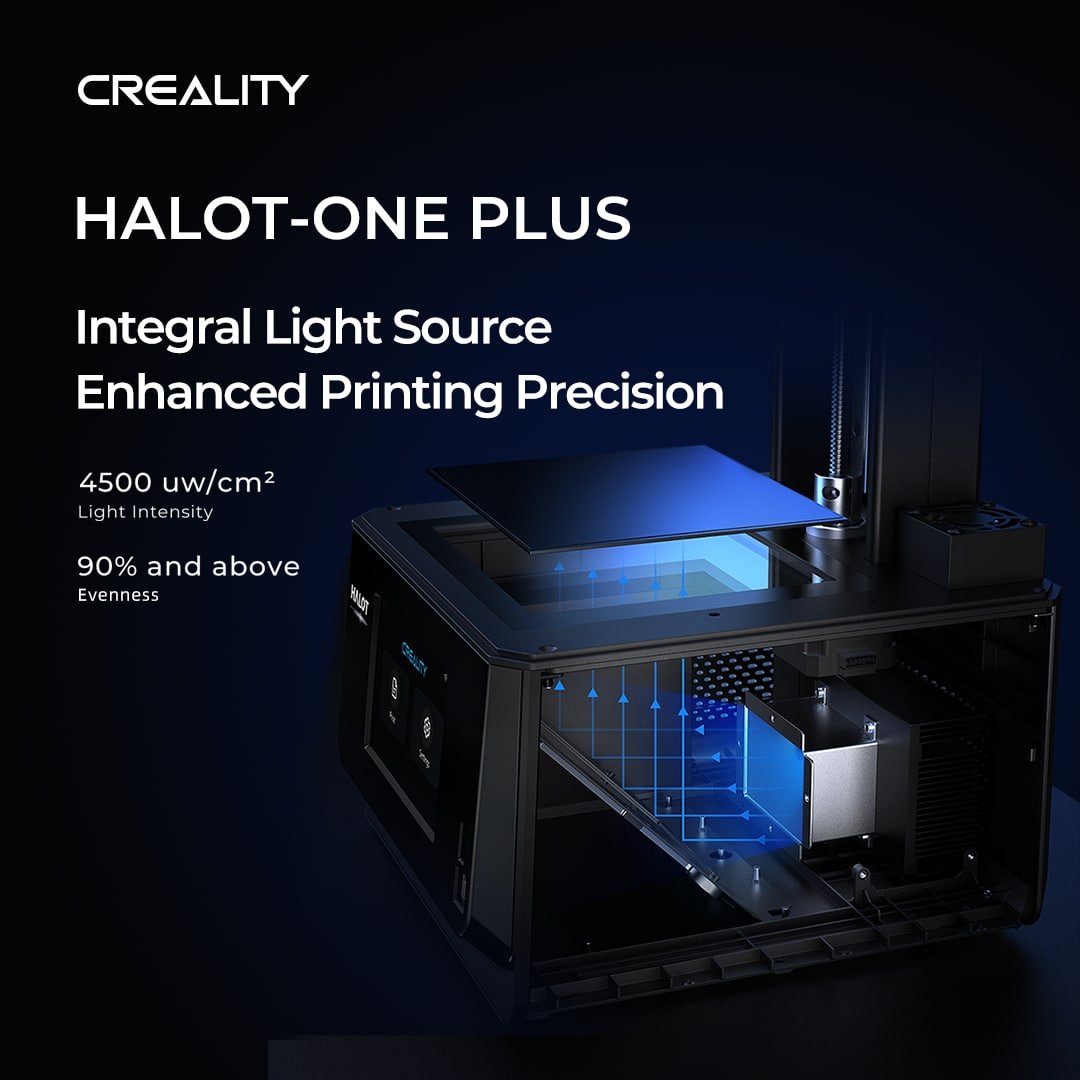 Furthermore, Z-axis with dual linear rails and the T-shape screw rod guarantee ultra-steady movement, effectively reducing the layer texture and the risk of layer deviation. Even a complicated task can be perfectly delivered.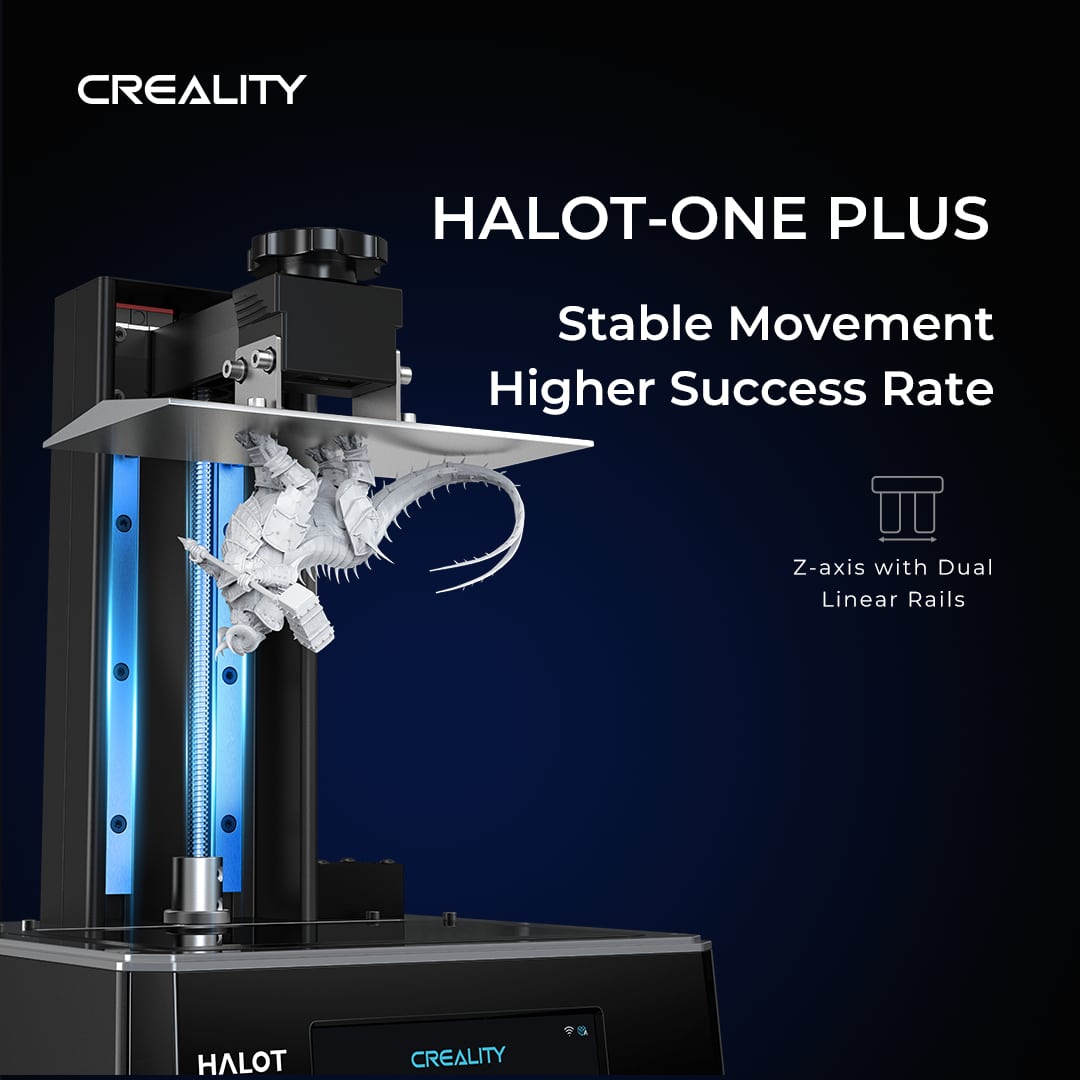 Intelligent Control, Efficient Management
The HALOT-ONE PLUS can connect to the model library—Creality Cloud App for free model selection and cloud slicing. It breaks the restrictions from location and time by supporting one-click printing and remote monitoring, enabling users to print anytime and anywhere.
OTA online updates can be conducted via Creality Cloud App or on the printer directly, allowing users to experience something new.
Compatible with multiple slicing software, such as the HALOT-BOX, Lychee Slicer and ChiTuBox, the HALOT-ONE PLUS improves the slicing efficiency and provides enough freedom for creation.
Easy to Use, Enjoy Printing
The 5-inch HD full-view multitouch screen allows a clear model preview and selection, allowing users to see the print in advance. Making the print visible before it's tangible may bring users excitement and a different experience.
The leveling is quick and can complete in 3 steps with a calibration card, allowing users to print right away.
Furthermore, Creality prioritizes healthy printing. The air filtration system with activated carbon will absorb most of the resin odor, creating a refreshing printing environment.
To be more considerate, the HALOT-ONE PLUS supports 14 languages, providing a flexible language switch for users from main regional markets around the world.
The HALOT-ONE PLUS & HALOT-ONE PRO are applicable in various fields, such as the creation of garage kits, dentistry, home ornament, etc. They are designed to be versatile and to bring benefits as well as joy to users.
The HALOT-ONE PLUS and HALOT-ONE PRO were unveiled in Creality's 8th anniversary celebration and they will gradually show up in the global market from April 9th, 2022 with prices $349 for HALOT-ONE PRO and $399 for HALOT-ONE PLUS.
Together with resin 3D printers, Creality's 3D engraver— the CR-Laser Falcon, Sermoon V1, Ender-3 S1 and CR-10 Smart Pro were introduced into the market as well.
Whether you are a novice with curiosity or an expert with great passion, you are welcome to pay close attention and get the latest news about them!
Creality celebrated its 8th anniversary on April 9th this year and during the ceremony, Creality launched its new DTC website as well as the official store, where users can obtain basic information and buy the HALOT-ONE PLUS directly.
During April 18 to May 31, consumers can enjoy free shipping and $30 off with the coupon code: HALOT1P30.
Have a look at the HALOT-ONE PLUS Resin 3D Printer in Creality Store.