9 Ways How to Fix Anycubic Photon Not Printing
The Anycubic Photon has gained a reputation for delivering quality and detailed 3D prints. However, even the best machines can encounter hiccups. If you're facing the frustrating issue of your Anycubic Photon not printing, don't worry. I wrote this article to explore a range of solutions to solve this problem.
To fix Anycubic Photon not printing as expected, power cycle it, change the USB stick you're currently using, clean the resin vat properly, and check for loose or unplugged connections. If that doesn't work, try to print at a suitable ambient temperature, level the build plate, replace the LCD, and change the firmware.
This is just an overview of the things you need to do to get rid of this issue. I am going to provide more details in the article, so please continue reading to find out more.

How to Fix Anycubic Photon Not Printing
Here's how to fix the Anycubic Photon not printing:
Power cycle it
Clean the resin vat properly
Replace the LCD
Change the USB stick
Change the Bottom Layer Exposure time
Change the firmware
Print at a suitable ambient temperature
Check for loose or unplugged connections
Level the build plate
1. Power Cycle It
The first simple method you should use to fix an Anycubic Photon that is not printing is power cycling. It involves turning off the printer, unplugging it from the power source, waiting for a minute, then plugging it back in and powering it on.
Sometimes, minor software glitches or electronic hiccups can cause your printer to fail to print. Power cycling essentially resets the internal systems, just like restarting a computer. It resets everything back to its default state, potentially fixing the problem.
However, you should always ensure that your printer is switched off completely before unplugging it to avoid damaging it.
One user said that his printer was not printing and the LCD was not working. His screen just remained blank and then would have a "backlight" effect where the entire screen would dimly light. To his surprise, powering the printer down and then powering it up (power cycle) again fixed the issue.
One user said his Anycubic Photon Mono X couldn't print, and his platform went up and down without printing anything. He was advised to turn it off and back on as this managed to fix the issue for another user.
2. Clean the Resin Vat Properly
Properly cleaning the resin vat can ensure that your Anycubic Photon prints successfully. This is because resin residue or debris accumulating in the resin vat can cause adhesion problems and print failures.
To clean the resin vat, first, remove it from the printer. Filter out the resin inside the vat back into the bottle in a well-ventilated area, following proper resin disposal procedures. If your vat has components such as silicone seals or resin filters, remove them for a more thorough cleaning.
Next, use a lint-free cloth or paper towel to clean the inside of the resin vat. Pay close attention to the corners and edges to remove any resin residue and debris. If you notice the FEP is damaged while cleaning, consider replacing it with a new one.
Here are some S&T INC Microfiber Cleaning Cloth that you can find on Amazon.
One user with an Anycubic Photon Mono X 6K said that for his last two prints, his printer printed supports and then stopped. Someone recommended that he clean the resin vat properly after having fails. Also, filter the resin to ensure there is no resin debris left.
This is because the build plate can push the debris down onto the FEP, causing it to puncture and possibly ruin his LCD screen. The user checked and found stuff in the Resin vat, and removing it solved the problem.
Check this video that shows you how to clean the resin vat of an Anycubic Photon after printing.
3. Replace the LCD
One way to fix an Anycubic Photon that doesn't print is to replace a malfunctioning or damaged LCD screen. To ensure that the issue lies within the LCD, search for common signs such as unresponsiveness to touch, incorrect display of images, or any visible damages.
If the LCD is the cause of your problems, contact Anycubic or an authorized distributor to get a suitable replacement. After that, switch off your machine, unplug it from the power source, and follow the manufacturer's guidelines to remove and install the new screen safely.
You can follow this video tutorial on how to replace the LCD of an Anycubic Photon.
One user said that his Anycubic Photon Mono stopped printing after his second print. After contacting Anycubic, they had him record an exposure test and email it to them. Turned out his LCD screen was faulty.
Luckily, his printer was still under warranty, and they sent a replacement LCD screen, which worked.
Another user who complained about his Photon Mono X not printing anything noticed that there was a discoloration in the screen, which would not let any UV light through. However, after replacing the screen, the printer started to work, although it printed poorly.
4. Change the USB Stick
If you're experiencing printing issues, changing the USB stick is a straightforward solution. Corrupted or malfunctioning USB sticks can disrupt the communication between your computer and the printer. This can result in failed prints or difficulties in transferring print files to the printer.
By swapping out the USB stick for a different one, you can determine whether the issue lies with the stick itself or with the printer's USB port. Before transferring the print files to the new USB stick, scan them for malware or viruses, which can affect the printing process.
You can use an 8 GB thumb drive that this user recommends in this video.
One user who owned an Anycubic Photon Mono SE said that his printer was not printing anything when using the standard memory stick. Out of 5 attempts, it printed three times and had this issue 2 times. It turned out that his USB stick was the problem, so he had to replace it.
5. Change the Bottom Exposure Time
Setting the right bottom exposure time is important if you want your Anycubic Photon to overcome printing problems. Using the right exposure time ensures that the first resin layer cures sufficiently to prevent print failures.
First, consult the manufacturer's specifications for the recommended bottom exposure time for your specific resin.
After that, go into your slicing software and change the exposure time. Here is how you can do it in ChiTuBox.
Launch Chitubox and go to Settings.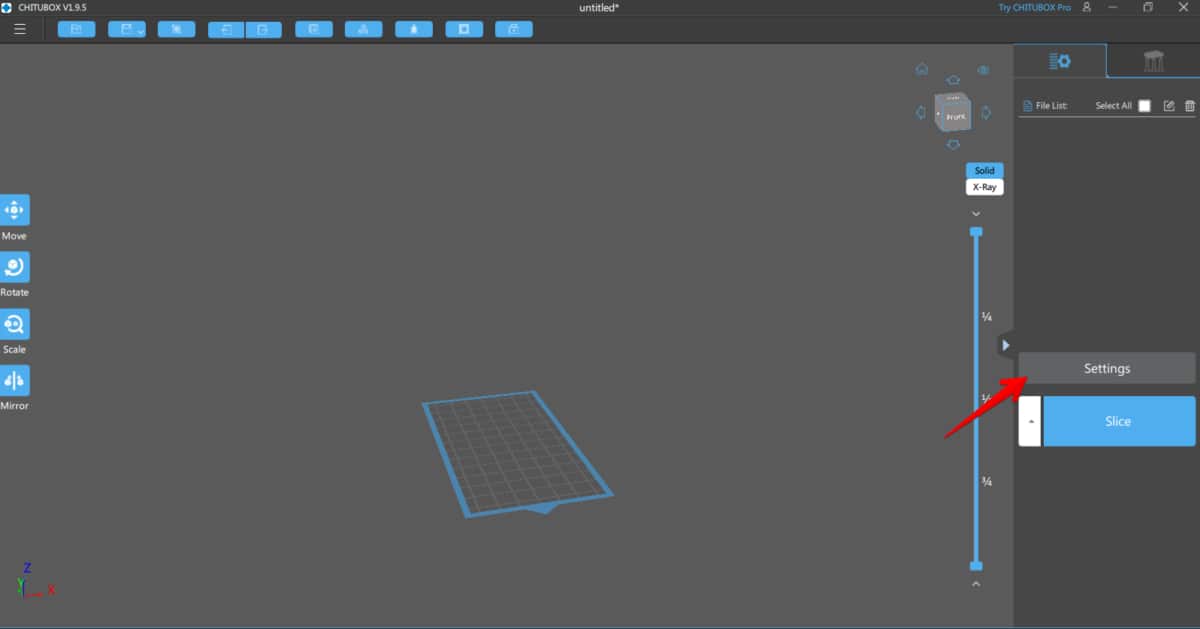 Click on the "Print" tab and go to the "Bottom Exposure Time" setting. Input a different value from the default.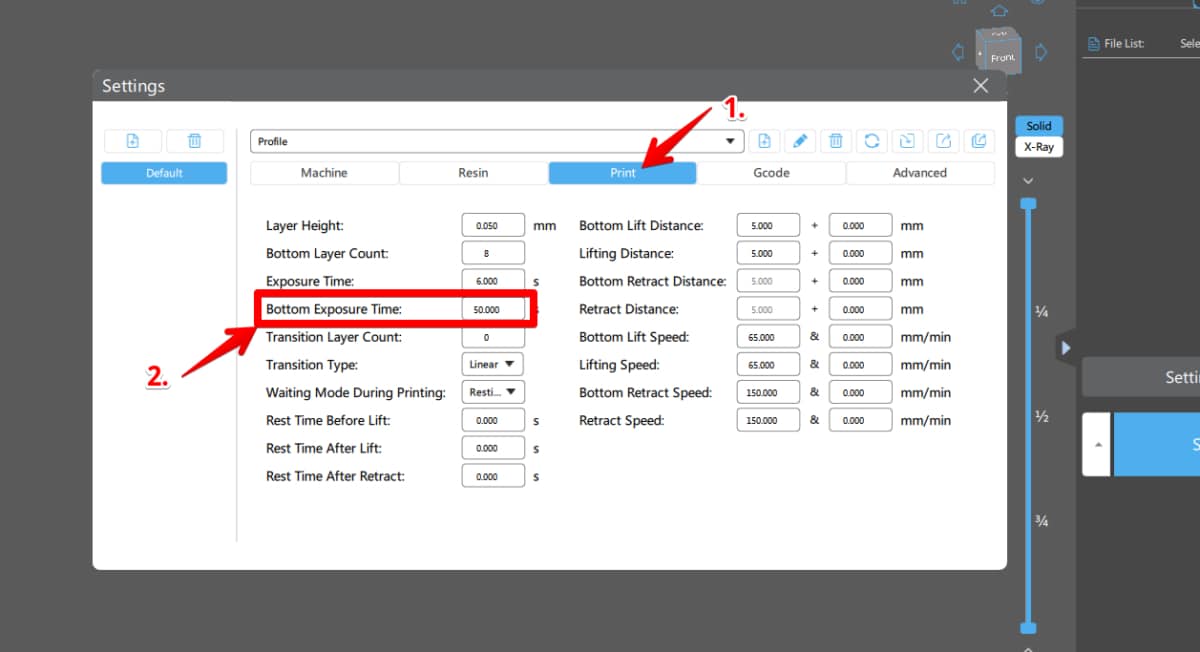 One user said that he tried printing multiple things with his Photon, but there was nothing on the tray every time it finished.
Another user who had the same problem said that they solved it by increasing the exposure time to 70 seconds on the first layers. However, they also calibrated the Z-axis.
6. Change the Firmware
If all the methods above fail to fix your issue, then it might be best to update or change your printer's firmware. Updating or changing the firmware is an effective way of resolving software-related issues and improving compatibility to ensure your Anycubic Photon operates correctly.
You can visit the official Anycubic website or contact their customer support for the latest firmware updates for your specific Anycubic Photon model. Ensure that you download and install the correct firmware.
As an extra precaution, create a backup of your current firmware settings and configurations in case you need to revert to the previous firmware.
Here is how you can update the firmware of the Anycubic Mono X resin printer.
One user who had gotten a Photon Mono 4K from Amazon and used the Anycubic gray resin and firmware version v 0.0.11 said that it wasn't printing. Someone recommended that he revert to the older firmware since he had seen a lot of people have issues with that version.
7. Print at a Suitable Ambient Temperature
Maintaining the appropriate ambient temperature in your printing environment ensures that the resin behaves predictably, especially if it has a narrow temperature tolerance.
Different resin types have varying temperature sensitivities, but most work well within a temperature range of about 20 and 25°C. Extreme temperatures outside this range can affect the behavior of the resin.
So, if you're printing in a very hot environment, consider cooling the printing environment. On the other hand, if you're printing in a room that is too cold, consider warming it up to prevent printing issues.
You should also consider an enclosure or placing the 3D printer in a temperature-stable room to help regulate the temperature. Use a thermometer to monitor the printing area's temperature.
This DOQAUS Digital Thermometer that you can find on Amazon will be perfect for measuring your room temperature.
[amalinkspro type="showcase" asin="B07ZSF5RC5″ apilink="https://www.amazon.com/dp/B07ZSF5RC5?tag=3dly-20&linkCode=osi&th=1&psc=1″ new-window="true" addtocart="false" nofollow="true" sc-id="6″ img-sizes="423:500″ imgs="https://m.media-amazon.com/images/I/41vxU+oUOJL._SL500_.jpg" link-imgs="false" specs="[High Accuracy & 5s Fast Refresh]: Built-in smart temperature humidity sensor, the indoor thermometer is accurate to ±1°F while humidity is ±5%RH. Enjoy precise data from the room thermometer indoor every 5 seconds." btn-color="#ff9900″ btn-text="Buy on Amazon" alignment="alignnone" hide-prime="0″ hide-image="0″ hide-price="0″ hide-button="0″ width="600″ banner="" alt="DOQAUS Digital Hygrometer Indoor Thermometer Humidity Meter Room Thermometer with 5s Fast Refresh Accurate Temperature Humidity Monitor for Home, Bedroom, Baby Room, Office, Greenhouse, Cellar (Black)"]DOQAUS Digital Hygrometer Indoor Thermometer Humidity Meter Room Thermometer with 5s Fast Refresh Accurate Temperature Humidity Monitor for Home, Bedroom, Baby Room, Office, Greenhouse, Cellar (Black)[/amalinkspro]
One user with an Anycubic Photon Zero said that whenever he tried to start a print, there was a horrible grind of the stepper motor, and then it just stopped.
Another user with the same issue said that he noticed that his printer got this problem when it was in a room below 20°C. However, after pumping up the temperature to about 22 – 23°C, it printed like it was new.
This prompted another user who had the same problem because he was printing in his basement to heat the room with a hairdryer for a couple of minutes, and his printer began to work again.
8. Check for Loose or Unplugged Connections
Another way to resolve Anycubic Photon not printing is to gently reseat loose cables and plug in the ones that had disconnected. This is because loose or unplugged cables can disrupt communication or power transfer within the 3D printer.
Start by turning off your Anycubic Photon and unplugging it from the power source for safety. After that, carefully examine all cables and connectors, beginning from the power source to the ones in the printer's internal components.
If you identify any loose or unplugged connections, plug them back in securely. Try to avoid using excessive force to prevent damaging them.
One user with a Photon M3 said that his printer was going through the motions and not printing. Another user with the same problem said they removed the back panel and found the Molex connector for their UV light disconnected. Everything began to work well after he plugged it up.
9. Level the Build Plate
Your Anycubic Photon may fail to print because of an improperly leveled bed. To fix this, you'll need to level it to ensure that the surface is flat so the prints can stick better. Here is the procedure that you can follow:
Power on your 3D printer.
Take a hex key and loosen the leveling screw or screws (depending on your setup) that hold the build plate to the assembly by turning them clockwise.
Using the printer's interface, home the build plate to bring it to the starting position.
Insert a leveling paper or normal printing paper between the build plate and the LCD screen.
The goal is to set the Z-axis by lowering the build plate to the correct distance. This is where the paper fits snugly with slight resistance when you pull it and where the build plate doesn't rock.
After that, tighten the leveling screws and save the Z-axis setting.
Check out this video on how to level the build plate of your Anycubic Photon.
One user said that they purchased an Anycubic Photon Mono X but couldn't get one print to work. Several users attributed his issue to poor leveling of the build plate. He was advised to relevel it and use the correct exposure time to fix the issue.