LONGER LK5 PRO – A Large, Feature-Rich 3D Printer (Sponsored)
The LONGER LK5 PRO is a 3D printer that has many of the features you'd want in a reliable machine to create some high quality prints, at a larger scale than usual. LONGER, the company has great experience creating 3D printers and it shows in this one right here.
You can get $30 off by using the code: LK5PRO$30
Let's take a look at some of the key features of the LONGER LK5 PRO.
Features
90% Pre-Assembled with Stable Triangular Structure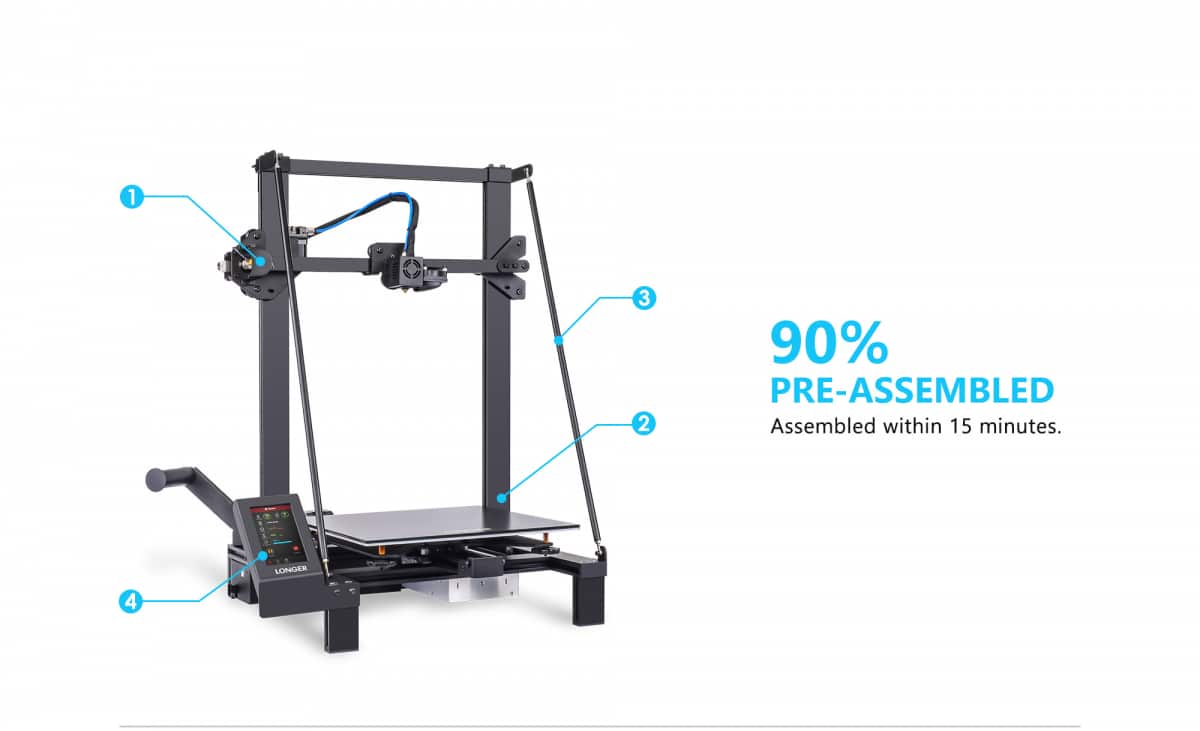 One of the first things you'll be able to appreciate is how the LONGER LK5 PRO comes 90% pre-assembled so you don't have to take too much putting it together. You can focus more on the 3D printing side of things after assembling it.
This FDM 3D Printer only requires 4 steps to put it together since most major parts have been assembled.
In addition to the quick assembly, it has a respectable build volume of 300 x 300 x 400mm which is larger than most 3D printers out there. This means you can create larger objects in one go rather than needing to split the models and stick them together afterwards.
Another key feature with this machine is the dual reinforced diagonal rods that provide a stable triangular structure. This works to reduce vibrations and get a higher print quality in your 3D models.
Quiet Printing & Open Source
3D printers have been known to be quite loud in some cases, especially when they don't have silent stepper drivers. The LONGER LK5 PRO is integrated with modern TMC2208 drivers that significantly reduce the volume of movements in the X, Y & Z axis.
Many users describe the printer's noise levels as working very quietly.
The mainboard is open source so you can add compatible spare parts onto this machine such as a BLTouch for auto-leveling. This is important for being able to upgrade your 3D printer to perform better.
You also have quality assurances after your purchase of this 3D printer, meaning you have peace of mind.
4.3 Inch Full Color Touch Screen
The operation of this machine is mainly done through the 4.3-inch full color touch screen. It has a very user-friendly interface that has been optimized to make the machine easier to interact with and do what you need it to do.
Whether you want to control where the print head goes, or you want to increase the temperature of your print bed, it's very easy to navigate.
You can also view real-time printing information on the relatively large screen with ease.
Upgraded Carborundum Glass Bed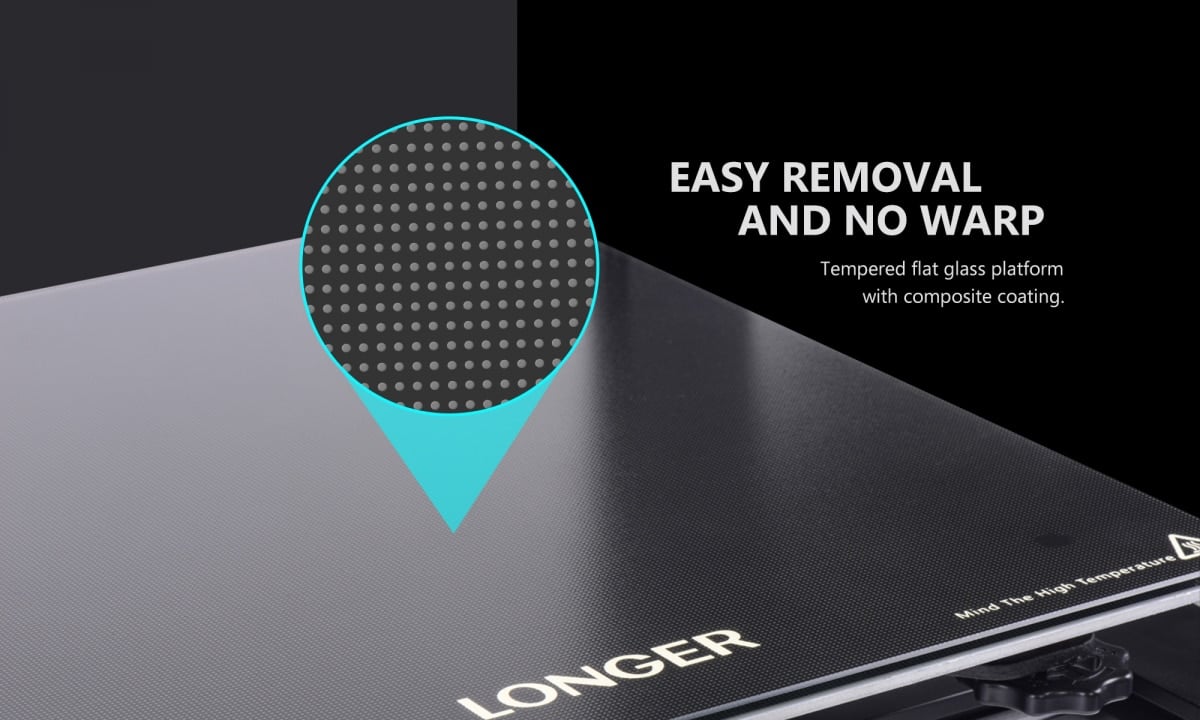 You have an upgraded Carborundum Glass bed on the LONGER LK5 PRO which has an upgraded ceramic coating glass that allows you to easily peel models off the bed after it has finished printing.
Glass beds are known to be a lot flatter than most other bed surfaces. It contributes to a cleaner bottom surface for your 3D prints. These are very durable and should last a very long time.
High Temperature Resistant Teflon Tube
Having a PTFE tube or Teflon tube that has high heat resistance is important. This machine comes equipped with a Teflon tube that can withstand up to 280°C. It also has characteristics that reduce clogging so you can get a more consistent quality of printing.
Other 3D printers usually have a stock PTFE tube that can withstand around 250-260°C, so this is a great feature to have.
Upgraded Dual Cooling Fans
The LONGER LK5 PRO has upgraded dual cooling fans which provides your models with rapid cooling of freshly extruded filament. When it comes to parts of your 3D prints where there is bridging, overhangs, and finer details, having good cooling is important to get the best quality models.
Resume Printing Function & Filament Detection Sensor
Being able to resume your 3D prints from the last recorded position is something this 3D printer can do, called the resume printing function. It provides you with a failsafe that allows you to continue printing from your last recorded extruder position after something like a power loss.
You also have a filament detection sensor that will pause printing if it detects that your filament is running out. This means you won't be in a situation where your model doesn't continue printing even though no filament is extruding.
Check out this simple unboxing and setup video of the LONGER LK5 PRO.
You can get yourself the LONGER LK5 PRO from the official website for a competitive price. It is shipped from the local warehouse in the USA, the Euro region or other regions.
Get $30 off by using the code: LK5PRO$30