Best PrusaSlicer Support Settings – Filament 3D Printers
To get the best results for your prints on your PrusaSlicer, you want to have some good support settings. Certain models have overhangs that are suspended in midair. You want to generate supports for these areas so that you can print the model successfully. Good support settings can be the difference between a successful 3D print and a failed one.
Also, if these supports are not generated properly, they can be very difficult to remove, which can even cause breaks and imperfections in the model.
In this article, we will go through the best PrusaSlicer support settings. Keep reading!

Best PrusaSlicer Support Settings
The best PrusaSlicer support settings for a 3D printer will vary depending on your 3D printer, the material you're using, and the geometry of the model you're printing. Therefore, settings that work really well for someone, might need a few tweaks to work really well for you.
Here are the PrusaSlicer support settings we'll be looking at.
Generate Support Material
Overhang Threshold
Style
Raft Layers
Raft Contact Z Distance
Top and Bottom Contact Z Distance
Pattern
Pattern Spacing
Interface Layers
Interface Pattern
Interface Pattern Spacing
XY Separation between an Object and Support
Maximum Branch Angle
Branch Diameter
Branch Distance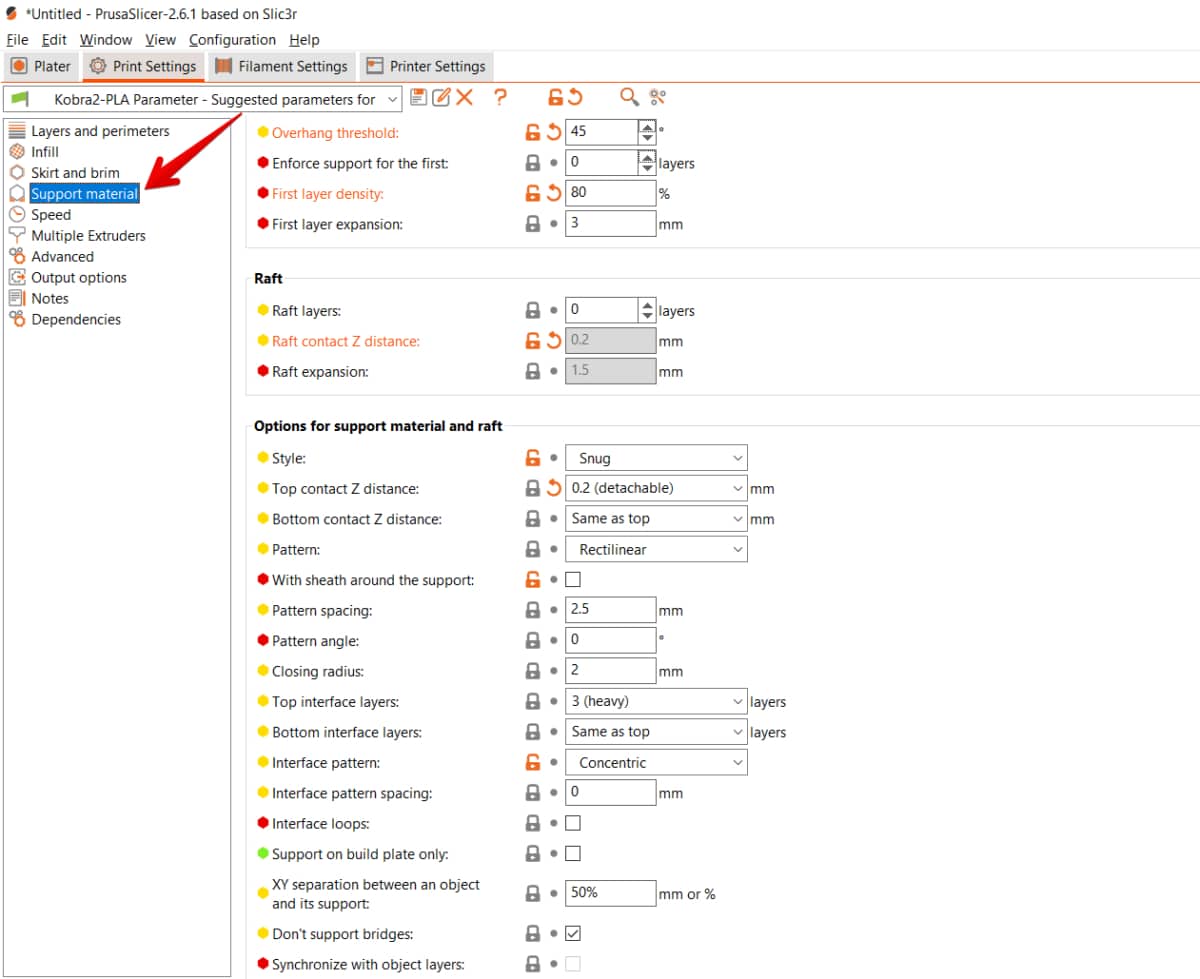 Generate Support Material
To generate supports on your model, you need to first enable the "Generate Support Material" setting. You can access your support settings by clicking on "Print Settings" from the top menu bar.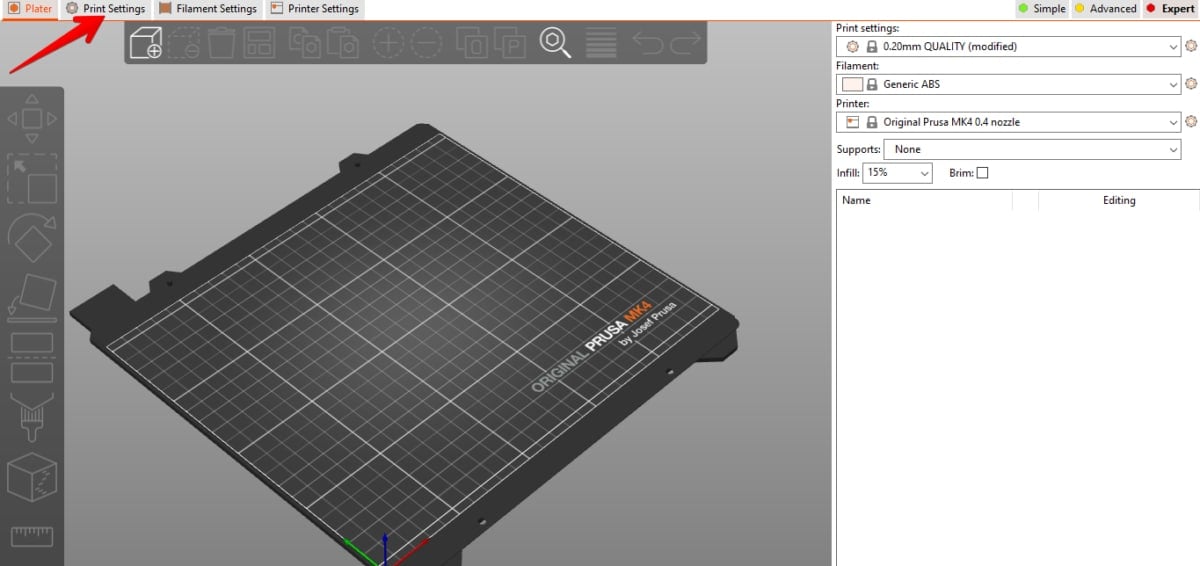 Then click on "Support Material" from the left menu bar.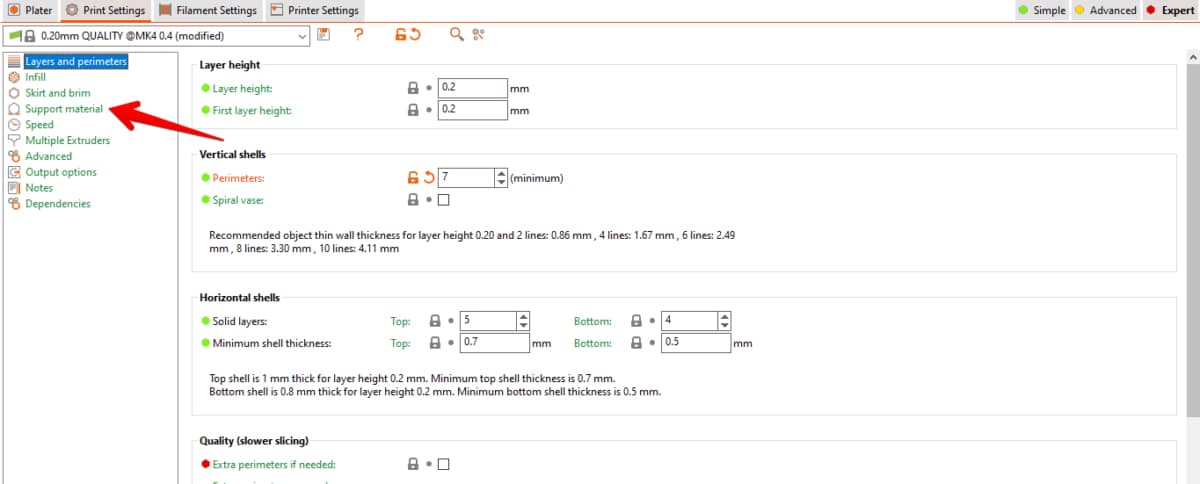 The "Generate Support Material" setting is turned off by default on PrusaSlicer so you'd need to enable it if your model requires supports to print successfully, especially if there are overhangs.
Once this is enabled, it allows you to tweak other related support settings on your PrusaSlicer. After these supports are generated, the amount of material and total time required to complete the print increases.
You can reduce the number of supports generated for your prints by reorienting the model or splitting it, before printing. This would reduce the overhangs on your model.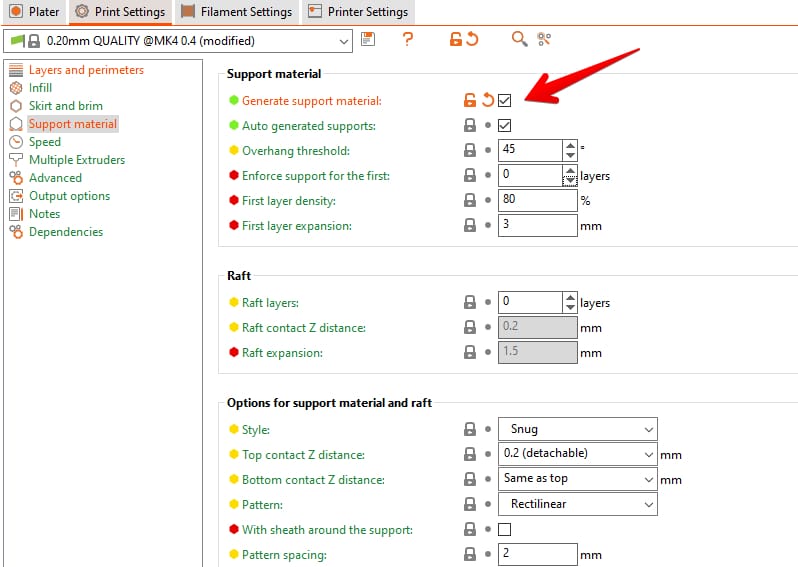 You can choose to enable supports manually or automatically, depending on your model.
Auto Generated Supports

On PrusaSlicer, when this setting is checked, supports will be generated automatically around the model. These supports are generated automatically based on the preset overhang threshold value in your slicer settings.
While the default overhang threshold value is 45°, it can be tweaked, depending on how many supports you want to be generated on your model.
Also, with this value, PrusaSlicer can both detect areas that need supports and generate them in these places automatically.  I'll go more into this later in this article.
This type of support is recommended for people who are still new to 3D printing or are not sure of how to place supports around the model.
Also, these auto-generated supports can either be generated "Everywhere" or "On Buildplate Only".
If you select supports "Everywhere", the supports would be generated from both the Print bed and any other part of the surface of the model. As a result, you can rest assured that every overhang or any part starting midair will get supported.
The downside to this type of support placement is that there may be tiny dents on the surface of the model after taking off the supports. Although you can sand them down.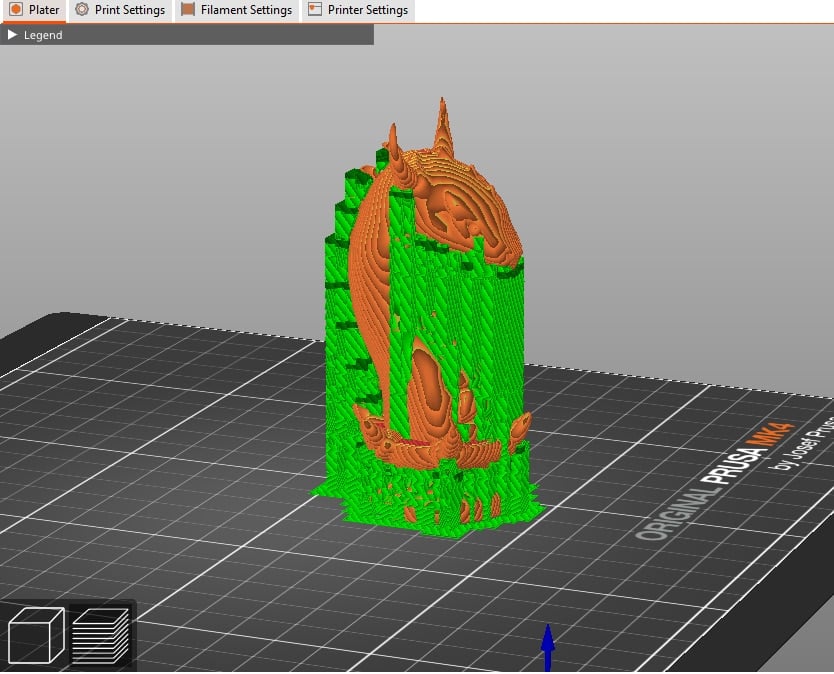 However, if you decide to use the support on build plate only, this will only create supports that have their base at the print bed. The supports would not be generated on any part of the model even if it were required for the print to be successful.
So, you need to be sure that this type of support would be sufficient to print the model.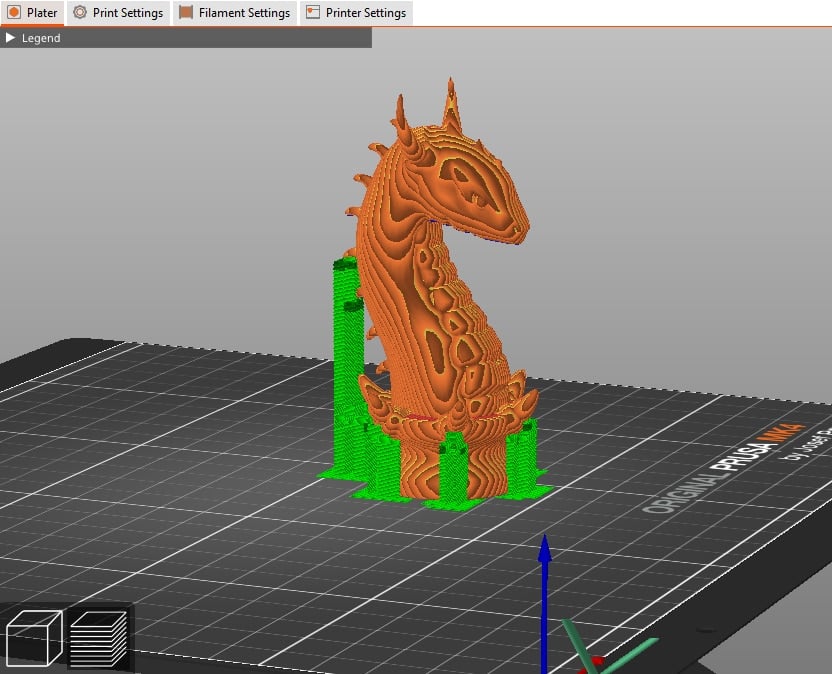 Manual Supports
On PrusaSlicer, you can also add supports manually. If placed correctly, it can help reduce the amount of filament and time needed to complete your print when compared to auto-generated supports.
Manual supports are recommended only if you actually know how to place them around your model in a way that ensures that your model can print successfully.
Manual supports can also be used with automatic supports if needed. There are two types of manual supports on PrusaSlicer, they include:
Paint on Supports
Support enforcers and blockers
Paint on Support
Paint on Support is pretty straightforward to use. Simply highlight your model to make the left menu bar accessible. Click on the brush icon on the left panel to access the "Paint on Support" settings.
Then with your mouse, highlight the areas you want supports to be generated on. Once a particular area is highlighted it turns blue.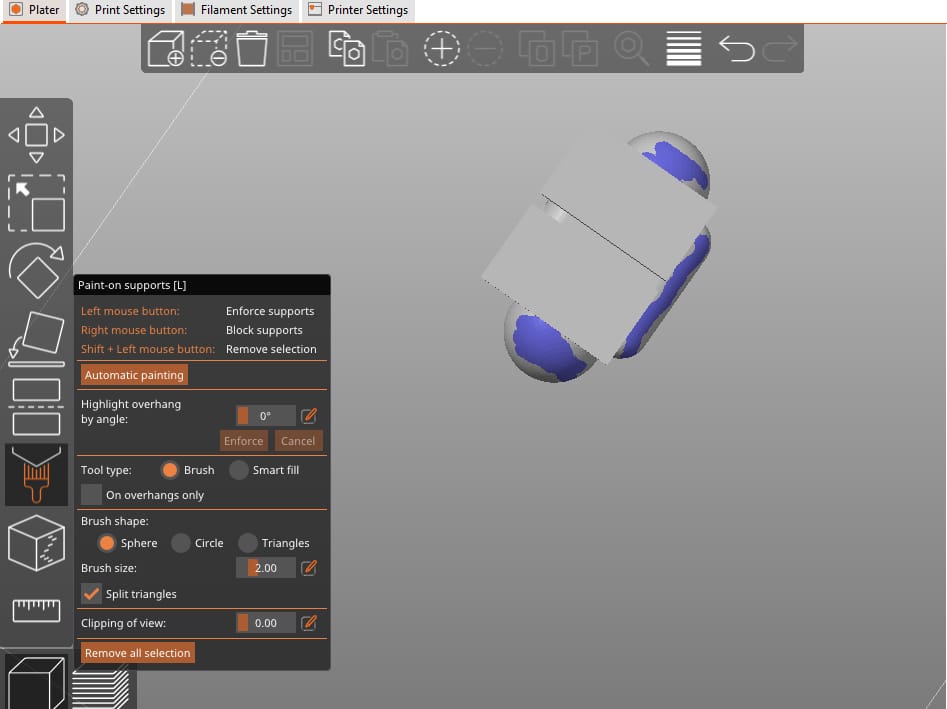 Ensure you switch the support mode to "For support enforcers only" after you're done highlighting the necessary areas. Then you can slice the model and examine the supports generated.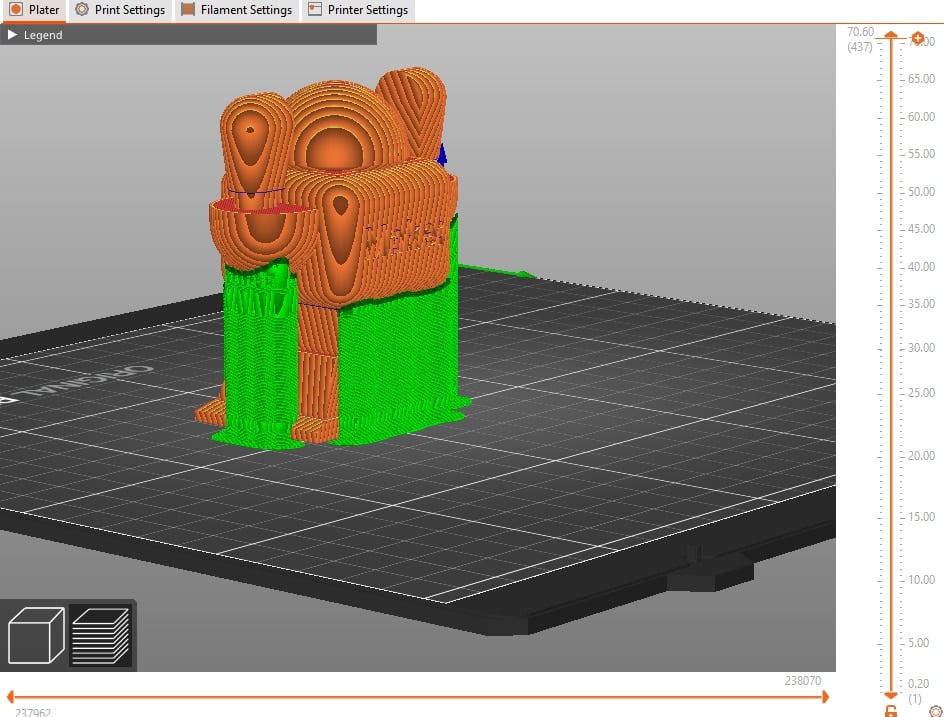 Check out this video from ModBot on how to use Paint on supports on PrusaSlicer.
Support Enforcers and Blockers
Support blockers are used in situations where the automatic supports generated are too much and you feel you can do away with some of the supports generated.
Also, if support is generated in an area that has important details, you can put a support blocker on that area so that the details on the model do not get compromised.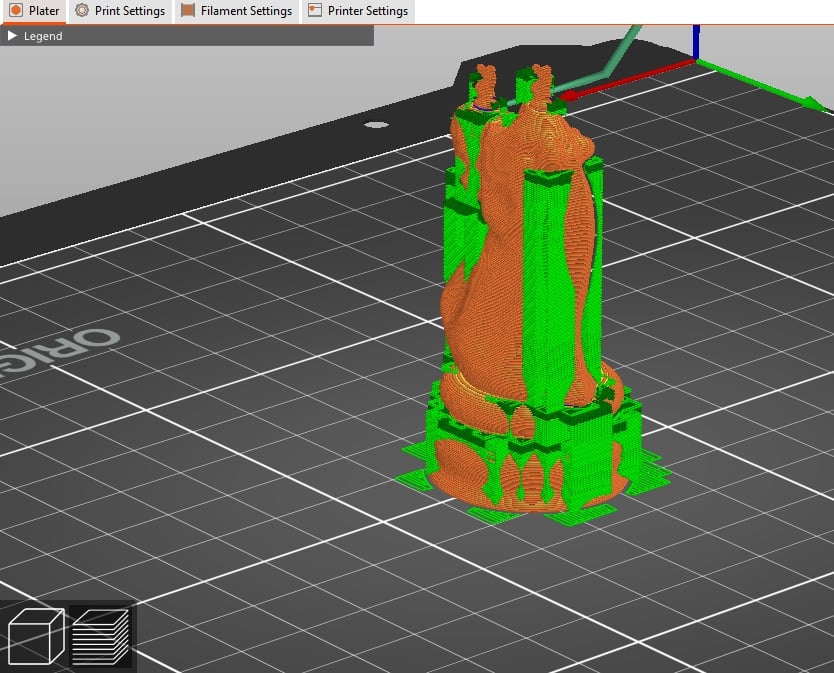 Basically, you just need to place the support blockers where the support meets the model by right-clicking on that particular area. Once that area is highlighted, it turns red.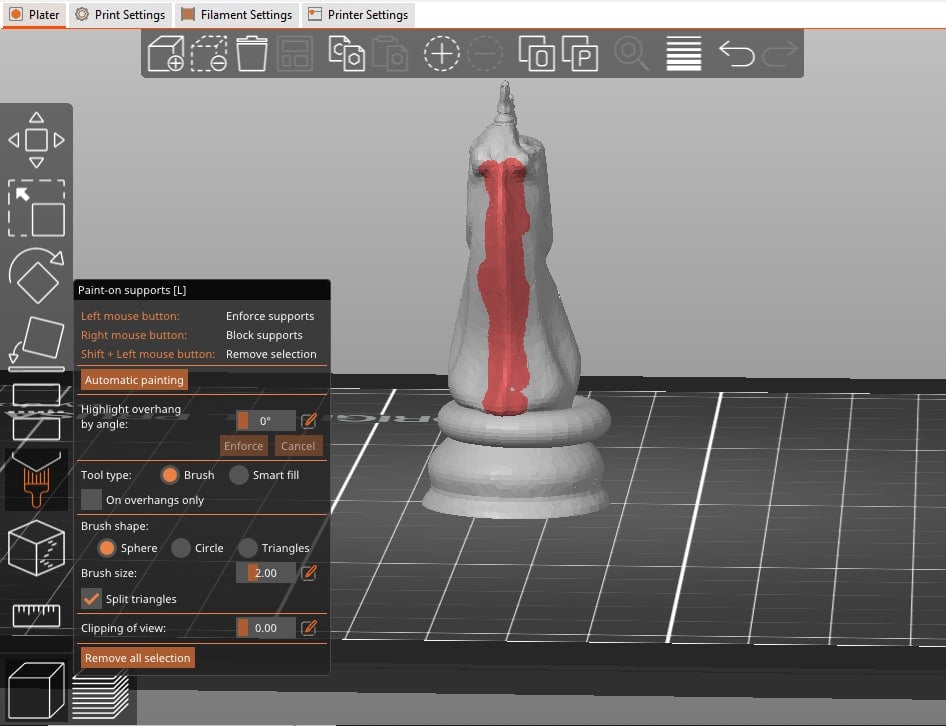 After placing the support blocker, slice the model to view the supports generated.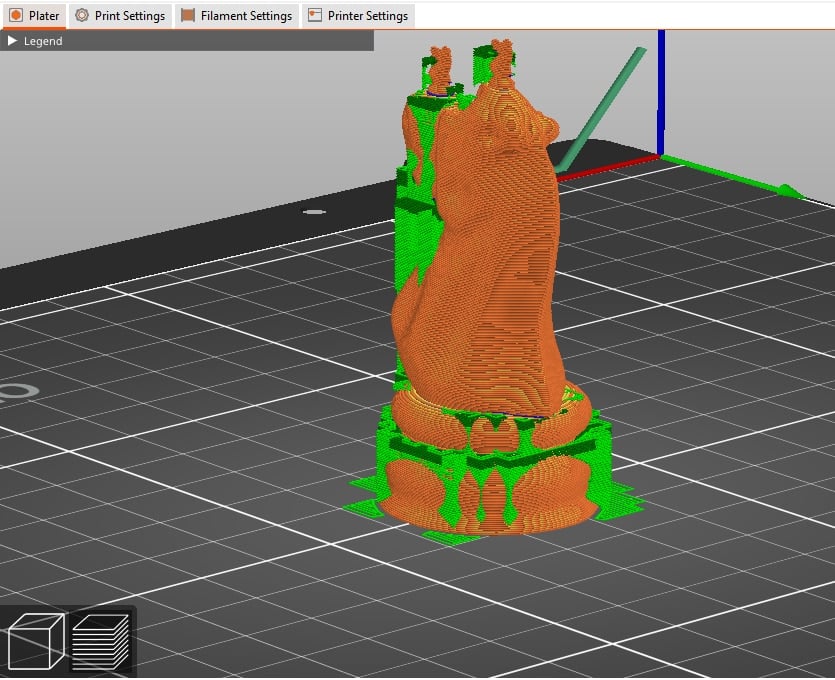 Support Enforcers, on the other hand, are used in cases where only a few parts require supports, but the supports are generated all over the model.
Simply place the support enforcers on the areas you want the supports and switch the support mode to "For support enforcers only".
Another interesting use of support enforcers is to split long bridges into smaller ones by placing support in the middle of the bridge. You can repeat this process and print shorter, near-perfect bridges while still making the supports easy to remove.
Overhang Threshold

The Overhang threshold is the minimum angle (when measured from the horizontal plane) that certain parts of a model will be printed without supports. This value has a direct influence on the number of supports generated on your model.
On PrusaSlicer, it has a default value of 45°, although it can be tweaked between 0° and 90°. When it's set to 90°, all parts of the model will be supported and at 0°, there will be no supports on the model.
Therefore, the lower the overhang value, the lower the number of supports generated, and vice versa. While you may be tempted to set this a higher value to generate more supports, you need to understand that you may end up having supports in areas that don't need them.
This may lead to filament wastage and an increase in print time.
To view what parts of your model will be supported, you can simply look for the areas shaded in blue. When you increase the Overhang threshold or the angle that should have supports, you should see more blue areas.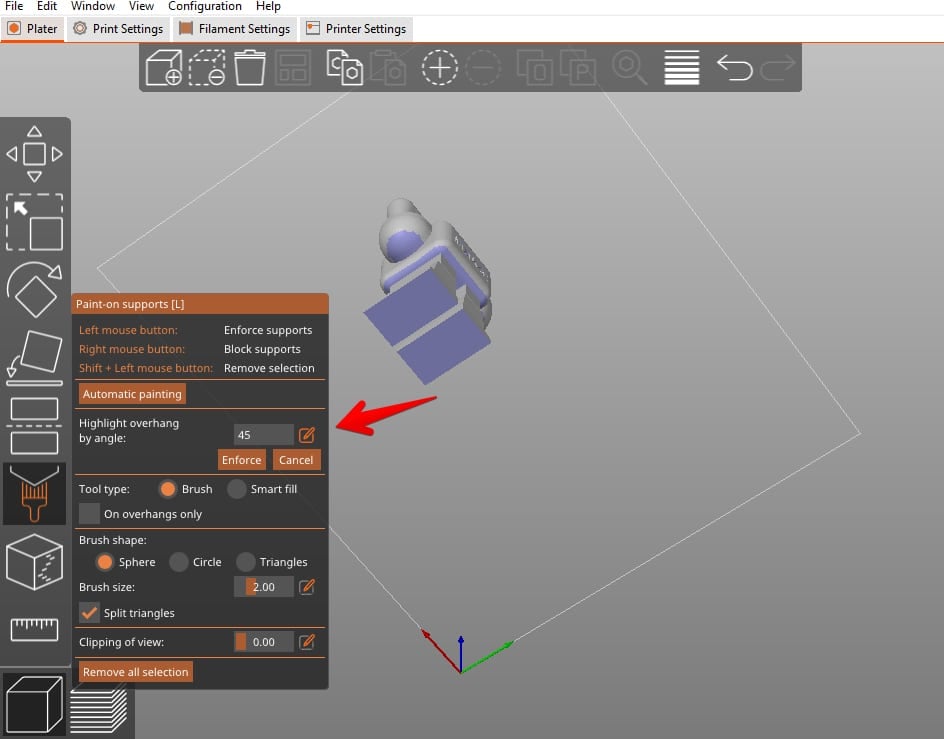 After setting your overhang threshold, you can automatically paint supports on your model.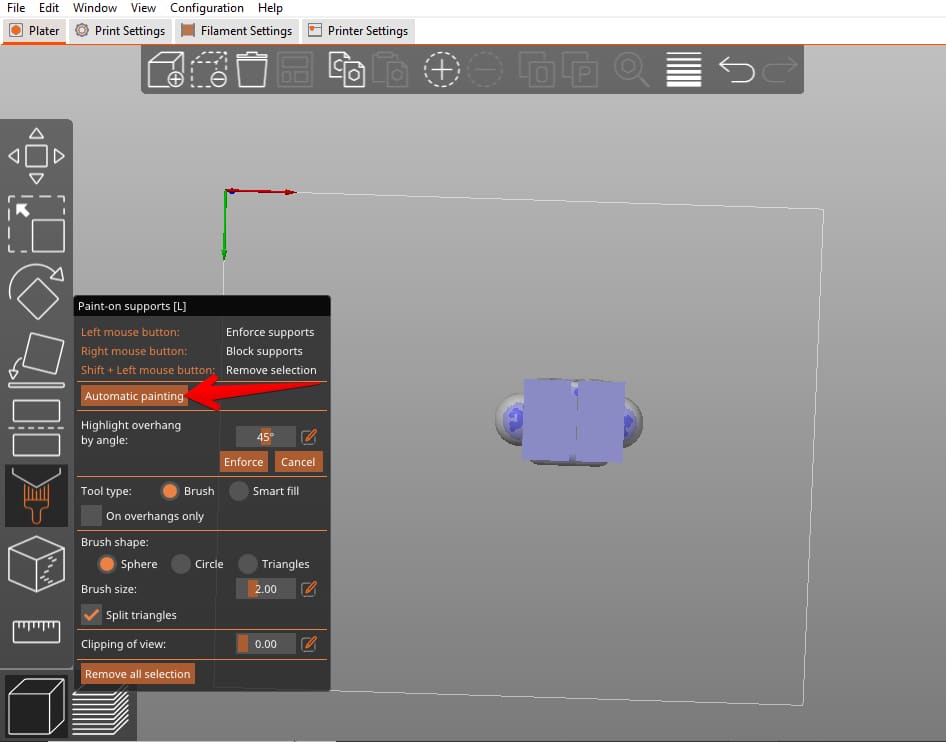 Style
PrusaSlicer support style refers to the outlook or shape of the support structure of the material.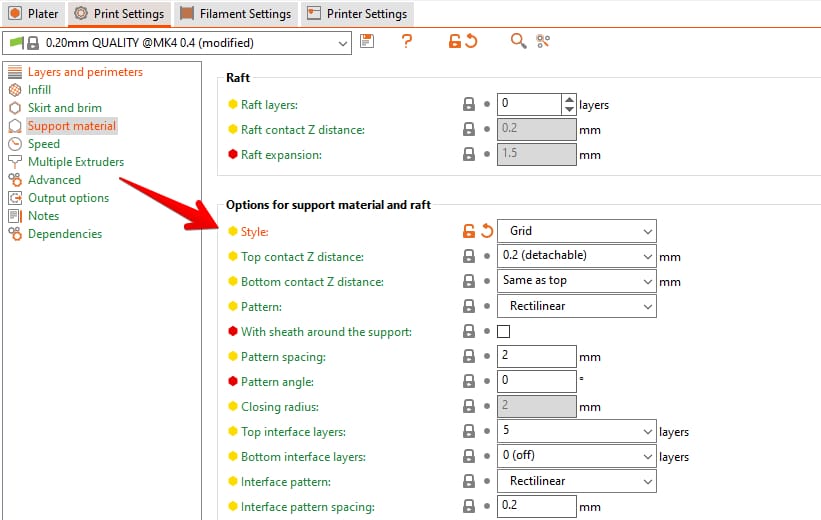 There are three types of support styles on PrusaSlicer, they include:
Grid
Grid is the default support style on PrusaSlicer. They have a well-defined structure, making them very stable. Although, they tend to extend out of the outer walls of your model, which could waste filament and also create blemishes on its surface.
They are much easier to remove when compared to the Snug support style.
Grid supports come in handy in thin overhangs where the stability of the support structure being printed is very important to the success of the print. They also work well with models that have a well-defined structure or parts that have flat or straight faces.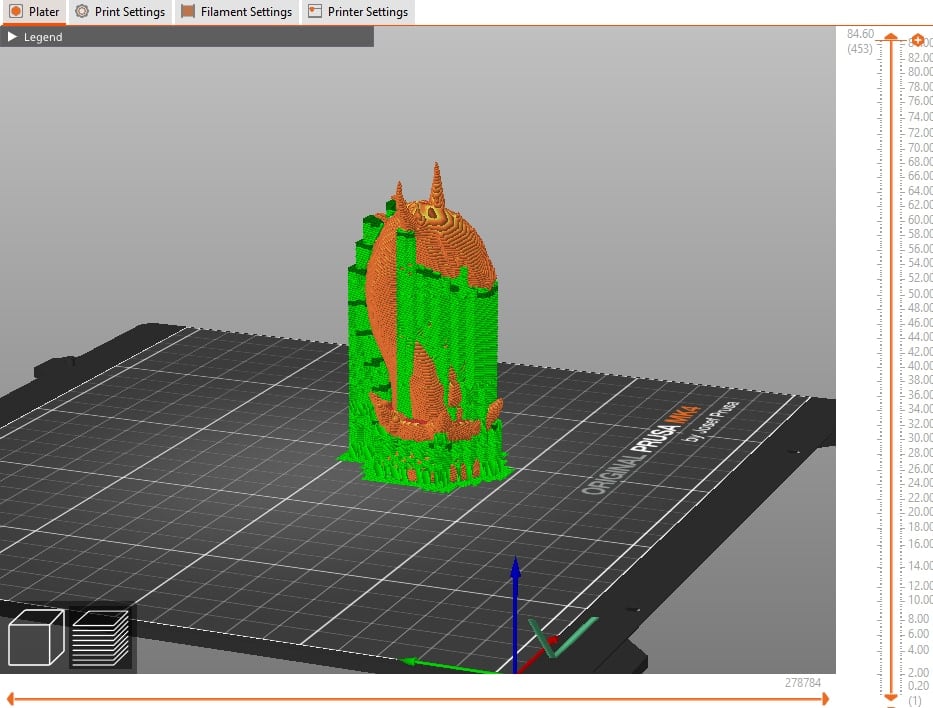 Snug
Just like its name implies, the snug support style aims to maintain the shape of the overhang by not creating any extrusions on the outer wall. As a result, it can save filament.
The downside to this type of support style is that they are much more difficult to remove and often tend to scar the exterior of the model. Also, they don't provide enough stability for models.
They are often used for models with rounded sides or models that do not have sharp edges.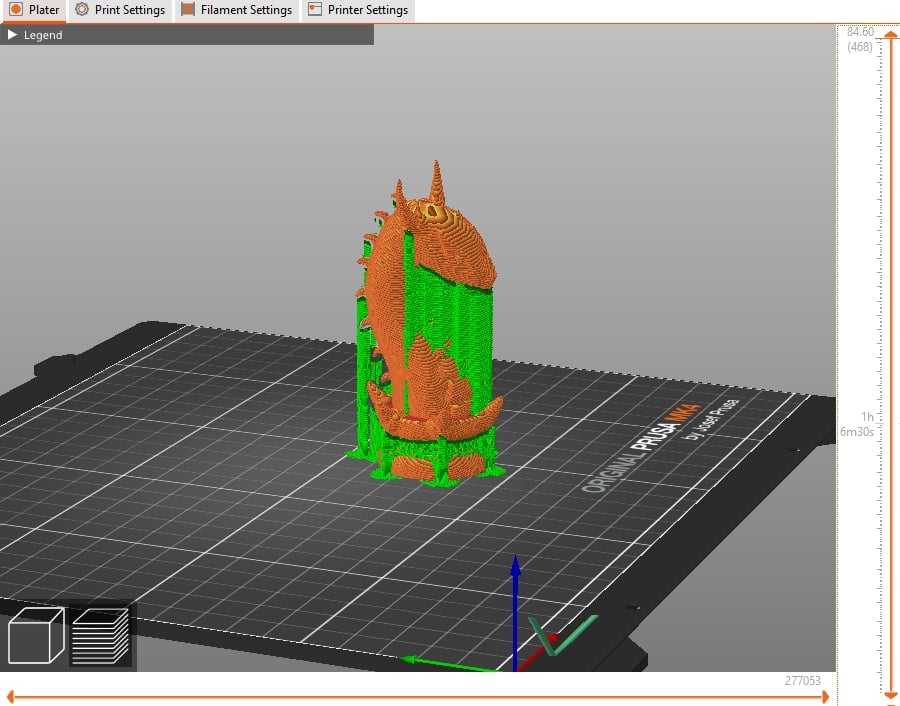 Organic
Organic is Prusa's latest addition to their support styles. They offer a completely different approach to supporting overhanging areas. These support structures are made up of branches that grow from the sides and automatically get denser beneath parts that need support.
As a result, they almost do not come in contact with other parts of the model that do not require support.
Organic supports are easily removable, do not scar the surface, and are fast and cheap to print. Organic supports are often recommended for free from objects or models, like human faces or models with complex shapes.
One thing to note is that these organic supports often have bed adhesion problems. To counter this, you can increase the first layer expansion settings on your slicer setting. The first layer expansion setting determines how wide the base of support would be.
For optimal adhesion, you would want to create a larger contact area between the bed and the support.
While it has a default setting of 3mm, you can increase this value until you get optimal results.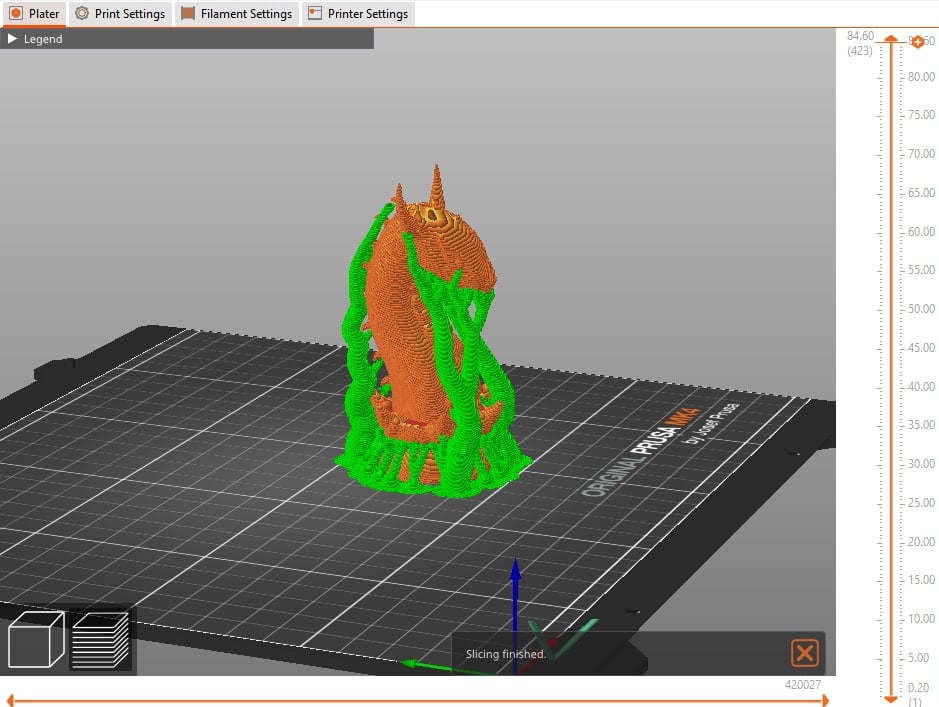 One user stated that organic supports helped him save about half an hour from his completed print. He said it wasted much less material and was much easier to remove.
At first, he was a bit skeptical about how little the supports seemed in comparison to snug supports, but it still came out flawless.
Here is a video from Maker's Muse for more information on where and how to use the various types of support styles.
Raft Layers

Raft Layers add a number of layers specified by the user to the bottom of the model. These added layers are filled with support material to create extra stability for the models during printing.
Once the print finishes, you can grab the raft and peel it away from the model.
While this is not usually required to successfully print most models (since its default value is zero), you can between 1-3 layers depending on the level of stability it requires.
Raft Contact Z Distance

Raft contact Z distance is the vertical distance between the raft and the object. This is usually negligible for soluble interfaces. The closer the raft is to the model, the harder it is to separate it from the model.
A raft contact distance of 1mm should be optimal for your models during printing.
Top and Bottom Contact Z Distance

The top and bottom contact Z distance determines the vertical distance between the model and the support material interface both at the top and at the bottom of the support structure.
This gap ensures that the support can do its job while also being easily removable. You'd want to make sure that the Z distance is not too low or too high.
If the distance is too low, the supports can merge into the surface of the model, making it difficult to remove and also scaring the model. If it is too high, the support material becomes redundant as it cannot perform its primary job.
For this reason, Prusa recommends values between 50-75% of the layer height for optimal results.
One user stated that his Top Z Contact is always double his layer height. As a result, the support structure comes out clean and is also very easy to remove as well.
Pattern

Support patterns refer to the specific infill patterns employed in creating support structures. Since supports are not hollow, the choice of infill pattern significantly impacts their structural integrity and the ease with which they can be removed.
There are three types of support patterns available for use on PrusaSlicer:
Rectilinear – This is the default pattern for printing on PrusaSlicer. The rectilinear pattern consists of straight parallel connecting lines making up the interiors of the support structure. They are the easiest to remove and use the least filament for creating supports. A rectilinear support pattern would be adequate for most printing cases except in special cases.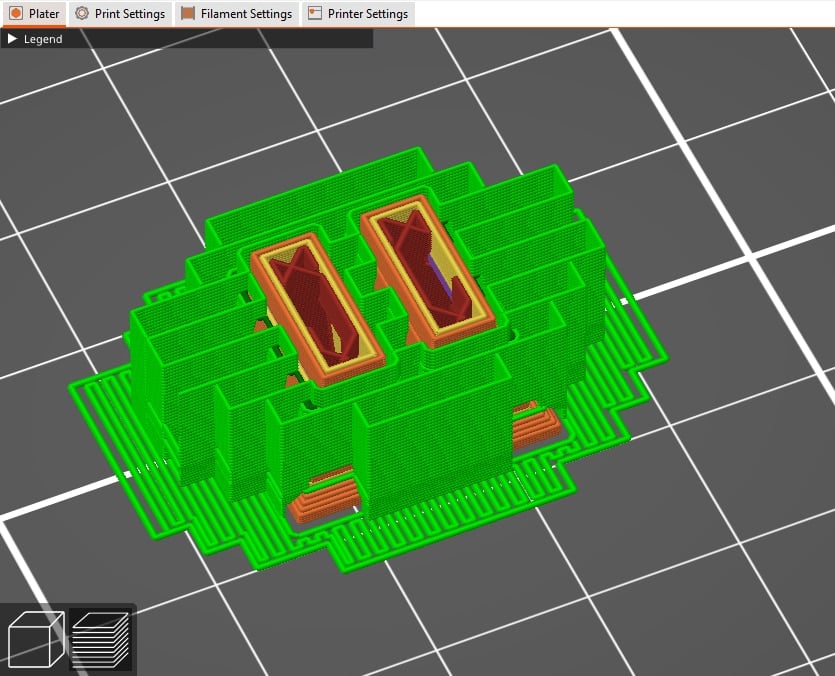 Rectilinear Grid – These are much sturdier and less prone to breaking during printing compared to rectilinear infill. This is because of the interconnecting lines that make up this pattern.  However, they are much harder to remove.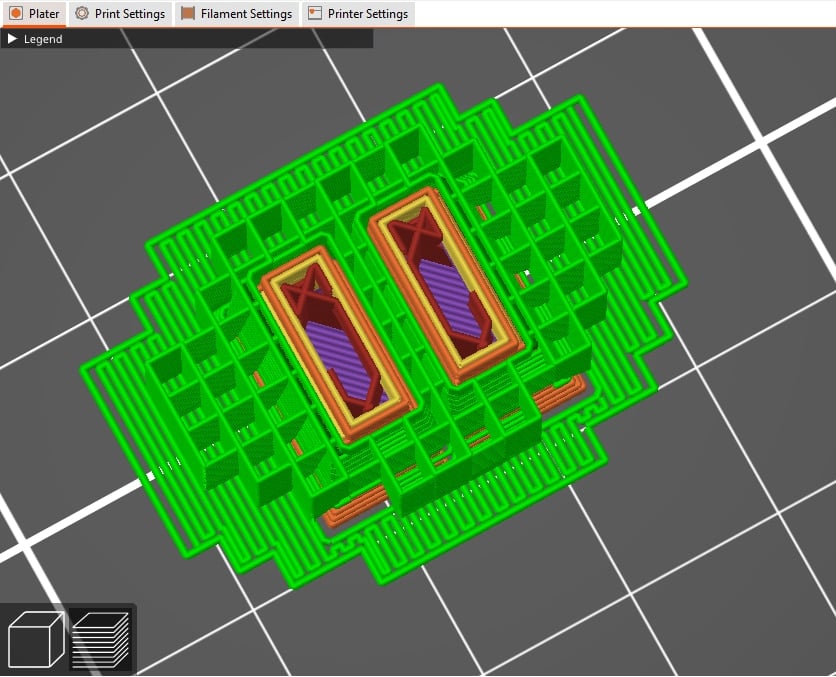 Honeycomb – The honeycomb pattern is the most rigid support pattern on PrusaSlicer. It consists of an array of hexagons which ensures the stability of the prints. As a result, it is much more difficult to remove, and it uses more filament.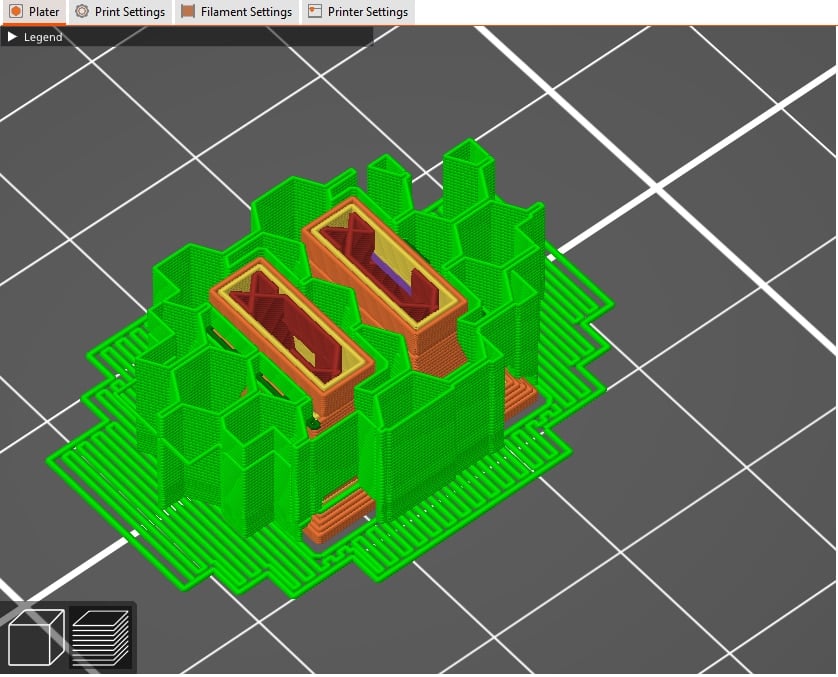 Pattern Spacing

Pattern spacing is the distance between the support material lines. It refers to how tightly packed the support materials are.  The more the spacing, the easier it is to remove the supports.
However, the more you increase the spacing, the less likely the supports would be able to carry the overhangs and bridges on the model and vice versa.
The default value for pattern spacing is 2mm, which should be adequate for all your printing needs. Although, you can still get optimal supports structures between 3-6mm, which also allows you to save materials and print time required to build the support structure.
You just have to find a sweet spot that works for your model and you're good to go.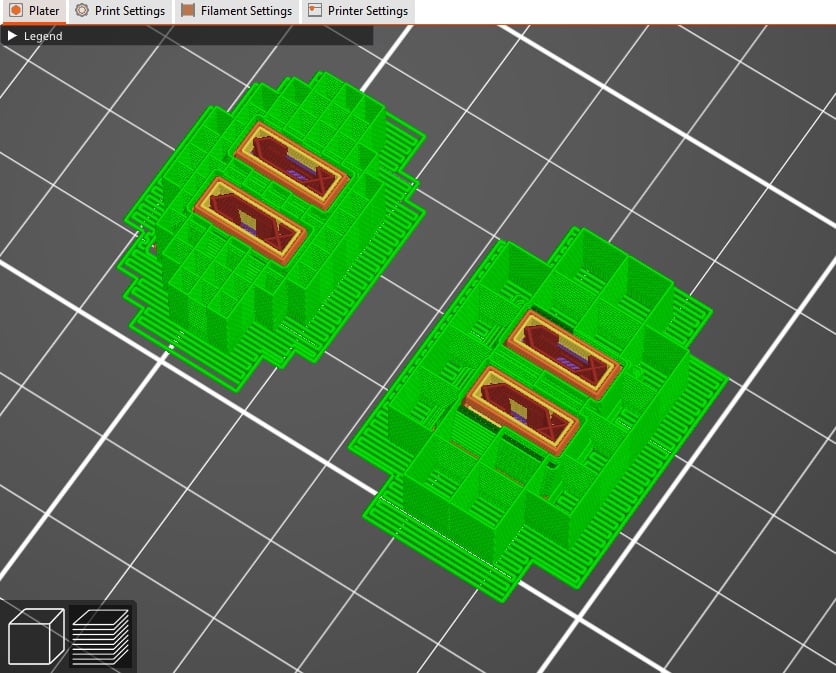 Interface Layers

Interface Layers are the part that touches the 3D print directly, and they are a bit denser than the rest of the support structure. More interface layers create a strong connection that makes supports harder to remove.
If you use fewer interface layers, there will be less support material tightly attached to your model. This makes it easier to remove supports because there's less contact with the object.
For best results, you can set the number of layers between 1 and 4 (for both top and bottom interface layers). This would provide a strong connection while still making it easy to remove supports.
Interface Pattern

Interface Pattern refers to the pattern of the layer that directly touches the 3D printed part that is to be supported. This could be rectilinear or concentric.
Rectilinear interface pattern is recommended for non-soluble supports interface while concentric is recommended for soluble supports interface.
Interface Pattern Spacing

The Interface pattern spacing is the distance between the interface layer touching the 3D printed model. The more the spacing, the easier it is to remove and vice versa.
You'd want to tweak this setting till you get optimal results. The default interface pattern spacing on PrusaSlicer is 0.2mm which should be adequate for printing.
XY Separation between an Object and Support

The XY separation between an object and support determines the width of the gap between the model and support. A large XY separation will decrease the contact area of supports but make them easier to remove and less prone to merging with the print.
This can be expressed either in mm or percentage. If it's expressed in percentage (for example 200%), it will be calculated with respect to the external perimeter width.
One user stated that the default slicer settings works well for him after some minor tweaks. He recommended increasing the XY separation distance to 0.2mm or larger.
Maximum Branch Angle

The maximum branch angle refers to the maximum angle of the path that branches follow when avoiding the model.
A lower angle will mean that branches are much vertical and more stable, and a higher angle implies that the branches can have more reach since they can easily avoid the model. Although, the branches would be less stable. This is only applicable to organic supports.
Branch Diameter

The branch diameter is the diameter of the thinnest branches of organic supports. Thicker branches are sturdier, but they increase the overall print time and waste more filament. A branch diameter of 2mm is recommended.
You can increase this value if the model will be very heavy so that the branches do not break during printing.
Branch Distance

Branch distance determines the spacing between the branches when they make contact with the model. A smaller distance implies that the branches will touch the model at more points, giving the required support but making them much harder to remove.
One user shared his PrusaSlicer support settings. He stated that he uses a 0.25mm Z distance, 75% XY distance, 3mm support spacing, 4 interface layers, and 0.2mm interface layer spacing.
He said that with these settings, the exposed support pulls off easily and any entangled part (e.g. between legs) requires cutting to separate before pulling apart. These settings worked well for PLA on both his 0.25mm and 0.4mm nozzles.
Another user stated that he found the default PrusaSlicer settings very difficult to remove. He said he was able to easily peel off the supports with these settings.
Contact Z Distance: 0.2mm
Rectilinear Pattern
With sheath around the support: disabled
Pattern spacing: 3mm
Pattern angle: 0
Interface layers: 4
Interface pattern spacing: 0.24mm
Interface loops: disabled
Support on build plate only: enabled
XY separation: 75%
Don't support bridges: enabled
This should help guide you on choosing some of the best PrusaSlicer settings for your 3D printer.