10 Ways How to Improve 3D Printer Tolerance for Tight Fits
Getting parts to fit properly is a problem many amateur manufacturers face when assembling their 3D printed parts after printing. To solve this problem, you're going to need to improve your 3D printer's tolerance to ensure you get the desired fit, tight or otherwise, between your parts.
You can improve your 3D printer's tolerance for tight fits by calibrating your Extruder's E-steps and flow rates properly. You can also improve this by making sure your printer's components are properly tuned and tightened, and also by using the right slicer settings.
In this article, we'll show you how to apply these fixes to improve your printer's tolerance and get that perfect fit on all your assemblies. We'll also provide some tips on how you can properly test your printer's tolerance and design parts for it.

How to Improve Your 3D Printer's Tolerance for Tight Fits
There are several ways you can tune your printer and calibrate its settings to achieve low tolerances and tight fits. In cases where we aren't able to achieve tight fits from the printer, there are still several ways to ensure our printed parts fit together.
Let's go through these methods:
Calibrate your printer
Make sure you have a good first layer
Use the Horizontal Expansion setting
Slow down Print Speed
3D print a temperature tower
Use filament with tighter tolerances
Scale up model to compensate for shrinkage
Use the outside to inside Wall Ordering setting
Design the part with the right clearance
Post-process with drilling and sanding
1. Calibrate Your Printer
Making sure your printer's components are well calibrated is the best way to achieve low tolerances and tight fits consistently. This applies to both the software and hardware components of your printer. You can see an example of a well-calibrated printer from this video below.
All the joints, gears, hinges, etc., on the model move easily after printing without needing any force to pry them apart.
Some calibration steps you can carry out include:
Tighten your printer components
Calibrate your extruder's E-steps and flow rate
Tighten Your Printer Components
Check the belts, eccentric nuts, bolts, gantries, and all other components on your printer to make sure they are properly tightened and tensioned. Also, if you notice any wear on them, replace them immediately.
If these components are out of calibration, it can lead to vibrations and inaccurate movements which will result in dimensional inaccuracies. You can use this video as a guide to identify and repair any parts that require re-calibration.
Calibrate Your Extruder's E-Steps and Flow Rate
The Extruder's E-steps determines how many steps the extruder takes to extrude 1mm of filament. If this setting isn't properly calibrated, the printer might over or under-extrude filament leading to an inability to achieve tight tolerances.
So, you have to calibrate this value to make sure you achieve the perfect extrusion. You can learn how to calibrate it in our guide on How to Calibrate Your Extruder E-Steps & Flow Rate Perfectly. You can also follow the video below if you need more help.
The article also contains tips on how you can tweak another important parameter, the Flow Rate. Some users have found out that tweaking their flow rate in the slicer can help them achieve the tolerance they want.
However, if your printer is properly calibrated, your flow rate should not be an issue.
2. Make Sure You Have a Good First Layer
The first layer sets the tone for the rest of the print. If you have a bad first layer riddled with errors like elephant's foot and shifted layers, you can have trouble with the model's dimensional accuracy.
So, make sure you level your build plate properly and tune all your other first-layer settings to get a good first layer. You can also follow this guide to learn how to level your bed and get rid of issues like elephant's foot.
One user improved their 3D printer's tolerance by changing their first layer settings. They changed the first layer height from 0.2mm to 0.3mm, used a raft, and increased the first layer flow. After this, they were able to achieve tighter tolerances.
3. Use the Hole Horizontal Expansion Setting
The Hole Horizontal Expansion setting in Cura scales up you're the holes in your model by a set amount to compensate for shrinkage. You can use this setting to ensure you always get the right tolerance and fit on all your holes.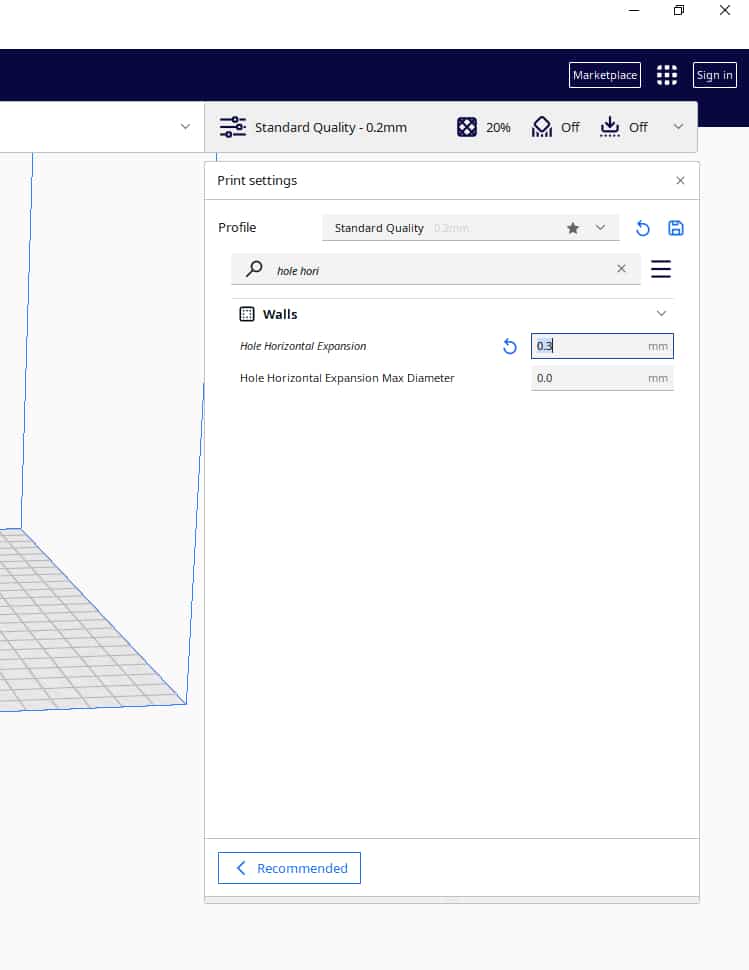 You can use this Horizontal Hole Tolerance Calibration Test for better accuracy, along with a pair of digital calipers like these NEIKO Electronic Digital Calipers from Amazon.
[amalinkspro type="showcase" asin="B000GSLKIW" apilink="https://www.amazon.com/dp/B000GSLKIW?tag=3dly-20&linkCode=osi&th=1&psc=1″ new-window="true" addtocart="false" nofollow="true" sc-id="6″ img-sizes="500:500″ imgs="https://m.media-amazon.com/images/I/41WMvppQQrL._SL500_.jpg" link-imgs="false" specs="MULTI-FUNCTION: This measuring tool has a quick-change button that changes between three measuring modes such as inch, fraction, and millimeter to make conversion a snap during measurement. Our metric caliper measuring tool is splash and dust resistant." btn-color="#ff9900″ btn-text="Buy on Amazon" alignment="alignnone" hide-prime="0″ hide-image="0″ hide-price="0″ hide-button="0″ width="600″ banner="" alt="NEIKO 01407A Electronic Digital Caliper Measuring Tool, 0-6 Inches Stainless Steel Construction with Large LCD Screen Quick Change Button for Inch Fraction Millimeter Conversions, Digital Caliper Me"]NEIKO 01407A Electronic Digital Caliper Measuring Tool, 0-6 Inches Stainless Steel Construction with Large LCD Screen Quick Change Button for Inch Fraction Millimeter Conversions, Digital Caliper Me[/amalinkspro]
To use this setting, print four rings with internal diameters of 10mm, 15mm, 20mm, and 25mm respectively. After printing them, measure their internal diameters with a caliper and subtract the diameter you get from their designed diameter to get the error.
Add all the errors together and divide them by 4 to get the average error. Divide the average value by 2. This is your Hole Horizontal Expansion Setting.
Note: Make sure you place a minus before the value to make it negative!
Check out the video below to see an example of this in action.
4. Slow Down Print Speed
Printing at slow speeds is another method you can use to cut out errors in your model and achieve tight tolerances. At high speeds, vibrations and sharp motions can affect the nozzle, making the printing less accurate than usual.
Also, the probability of over and under-extrusion becomes higher when you print at these speeds. So, to maintain tight tolerances, you should turn the speed down a bit.
One user said he prints in the 30-40mm/s range whenever he needs dimensional accuracy.
5. 3D Print a Temperature Tower
You should also ensure that you're printing at the correct temperature recommended for the filament. An incorrect temperature will lead to under or over-extrusion which can cause dimensional inaccuracies.
You can learn how to fine-tune your printing temperature in this article on 3 Ways How to Use a Temperature Tower for Optimal 3D Prints.
6. Use Filament with Tighter Tolerances
Using better filament results in a more accurate extrusion which makes it easier for the printer to achieve tight tolerances. As I said earlier, most brands offer a tolerance of 0.05mm which should be enough.
However, if you want more accuracy, you should go with a high-quality brand like Hatchbox. They provide several PLA and ABS filaments that are extremely easy to print with and produce dimensionally accurate prints.
7. Scale up Model to Compensate for Shrinkage
When you're designing parts for manufacturing with a 3D printer, make sure you allow for shrinkage. Shrinkage varies from material to material, so there's no standard formula for calculating it. You can check out this guide on PLA, ABS & PETG Shrinkage Compensation in 3D Printing.
Also, be careful when printing temperature-sensitive materials like ABS and Nylon. Too much cooling can ruin the dimensional accuracy and cause shrinkage. Make sure you use a heated bed and enclosure when printing with these materials to get the best results.
8. Use the Right Wall Ordering Setting
The Wall Ordering setting in your slicer determines which walls get printed first in the 3D model. For the best accuracy, you should always ensure that the outer walls get printed first.
If the inner walls get printed first, the additional walls printed will add to the part's dimension and make it thicker than required. So, always make sure the setting is on Outside to Inside when you're printing dimensionally accurate models.
9. Design the Part with The Right Clearance
Your part design plays a big role in how well the final parts will fit together. If the fitting part and the hole are the same size, the parts will not be able to fit together.
Most 3D printing enthusiasts recommend leaving a clearance of 0.15-0.25mm for a tight fit and 0.3-0.4mm for a sliding fit. For example, if you want a tight fit between two parts measuring 20mm, the fitting part will be 19.8mm while the hole will be 20mm.
Once you follow these steps, you should be able to significantly improve your 3D printer's tolerances.
10. Post-Process with Drilling & Sanding
Sometimes, you might not be able to get the right tolerances you want during printing. However, you can still make the parts fit with a bit of post-processing.
There are two main technique's for post-processing 3D prints for better tolerance:
Ream or drill the holes after printing
Sand down the fitting part
Ream or Drill the Holes After Printing
This is a technique most 3D printing enthusiasts use to get accurate holes. They print the holes in a much smaller size, then they use a drill or a reamer to widen it to an accurate size.
For example, assuming the hobbyist requires a 5mm hole, they print a hole with a 3mm diameter, then widen it with a 5mm drill bit or reamer for an accurate hole.
Note: Avoid using power tools on PLA as the material can melt due to the heat.
Sand Down the Fitting Part
If the fitting part of the 3D print is too big for the hole, you can sand it so it fits right into the hole. Just go over it a few times with some 200-grit sandpaper to remove some layers, and it should fit right into the hole.
How to 3D Print a Tolerance Test
Before you start improving your 3D printer's tolerance, it's a good idea to know your printer's capabilities. There are many tests available that you can print out on your machine to know just how tight tolerances your printer can handle.
Let's look at some of the most helpful ones:
The Maker's Muse Tolerance Gauge
The Lost In Tech Tolerance Gauge
The Maker's Muse Tolerance Gauge
The Tolerance gauge is a simple, yet very helpful test model from Maker's Muse. It's a circular model surrounded on its edge by several cylinders. These cylinders are in holes on the printer's edge and technically should have enough space to rotate.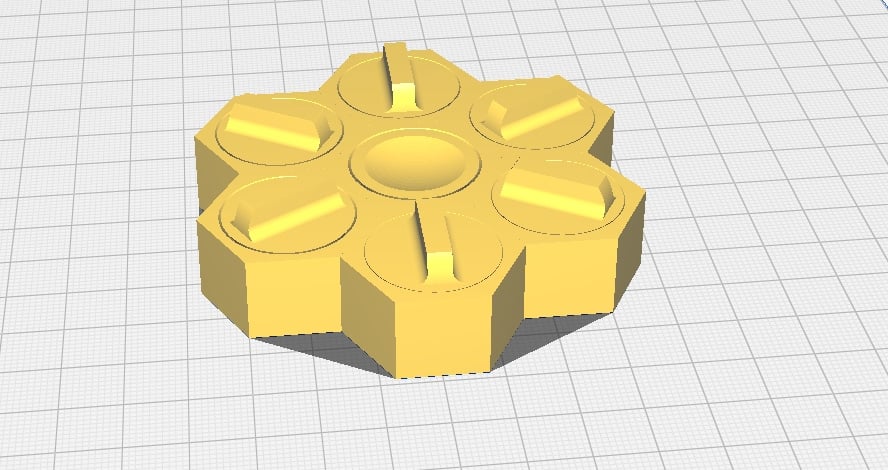 However, the clearance between each cylinder and its hole gets smaller as you go around the model. So, the cylinder with the smallest clearance that can rotate is your printer's tolerance.
For example, if the cylinder with the 0.15mm clearance is fused to its holes, while the cylinder with 0.2 mm clearance can rotate, then your printer's tolerance is ±0.2mm.
Also, according to some 3D printing enthusiasts, it's all dependent on your layer height. For example, if you're printing with a 0.2mm layer height, the 0.2mm cylinder should be able to rotate freely.
If you're using a 0.15mm layer height, the 0.15mm cylinder should be able to rotate freely.
Most people find a 0.2mm tolerance acceptable. So, you should be good to go once all the cylinders apart from the 0.15mm cylinder are free to rotate.
If these cylinders fail to rotate, you can apply any of the fixes we specified above to improve your printer's tolerance and get them to rotate.
Also, check the bottom of the model before you start applying the fixes. Sometimes a poor first layer can lead to the bottoms of the cylinder being welded together. You can avoid this by properly tuning your first layer or by using a raft to protect the test's bottom.
You can purchase this model from Maker's Muse for $1.99 on Gumroad, at time of writing. If you can't purchase the model from Maker's Muse, you can download this free Tolerance Test by GameRank from Printables.
The Lost In Tech Tolerance Gauge
The Tolerance Gauge is another test you can use to determine the tolerance of your printer. It consists of a template with round and square holes and a series of pegs with varying clearances. These clearances vary from 0-0.5mm.
As you move to the left or right on the template, the sizes of the holes decrease and increase respectively.
To determine your tolerance, take one of the pegs and place it in the hole in the center. If your part has a clearance of 0.2mm, use the peg with two dots at the back, if it has a clearance of 0.3mm, use the peg with three dots. If it fits, your tolerance is good to go.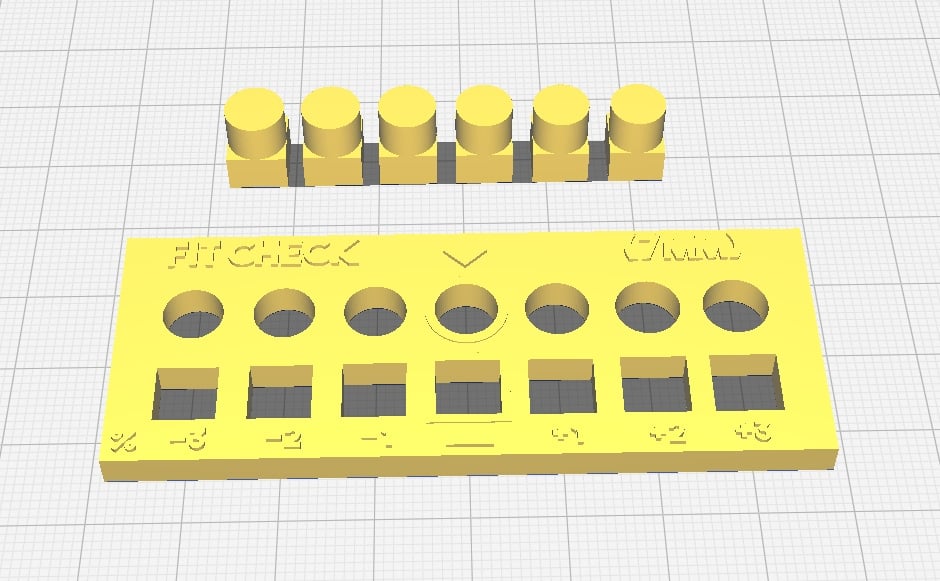 If it doesn't fit, then continue placing it in other holes.  The holes where it fits tightly are the right tolerance for your machine. For example, if a peg with a 0.2mm clearance fits in a +2 hole, then you will need to make your holes 2% bigger for a good fit when designing.
If you want to use this test to calibrate your printer, you can apply any of the fixes we mentioned above instead of making your holes bigger. For example, if you notice that a pin only fits in a hole that's 2% larger than the standard size, you might want to check the extrusion.
Note: Before you print any of these tests, make sure your printer is well-calibrated. Your bed should be level, your extrusion settings should be set to their optimal values, etc.
By implementing the techniques discussed in this article, you can enhance the precision of your 3D printer and achieve impeccable tolerance for tight fits. Whether you're a hobbyist or a professional, these methods should help improve the quality and accuracy of your 3D printing projects.
Good Luck and Happy Printing!