Creality Launches Ender-3 S1 Plus – the Sizeable 3D Printer for Prosumers (Sponsored)
300 x 300 x 300 mm build volume unlocks more creative possibilities.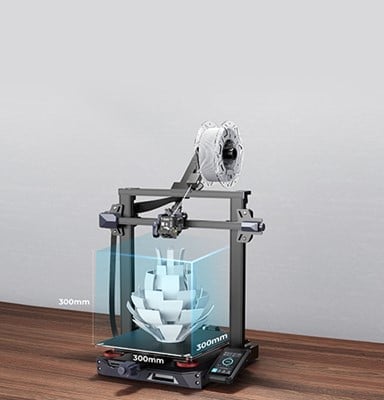 Creality, a global 3D printing pioneer and creator of several market-hit products, has recently launched Ender-3 S1 Plus, the latest innovative addition to its flagship Ender-3 S1 series.
Compared to the previous editions, Ender-3 S1 and Ender-3 S1 Pro, Ender-3 S1 Plus has the largest build volume in the fleet. With a print speed up to 150 mm/s, Ender-3 S1 Plus has triggered vivid discussions and favorable reviews in the 3D printing community since its debut in June.
A full-scale upgrade of the bestseller Ender-3 S1, Ender-3 S1 Plus is an FDM printer that expands its build volume from 220 x 220 x 270 mm to 300 x 300 x 300 mm, enabling 3D printing enthusiasts to create larger prints or more parts in one run.
In response to the positive reviews of the series from users, Creality continues to equip Ender-3 S1 Plus with the high-quality "Sprite" full-metal dual-gear direct extruder and the smart-controlled CR Touch auto-leveling system.
This enables the product to maintain the industry benchmarks by supporting four filaments with different properties and stable printing with convenience and speed.
"Sprite" Dual-gear Direct Extruder
Ender-3 S1 Plus adopts a high-performance "Sprite" extruder with a weight of only 210g. The compact and lightweight design sufficiently reduces vibrations and ensures good print quality and high speeds at the same time.
Its full-metal body has superior heat distribution capability and can process a wider range of filaments up to 260°C and is ideal for flexible materials such as TPU. Its dual gear system enables the extruder to feed or retract the filament more precisely and smoothly.
Unlike a traditional Bowden extruder through which the filament may easily get tangled or clogged, the "Sprite" direct extruder requires less torque from the motor to push the filament, while generating an extrusion force of up to 80 Newton with the 3:5:1 gear ratio.
CR Touch Automatic Leveling
Print bed leveling has always been a pain point that haunts many users. An unlevel bed may result in problems with print adhesion and the quality of the first layer, while manual leveling requires experience and can be time-consuming.
Therefore, the CR-Touch 16-point automatic leveling firmware is installed in Ender-3 S1 Plus to address this issue. An optical sensor that can measure the distance more reliably guarantees hands-on and worry-free leveling and helps users achieve better first layer and print quality.
Dual Z-axis Leadscrews
The synchronized dual Z-axis leadscrews of Ender-3 S1 Plus are another solid assurance of print quality and success rate. This dedicated design avoids tilt and wobble problems of the X-axis gantry and hence helps produce prints with finer details and no Z banding lines.
Smart Printing Recovery
Unexpected power outage or filament runout may interrupt the print process and result in failures.
For those 3D printing hobbyists who usually leave their printers on while occupied with other things, an intelligent sensor is equipped in Ender-3 S1 Plus to fully recover the print status without any time or filament waste after the incident occurs.
The printer will automatically pause the printing when a power lapse happens and resume the process once the electricity is restored. In a filament runout scenario, the filament flow will immediately stop and retract, and the printing will not be affected after a refill.
User-Friendly Features
Ender-3 S1 Plus also has several user-friendly features apart from the above innovative designs.
To create a noise-free environment for users, a 32-bit silent mainboard is integrated into the machine, which is proven to have successfully reduced noises under 50db, a sound level equivalent to a quiet conversation.
The build surface of the printer is covered by a durable PC spring steel magnetic sheet, a combination of PC coating, spring steel sheet and magnetic sticker.
Compared to a carbon silicon crystal glass print bed, the prints can more firmly attach to the surface of the platform and easily be removed by bending the print sheet when finished.
Ender-3 S1 Plus is also equipped with a 4.3-inch color touch screen embedding an accessible UI that supports 9 languages, including English, Spanish, German and French. The eco-friendly screen automatically dims after three minutes if left idle, saving more energy.
Compared with the knob screen of Ender-3 S1, it offers a seamless click-to-control experience to users.
On the side of the extruder, an X/Y-axis screw tensioner is installed to adjust the belt tightness, making it easier to reduce the risk of layer shifting without applying any tools. A drawer is also added to the bottom of the machine for holding tools and spare parts.
Easy and Quick Assembly
96% preassembled, Ender-3 S1 Plus takes only six steps to set up. For DIY enthusiasts and 3D printing beginners, Creality offers a detailed manual and online video guide to provide a smoother assembly experience.
Colorful Add-ons
To meet the diverse needs of users, Ender-3 S1 Plus is compatible with a wide range of add-ons. The printer has preset ports for an LED light bar, a necessity for the printings at night.
Users can also mount a laser engraving head to the printer, turning it into a laser engraver with no need to buy a separate machine.
Creality Wi-Fi Cloud Box 2.0, an essential part of the Creality ecosystem, offers real-time remote control and slicing functions. Users can simply manage their prints on the interface and capture moments by time-lapse to share with friends.
Additional Specs
Machine Dimension: 557 x 535 x 655mm
Package Dimension: 625 x 590 x 230mm
Net Weight: 10.2kg
Gross Weight: 13.4kg
Printing Precision: 100mm±0.2mm
Layer Height: 0.1-0.4 mm
Filament Diameter: 1.75 mm
Heat Bed Temperature: Up to 100°C
Nozzle Temperature: Up to 260°C
Rated Voltage: 100-120V, 220-240V, 50/60 Hz
Data Transmission Method: Type-C USB/ SD card
3D File Format: STL/OBJ/AMF
Supported Filament: PLA/ABS/TPU/PETG
Supported Language: Chinese, English, Spanish, German, French, Portuguese, Italian, Russian and Turkish
Nozzle Quantity: 1
Nozzle Diameter: 0.4 mm
Rated Power: 350W/24V
Slicing Software: Creality Slicer/Cura/Repetier-Host/Simplify3D
Price & Availability
Ender-3 S1 Plus is available at the official Creality store and other e-commerce platforms for $529 in the United States and Europe. It is also available on Amazon at the price of around $550 at time of writing.
Purchases made at the official store will be discounted. Later this year, Creality will also be adding new products to the Ender-3 series.
About Creality
Creality is a global pioneer in the 3D printing industry that focuses on the design, research and production of affordable smart 3D printers and 3D printing-related products.
With open-source compatibility and user-friendly technology, Creality is the creator of several market-hit products and has expanded its footprints across more than 192 countries and regions worldwide.
They have introduced 3D printing concepts to homes, schools, factories and other institutions, and driving digitalization in manufacturing, education, healthcare, architecture and beyond.
"Create reality and achieve dreams" is deeply rooted in Creality's philosophy. Committed to becoming a 3D printing evangelist, Creality continues gravitating to cutting-edge technology and creating a premium user experience for 3D printing enthusiasts.
About Ender-3 S1 Series
Following the launch of Ender-3 S1 in February 2022, the Ender-3 S1 series became a market sensation. With its innovative designs and open-source features, the series constantly receives favorable reviews from DIY enthusiasts in the 3D printing community.
Ender-3 S1 was nominated as the "top pick" in the "Best 3D Printers Under $500" list published by All3DP, a leading magazine in the industry.