Creality 3D Printer CR-200B –The Top Choice for Maker Education (Sponsored)
When we talk about traditional education, the scene—having lessons in the classroom will pop up in our mind.
In recent years, thanks to the development of technology, Maker Education has become more and more popular and it is changing the concepts as well as methods of traditional education.
Students have more opportunities to cultivate their interest, explore the world through practical activities. As a new type of high-tech education equipment, 3D printers play an increasingly important role in Maker Education and it brings convenience as well as vivid printing experience to users.
With more and more users beginning to use 3D printers for parent-directed education at home, we may come to think about how to choose the right 3D printers.
For enthusiasts who are keen on doing research, DIY 3D printers are definitely a good choice; but as parent-directed education, the fully enclosed classic 3D printer featured by safety and user-friendliness will be more suitable.
Creality CR-200B, designed in black and white colors, has an elegant appearance. This printer is featured by an enclosed build chamber which will ensure safety when kids want to have a closer look.
As parents, you no longer have to worry about your kids touching the machine out of curiosity. With three sides of transparent and internal LED light, users can have a clear view of the printing process and monitor the progress of the printing item.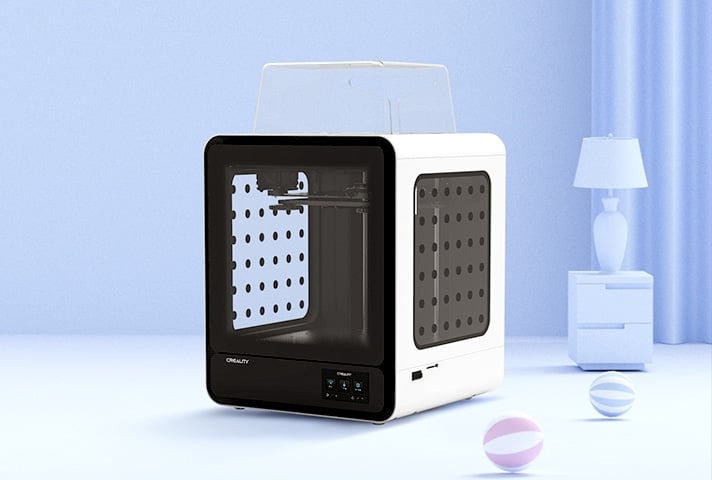 The build volume of Creality CR-200B is 200 x 200 x 200mm, which is large enough for users to print a model of medium-sized or small one simultaneously.
Also, it supports high-temperature filaments, and the nozzle kit designed in a new way has excellent thermal conductance and dual fans can ensure fast heat dissipation. The universal power supply with stability and quality gives you a safe and friendly environment.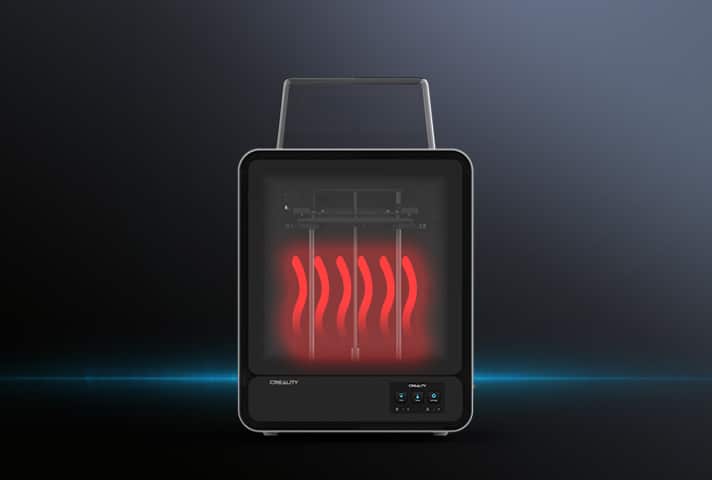 SMART is another highlight of Creality CR-200B. It supports cloud print and users can have a real-time remote control. If you suddenly think of a favorite model, you don't have to wait until you return home.
Just a click on your phone, the printing can start immediately! Furthermore, the Creality CR-200B has a large touch screen. Clear view and smart touch!
Moreover, the printer is equipped with a filament runout sensor, with which users no longer have to worry about sudden power outage. The sensor is able to suspend the printing and resume it automatically when the power is restored. 
With all the advantages mentioned above, Creality CR-200B is highly recommended for Maker Education. It will not only be a dynamic machine for observing, but a helper to cultivate children's hands-on skills.
In addition to learning, Creality CR-200B can echo popular culture as well. Squid Game is favored by most of our adults as well as teenagers. With the Creality CR-200B, you can print masks, favored figures, games' props, etc. with PLA filament and at a large print size.
As Halloween is approaching, no need to go shopping for masks, just PRINT it! The Halloween "costumes" is within your own control!
Study and entertainment, observation and practical skills, these are what CR-200B can bring to our users. If you have interest in using this 3D Printer or if your kids want to explore vivid printing, do not hesitate to get a Creality CR-200B Fully Enclosed 3D printer.
If you would like to know the tests Creality CR-200B will go through before shipment, check out the video below.
Together with CR-200B, the representative products of Fully Enclosed 3D Printers from Creality also include Sermoon D1, CR-5 Pro and CR-3040 Pro and so on.
Featured by the stable structure, large printing size and precision, these printers have good sales performance in both domestic and overseas markets. If you have interest in 3D printers, don't hesitate to get one and it will not let you down!