Anycubic Announces Special Black Friday Deals (Sponsored)
Anycubic, a leading 3D printer manufacturer, released a preview of its Black Friday week deals, covering some delicious deals on its popular products, available online November 20th – December 4th on Anycubic's official website and November 22nd – November 28th on Amazon.
"Anycubic is ready to paint the town red this holiday season," said Lu Ouyang, the CEO of Anycubic.
"Whether shopping for 3D printers, filament or resin, our team is geared up to deliver incredible savings, and by making even more of our Black Friday deals available via our overseas fast delivery services, we're making it easier than ever for guests to purchase everything on their terms."

First Look at Black Friday Week Deal on Anycubic Official Website
The discount starts as high as $90 off between November 20th and December 4th. And the promotions include several hot selling 3D printers such as the large print volume Mono X, one of Forbes's top 7 picks 3D printer from home, Editor's top picks affordable entry-level LCD 3D printer Photon Mono, a budget semi-assembled FDM 3D printer Mega S, etc.
Thus, the deals can meet the demands of different customers, from 3D printing beginners to professions.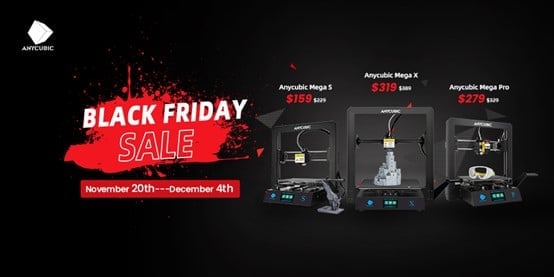 Anycubic Black Friday Deals on Amazon
The week-long Black Friday deals runs from November 22nd to November 28th. Clients can expect fabulous savings on FDM 3D printers, LCD 3D printers and resins, with top deals including:
About Anycubic
Anycubic is a leading company in the 3D printing industry that specializes in 3D printer R&D, manufacturing and sales, providing many affordable, high-performance and smart printers for different customers, consumers, hobbyists, schools and product designers.
Since its establishment in 2015, we have been committed to propelling 3D printing technology to enable people from all walks of life to unleash their imagination and turn creativity into reality.
For more information, visit https://www.anycubic.com/ and follow @ANYCUBIC3dprinter on social platforms.