16 Cool Things to 3D Print & Actually Sell – Etsy & Thingiverse
3D printing has endless possibilities, especially when it comes to making money. There are so many items that people 3D print and sell successfully, even making a living from home doing it. I decided to write an article describing some popular products that you can 3D print and sell, so you can hopefully get involved as well.
You do have to make sure you have the rights to 3D print and sell specific designs, so keep this in mind. You can click each of the numbered titles to go to a search for the products.
Some of the listings do change so they may not be available over time.

The first item on the list of cool things to 3D print and sell is personalized soap dishes. These aren't the first thing people think of but there is a huge market of people who love soap dishes that have a personal name or phrase on it.
It gives people's bathrooms and kitchen more of a unique and dapper look that visitors can appreciate. If you want a good item to 3D print and sell, soap dishes can do well.
A quick search on Etsy for "3D printed soap dish" shows several listings of people selling them for anywhere from $10 to around $30, and they have plenty of reviews from happy customers.
This Skeleton Hand Soap Dish is a really cool idea that customers rate highly. It costs $12 and you have the option to pick multiple colors, as well as the left or right hand. It's made from PLA so customers shouldn't use hot water, just cool or warm water.
For more of a personal touch, you can 3D print and sell something like the Personalized 3D Printed Soap Dish for around $13. It has a unique honeycomb design so the soap can drain and dry properly. The seller allows customers to use any words up to 10 characters with choices of many colors.
Users can choose between different colors and sizes in many cases so it would be useful if you can deliver multiple colors if you want to sell them.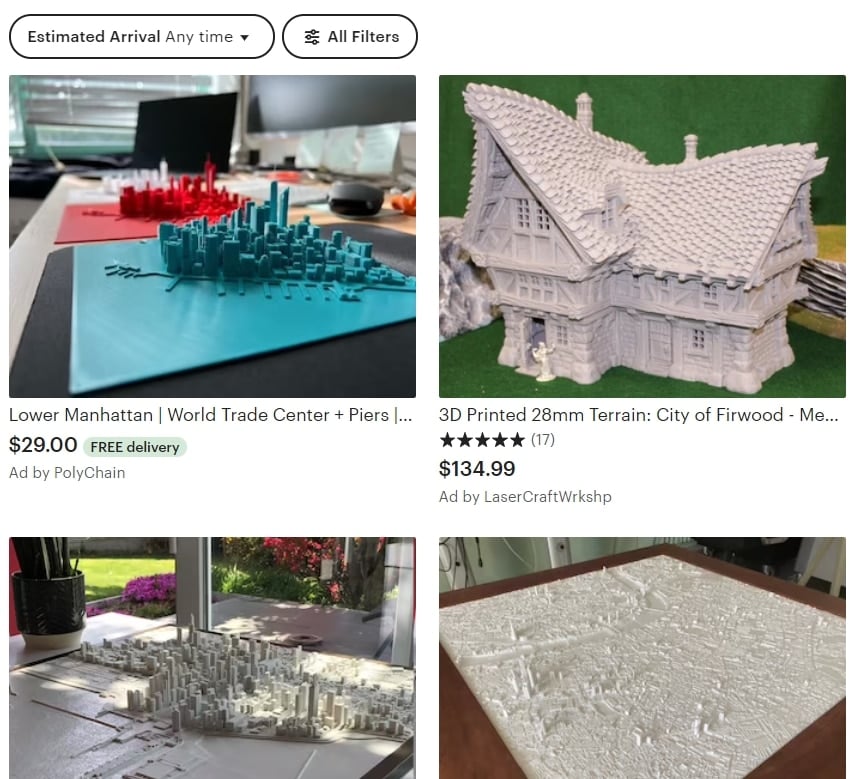 3D printing and selling 3D printed cities is a much less common but lucrative item people are getting in to. You'll be surprised by how much people love having a city that's special to them modeled in their homes in 3D, especially enthusiasts.
They can enjoy the small details, landmarks, and buildings right in front of them.
Check out the Midtown Manhattan 3D Cityscape design for around $100. It's made of PLA plastic and is quick to set up, only taking around 20 seconds without the need of power tool.
A unique idea I found is this Seattle City Themed Letter Decor on Etsy for around $80.
It has various landmarks built into the design such as:
S – Public Market Center Sign, Starbucks Cup, Amazon Spheres, 1201 Third Avenue, Pacific Science Center Arches
E – Space Needle, Mt. Rainier, Pike's Place Market Sign
A – The Seattle Great Wheel, Columbia Center, F5 Tower, 12th Man
Prices for 3D printed cities range from $20 to $300 depending on the complexity and demand from users. You could even do fictional cities from popular movies or TV shows that people love.
You'd have to find a designer that is willing to work with you to let you sell these, usually for a cut of the profits, unless you can design these yourself!
The Flexi Octopus is a really cool 3D printed item you can print and sell to users. It can be used as a toy for kids or even a piece of decoration in your home, on a shelf, or dresser.
Home decoration and toys is big business, so don't underestimate how much money people are making by selling items like this.
You could go a step further by providing personalization of the Flexi Octopus by printing something like an initial on the head. These little gestures can create lasting memories for kids and even strengthen your bond with them.
One of the Bestseller listings for this is the Flexi Octopus Articulated Sea Animal starting from $7. You can choose from several beautiful colors and even go up in size, giving customers 7 different options, up to the price of $108 for an extra large octopus.
I'd make sure to print this in a material that isn't too weak since the design is quite fragile.

Another cool item you can 3D print and sell is a personalized keyring. People nowadays don't always want generic or regular accessories anymore, they want personalized stuff, and this is where you pitch your tent.
According to different customers' preferences, you can print something nice for them.
Some people have so many keys that they can't keep track of which one belongs to what, so they can label/customize 3D printed keyrings to serve the purpose of identification.
An example is the Personalized 3D Printed Keyring for around $3. You can choose a primary color and secondary color, then print any text you want on it like a name, a location to open, a car, number plate, or whatever the customer requests.
There are different designs of a similar nature such as the 4D Number Plate Key Ring for about $7, with a length of 8cm. They give free shipping, being ready to dispatch in just 1 day. Customers can choose between white or yellow for the primary color.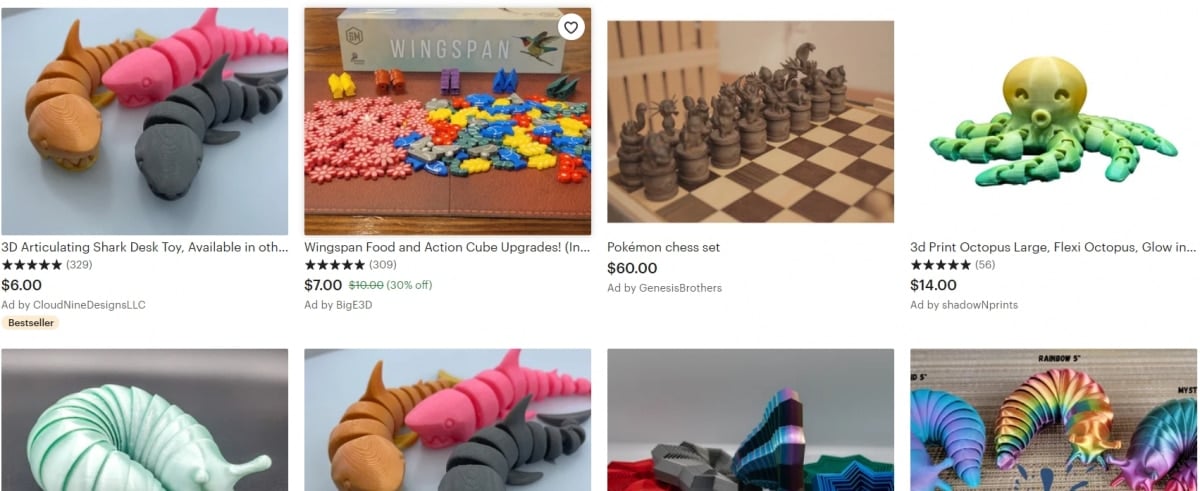 A 3D printed fidget toy is another amazing multipurpose item you can sell as it can serve as a desk toy, stress reliever, or even a companion. Dazzle your customers by printing great designs.
Using high-quality PLA, you can print a fidget toy in any color or shape as desired by your customer. A fidget spinner that had massive popularity in the past are an example of a fidget toy.
I saw a pretty cool 3D Printed Fidget Star – Stress Relief/Anxiety Toy selling for around $9 on Etsy. It's a simple model that comes in several different color options, only being around 3 inches across.
You can message the seller if you want a larger or smaller model so customers have more choice. They mentioned that the design was created by a guy called Chuck Hillard, so the seller didn't actually design the model.
They also let customers know the nature of 3D printing and how there might be slight defects or differences.
Another fidget toy is the Honeycomb Fidget Slider for $15, where the seller also added magnets in there for function. It's a nice slim model with 6 magnets per base, enclosed within the design for better durability.
They give customers the option for a loud clicky slider or a quiet one. It shows as "popular now" on the Etsy listing.
Fidget toys can have prices ranging anywhere from $3 to $16.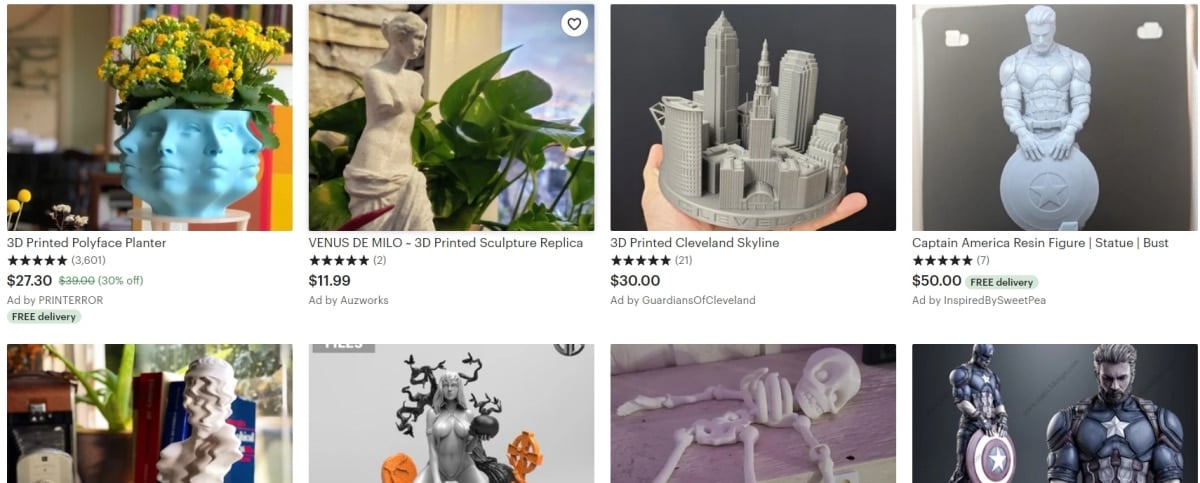 Many people are interested in having busts of famous people or even a personalized statue of themselves. There are plenty of examples where you can 3D print and sell these to willing customers.
I saw prices ranging from $40 to $210 for especially unique and highly detailed designs. I'm sure you can think of some famous people who you would love to have 3D printed and have on display somewhere around your home.
This is a really cool item to 3D print and sell if you can gather some designs that designers are willing to work with you for.
I saw a Custom Bust Unique Personalized Statue listing on Etsy where you send in three pictures and they model your face and send you the 3D model made from resin which is high quality.
It has an option of three heights 10cm, 14cm, 18cm, priced at $100, $115 & $130 respectively. They do make use of SLA resin 3D printing to get those higher details in the model, but FDM filament 3D printing can still work fairly well.
There's also a Charmander Pokémon Statue starting from $7, a David Statuette for $43, Batman Statue for $25, and a painted Deadpool Statue starting from $65.

Famous landmarks are among the many interesting objects to 3D print and sell. A lot of the world's most popular landmarks have already been 3D modeled or scanned by enthusiasts and experts. It's similar to the 3D printed cities, but has many more options.
You can 3D print famous landmarks for people that love art, ancient history, geography, or architecture in general.
Your customers can use them for educational purposes, or as reminders of places they have visited or would love to visit in the future. For decoration purposes, they can hang it on the wall (3D printed frame), place it on a table, or display it in their place of work.
Think of historical landmarks or famous places in TV shows or movies.
One of the models to sell I found on Etsy was the Eiffel Tower made out of gray resin for around $18. It's a great memento for a Paris trip you want to remember.
Another cool item to 3D print and sell is the Colosseum in Rome for around $22. It's made from PLA and allows customers to choose between several colors, having dimensions of 15.2 x 12.6 x 4.1cm (L x W x H).
The model on Thingiverse is able to be sold under it's licensing since it doesn't have the "Non-Commercial" badge, but you just have to give credit or attribution.
Another example of a famous landmark model is Midtown Manhattan 3D CityScape, coming in two sizes, $97 for 6 inches and $120 for 8 inches. One more cool example of a cool landmark to print and sell is the 3D Printed Cleveland Skyline, sold for $30.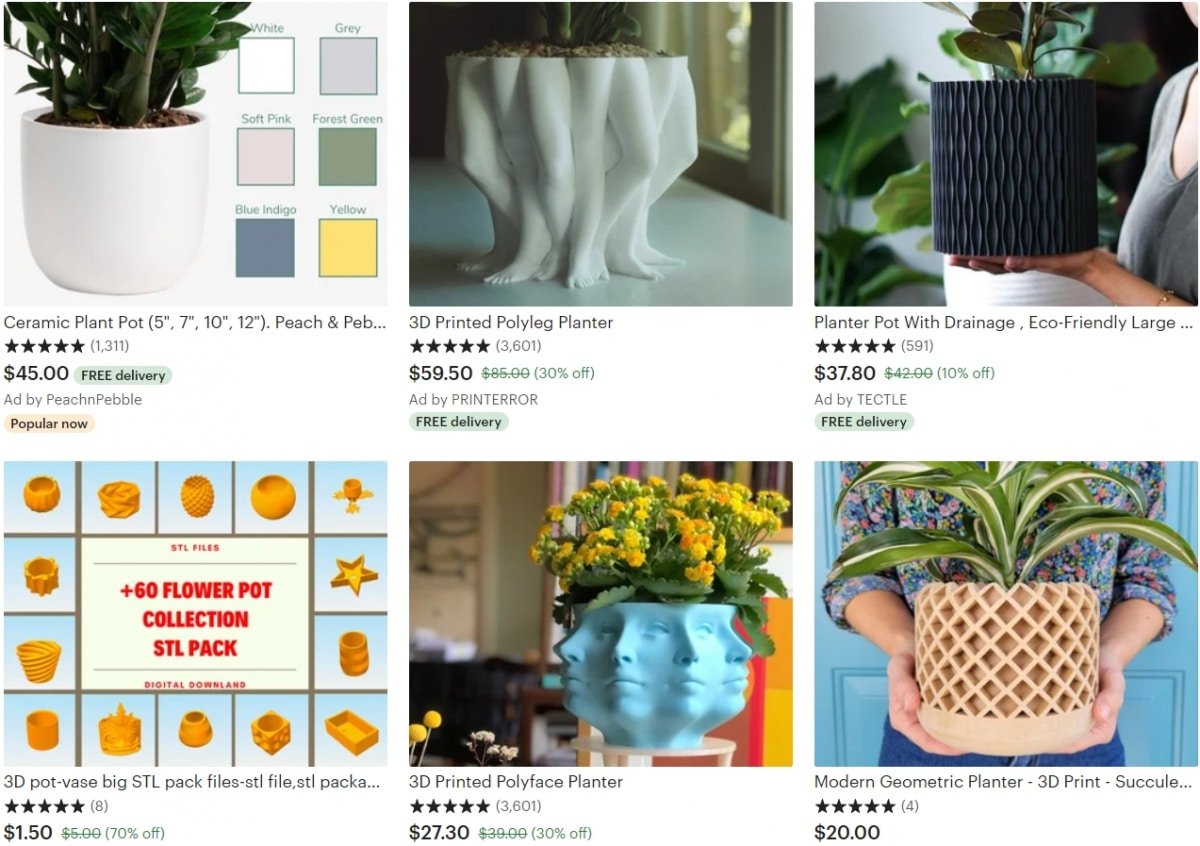 To have an indoor feel of nature or just for aesthetic purposes, people buy 3D printed flower pots/planters. You can 3D print and sell flower pots/planters in various colors and sizes. It might not necessarily be a pot– it could be anything that can hold flowers.
When you search for 3D printed flower pots on Etsy, you'll come across some cool and unique designs that are getting plenty of sales from customers.
The one that stood out to me the most was the 3D Printed Polyface Planter for around $30. You have the choice of many colors and three different sizes depending on your preference, made out of PLA.
It is an original design by the seller, but you could work with a designer to make your own unique flower pot or planter.
Another cool model is the 3D Printed Polyleg Planter for about $55. Its design incorporates 19th century statue legs to create a really cool aesthetic around your home.
The Extra Extra Large Flower Pot with Saucer from Etsy is a popular design that comes in a rainbow color, with the option to add a drainage hole at the bottom.
Lastly, the Modern Geometric Planter – Succulent Planter for $20+ looks amazing. With these types of designs and good audience outreach, you could sell plenty of these types of models.
Once again, your creativity is valuable here; depending on the customers' preferences, you can put drain holes in the bottom of the pot or planter. Prices range from $10 to $50.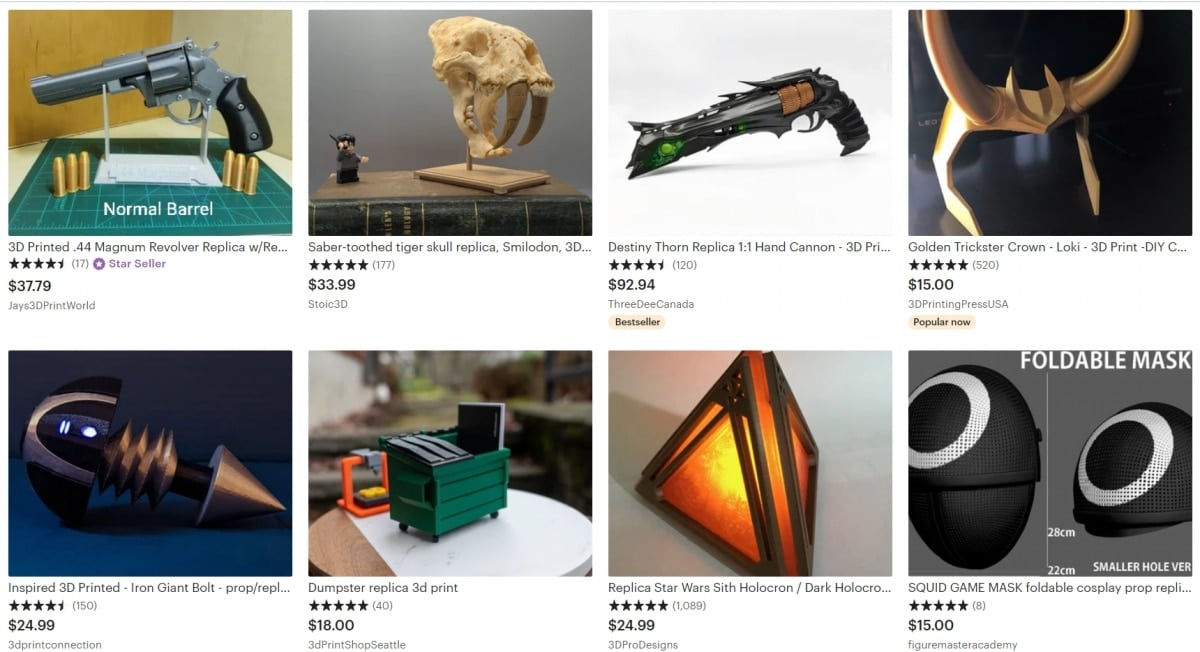 No matter what kind of person is out there, you'll always have some kind of replica items that they would love. Replicas are really cool items that people are willing to buy depending on what they grew up watching or are even currently enjoying.
A search on Etsy for 3D printed replicas brings many items such as the Star Wars Sith Holocron ($25), a Maria Replica Pistol ($60), the Lady Loki Sylvie Crown ($25), an Ace of Spades Hand Cannon ($73), a Daredevil Cowl Helmet ($50), a Sabre-Toothed Tiger Skull ($34), and plenty more.
The cost of creating these models should be pretty cheap compared to how much you can sell it for, especially if you get a model that's high in demand. People are more willing to pay for things that have sentimental value or that are really high quality.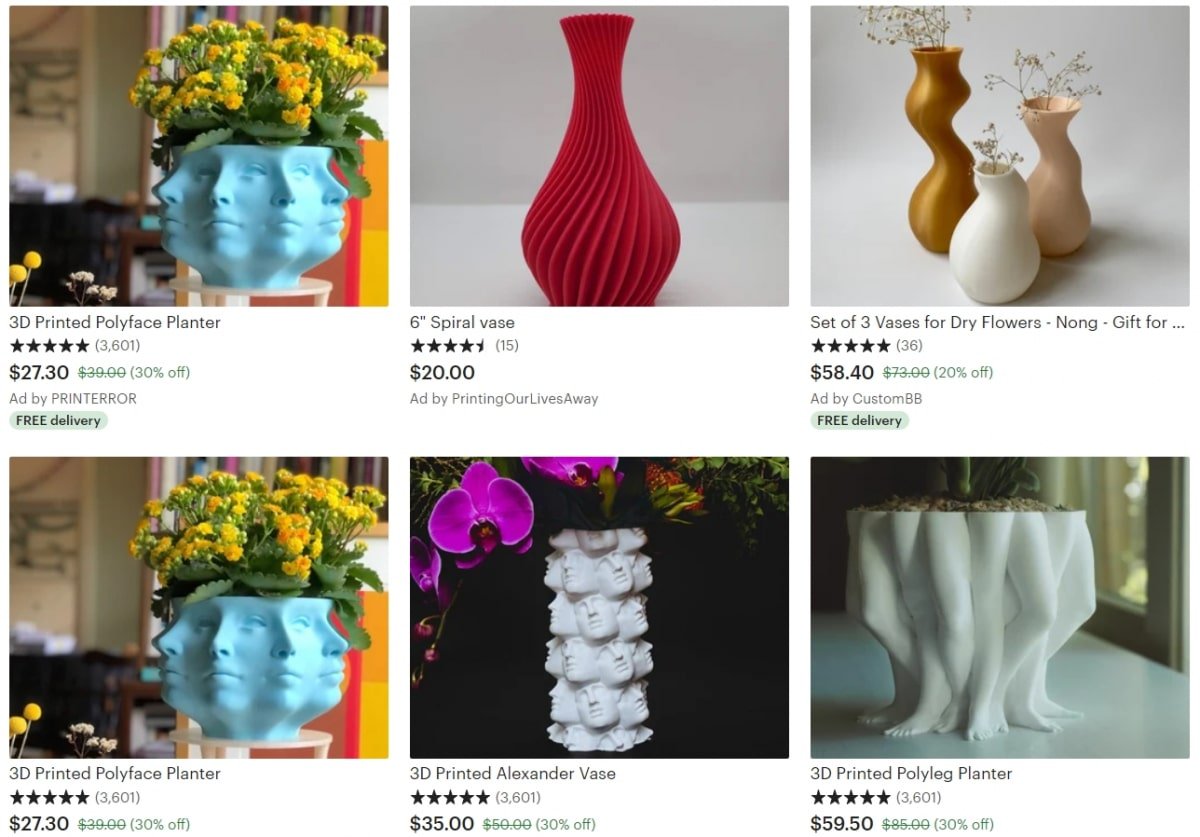 A vase is another item that you can 3D print and sell. Vases add a stylish setting on tables either at home or the office. Many people obviously like to beautify their homes; 3D printed vases can do just that.
There are going to be many similarities with flower pots and vases but there are many unique vase designs that I thought it deserved its own category.
3D printed vases can hold a variety of flowers, giving your customers the luxury of choosing different themes and colors. Advise your clients to handle the vases with care so it can last long.
The 6″ Spiral Vase is a $20 item that is being 3D printed and sold to people out there, made out of PLA. When you know the price of PLA and how many you could make out of 1KG of PLA, the potential earnings are significant.
How about the Unique 3D Printed Vase for Dried Flowers – Lunga, for around $33. It's 20cm high and 8cm wide, using a larger amount of material so the product is thicker and more solid. They print the model with a specific pattern that is unique and full  of lovely textures.
It's a modern, yet minimal design that complements all types of materials around the home like concrete and wood. They say it's good for holding pampas grass, cotton, preserved eucalyptus, bunny tail, and other dried flowers out there.
Then we have the 3D Printed Woman Body Vase that would definitely catch the eyes of guests, and give a little chuckle. It's a change from the usual vases you see around a house but artistic and unique. You can choose from many colors, including the rainbow effect.
The seller lets customers choose custom dimensions if they choose to. If you find a good vase to 3D print and sell, you're looking at prices anywhere from $10 to $30.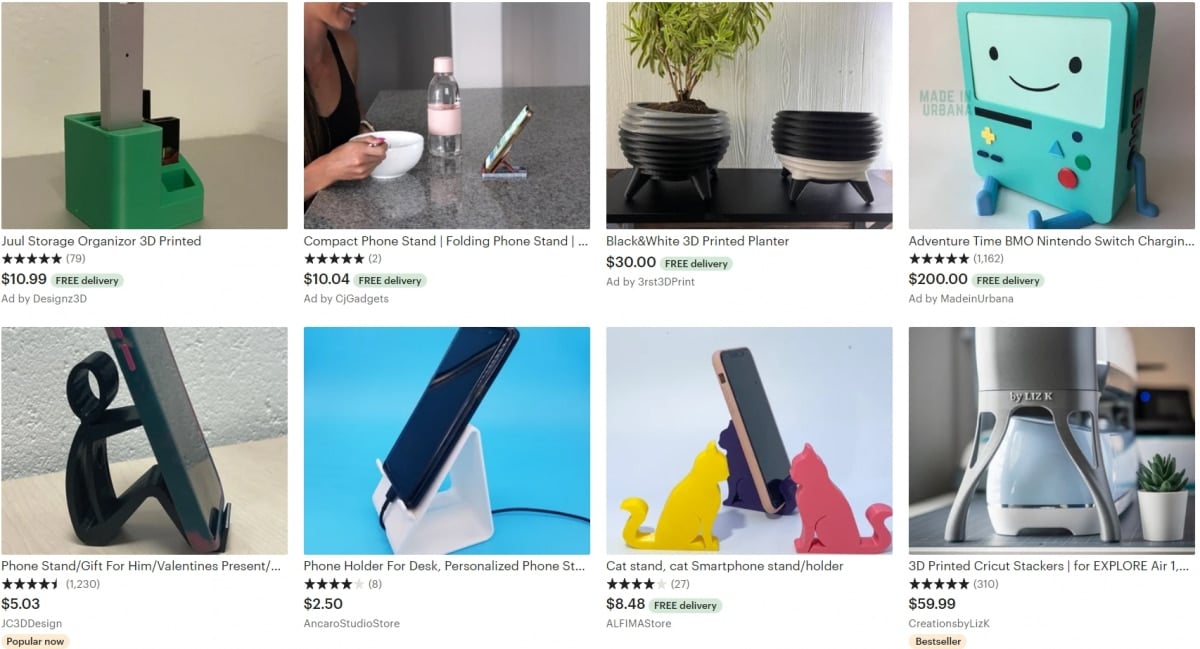 If you are interested in improving people's workspaces and giving them something to ease workflow, then consider 3D printing stands for popular electronics like laptops, gaming devices like VR headsets or even for a rifle.
I came across many different types of stands by search for 3D printed stands on Etsy.
A nice one that is selling quite well is the 3D Printed Laptop/Notebook/MacBook Stand for $15+. You can use it to prop up your laptop and have it act as a second screen. If customers get neck strain while using their laptop, this can help out a lot.
Many buyers have testified to the effectiveness of these stands as it allows space for better cooling and airflow.
It's made out of PLA and customers get a 100% money-back guarantee, but they do charge for shipping.
The Charging Stand for Oculus Quest 2 is a functional 3D printed object made out of HTPLA (High-Temp PLA) for $33+. It was actually designed in a flat pack design to save on shipping costs and reduce waste. Users just need to use the included 4 screws and the hex key to assemble it.
Many users have shown pictures of the assembled stand, and they look great.
For the gamers out there, you can 3D print and sell the Headphone & Game Controller Stand, also made out of PLA for around $18.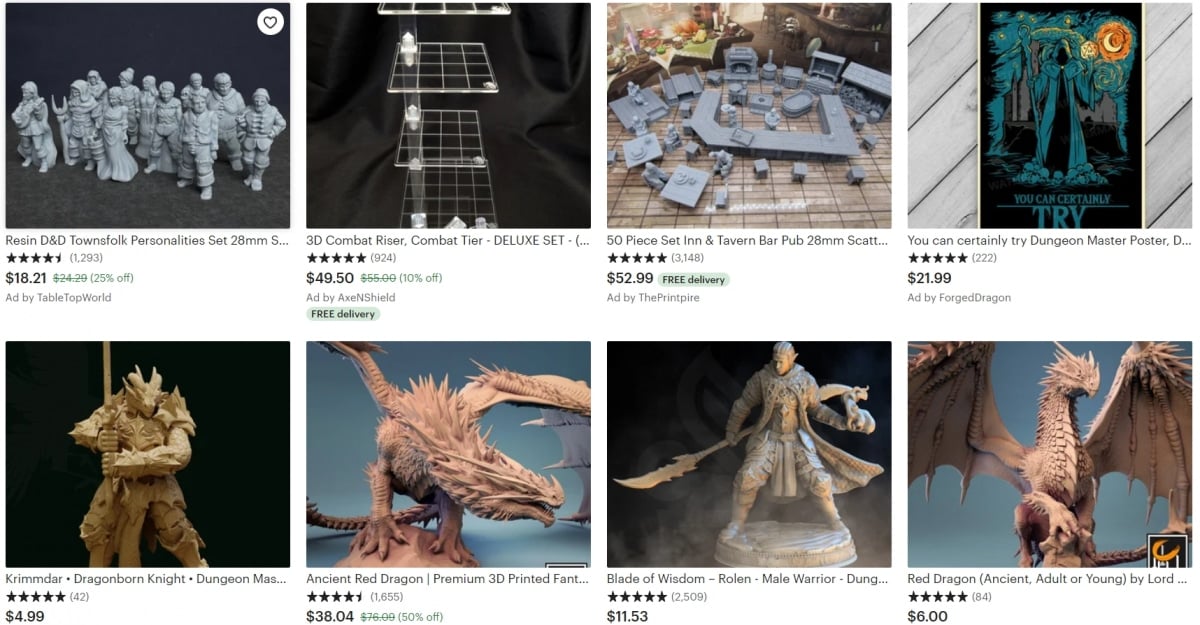 3D printed Dungeons & Dragons is a huge industry because they create such highly detailed models that these users crave to improve their gameplay.
Even though the rise of video games has made many people shift attention from board games, there are still die-hard fans of miniatures.
A 3D printed D&D miniature's quality is perfect for playing peoples' favorite board games.
Many people are now opting for 3D printed miniatures with their own preferred custom models rather than buying games made through injection molding, a more expensive option.
Based on your customers' preferences, 3D printed D&D miniatures can be painted with acrylic paints, sanded, or polished.
There are all sorts of 3D printed D&D & board game miniatures that people 3D print and sell.
One seller is selling a Set of 11 D&D Townsfolk made out of high quality resin for $18.
This set includes 11 miniatures:
1 x Drunkard
1 x Farmer
1 x Hunter
1 x Milkmaid
1 x Minstrel
1 x Oaf
1 x Sailor
1 x Scoundrel
3 x Varieties of nondescript townspeople
They mention that resin is a delicate material, but you could do something like partially add flexible resin to improve the durability of these parts. I wrote an article about Mixing 3D Printer Resins Together & Dying Resin, so feel free to check that out.
This Hydra Monster Tabletop Miniature goes for around $15+ depending on the size of the model. It's solid and advertised as having little to no support marks.
Another D&D model is the Lady of the Marsh, a 3D printed 28mm tabletop gaming model made out of gray resin. It is priced at $19 and is delivered unpainted, so the seller doesn't have to do that extra work.
A more expensive model that is 3D printed and sold is the Ancient Red Dragon Miniature for $38, up to $75 for the largest size. This one is primed and ready to be painted by the end user.
They also have to glue the wings, body, and base together since it's better for safety to have them apart for delivery.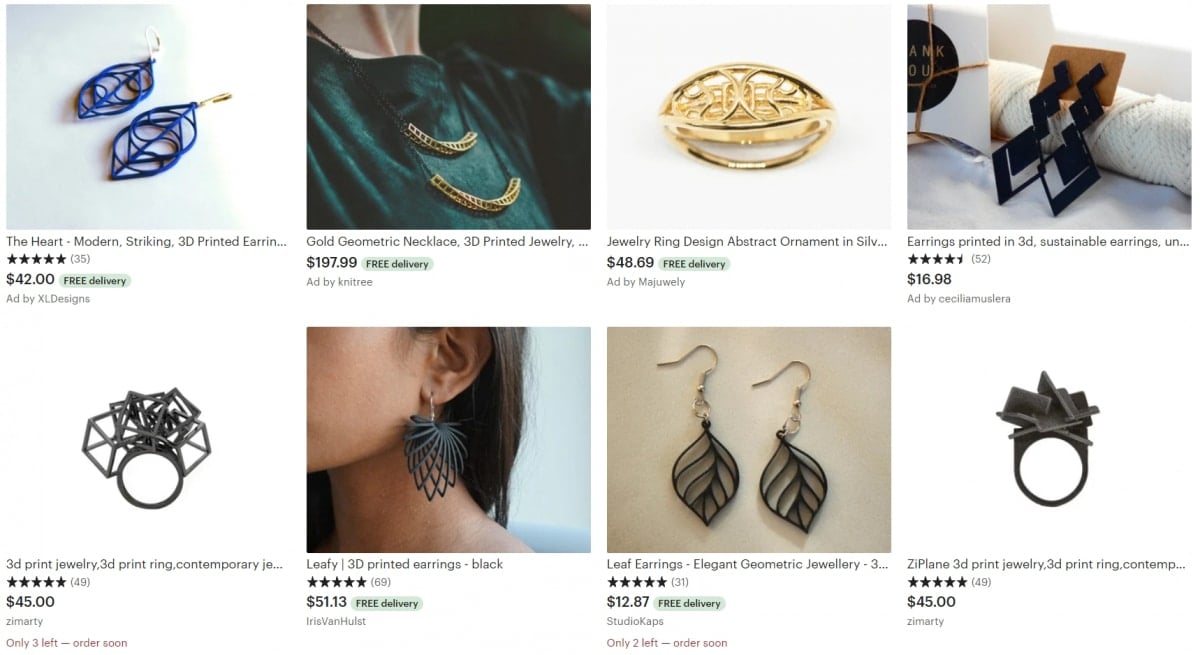 3D printed jewelry is big business whether it is filament plastic, resin plastic, or even metal cast jewelry. If you search around for 3D printed jewelry, you'll find no shortage of listings with premium prices for creative and unique designs.
A lot of fashion is geared towards being unique, so if you can deliver a nice design with a range of colors, you can definitely 3D print and sell these.
An example of 3D printed jewelry is The Heart – Modern 3D Printed Earrings from Etsy for around $40. Some reviewers mention that the actual earrings look a lot better in person than in the pictures. They are very lightweight and beautiful.
Another popular earring design is the Leafy 3D Printed Earrings, for around $50. They are made from Nylon with a choice of 925 sterling silver or 304 stainless steel in gold for the lever back hooks. Each set comes with a jewelry box.
There are many other earrings designs, and even another Elegant Geometric Leaf Earring Design for around $13.
If you are willing to do some casting in metals by using silicone molds, you can create and sell something like the ZiPlane 3D Printed Ring for $45. Some users said they got many compliments after wearing this ring.
A really unique model is the Custom Baseball Earrings for $12 where you can add your team/player and a desired number. It's rated as a "Bestseller" and is made from PLA using two colors, a base color, then a top color.
Prices range anywhere from $5 to around $50.
14. Wall Decoration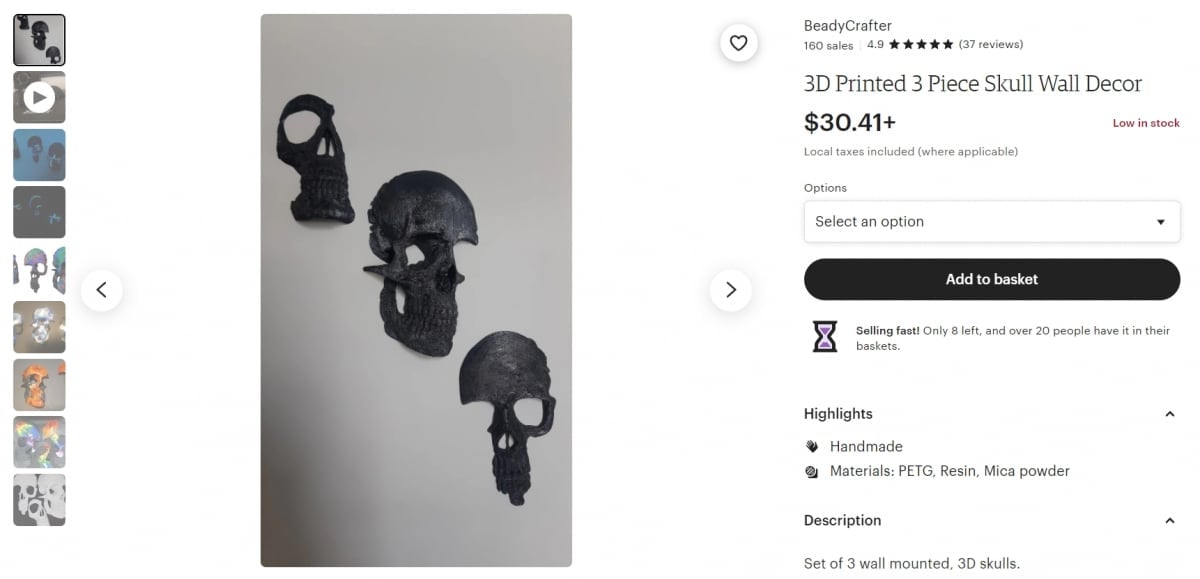 This is yet another potential cool item to print and sell. Designing aesthetically pleasing spaces has become a lot easier, thanks to 3D printing. As far as your imagination and creativity can take you, you can design and 3D print any form of wall art.
Homeowners are continually in search of amazing wall art that will beautify their homes and hold their visitors spellbound. You can step in to bridge the gap.
I found this cool 3D Printed 3-Piece Skull Wall Decor for $30 which can be customized with colors using a Mica Powder. It has an inbuilt hole so you can hang it by a nail in the wall for a flush look.
There weren't too many ideas I could find on Etsy, but you could get really creative here and create some nice wall art picture outlines. A quick search on Thingiverse for "Wall Art" showed some cool wall art sculptures.
You could contact the designers and see if he will let you sell them since they are under a Non-Commercial license, or design your own similar model. The Homer Wall Art Model just has an Attribution license so you can sell it as long as you credit the designer.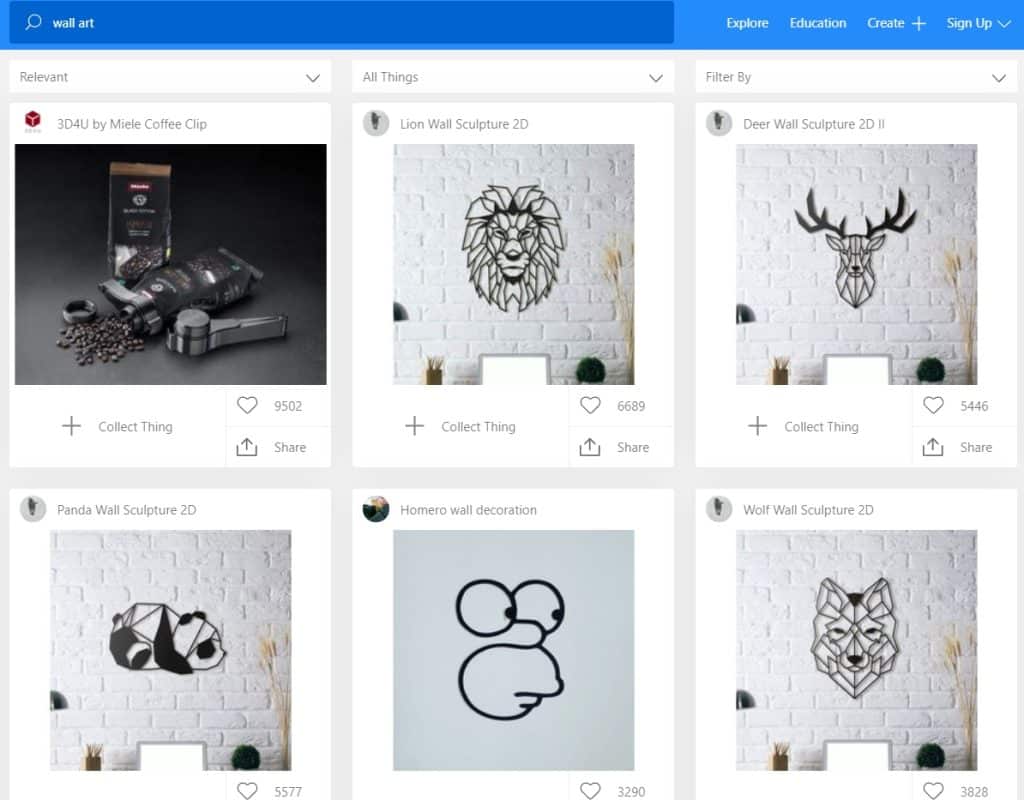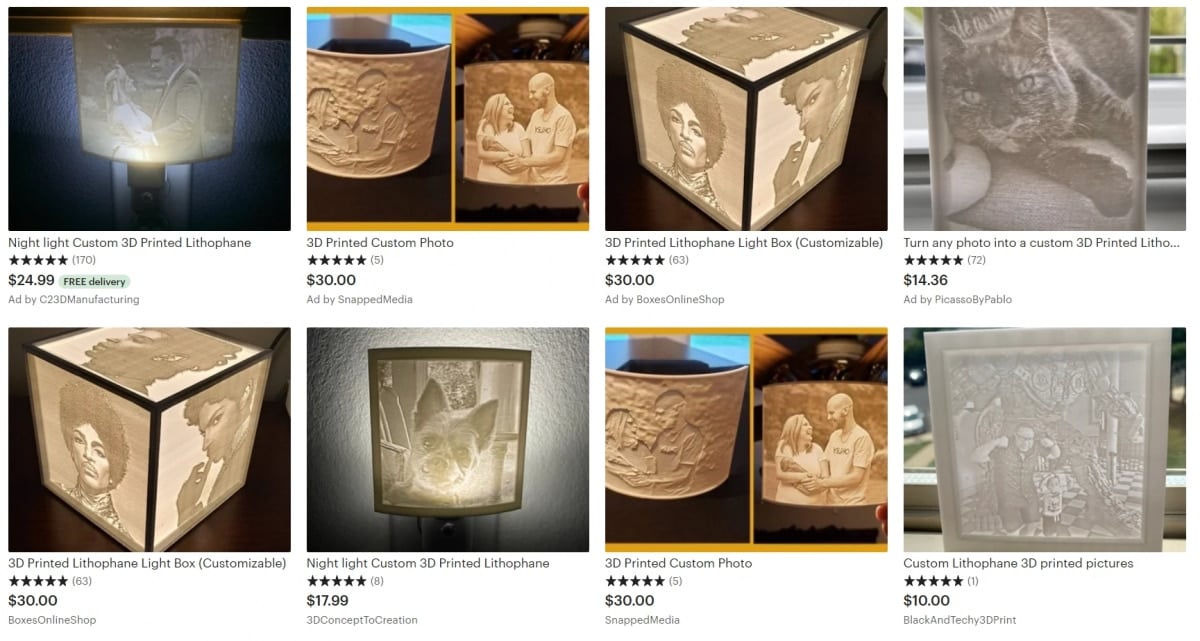 A lot of people haven't heard of lithophanes, so when they first see how they work, it really impresses them. They are basically thin 3D printed tablets that create an image within the model that shows up clearer with a light behind it.
I even wrote an article describing How to Create a Lithophane & the Best Filament to Use. All you need to do is have the personal picture that a customer would send you, input it into a website with settings to create the STL file, then 3D print it with white PLA.
They can use it as a gift for any occasion, whether birthdays, marriages, or anniversaries. It is lovely to create memories and design the pictures in a cool item like lithophane, so this niche is not going away anytime soon.
Encourage your customers to send quality pictures as this affects the overall quality of the 3D printed Lithophane. People have gotten really creative with these by designing lithophane in different shapes, or coming with stands that have lights behind them.
You can get lithophane light boxes, night lights, keychains, ornaments, moon lamps, cylinders, or even a heart-shaped lithophane.
This Lithophane Box with Remote Controlled RGB LED Lights is a really creative way to have a unique product. It sells for $75, with dimensions of 5″ x 5″ x 5. You just send the seller your four pictures, pick a color for the box then they will create it and send it to you.
Prices of personalized lithophanes range from $5 up to $700 for a Custom 3D Printed Lithophane Wall of 30 pictures!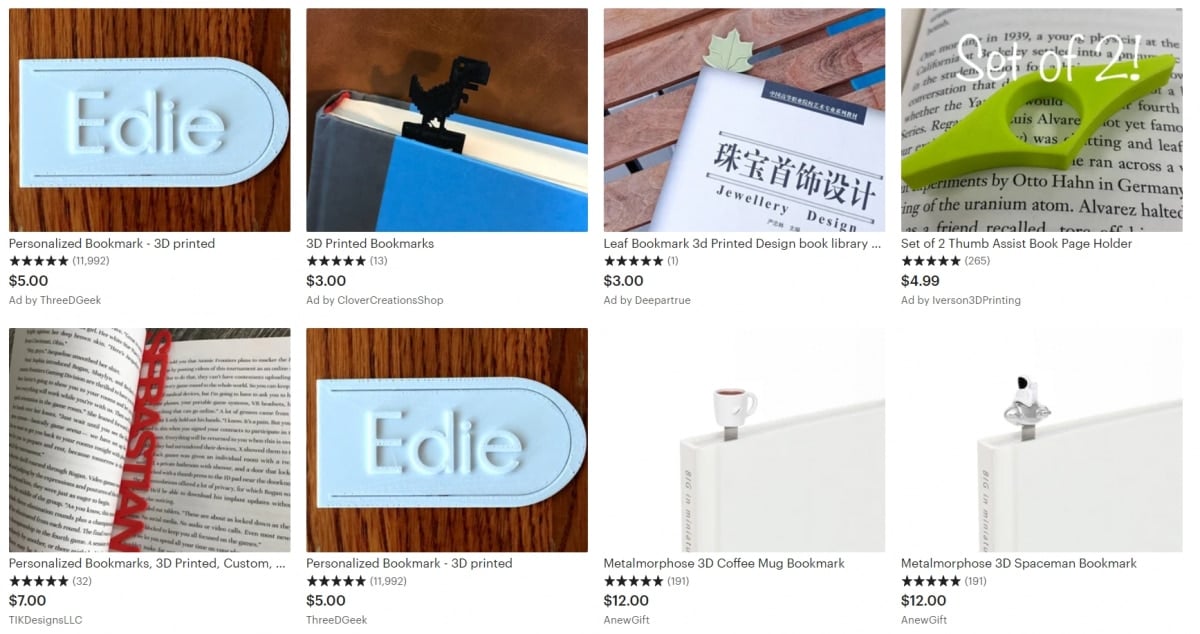 A simpler item you can 3D print and sell are bookmarks, whether they are a standard design, specialized design to some kind of niche, or a personalized design that customers request.
When you search for bookmarks on Etsy or Thingiverse, you'll find plenty of models there that you can potentially 3D print and sell depending on the licensing. This one shouldn't be too difficult to design yourself though if you put some time into learning.
I found a quick video showing people how to design a 3D printed bookmark in TinkerCAD that you could follow.
One of the best things about selling 3D printed bookmarks is that they are easy to ship, can be made quickly, and require very little filament to create. The returns you could get on 1KG of PLA filament should be hefty.
A popular one that would work well on Etsy would be the Hanging Cat Bookmark, going for around $10, or you can buy sets of up to 20 to get a discount. Cat designs make a lot of sense since a lot of people who read have cats.
Another Cat Bookmark sells for $8 each, made out of PLA. It has plenty of positive reviews for the item.
This 3D Printed Game of Thrones Wolf Bookmark is another popular one that people love, going for around $6. It works because it has a specific niche audience who love the book or the TV series.
Finally, we have the Personalized Bookmark that simple has the customer's name, so they put in an order with their name in the description, and the seller creates the bookmark to order, rather than beforehand like you can with the other models. It sells for $5+ depending on length.
There is another Personalized Bookmark Custom Design which is the letters joined together, a different type of design, but of similar nature. This one sells for $7.
Prices range from $2 to around $10.