How to Make Legos with a 3D Printer – Is It Cheaper?
Being able to make Lego on a 3D printer is something that people wonder can be done. This article will take you through whether it can be done and how to do it properly.
Keep on reading for more information about making Lego on a 3D printer.
Can You 3D Print Legos with a 3D Printer?
Yes, you can 3D print Legos on a 3D printer using a filament 3D printer or a resin 3D printer. There are many Lego designs that you can find on websites like Thingiverse. It's possible to 3D print Legos on a stock Ender 3 like many users have done. It can take a few tries to get a perfect fit.
Many users who have filament 3D printers said that they work really well for 3D printing Legos.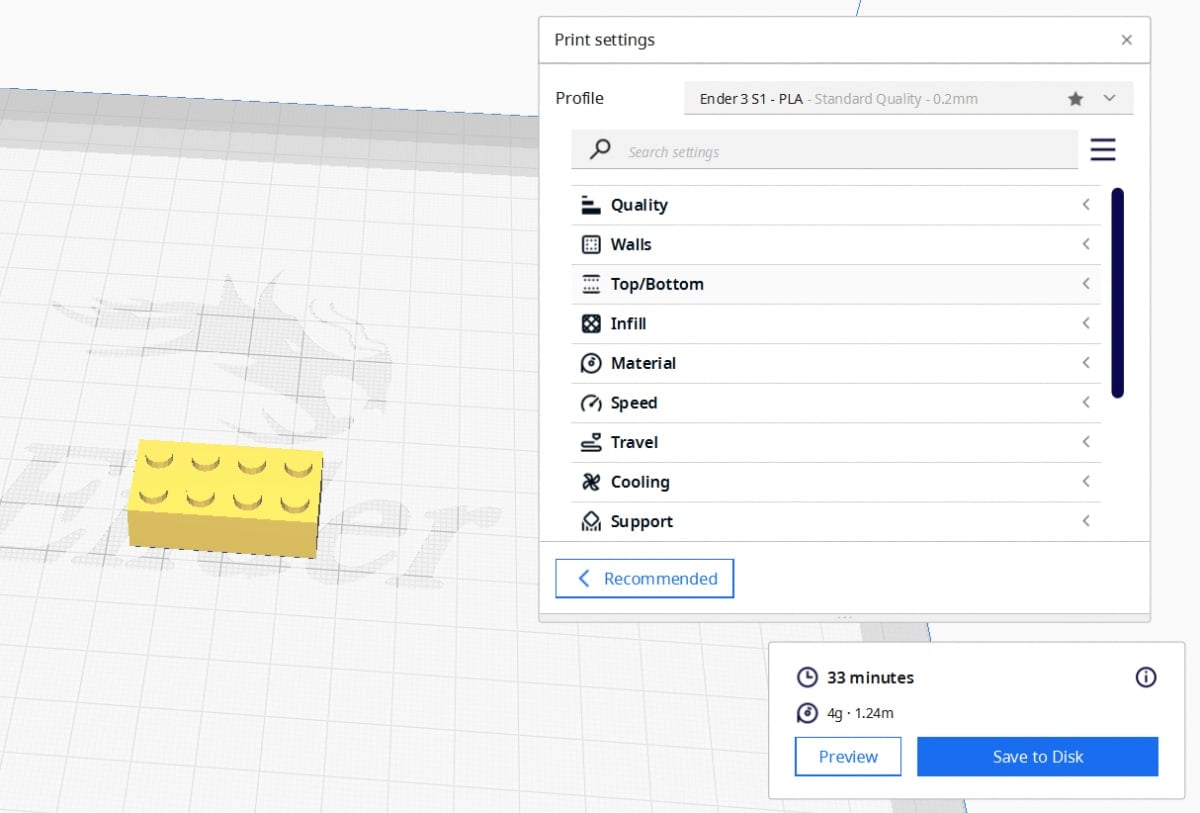 One user who has 3D printed hundreds of Lego bricks said they all came out perfectly with an Ender 3D printer. It can take some post-processing like sanding to clean up the Lego bricks.
Check out this cool video of a huge 3D printed Lego-inspired garden.
How to 3D Print Lego on a 3D Printer
To 3D print Lego on your 3D printer, follow the steps below:
Download a Lego design or create your design
Choose your filament
Check the dimensional accuracy of the Lego piece
Check the calibration of the 3D printer
Download a Lego Design or Create your Design
The easiest way to get a Lego design is to just download one yourself from PrintableBricks or Thingiverse. You can also choose to design your own but you'll need some experience in design to get the dimensions perfect, or it might take more testing.
There are many things to take into account such as the standard block heights and stud placements.
You can use CAD software like Fusion 360 or TinkerCAD to create your own 3D printable Lego bricks. It's possible to download an existing Lego brick 3D model and even customize it to add your name or some kind of design into it.
It's possible to even 3D scan existing pieces with something like the Revopoint POP Mini Scanner.
Here are some Lego designs I found that you can download and 3D print:
You can find also find models on the PrintableBricks website.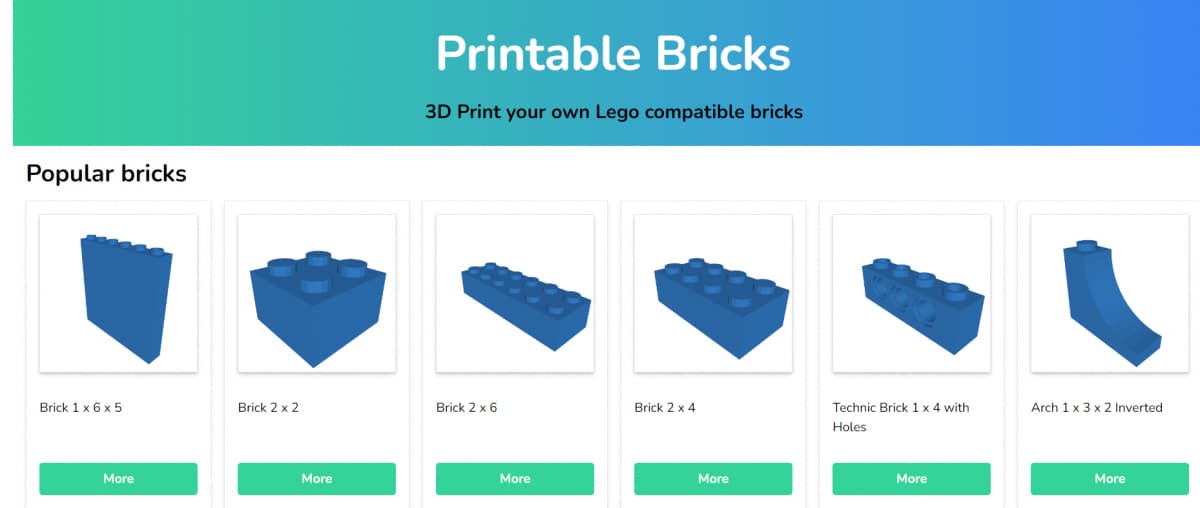 Choose Your Filament
Next, you want to choose what filament to 3D print your Legos with. Many people who 3D print Legos choose either PLA, ABS or PETG. PLA is the most popular filament so it's widely used, but actual Legos are made from ABS.
PETG is also a good filament to use which has a good mixture of strength and some flexibility. It offers a nice glossy finish to your 3D prints. One user mentioned that
You can also go directly with ABS or ASA filament but it is harder to 3D print without warping. You'll get a closer similarity to actual Legos by using these filaments.
I'd recommend going with something like the PolyMaker ASA Filament from Amazon. It's similar to ABS, but it also has UV resistance so it doesn't get negatively affected by sun exposure.
For a simpler filament that is easy to print with, you can go with some SUNLU PLA Filament, which comes in various colors and has many positive reviews.
Calibrate Your 3D Printer
To ensure that you are getting the best dimensional accuracy in your 3D prints for Legos, you want to make sure things are calibrated properly. The main things to calibrate are your extruder steps, XYZ steps, and printing temperature.
Your extruder steps determine whether you are extruding the amount of filament you tell your 3D printer to extrude. For example, if you tell your 3D printer to extrude 100mm and the extruder steps aren't properly calibrated, you might extrude 95mm or 105mm.
This would lead to your 3D prints not having the best dimensional accuracy.
Check out the video below on how to calibrate your extruder steps.
https://www.youtube.com/watch?v=xzQjtWhg9VE
You also want to try doing an XYZ Calibration Cube to see whether your axes are dimensionally accurate. 3D print one and check whether they measure up to the 20mm dimension in each axis.
I also wrote an article on How to Troubleshoot an XYZ Calibration Cube. If any axes don't measure up to 20mm, you can usually adjust the steps for the specific axis in your 3D printer control screen.
The next thing to calibrate is your printing temperature. I recommend to 3D print a temperature tower to find your optimal temperature for the filament you are using. This is simply a tower which has multiple blocks that temperature changes occur at, using a script within your slicer.
Check out the video below to learn how to do this within Cura. It's also possible in many other slicers.
Adjust Your Horizontal Expansion Setting
A unique setting that you'll find useful with 3D printing Legos is the Horizontal Expansion setting in Cura or Elephant Foot's Compensation in PrusaSlicer. What it does is adjust the size of holes or round sections of your 3D print.
Adjusting this can help Legos to fit together without having to redesign the model.
Check out the video below by Josef Prusa to see more about 3D printing Legos compatible models. He suggests using a value of 0.4mm for ideal results, but you can test out a few values and see what works best.
Is It Cheaper to 3D Print Lego?
Yes, it can be cheaper to 3D print Lego compared to buying them for models that are larger and more complex, though it takes experience to 3D print them accurately enough without failures. A 4 x 2 Lego piece is 3 grams which costs around $0.06. One user purchased 700 second-hand Legos for $30 which costs $0.04 each.
You do have to take things into account like the cost of the material, the factor of failed 3D prints, cost of electricity, and the actual availability of the models you might want to 3D print.
1KG of filament costs around $20-$25. With 1 KG of filament, you could 3D print over 300 Lego pieces that are 3 grams each.
There have been some legal issues which might mean finding specific models would be difficult, but you can get a pretty good range of pieces from various places.
Something like this LEGO Technic Heavy-Duty Tow Truck with 2,017 pieces costs around $160 ($0.08 per piece). It would be very difficult to 3D print something like this yourself because there are so many unique pieces.
The user who 3D printed the Lego garden said it has over 150 3D printed parts and he used around 8 spools of filament in different colors, which would have cost around $160-$200.
You also have to take into account just how much time this is going to take, with getting the files, processing the files, actually 3D printing them, then any post-processing you may need to do like sanding or removing the model from a brim or raft if used.
Once you have everything dialed in and you have a process to 3D print Legos efficiently, they can be done to a good standard, but it will take some time and practice to implement this.
If you are looking to do things on a larger scale, I'd recommend getting something like a belt 3D printer that can continuously run without you having to repeat the printing process.
A Lego Star Wars Death Star Final Duel model from Amazon costs around $190, with 724 pieces with some unique models, which would cost $0.26 per piece. These Legos are more expensive due to being unique, so they would be very hard to replicate.
The video below shows a cost break down of 3D printing Lego bricks compared to buying them.