How to Fix 3D Printer That Restarts Mid-Print – Rebooting
Your 3D print has been running for a few hours, everything is going perfectly, until it randomly restarts mid-print. This issue plagues many 3D printer users and it can be pretty frustrating. I decided to write an article to help fix it once and for all.
To fix a 3D printer that restarts, try re-uploading your G-Code file to ensure the data transferred properly. You may need to get a new SD card if you have a faulty one. Loose connections in your power supply can also cause this, as well as issues with your thermistor reading temperatures properly.
Keep on reading for the details behind how to fix a 3D printer that restarts or reboots mid-print.
Why Does Your 3D Printer Restart Mid-Print?
There are many reasons why this issue occurs, from faulty parts to G-Code stop commands.
Here are the most common reasons why your 3D printer restarts mid-print:
Overheated extruder motor
Thermistor issues
Power issues
SD card or USB connection issues
Slicer issues
Firmware issues
G-Code pause commands
Apart from these, it could always be the case that one of the components of your printer short-circuited or some cables became loose. In that case, it can be a little difficult to tell the exact cause of the mid-print restart and could be best to contact the manufacturer.
However, the above-mentioned causes are the most common ones and chances are dealing with them will fix your problem.
How to Fix 3D Printer That Restarts Mid-Print
Let's have a look at some fixes for the causes mentioned above:
Fixing an Overheated Extruder Motor
An overheated extruder motor can cause your printer to stop as a safety measure (this is called a thermal cutoff feature). In some cases, if the temperature drops below the critical threshold quickly, the printer could restart on its own.
To avoid overheating, you can install a more powerful fan or upgrade the printer's heatsink, which is a component in the nozzle that allows for heat dissipation.
Fixing Thermistor Issues
This is another element that could cause a thermal cutoff. The thermistor is the part of the printer that maintains the bed and nozzle at the set temperatures. Your printer should have two thermistors, one for the nozzle and one for the bed, if the latter is also heated.
If either thermistor breaks down, the printer will stop, as it cannot risk continuing printing without the element that maintains the temperatures within safe boundaries. If this is the case, you will get a "MINTEMP" error on your screen.
To fix this, first check that all the wiring in your printer is done properly. If it is, then the only solution is to replace the thermistor.
Check out the video guide below on how to do it.
Fixing Power Issues
A sudden power loss will result in our printer stopping or restarting. If this happens, you may continue your print if your printer has a resume function in case of an outage. There are multiple causes and fixes for a power loss.
Firstly, it could be because of a blackout in your area. If the blackout only lasts for a short time, and power comes back after a few seconds or minutes.
To prevent this from occurring, you could purchase a battery backup (UPS – uninterrupted power supply).
You need to be aware of how powerful it needs to be to support your printer and also consider the average duration of a blackout in your area, to know how long the battery will need to function for.
Apart from a blackout, a faulty PSU (power supply unit) could cause your printer to restart as well. This could be either because of broken or loose internal connections/writing or a broken on/off switch (if your PSU has one).
If you are experienced, you could try to turn off the printer, disconnect the power cord, remove the wiring cover and check it yourself. One user had an issue related to loose spade connectors, while another one identified a melted yellow XT60 connector as the cause.
However, most of the times the best solution is to contact the manufacturer and have it replaced. If the PSU is faulty, you should be able to have it replaced for free under the warranty, so it's good to always insist on that when contacting the manufacturer.
Some users also decided to replace the printer manufacturer PSU with a different brand and concluded that this was better. However, always pay attention to the specifications of the printer to choose the right PSU for you.
The Meanwell Power Supply is a popular choice for changing your 3D printer's PSU.
One other cause of power issues that result in your printer spontaneously restarting are loose or damaged elements, such as cables or screws, which can result in short circuits and make your printer restart.
Even a PSU that is not properly fixed in place and can result in a loss of power if it moves around.
It's a good idea to check whether all the elements are fit in place and show no signs of damage. You might need to do some re-wiring as well. Pay particular attention to the power cable, as a twisted or tensioned power cable can sometimes cause the printer to restart mid-print.
One user found that his power supply had loose connections and would restart from the vibrational movements of the 3D printer. He fixed it by ensuring the connections fit more snug and by designing and 3D printing a bracket to keep the power supply more stable.
If your 3D printer restarts or reboots near the beginning of a 3D print, it could be an issue with the wiring of your part cooling fan. If the wire for that specific fan is shorted, it can trigger a reboot. You can actually try running your part cooling fan manually from the control screen to see if the issue happens again.
Finally, another thing that caused some users problems with restarting mid-print was a faulty extension cord. If you suspect this might be the issue, try connecting the printer to a main power outlet or upgrading your cord to a more reliable one.
Or else try a different main power outlet altogether, as this might also be a cause. Make sure that the power outlet matches the PSU input, as an incorrect input can cause many problems, including spontaneous restarting.
Fixing SD Card or USB Connection Issues
Some users reported that the cause of their printer restarting mid-print was a faulty SD card.
One thing you can try doing is to transfer the files from your SD card to your desktop, delete the files from the SD card, then re-upload those files back to the SD card.
You can even re-format the SD card so it is essentially fresh, then try transferring your G-Code files back to the SD card.
The next step you can try is to check the amount of memory your SD card has left, and whether it's getting near to its capacity.
One user mentioned that some cheaper SD cards don't actually have the amount of memory that they claim, resulting in corrupted data which can lead to your 3D printer restarting.
If moving the files around doesn't fix the problem and you still suspect the SD card to be the cause of your printer restarting midway, then you probably want to try a new SD card.
When it comes to SD cards, having one with too much capacity can actually work against you, so I'd stick with 4-16GB, with 8GB being a happy medium.
Check out the Gigastone 8GB Micro SD Card from Amazon. It also comes with an adapter so you can use standard SD card slots which some 3D printers have.
Another thing you can try is to 3D print over a USB connection to see if that works out like one user tried out successfully after having restarting issues.
Here is how to do that.
If this works, it means that the SD card is indeed to blame, and you should replace or reformat it. Some people also faced issues when ejecting the SD card from the PrusaSlicer software, in which case a different slicer might work better.
Subsequently, if you are currently printing using a USB connection, you may face issues as well. The most common one is a poor connection.
Bearing in mind that a print can sometimes take more than 12 hours, you should be confident in the stability of your PC or laptop connection and keep the device plugged in. Some people successfully use their USB connection for 3D prints, but it's not a popular method.
A third alternative for printing is using a remote 3D printing controller, such as OctoPrint.
Here is a set-up guide for OctoPrint.
Fixing Slicer Issues
This is related to the SD card issue above. This seems to be a problem predominantly among some PrusaSlicer users. Sometimes the SD card ejection is not possible at all, while other times it can result in a damaged G-Code and lead to restarts and other issues.
You should try using a different slicer and see if this fixes the problem.
For many people, the error with PrusaSlicer will not allow them to export the SD card altogether. In this case, some users tried to export the G-Code to their desktop and then copy/paste it onto the SD card.
This could also be a solution if the slicer exports a damaged file that causes a mid-print restart, and you don't want to try a different slicer.
Fixing Firmware Issues
An outdated or incompatible firmware can cause all sorts of issues, including random restarts mid-printing. Make sure you have the latest firmware for your specific printer.
Check out my article on How to Flash & Upgrade 3D Printer Firmware for more information.
Fixing G-Code Pause Commands
Although this normally causes your print to pause, not restart, it is still a good idea to check for G-Code pause commands. Most slicers use a pause command in the G-Code that pauses the printer after the print has reached a certain layer or height.
This could be useful if you would like to print something in different materials and make the filament change at a specific point during your print. However, when not aware of it, it can cause confusion when the printer suddenly stops.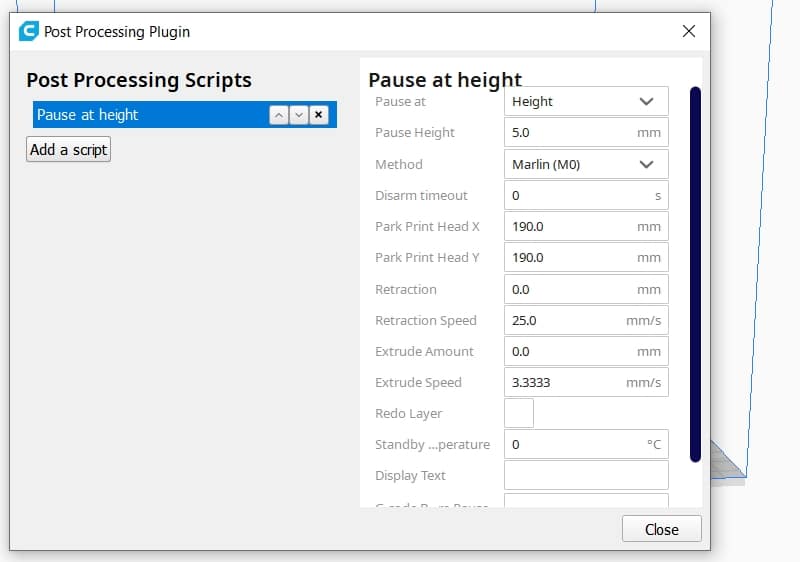 If you do have a pause command at the layer or height that you notice the printer stop and restart, it may be that the spontaneous restart is connected to this command. If not, it means that there is a different cause to the restarts.
To check whether there are pause commands in your G-Code and subsequently disable the feature, open your slicer and go to Extensions > Post Processing > Modify G-Code and see if "Pause at height" is added. If it is, you can use the "x" button on its right to remove it.
You should be able to see whether you have an active script by checking your Cura software.

How to Fix M112 Kill Command Shutdown Error
Many users who experienced an M112 shutdown error mention it's an OctoPrint error due to not properly sending the M112 command to the 3D printer. If your 3D print has an M190 command, it doesn't pass terminal commands until the M190 is completed.
The M112 command is an emergency stop, so make sure it's in the correct place in your G-Code
This issue was apparently fixed in the v1.3.12 OctoPrint update. Some people mentioned that this error also happened in RepetierServer.
Check out the video below to see a user fixing this on Marlin 2.