12 Ways ­­­­How to Fix Cones of Calibration Failing
The Cones of Calibration is one of the most straightforward tests you can use to calibrate your 3D printer's exposure time. However, despite being easy to print and read, some users have complained about the cones failing due to issues in their printing setup.
To fix the Cones of Calibration failing, ensure your exposure time and UV light intensity are properly dialed in. Also, check your FEP sheet to ensure it has no worn-out spots, which can contribute to the test's failure. You can also reduce the lift speed, as a slower lift speed has a smaller chance of failure.
These are just some of the fixes you can apply to stop your cones of calibration print from failing. We'll explore several more in this article, so keep reading for more tips!
How to Fix Cones of Calibration Failing
There are several factors that can be responsible for your cones of calibration failing. Let's look at how you can address and fix them:
Calibrate your exposure settings properly
Level your build plate
Check your screen's UV power settings
Reduce the lift speed
Rotate the model
Check and replace your FEP sheet if necessary
Clean your resin vat
Shake your resin
Use quality resins
Warm up your resin
Disable tolerance compensation
Increase the build plate adhesion
1. Calibrate Your Exposure Settings Properly
The first way to fix your calibration cones model is to calibrate in your printer's exposure settings. The model is meant to help you dial in your printer's exposure settings
So, if your model is failing, it might mean that your exposure settings are not at their optimal value.
To fix this, you can calibrate your printer's exposure settings using the failed model as a guide. First, take a look at the failure side. All the top cones on that side should not connect with the bottom cone and fail while printing.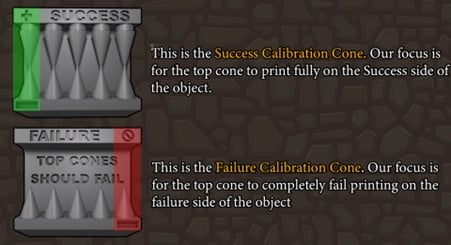 If any of them print or connect with the bottom cones, your exposure settings are too high. To counteract this, gradually reduce the exposure setting until the top cones fail and disappear.
Next, check the success side of the model. All the top cones should print successfully and connect with the bottom cones. If they do not, your exposure setting is too low.
To fix this, increase the exposure setting gradually until all the top cones print out correctly and connect with the bottom cones.
You can see an example below with this user trying to calibrate their Elegoo Mars printer.
They printed two cones using 2.0 and 2.2s as exposure times. The success cones connected, but the failure cones were still printing meaning that the model was being over-exposed.
The user later reduced their exposure time to 1.95s and they got their success cones to connect, while all the failure cones failed properly.
You should know that the optimal exposure times for various printers and resins are different. Check your printer's instructions or online community for the optimal printing time, so you can have a good starting point.
If you're using a monochrome LCD, most users recommend increasing and decreasing the exposure time in 0.1s increments. For RGB LCDs, you can use 0.5-1s increments for calibration.
Note: The most important cones on the calibration cones model are the ones under the + and – signs on the success and failure sides, respectively. If any cone on the success side fails while the one under the positive sign prints and connects, then the problem might not be the exposure time.
The reverse is valid for the other side. If any top cone prints and connects while the ones under the minus sign fail, the problem might not be the exposure time.
If you experience this, you can try some of these other fixes.
2. Level Your Build Plate
Leveling your build plate can help resolve your print failure. Most times, the number one culprit behind failed prints is usually a build plate that isn't leveled correctly. It might be due to one of the nuts, bolts, or components not being tightened properly.
So, re-level your printer's bed, and while you're at it, check if all its screws are correctly tightened. Also, some users complain that the levelling cards that come with some printers might be too thick.
So, you can try levelling the build plate using the paper method. To achieve this, you can read our article to learn How to Level Resin 3D Printers Easily.
You can also follow this informative video from Just Print to learn how to level your build plate properly.
3. Check Your UV Power Settings
Another way to fix failing calibration cones is to check your screen's UV intensity percentage, especially if you're getting unusually high or low exposure times. Many printers have a way you can increase or decrease the screen's intensity percentage.
A higher percentage leads to a lower exposure time but can lower the screen's life span. On the other hand, a lower power will increase exposure printing time significantly.
An example can be found below. The user was using an unusually high exposure time of 4s, and his models were still ending up under-cured.
In such cases, the user might have had his UV power intensity set to a low value.
This user below thought Anycubic Mono's screen was on 100% intensity, but he discovered it was just 60%. As a result, his calibration model took an unusually high amount of time to print.
To fix it, he had to tap the UV power icon in the settings menu several times to see the correct value. Eventually, he got the exposure up to 100% and his exposure times reduced drastically.
If you're experiencing something like this, you can try updating your firmware to see if it can fix the issue.
4. Reduce the Lift Speed
Another way to resolve failing calibration cones is to reduce the printer's lift speed. Reducing the lift speed can reduce the forces exerted on the model's layers by the FEP sheet and the build plate.
However, you should know that reducing the lift speed will increase the printing time. One user was using the super-fast Vroom settings to print the calibration cone and kept getting print failures.
They were also printing with a super-thin layer height of 0.02mm, which made the effects of the high lift speed worse.
They fixed their failures by reducing the printer's lift speed from about 240mm/min to 60mm/min.
5. Increase the Build Plate Adhesion
Better build plate adhesion can be the key to fixing your Calibration cones. If your print keeps on failing at the first few layers, then your build plate adhesion might be weak.
If the adhesion is weak, the print won't be strong enough to withstand the peel force from the FEP sheet. As a result, the print will fail. You can avoid this by strengthening the base of your model.
Use a raft
Increase the bottom layer exposure time.
Use a Raft
A raft can help increase the bottom area of the model and keep it attached to the build plate. You can access the raft settings in your slicer.
Increase the Bottom Layer Exposure Time
You can also increase the build plate adhesion by increasing the bottom layer exposure time. It exposes the bottom layers for longer, leading to greater adhesion between the print and the bed.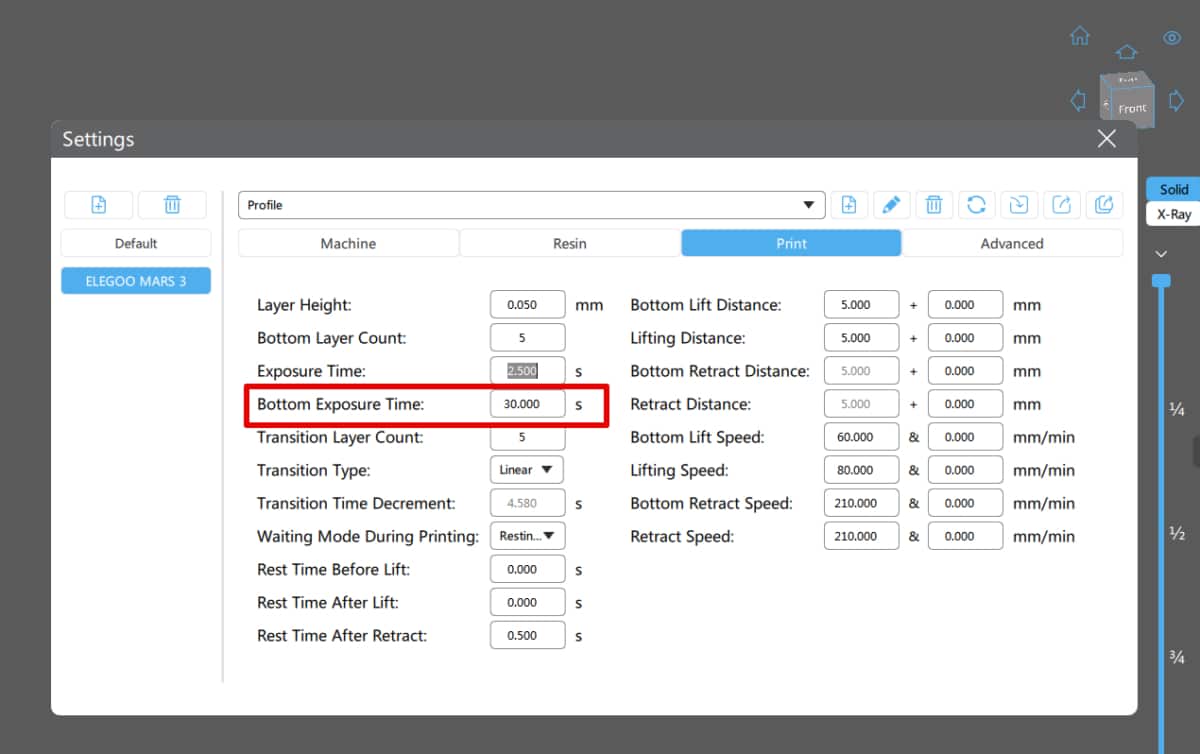 For a strong base, you can use a bottom layer exposure time of about 10x your normal exposure time. Some people also recommend not taking this time above 30 seconds to avoid over-curing.
One user had bottom layer adhesion problems after reducing the exposure time. They fixed it by adding 5s to their bottom exposure time.
6. Check and Replace Your FEP Sheet If Necessary
Check your FEP sheet for pieces of cured resin, tears, smudges and other imperfections. Also, check if it is loose, as a loose sheet can lead to print failures.
As we said in the previous section, imperfections in the FEP sheet can lead to print failure. So, checking it regularly is a must to avoid this scenario.
Also, you should check your FEP sheet between tests when printing the calibration model. This is because failed parts of the model can end up sticking to the sheet and causing failure.
You can replace the FEP sheet if you discover it isn't in good shape. You can get the Creality FEP Films from Amazon.
Prices pulled from the Amazon Product Advertising API on:
Product prices and availability are accurate as of the date/time indicated and are subject to change. Any price and availability information displayed on [relevant Amazon Site(s), as applicable] at the time of purchase will apply to the purchase of this product.
It is a high-quality film with a high transmittance that lets a high percentage of the UV light through it. Also, it comes in three different sizes; small, medium and large.
So, it is compatible with most printers out there. Many users say it is a great replacement and it works just as well as their original FEP film.
One user even said they didn't have to re-level the bed after installing it, as it fit their printer perfectly. You can follow this video from Anycubic to learn how to replace the FEP film.
Note: Remember to remove the protective covering from the FEP sheets. One user forgot to remove his, and all his prints kept on failing due to the cover blocking the UV light.
7. Clean Your Resin Vat
Cleaning your resin vat after printing helps get rid of accumulated impurities that can affect the Calibration Cones. These impurities accumulate faster when you're printing a calibration model with sections that are designed to fail.
These failed parts can float around in your resin vat and obstruct the printing process. In fact, this user had a broken piece of the model that damaged his LCD and FEP sheet
After calibration, another user ran an automatic cleaning print and discovered several failed model pieces in their tank.
So, inspect and clean your resin vat while printing calibration cone models. You can follow this quick video from Anycubic to learn how to clean your resin vat properly.
The architect of the cones even recommended cleaning your resin tank before calibration for the best result.
8. Shake Your Resin
Make sure you shake and mix your resin properly before you start printing calibration cones. This is necessary, especially if the resin has been sitting unused for a long time.
Shaking helps ensure that all the settled parts of the resin will mix in properly with the rest.
When resin is allowed to sit for long, the solid parts in its solution can separate and fall to the bottom of the bottle. If the resin is used like that, the model may not be printed successfully.
This user forgot to mix their resin properly before adding it to their vat, which might have led to a failed calibration print.
So, you should shake the bottle thoroughly to ensure the resin mixes uniformly throughout the bottle.
9. Use Quality Resins
Switching resin brands can help you print calibration cones and other models successfully. Some users usually complain about eco resin, water-washable resin and other resin brands.
They say they typically experience some difficulty printing calibration tests with these resins.
One even said that their successful calibration models always end up snapping and failing when it's time to wash and cure them. To avoid this, always make sure you print with a quality resin brand, as it can save you a lot of headaches.
Some people in the Table Foundry discord said they're testing out a version compatible with these types of resin. So, we might see a new version of the Calibration Cones.
10. Warm up Your Resin
Many resin manufacturers advise warming up your resin to room temperature before you start printing with it. This is because cold can change the properties of the resin and affect exposure times, leading to print failures in all your models, just not the calibration cones.
If you're living in a cold climate, you can buy a space heater to keep your printing area at a steady temperature. Also, to warm up your resin, you can soak it in hot but not boiling water for some minutes.
The warm water will bring it up to the optimal temperature for printing.
11. Disable Tolerance Compensation
You can fix your failing Calibration Cones by disabling the Tolerance Compensation setting in ChiTuBox. The setting can adjust the diameters of the model's cones, leading to top cones on both sides of the model failing.
One user reported that they had the setting enabled by mistake while slicing the calibration cone, leading to failures. They fixed the issue by disabling the setting and re-slicing the model.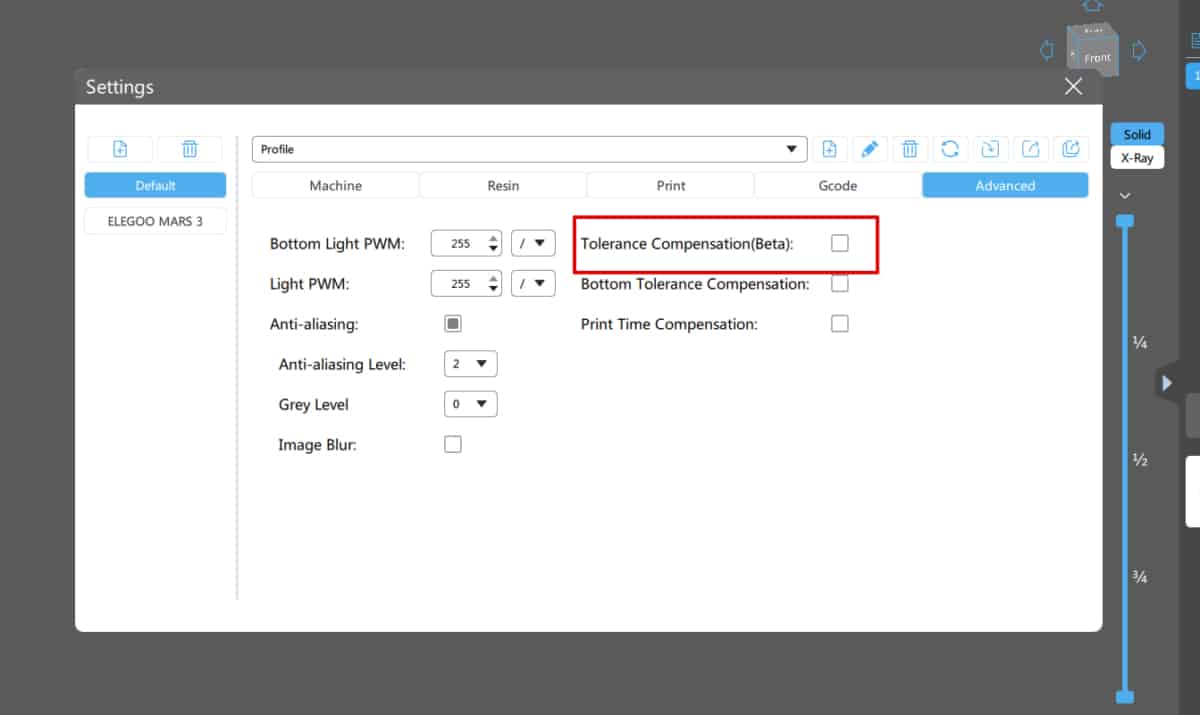 So, to accurately print the calibration model, ensure it is turned off when you're slicing the calibration cones.
12. Rotate the Model
Rotating the model can fix failing calibration models by changing its orientation on the build plate. You can rotate the model by 90 or 180 degrees in the XY plane and even offset it by 1-3mm from the center of your build plate.
You can do all this in your slicer with the Rotate function.
This way, the UV light building up the model shines through a different area of the FEP sheet, bypassing any obstruction causing the failure.
The FEP sheet can get worn out after several printing cycles, leading to the UV light not getting through properly. Additionally, the cones can magnify minor imperfections in the FEP sheet, leading to print failure.
One user even noticed that they had a dent in their FEP sheet after printing several calibration cones. The dent started causing print failures.
So, they had to re-orient their calibration cones model by about to get it to print successfully. Even the Architect of the Calibration Cones recommends that you rotate the model and offset it 1mm from the center.
The calibration cones are one of the easier calibration models you can print. If you're having any trouble with it, just follow the fixes we've provided, and you should be able to resolve them quickly.
Good luck and happy printing!