How to 3D Print Moving Parts
3D printing moving parts is the best way to take your 3D printing skills to the next level, whether you're an experienced user or just love tinkering. However, you have to get it right for the parts to move smoothly and efficiently. That is why I wrote this article to guide you through the process.
To 3D print moving parts, you'll first need to choose a printing method, design your moving part, calibrate the printer, and select the proper 3D printing material. After that, print your moving parts, test them, and make the necessary adjustments.
This is the basic answer on how to 3D print moving parts, but I will provide more information that you will find useful in this article. So, continue reading to find out more.
How to 3D Print Moving Parts
Here is the step-by-step process of 3D printing moving parts:
Choose a printing method
Find or design a model with moving parts
Calibrate the printer
Select the proper 3D printing material
Adjust the print settings
Print the moving parts
Test your moving parts and make adjustments if necessary
1. Choose a Method of Printing
First, you'll need to pick the printing method you'll use. There are two main ways you can print moving parts:
In this method, you'll need to print all the components of the moving part separately and then assemble them later. The advantage of this method is that it is easier. However, it takes longer and can result in parts that don't fit together.
Here is an example of a ball and socket joint that was printed separately.
This is where you print all the components of the moving part, for example, a joint, simultaneously on the same build plate. All you need to do is add a small clearance/gap between the components, creating a weak point you can twist and break to form a fully moveable joint.
Many people prefer printing-in-place because it saves time, and parts are more likely to align accurately since they are printed together.
Check out this video by Andrew Sink on how to make an articulated Cuttlefish with Print-in-Place.
2. Find or Design the Model with Moving Parts
The first step is to design a 3D model of the part you want to print using computer-aided design (CAD) software such as Blender, Simplify3D, and FreeCAD. However, you should have a clear picture of what you want to design in mind.
Here are some of the things you'll need to take into consideration during the design phase:
The Mechanism or Type of Motion
Before you can begin designing any moving part, you need to decide the type of motion you want your moving part to have, either rotation, sliding, or bending. The main components to help you achieve this motion include joints, gears, and hinges.
You need to design parts with enough clearance to ensure they fit together without binding. Clearance is the intentional gap you leave between moving parts when designing to ensure they don't interfere with each other while moving.
It also helps to ensure smooth movement between parts without too much friction that can cause wear and tear.
This video by Make With Tech explains more about the relevance of the clearance/ gap when making a hinge.
You should also have adequate tolerance to compensate for the variation in dimensions to ensure that your printed parts fit together and operate smoothly.
Achieving accurate dimensions can be challenging due to various factors, such as material expansion, contraction, and printer accuracy. You'll need to know your printer's tolerance beforehand to account for it when designing your parts.
One user said you needed a 0.2mm tolerance for a press fit. For example, a 5mm diameter cylinder fits into a 5.4mm hole (0.2mm on both sides). However, if you want some tight sliding action, use a 0.3mm tolerance. For example, a 5mm diameter cylinder into a 5.6mm hole.
In parts that require smooth, uninterrupted motion, you might need to add fillets and chamfers to help distribute stress and prevent it from concentrating at sharp edges.
Fillets are rounded edges that ensure a smooth transition between two surfaces of the moving parts. Conversely, chamfers are angled surface cuts that help prevent stress concentrations at sharp edges.
These features ensure that moving parts can function with minimal resistance. They also reduce the need for support by getting rid of difficult-to-print angles.
This video explains how to add fillets and chamfers to your design using FreeCAD.
If you can't design a model, downloading one from Thingiverse is the easiest way. Just go to Thingiverse.com and search for the terms that would show results for 3D models with moving parts, for example, "moving", "articulated", "flexible", "hinge" or "foldable".
Here is what your search results page would look like when you use the search term "articulated".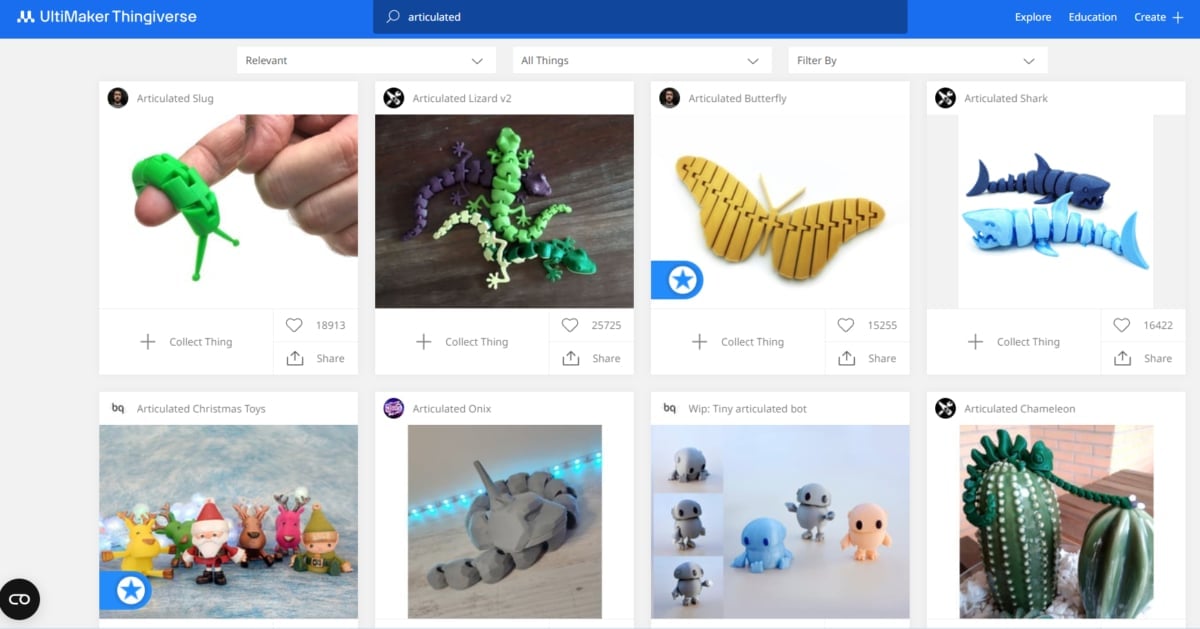 A section of the models displayed for the search term "hinge" on Thingiverse.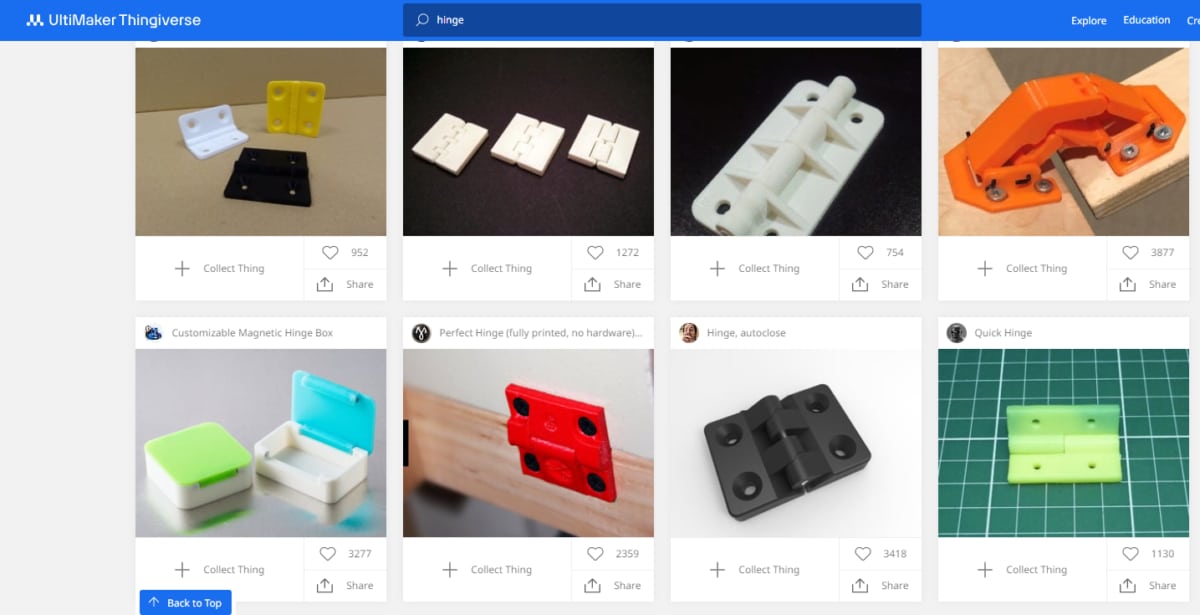 Additionally, you can scroll down a 3D model's page to find tags to help you look for more things to 3D print.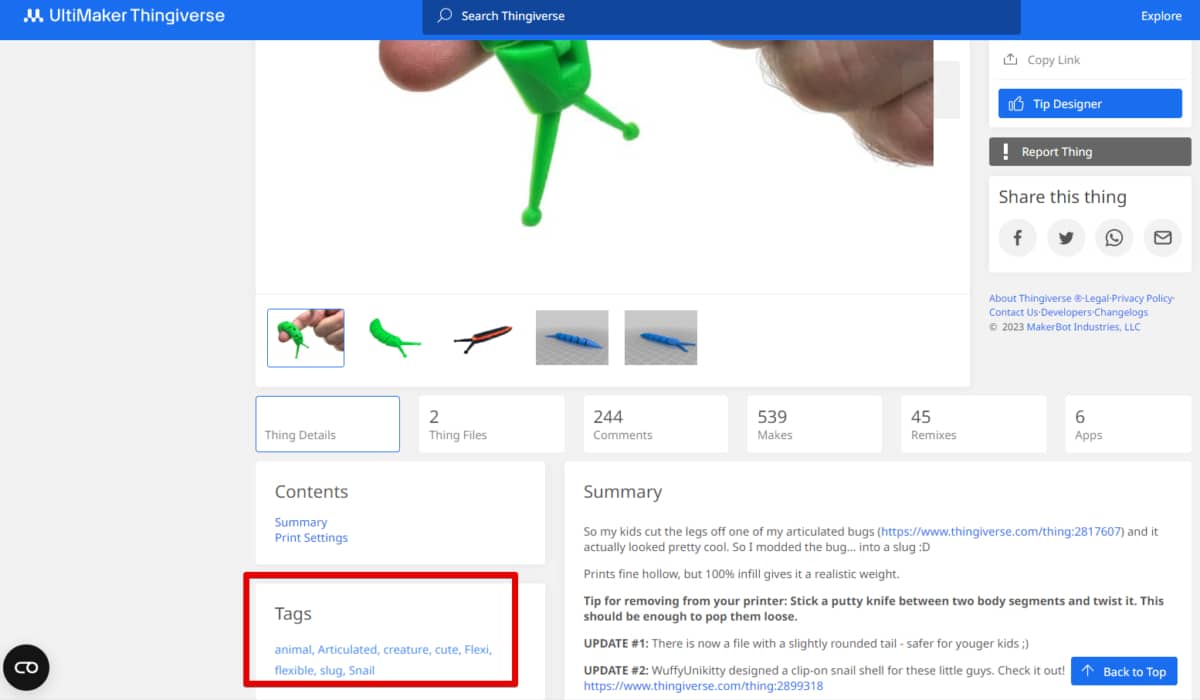 Just use the tags related to what you're looking for. In the above example, you can click "articulated", to view more objects tagged with "articulated".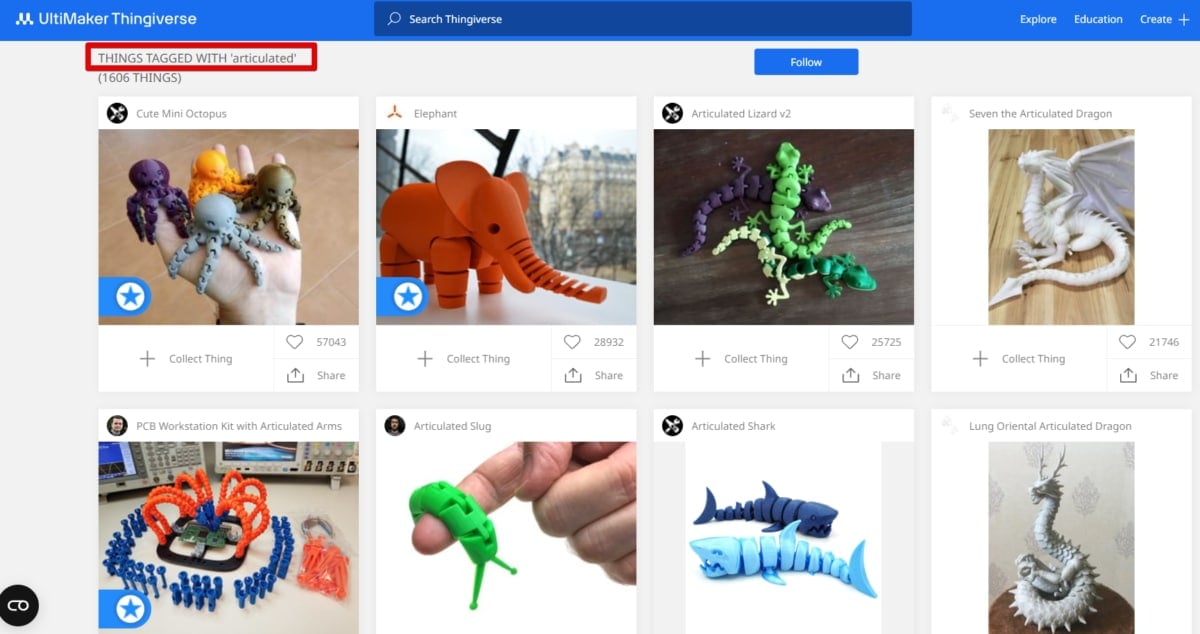 3. Calibrate the Printer
Next, you'll need to calibrate your printer to improve its accuracy. Proper printer calibration ensures that the dimensions of your printed parts match your design specifications.
If your printer is not properly calibrated, your clearance and tolerance will be inaccurate. This will cause your moving parts to be too tight or loose, affecting how they function. Calibrating your 3D printer involves:
Leveling the bed to ensure proper first-layer adhesion
Adjusting the nozzle height correctly
Calibrating the E-steps to ensure the correct amount of filament is extruded
Calibrating the print and bed temperatures for the specific material you're using
A user said he had a problem with his parts fusing when 3D printing moving parts. Someone said fusing meant he was over-extruding, that is if the nozzle was at the correct height.
As a solution, he needed to calibrate his E-steps so the right amount of plastic was extruded. This would also ensure the plastic wouldn't flow and stick to the other parts of the print.
Another user who wanted to know how to print moving parts without touching each other was told that careful calibration was the only way. Some common settings he could look at were:
Temperature: If it were too high, the plastic would flow too much
Flow rate: If it is too much, it could cause parts to overlap and affect the clearance
Check out this video that perfectly explains how to calibrate your 3D printer.
4. Select the Right 3D Printing Material
Material selection is one step you cannot overlook when 3D printing moving parts. The choice of material will directly affect how well your parts handle the stress of moving against each other.
You can choose a flexible material like TPU, which can be excellent for hinges since they allow repeated bending without breaking. However, when 3D printing gears, you might go for nylon or ABS due to their strength and durability.
One user said that PLA is good for prototyping things, e.g., a slow-moving legged robot, but not for producing functional parts since it doesn't handle stress well.
5. Adjust the Print Settings
Once you've designed your moving part and properly calibrated your printer, you'll need to adjust the print settings.
To get to print settings in Cura, click the icon on the right side of your screen to open the Print settings panel. Locate the setting you want to change using the search box or slider on the right side of your screen.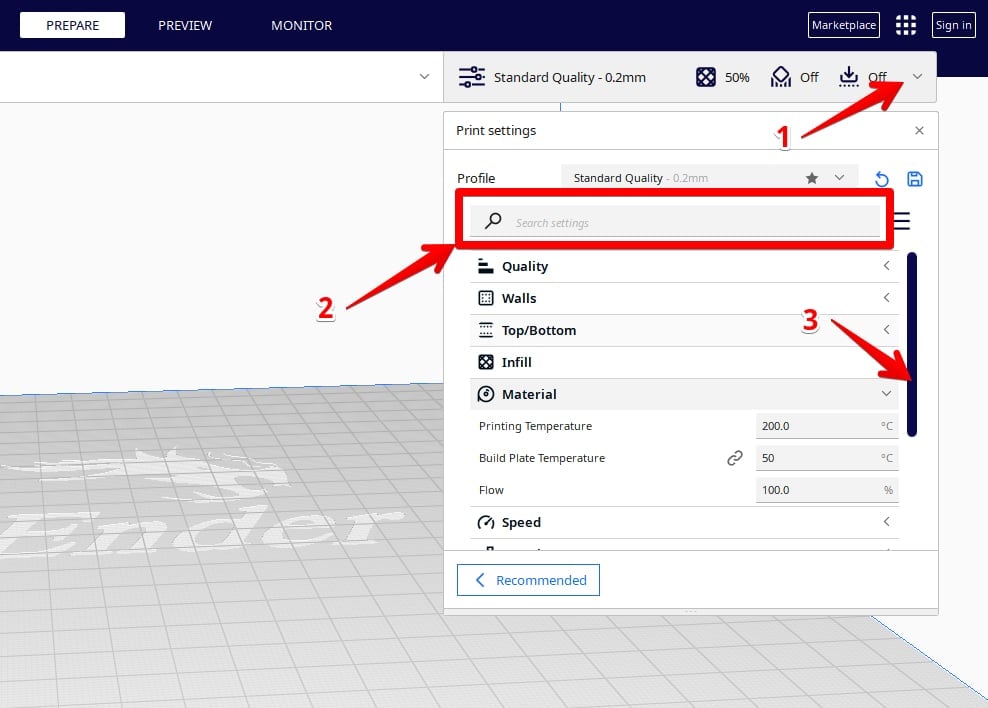 The key settings that you'll need to adjust to 3D printing moving parts successfully are:
Adjust the flow rate, also known as the extrusion multiplier, to control the amount of material extruded during printing. If the flow rate is higher than the required value, the walls of your print will be too thick, and vice versa is also true. This directly affects the tolerance, clearance, and how moving parts fit.
To adjust the flow rate, search for "flow" and change the value of the Flow parameter to what is recommended.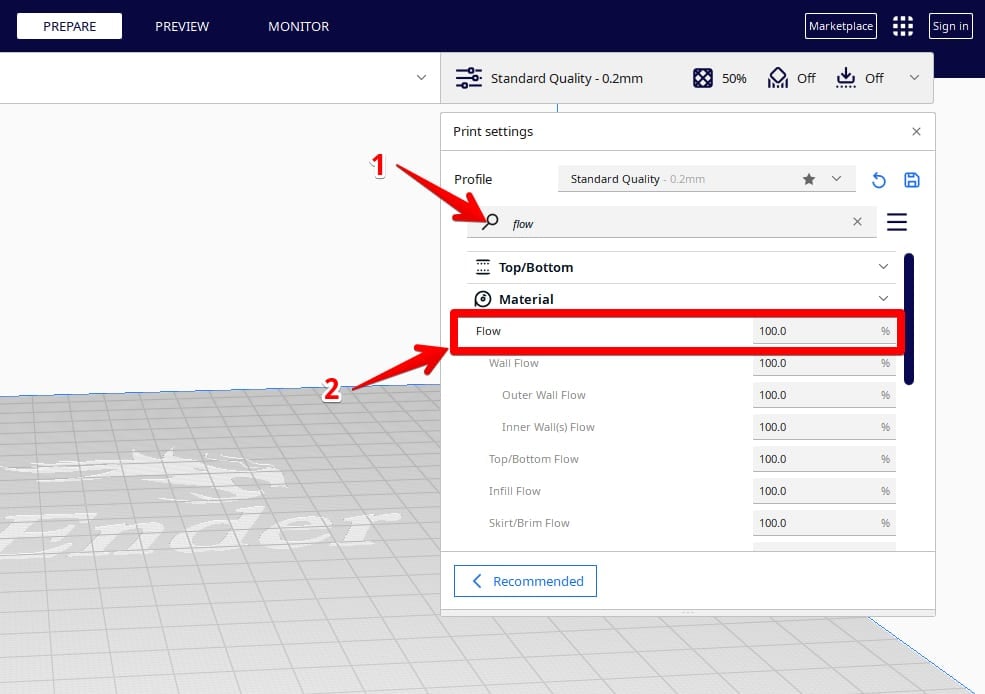 One user who had printed a mechanical toy with moving parts fused was advised to move the bed down a bit and drop his extrusion multiplier by 2% for the print. This is because this type of print is sensitive to over-extrusion.
However, he would still need to use a little force to break the moving parts free after printing, for example, using a drill with a long bit to spin it a bit. After spinning for a while, it would loosen up and spin well.
Another user who printed planetary gears which could not spin said that reducing his flow rate to 95% worked well for him. However, he needed to break the parts apart slightly and add a little oil for the gears to spin.
Horizontal Expansion Setting
The horizontal expansion setting will be useful when printing moving parts where the clearance and tolerance must be extremely accurate.
Factors like material shrinkage and thermal expansion can cause the dimensions of the print to vary from that of the digital model. However, adjusting this setting allows you to compensate for this variation to achieve the right fit between moving parts.
To adjust the horizontal expansion setting in Cura, just input " horizontal expansion" in the search bar to find it and change the value to what is needed.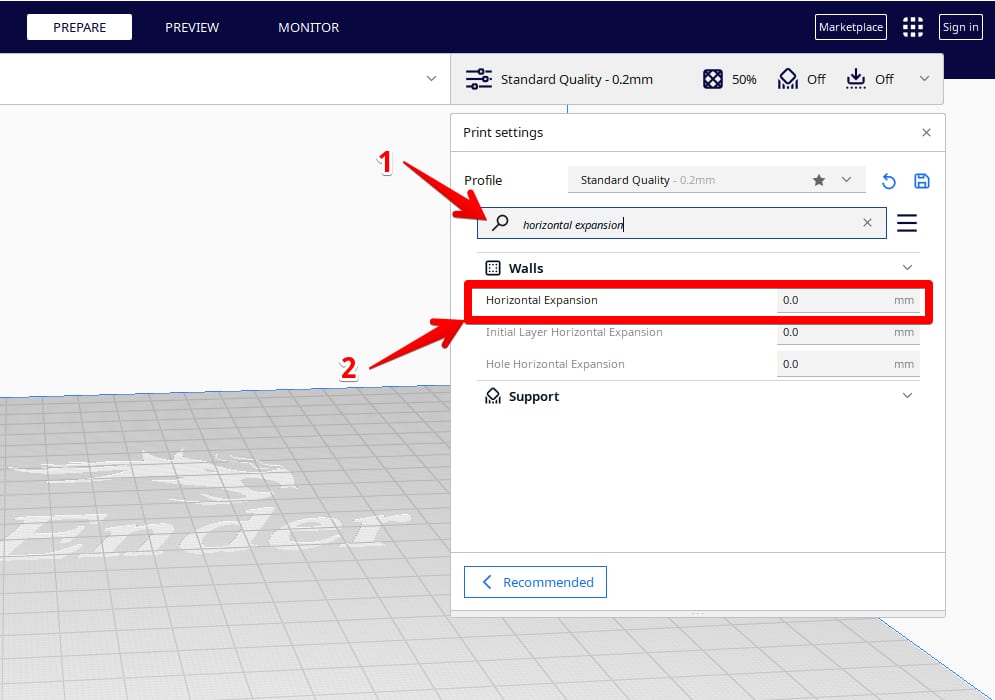 One user with a problem printing a part with two moving pieces was advised to look into Cura's "Horizontal Expansion", which compensates for tiny undersized, or oversized parts. The tiny variation in size can make parts fuse in print-in-place objects.
Before adjusting the setting, the recommender used TinkerCAD to make a 10mm cube and a 20mm square plate with a 10mm square hole. After that, he tried fitting the cube in the hole.
Upon realizing it did not fit, he measured the dimensions using tiny calipers and discovered he needed a -0.05mm horizontal expansion to make the hole and cube come out the right size. He advised the user to try a -0.1mm horizontal expansion and see if it would work for him.
Here is a nice Digital Vernier Caliper Measuring Tool that can be found on Amazon.
Prices pulled from the Amazon Product Advertising API on:
Product prices and availability are accurate as of the date/time indicated and are subject to change. Any price and availability information displayed on [relevant Amazon Site(s), as applicable] at the time of purchase will apply to the purchase of this product.
You'll need to adjust the cooling settings in your slicer software to prevent your moving parts from deforming due to excessive heat. This includes increasing parameters such as Fan Speed and Minimum Layer Time.
To find the cooling settings, type "cooling" in the search box and change the values of the parameters mentioned above.
One user said who printed planetary gears said that they were hard to spin. Another user resolved a similar issue by adjusting the part cooling settings. He increased the fan speed to prevent the layers from drooping and sticking together.
Layer Height and Infill Density
Adjusting the layer height affects the level of detail in your print. The lower the layer height, the more detailed your parts will be. For the infill density, you'll need a high value.  Moving parts often require a higher infill density to make them stronger and more durable.
Type "Layer Height" in the search box in the Print settings section to find this setting in order to change its value.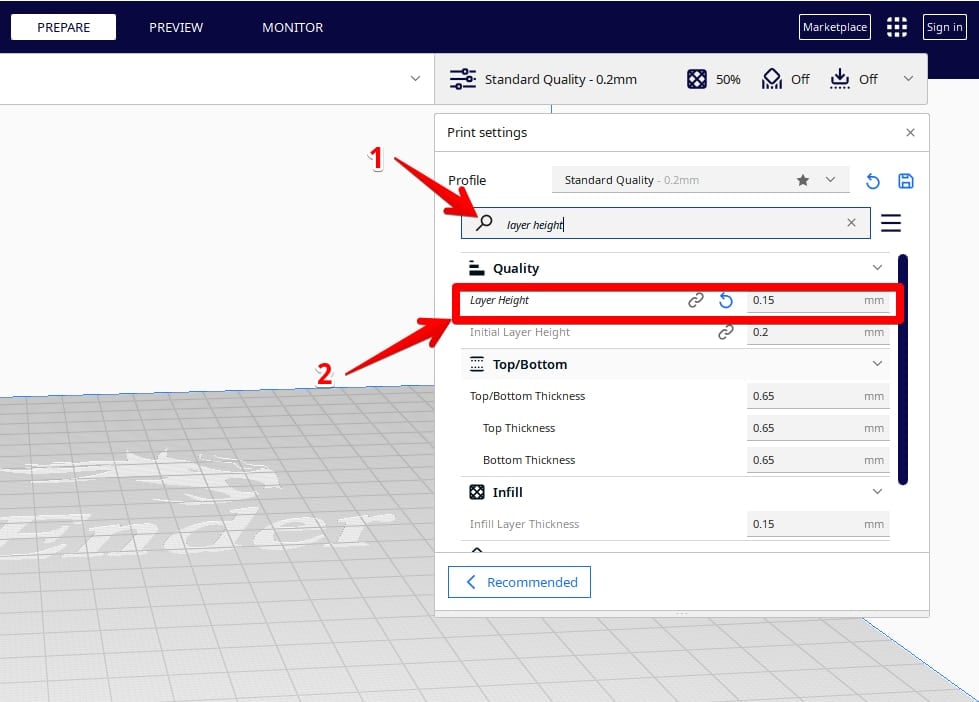 For the Infill density, type " Infill density" in the search box under Print settings and adjust its value accordingly.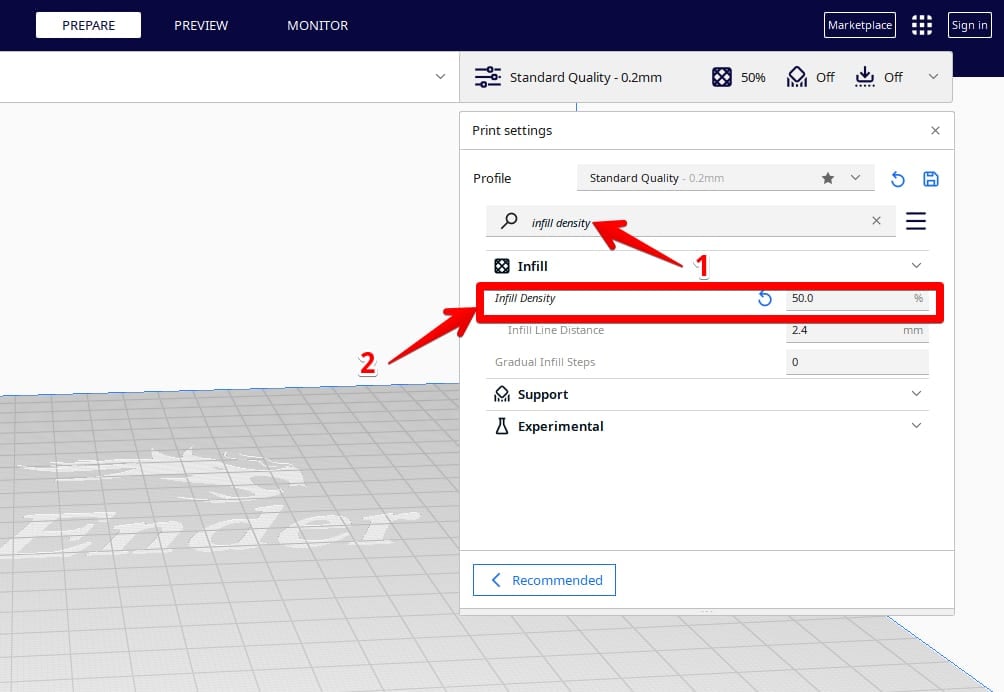 One user said you needed a 50% infill and a 0.15mm layer height to print-in-place strong hinges.
This video explains the key printing parameters you need to optimize to print moveable parts successfully.
6. Print Your Moving Parts
Once you're done with all the settings, you can load your chosen material into the printer, import your 3D model, and start printing. Monitor the print for any issues, ensuring each layer has adhered properly. It is recommended to start with the outer layers first, then go inwards.
To do this in Cura, open the Print settings, search for "walls", then "wall ordering", and select "Outside to Inside".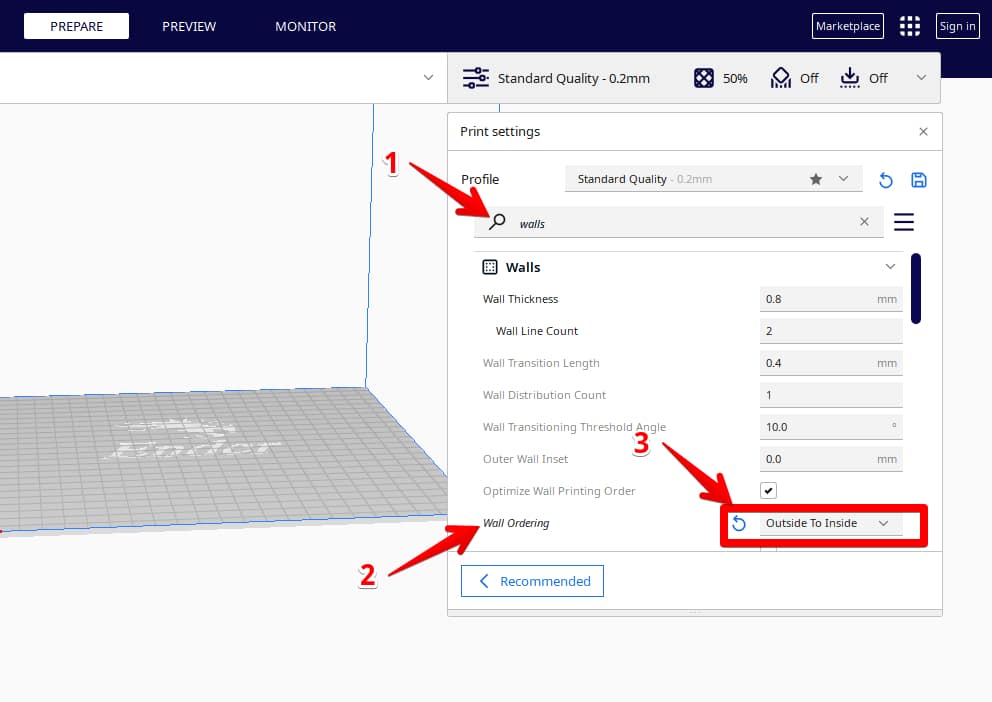 One user said that one trick he used when printing moving parts, especially gears, was setting up the print to print external perimeters first.
He added that if you print default, it does the internal perimeter first, then the external, which causes the external perimeters to overflow outwards.
However, when you print the external perimeters first, any overflow will go into the model. Using this in models that require precise gaps will work every time.
7. Test Your Moving Parts and Make Adjustments if Necessary
The final step of 3D printing moving parts is to test the printed object. If it doesn't move smoothly, check if the parts are binding or if there is excessive friction. Additionally, you can check if the parts are too loose.
Modify the design, reprint, and test again until you get the perfect fit and smooth motion. You can try making adjustments, such as increasing or decreasing the tolerance.
One user said that 3D printing was all about prototyping; if your first iteration doesn't work, adjust and try again. For example, if the threads on a bolt look okay, but the bolt is too big after printing, you can experiment.
Widen the opening of the nut and check if the bolt fits each time. It took the user 4 iterations to get the bolt to fit.