How to 3D Print Cosplay – Armor, Helmets & More
Quality cosplay outfits used to be something limited to talented visual artists, or at least to those with enough money to hire them. Now, thanks to commercial 3D printers, that barrier has been broken down!
To 3D print Cosplay, you'll want to choose your desired model which you can usually find on Thingiverse or MyMiniFactory. Choose an ideal material like PLA or ABS depending on your application, then slice the model with ideal settings and 3D print it. Post-processing is a good idea to improve the model.
In this article, I'll take you on a thrilling journey through the art of 3D printing cosplay. I'll show you several secrets, tips, and tricks on how to print awesome cosplay parts and bring your favorite characters to life.
How to 3D Print Cosplay
Creating awesome and vibrant cosplay parts takes quite a bit of work. However, 3D printing simplifies this process quite a bit and with proper planning, you can 3D print quality cosplay parts in no time.
So, to 3D print cosplay, here are the steps you will have to follow:
Choose and Study the Character
Get a 3D Model of the Cosplay
Choose the Right Material
Edit and Slice the Model
Print the Model
Remove the Supports on the Model
Post-Process the Model
Wear Your Model
Let's take a look at them:
1. Choose and Study the Character
Choosing the character, you want to bring to life is the first part of the cosplay 3D printing process. The type of character you choose influences many factors such as the finishing, printing time, materials, etc.
If you feel you aren't crafty enough, you can avoid picking characters with a lot of intricate details. However, most modern 3D printers are capable of handling high levels of detail, so you should be fine.
Once you've decided on the character, get to work studying it to determine just what you need for the cosplay. For example, look at this Mandalorian armor from Thingiverse.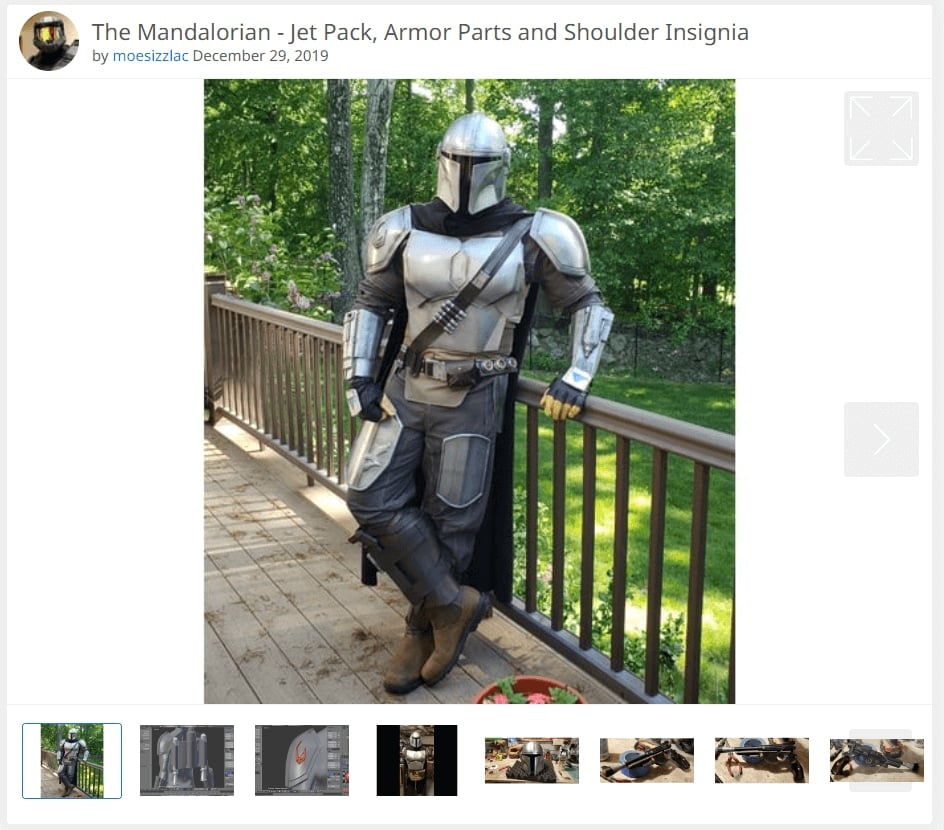 In addition to the printed parts, the model also needed a utility belt, cape, and some trousers. For some printed cosplay models, you might also need additional parts like motors, LEDs, etc., to create the desired effect.
You can study images and videos of the characters to get a more accurate read of the character.
2. Get A 3D Model of the Cosplay
You're going to need a 3D model of the cosplay before you can start printing it. When sourcing a 3D model, make sure you get a high-quality model as those produce the best parts.
Here are some ways you can obtain these 3D models:
Model Them Yourself
If you have some 3D modeling skills, you can create the cosplay parts you want to print yourself. This is the best method for creating 3D files as you can edit and model them to your own specifications.
To achieve this, you can use sculpting and 3D modeling tools like Blender, Autodesk Maya, etc., to create the 3D model. You can take a look at how popular cosplayer, KamuiCosplay, created a 3D model of a character's armor in Blender by using an image of the character.
Download the Model
If you don't have 3D modeling skills, you can download cosplay 3D models from online 3D model repositories. These repos contain thousands of cosplay models from different 3D artists who uploaded their designs for others to use.
For example, check out this Iron Man Helmet that this user uploaded on Thingiverse (free).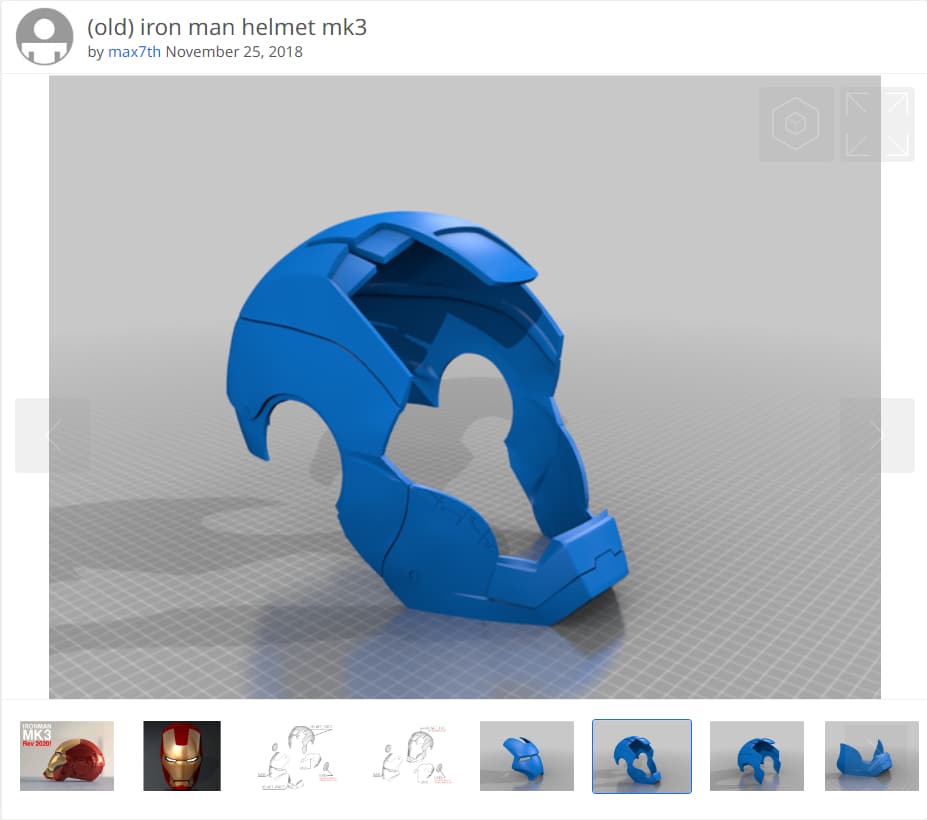 You can find more cosplay models like this on sites like:
You can also get some higher quality paid models from sites like Etsy, Patreon, and even Instagram artists.
Hire a Freelance 3D Artist
If you can't find the models you're looking for on these sites, then you can hire a 3D artist to create them for you. Some 3D model repositories offer services on which you can meet and commission artists to create your custom 3D files for you.
You can also go on sites like Upwork and Fiverr to hire a freelance 3D modeling artist. These sites are populated with decently priced professionals that will create high-quality models for you.
3. Choose the Right Material
If you're a beginner, it's best to keep it simple and use materials like ABS and PLA+. If you require something stronger, you can go for tougher materials like PETG and ABS.
A great PLA+ filament you can get is the Overture PLA+ Filament from Amazon. It is stronger and tougher than regular PLA and you can use it for printing regular, functional parts.
Prices pulled from the Amazon Product Advertising API on:
Product prices and availability are accurate as of the date/time indicated and are subject to change. Any price and availability information displayed on [relevant Amazon Site(s), as applicable] at the time of purchase will apply to the purchase of this product.
One user said they used it to create a cosplay helmet and it worked flawlessly.
Also, if you're going to create a part that's going to be subjected to bending and other stresses, you might want to consider a flexible filament like TPU or at least PETG. Other filaments can crack and break under these forces.
You can also get the Overture PETG Filament from Amazon. It provides extreme toughness and can easily withstand bends and impact shocks without deforming.
Prices pulled from the Amazon Product Advertising API on:
Product prices and availability are accurate as of the date/time indicated and are subject to change. Any price and availability information displayed on [relevant Amazon Site(s), as applicable] at the time of purchase will apply to the purchase of this product.
However, you should always keep it dry for the best results.
4. Edit and Slice the Model
Once you've decided on the cosplay 3D model and the materials you want to use to create it, the next step is to edit and slice it. This involves importing it into a special program called a slicer to change and set certain features of the model so it will print properly.
Here are some of the important parts of the slicing process:
Import the Model into The Slicer
Before you can slice the model, you're going to have to choose a slicer and import the model into it. Popular slicers for FDM printers include Cura and PrusaSlicer. For resin machines, you can use PrusaSlicer, as well as either ChiTuBox or Lychee Slicer.
3D printing professionals also recommend using these along with MeshMixer. Meshmixer provides plenty of additional features for editing cosplay parts.
All of them have free versions that are packed with several awesome features that make slicing easy.
Re-Size the Model
Most times, the model gotten from online 3D repositories might not be the size you require. To fix this, you're going to have to re-size the model.
First, measure yourself and get your right size. Next, use the scale command in your slicer to make the model bigger or smaller depending on your requirements.
One way cosplayers achieve this is by using a tool called a Cosplay Caliper to measure body dimensions. You can check out this video that shows how to measure dimensions and scale the model accordingly in Meshmixer.
Another option cosplayers use in scaling their models is the Armorsmith Designer. It allows you to build a virtual model of your body which you can then use to scale 3D models up and down.
You can attach the 3D models to your virtual avatar, then scale it up and down as you see fit. However, it is not free.
Split the Model
This step is optional. However, sometimes it might be needed if the cosplay part is bigger than your build plate and can't be printed in one piece.
So, you're going to need to split the model into several parts and print each one separately. For example, this user printed a full Iron Man suit on a small Up Mini printer by splitting it into 152 pieces, though this isn't usual.
You can do this using software like Slic3r or Meshmixer with Cura. Most people prefer using the latter as it gives them greater control over the cutting and splitting process.
For example, you can take a look at how this YouTuber, Frankly Built, split a large cosplay prop using Slic3r and Meshmixer.
Edit the Print Settings
Once you've cut and positioned your model properly on the build plate, it's time to edit the print settings. You don't need to use any special profile for printing Cosplay in Cura. You can simply edit the default print settings.
Here are some settings you can edit:
Layer Height: If you want to reduce the printing time, you can go with the standard 0.2mm or a larger 0.3mm layer height, though this can lead to more prominent layer lines.
You can get rid of the layer lines with sanding but it can affect some of the finer details on the print. Most people recommend using a layer height of 0.16mm for smaller, detailed models as a compromise between quality and speed.
Infill Density: For parts that aren't going to be under any stress or wear, you can get away with using an infill density of about 10-20% to save time and material. However, for stronger parts like armor, helmets, etc., you're going to want to go with a density of 25% and above.
Wall Line Count: I recommend using a wall line count of about 3-4 for cosplay models. Apart from resulting in a stronger model, it also ensures the model doesn't become too thin after sanding and post-processing.
Top and Bottom Layers: Just like the Wall Line Count, you should have about 3-4 bottom and top layers.
Print Speed: You can go with the default 50mm/s speed in Cura. For better quality, you can reduce it and leave it in the 30-50mm/s range
Add Supports to The Model
When adding supports to your cosplay model, always make sure you orient the model so that the supports are on the inside of the parts. Placing supports on the outside of the parts can result in marks and other irregularities on the print surface that might require sanding.
Also, you might want to consider using Cura's tree supports as they are easier to remove and leave fewer marks on your model. Finally, if your model doesn't have a strong, wide base, I recommend using a brim or raft to make sure it doesn't topple while printing.
5. Slice and Print the Model
After adding the supports and editing the print settings, preview the final model to make sure everything is alright. Check to see if there are no unsupported overhanging parts that can cause print failure.
Once everything is good to go, slice the model and transfer the G-Code to your printer by slicing the model and putting it on a USB or memory card.
Make sure your bed is properly leveled and apply an adhesive like a glue stick to help with build plate adhesion. Make sure that this is all properly dialed in as you'll need good conditions to print complex models like this chain mail.
Once all this is in place, start the print.
Now, since most cosplay parts are large, printing can take a while. So, stick around to monitor the first few layers to make sure they are sticking to the build plate properly.
If they aren't, stop the print, clear the layers, and restart the print.
6. Remove Supports on the Model
Once the model is done printing, detach it from the build plate. Gently remove its supports if you have them to avoid damaging the model.
The supports should come off easily. However, if they don't, you can use a flush cutter to trim away the supports at their base.
After removing the supports, it's time to post-process the model.
7. Post-Process the Model
Post-processing the model is important as it elevates the raw 3D model into a vibrant cosplay part. It involves four main parts; Sanding, filling, priming, and painting.
YouTuber 3D Printed Props provides a wonderful in-depth guide for this process across a series of videos. You should check them out to learn how best to post-process your model.
Let's look at them:
Sanding
Prime the print
Fill the model's surface
Paint the model
Sanding
Sanding helps get rid of print irregularities and layer lines on 3D printed models. If you sand the cosplay model well enough, you can achieve a smooth, mirror-like finish on it.
First, start with a rough-grit sandpaper like 100 grit to remove the support marks and other major deformities. Next, move up to higher grit like 200 and 500 grit for a smoother surface. Be very careful with the model's delicate features when rough sanding to avoid removing them
You can get some YXYL Assorted Sandpaper 48Pcs 120-5,000 Grit for your model on Amazon. They offer excellent material removal and last longer than regular sandpaper.
Sand Paper, 48 PCS Sandpaper, 120 to 5000 Assorted Grit Sandpaper Sheets, 9 x 3.6 Inch Premium Wet Dry Sandpaper for Wood Furniture Finishing, Metal Sanding, Automotive Polishing
Meets All Your Needs: 48 pcs sand paper kit, 16 grits sandpaper assortment, including 3 sheets of each grit: 120, 150, 180, 220, 240, 320, 400, 600, 800, 1000, 1200, 1500, 2000, 2500, 3000, 5000 grit sanding paper
Prices pulled from the Amazon Product Advertising API on:
Product prices and availability are accurate as of the date/time indicated and are subject to change. Any price and availability information displayed on [relevant Amazon Site(s), as applicable] at the time of purchase will apply to the purchase of this product.
Once you're done, wash the print to get rid of any dust remaining from the sanding process.
Note: When sanding, make sure you wear a mask to avoid inhaling particles
Prime The Print
Next, it's time to apply the primer. The primer ensures that you have a clean surface before painting the model. Also, the primer exposes imperfections like layer lines on the model so you can easily fill them and sand them down.
Spray a light coat of primer on the model and make sure all of its surface is covered. Go over the print with sandpaper to take care of any remaining deformities.
The Rust-Oleum 2-in-1 Filler and Sandable Primer is an excellent choice for 3D models. It will fill in layer lines and any other defects on the model's surface. After filling, you can sand it down to achieve a uniform surface.
Prices pulled from the Amazon Product Advertising API on:
Product prices and availability are accurate as of the date/time indicated and are subject to change. Any price and availability information displayed on [relevant Amazon Site(s), as applicable] at the time of purchase will apply to the purchase of this product.
It also provides excellent topcoat adhesion, ensuring your paint lasts longer on your model.
To achieve the best surface possible, you can even go further and wet sand it with high-grit sandpaper like 1,000, 1,200, and 1,500 grit.
According to many hobbyists, they work excellently for 3D prints and provide a clean surface without damaging fine details.
Fill the Model's Surface
Filling helps take care of the larger layer lines or defects in the printed part that can't be sanded off. You can apply glazing putty over the print's surface and sand it down to fill in the layer lines and the defects.
After filling the layer lines with the putty, you can sand them down to get a more even surface. Just like we did in the previous step, go from lowest to highest.
Just be very careful with the finer details on the model to avoid smudging them.
Paint the Model
Once your model is properly sanded and primed, it's time for the final step, painting. You can paint your model using several methods, but most people recommend using spray paint or airbrushing it.
However, if you have smaller details that you want to paint, you might want to use a brush.
For a vibrant finish, you need to apply more than one coat of paint to your model. Most people use three coats; an undercoat, a topcoat, and a glossy coat or matte coat finish.
Once you're done applying the coats, you can go over the model with a fine brush to apply little details and highlights to the model.
Once you're done, leave the model out and let it dry.
8. Wear Your Model
It's been a long process but your cosplay model is finally complete. Now, you can wear your own unique creation to conventions, parks, and other events.
Wherever you choose to wear it, don't forget to take lots of pictures and show off! We all love to see awesome 3D printed costumes out in the wild.
Good Luck and Happy Printing.