How to 3D Print an Iron Man Suit – 8 Steps
If you're an Iron Man fan, you've, at one point, wanted to own an Iron Man suit. The downside is these suits are pretty expensive. However, you can create one for yourself at a relatively cheaper price through 3D printing. That is why I wrote this article to guide you through the process.
To 3D print an Iron Man suit, gather the supplies you'll need, find a 3D model of an Iron Man suit, and then print all the parts. After that, remove all the supports, sand the printed part, join them together, and paint. Finally, add the electronic components and assemble your suit.
This is just an overview of what you need to do. I will go into more detail in this article. Keep reading to find out more.
How to 3D Print an Iron Man Suit
3D printing an Iron Man suit is an exciting venture for any 3D printing fan. However, you should be ready to put in the time and effort to get the best results.
Here is how you can 3D print an Iron Man Suit:
Gather the materials and tools needed for the project
Find an Iron Man suit model
Print all the parts
Post-process your prints
Join the printed parts
Paint the model
Add electronic components to your model
Assemble your model and do the final touches
1. Gather the Materials and Tools Needed for the Project
To kick off your Iron Man suit 3D printing project, getting all the necessary tools and materials on hand is essential. The materials include:
Filament
Adhesive material
Primer
Acrylic paints
Clear sealant
Sandpaper
Support material
LEDs and wiring
Painter's tape
Some of the tools include the following:
Pliers and cutters
Sandpaper
Safety gear
Painter's tape
Buckles
Straps
Soldering
Wire strippers and cutters
Remember that the specific tools and materials you require can vary based on how complex you want your Iron Man suit design to be. A well-organized workspace with proper lighting and ventilation is also crucial for a successful and enjoyable project.
One user said it took him 1,200 hours of printing on 2 Creality CR-10S printers. He also needed $230 in plastic, $160 in spray paint, and about $150 in straps, buckles, and electronics.
He also needed an electric palm sander, spray paint, clear coat spray, and car wax to get the suit smoothed out and shining.
The $230 in plastic went towards purchasing 15 rolls of 1kg PLA. 12 made it into the suit, with the other three being used in supports, rafts, failures, and reprints. The LEDs for the eyes and other electronics were eventually worth $40-50.
Another user printed his entire suit using a mixture of Nylon, PETG, and PLA for the main shell/interior frame. He also suggested using TPU for joints if you wanted to get funky with the suit.
A user said he needed a modded CR10s, a modded Ender 5, and one Halot One Plus printer to complete his Iron Man project. He also used PETG, PLA+, Emerald Blu, Tenacious, and Ninjaflex as his materials. These were used for both FDM and SLA printing.
He also used Hvlp to apply paint, 55 individual LEDs to surround the armor, and 64 LEDs for the center arc light.
Frankly Built provides all the information about how much it would cost to make an Iron Man suit and all the materials you need.
2. Find an Iron Man Suit Model
Once all your tools are ready, the next step is to find the 3D model of the suit to slice and print. Creating the 3D model of an Iron Man suit can be an uphill task. Luckily, you can download it for free or at a cost online.
Some places to download STL files for the Iron Man suit include Thingiverse, MyMiniFactory, Thangs, Do3D, CGTrader, and Cults3D. Ensure you choose designs with positive reviews and detailed documentation from experienced creators to ensure an accurate and high-quality print.
To download the Iron Man suit STL files from Thingiverse, which is by far the most popular site for downloading STL files for free, you need to:
Search for "Iron Man Suit" on Thingiverse. From the search results, select the most suitable model to print and click it.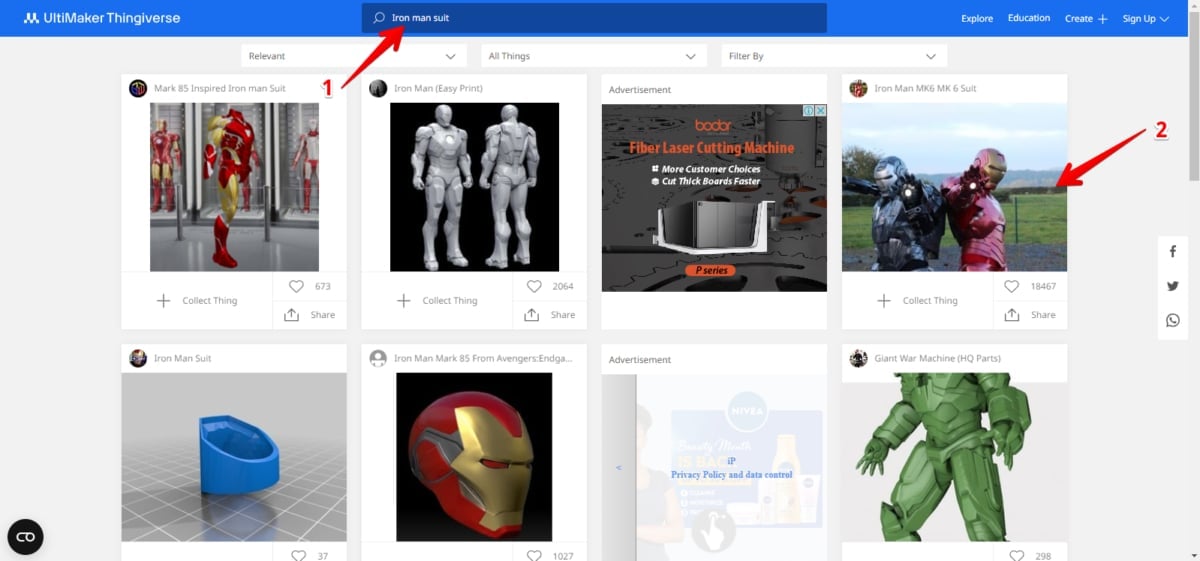 On the page you've been redirected to, go to "Thing Files" and download all the STL files for your Iron Man Suit model.
Another important step is to go to "Thing Details" to find recommendations from the designer on how to print and post-process your Iron Man Suit.
Note: For a complex design like the Iron Man suit, you might have to download several STL files for different suit components, which you will print separately.
If you have some cash to spare and want great files for 3D printing your Iron Man Suit, I suggest you go to Do3D.
Enter "Iron or Iron Man suit" on the search bar and choose your preferred file to get.
From the results page, click Add to Cart or Buy Now to download the STL files for your Iron Man suit.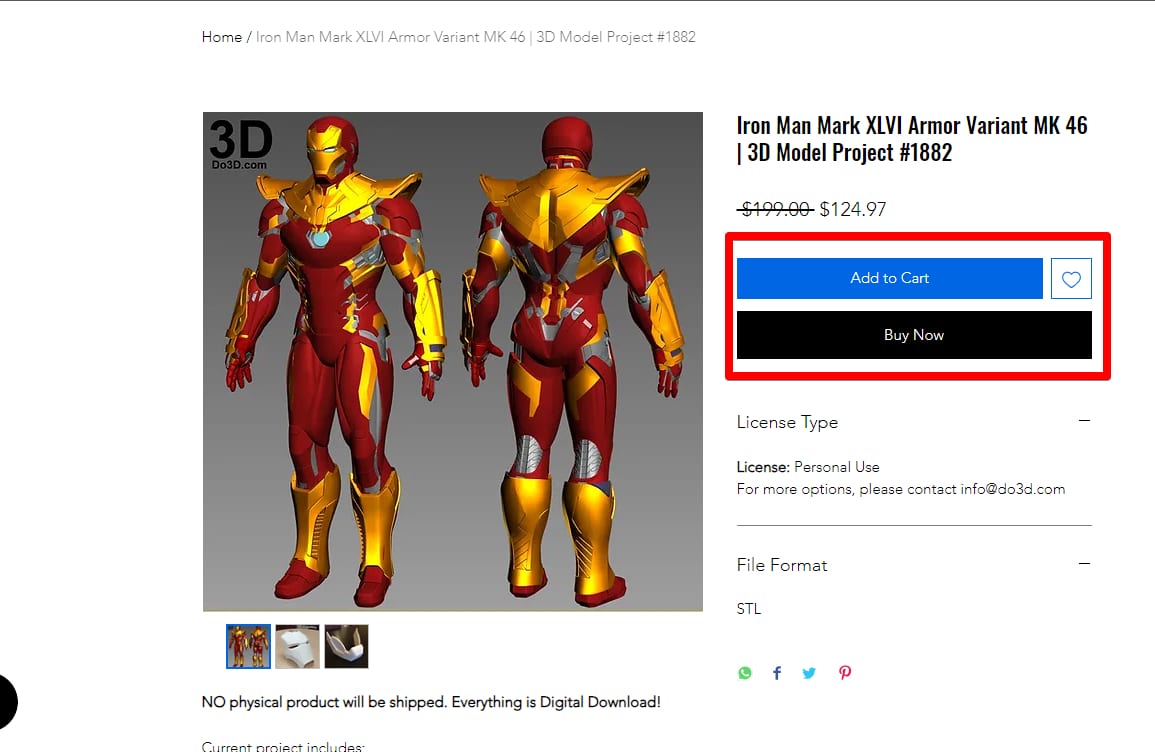 One user said that the cool thing about the 3D print hobby space is that he doesn't need to design models each time since there are companies that draft and prepare them. You can then buy and print the files since it would help you complete 10% of the work.
He added that he got a paid STL file from Do3D.com to help 3D print the Iron Man Suit. It costs approximately $125 to download the STL files for the Iron Man Mark XLVI Armor from Do3D at the time of writing.
Another user also said he got the STL files for his 3D-printed Iron Man suit on Do3D.com. As for the helmet, he got it from Akira Yuming on CGTrader.
3. Print All the Parts
With your STL files already downloaded and saved in a folder on your computer, it's time to transform your 3D model into a tangible Iron Man suit.
You should choose a printer with a large enough build volume for the components or the Iron Man suit but not too large to slow down printing.
First, import your 3D model into a slicing software to convert it to G-Code format for 3D printing. Some examples of free software include Cura, PrusaSlicer, and Simplify3D.
You'll need to import the STL files for the different parts and slice and print them separately. To do this in Cura, you can follow the procedure below:
Import one of the STL files by clicking the folder icon in the top-left corner, selecting the file from the folder you saved, and clicking "open".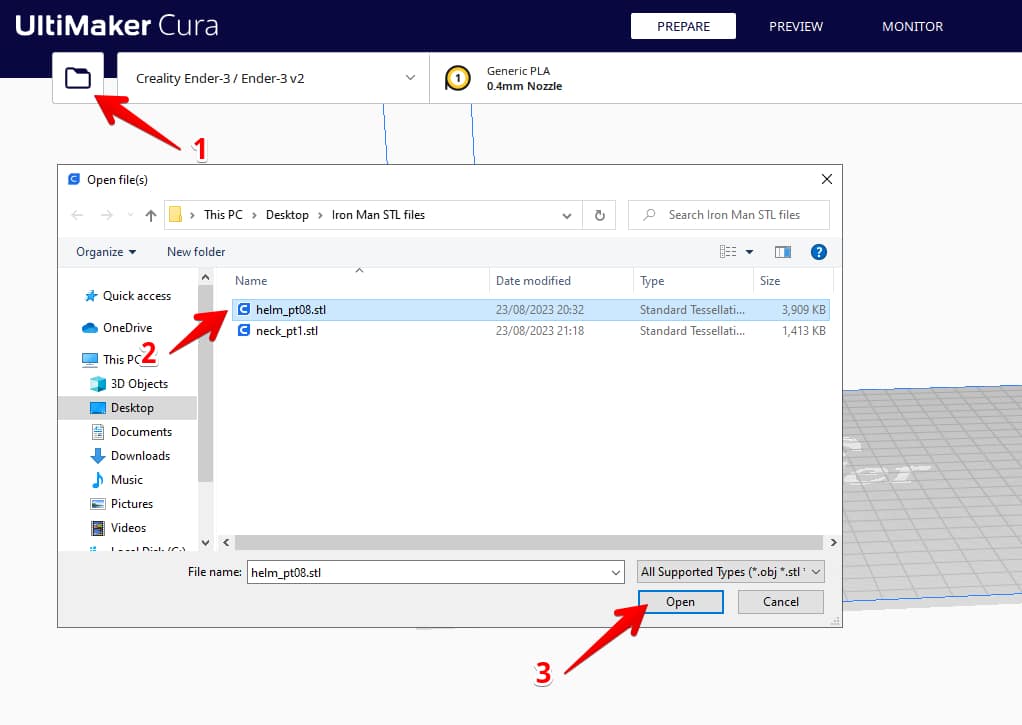 Scale the Model up or down to fit your size. This is because every designer usually provides files with dimensions that would make the suit a perfect fit for them.
To do this, you can use a tape measure to get the dimensions of, let's say,  your arms. If they differ, adjust the size of that part in Cura accordingly.
You can do it as shown in the video below.
After that, adjust the print settings. You can find the print settings tab in the top-right corner. Click it to expand and display various settings you can adjust, including infill density, wall thickness, and layer height.
Do not forget to add supports to your 3D model. Do this by going to the Support setting and checking the "Generate supports" box.
Under this setting, you choose if you want supports in areas that touch the build plate or everywhere. You can also change the Support Overhang Angle and slice your 3D model.
Preview your model to see how each layer will be printed.
Once satisfied, click the "Save to Disk" button. Transfer the file to an SD card, plug it into your printer, and print your part.
Repeat these steps to print a different component of the Iron Man Suit while adjusting the print settings where necessary.
If the files are too large, a user recommended breaking them into smaller parts for printing using the Meshmixer Plane Cut tool.
Check out this video by TechClub on how to separate large files into multiple pieces using Meshmixer.
For the Iron Man MK6 Suit I linked above, the designer recommends printing with a 0.2mm resolution, 15% infill density, supports, and rafts.
He printed the suit on a Prusa I3 using PLA. The hotend and bed temperatures were 195°C and 60°C, while the printing speed was 45mm/s. The wall thickness he recommends should be at least 0.8mm, especially if you want to wear the suit.
One user who had printed an Iron Man suit was asked what layer height and speed he used. He responded that he used a 0.2mm layer height, 0.6mm nozzle, and 50mm/s speed on two printers. He added that the 6mm nozzle perfectly balanced speed and quality.
A user said that he printed his Iron Man MK 46 suit in 152 pieces (with about 8-10 reprinted due to breakage and resizing), all in ABS on his Up Mini. The UP Mini's build volume is 120mm x 120mm x 12mm, so he didn't have a piece larger than 4.75 inches.
This was done over six months with 8kg of ABS.
4. Post-Process Your Prints
After printing, you'll need to post-process to give your Iron Man suit components a polished look. Here are some of the things you'll need to do:
First, you'll need pliers and cutters to carefully remove support structures from your Iron Man suit's printed parts to avoid damaging them.
Next, sandpaper with varying grits will be needed to level the rough edges and make your parts look smoother. Start with a coarser grit (around 120) and gradually work to finer grits (600 and above). Sand your components in a consistent direction for a uniformly polished finish.
One user said that he finished each piece using body filler and sanding many times before using spray on filler/primer and fine sanding a few times again. The filler covers all the gaps in your print that make it look untidy.
Check out the Bondo Brown Wood Filler that would be perfect for this application.
Prices pulled from the Amazon Product Advertising API on:
Product prices and availability are accurate as of the date/time indicated and are subject to change. Any price and availability information displayed on [relevant Amazon Site(s), as applicable] at the time of purchase will apply to the purchase of this product.
Another user said that the technique he used to ensure a perfect finish was applying Emerald Blu resin (which acted as a great filler), curing the resin with a UV flashlight and then sanding the printed part. He did this 2-3 times to fill terrible gaps in his prints.
The Siraya Tech Emerald Blu 3D Printer Resin can easily be found on Amazon.
Prices pulled from the Amazon Product Advertising API on:
Product prices and availability are accurate as of the date/time indicated and are subject to change. Any price and availability information displayed on [relevant Amazon Site(s), as applicable] at the time of purchase will apply to the purchase of this product.
However, to smoothen it further, he applied primer over the resin coats, waited 24 hours for the primer to dry and sanded again.
A user said that he used a soldering iron to melt parts together. He folded the plastic together to make one solid part, after which he smoothed it out with an electric palm sander.
He recommended this super cheap Black and Decker Orbital Sander found on Amazon, which would be perfect for sanding.
Prices pulled from the Amazon Product Advertising API on:
Product prices and availability are accurate as of the date/time indicated and are subject to change. Any price and availability information displayed on [relevant Amazon Site(s), as applicable] at the time of purchase will apply to the purchase of this product.
5. Join the Printed Parts
Before applying any adhesive, perform a dry fit of the components to ensure they align accurately and provide a snug fit. Pay attention to gaps, overlaps, and misalignment. This step allows you to make the necessary adjustments before permanently joining the parts.
Afterward, you can join the separate parts to make them one complete component. You can use epoxy or superglue to join the components together permanently. Apply a thin layer to the joining surfaces, then carefully align and press. Hold it for a few seconds until they're stuck together.
Some people weld the parts together using acetone. You can even add fiberglass to some components to strengthen them further.
A user said that he used acetone welding to join his parts together. Using the standard process, he also stuck fiberglass to large pieces (chest, back, thighs) of his Iron Man suit. He then trimmed the excess and sanded the edges smooth.
Although it doubled the weight of his suit, it helped it withstand hard knocks and avoid getting damaged during transport.
This video by Adam's 3D Printing can teach you how to acetone weld parts printed with ABS.
6. Paint Your Suit
Next, you'll need to paint your suit to give it the Iconic Iron Man look. Start by applying a primer coat to the suit to help the paint adhere better. Tape off sections that will not be painted using painter's tape and then apply a base coat for the color you want to paint, e.g., metallic red.
Spray the final coat and use fine brushes to add intricate details and shading to mimic the original suit. Once the paint is dry, apply a clear sealant to protect the paint job.
Frankly Built covers painting an Iron Man Suit and some materials you'll need.
One user said he sanded everything down with an electric palm sander and used automotive Rust-Oleum spray paint. After that, he buffed, polished, and waxed the clearcoat with car cleaning stuff.
Here is Rust-Oleum Spray Paint available on Amazon.
Prices pulled from the Amazon Product Advertising API on:
Product prices and availability are accurate as of the date/time indicated and are subject to change. Any price and availability information displayed on [relevant Amazon Site(s), as applicable] at the time of purchase will apply to the purchase of this product.
Another user was inquiring how to paint the Iron Man suit and get it smooth. He was told to sand, apply auto body filler, sand, and then repeat. After that, apply primer, sand, apply primer again, sand lightly, and then apply Hvlp automotive paint.
7. Add Electronic Components to Your Suit
To light up your suit and motorize it, you'll have to add electrical components. So, leave room for electronic components like LED lights, power sources, and wires. Plan your wiring layout so you can place them cleanly in your suit.
You can use a soldering iron to cut off areas where you'd like your lights to be and then glue and clips to secure the wires to prevent them from tangling.
Place the LEDs strategically within the suit, and if you know how to code, put a microcontroller like Arduino to customize the lighting effects. If you don't, some AA batteries and proper wiring will light up your suit.
You can check out this video on how to add lights to your Iron Man Suit.
8. Assembly and Final Touches
For the final stage, sew plastic buckles onto elastic straps and then glue them onto your printed suit in places such as the chest, back, and hands. This will hold the suit in place when you wear it.
Once the straps and buckles are in place, assemble your suit and put it on. Test it to see if you'll need to make any adjustments to make it move or fit better.
Also, test the electronic components you put in the suit to ensure they function correctly. Ensure the LEDs light up as expected.
Frankly Built has one of the best series of YouTube videos explaining how you can build the MK85 Endgame Iron Man Suit.