How to 3D Print a Drone – Kit & Frame
Drones are now more popular than ever, with many applications ranging from racing, videography, and agriculture to security. While drones were once exclusively the domain of large manufacturers, 3D printing has evened out the playing field of creating these amazing flying machines.
To 3D print a drone, you want to find a good drone model from a place like Thingiverse to download. Then choose a filament to 3D print the drone such as Nylon, which is durable. Input your settings into your slicer and print the model. You'll need to do post-processing and assembly.
In this article, I'll be exploring the step-by-step process of 3D printing a drone and taking to the skies! So, whether you're a hobbyist or a professional in search of unique solutions, this article has something for you.
So, join me, and let's dive in.
What Type of Drone Can I 3D Print?
Unmanned Aerial Vehicles AKA Drones come in various sizes and configurations. Some common types of drones include:
Fixed wing drones
Single/Double rotor helicopter drones
Multi-rotor drones e.g., Quadcopters, hexacopters, etc.
While you can 3D print and build all the drones on this list, some of them are more technically complex than others. For example, fixed-wing drones are quite complex and hard to build, especially for beginners, because of their control surfaces.
However, helicopter drones and multi-rotor drones like quadcopters are more common. In fact, you can find thousands of plans and 3D models of these drones online.
So, if you're a beginner just starting out, I recommend that you go with either a multi-rotor or helicopter drone build.
How to 3D Print a Drone
Before 3D printing a drone, you should first try and understand how drones work, so you can plan, design and print them successfully. In this section, we'll cover some of the important things you need to know before printing, and how to take on the printing process.
So, to 3D print a drone, here are the steps you should follow:
Determine the Drone's Specifications
Determine the Components You'll Need for the Drone
Get the 3D Model for the Drone
Choose the Filament Material
Slice and Print the Drone
Post-Process the Drone
Assemble the Drone
1. Determine the Drone's Specifications
Before you start designing or sourcing a 3D model for the drone, you should first determine the drone's specifications. These specifications include the size of the drone, the type of drone, its purpose, etc.
These specifications will determine a lot of printing factors like the material you'll use, components you'll source, etc. For example, you can choose to go with a low-cost drone like this micro-drone from Prusa.
You can also print larger, more functional drones like this GoEngineer long-range endurance drone.
2. Determine the Components You'll Need for Your Drone
While you can 3D Print most parts of your drone, you can't possibly 3D print everything you need. YouTuber, Michael Rechtin, tried but at the end even he had to use some non-3D Printed components.
So, you need to determine the components you'll need so that you can design or adjust your module accordingly. We can group the parts you'll need into two categories; 3D Printed and non-3D Printed parts.
3D Printed Parts
Frame: The frame is the central body of the drone and contains important parts of the drone like the flight controller, battery, etc.
Arms: On a quadcopter or hexacopter, these are the mounts for the drone's motors. In some designs, they may be attached to the frame while in some, you might have to print them separately.
Propeller guard: It goes around the propellers to protect them in case of a crash or impact.
Landing Gear: It is located at the bottom of the frame to protect the main body from hitting the ground or impact shocks while landing.
Camera Mount/ Enclosure: The camera enclosure is where the camera is mounted or stored in the drone. It can be part of the central frame or attached to a stabilizing gimbal away from the drone's body.
For example, if you want to use a camera like a GoPro or iPhone, you're going to need to print a special mount for it.
Non-3D Printed Parts
Battery: Provides power for the drone's operation
Flight Controller: The central chip that contains the flying instructions and logic for the drone.
Motors: They provide the rotational motion for the propeller.
Propeller: They rotate and provide the thrust needed for the drone to fly. You can print them, but they have a complex shape so most people recommend buying them.
Antennae: Receives the signals from the drone's remote control.
Camera: Record video footage from the drone while it flies.
You can't print most of these parts, so you're going to have to buy them.
These are just a few of the basic parts you're going to need for the drone. If you want more functionality for your drone, you can add more advanced parts to the drone.
3. Get the 3D Model for The Drone
Once you've finalized the specifications for your drone, the next step is to get the 3D model of the drone so you can print it. Now, if you require a custom drone solution, you can design the 3D model yourself.
However, if you don't have any 3D design skills, you can download 3D models from online repositories for your use. You can get models of drone parts and various accessories from sites like Thingiverse, Cults3D, and MyMiniFactory.
You can even find models on GrabCAD which is a repository specifically tailored to engineers. These sites even provide detailed Bill of Materials and instructions for building the drone.
Here are some of my favorite drone models: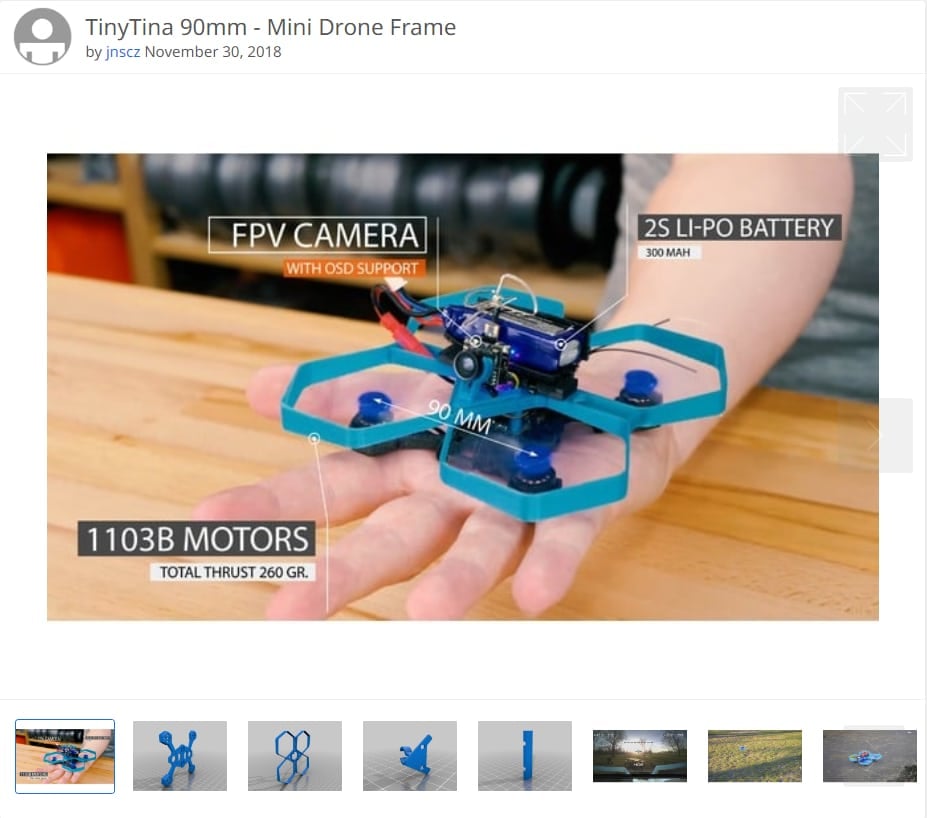 This Mini drone is one of my favorite models. It's a light, tiny drone that you can easily print on any machine in less than half a day. Also, it was built on a budget so you shouldn't be spending more than $200 to source and assemble the components.
This drone is very agile and has very important prop guards, which means you can fly it both indoors and outdoors.
The T4 Quadcopter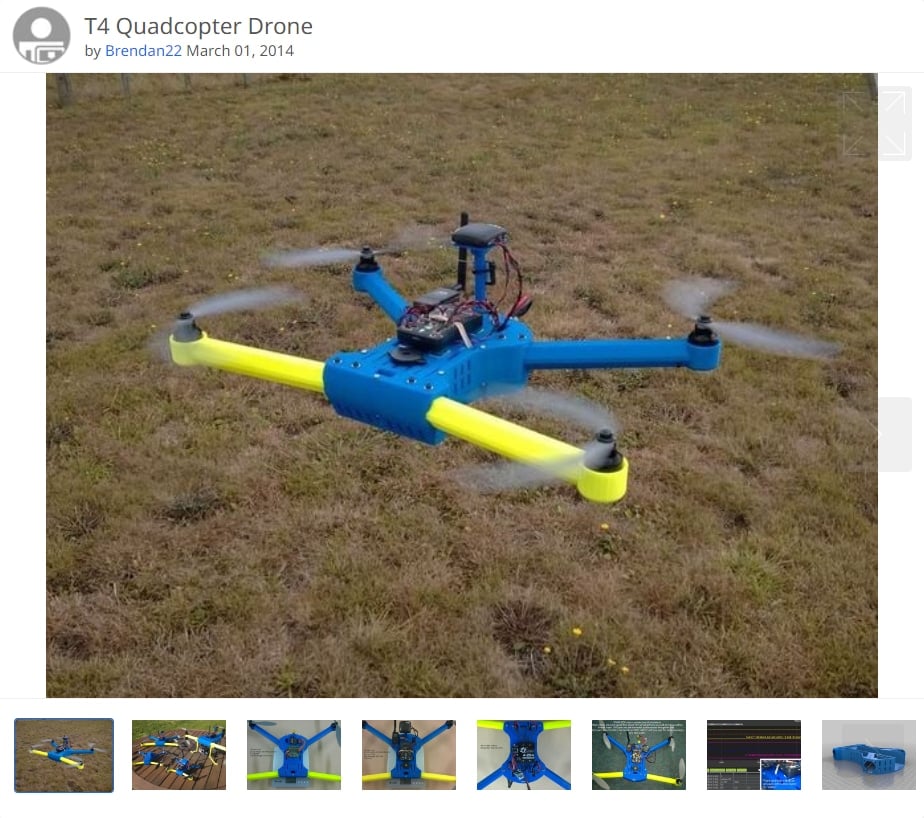 The T4 is a quadcopter drone with a very simple, easy-to-assemble build that you can print without using supports. Its tubular arms and enclosed body provides a great spot to route and conceal all the electronics.
Also, the design comes with special nose mounts for the antennae and an FPV camera. If the T4 is too big, you can also find a mini-version of it on Thingiverse.
The Æsir II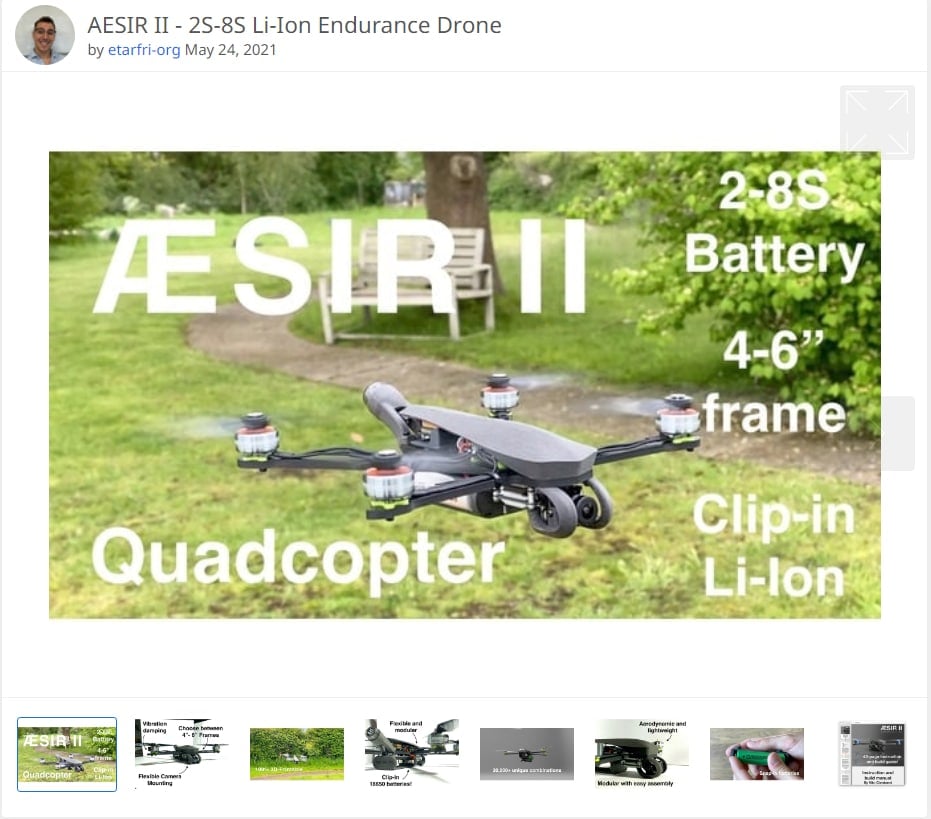 The Æsir II is an awesome open-source concept drone from the non-profit Etafri. This drone design is fully customizable and you can edit, add or remove several components to your own specifications.
You can choose between different battery capacities, frame configurations, and even camera mounts to create your own special custom drone.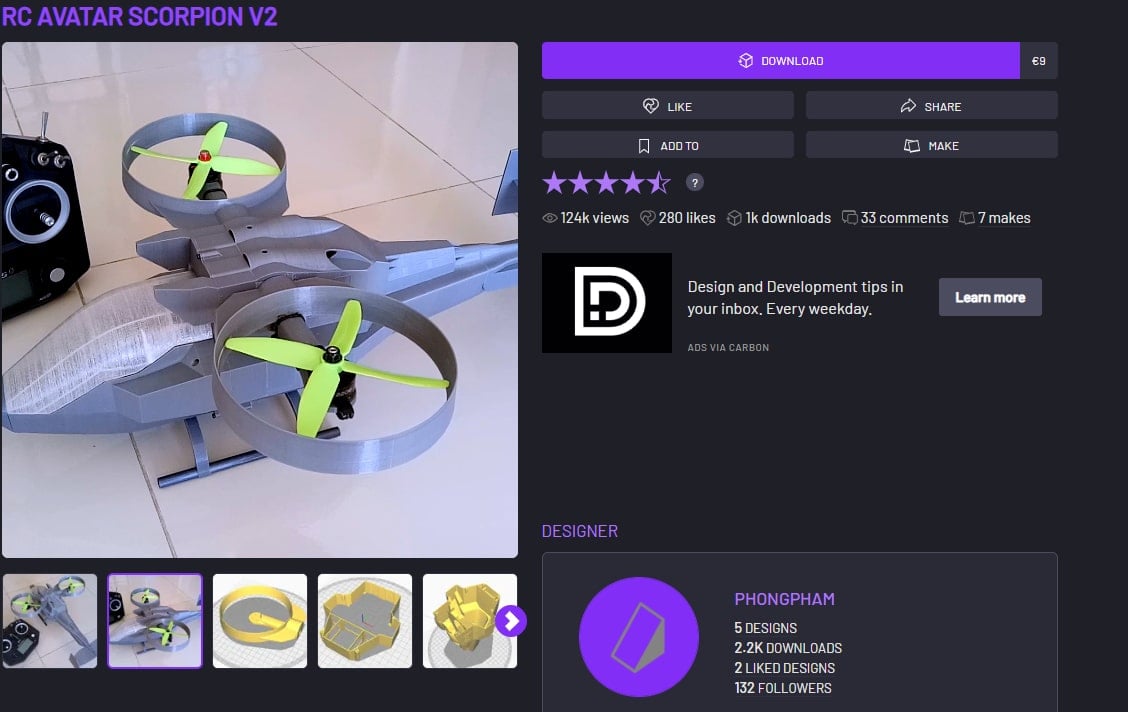 If you're a fan of the Avatar movies, you're going to love this one! The Scorpion RC is a miniature of the popular AT-99 gunship used by the RDA in the movies.
It is a medium-large size RC bi-copter with a fully 3D-printable frame aimed at intermediate to advanced hobbyists. However, if you're a beginner you can still build it as there are plenty of assembly guides out there to help out.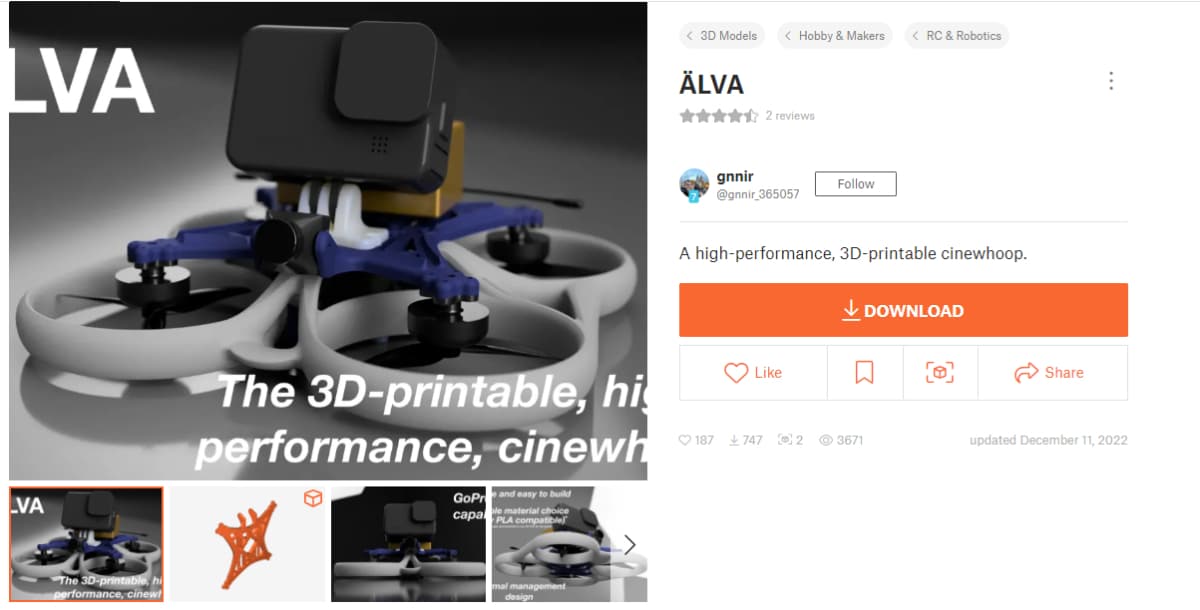 The Alva is a 3", lightweight cinewhoop drone targeted at videographers. Thanks to its agile, high-performance design, it is perfect for flying and capturing video in small or tight spaces.
All you have to do is to print the drone, assemble it, then strap in your GoPro and you're ready to capture high-quality footage.
4. Choose the Filament Material
After getting the 3D models and plans for your drone, it's time to decide the type of filament you want to use in printing the drone. You can print everything out of a single material like PLA or ABS to save money. However, that might not be optimal.
Certain materials offer some advantages that can lead to better performance. For example, for components like the central frame, landing gear, covers, and arms, you might want to use strong materials.
These sections of the drone are often subject to stresses that can result in the failure of weaker materials.
Materials like Carbon fiber reinforced PETG, or even Nylon offer the best strengths. You can get this Polymaker Carbon Fiber reinforced Nylon from Amazon.
It produces extremely strong and heat-resistant models with high impact resistance. However, you have to make sure you keep it totally dry while printing for the best results.
For parts like the camera mount, antenna holder, propeller guard, etc., a flexible material like TPU is the best choice. These materials are good at absorbing impact and isolation the components they're guarding from vibrations.
However, most hobbyists recommend Polypropylene (PP) and Polyamide COPA for the best performance. These materials provide a good mix between rigidity and flexibility.
You can check out this crash test video from RCLifeOn where he tests the durability of several drone frames.
PP was the clear winner as it was stiff enough to carry the drone components while being flexible enough to take any impact without fracturing and failing. You can find the RepRapper Polypropylene Filament on Amazon.
Prices pulled from the Amazon Product Advertising API on:
Product prices and availability are accurate as of the date/time indicated and are subject to change. Any price and availability information displayed on [relevant Amazon Site(s), as applicable] at the time of purchase will apply to the purchase of this product.
This brand is ultra-tough, and also a bit flexible so it can deform without cracking. The filament also comes with a special build plate for printing it so you can have the best first layer possible.
5. Slice and Print the Drone
Once you've decided on the right filament materials to use for your drone, it's time to pop the 3D model into the slicer for some editing. To do this, import your model into the slicer and place it on your virtual build plate.
If you're going to be printing all the components with one filament, you can arrange all of them on the build plate. This will print everything at once, saving you a lot of time.
If you can try and arrange all of them, so they are flat on the build plate. The orientation of the layer lines will make them much stronger.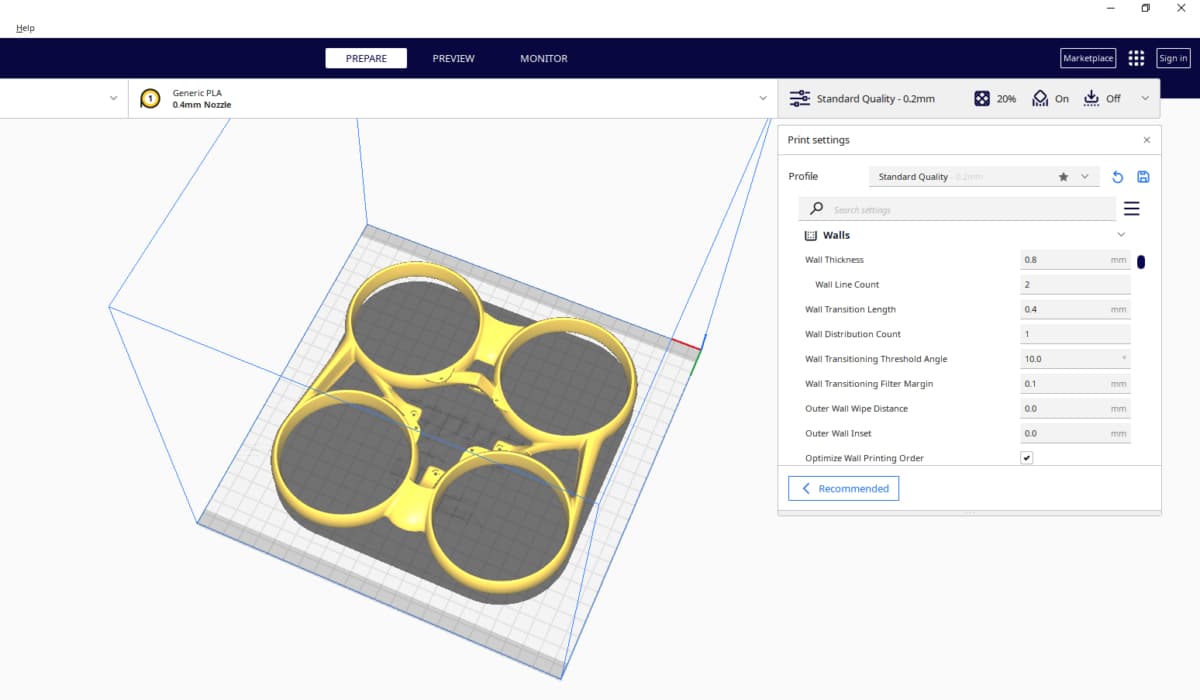 Finally, you can also scale the model up or down, depending on your requirements. However, since most 3D models have strict plans and specifications, scaling them might not be a good idea.
If you scale them, the electronics and other components might not fit properly.
Edit the Drone's Print Settings
Once you've arranged, scaled, and oriented the drone settings properly, it's time to edit the drone's print settings. You can print the drone with the normal print settings for the material.
However, there's one factor you should watch out for, which is weight. The printed components need to be as light as possible for the drone to perform optimally.
However, in the quest to lose weight, you shouldn't sacrifice strength as the components need to be strong too. Here are some settings you can manipulate to get the perfect balance between strength and weight.
Infill Density: There's a lot of debate around this, but most people have found success printing with around 60-100% infill for medium-sized drones. For smaller drones, most people keep the infill in the 5-20% range.
Of course, the resulting strength still depends on the material.
Wall Line Count: Many users have commented that they've printed successfully using a high number of walls and relatively low infill. In fact, one user commented that they had a really solid frame from using 5 walls and a 6% Gyroid infill.
Infill Pattern: The best infill type for printing drones is the Gyroid infill. It offers strength in all directions, making your drone more solid and impact resistant.
After editing these settings, you can add supports to the model, slice it and send it to your machine for printing.
6. Post-Processing
Once the Drone model is done printing, remove it from your print bed. Take off any extra material like supports, stringing, etc.
If you want to finish it with paint, sanding, etc., you can also do that. You can check out this great video from Thomas Sandladerer on how you can finish functional 3D models.
7. Assemble the Drone
Now that the printed parts are ready, you can start assembling your drone. Add all the electronics, motors, and propellers according to the plans and specifications of your Drone.
YouTuber GreatScott provides this awesome guide on how you can choose, assemble and program the electronic components on your 3D printed drones.
Once you're done adding them, test the drone to see if everything is in order and the frame is stable. If the model passes all the tests and you don't notice any breaking, bending, or fractures, you can take your drone outside and watch it take flight.
Final Thoughts
That's a wrap on our 3D printing drone guide. We hope we've given you all the information you need to build your very own 3D-printed drone.
I wish you the best of luck as you navigate the skies – have an amazing time!