How to 3D Print a Doll of Yourself (7 Steps)
Everybody loves to take pictures but it is a lot more fascinating to have a 3D printed doll of yourself. This could be a model of your whole body or just a 3D selfie of your face.
3D Scanning and photogrammetry are the best methods for creating a digital model and then 3D printing it. The straightforward process includes 3D scanning yourself, cleaning up the file, and then slicing it in a 3D slicer. Finally, 3D print the file on a 3D printer and do the post-processing for a good surface finish. 
This is just the basic answer but there is a lot more to know to get the job done with efficiency.

How to 3D Print a Doll of Yourself
Here is how to 3D print a doll of yourself also known as a "Mini Me":
Gather Things You Need
Prepare Yourself for the Scan/Photos
Decide the Method to Scan Yourself
Clean up the Scans and Download File
Slice or Finish the Model in a 3D Slicer
Print the Doll Model
Get the Post Processing Done
1. Gather Things You Need
Specific tools and software are needed to 3D print a doll of yourself. It's better to have everything together before moving to the actual process. The main things include:
Camera, 3D Scanner, Smartphone, or Photogrammetry Rig: Most users mention using the XBOX 360 Kinect Sensor. You can go with any smartphone or camera, though for the best results, it's better to use a high-quality camera such as a Canon EOS Rebel T7 DSLR Camera to have a high level of detail in your final model.
[amalinkspro type="showcase" asin="B07C2Z21X5″ apilink="https://www.amazon.com/dp/B07C2Z21X5?tag=3dly-20&linkCode=osi&th=1&psc=1″ new-window="true" addtocart="false" nofollow="true" sc-id="6″ img-sizes="500:400″ imgs="https://m.media-amazon.com/images/I/413Iz-RLMGL._SL500_.jpg" link-imgs="false" specs="24.1 Megapixel CMOS (APS-C) sensor with is 100–6400 (H: 12800)" btn-color="#ff9900″ btn-text="Buy on Amazon" alignment="alignnone" hide-prime="0″ hide-image="0″ hide-price="0″ hide-button="0″ width="600″ banner="" alt="Canon EOS Rebel T7 DSLR Camera with 18-55mm Lens | Built-in Wi-Fi | 24.1 MP CMOS Sensor | DIGIC 4+ Image Processor and Full HD Videos"]Canon EOS Rebel T7 DSLR Camera with 18-55mm Lens | Built-in Wi-Fi | 24.1 MP CMOS Sensor | DIGIC 4+ Image Processor and Full HD Videos[/amalinkspro]
Computer, Laptop, or Tablet: To run 3D scanning, 3D slicer, and 3D modeling apps/software.
3D Printer: I'd recommend going with a resin 3D printer for 3D printing a doll of yourself since they have much higher quality. Something like the Elegoo Mars 3 or the Anycubic Photon Mono 4K from Amazon will work well. You can also go with an FDM 3D printer like the Ender 3 or Elegoo Neptune 3 though with lesser quality.
3D Printing Material: You can go with the easiest material to 3D print, PLA Filament. Depending on your requirements, you can also use other materials like PETG or Resin.
2. Prepare Yourself for the Scan/Photos
Next, you will need to prepare yourself and your surroundings to get a high-quality scan. Some of the essentials to better prepare for the scan include:
Ensure even lighting to prevent unnecessary shadows and highlights.
Use a white, blank, or plain background so the focus remains on you.
Sit on a spinning chair or stand in a stable pose.
Stay still and don't change your facial expressions during the scan.
Ensure your body is clean and wear wrinkle-free clothing.
Remove glasses to prevent reflections or shadows.
3. Decide the Method to Scan Yourself
The most important step is to decide how you will take a scan of yourself. It can be done:
Using Photogrammetry Rig
Using 3D Scanners
Using Smartphones & Scanning Apps
3.1 Using Photogrammetry Rig
One way is to take a lot of photos and then combine them to make a singular full-body 3D mesh. This method is known as Photogrammetry and the setup is known as Photogrammetry Rig.
Simply stand in the Photogrammetry Studio having multiple cameras (usually 30-150) until they click pictures of you at the exact moment. You can also do this with a single camera but you need a helping hand to take your photos while you sit still in the same pose.
For a DIY project, capture high-definition pictures of yourself with a camera from all angles. Upload these pictures into software like ReconstructMe. It will combine them using mathematical formulas to form a high-resolution 3D model of you.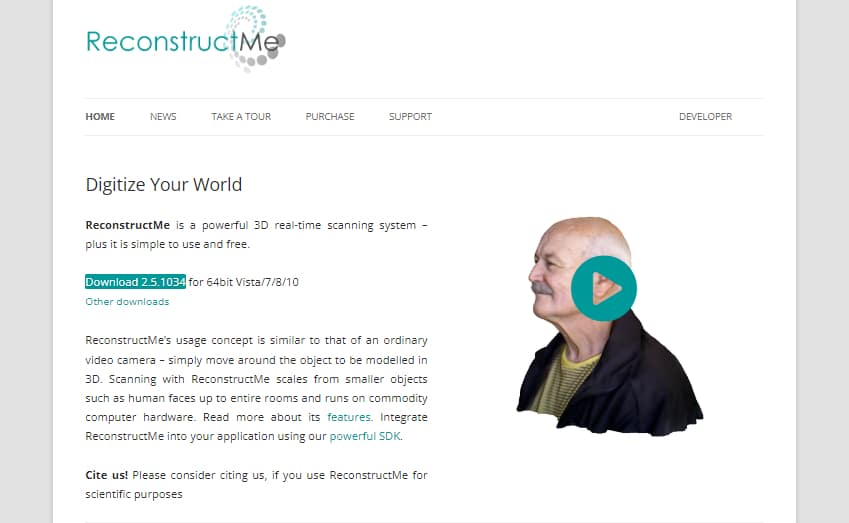 One user from a 3D scanning company 3D printed a 16cm version of himself using a high-tech photogrammetry rig with 149 cameras. They reduced the scan's complexity from 9 million polygons to just 100,000 in MeshMixer.
Using Grey PLA, the model came out good in just 5 hours.
Another user used the open-source software, OpenScan for taking pictures, processing them, and then downloading the model in STL file format.
Since installing such a setup can be costly, you can get professional services such as:
Here is a short video on how the photogrammetry method works.
3.2. Using 3D Scanners
A 3D scanner is a good tool to get a 3D scan of yourself, as they are specifically designed for this purpose. Some of the better 3D scanners recommended by multiple users include:
One user achieved good results using a Kinect camera and Skanect Free/Pro software. The scanning process is straightforward and produces high-quality results without requiring any additional adjustments.
Another user suggested using a Kinect camera for budget-friendly scanning with editing software like 3DF Zephyr or Agisoft PhotoScan.
Check out the detailed video on how to 3D scan and print using Kinect Sensor and Skanect.
3.3. Using Smartphones & Scanning Apps
If you don't want to spend money on a 3D scanner, you can use your smartphone with some feature-rich apps such as:
Here is the step-by-step process for scanning yourself using an iPhone and EM3D app:
Download and install the EM3D: Ethan Makes 3D Scanner app from the Apple Store.
Place your smartphone at the right height and position on a table or tripod.
Open the app and tap on the circle-shaped button (similar to the one used to record videos) to start the scanning process.
Stand/sit in front of your smartphone, within the scanning area.
Slowly and smoothly move around in 360° rotation to capture all angles of yourself.
Lift the camera with both your hands and scan the top and bottom angles.
Once done, tap the circle-shaped button again to stop the scanning process.
Wait for the app to complete the "Generating Preview Mesh" process. This usually takes only a few seconds.
Tap on the "Save" button located at the bottom right of the screen.
Select your 3D scan from the "Saved" section.
Finally, click "Action" at the bottom left and choose "Export STL" from the options that appear.
You can also analyze the mesh for imperfections by using the "Toggle Mesh" option from the "Action" menu.
Here is a video of taking a 3D scan selfie using an iPhone and EM3D app.
4: Clean Up the Scans and Download File
3D scans can have some missing areas or unnecessary elements. To fix such issues, you need to clean and refine the model in a 3D modeling or photogrammetry software.  Some options mentioned by users include:
To clean up the scan and fix any missing or broken parts in Autodesk Fusion 360:
Open the Fusion 360 software on your PC/Laptop.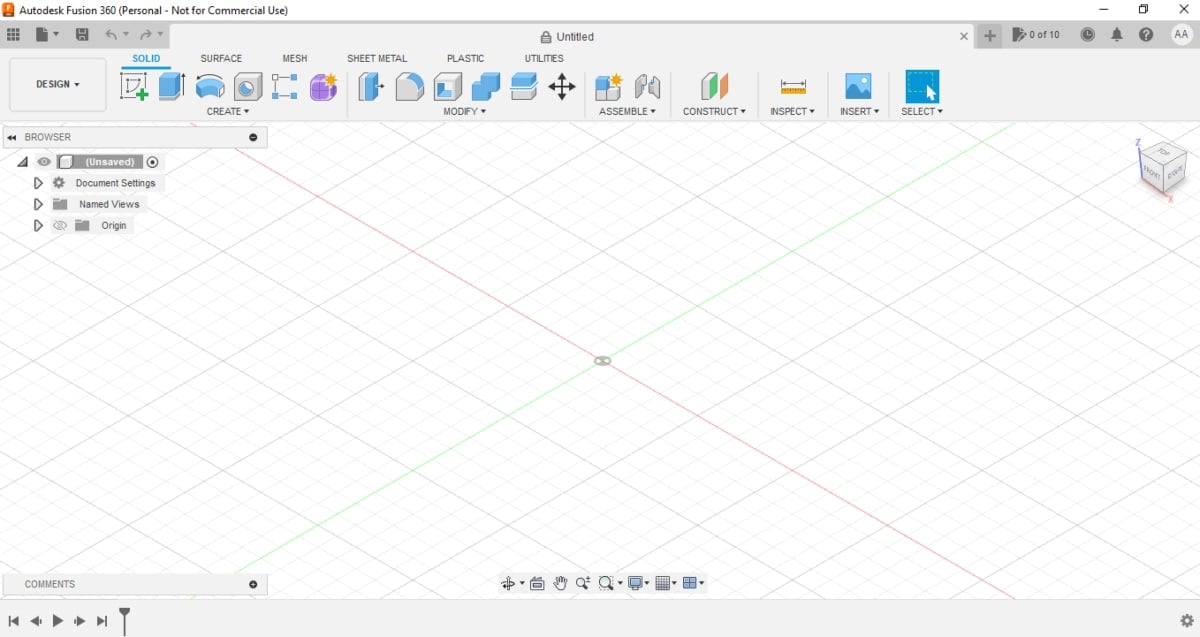 In the main menu, click "Mesh", navigate to "Insert" and select "Insert Mesh".

Click the "Select from my computer" to browse File Explorer.
Locate your 3D scan file and click "Open" to import it.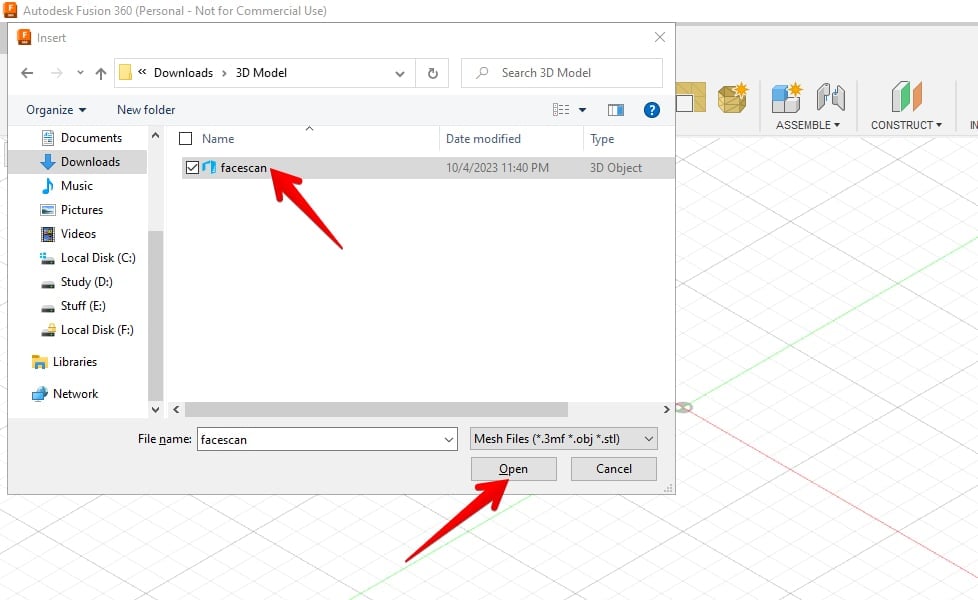 Click on the "Repair" icon, and select the scan by clicking on it. (Always select the 3D scan before performing an action).
From the Repair panel, choose a "Repair Type" like "Stitch and Remove", and click "OK". This action will fix any holes and missing parts in the scan.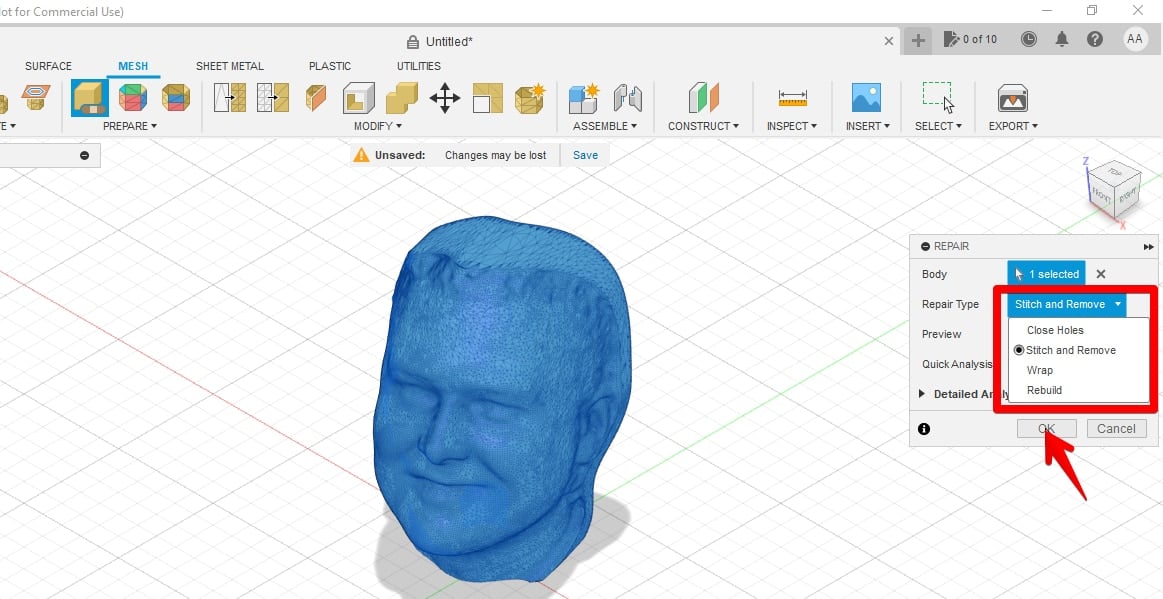 To cut a part of your 3D model, use the "Plane Cut" option and select your preferred cutting type.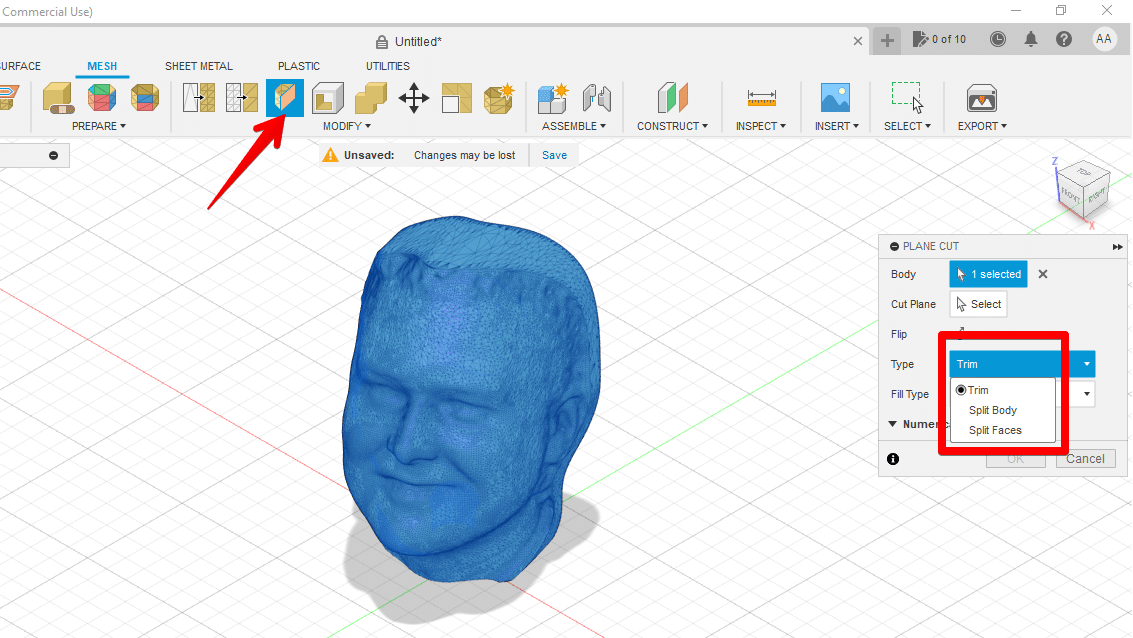 Drag the arrow for up-down movement and use circles for rotating the model in 360°. Once positioned correctly, click "OK" and the area below will be removed.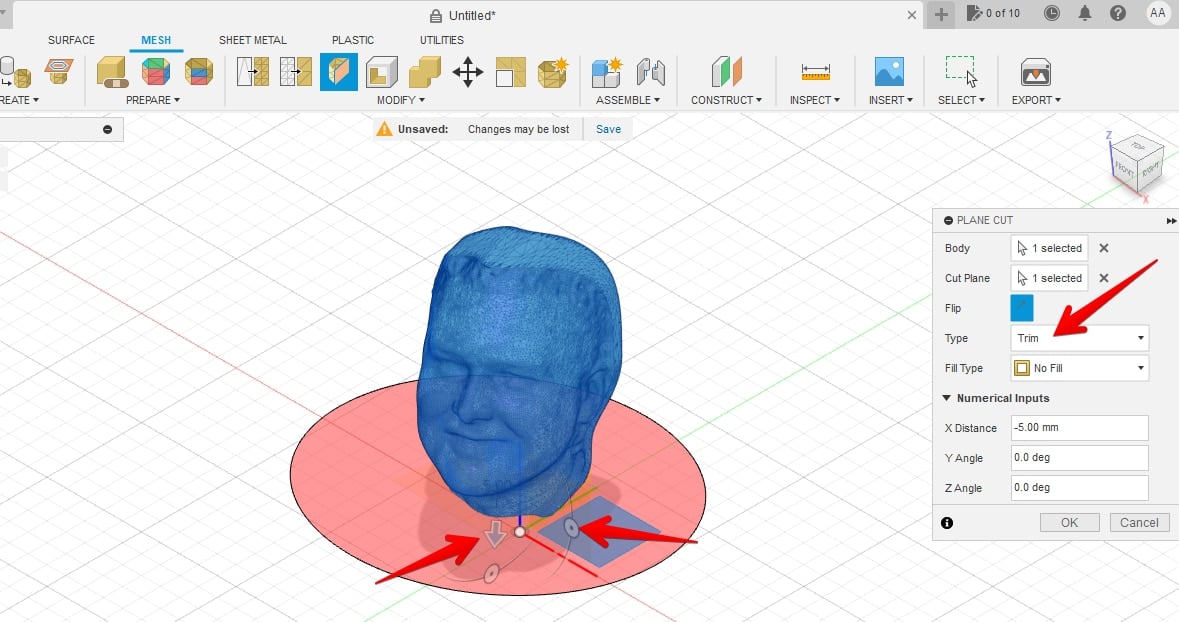 For resizing, click on "Solid", go to "Modify" and select "Scale" from the dropdown.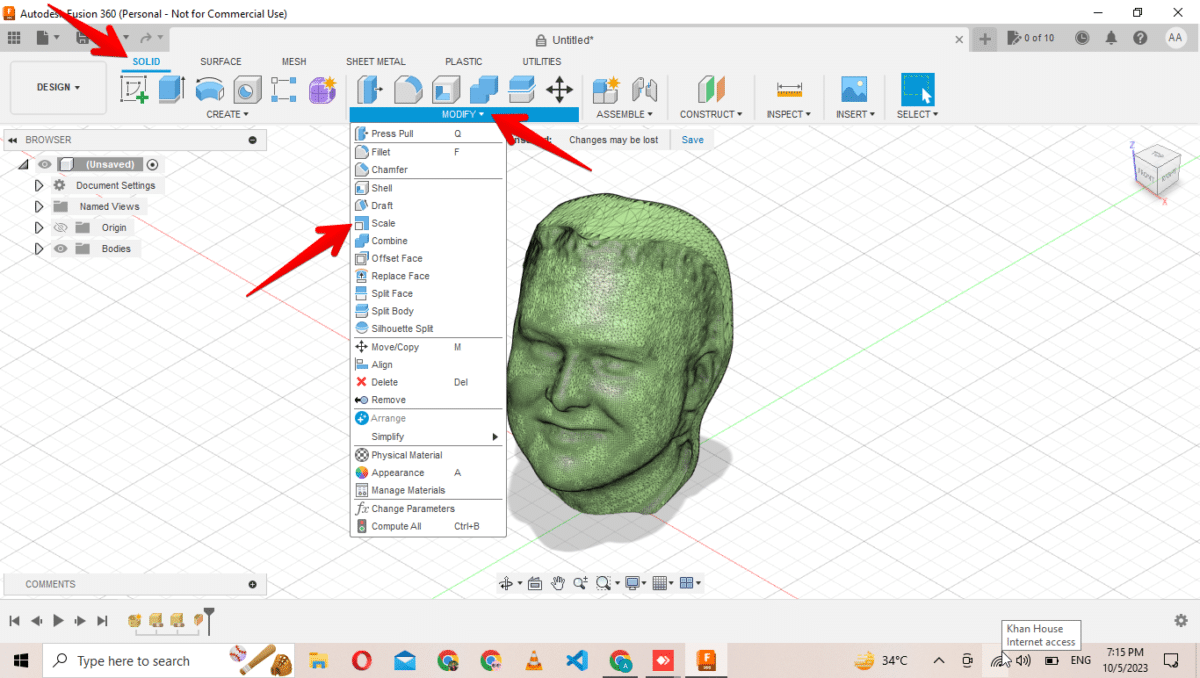 Hold the arrow and move the cursor left to make the model smaller.
Or move the arrow to the right to increase its size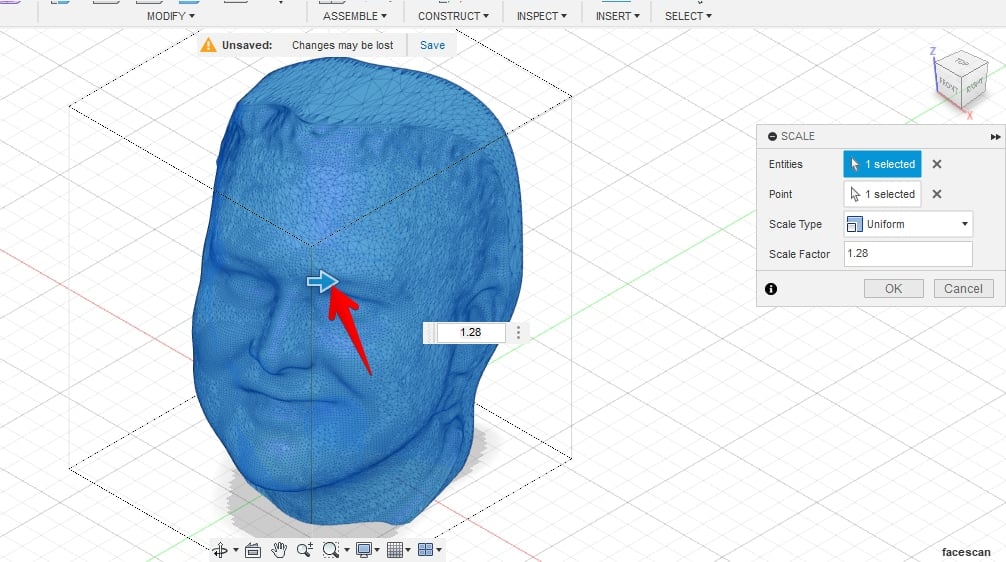 You can also make multiple copies using the "Move/Copy" option. After enabling "Create Copy", click the model and drag it to a side using arrows and cursors.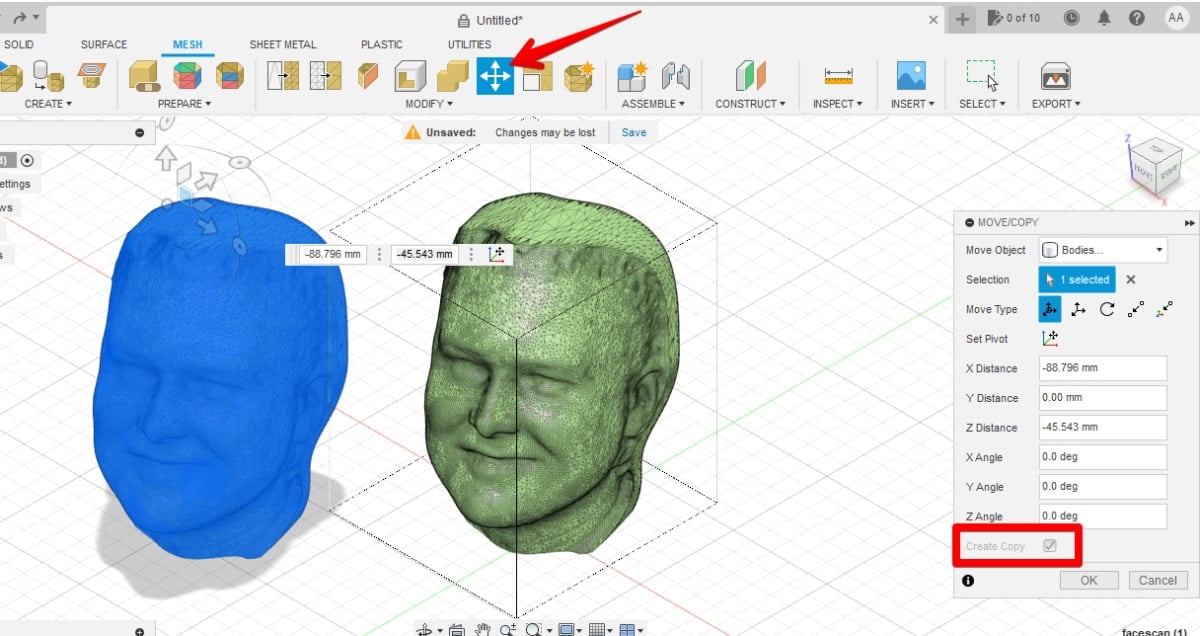 Once you are done, right-click on the file in the "Browser" section and select "Save as Mesh" from the dropdown.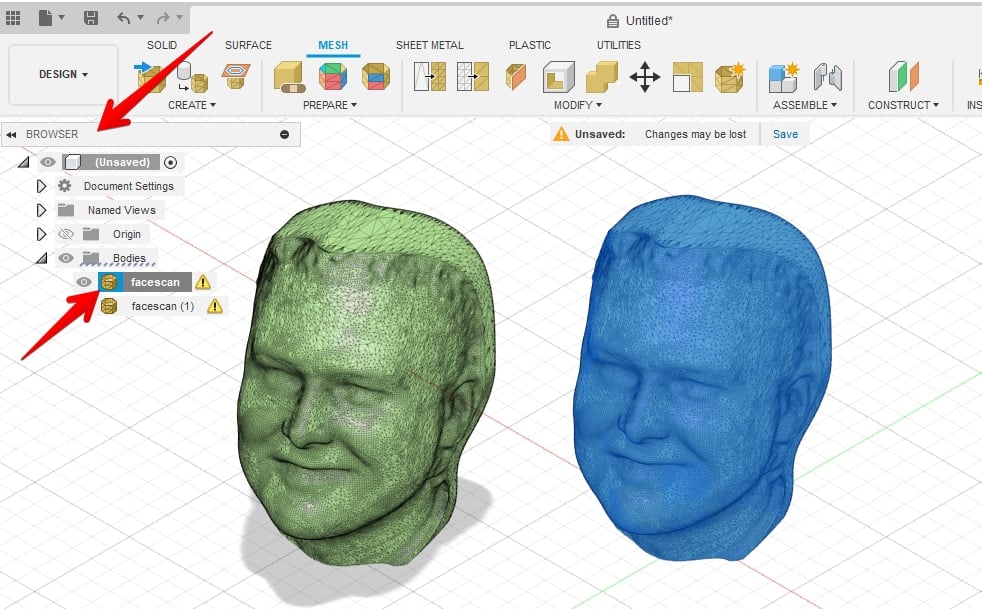 In the "Save as Mesh" panel, select "STL" as the file format and click "OK" to save your edited 3D model in STL format.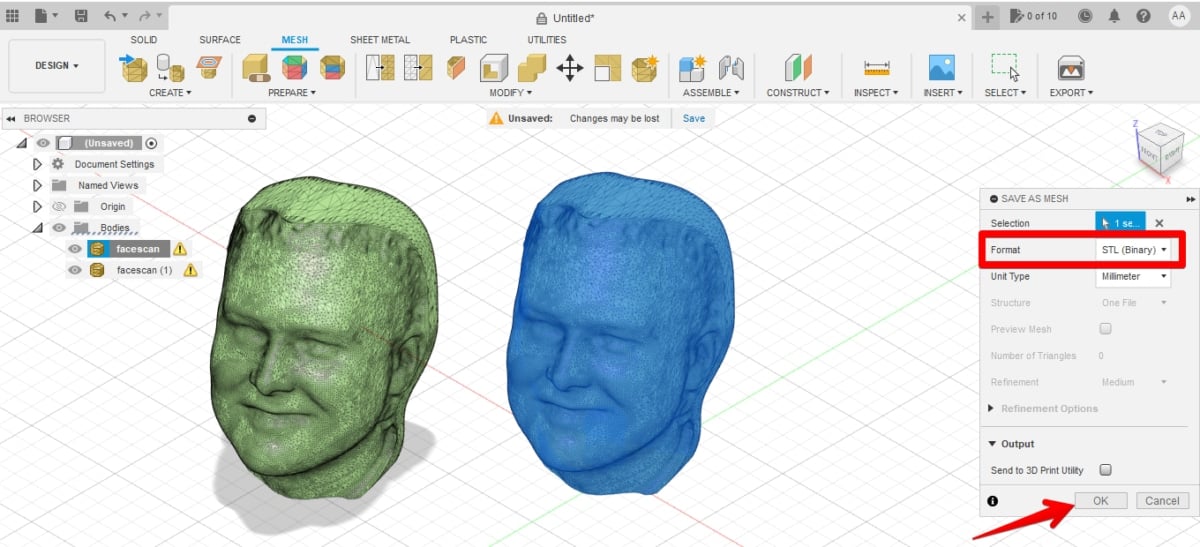 Below is a detailed video about cleaning up a 3D scan in Fusion 360. Though they use 3D scans of a statue's face, the tools used for cleaning 3D scans will be the same.
One user also mentioned using MeshMixer to refine the model after downloading it in STL format from OpenScan. Another user suggested using Autodesk's ReCap Pro for picture compilation and model editing.
The basic process of cleaning up a 3D scan in Meshmixer is as follows:
Open the Meshmixer software on your computer.
Click the "Import" button to upload the file to the software
Choose the 3D scan file from where it's stored and click "Open"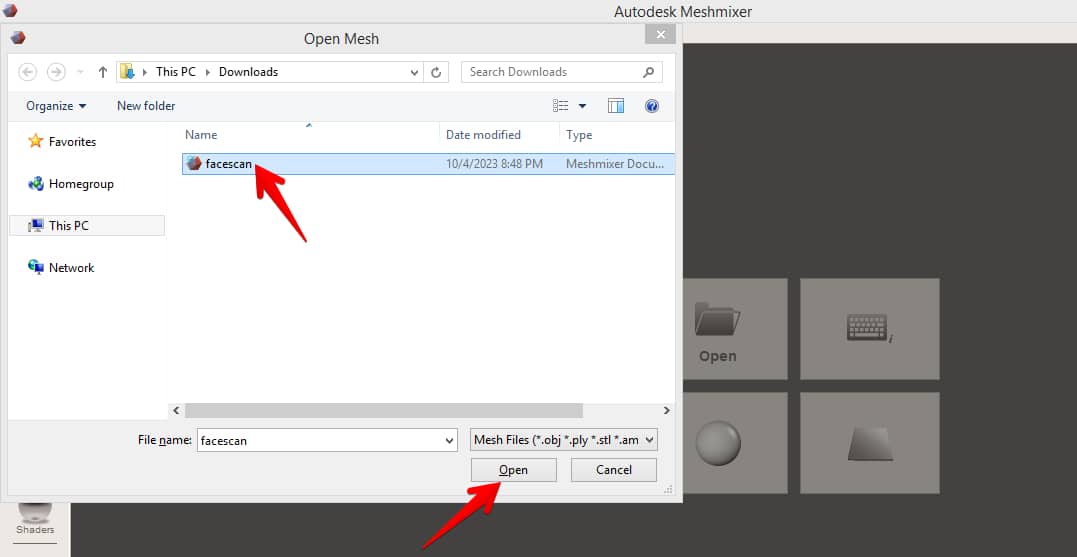 Click the "Edit" icon and select "Plane Cut" from the options that appear.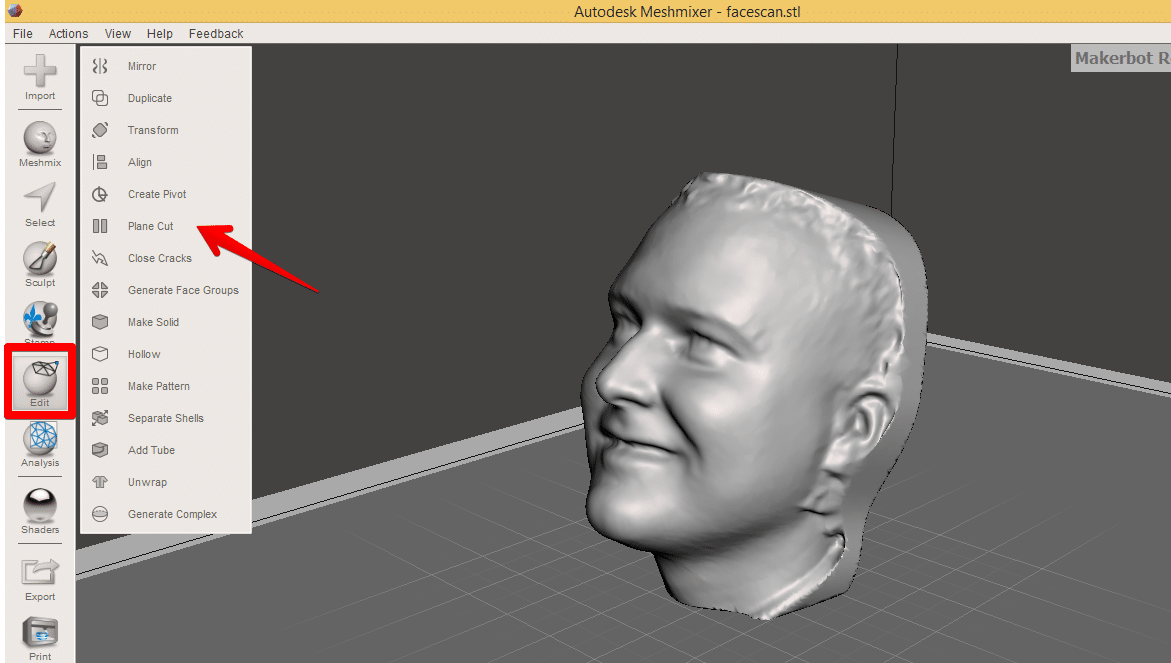 Try out different arrows' movements to cut different parts of your model.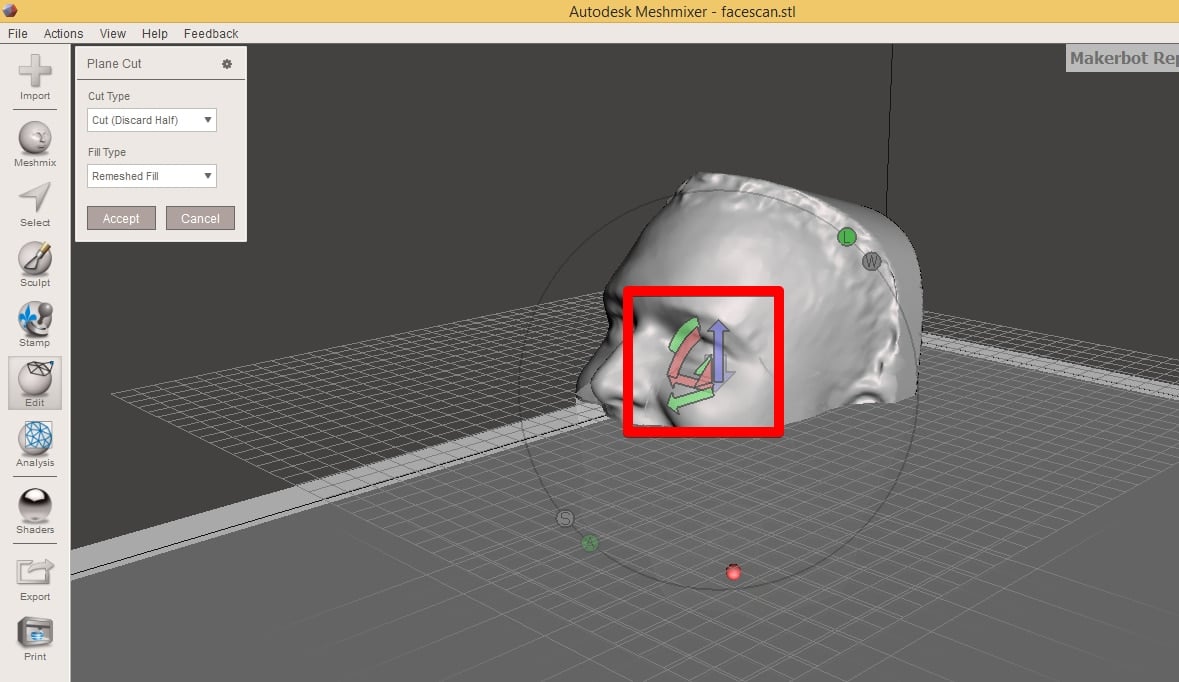 For example, you can hold the up-arrow and drag it downwards to trim the neck a little bit.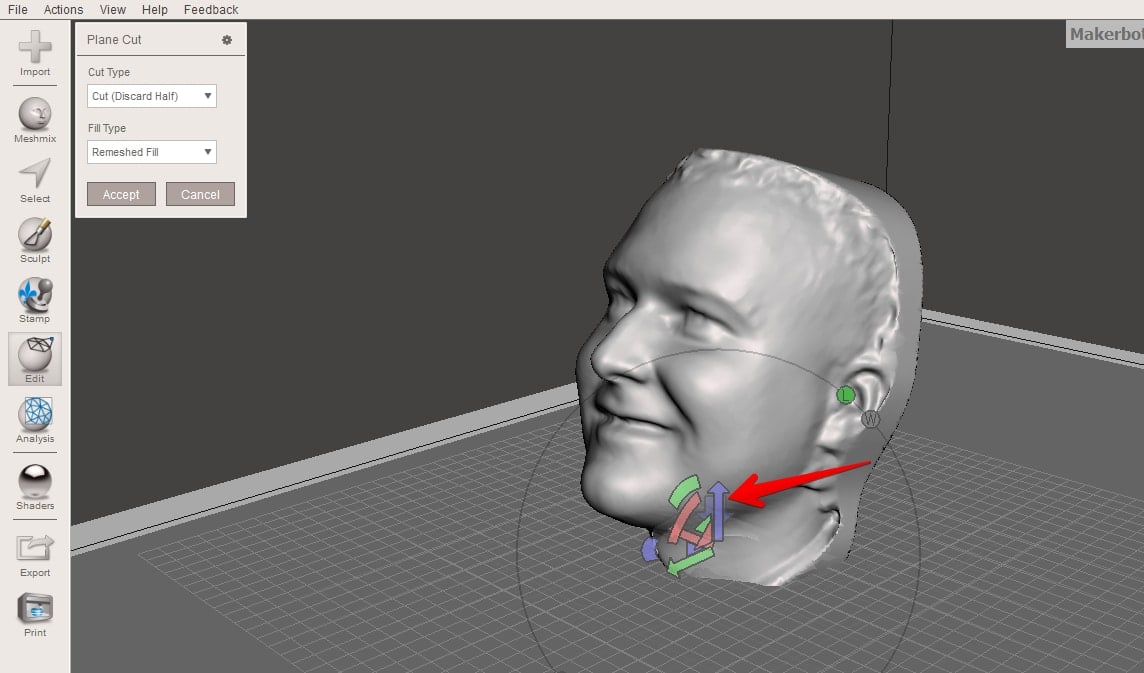 To fill any holes or missing areas, click the "Select" tool and highlight the area using the cursor.
Then click "Edit" and hit "Erase & Fill" to fill holes/gaps. This will fill the gaps (as you can see in the next picture).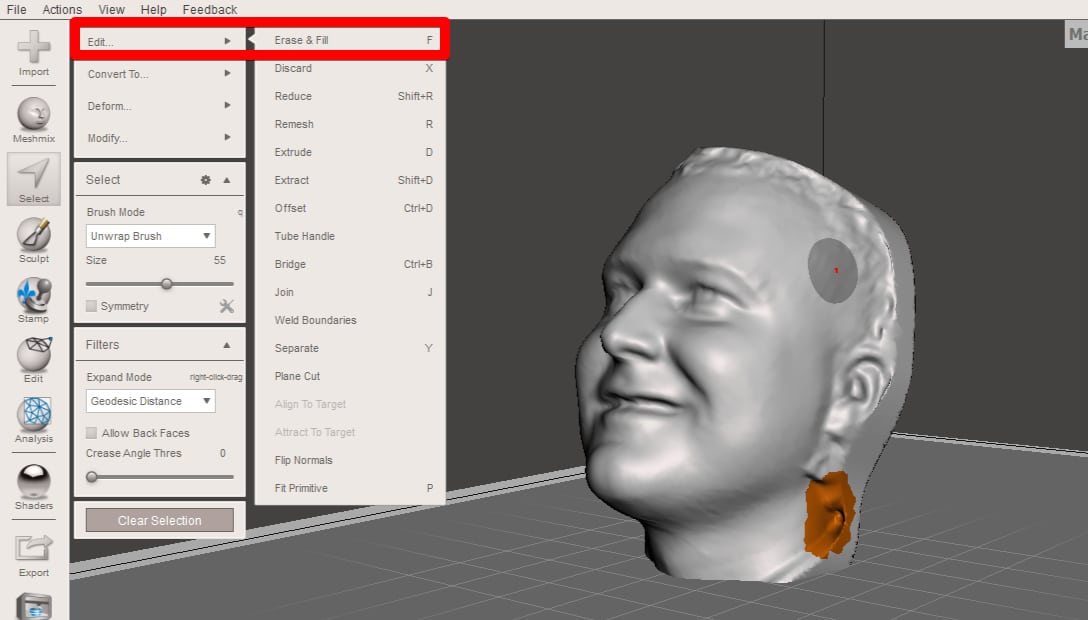 Once all cleaning is done, select "Export" from the menu.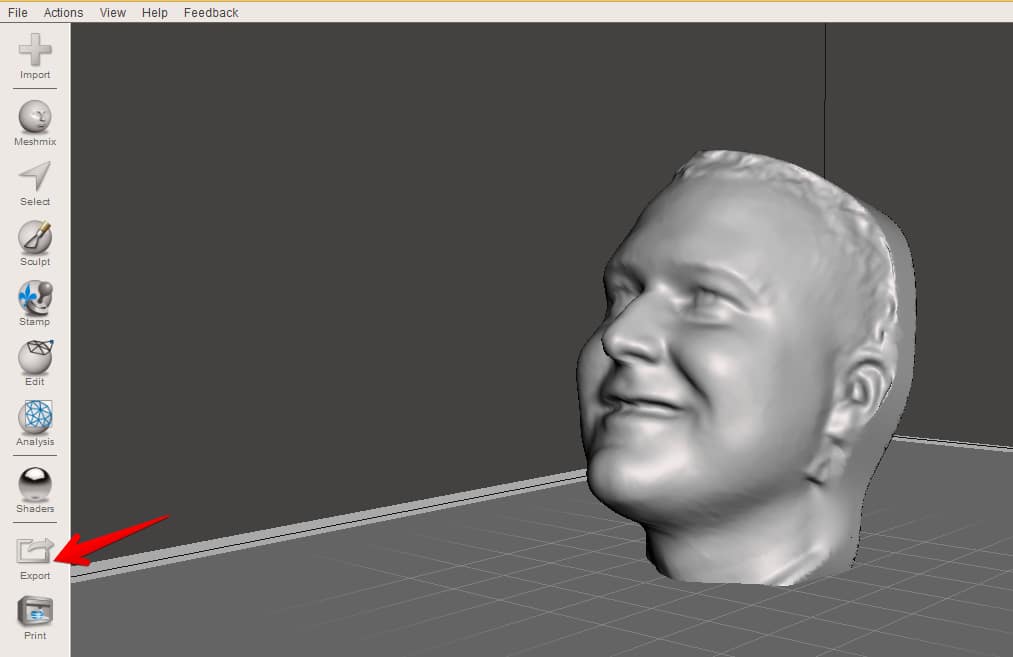 Change the file type to "STL Binary Format (.stl)" and click "Save".
These are the basic processes but it's better to search for a video tutorial specific to the software you're using. It will help you learn about different tools and modify your model in multiple ways.
Here is a comprehensive video on how to clean up 3D scans in MeshMixer.
5. Slice the Model in a 3D Slicer
Once the mesh file has been completely refined and downloaded in the STL format, slice the model in software such as ChiTuBox or Ultimaker Cura.
In the ChiTuBox software:
Click on the three lines in the top-left corner and select "Open".
Select the 3D model from the File Explorer and click "Open".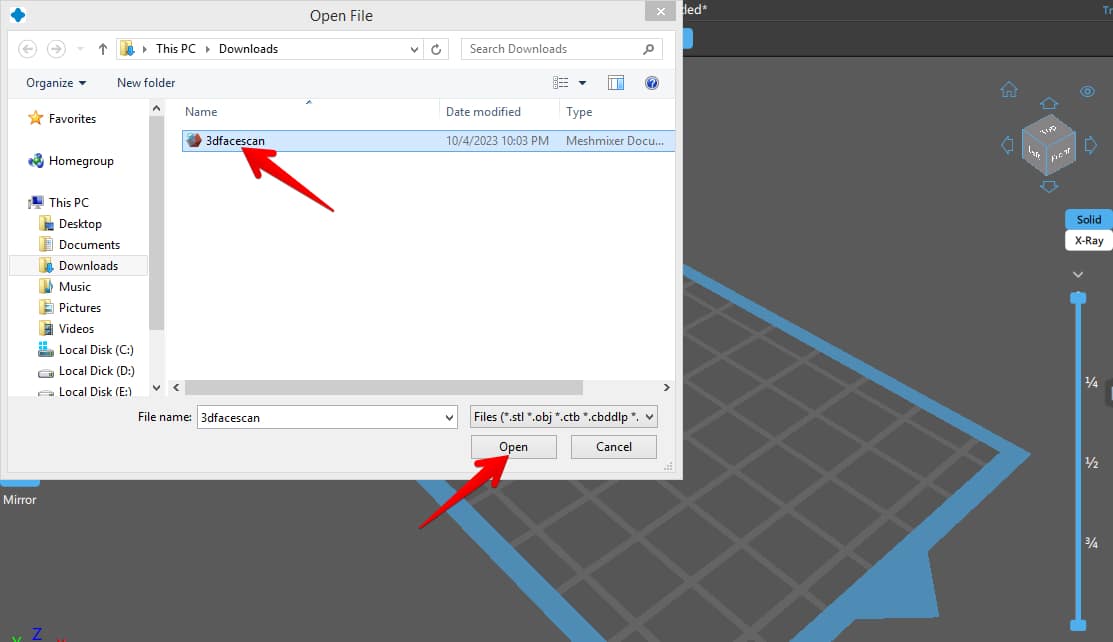 Use "Move" for positioning, "Rotate" for orientation, and "Scale" for sizing the model.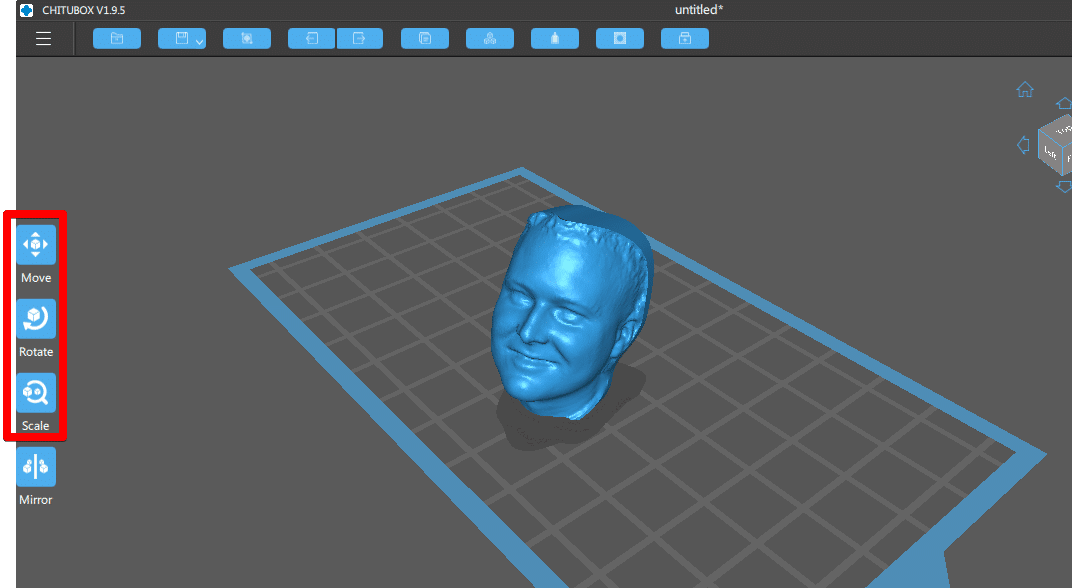 As users recommend, position the model in the air so that it can print on supports instead of the plate itself.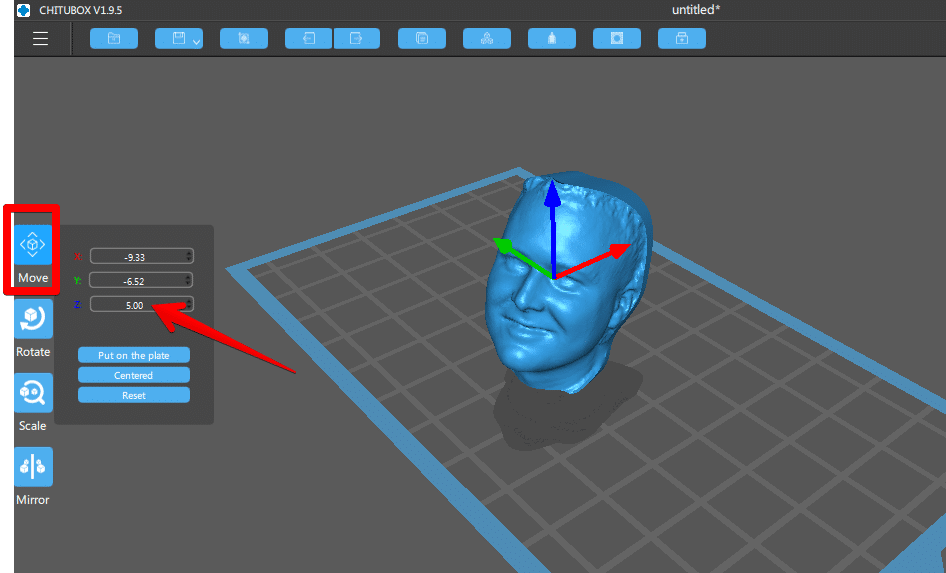 Click on the "Supports" icon from the top-right corner and select "All".
Finally, preview your model, adjust printing settings, and then "Save" file onto your device.
Here is a detailed video on 3D scanning with EM3D, cleaning up in Fusion 360, and then slicing in ChiTuBox.
To slice the model in Ultimaker Cura 3D slicer:
Click "File" and then "Open File(s)" to import the 3D scan.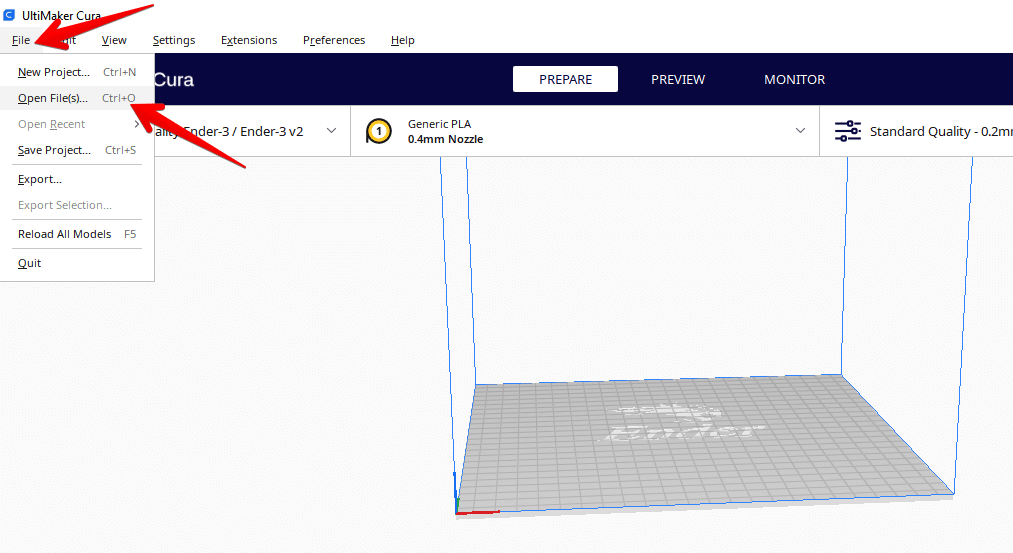 Select the downloaded STL file of the model from "File Explorer" and click "Open".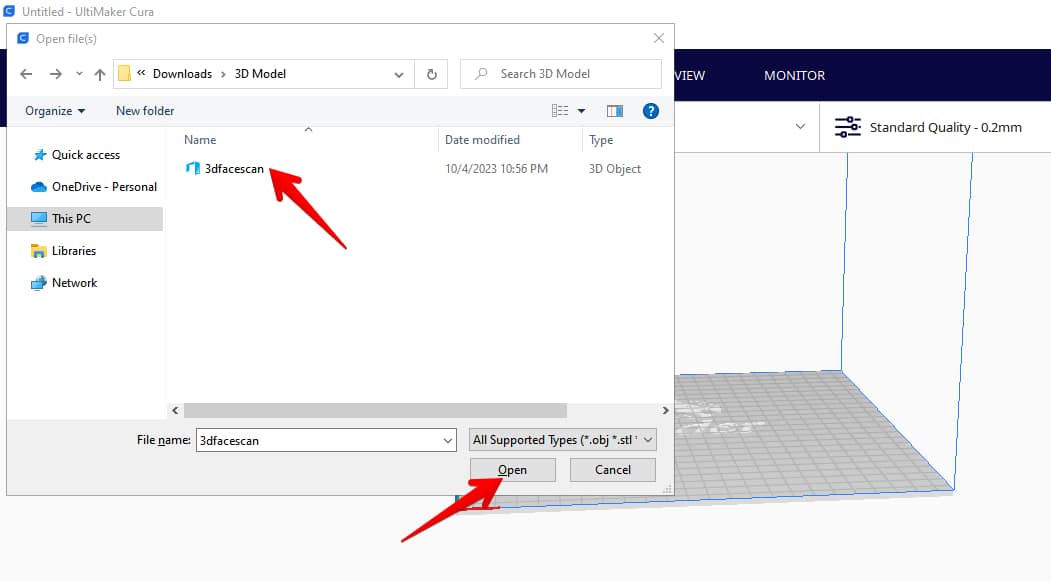 Adjust settings according to the filament, size, and details you want in your 3D model.
Enable "Generate Support" settings to compensate for any overhangs in your prints.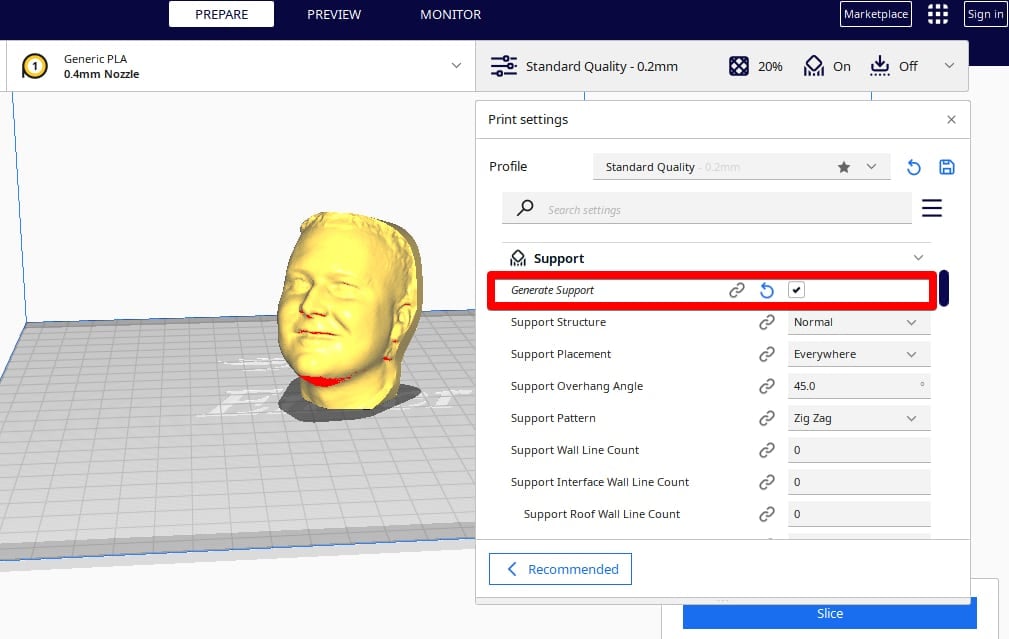 If the model has narrow contact with the surface, consider adding a Raft or Brim to hold the model better on the build plate and enhance stability.
As suggested by many users, enable settings like "Use Adaptive Layers" under "Experimental" in Cura for the face or specific body parts (requiring fine details).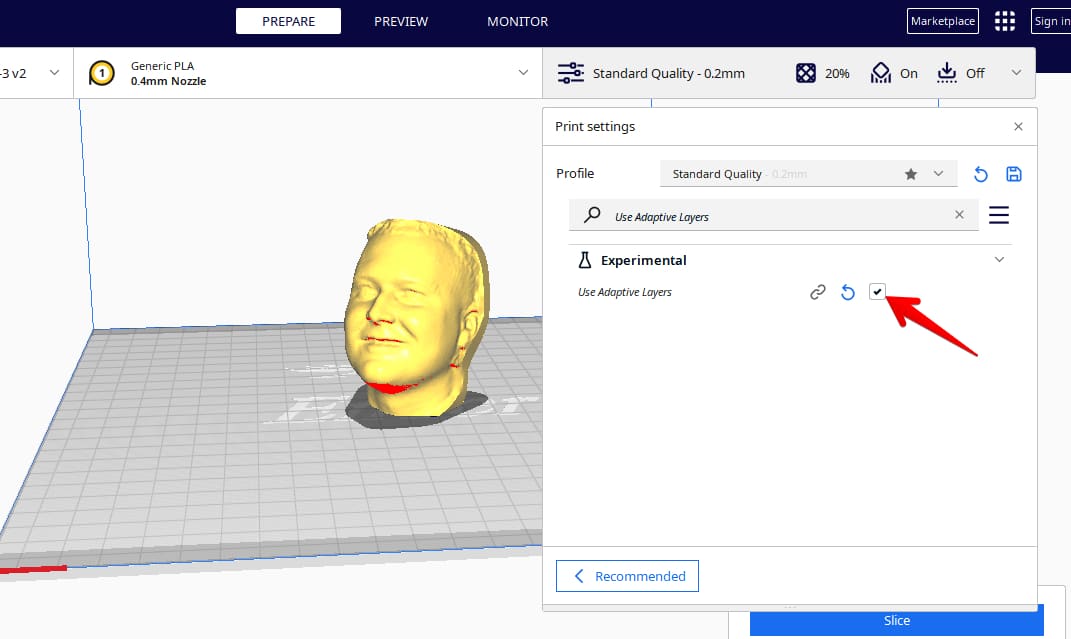 You can also find such settings with different names in other slicers like Simplify3D or Slic3r.
Once all settings are adjusted, click on the "Slice" button in the bottom-right corner.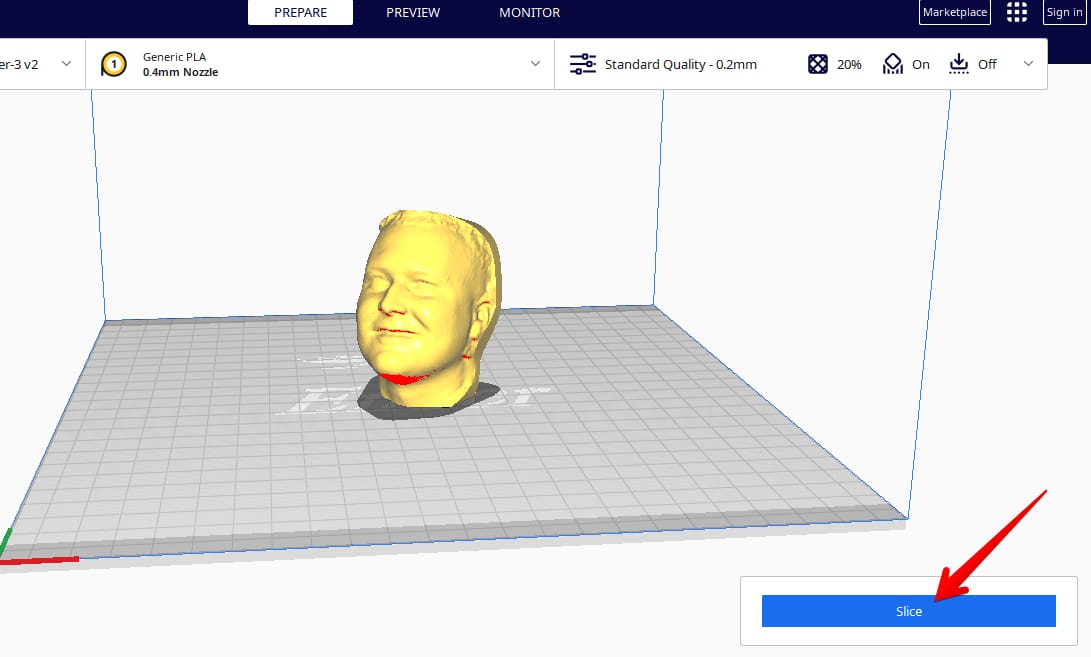 Click on the "Preview" button to take a look at the model and resolve issues before printing.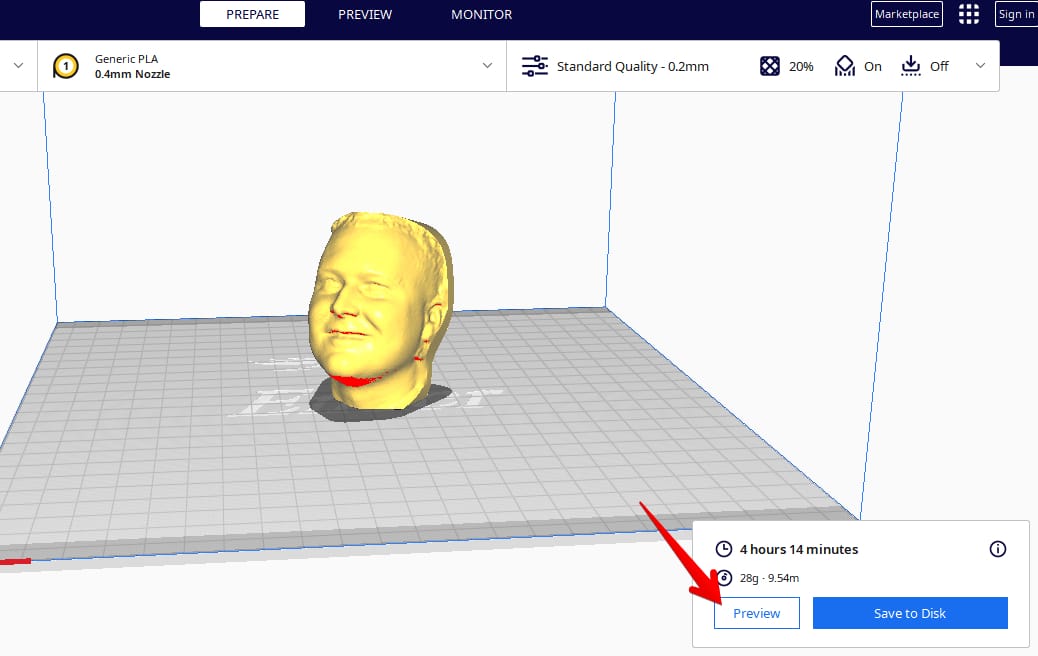 Analyze the model in different view types.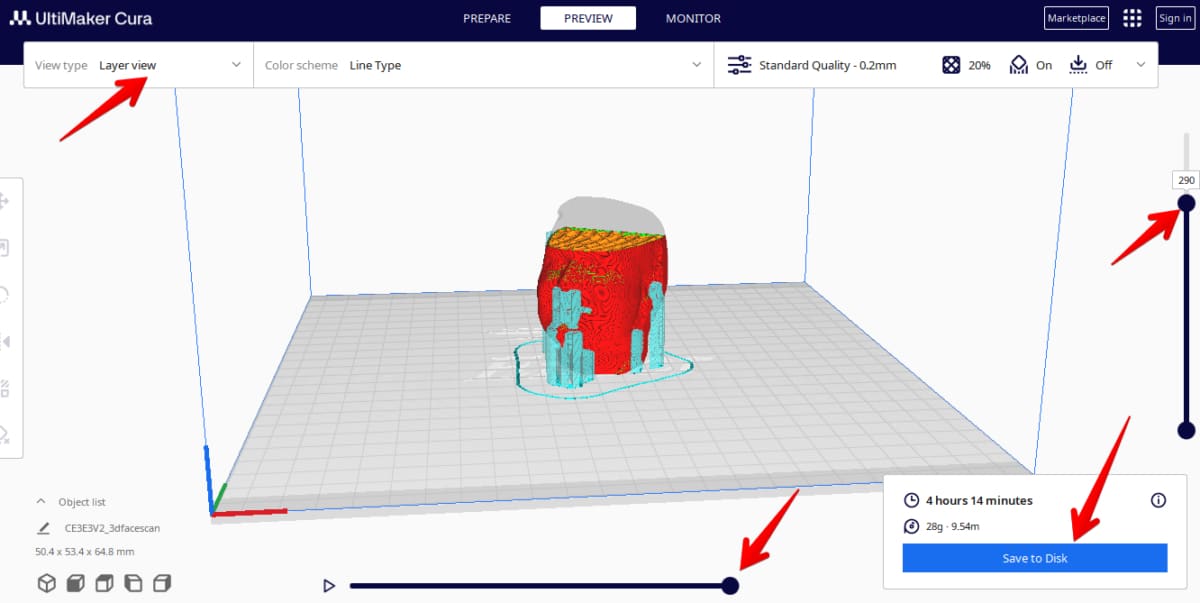 Finally, click "Save to Disk" to export your 3D model's file onto the SD Card or directly send it to your 3D printer.
6. Print the Doll Model
Finally, it's time to go to your 3D printer and print your "Mini Me". However, before you initiate the printing process by inserting the SD Card or USB:
Here is a video on how to level your 3D printer bed.
Ensure enough filament is loaded and doesn't have any knots or tangles. For the SLA 3D printer, fill the tank with good-quality resin.
If using filaments like ABS, it's better to use an enclosure.
Make sure your 3D printer is in a well-ventilated area.
Wear nitrile gloves and safety goggles when handling resin.
Check out the video below on leveling Resin 3D printer build plate.
Always keep an eye on your 3D printer and pause/stop printing to make adjustments if issues arise such as filament jams, resin spills, or poor bed adhesion. Once your 3D doll is printed, gently remove it from the bed using a plastic spatula or scraper.
7. Post-Process the Model – Remove Supports & Sanding
Though the job is almost done, there are some additional steps that you should do to make your "Mine Me" as good-looking as you are.
For "Mini Me" 3D printed with filaments, post-processing can include removing supports, sanding with Wet and Dry Sandpaper, and filling holes with Spot Putty,
You may also apply a coat of Rust Oleum Primer, Dupli-Color Spray Paint the model, and add a layer of Gloss Varnish to achieve a shiny look.
Here is a detailed video on how to sand, fill, and prime 3D printed models.
For a resin 3D printed doll of yourself, you need to perform a few extra steps such as rinsing the model in IPA to remove excessive resin and curing it in a UV curing chamber or some other UV light source.