How to 3D Print a Beyblade – 8 Steps
If you're a Beyblade fan looking to add a personal touch to your collection, 3D printing offers an intriguing avenue. Now, you can create your own custom Beyblade designs, bring them to life, and go to battle with them!
To 3D print a Beyblade, you first have to design a model or download one from sites like Thingiverse or Printables. Next, you have to choose a tough, reliable filament like PLA+ or PETG, then you slice and print the 3D model. Assembly is usually needed with additional metal components for better stability.
In this article, I'll be going through each of these steps carefully to help you understand the basics of 3D printing your own Beyblades.
Whether you're a seasoned enthusiast or just starting, this guide will give you the knowledge and confidence to design and assemble unique spinning tops for exciting battles!
How to 3D Print a Beyblade
The procedure for 3D printing Beyblades is almost the same as the one for 3D printing any other object. However, there are some specific steps you have to follow if you want a super Beyblade like the one below.
Let's look at them.
Download a Beyblade model
Get any required components
Choose the right filament
Slice the Beyblade model
Print the model
Post-process the print
Assemble the Beyblade
Go to battle
1. Download a Beyblade Model
This is the easiest way to get a 3D model of a Beyblade. There are several repositories out there containing models that you can download and print.
These sites include Thingiverse, Printables, MyMiniFactory, etc. Here are some of our favorite models from these sites:
You can also edit the energy layers to create your own special design. Also, you can print them without using supports if you orient them properly.
For more high-quality models, you can also buy models from professionals on sites like Cults3D and TurboSquid. Some great designers include:
You can also check out this YouTuber, CrazyAries. He makes stunning Beyblades using a 3D Printer and often posts the designs.
Model the Beyblade
If you want a proper custom Beyblade model, then you're going to have to model it yourself. You can do this with free 3D modeling software like TinkerCAD, Blender, Autodesk Maya, etc.
This method gives you the creative freedom to add and remove any Beyblade features you want. You can check out how to model Beyblades in this video below.
Also, to make things easier, some creators provide templates on TinkerCAD that you can easily remix to create your preferred designs. Here are some templates by Beysmith, CrazyAries, and Tyno.
Note: If you don't have any modeling skills, you can hire freelancers to help bring your Beyblade visions to life. There are plenty of 3D modeling artists you can hire on sites like Upwork or Fiverr.
2. Get Any Required Components
Depending on the design of your Beyblade, you might need additional components after you're done printing the main body. These components depend on the part's creator and may include parts like:
Screws
Magnets
Ball bearings
Stickers
Springs, etc.
You can find them on sites like Amazon or AliExpress and you should have them ready before you start printing. Also, you're going to need additional components like a Beystadium and a Beylauncher if you want to host Beyblade battles.
You can check out this user that 3D printed a Beylauncher.
However, it's better to buy them as store-bought versions of these parts are more reliable than the 3D-printed versions.
3. Choose the Right Filament
Beyblades need to be tough and structurally sound since they are often subjected to impact forces and stresses from collisions. So, you need to print them from high-quality filaments if you want them to last.
Some people, like this user below, prefer to print their Beyblades, especially the energy layer, out of metal. However, not everyone can afford or has access to a metal 3D printer.
So, we recommend using tough materials like PLA+ and PETG when printing your Beyblade. These materials possess excellent toughness and are less likely to fracture while doing battle.
Here are some of our favorite filaments:
Overture PLA Plus Filament: It is extremely tough and comes in a wide variety of extremely vivid colors that you can select from.
Creality PLA Pro (Rainbow): This filament gives your Beyblade a lovely sheen while still retaining the trademark toughness of PLA+. Using it also results in a lovely multi-color surface that would be sure to stand out in the Beystadium.
Sunlu Wood: The Sunlu Wood PLA+ is another great filament for 3D printing Beyblades. It produces clean, crisp prints with little to no effort required.
4. Slice the Beyblade Model
Once you have all the materials you need, it's time to get the Beyblade model ready for printing. For this, you'll need a slicer like PrusaSlicer or Cura for FDM printers and Lychee Slicer or ChiTuBox for resin printers.
After getting the slicer, you can pop the STL files into it. First, you're going to have to arrange the model on the build plate.
If you're using an FDM printer, you can easily arrange and orient all the models' components on the build plate. However, for a resin printer, you might have to tilt them at an angle to prevent them from failing and sticking to the print.
After orienting the Beyblade, you have to edit its print settings. You can print Beyblades with the original slicer settings for the material but there are a few settings you should modify for the best results.
These settings in Cura include:
Layer Height: You can print at the regular 0.2mm layer height, but if you want better surface quality and details, you can lower it to 0.12mm.
Infill Density: The infill density you use for your Beyblade should be 100%. This will ensure maximum strength. However, some designers might recommend using a lower density to save weight.
Infill Pattern: The best infill pattern for Beyblades is the Gyroid pattern as it absorbs shocks well and provides strength in all directions.
Wall Line Count: I recommend using 3-5 walls to give the model additional strength and solidity.
Top and Bottom Layers: I recommend using the same 3-5 walls for the model as it makes it stronger and give it additional stability.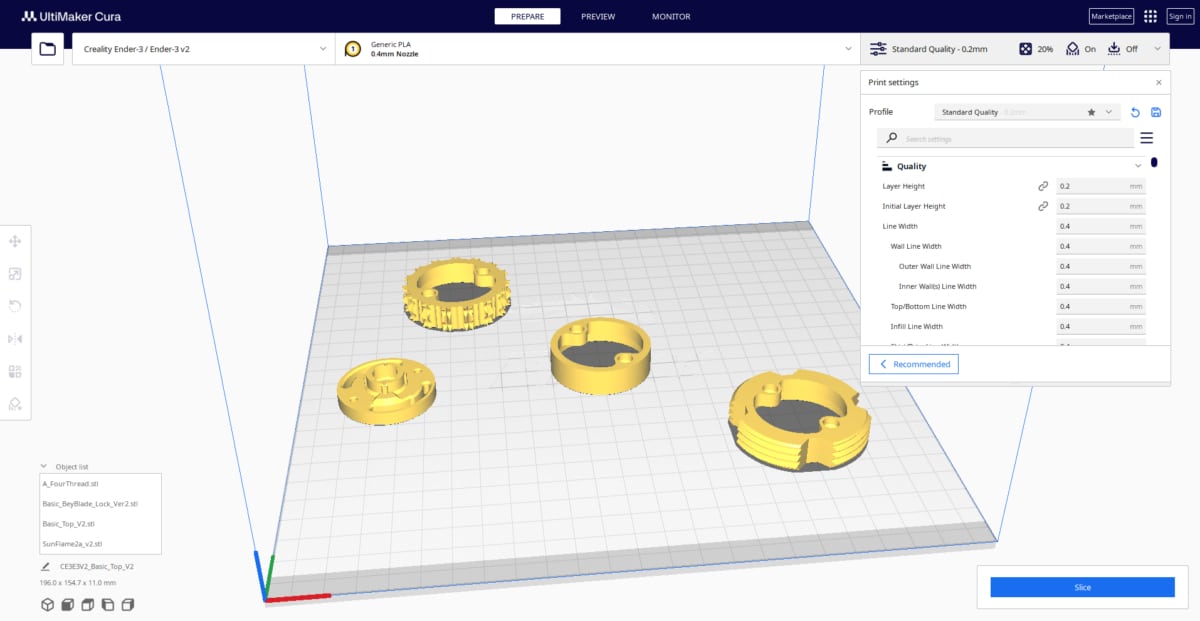 Once you've edited all these settings, you can slice the model. After slicing, check it in the preview pane for any unsupported sections that are likely to fail.
5. Print the Model
Now, the next step involves getting your 3D printer ready for printing. Make sure your build plate is level and has good adhesion by using an adhesive like glue stick or hairspray.
Once this is in place, transfer the sliced model from your PC to your printer, usually via USB, and start the print. Monitor the print for the first few layers to ensure that everything is sticking properly.
If the layers aren't sticking, stop the print, clear the build plate, and restart the print.
6. Post-Process the Print
Once the Beyblade model is done printing, remove it from the build plate. Gently remove the supports from the model. You can break them off or you can use a flush cutter to trim them off.
After the supports are off, it's time to post-process the Beyblade. This process usually involves three steps:
Keep in mind that these processes are optional if you're content with the printer's final product. Let's look at them:
Sanding
Sanding helps get rid of print defects like support marks and layer lines from your model. You can use medium to high-grit sandpaper to buff out these defects from the Beyblade models.
For your sanding, I recommend using the Assorted YXYL Sandpaper 48 pcs from Amazon. It comes with a wide variety of low to high-grit sandpaper that you can use to achieve a high-quality surface.
Sand Paper, 48 PCS Sandpaper, 120 to 5000 Assorted Grit Sandpaper Sheets, 9 x 3.6 Inch Premium Wet Dry Sandpaper for Wood Furniture Finishing, Metal Sanding, Automotive Polishing
Meets All Your Needs: 48 pcs sand paper kit, 16 grits sandpaper assortment, including 3 sheets of each grit: 120, 150, 180, 220, 240, 320, 400, 600, 800, 1000, 1200, 1500, 2000, 2500, 3000, 5000 grit sanding paper
Prices pulled from the Amazon Product Advertising API on:
Product prices and availability are accurate as of the date/time indicated and are subject to change. Any price and availability information displayed on [relevant Amazon Site(s), as applicable] at the time of purchase will apply to the purchase of this product.
It's also made out of a high-quality, long-lasting material that ensures that the sandpaper lasts for multiple uses.
Finally, I recommend using this video from 3D Printed Props. It goes into great detail on how you can sand and finish your prints properly.
Note: Be careful when sanding prints to avoid losing any fine details. Also, be careful not to take off too much material as it can affect how the Beyblade fits together during assembly.
Prime the Model
If you want to paint your model, then this step is necessary. Priming the model provides a high-quality surface that retains paint better than an unprimed surface.
It also reveals any impurities present on the surface, so you can easily sand them out. The Rust-Oleum 2-in-1 Filler and Sandable Primer is an excellent choice for 3D models. It will fill in layer lines and any other defects on the model's surface.
Prices pulled from the Amazon Product Advertising API on:
Product prices and availability are accurate as of the date/time indicated and are subject to change. Any price and availability information displayed on [relevant Amazon Site(s), as applicable] at the time of purchase will apply to the purchase of this product.
After filling, you can sand it down to achieve a uniform surface.
Paint the Model
After priming, you can now paint your model. You can paint the model using various methods like spray painting, airbrushing, and using a regular brush.
The Rustoleum Painter's Touch Spray Paint is an excellent option for painting Beyblade models. It is a high-quality product that adheres well to 3D models, giving them a professional-looking finish.
Prices pulled from the Amazon Product Advertising API on:
Product prices and availability are accurate as of the date/time indicated and are subject to change. Any price and availability information displayed on [relevant Amazon Site(s), as applicable] at the time of purchase will apply to the purchase of this product.
It also produces very little odor and dries in a relatively short time of 20 minutes. You can choose from the wide variety of colors available on Amazon.
For a more vibrant Beyblade, you can use different color schemes for the different parts of the model. One exciting technique Beyblade enthusiasts use in creating stunning designs is Hydro-dipping.
7. Assemble the Beyblade
Once the paint dries off the model, bring it in. If the design calls for components like screws, metal disks, etc., add them to the model and assemble the Beyblade.
You can even add some stickers to the Beyblade for a bit of a personal touch. Some Beyblade enthusiasts have even created scans of the original stickers from the anime.
So, you can easily print them out using your sticker maker or your printer and use them to decorate your model.
8. Go to Battle!
Now, your Beyblade is finally complete! By blending the classic joy of Beyblade battles with the innovative potential of 3D printing, you've finally created your own ultimate weapon.
As you take it to the Beystadium I hope you have lots of wins and most importantly, lots of fun. Good luck and happy spinning!