How Much Does 3D Printing Cost? Cost to 3D Print Objects
When it comes to 3D printing, many people wonder how much it costs to 3D print an object, whether that is a small item like a miniature figure, or a larger item like a helmet or mask that they can wear.
There are quite a few costs associated with it which can get a little confusing, so I decided to write an article about how much it costs to 3D print an object in filament or resin.
If you already have a 3D printer, your cost is just the filament and electricity for the most part. To 3D print an object that uses 100 grams of filament, it will cost around $2.50 using a price of $25 per KG of filament. The same 3D print in resin will cost around $4.50 using a price of $45 per KG of resin. 
Costs don't fluctuate too much due to a fairly constant price of materials, though you'll want to do basic maintenance and maybe some post-processing afterwards.
Let's go through the basic costs of 3D printing so you have a better understanding of how much it costs to 3D print an object. Keep reading for a more detailed answer.
How Much Does A 3D Printer Cost?
In order to 3D print an object, we'll need to look at the biggest initial cost which is the 3D printer. Luckily for normal consumers, 3D printers have drastically decreased in price as time has gone on.
The materials that are required for creating 3D printers are increasing in supply, as well as the number of manufacturers that are competing in the space. For a standard FDM filament 3D printer like the Ender 3 (Amazon), you can get this for around $200.
The other type of 3D printer which is growing in popularity is the SLA resin 3D printer. A budget SLA resin 3D printer like the Elegoo Mars 2 Mono is currently around $230, which is a lot cheaper than what they used to be.
Previously, you would have been looking at least $1,000 for a basic version of these 3D printers, so it's something a lot more manageable for us average users.
These are great for entry-level hobbyists, though if you want more practical features, you'll want to spend more.
The Artillery Sidewinder X1 V4 (Amazon) is around $450 and is a great option for a filament 3D printer.
It comes 95% pre-assembled, so a beginner can put it together very easily, and comes with a much larger build volume than the Ender 3 at 300 x 300 x 400mm.
It has a touch screen operation display, as well as a direct drive extruder which makes printing some materials a lot easier.
The design is a lot cleaner, compact, and professional looking, and since it's a long-term machine, makes sense to invest a good amount into it.
The Anycubic Photon Mono X (Amazon) is around $700 and is a great option for a resin 3D printer. It also comes mostly pre-assembled, just requiring you to place a few parts in the right places, and put in the power supply. The bed leveling process is very quick.
The main upside of the Photon Mono X over the Elegoo Mars 2 Mono is the build volume of 192 x 120 x 245 against 129 x 80 x 150mm. This is large for a resin 3D printer and with the 8.9" 4K resolution screen, it significantly increases printing speed (up to 3x).
Another key benefit is how the LCD screen in the base of the printer is designed to last about 4 times longer than the outdated RGB screens for 2,000 hours of printing. The screen is what produces the light to harden the liquid resin into plastic.
Now that we have the 3D printers out of the way, let's look directly at the materials so we can accurately figure out how much it costs to 3D print an object.
How Much Do 3D Printing Materials Cost?
There are two main types of materials when it comes to 3D printing – filament and resin. Filament starts at around $20 per KG, while resin starts at around $35 per KG.
Filament is packaged up as a round spool of plastic which usually sits on top of the 3D printer with a spool holder for FDM printers.
Resin comes in a dark bottle with UV protection and is full of the photopolymer liquid resin that you pour into the resin vat of your SLA resin 3D printer. It has to be stored this way because the liquid hardens to UV light.
How Much Does 3D Printing Filament Cost?
A standard spool of filament will cost you anywhere from $20-$30 per KG, but there are many types of filaments that you can get.
PLA – Hatchbox PLA on Amazon goes for around $25 per KG.
ABS – Hatchbox ABS on Amazon goes for around $22 per KG.
PETG – Overture PETG on Amazon costs around $21 for 1KG.
TPU – Ninjaflex NinjaTex TPU costs around $33 for just 500g, or you can get Hatchbox TPU for around $31 for 1KG.
ASA – Overture ASA filament costs around $32 per KG on Amazon. Polymaker Polylite ASA is another popular brand of filament that costs around the same price.
Nylon – Overture Nylon filament costs around $35 per KG on Amazon.
How Much Does 3D Printing Resin Cost?
The two most popular brands of resin are the Elegoo Rapid Resin and the Anycubic UV-Curing Resin which cost around $35 per KG. These are great quality resins that can definitely produce high quality models.
They cure/harden fairly quickly, have fairly good levels of toughness and rigidity, as well as having excellent fluidity so it can be easily cured into complex and detailed shapes.
You can get more premium resins that offer characteristics such as higher durability and strength, more flexibility, mechanical-grade tough resins and even professional-grade dentistry resin.
Elegoo Water Washable Resin costs around $40-$45 per KG and it allows you to wash your resin models with just water rather than isopropyl alcohol.
Siraya Tech Tenacious Flexible & Impact-Resistant Resin costs around $65 per KG and provides users with a premium resin that works very well.
The great thing about this resin is how it can actually be mixed with other resins to increase their strength, flexibility, and even detail. One user even tested a piece printed with this resin by running over it with his truck without the 3D print breaking.
Formlabs Model Resin costs around $150 per KG and is a specialized resin that is high-precision and high accuracy. It's specifically used in the dental field but can still be used to create high detailed models.
This is only compatible with Formlabs 3D printers such as the Form 3, Form 3L and Form 3BL.
Just to complete the knowledge with 3D printing materials, I'll briefly mention metal powers for metal 3D printers.
A popular metal power like Aluminum Alsi7mg can cost between $24-$26 per KG, though the 3D printer itself can set you back $50,000 – $1,000,000, so this isn't too relevant for individuals like us – rather industrial companies.
How Much Does 3D Printing Cost? Other Materials
When it comes to 3D printing, after you have your 3D printer and filament, there are other costs associated that is worth paying for.
You have the option to be as cost-effective as possible, but if you want the best 3D printing experience, I'd recommend getting some extra items.
Elmer's disappearing glue is one of the best glues to use when it comes to 3D printing purposes. It is called disappearing glue because it is usually purple when you apply it but turns clear once it dries.
This glue has been manufactured using an acid-free formula which makes its adhesive properties spectacular. You can glue different parts of your model without worrying about them coming off.
It is also non-toxic, which makes it suitable for use when 3D printing at home, school or in a workplace.
One user found it particularly useful because it helped his prints stick to the hot bed until the print job was completed.
Check out Elmer's Disappearing Glue on Amazon.
Austor sandpaper is made from silicon carbide which provides a wet or dry sanding experience. One package of this Sandpaper assortment comes with 102 pieces of assorted abrasive sheets in different grits ranging from 60 to 3,000.
This sandpaper has been specially manufactured to be efficient with automotive sanding, and wood furnishing, but works very well with 3D prints. It is one of the toughest sandpaper out there offering high quality natural abrasion.
This makes it suitable for sanding and polishing 3D models after printing. One user said that he used it when working on his resin print and it helped him achieve an almost glass finish.
Check out the Austor Sandpaper Assortment on Amazon.
Rust-Oleum primer is a water-based primer designed for exterior use in a wide range of products like furniture, laminate, PVC, railings, galvanized steel and thermoplastics.
This primer has a low odor which makes it favorable to use on 3D models before painting. It is also dries in 30 minutes. You can also spray it in humid environments and it should still work great.
One user said that she sprayed this primer to on his prints before sanding and finishing and it worked fantastically.
You can find a can of Rust-Oleum 2-In-One Filler & Primer Spray from Amazon.
Paint & Paintbrushes
Painting finished models improves their aesthetic value and enables you to add a personal touch to them. You want to use the right type of paint that works well for 3D printer objects and miniatures.
I'd recommend going with the Caliart Acrylic Paint Set with 24 Vivid Colors from Amazon.
Acyrlic paints and paint brushes are the perfect tools for coloring your printed models. They are bright and can be used on a variety of surfaces e.g. ABS, PLA, PETG and wood.
In terms of paint brushes, I'd recommend going with the Soucolor Acrylic Paint Brushes Set 20 Pcs from Amazon. They come with many fine brushes that can paint some great detail on miniature 3D prints and other 3D printed objects.
Store paints from the hardware can be too thick and even end up clumping and forming unpleasant layers. Acrylic paints are used since they cover a greater surface and are easy to use.
These aren't necessary for 3D printing, but it will definitely give you a better overall experience with the kind of quality you can get from your models.
3D Print Cleaning Kit
Having a 3D print tool kit/cleaning kit is a great set of parts that you'll want when you start 3D printing.
A great set is the Rustark 42-Piece 3D Print Tool Kit from Amazon.
It has several parts for 3D printing, including:
14-Piece Knife Set
Scraper
Flat File
Pliers
Flush Cutters
Electronic Digital Calipers
Cutting Mat
Deburring Tool
6-Piece Deburring Blades
3-Piece Cleaning Brushes Set
Glue Stick
10-Piece Cleaning Needles
Zipper Bag
This set of tools helps anyone involved with 3D printing with cleaning up 3D prints to make them look closer to that professional quality. It helps with maintaining the 3D printer also with the cleaning brushes that can be used to clean up the nozzle.
You also have the cleaning needles to help with clearing out the nozzle, as well as the pliers and flush cutters to get rid of excess support material.
One user said that she had been using it for her 3D printer for close to a month now and so far, they were holding up well.
The 3-In-One Multipurpose PTFE lubricant is designed for usage in high temperature environments to reduce friction and protect parts from wear and tear.
This lubricant can work well in temperatures ranging from -50°F to 500°F. It can be used on the Z-axis threaded rod, X-Y guide-rails, lead screws, and bearings to help parts that are in contact to move smoothly.
One user purchased it to lubricate the rails and rods on his printer and it coated better than many oils he found on the market. The only minor issue that he had with it was that the twist close cap would sometimes leak from under the cap while he was applying it.
You can find the 3-In-One Multipurpose PTFE Lubricant on Amazon today.
Cleaning Wipes & Rubbing Alcohol
When it comes to cleaning printer beds and removing dust from 3D printing machines, you want to make sure you do this on a regular basis with the right products.
You can get some pretty bad bed adhesion when you have grease and marks from handling your print bed, so you want to avoid this for more successful prints.
Most 3D printer users have either a bottle of isopropyl alcohol with paper towels, or simply some sterile alcohol wipes. I'd recommend going with Dynarex Alcohol Prep Pads (200 Count) from Amazon for your cleaning needs.
One customer said that the Dynarex alcohol pads were very helpful in dissolving residue on his glass print bed and restoring its surface.
You can also get yourself a bottle of Solimo 99% Isopropyl Alcohol from Amazon. It's another great cleaning solution for your print bed, and can be used with paper towels or a washcloth.
Replacement Parts
A lot of FDM printer's parts will need to be replaced after being used for some time. The nozzles last for long when printing with PLA and ABS.
Brass nozzles
Hardened steel nozzles
Stiff bed springs
PTFE tubing
Timing belt
Brass & Hardened Nozzles
In terms of brass nozzles, they can be used for a fairly long time when you print simple materials like PLA and ABS, but they'll need replacement at some point. You can go with the Creality 10 Pcs Brass Nozzles Set from Amazon.
It includes 8 brass nozzles ranging from 0.2mm up to 0.6mm, along with 2 0.4mm hardened steel nozzles.
Compression Springs
A great upgrade that many 3D printer users implement with their machine are those yellow compression springs that go underneath your bed for leveling. The stock springs are usually quite weak and require regular leveling.
When you get something like the 8mm Yellow Compression Springs (20 Pcs) from Amazon, you won't need to level your 3D printer very often. Some people have leveled it properly once and have not had to level it for months.
This upgrade is likely to save you plenty of time and frustration by giving you consistent and successful 3D prints.
The stock PTFE tube can work fairly well on 3D printers, but after a while they can start to deteriorate. You'll be better off upgrading it to Creality Capricorn Bowden PTFE Tubing from Amazon.
It has a much higher heat resistance and less friction to give you better successes with your 3D prints.
The belts on your FDM 3D printer are one of the main moving parts, making them susceptible to wear and tear over time. These can last a good while of printing but after some time, you may need to replace these.
I'd recommend going with the Befenybay 2GT Timing Belts from Amazon when you do need to replace it.
It has a nice copper buckle that has been pre-pressed in order to lock in the belt on your 3D printer.
---
Although you may think there are many costs with 3D printing and maintenance, when you regularly maintain your 3D printer, it can actually decrease your overall costs because you won't have to replace parts so often.
Beginners are more likely to have failures due to incorrect bed leveling, incorrect slicer settings, tangled filament or not adding support material. This can significantly drive up the cost of producing prints.
This cost will decrease as you gain more experience from 3D printing regularly.
How Much Does 3D Printing Cost Per Hour to Run?
With a standard flow rate of filament from a 0.4mm nozzle, a 0.2mm layer height, along with standard electricity and maintenance costs, 3D printing costs around $0.40 per hour. Filament costs around $0.24 per hour, electricity costs around $0.09 per hour, and maintenance costs around $0.07 per hour.
The main costs when it comes to 3D printing is the filament which goes for around $25 per KG of plastic. After doing some calculations with some standard settings, you can figure out how much filament is extruded on an hourly basis.
With the Spider-Man model below, 182g of filament gets extruded in 18 hours and 51 minutes. To calculate this on an hour basis, we take 182g / 18.85 (18 hours and 51 minutes) = 9.655g of filament extruded every hour for this specific print.
To figure out how much this is, we can take $25 per KG of plastic which is 1000g, then divide it by 1,000 to get the price per gram – $25 / 1,000 = $0.025 per gram.
Now we do 9.655 grams * $0.025 = $0.2413 or $0.24 rounded down.
Next up we got the electricity costs.
I already did an article called "How Much Electric Power Does a 3D Printer Use?" where I figured out that a standard 3D printer uses around $0.09 in electricity every hour by seeing readings of electricity use for an hour and getting an average cost in the US of electricity for a kWh.
Last but not least we have the maintenance costs. This can vary from printer to printer, but generally speaking, 3D printers don't need a lot of maintenance if you have the right parts. You may have to replace thermistors, cooling fans, belts etc.
Once you install some durable parts and have a process, you may have to spend $30-$50 per year on items. If we take an average 3D printer user and say they use their 3D print for an average of 2 hours every day, that would be 730 hours of printing every year.
Let's take the upper estimate of $50 per year on maintenance, then divide that by 730 hours, and we get an hour maintenance cost of $0.07.
How Much Does it Cost to 3D Print Objects?
By going to Thingiverse.com, you can download a model you like and print it. Using an average cost of $25 per KG below are the approximate prices of some common objects that people 3D print.
How Much Does it Cost to 3D Print A Miniature?
A standard tabletop miniature costs around $0.12 like the Elf Ranger (28mm scale) and uses only 5g of filament. Some miniatures may use more or less filament so you adjust the cost based on the amount of filament you use.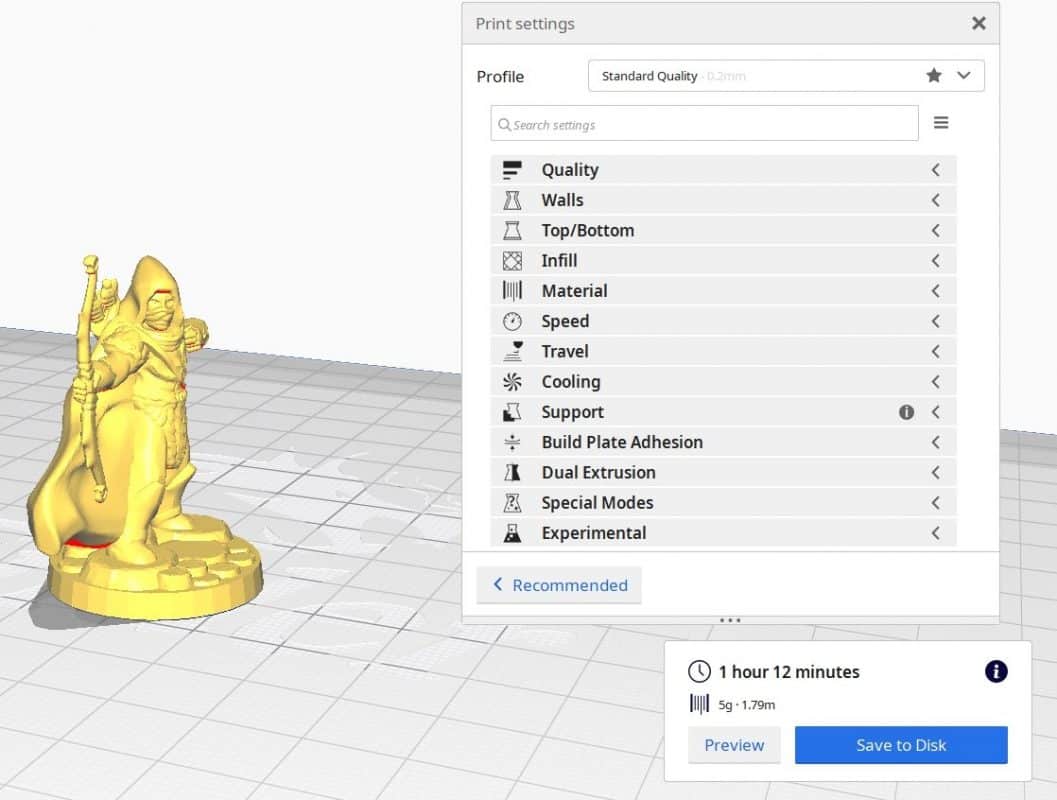 How Much Does it Cost to 3D Print A Phone Case?
A 3D printed phone case for an iPhone 6 Case (Halo Themed) costs around $0.58 and uses roughly 23g of filament. It measures at 70 x 9 x 140mm and is based on using PLA plastic which costs around $25 per KG. 
How Much Does it Cost to 3D Print A Helmet (Stormtrooper Helmet)?
A Stormtrooper Helmet uses around 1.5KG of filament which would cost around $37.50 for a full-sized model. It can be printed in around 45 hours with 17 individual prints, or you have the choice to print the whole model in one if you have a big enough 3D printer. 
How Much Does it Cost to 3D Print A Mask?
A Loki Mask from "The Mask" movie uses around 180g of filament and would cost $4.50 in PLA at $25/KG. Its dimensions are 165 x 87 x 220mm but can easily be scaled up or down as you desire. There are many other masks out there that can use a lot less filament which would be cheaper.
A Covid-19 Mask V2 from Thingiverse uses around 40g of filament which would cost around $1.00.
How Much Does it Cost to 3D Print A Car?
A company called XEV started the production of a $7,500 dollar electric car in 2019, which weighs 450KG. The Strati which was designed by Michele Anoé and made 3D printable by Local Motors is another 3D printed car which costs around $24,000, though not highway worthy as it doesn't meet requirements.
One popular story about a 3D printed car is by Sterling Backus who 3D printed a Lamborghini at home with his son, costing just $20,000.
He used a Creality CR-10 to print different parts before joining them together.
Check out the full video below.
The Strati is another well-known 3D printed car that has got plenty of traction and was first printed in just 44 hours in 2014, but with a goal to get that down to just 10 hours per vehicle.
It hasn't really have much news recently that I could see, so they could have moved onto other projects now, but it's still a great project and insight into the potential for 3D printed cars.
How Much Does it Cost to 3D Print An Organ?
A bioprinter can reportedly create a 3D printed organ for as little as $10,000 which is likely to decrease in price as technology improves. Researchers are trying to 3D print many organs such as a pancreas, bioprinted skin, corneas, a heart, kidneys, and even bioprinted ovaries.
To 3D print an Anatomical Heart in PLA, it would cost around $3.65 and use 146g in filament. 
How Much Does it Cost to 3D Print A Prototype?
For a simple prototype that requires 100g of filament to print, it would only cost $2.50. For a more complex part that requires professional designers, the cost can range in the hundreds to thousands of dollars depending on the complexity of your prototype. The main cost would be in the design.
A full Nintendo Headrest Prototype measuring 94.7 x 87.6 x 121.8mm will cost you $0.98 when using PLA filament. It was fully designed in Fusion 360 which made the locking mechanism a lot easier to use.
A prototype can be a small object which would only require 15 grams of material or a large object that consumes several KGs of material.
A prototype can cost anywhere from $30 to upwards of $30,000 without including the post-processing costs. Well, all this depends on how big the design is and its complexity.
How Much Does it Cost to 3D Print A Shoe?
A 3D printed shoe called the Pigalle Pump Shoe uses around 114g of filament and would cost $2.85 to create. Another popular footwear that is 3D printed is the Recreus Sandals which you would want to print out of TPU. It similarly uses around 115g of filament and would cost around $2.90 .
How Much Does it Cost to 3D Print A Mug?
This 3D printed Fish Mug uses 156g of material and would cost $3.90 in PLA filament. You would want to coat this in a food safe epoxy to be able to be used safely. 
How Much Does it Cost to 3D Print An Iron Man Suit?
A Full MK6 Iron Man Suit would require about 20kg of filament when using the CR-10. It would also cost about $360 when using PLA and a 15% infill rate. This is much cheaper compared to a professional Mark 43 Basic Armor Package which can cost upwards of $1,300.
How Much Does it Cost to 3D Print An FPV Drone?
The Nanolongrange V2 GPS FPV Drone is a modern and very light drone which only uses 7.5g in filament for the frame, which is $0.18. It requires other parts like a flight controller, a motor, 4 blade propellers, a GPS antenna module, an FPV camera, M2 screws and rubber bands, all costing around $110.
The cost of these parts were gathered from going on Banggood (product site) on the Thingiverse page, and adding up the relevant costs. This is a very minimal drone, only having a flight time of 20 minutes and 4.65km distance.
For a more capable drone, you're probably looking at a much higher price, but that is due to parts rather than the 3D printing aspect of things.
How Much Does it Cost to 3D Print A Real House?
A 3D printed house can cost as low as $4,000 and only take around 24 hours to complete. SQ4D are at the forefront of the 3D printed home industry, being able to create a 1,900 SQ FT. home in just 48 hours and used less than $6,000 in materials. Costs are decreasing as times move forward.
Homes are being built for low-income families in Mexico, as well as throughout the US.
Large industrial grade printers extrude cement in layers to form walls. Fittings such as windows and doors are placed after the main structure is completed.
3D printing homes is still at its infancy, so we can expect to see more 3D printed homes in the market in the near future.