Ender 3/Pro/V2/S1 Starters Printing Guide – Tips for Beginners & FAQ
The Ender 3 is probably the most popular 3D printer in the industry, mainly due to its competitive cost and ability to produce effective 3D printing results. I decided to put together a nice starter's guide for 3D printing with an Ender 3.
This guide will also cover everything you need to start printing with the Pro, V2 & S1 versions.
Is an Ender 3 Good for Beginners?
Yes, the Ender 3 is a good 3D printer for beginners due to the very competitive price, the ease of operation, and the level of print quality that it provides. One aspect that is a downside is how long it takes to assemble, requiring several steps and many separate pieces. There are tutorials that help with assembly.
The Ender 3 is pretty cheap compared to other printers that offer similar features, maybe one of the most cost-effective 3D printers out there. It also offers decent print quality way above what you'd expect for that price point.
The Ender 3 comes as a 3D printer kit, which means that it requires a decent amount of assembly. According to many users, it can take an hour or so if you have a good tutorial with you, but you want to take your time to make sure things work well.
It's actually quite ideal for beginners to put a 3D printer together because you learn how it works and comes together which is useful if you need to make repairs or upgrades down the line.
Upgrading the Ender 3 after getting some successful 3D prints is a very common event with many beginners out there.
If you check out the Creality Ender 3 on Amazon, you'll see plenty of positive reviews from beginners and even experts on just how well this 3D printer performs.
In some cases, there have been poor quality control issues, but these are usually solved by contacting your seller and getting which ever replacement parts or assistance that you need to get things up and running.
You also have plenty of forums and YouTube videos that can assist you with the Ender 3 because it has such a large community behind it. The Ender 3 does have an open build volume so for younger beginners, you might want to get a Comgrow 3D Printer Enclosure from Amazon.
It's useful from a safety perspective to improve safety, both physical and from fumes.
You can actually get better print quality in some cases because it protects from drafts that can cause print imperfections.
One user who purchased the Ender 3 as his first 3D printer said he's absolutely in love with the 3D printer. They 3D printed a decent number of models, going through a full 1KG spool in just over 2 weeks, having success with each one.
They did mention that it took a lot longer than they thought to put it together, but it was still a fairly simply process. The Ender 3 is very popular for first-time users, and there are plenty of YouTube tutorials to help you get up and running.
He also mentioned that the build surface it came with didn't perform the best so he recommended getting your own surface like a Creality Magnetic Bed Surface or a Creality Glass Build Surface.
The open source aspect of the Ender 3 was a key for him personally so he could upgrade and replace parts easily without worrying about compatibility.
It's a great investment, whether you have a specific hobby, have kids/grandkids, or just love technology and the DIY aspect of things.
How to 3D Print with an Ender 3 – Step by Step
The Ender 3 is a kit printer, which means it comes with some assembly required. The instructions and documentation for assembling the printer can be pretty complex
So, I've written this guide to help you get the printer up and running quickly.
How to 3D Print with an Ender 3 – Assembly
To get the best performance out of an Ender 3, you must assemble it correctly. Doing this will help reduce any hardware problems interfering with your printing.
The instructions that come with the printer do not really cover some important things to note when assembling the printer. So, we've composed a list of helpful tips for assembling an Ender 3 Printer.
Here they are.
Tip 1: Unbox the printer, lay out all its components, and cross-check them.
Ender 3 printers have a lot of components. Laying them out helps you quickly find what you're looking for when assembling the printer.
Make sure you compare what's in the box with the bill of materials to ensure no part is missing, and that the long metal lead screw isn't bent by rolling it on a flat surface.
Tip 2: Make sure all the wiring is connected to the mainboard.
The Ender 3's base comes in one piece, with the bed and electronics wiring already connected to the mainboard.
Check the wiring of the hotend and the motors and make sure they are correctly connected to the mainboard and not loose.
Tip 3: Ensure all the rubber POM wheels are gripping the carriages properly.
The Ender 3 has POM wheels on both uprights, the hotend assembly, and at the bottom of the bed. These POM wheels should grip the carriages tightly to avoid wobbling during operation.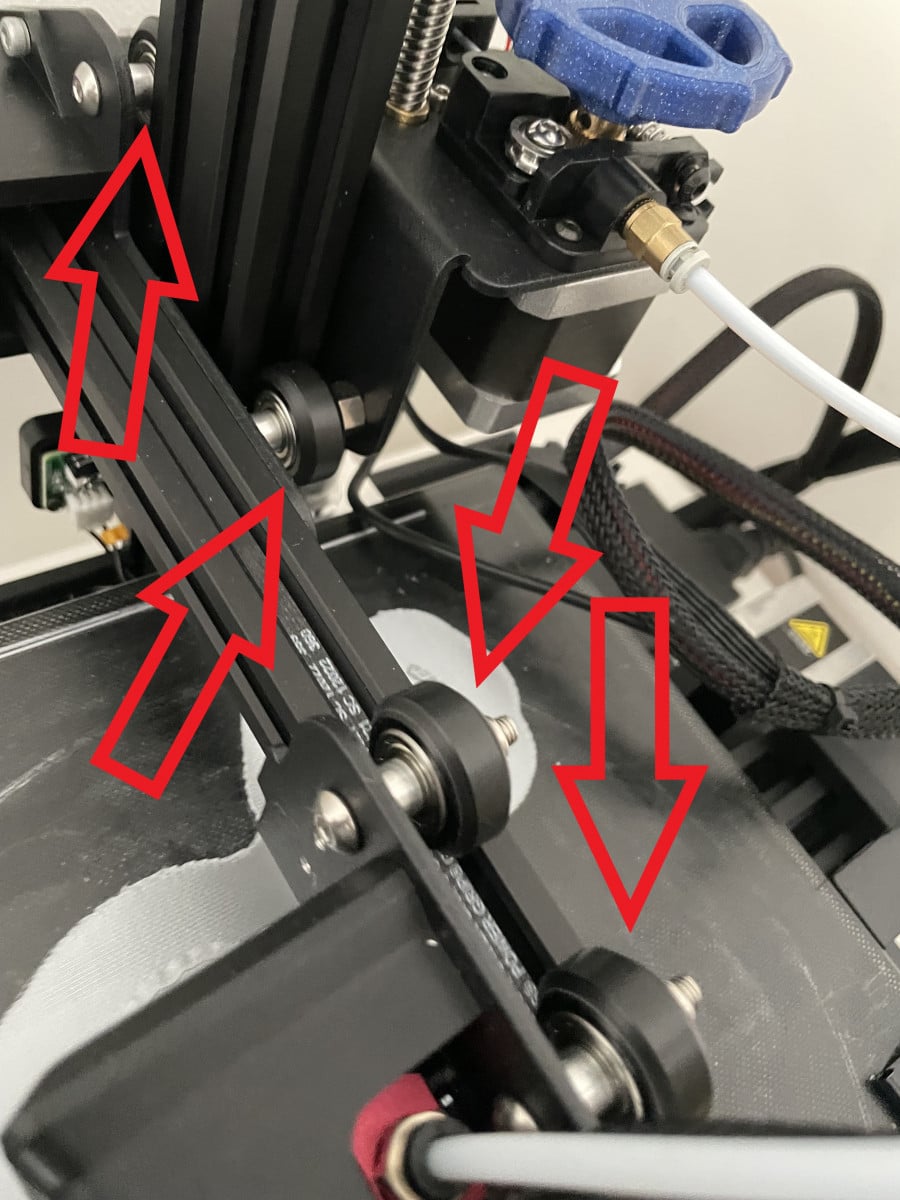 If there is any wobble on these parts, turn the adjustable eccentric nut (on the side with two POM wheels) until there is no wobble.
Be careful not to overtighten the eccentric nut. Immediately there is no wobble; stop tightening.
NOTE: When tightening an eccentric nut, a good rule of thumb is to tighten the nut until the POM wheels cannot rotate freely when you turn them with your finger.
Tip 4: Make sure the printer's frame is well aligned.
There are two Z uprights, one on each side with a crossbar on top. There is also an X gantry that carries the extruder and hotend assembly.
All these components should be perfectly straight, level, and perpendicular. This helps ensure you get accurate prints consistently.
After installing each upright or gantry, take a spirit level or speed square to ensure they are correctly level or perpendicular.
Using a screwdriver, tighten the screws firmly, ensuring the frame stays accurate.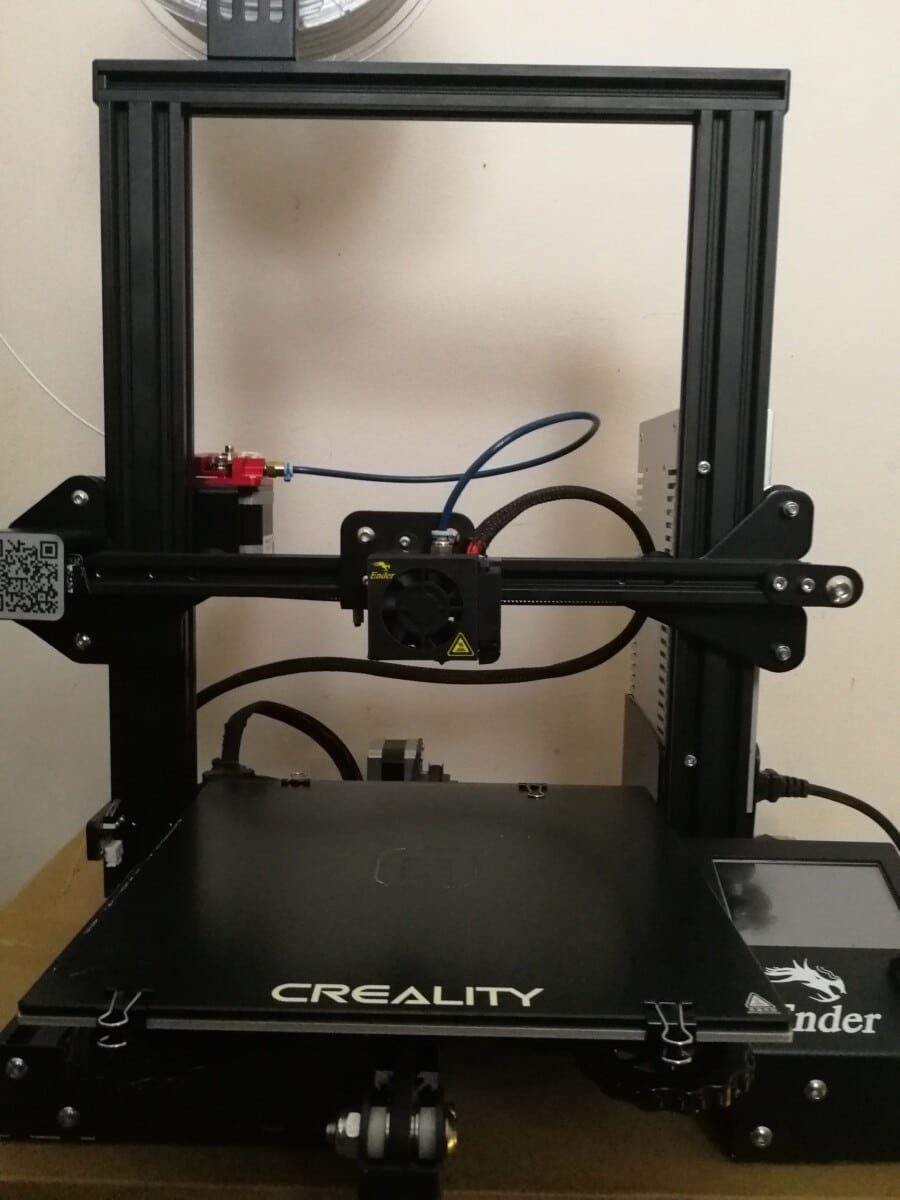 Tip 5: Switch the power supply's voltage
The Ender 3's power supply comes with a voltage switch that you can switch to your country's voltage (120/220V). Before turning on the power supply, make sure you check and see if the switch is set to the correct voltage for your country.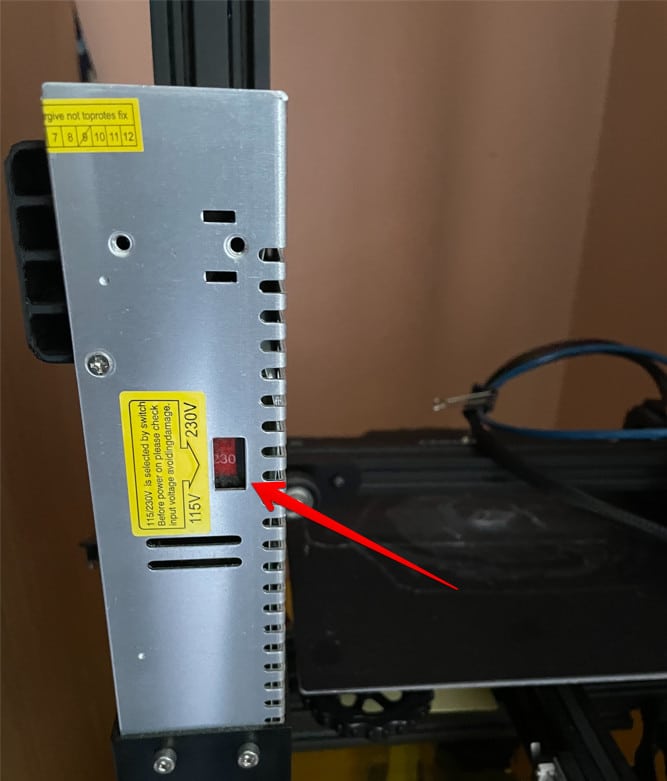 Tip 6: Now that your printer is assembled, it's time to turn it on and test it.
Plug the power supply into the power source and turn on the printer. The LCD should light up.
Auto home the printer by going to Prepare > Auto home
Confirm that the printer is hitting all the limit switches and the motors are moving the X, Y, and Z axes seamlessly.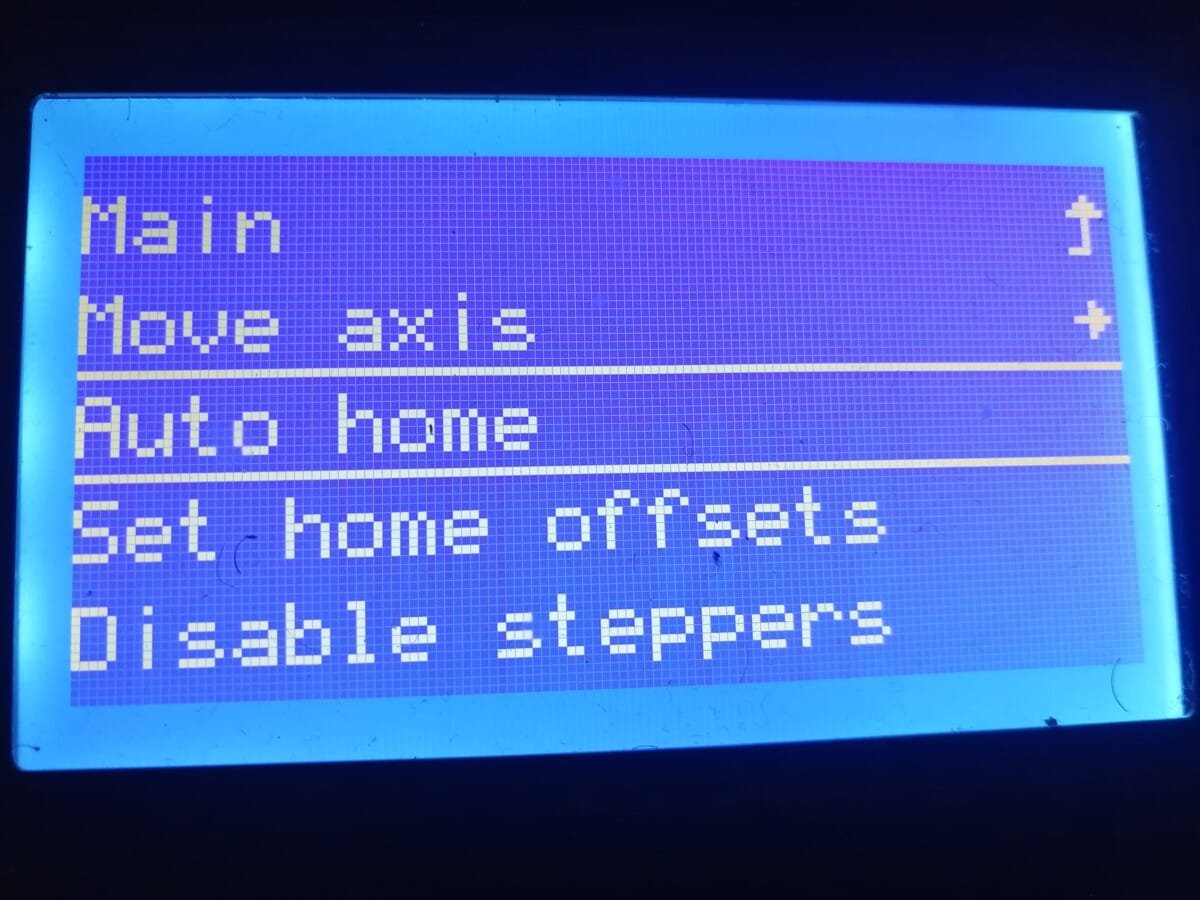 How to 3D Print with an Ender 3 – Bed Levelling
After assembling your printer, you'll need to level it before you can print accurate models on it. A YouTuber named CHEP created an excellent method for accurately leveling your bed print bed.
Here's how you can level the bed.
Step 1: Preheat Your Print Bed
Preheating the print bed helps account for the bed's expansion during printing.
Turn on your printer.
Go to Prepare > Preheat PLA > Preheat PLA Bed. This will preheat this bed.
Step 2: Download And Load The Levelling G-Code
The G-Code will help move your printer's nozzle to the right areas of the bed for leveling.
Download the Zip File from Thangs3D
Unzip the file
Load the CHEP_M0_bed_level.gcode file & CHEP_bed_level_print.gcode file on your SD card
Here's what the G-Code file looks like when checked in Cura, which represents the path the model will take.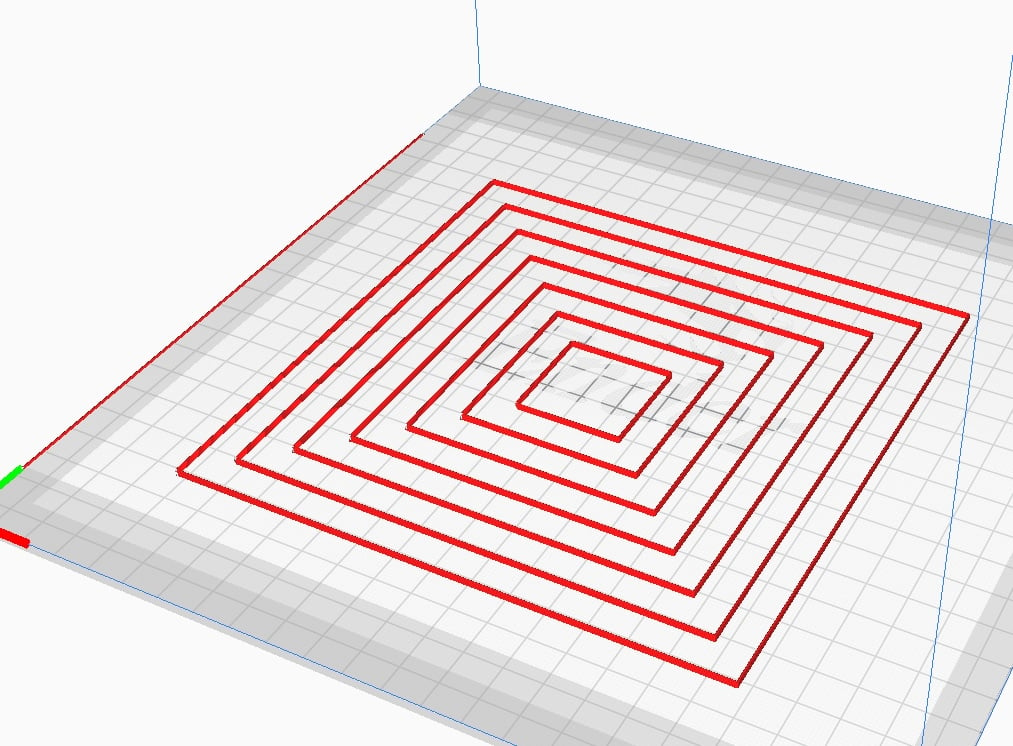 First run the CHEP_M0_bed_level.gcode file on your Ender 3 or any similar size printer with an 8-Bit board V1.1.4 board. Adjust each corner by running a piece of paper or Filament Friday sticker under the nozzle until you can barely move it then click the LCD knob to advance to the next corner.
Then run the CHEP_bed_level_print.gcode file and live adjust or "adjust on the fly" the bed level knobs to get as close to a level bed as possible. The print will continue multiple layers but you can stop the print at any time and then you are ready to 3D print without worrying about bed level.
Step 3: Level The Bed
Start with the CHEP_M0_bed_level.gcode file and run that on your Ender 3. It simply moves the nozzle to the corners and middle of the bed twice so you can manually level the bed.
The printer will auto-home itself, go to the first position, and pause.
Slide a piece of paper in between the nozzle and the bed.
Adjust the bed springs until there is friction between the paper and the nozzle, while still being able to wiggle the paper slightly.
Once you're done with that, click the knob to take the printer to the next position
Repeat the entire procedure until all the points on the bed are level.
Step 4: Live-Level the Bed
Run the next file CHEP_bed_level_print.gcode file and basically adjust your leveling knobs while the bed is moving, being careful with the movement of the bed. You want to do this until you see the filament is extruding nicely onto the bed surface – not too high or low.
There are multiple layers but you can stop the print when you feel the bed has been leveled fully
The video below by CHEP is a great illustration to leveling your Ender 3.
For the Ender 3 S1, the leveling process is a lot different. Check out the video below to see how it's done.
How to 3D Print with an Ender 3 – Software
To print a 3D model with the Ender 3, you'll need slicer software. A slicer will convert the 3D model (STL, AMF, OBJ) into a G-Code file that the printer can understand.
You can use various 3D printing software like PrusaSlicer, Cura, OctoPrint, etc. The most widely used software is Cura because it's packed with several features, easy to use, and free.
Let me show you how to set it up:
Step 1: Install Cura On Your PC
Download the Cura installer from the Ultimaker Cura website
Run the installer on your PC and agree to all the terms
Launch the app when it's done installing
Step 2: Set Up Cura
Follow the prompts on the onscreen guide to set up the Cura application.
You can either choose to create a free Ultimaker account or skip the process.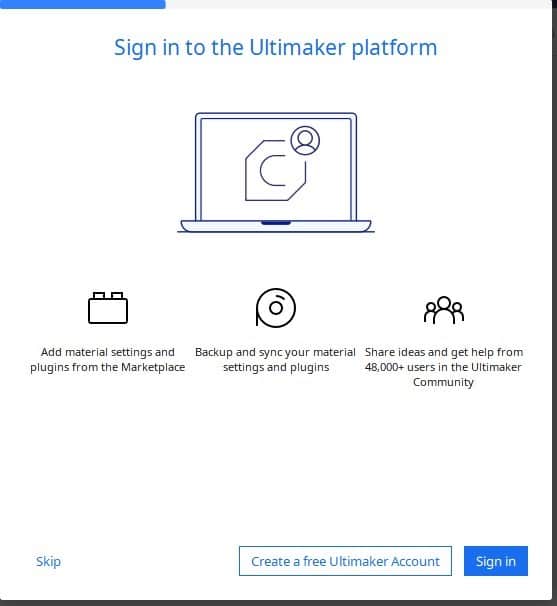 On the next page, click on Add a non-networked printer.
Navigate to Creality3D, select the Ender 3 from the list and click Next.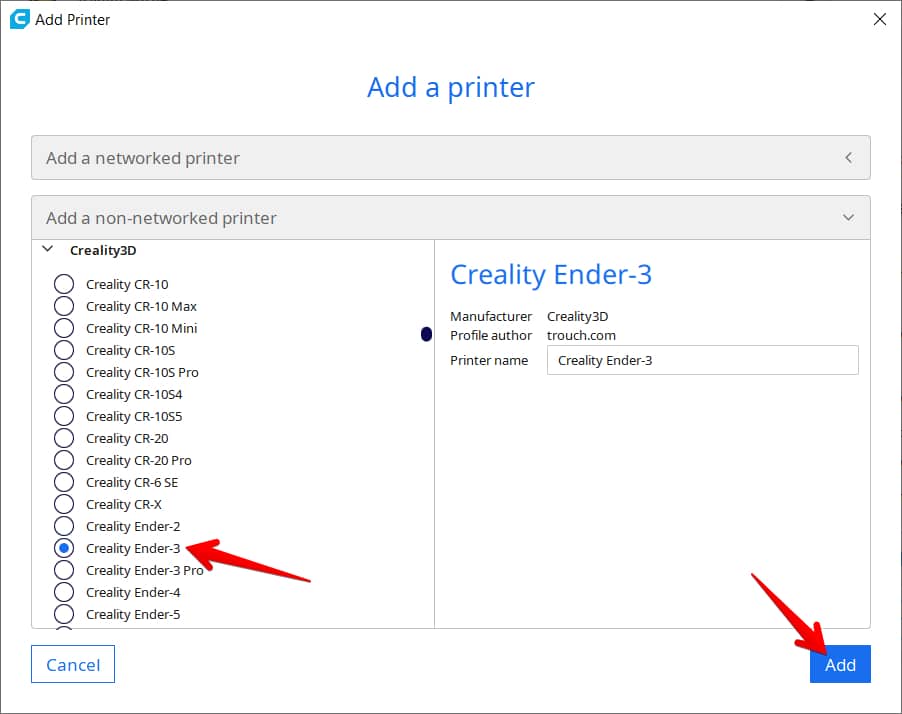 Leave the machine settings and do not modify them
Now, you can use the Cura virtual workspace
Step 3: Import Your 3D Model Into Cura
If you have a model that you want to print, click on it and drag it into the Cura application.
You can also use the Ctrl + O shortcut to import the model.
If you do not have a model, you can get one from an online 3D model library called Thingiverse for free.
Step 4: Adjust The Model's Size And Placement On The Bed
At the left-hand sidebar, you can use various settings like Move, Scale, Rotate and Mirror to your desire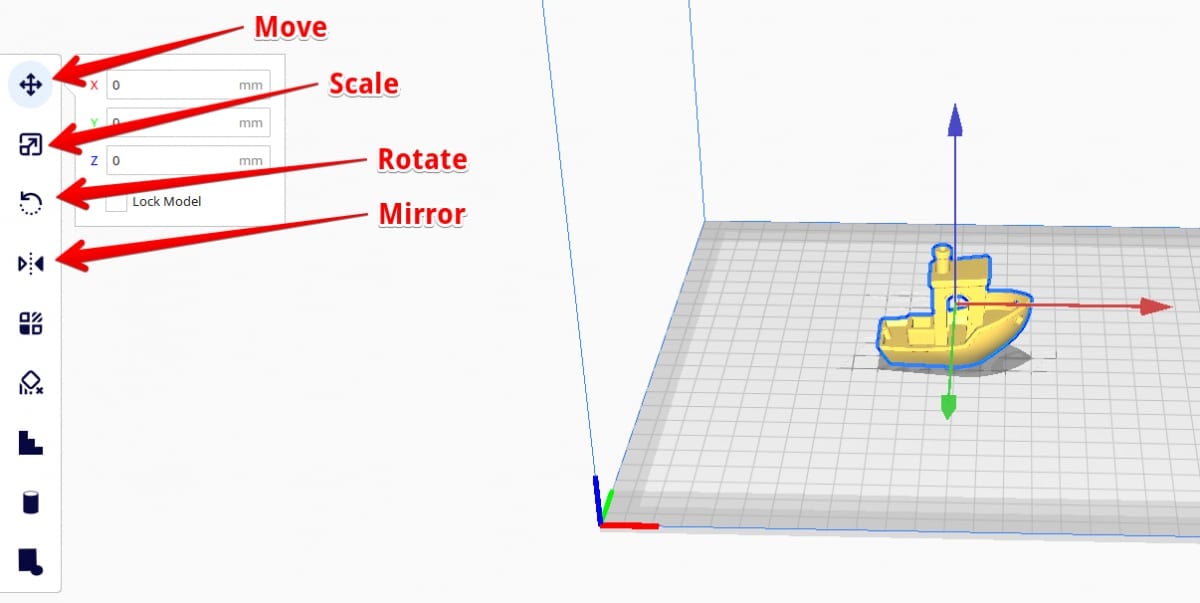 Step 5: Edit Print Settings
You can adjust the print settings for the model by clicking on the upper right panel such as Layer Height, Infill Density, Printing Temperature, Supports etc.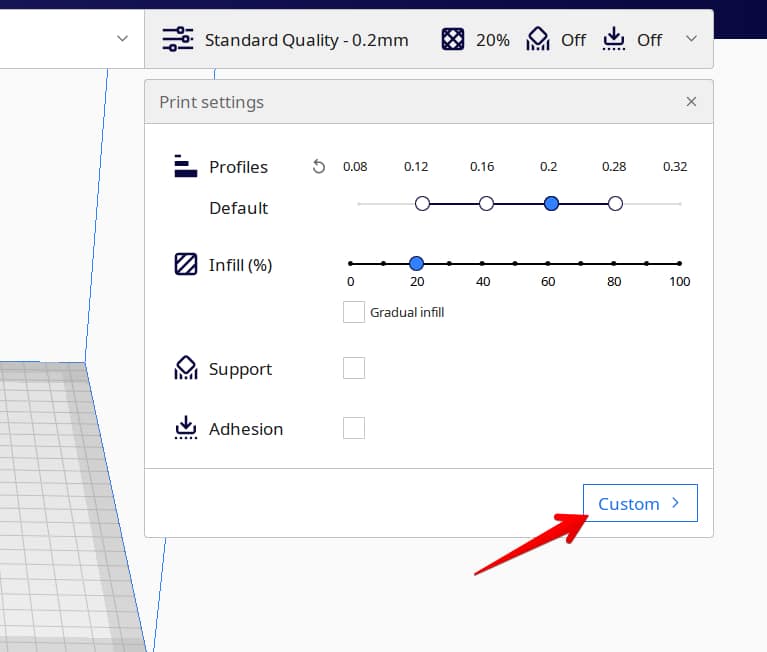 To display some of the more advanced options available, click on the Custom button.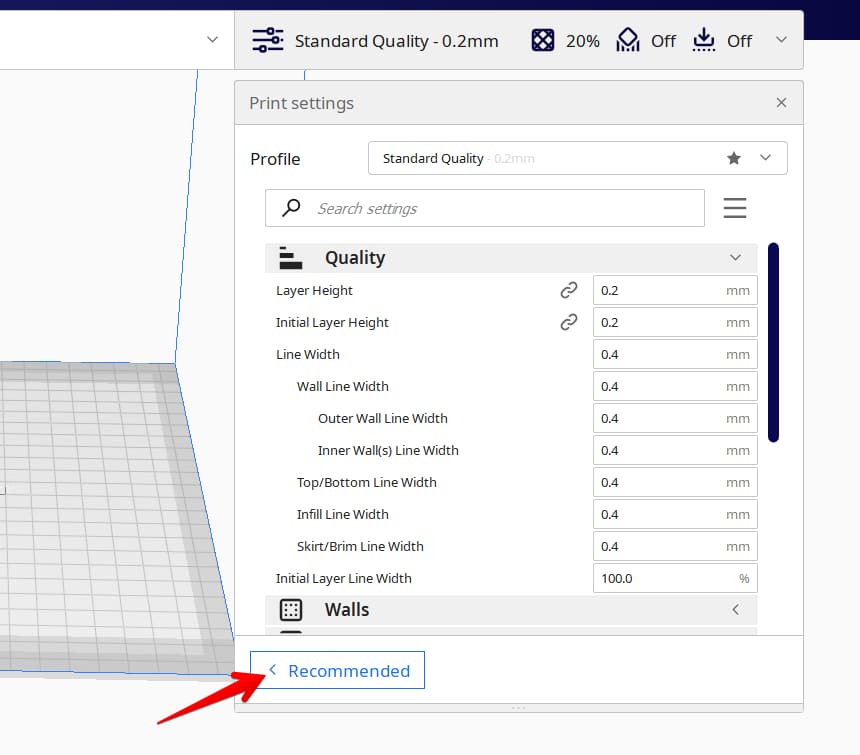 You can check out How to Use Cura for Beginners – Step by Step to learn how to use these settings better.
Step 6: Slice the Model
After editing the 3D model, click on the slice button to convert it to G-Code.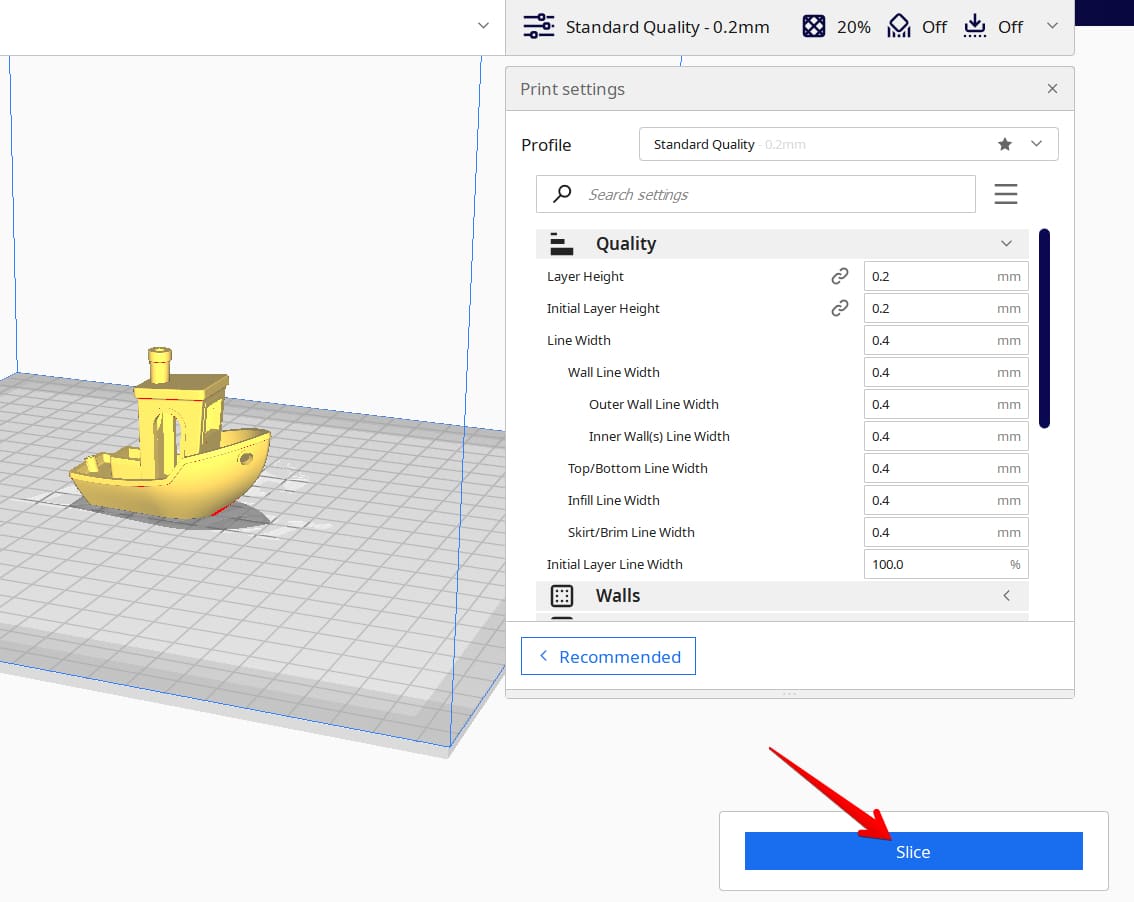 You can either save the sliced G-Code file to an SD card or print it via USB with Cura.
How to 3D Print with an Ender 3 – 3D Printing
After slicing your 3D print, it's time to load it up on the printer. Here's how you can start the 3D printing process.
Save your G-Code on the SD card or TF card
Insert the SD card into the printer
Power on the printer
Go to the "Print" menu and select your model
The bed and nozzle will start to pre-heat to the set temperature and will begin when reached.
When printing with the Ender 3, it's essential to observe the first layer of the print because it's vital to the print's success. A poor first layer will almost definitely lead to the print failing.
When the printer is laying down the filament, check if the filament is adhering properly to the bed. If you've leveled your bed correctly, it should adhere nicely.
Also, check if the nozzle is digging into your print bed while printing. If the printhead is digging into the bed, adjust the level with the four bed leveling knobs under the print bed.
Additionally, if the corner of the print is lifting due to warping, you may need to improve your first layer settings. I wrote an article you can check out called How to Get the Perfect First Layer on Your 3D Prints.
How to 3D Print with an Ender 3 – Post-Processing
Once the 3D model is done printing, you can remove it from the print bed. In some cases, the model might still need some post-processing touches to reach its final form in some cases.
Here are some of the more common ones.
Support Removal
Supports help hold up overhanging parts of the print, so they have a foundation to print on. After printing, they are no longer necessary, so you need to remove them.
It's important to be careful when removing supports to avoid damaging the print and yourself. You can use the flush cutters provided with the Ender 3 or needle nose pliers to remove them efficiently.
Something like the Engineer NS-04 Precision Side Cutters from Amazon should work well for this. It is compact sized which makes it ideal for cutting supports and it has a special design specific for cutting edges nicely.
This pair of side cutters is constructed from heat treat carbon steel, which provides excellent cutting performance and durability. It also has ESD safe comfort grips that is constructed from oil resistant material.
If you want to go for a whole kit for your 3D printing needs, I'd recommend going with something like the AMX3D Economy 43-Piece 3D Printer Toolkit from Amazon.
It has a large set of tools including:
Print Adhesion – large 1.25 oz glue stick
Print Removal – super thin spatula tool
Print Clean-Up – Hobby knife kit with 13 blades, 3 handles with a de-burring tool with 6 blades, tweezers, pliers, mini-file and large cutting mat
Printer Maintenance – 10-piece 3D printing nozzle needles, filament clippers, and a 3-piece brush set
Assembling 3D Prints
When 3D printing, your model might have multiple parts, or maybe your print bed might not be big enough for your projects. You might have to split the model into multiple sections and assemble it after printing.
You can assemble the individual pieces using  superglue, epoxy, or some kind of heat friction method by heating both sides and holding the model together.
Check out the video below by MatterHackers on how to bond your 3D prints together.
Some 3D prints have built-in hinges or snap fits that mean they can be assembled without glue.
I wrote an article called 33 Best Print-in-Place 3D Prints that has many of these types of models, as well as an article called How to 3D Print Connecting Joints & Interlocking Parts.
Sanding and Priming
Sanding helps eliminate surface deformities like strings, layer lines, blobs, and support marks from the model. You can use sandpaper to gently buff out these imperfections from the print's surface.
A primer helps fill in the gaps on your print to make sanding it down easier. It also makes it easier to paint if you want to paint the model afterward.
A great primer you can use with your 3D prints is the Rust-Oleum primer. It works well with plastics and also doesn't take long to dry and solidify.
First, sand the print down with 120/200 grit coarse sandpaper. You can move up to 300 grit once the surface becomes smoother.
Once the surface is sufficiently smooth, wash the model, apply a coat of primer, then sand it down with 400 grit sandpaper. If you want a smoother surface, you can keep on using lower grit sandpaper.
Users who 3D print cosplay models sand and prime their model to achieve a more professional looking finish. It can take about 10 minutes of careful sanding with different grits of sandpaper to get great results.
I'd recommend getting something like the YXYL 42 Pcs Sandpaper Assortment 120-3,000 Grit from Amazon. A few users who have used this product for their 3D prints mentioned that it works great to turn their models into smooth, professional looking models.
You can sand the models wet or dry, with varying levels of grit to achieve your desired result.
Epoxy Coating
Epoxy coating is beneficial if you need the print to be watertight or food safe. It helps seal up the holes and spaces in the print to avoid bacteria accumulation and leakages.
Also, epoxy coatings can help fill in layer lines and give the prints a smoother appearance it sets. You need to mix the resin with the activator, brush it on the print, and leave it to set.
Most users recommend checking whether the resin is food safe and FDA compliant before using it with your print. A great option is the Alumilite Amazing Clear Cast Epoxy Resin from Amazon.
It's a favorite among 3D printing hobbyists, as most have gotten good results with it. Just be careful to let the resin cure properly before you start using the 3D printed parts.
Also, epoxy can be very dangerous if you do not follow the proper precautions while using it. Be sure to follow this safety guide while coating your prints.
What Program Does a Creality Ender 3 Use?
The Ender 3 doesn't have a designated program that is uses, so you can use it with whatever slicer you choose. There is an official Creality Slicer that some people use, but most people choose to use Cura for the Ender 3. It's very simple to use and has a lot of features that other slicers don't have.
Some other popular choices are PrusaSlicer and Simplify3D (paid).
How to Add an Ender 3 to Cura
Open Cura
Click on the printer tab at the top of the screen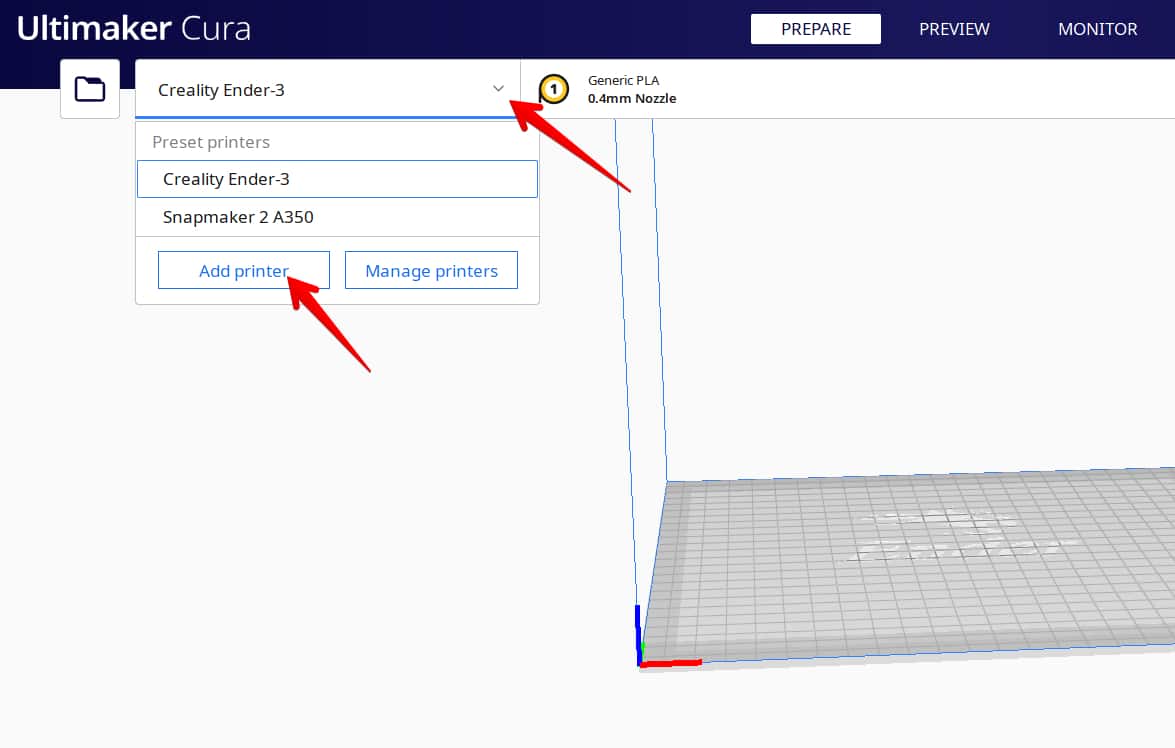 Select Add Printer
Click on Add a Non-networked printer.
Look for Creality3D on the list and select your Ender 3 version.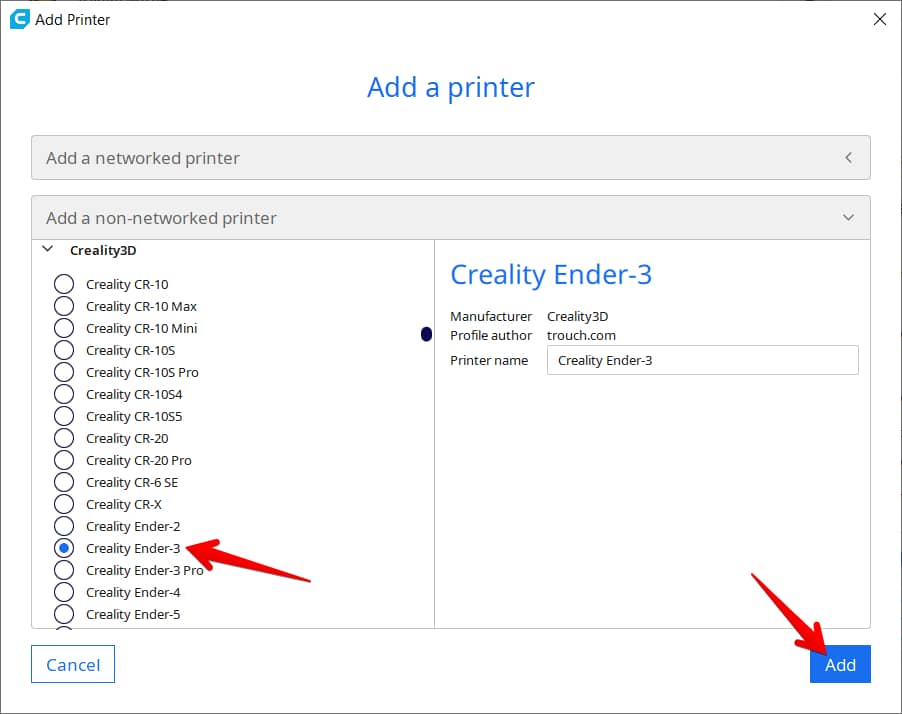 Click Add
Once you select it, you can customize your printer's properties and its extruder.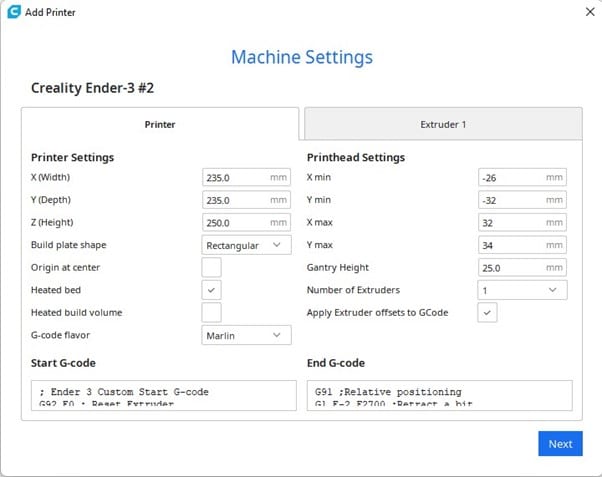 Can You 3D Print from a USB on an Ender 3? Connect to Computer
Yes, you can 3D print from a USB on an Ender 3 by connecting a USB to your computer or laptop then to the Ender 3. If you are using Cura, you can navigate to the Monitor tab and you'll see an interface showing the Ender 3 along with some control options. When you slice your model, simply select "Print via USB".
Here are the steps for 3D printing from a USB.
Step 1: Download the Drivers for Your PC
The Ender 3 drivers allow your PC to communicate with the Ender 3's mainboard. These drivers are usually present on Windows PC but not always.
If you connect your 3D printer to your PC and your PC doesn't recognize it, you need to download and install the drivers.
You can download the drivers required for the Ender 3 here.
Open the files and install them
After installing them, restart your PC. Your PC should recognize your printer now.
Step 2: Connect Your PC to the Ender 3 with the correct USB cable
Turn on your printer
Using the correct USB cord, connect your PC to your Ender 3
Open Cura
Click on Monitor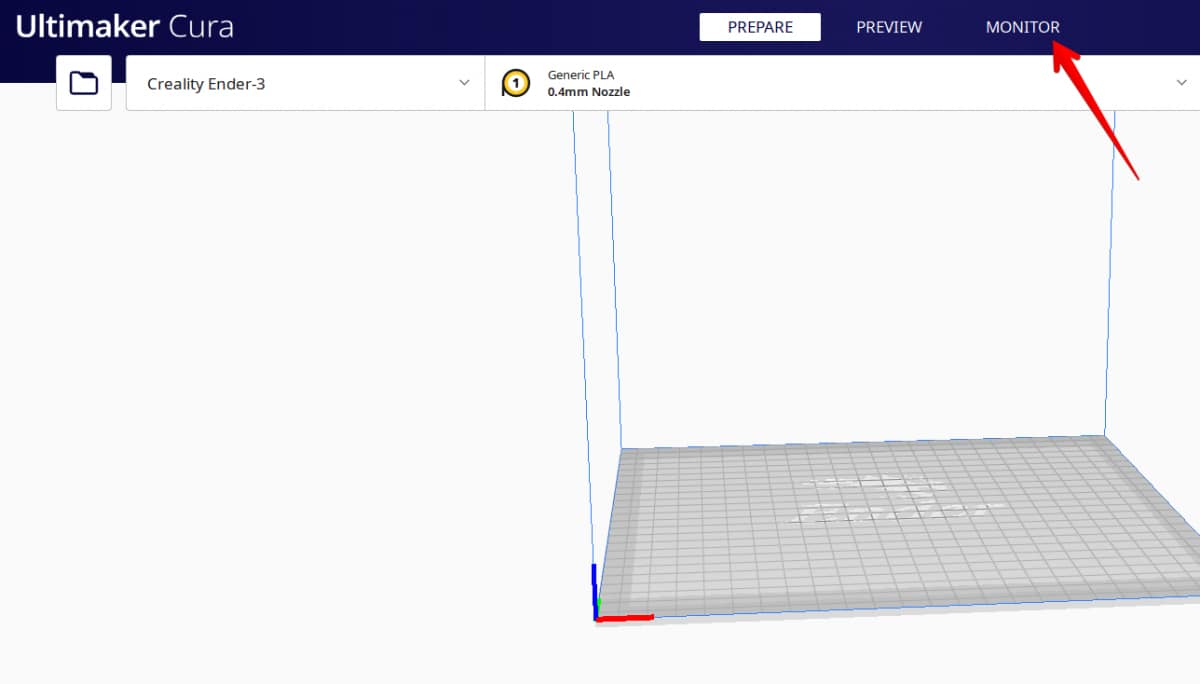 You should see your Ender 3 printer and a control panel. It will look different once the Ender 3 is connected.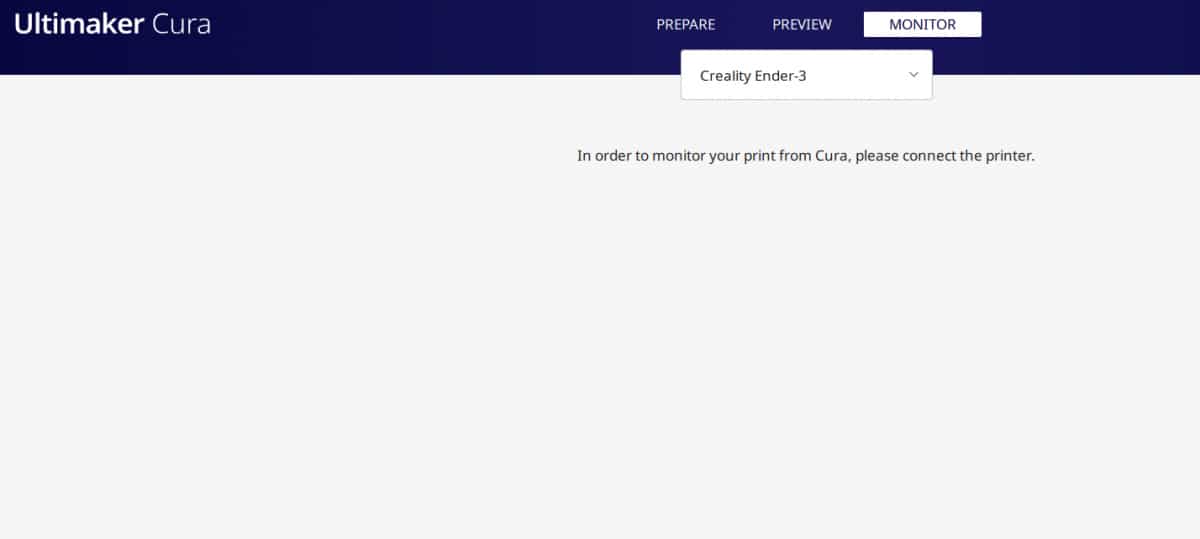 Step 3: Slice and Print your Model
After slicing your model in Cura, you'll see an option saying Print via USB instead of Save to file.
If you do not like Cura, you can use several other applications like Pronterface, OctoPrint, etc. However, using Octoprint requires you to purchase and set up a Raspberry Pi to connect your printer to your PC.
Note: When printing via USB, make sure your PC doesn't turn off or go to sleep. If it does, the printer will automatically end the print.
What Files Does an Ender 3 Print?
The Ender 3 can only print G-Code (.gcode) files. If you have a file in a different format like STL AMF, OBJ, etc., you'll need to slice the 3D models with a slicer like Cura before you are able to print it with an Ender 3.
Putting together an Ender 3 printer is no small feat, but trust me, you will have a lot of fun with this machine. As you get comfortable with it, you might even decide to spring for some more upgrades.
Check out my article How to Upgrade Your Ender 3 The Right Way – Essentials & More.
Good Luck and Happy Printing!