Simple Elegoo Mars 3 Review – Worth Buying or Not?
Elegoo is an incredibly popular 3D printer manufacturer that's known for producing a variety of budget-friendly resin 3D printers, making 3D printing accessible and enjoyable for many.
The company has recently launched the Elegoo Mars 3, which packs in an interesting number of new, cutting-edge features and a price tag of around $400, which fairly falls in the budget range.
This latest addition to Elegoo's Mars series of resin 3D printers comes after the Elegoo Mars 2 Pro and includes many upgrades, such as a 4K LCD screen and a different design.
The Elegoo Mars 3 looks very promising as a 3D printer, but looks can often be deceiving. Therefore, I decided to write a review article so you can determine if this unit is worth buying or not.
This review will go through the features, specifications, benefits, downsides, and customer reviews of the Elegoo Mars 3, so follow along to figure out whether this MSLA 3D printer is the one for you.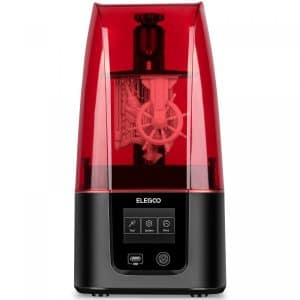 Features of the Elegoo Mars 3
Robust Industrial Design
4K Monochrome Screen
Superb Printing Accuracy
Small Footprint
Large Build Volume
High-End COB Light Source
Sandblasted Build Plate
Solid Linear Rail
Upgraded FEP Film 2.0
Robust Industrial Design
The Elegoo Mars 3 boasts a brand-new design with a professional-grade appearance. The manufacturer has tried to do something different with this unit design-wise and has ended up creating a more rounded and ergonomic look.
This is a step up from the usual boxy design of the Elegoo Mars series, which, to be fair, doesn't look too bad. However, the upgraded, industrial-grade design of the Mars 3 is a breath of fresh air and a huge aesthetic improvement.
In addition to that, the printer is fairly sturdy and firm, which paves the way to a more stable 3D printing experience. If nothing else, you will really appreciate how stunning the Mars 3 looks.
4K Monochrome Screen
One of the most exciting new features of the Elegoo Mars 3 is its 4K monochrome screen, which is definitely a decent improvement over the Elegoo Mars 2's 2K LCD screen.
Purchasing this SLA machine, you can expect your parts to come out with exceptionally high details and clarity. The 4K monochrome screen makes it possible for the Mars 3 to print at a resolution of 35 microns compared to the Mars 2's 50-micron resolution.
One of the best benefits of the 4K monochrome screen is the fast curing time of 1.5-3 seconds. This allows you to make 3D printed objects quicker while making sure they're of high quality.
Superb Printing Accuracy
The Elegoo Mars 3 is made more accurate than any of its predecessors. The manufacturer says that there's a cool 30% improvement in printing accuracy as compared to the Mars 2 that makes the prints appear sharper than ever.
This is true since the Mars 3 is really capable of printing at a 35-micron layer resolution which brings you lifelike results on a consistent basis.
Small Footprint
Elegoo has decided to switch things up with the Mars 3 design-wise by giving it a different and more stylish look than before. It occupies a small footprint and measures 227 x 227 x 438.5mm dimensionally.
This means that you get to keep other important stuff on your workbench like tools as more space is left for you to occupy.
Large Build Volume
The Elegoo Mars 3 has a large build volume that measures 143 x 89.6 x 175mm dimensionally. It is also slightly larger than the build volume of the Elegoo Mars 2 Pro.
If you constantly feel the need to make multiple small parts in one go, the added capacity of the Mars 3's build volume will fit your requirement perfectly and open up more possibilities for 3D printing.
High-End COB Light Source
The Elegoo Mars 3 uses a powerful COB (Chip On Board) light source with an XY resolution of 0.035mm (4098 x 2560 pixels). When such a high-end component is being used on the printer, it's logical to worry about heating issues.
To accommodate this worry, the Mars 3 has received an improved heat sink upgrade which dissipates heat 50% more efficiently than ordinary heat sink systems.
Doing so maintains the optimum temperature inside the printer and increases its lifetime as well.
Sandblasted Build Plate
The Elegoo Mars 3's sandblasted build plate brings the benefit of top-notch adhesion for your 3D models. Poor adhesion can cause multiple print issues, but that is definitely not the case with this high-quality 3D printer.
Solid Linear Rail
The solid linear rail that moves the build platform up and down on the Elegoo Mars 3 feels firm and sturdy. It allows the printer to operate with great stability, making your prints turn out smooth and clear with almost zero layer lines.
Upgraded FEP Film 2.0
The upgraded FEP film 2.0 does a great job at making the Elegoo Mars 3 perform better than ever and make the prints adhere to the sandblasted build plate efficiently.
The specifications of the FEP film 2.0 are given below:
Thickness: 0.127mm
Light Transmittance: 95%
Heat Resistance: 205°C-240°C
Size: 146 x 195mm
The FEP film 2.0 of the Elegoo Mars 3 is thinner than the FEP film of the Mars 2. The extra thinness can actually help the models stick nicely to the build plate and prevent them from gripping the resin vat.
Specifications of the Elegoo Mars 3
Printing Technology: Masked Stereolithography (MSLA)
Layer Thickness: 0.01-0.2mm
Printing Time: 1.5-3s
Z-Axis Accuracy: 0.00125mm
XY Resolution: 0.035mm
Build Volume: 143mm x 89.6mm x 175mm
Light Source: UV Integrated Light (Wavelength 405nm)
Languages: Chinese, English, Japanese, Dutch, Portuguese, French, German, Russian, Italian, Spanish.
Connectivity: USB
Slicer Software: ChiTuBox
Weight: 11.5lbs (5.2kg)
Display: 3.5 Inch Touchscreen
Power Requirements: 100-240V, 50/60Hz
Benefits of the Elegoo Mars 3
4K resolution makes superb quality prints
Comes with 1 free year of ChiTuBox Pro Slicer worth $169
Smooth and low-decibel operation of the 3D printer
The initial set-up is very easy, basically a plug-and-play machine
Has a 1-year warranty period
Priced competitively and is quite affordable
Recommended to beginners due to the ease of use
2.5 second cure time means fast printing
Effortless bed leveling
Awesome, new design is eye-catching
Sizable build volume means more possibilities in 3D printing
Downsides of the Elegoo Mars 3
No Wi-Fi functionality
Built-in test print isn't useful
The plastic bottom of the printer feels a bit cheaply made
Customer Reviews of the Elegoo Mars 3
Customers who have bought the Elegoo Mars 3 from all around the world couldn't be happier with their purchase. This printer has raised the bar for budget-range resin 3D printers, as many still can't believe how low it costs for the number of features it has.
One person writes that the inclusion of a 4K monochrome screen made all the difference in the world for them. They were able to achieve details of prints that weren't possible with their previous SLA 3D printers.
Another experienced customer loves the large build volume of the Elegoo Mars 3 and says that this enables makers to make their creativity come to life and make bigger models painlessly.
It's also well admired that the Elegoo Mars 3 has a fast printing speed. A single cured layer of resin can take about 1.5-3 seconds to print, making rapid prototyping possible for expert 3D printer users.
Another person said that once they started getting used to the ChiTuBox Pro Slicer, which is loaded with top-of-the-line features, they couldn't go back to the regular slicer software.
This is smart thinking by Elegoo – giving the first year free of the ChiTuBox Pro Slicer and letting its consumers enjoy high-end features like auto-repair and orientation, so they can be convinced to purchase the slicer on an annual basis.
The Elegoo Mars 3's new rounded design is also a plus point that several customers have loved. Accompanying this feature is the unit's rigidity and stability that paves the way to a smooth printing experience without any wobbling.
One user pointed out that a lack of Wi-Fi functionality is still a bothersome affair. This could be addressed further down the road with an Elegoo Mars 3 Pro version, but for now, we will have to settle with USB connectivity only on what is otherwise a brilliant resin 3D printer.
Verdict – Worth Buying or Not?
The Elegoo Mars 3 is quite possibly the most efficient MSLA 3D printing in the world right now, all thanks to its 4K resolution screen, large build volume, and a slick new design.
The fact that this feature-rich 3D printer is made so affordable at under $400 ($300 for early pricing) steals the show and makes 3D printing accessible for anyone who was constrained by their budget.
It's a simple plug-and-play machine that demands no additional effort from your side. You just purchase it, set it up within 10-20 minutes, and get to making high-quality 3D prints in no time. This makes the Elegoo Mars 3 highly desirable for beginners and professionals alike.
If you're after a resin 3D printer that works reliably, has a load of features, creates stunningly detailed parts at fast speeds, and also doesn't cost a fortune, then the Elegoo Mars 3 is definitely the 3D printer built for you.
The Elegoo Mars 3 is currently in the pre-order stages at time of writing, which you can get direct from the Elegoo website or 3DJake.