Simple Elegoo Mars 2 Pro Review – Worth Buying or Not?
Elegoo is a well-known producer of great 3D printers, namely in the SLA field. One resin 3D printer that has got them a lot of attention is the Elegoo Mars 2 Pro MSLA machine which is one of the earlier models that have been released.
It has a whole host of features, as well as amazing quality output which thousands of users can attest to.
This article will be a simple review of the Elegoo Mars 2 Pro (Amazon), giving users a full walkthrough of the unboxing, setting up, operation and print quality.
Then we get into the deeper details such as the features, benefits, downsides, specifications, customer reviews, and more, so stay tuned for this full review.
Unboxing Experience of the Elegoo Mars 2 Pro
Elegoo have plenty of experience with packaging their resin 3D printers, so it was no surprise that the unboxing experience was very pleasant with the Elegoo Mars 2 Pro.
The printer was smaller than I expected but still provides a good amount of build volume while not taking up too much space.
Here's the first layer after opening the box.
When you remove the first sheet, you quickly uncover the Elegoo Mars 2 Pro along with the accessories box and manual.
Here is the Elegoo Mars 2 Pro taken out of the box with the plastic still around it.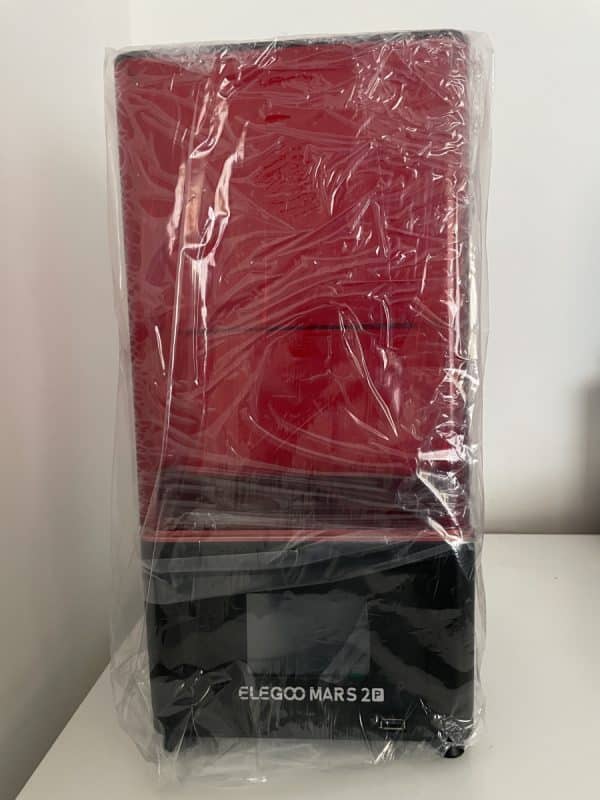 It has protection on many levels to ensure safe delivery.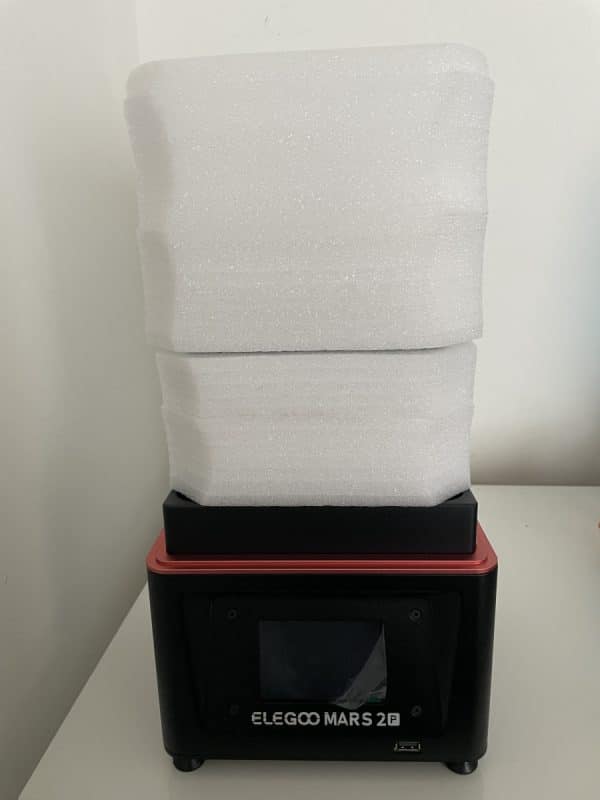 You'll find the build plate and resin vat inside.
Here is the unboxed and unwrapped 3D printer.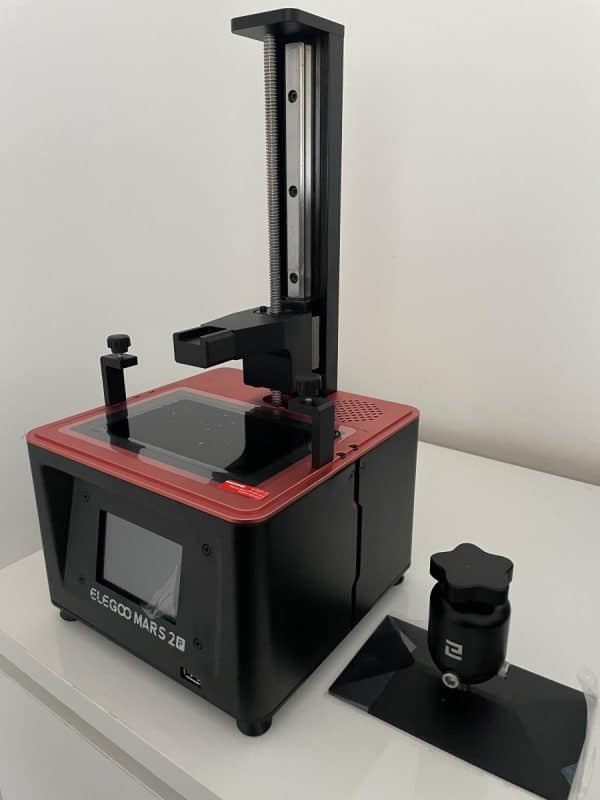 You can see the build plate and the connection that attaches to the 3D printer.
Below is the printer with the tool kit, resin vat and build plate.
Here is what's inside the tool kit.
I laid out all of the items so you can see a little more clearly.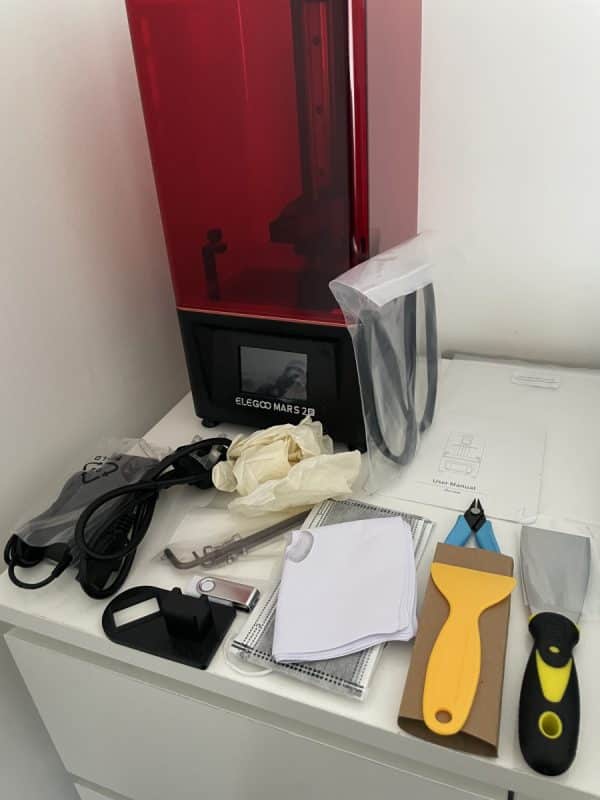 What Comes in the Elegoo Mars 2 Pro Box?
Resin Tank

Build Platform

Metal Scraper

Plastic Scraper

User Manual

Masks x2

Gloves x3

Funnel x10

UL Adapter

U Disk (2 GB)

Backup Screws

Plastic Build Plate Drain Connector

Silicone Rubber Seal
Leveling Process for the Elegoo Mars 2 Pro
The leveling process for the Elegoo Mars 2 Pro is pretty simple like most resin 3D printers. It has two main screws that require the larger Allen key in the tool kit. You want to slightly loosen the two screws and lower the build plate by going to "Manual" and pressing the Home icon.
Get a piece of paper to use as a leveling guide and place it under the build plate after lifting it up using the touchscreen buttons.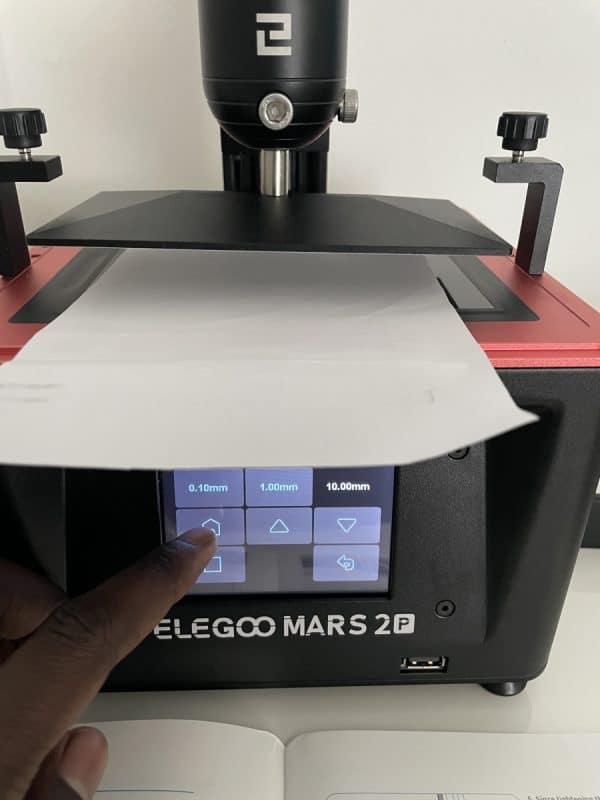 You want it to have a fairly tight grip on the paper but still be able to wiggle a little bit.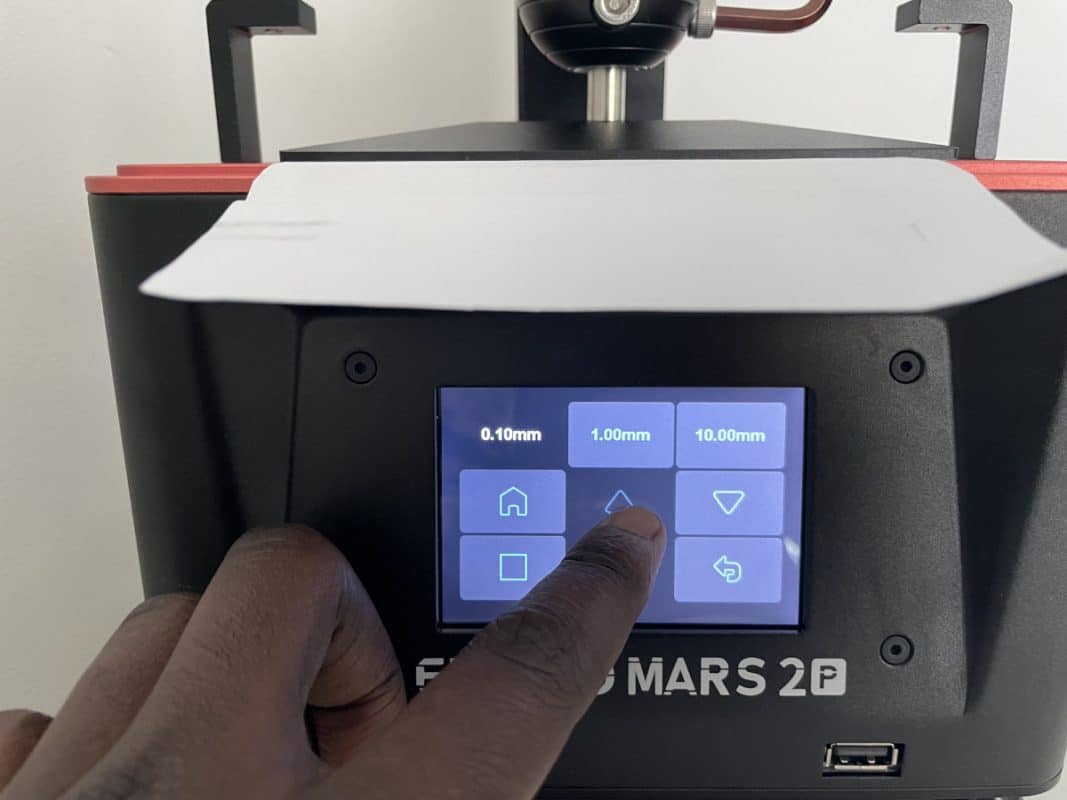 Now we press down on the build plate while tightening the two leveling screws.
Simple press "Set Z=0" to tell the Elegoo Mars 2 Pro that this is the properly leveled home position.
After leveling the print bed, do a quick exposure test to make sure the LCD lights are working nicely.

Raise up your build plate, slide the resin vat in and lock it in place with the two thumbscrews on the sides.

You can now fill the resin tank up, ensuring it doesn't go above the "MAX" level. I'd recommend lifting the build plate to a good height so it's easier to pour.

Don't forget to put the silicone rubber seal on the lid!


Now place the lid on top and we are ready to start the first print.
Testing the Elegoo Mars 2 Pro Printing
Insert the USB stick that came with the printer in the USB slot at the front. You'll find the popular Elegoo Mars Rook files that provides a great printing test.
The touchscreen will display a lovely image of your prints before you press the "Play" button.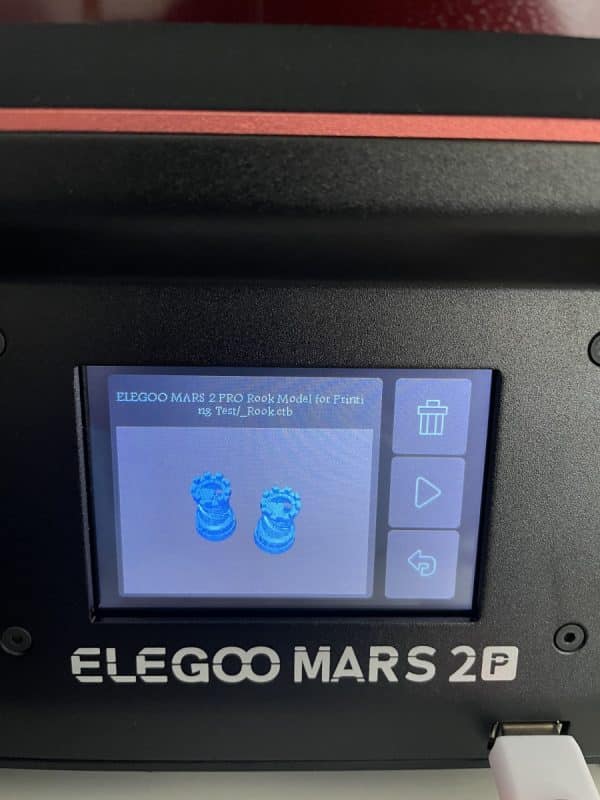 The print has begun! It will show the time required for the print to finish, time elapsed, and the number of layers. I just took the picture too early for it to calibrate.
You can press the settings icon while the print is going to check some of the basic settings.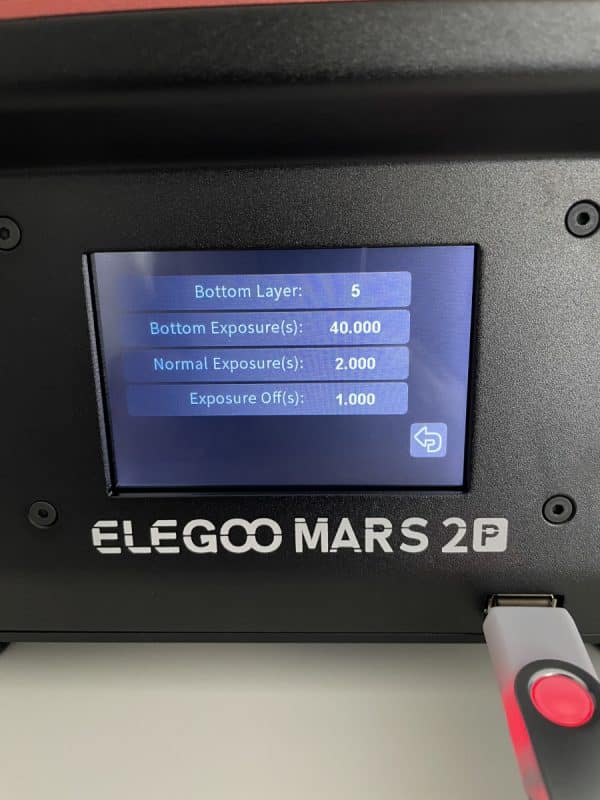 After a few hours, the Rooks came out amazing.
Here are the Rooks after being washed & cured in my Elegoo Wash & Cure Plus.
Here's a top layer view that shows the details and crisp writing.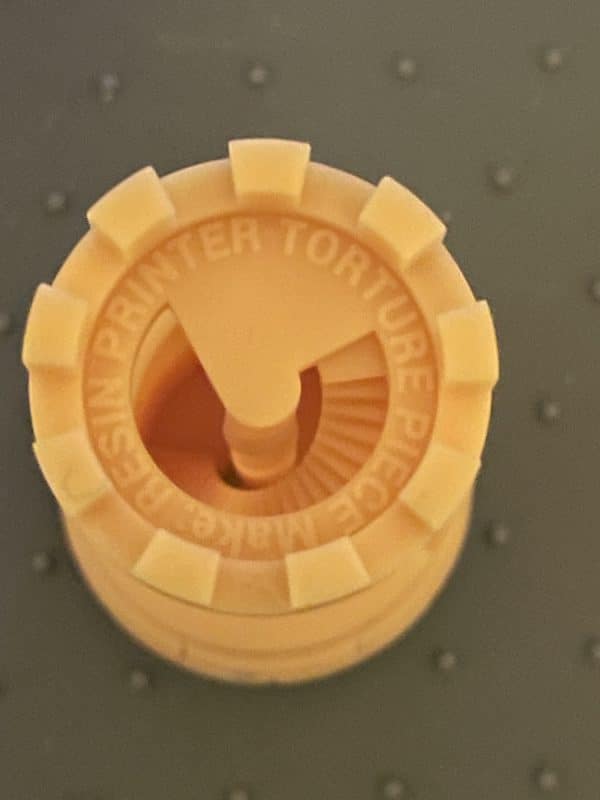 I'd say the test was a success, let's continue printing.
Elegoo Mars 2 Pro Print Quality Showcase
I tried printing this model once before and had the print coming off the build plate, most likely due to the supports. I re-supported the model with thicker supports and tried again.
You can see them kind of separating a little but it still worked out nicely.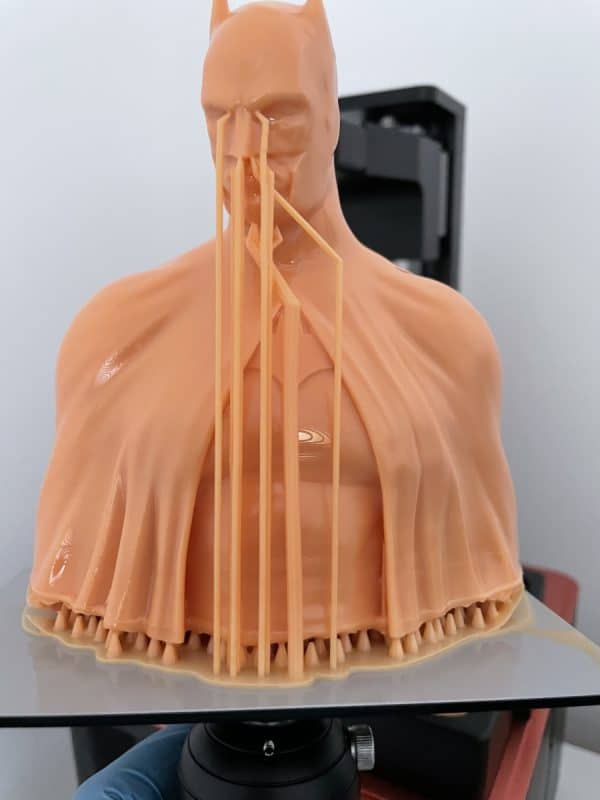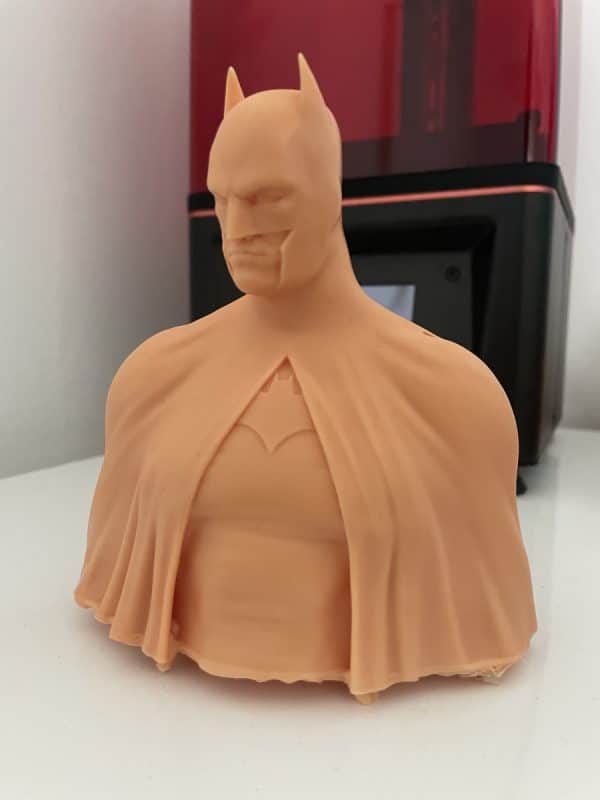 This one came out really nice.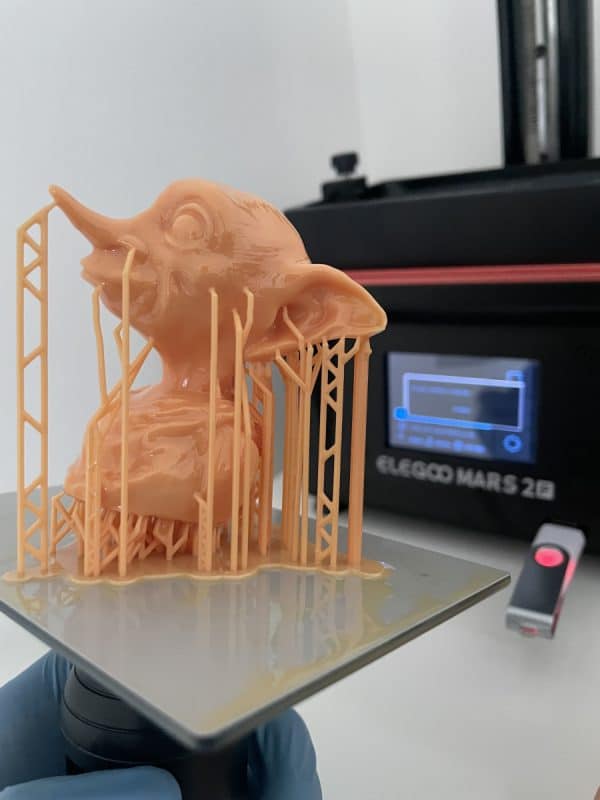 It has some nice detail and smoothness throughout.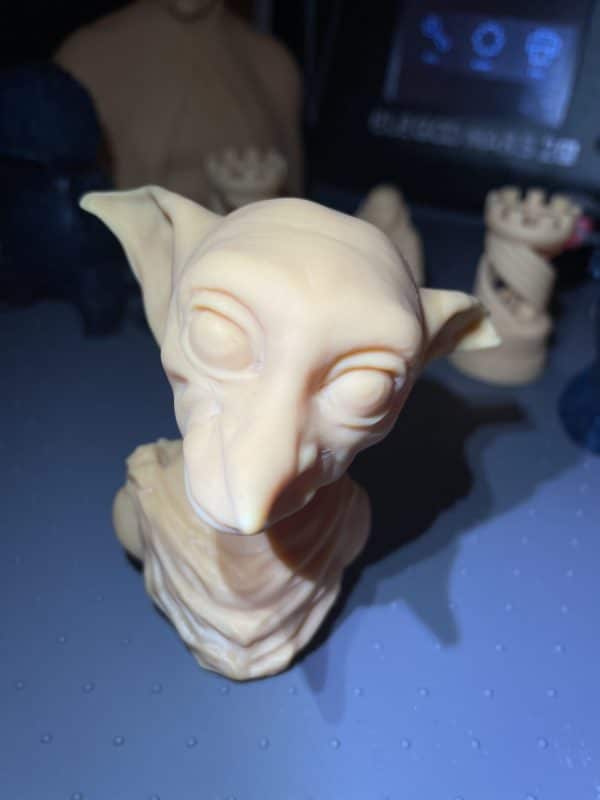 I printed one of these on my Ender 3 so I decided to try it out with a resin printer.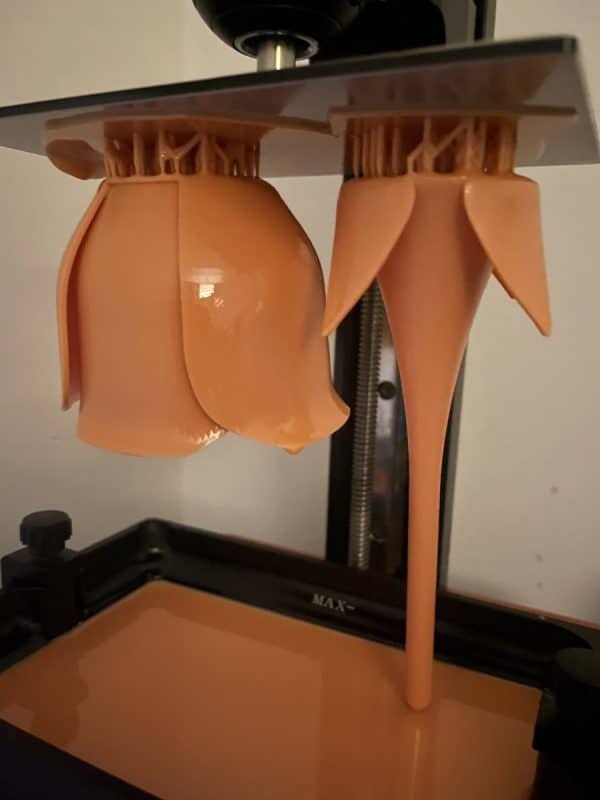 Mission successful. I ended up giving this to my mother and she loved it!
You know we can't just put Batman in there without throwing in Superman.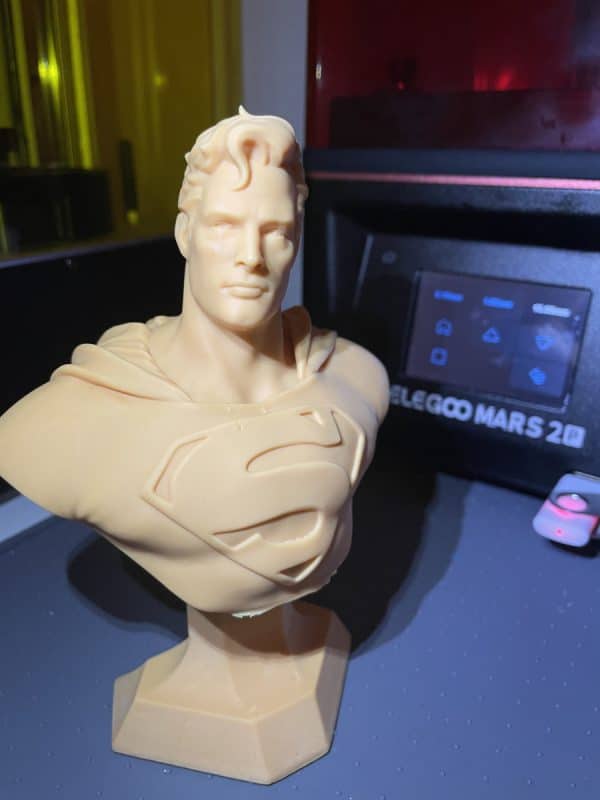 The supports holding up the lowest point of this model failed because there weren't enough supports, but I still managed to have this one come out somewhat succesfully.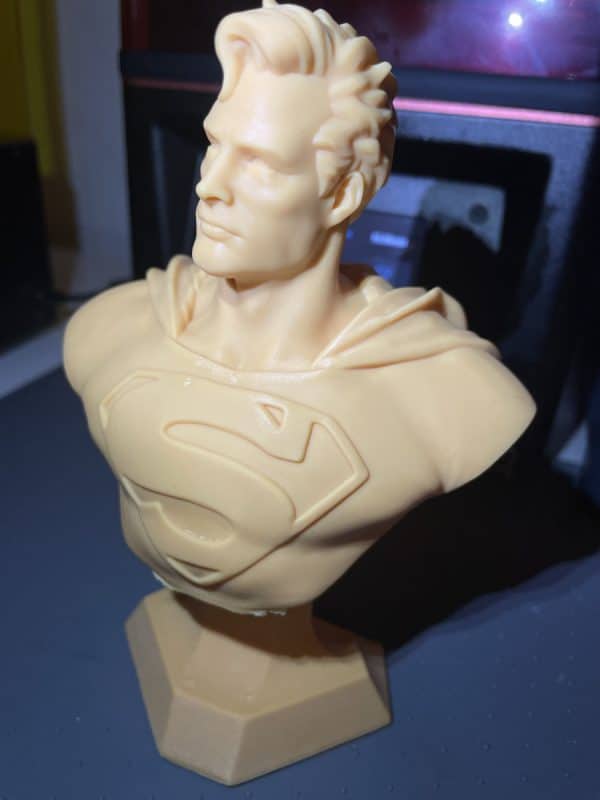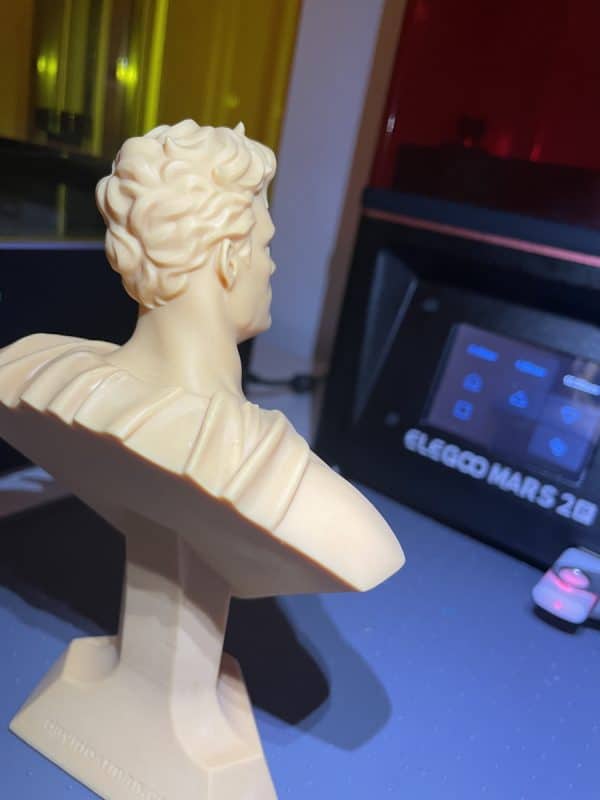 Now this one was a special request from a friend. I hadn't yet tried mixing Clear resin with dye but wow did it come out great.
Here is exactly what I used to create this unique color. It was mostly the purple color at probably a 4:1 ratio of purple to purplish red.
I did this print right after the Buddha print as you can see from the purple feet and tail. I wanted to do a gradual change over but I just ended up doing a color change.
You can see where I mixed in the clear resin and let that print for many layers before adding the blue. I like that it's a really unique model.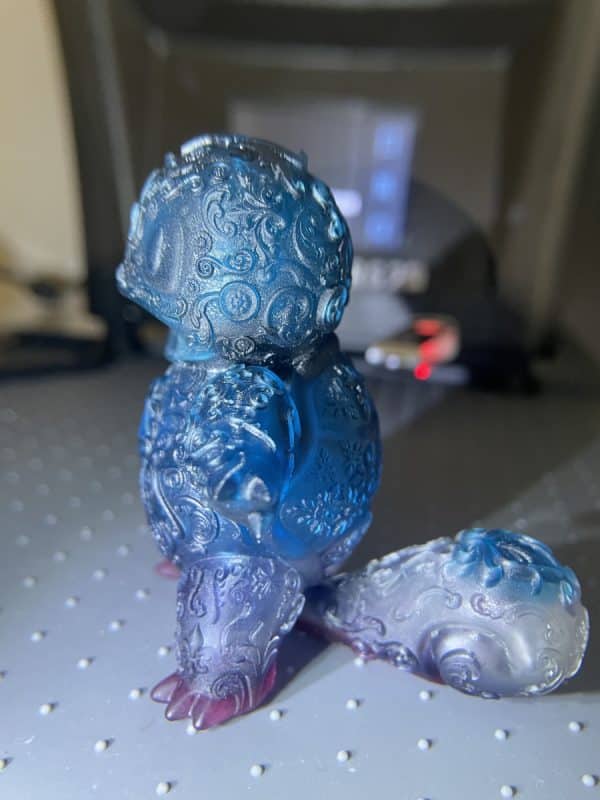 I got a few closeup shots too.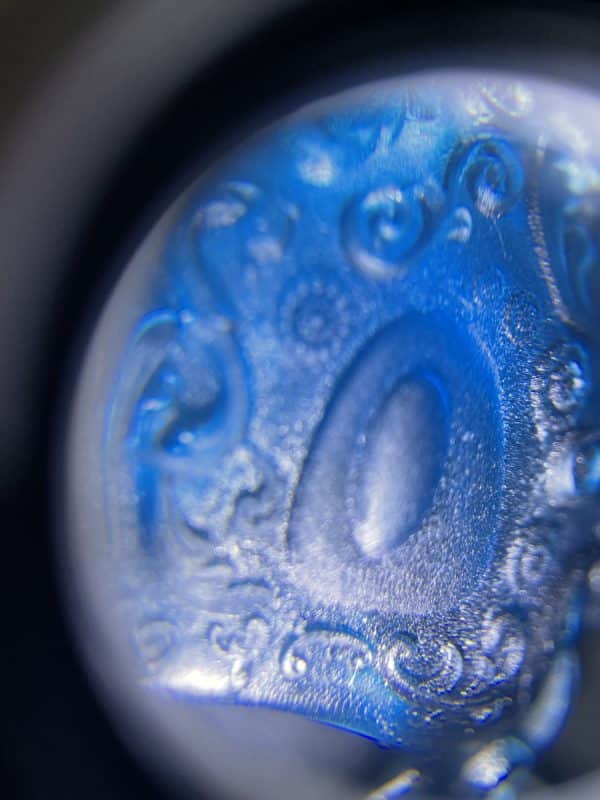 How about the miniature Squirtle?
I've also printed this on an FDM 3D printer and it came out nice, but definitely not this high quality.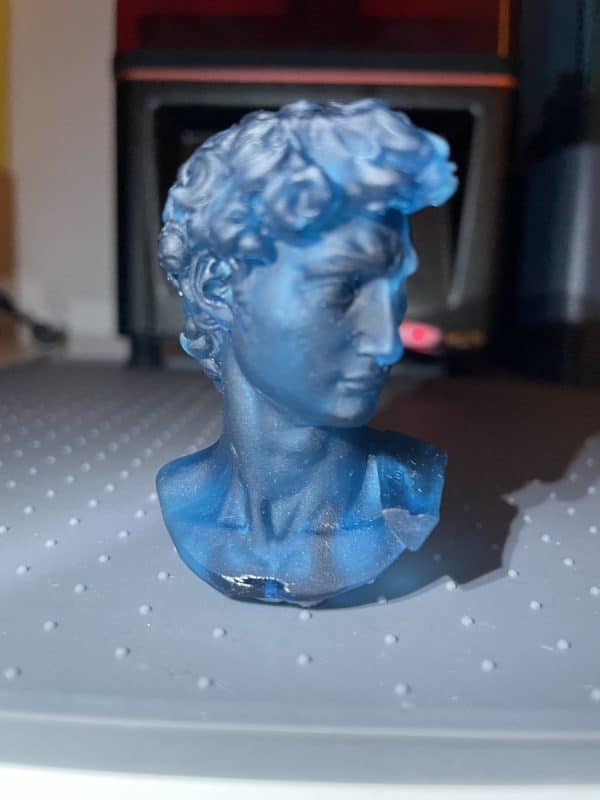 Full Showcase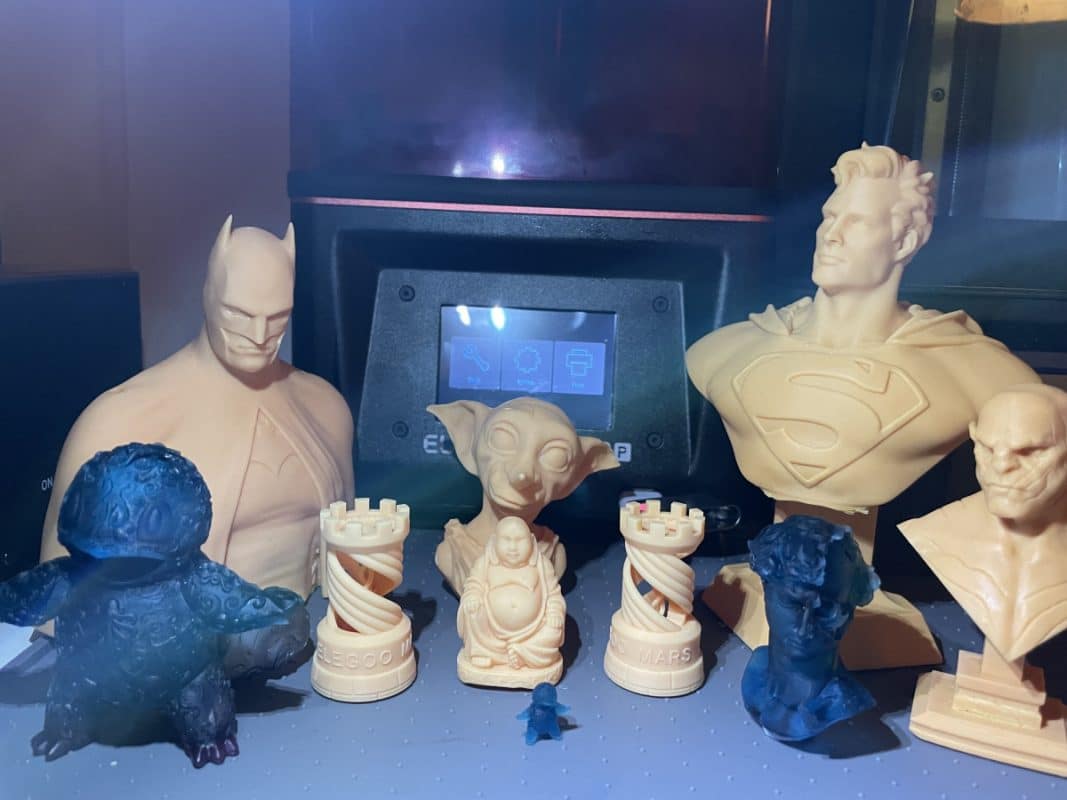 That's the end of the print quality with the Elegoo Mars 2 Pro, a serious machine! Let's get into the rest of the details.
Features of the Elegoo Mars 2 Pro
6.08″ 2K Monochrome LCD
CNC-Machined Aluminum Body
Sanded Aluminum Build Plate
Light & Compact Resin Vat
Built-In Active Carbon
COB UV LED Light Source
ChiTuBox Slicer
Multi-Language Interface
6.08″ 2K Monochrome LCD
The Elegoo Mars 2 Pro MSLA 3D Printer comes with a 6.08-inch Monochrome LCD that has 2K HD resolution. It is four times longer in lifespan and two times faster in printing speed than the regular RGB LCD 3D printers, which means higher printing efficiency, more stable performance, and less maintenance.
CNC-Machined Aluminum Body
Unlike other plastic printers you may find on the market, Mars 2 Pro is made of CNC machined aluminum from build platform to resin vat. It has a very solid build quality and high durability like a reliable workhorse that always gets its work done.
It also has a linear guide rail for consistent steady and accurate motion throughout the printing process
Sanded Aluminum Build Plate
The build plate has been sanded to create a stronger adhesion between the cured resin and the surface. When you compare this to some older models of resin 3D printers, you'll be sure to get a much higher success rate for printing your models.
On top of this, I'd also advise to use a PTFE spray or lubricant on your FEP film to prevent your resin sticking to the bottom rather than the build plate.
Light & Compact Resin Vat
The vat has been remodeled in a way that makes the experience just a little better for the average user. It is made of an aluminum alloy and has a beautiful light and compact design.
Many people will appreciate the "Max" line that is on the side of the vat to give a warning level where you can fill resin to and print safely, without it spilling over the sides.
Built-In Active Carbon
The Elegoo Mars 2 Pro comes with built-in active carbon. Built-in activated carbon could absorb the fume of resin. Working together with the turbo cooling fan and silicone rubber seal, you can barely smell any irritant odor, giving you a seamless printing experience.
COB UV LED Light Source
Excellent heat dissipation performance, high luminous maintenance rate, uniform light emission, and no spots. COB light source has proved itself to be a fantastic upgrade that ensures each printing comes out perfectly.
ChiTuBox Slicer
ChiTuBox has been a very helpful companion when you are using Elegoo MSLA resin 3D printers from slicing .stl file to adding supports. With the latest 8-times anti-aliasing function, you can get a much smoother printing surface.
In general, it's a very capable resin print slicer with all the functionality you want.
Multi-Language Interface
The new operating system now supports 13 different languages: Chinese, English, Japanese, Dutch, Korean, French, German, Russian, Italian, Spanish, Turkish, and Portuguese, which significantly facilitates worldwide users to use Mars 2 Pro more conveniently.
Benefits of the Elegoo Mars 2 Pro
Outstanding printing quality
Fast layer curing time
Inclusion of an angled plate holder
Rapid printing process
Large build volume
Less to no maintenance
High accuracy and precision
Robust build and sturdy mechanism
Supports multiple languages
Long lifespan and high reliability
Stable performance during long-term printing
Comes with extra FEP sheets
Downsides of the Elegoo Mars 2 Pro
LCD screen lacks a protective glass
Loud, noisy cooling fans
Z-axis does not have a limiter switch
A slight decrease in pixel-density
No top-down removable vat
Specifications of the Elegoo Mars 2 Pro
System: EL3D-3.0.2
Slicer Software: ChiTuBox
Technology: UV Photo Curing
Layer Thickness: 0.01-0.2mm
Printing Speed: 30-50mm/h
Z Axis Accuracy: 0.00125mm
XY Resolution: 0.05mm (1620 x 2560)
Build Volume: 5.08″ x 3.15″ 6.30″ (129 x 80 x 160mm)
Light Source: UV Integrated Light (wavelength 405nm)
Languages: Chinese, English, Japanese, Dutch, Korean, French, German, Russian, Italian, Spanish, Turkish, Portuguese
Connectivity: USB
Weight: 13.67lbs (6.2kg)
Operation: 3.5-Inch Touch Screen
Power Requirements: 100-240V 50/60Hz
Printer Dimensions: 7.87in (L)*7.87in (W)*16.14in (H) / 20cm (L)*20cm (W)*41cm (H)
Customer Reviews of the Elegoo Mars 2 Pro
The Elegoo Mars 2 Pro Mono MSLA 3D Printer has gathered stellar reviews from around the globe, with users going as far as calling the 3D printer revolutionary in the resin printing arena.
Several users were amazed by the outstanding print quality the Mars 2 Pro offers. The amount of detail and finish is top-notch. You can easily call it as the star feature of the 3D printer.
The Mars 2 Pro comes with an easy set-up and leveling process coupled with fairly optimal default settings. You will seldom feel the need to tweak them.
One user found the build of excellent quality with the metal resin tank and printer body. The Z-axis motor and materials are all fantastic and look highly durable as well.
An additional quality that the Mars 2 Pro boasts of is the inclusion of an angled plate holder, which lets post-print excess resin safely drip back into the vat.
Based on the customer reviews, a problem that was criticized by many was that the base of the model adheres to the printing plate and is very difficult to remove. It gets tough to extract the prints off the build plate without breaking them.
A user states that the XY resolution is 50 microns, compared to 47 microns on the Mars Pro. That small of a difference shouldn't be visible, but it's still worth noting.
A couple of users mentioned working with the ChiTuBox Slicing Software as a little complicated. In addition to this, the monochrome LCD appears to lack a protective glass, causing issues for some, with reports of the display scratching easily.
But the Elegoo Mars 2 Pro does, in fact, have a replaceable LCD screen lest it get damaged. That, and the lower pixel resolution, are the only downsides to an otherwise superb printer.
Verdict – Elegoo Mars 2 Pro Worth Buying or Not?
The Elegoo Mars 2 Pro Mono MSLA 3D Printer is described as revolutionary by the users in the resin printing arena. We have come across strong testimonials to support this statement.
With a monochrome screen, an increased build volume, and incredible print quality, the Mars 2 Pro has made a mark for itself in the industry. Printing with the Elegoo Mars 2 Pro is straightforward.
The machine is virtually plug-and-play, making it an optimal choice for creators. The Mars 2 Pro is the logical progression of the Mars series of printers.
The monochrome LCD dramatically shortens printing time over its predecessors, which, combined with the leap in print volume, is a compelling reason for you to go ahead and buy it.
If you want a great printer that balances speed and quality, the Mars 2 Pro is a worthy choice. For newcomers that don't already have a resin printer, the Mars 2 Pro is a splendid buy.
The appeal of the Elegoo Mars 2 Pro (Amazon) with its reputed quality and ease of use makes it a great choice for novices and professionals alike.