Cura Vs Slic3r – Which is Better for 3D Printing?
Cura & Slic3r are two famous slicers for 3D printing, many people are challenged in deciding which slicer is better. I decided to write an article that gives you answers to this question and assists you in making the right choice for your 3D print task.
Cura & Slic3r are both great slicing software for 3D printing, both being free and open source. Most users do prefer Cura which is the most popular slicing software, but some users do prefer the user interface and slicing process of Slic3r. It mostly comes down to user preference since they do a lot of things well.
This is the basic answer but there's more information you'll want to know, so keep reading on.
What Are the Main Differences Between Cura & Slic3r?
User Interface Design
Slic3r Settings Layout is Better
Cura Has More Powerful Slicing Engine
Cura Has More Tools & Features
Cura Has A Dedicated Marketplace
Slic3r Is Faster At Printing
Cura Gives More Print Details
Cura Is Better in Movement & Positioning Models
Slic3r Has Better Variable Layer Height Process
Cura Has Better Support Options
Cura supports A Wide Range of Printers
Cura Is Compatible With More File Types
It Comes Down To User Preference
User Interface Design
One of the major differences between Cura and Slic3r is the layout. Cura has a more intuitive user interface, while Slic3r has a simplified standard look.
Most users prefer how Cura looks because of its appealing resemblance to Apple design, while others like how the Slic3r traditional layout is. It more so comes down to user preference which one you will go for.
Here is what Cura looks like.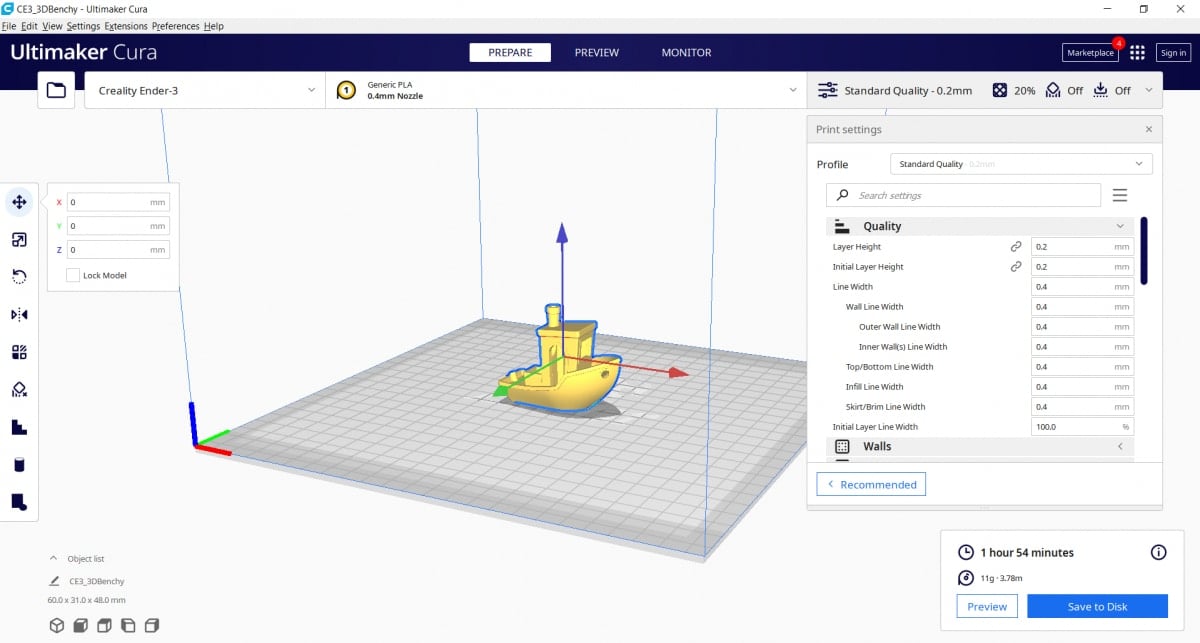 Here is what Slic3r looks like.
Slic3r Settings Layout is Better
Another difference between Cura and Slic3r is the settings layout. Cura has a scroll setting menu, while Slic3r's settings are arranged better in three broad categories and each category is split into more subheadings.
Settings categories in Slic3r are:
Print Settings
Filament settings
Printer settings
Users said settings in Slic3r break down information into subset categories that make it easier to digest and use.
In Cura, the beginner-friendly settings make printing straightforward for new 3D printing users. However, most users mention that as beginners, it was hard and confusing to keep track of the list of features in the custom settings in Cura.
Cura Has More Powerful Slicing Engine
Another factor when comparing Cura and Slic3r is the capability to slice a 3D model. Cura has a more powerful engine which makes it better when slicing large 3D model files, saving and exporting these files in a shorter time than Slic3r.
Most models slice under 30 seconds in Cura & Slic3r. Smaller files will have a negligible difference in slicing time but larger files may take some time to slice.
People have mentioned that slic3r is slow in slicing speed compared to Cura mainly because Cura has regular updates. They also said it depends largely on the model and the computer you are using.
There are various ways you can reduce the slicing time for your prints. You can scale the model down in size and optimize the support structures.
For more information about reducing slicing time, check out my article How to Speed Up Slow Slicers – Cura Slicing, ChiTuBox & More
Cura Has More Advanced Tools & Features
Cura has more functionality that includes special modes and a set of experimental settings not available in Slic3r.
Using Special Mode in Cura, you can print vase mode with ease by setting spiral contour on using special mode.
To achieve this in Cura, simply search for "spiral" to find the Spiralize Outer Contour setting under Special Modes, then check the box.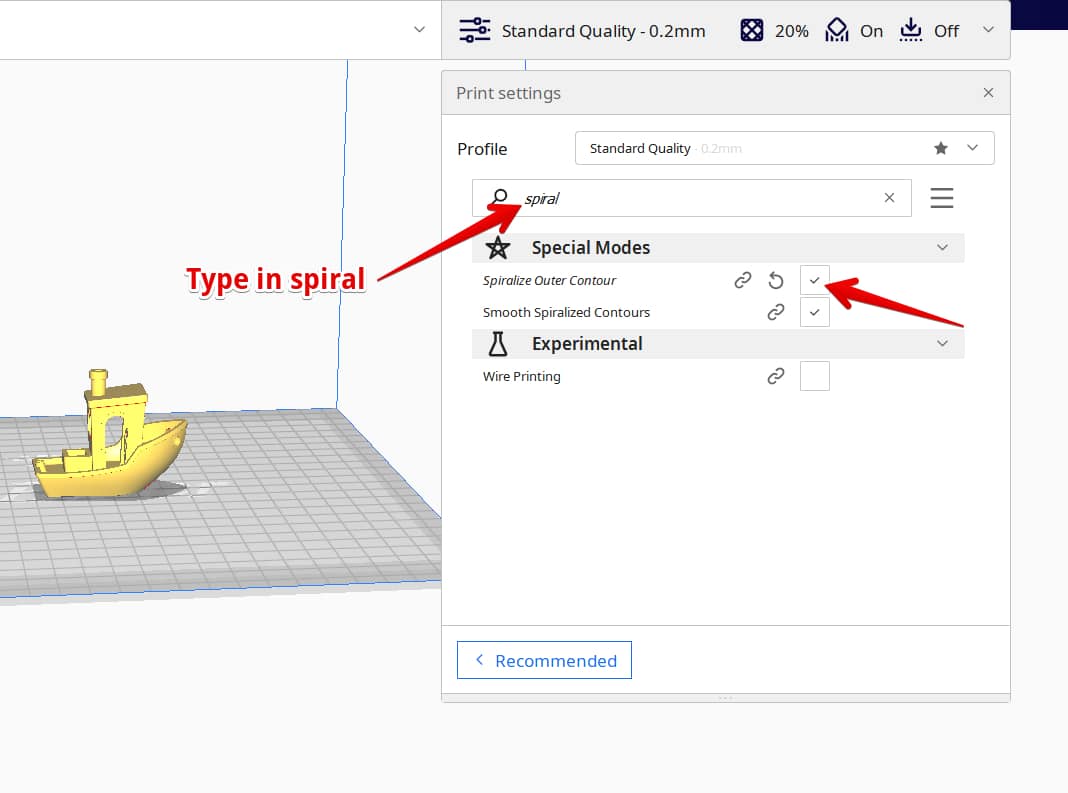 A user mentioned that also Slic3r prints a vase well. They set the infill and top & bottom layers to 0 for using vase mode in Slic3r.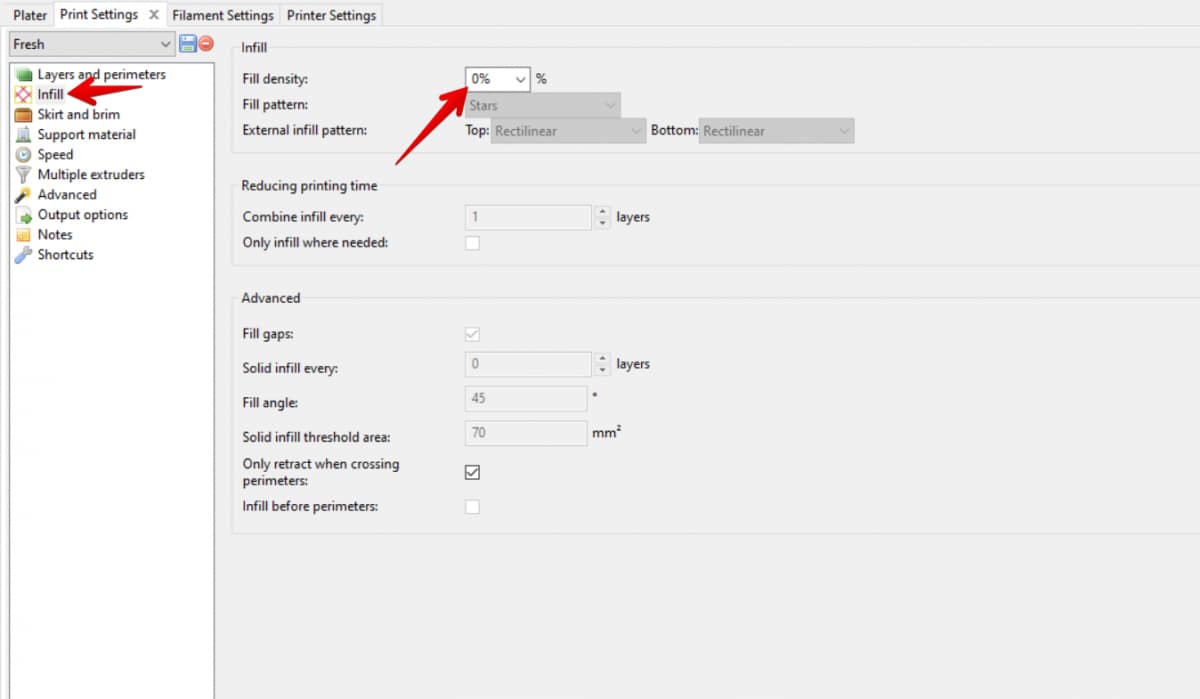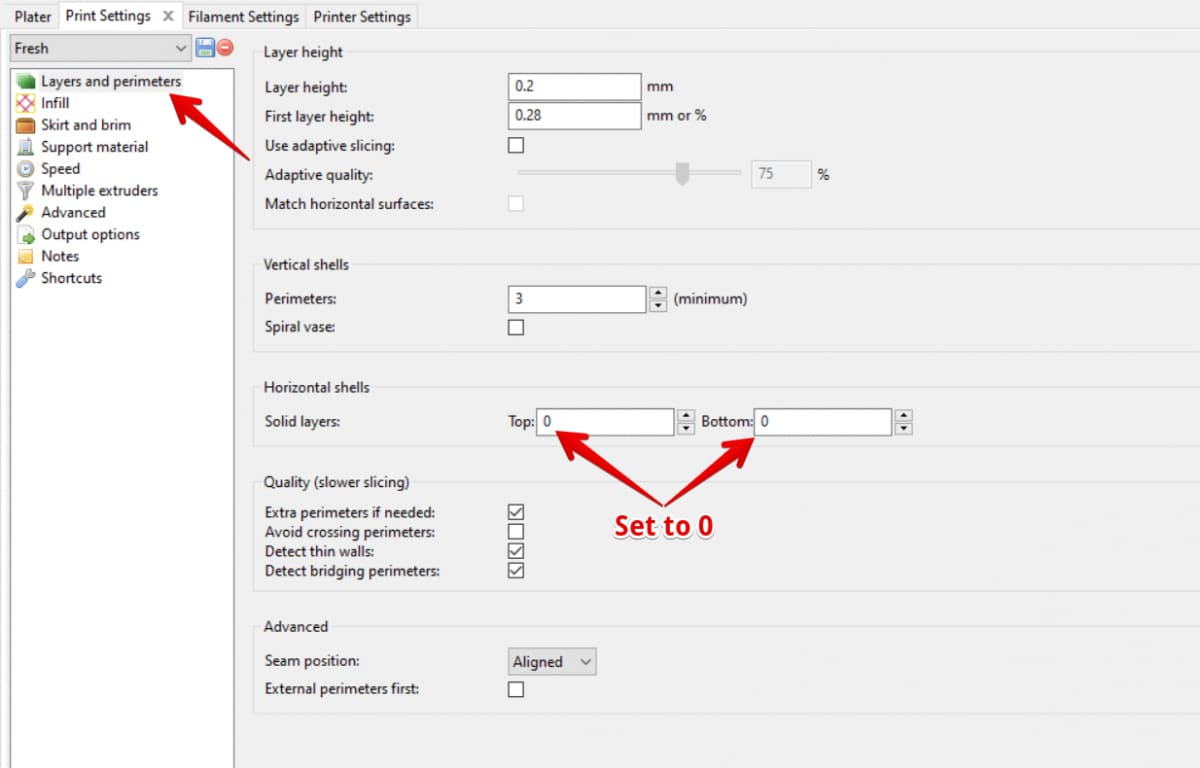 Most users may not need to use these experimental features, though in some instances they are useful.
The experimental settings include:
Slicing tolerance
Enable draft shield
Fuzzy skin
Wire printing
Adaptive layers
Wipe nozzle between layers
Here is a video by Kinvert that outlines clearly how to set advanced settings in Slic3r properly.
Cura Has A Dedicated Marketplace
Another feature from Cura that stands out and makes it better than Slic3r is having a dedicated marketplace. Cura has a large number of profiles and plugins that you can freely download and use.
Many users of Cura like pre-configured plugins and profiles from the marketplace. They mention that it makes it easy to print multiple materials and multiple printers.
People have mentioned that sourcing printer profiles and then importing them to the printer in Slic3r has worked well, though inputting them manually can be tricky.
I have listed here some of the popular marketplace plugins for Cura.
Octoprint connection
Auto orientation
Calibration shapes
Post-processing
CAD plugins
Custom supports
The calibration plugin is really helpful for finding calibration models and can save you much time that could be used searching through Thingiverse.
People use the post-processing plugin when printing a calibration model with specific parameters at various stages.
You can download Cura here https://ultimaker.com/software/ultimaker-cura
Slic3r Is Faster At Printing & Sometimes Slicing
Cura is a heavy software, its powerful slicing engine together with the way it processes print layers makes it slow at times.
A user mentions that Cura outperforms Slic3r on quality when it comes to complex and detailed prints. They also said Cura uses the combing feature to reduce stringing with its unique nozzle movements.
One user said that Slic3r does its pathing logic differently from Cura. They actually tried to print with a rectilinear pattern and its surface layers came out with varying light patterns. They mention it is because Slic3r can skip some areas of the infill and print the empty areas in a single pass.
Another user said that using 'avoid crossing perimeters' in Slic3r can increase print time.
A video by Garry Purcell compares speed and quality on tests done with a 3D Benchy in some top 3D slicers including Cura vs Slic3r. They mention that Cura prints better quality with less stringing with PLA material using Bowden tube extruders.
Cura Has More 3D Model Print Details
Another thing that Cura does really well over Slicer is generating print details. Cura gives the print time and filament size used for each print task, while Slic3r gives only the calculated amount of filament used during the print.
A user mentioned that they use details given from Cura to optimize the settings for the prints. They also use the details to track printing resources and assign costs to the clients.
A video by Hoffman Engineering introduces 3D Print Log Uploader plugin available in Cura Marketplace. They mention that it can directly record print details for your print tasks on a free website called 3DPrintLog.
They also said you can easily access the details which help you not to forget what settings you used, and to keep track of print times and filament usage.
Cura Is Better in Movement & Positioning Models
Cura has many more tools than Slic3r. One clear instance is when positioning your model. Cura makes it easy for users to adjust the orientation of a 3D model by rotating, scaling a model, and positioning objects.
Cura's reset tool is helpful in repositioning a model. The lay flat option also assists in laying a model flat on the buildplate.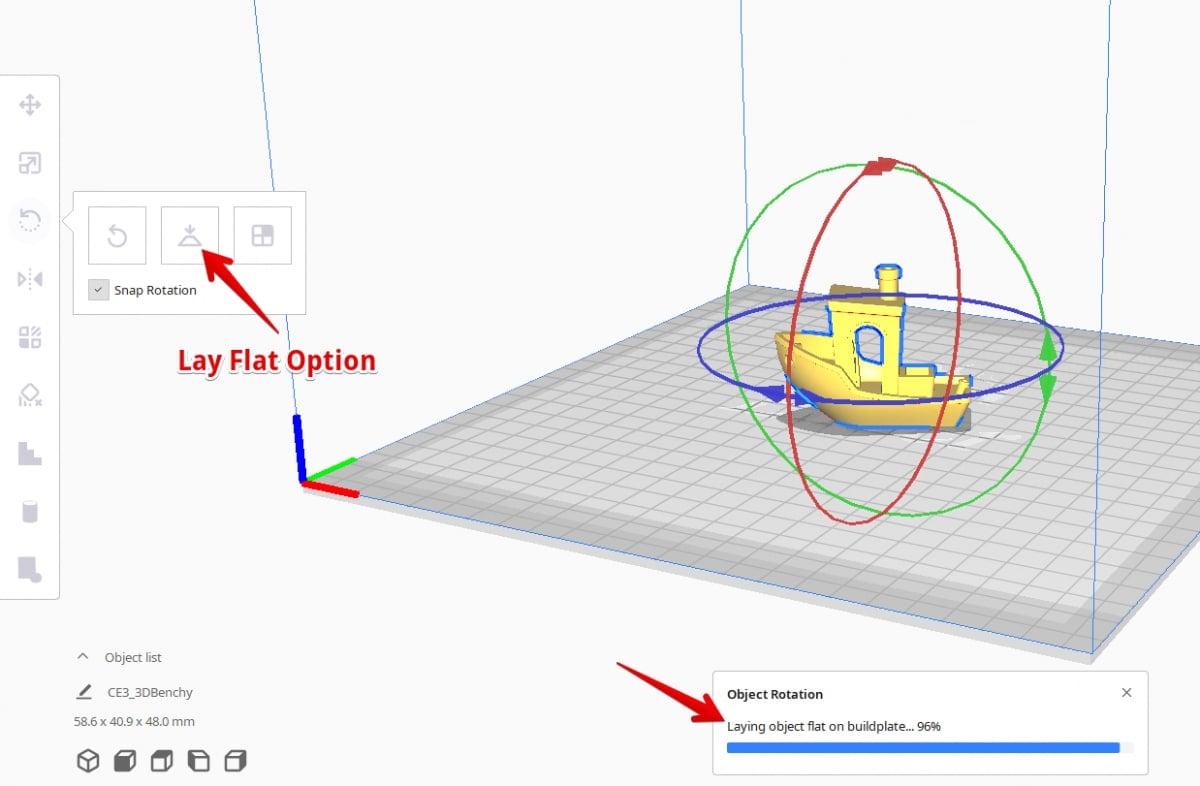 But I think Slic3r is better in cutting and splitting object parts.
One user mentions that Cura highlights the method chosen which assists in changing model orientation.
They also said that it took more practice time to tinker with object orientation in Slic3r.
Slic3r Has Better Variable Layer Height Process
Although Cura has a better variable layer height process for functional 3D prints, Slic3r has a better variable layer height process with better performance.
One user mentioned that Slic3r prints on models that had curved surfaces were better and faster. They tried to reduce the outer wall speed to 12.5mm/s in Cura but the print that was done with Slic3r still had better surface quality.
Another user working with a direct drive was able to get rid of stringing issues with PLA and PETG prints having switched from Cura to Slic3r.
People have said that Slic3r performance remains the same even after increasing the layer height at straight parts and decreasing it around curves.
Many users have observed that Cura does some extra movements on the curved sides of the model.
Cura Has Better Support Options
Another unique feature of Cura is the Tree Supports. Many users like how tree support work in Cura, though Cura ends support on whole layer heights.
One user said they have an easy time with support on Cura because Cura prevents support errors using support blockers.
They also mention that Cura Tree Supports are easy to remove and leave little to no scars. Cura regular supports can be difficult to remove if they are not supporting a flat surface.
This is what Tree Supports look like.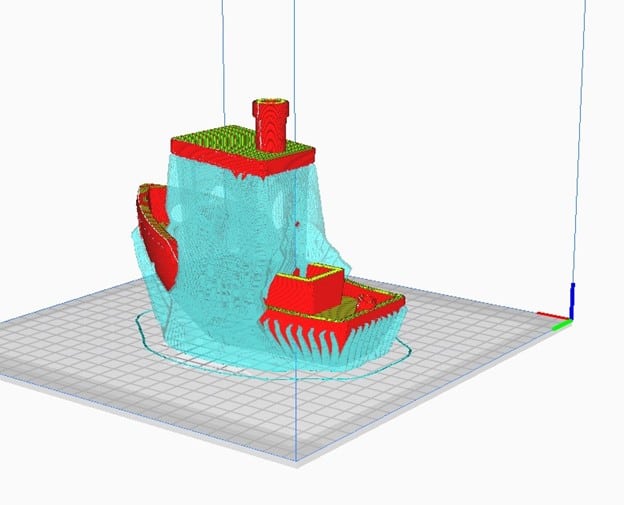 So, you may want to choose Cura when your model requires this kind of support.
This is what normal Cura supports look like.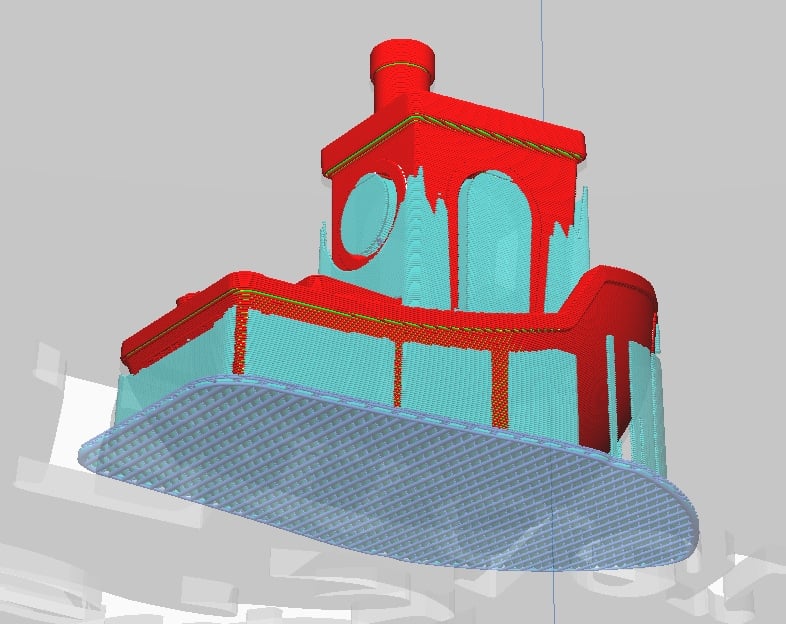 This is what Slic3r supports look like.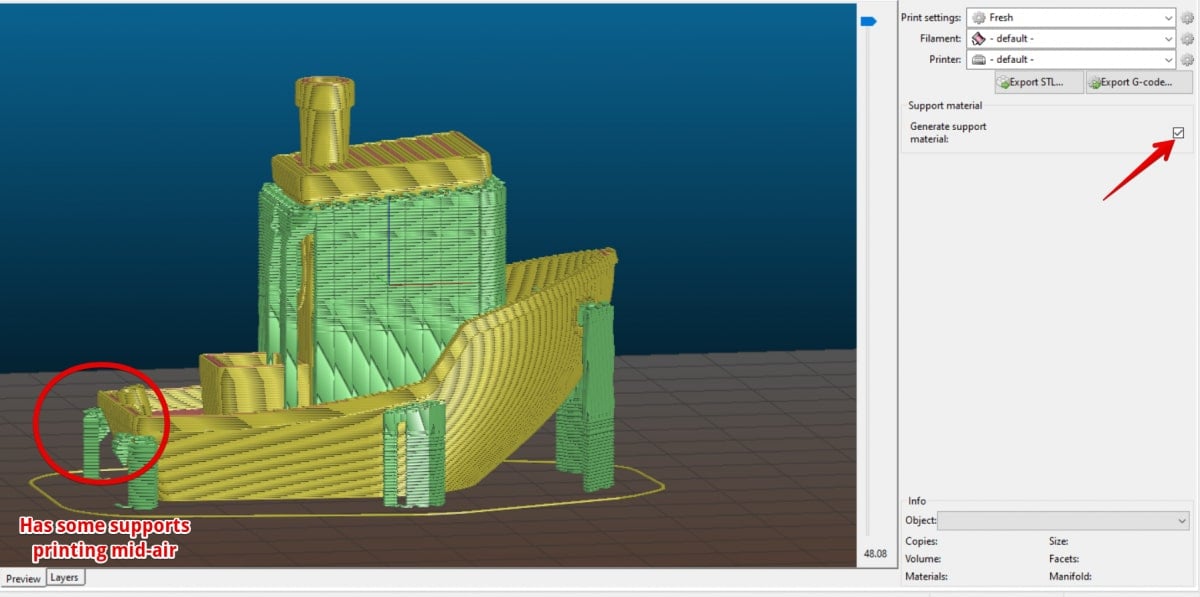 When supporting the 3D Benchy in Slic3r, it did have some supports printing in mid-air at the back for some reason.
Cura Is Better for a Wide Variety of Printers
Cura definitely supports a wider variety of printers than most other slicers.
As earlier mentioned, Cura marketplace is an essential feature for users. Availability of more profiles and plugins can enable you to effortlessly use a wide range of printers including Prusa printers.
Also, Cura is specially made for Ultimaker printers, so if you have one, it's definitely advised to use Cura with it. They can enjoy a better experience because of a tighter integration. Users mention having success using the Ultimaker Format package file type which is unique to Cura.
Users mention that Slic3r can run well in a sizeable number of compatible printers but it is better suited for RepRap variety of printers.
Cura Is Compatible With More File Types
Cura is compatible with about 20 3D-model, image and gcode file types compared to Slic3r which can support about 10 file types.
Some of the commonly used file types present in both slicers are:
Here are some of the unique file formats available in Cura:
X3D
Ultimaker Format Package (.ufp)
Collada Digital Asset Exchange (.dae)
Compressed Collada Digital Asset Exchange (.zae)
BMP
GIF
Here are some of the unique file formats available in Slic3r:
It Comes Down To User Preference
When it comes to making the final decision whether to use Cura or Slic3r, it does mostly come down to user preference.
Some users do prefer one slicer over the other based on the user interface, simplicity, level of advanced features, and more.
One user noted that slicer's performance on print quality can be largely determined by the default settings. Another user mentioned that because custom profiles are available, users need to choose a slicer based on their needs and the features available in a slicer.
They also said that every slicer has unique default settings which need to be tuned when comparing the slicers with different print tasks.
People mention switching from Slic3r to Slic3r PE. They mention that Slic3r PE is a fork program of Slic3r that is maintained by Prusa Research because it has more features and is regularly updated.
They also recommend a better advancement of Slic3r PE which is the PrusaSlicer.
I wrote an article comparing Cura and PrusaSlicer called Cura Vs PrusaSlicer – Which is Better for 3D Printing?
Cura Vs Slic3r – Features
Cura Features
Has the Cura Marketplace
Many profiles for different filaments
Seamless CAD software integration
Intuitive user interface
Experimental features
More powerful slicing engine
Many settings for print adjustment including experimental settings
Multiple themes
Custom Scripts
Regularly updated
Slic3r Features
Compatible with multiple printers including RepRap printer
Supports multiple printers at the same time
Compatible with STL, OBJ, and AMF file type
Simple creation of supports
Uses micro-layering for faster time and accuracy
Cura Vs Slic3r – Pros & Cons
Cura Pros
Supported by a large community
Frequently updated with new features
Ideal for numerous 3D printers
Better for beginners because of ready to use profiles
Has an intuitive user interface
The basic settings view makes it easy for beginners to get started
Cura Cons
The scroll settings menu can be confusing for beginners
Search functions loads slowly
Preview function works quite slowly
You may need to create a custom view to avoid searching for settings
Slic3r Pros
Easier to prepare model
Prints faster than Cura for small files
Supported by a large community
Fast preview function
Frequently upgraded
Compatible with multiple printers including RepRap printer
Works fast even with slightly older and slower computers
Easy to use with beginner mode which has fewer options
Slic3r Cons
Does not have full-time dedicated support and developers
Doesn't show print time estimates
Takes more practice time to tinker with object-orientation
Doesn't show an estimated material usage