Cura & Creality Slicer are two popular slicers for 3D printing, but people wonder which is better. I decided to write an article to give you the answers to this question so you know what slicer would work best for you.
Creality Slicer is a simpler version of Cura that can provide you with great models at a relatively fast speed. Cura is the most popular slicer software out there for 3D printing and is suitable for both beginners and experts to slice files. Most people recommend Cura due to having more features and a larger community.
This is the basic answer but there's more information you'll want to know, so keep reading on.
What Are the Main Differences Between Cura & Creality Slicer?
The User Interface is Much Better on Cura
Cura has More Advanced Features and Tools
Creality Slicer is Compatible with Windows Only
Cura has a Tree Support Function which is More Efficient
Cura Does Not Automatically Reslice When There is a Change in Settings
Creality Slicer Uses a Short Print Time
Cura's Preview Function & Slicing is Slower
Creality Slicer is Most Compatible with Creality 3D Printer
It Comes Down to User Preferences
The User Interface is Much Better on Cura
A significant difference between Cura and Creality Slicer is the user interface. Although the user interface of Cura and Creality Slicer can be quite similar and almost identical, there are slight differences between them.
Cura has a more modern look than the Creality Slicer and the design colors. Every other thing such as the settings is located in the same place on both slicers.
Here is the user interface of Cura.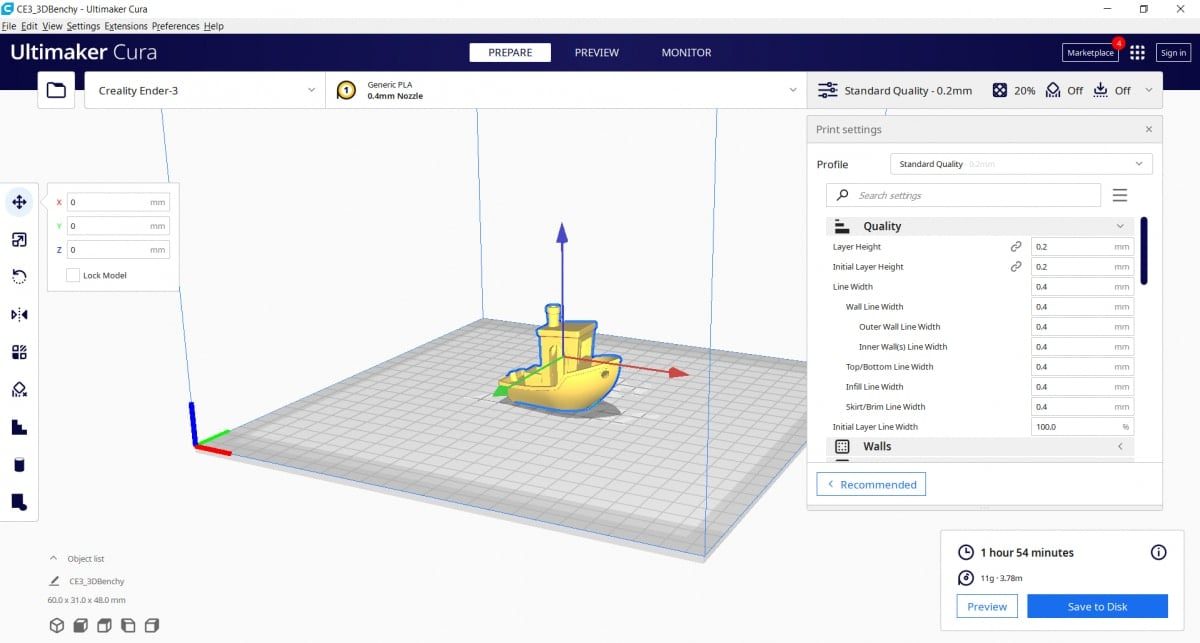 Here is the user interface of Creality Slicer.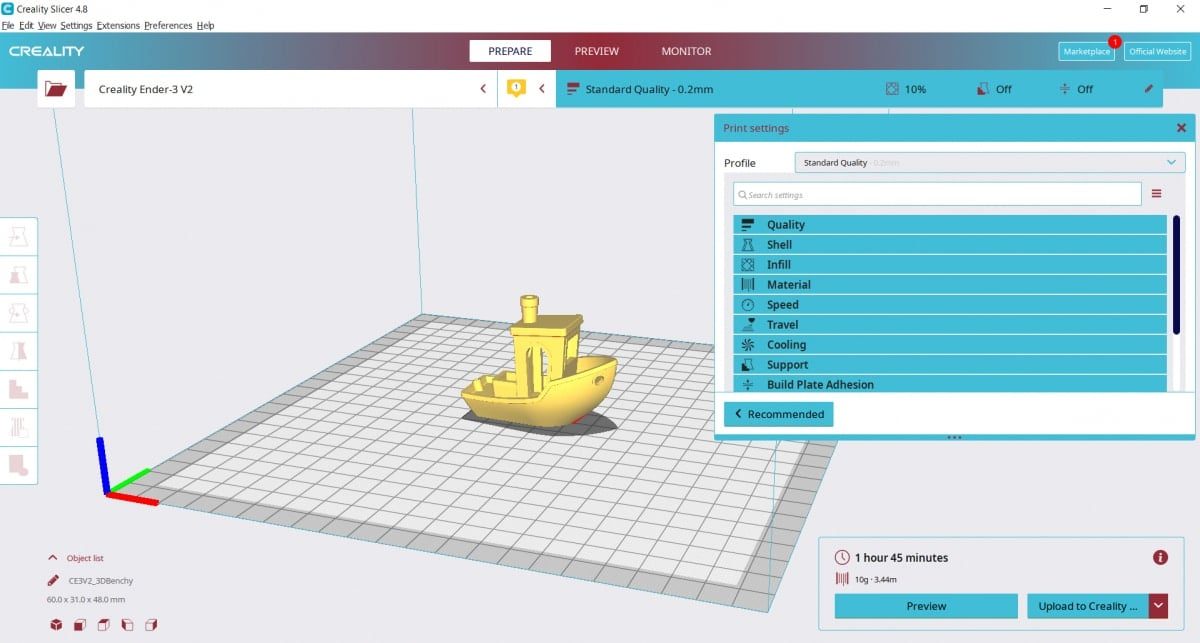 Cura has More Advanced Features and Tools
Cura has more advanced tools and features that make it stand out from Creality Slicer.
In case you are not aware of this, Creality Slicer is based on Cura. It is an old version of Cura which is why it comes behind Cura in terms of functionality. A user said they went through the slicer and found many hidden settings and extra features.
Many users may not have many uses for the extra features and tools but it is worth a try on your prints.
Although not every user does try out those extra features and tools, at least it's available for you to try.
It can give you unexpected results and you can find the right print settings and an extra feature that will give your print the perfect look you've always wanted.
However, others have found good use of some of the extra features.
Some features will increase the speed and improve the overall look of your prints. Here are some of the features and tools in Cura that you can check out:
Fuzzy Skin
Tree Supports
Wire Printing
Mold Feature
Adaptive Layers
Ironing Feature
Draft Shield
The Ironing Feature is one of the tools used in pulling off a smooth finish on the top layer of your prints. This happens when the nozzle moves over the top layer after printing to iron the top layers for a smooth finish.
Cura has a Tree Support Function which is More Efficient
One key difference in the features between Cura & Creality Slicer is tree supports. Tree supports is a good alternative to regular supports for certain models that have a lot of overhangs and angles.
One user mentioned that when they need to use supports for 3D prints, they would go to Cura.
Based on this, it seems like Cura has more functionality when it comes to creating supports, so it may be better for users to stick with Cura in this case.
I wrote an article called How to 3D Print Support Structures Properly – Easy Guide (Cura) which you can check out for more information.
One user who was having trouble with supports said they had better prints when they found the tree support suggestion. They showed their print result before even cleaning up the print and it looked really good.
You can activate Tree Supports in Cura by simply enabling the "Generate Support" setting, then going to "Support Structure" and selecting "Tree".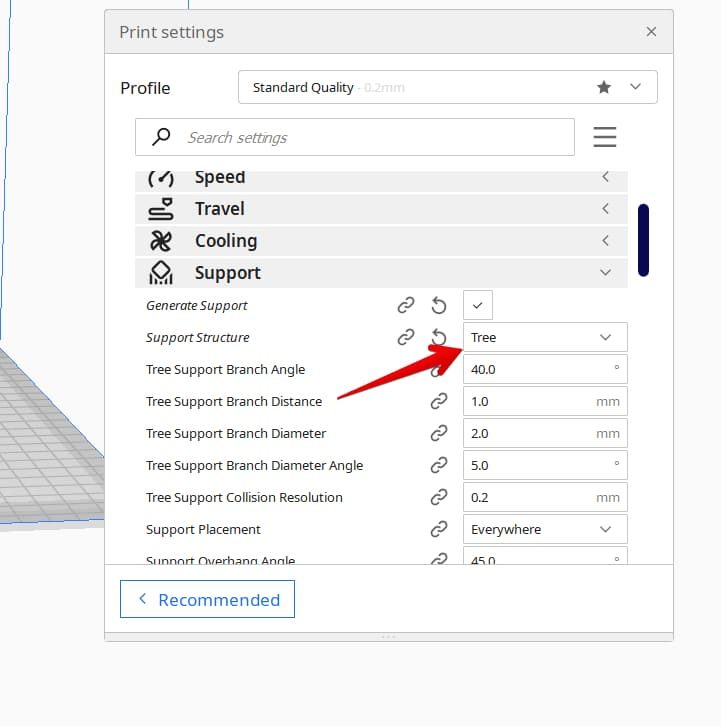 There are also a bunch of Tree Support settings you can tweak, but the default settings usually work pretty well for starters.
It's a good idea to check the Layer Preview when using Tree Supports so that you can verify that the supports look good. One user mentioned that they had activated Tree Supports and had some supports that were hanging midair.
Tree supports are a good support system, especially when printing characters or miniatures as recommended by most users.
Here is a video by ModBot that details how to 3D print tree supports in Cura 4.7.1.
Creality Slicer Has a Shorter Print Time
Creality Slicer is faster than Cura. It may take more time to print the same size of a model on Cura than it would take you on Creality Slicer.
A user who uses Creality Slicer mentioned that print times are significantly faster than using Cura. Even though the user interface on Cura is better and has more functionality than Creality Slicer.
Another user who was curious about both slicers said they uploaded the same print to both Cura and Creality and they noticed that the Creality Slicer is 2 hours faster than Cura, for a 10-hour print.
They also mentioned that they used the same settings for both slicers and yet, the Creality Slicer came out faster than Cura.
This may be due to some advanced settings that are making differences in the way the model prints.
So if you are looking for a slicer that will reduce your print time, then Creality Slicer may be the right choice. If you are concerned about the print quality and aesthetics, you can use the updated version of it.
Cura's Preview Function & Slicing is Slower
The preview function of Cura can be slower when compared to Creality Slicer. This further contributes to the printing time is slower in Cura than in Creality.
A user said they just set their laptop to "No Sleep" mode and have it slice overnight. This shows how slow slicing with Cura can be.
Another thing that contributes to the slow slicing time in Cura is the tree supports. It will take Cura even more time to slice when tree supports are activated.
A user who activated tree support in their Cura said they gave up after 4 hours. They said further that their previous slice (80MB STL file, 700MB G-code) which was a 6-day print took 20 minutes with normal supports.
It Comes Down to User Preferences
Some users prefer Cura while others would rather use Creality Slicer as their slicing software. A user said Cura is a better choice as there are some bug fixes and functions that may be missing in Creality Slicer since it is an older version of Cura.
Some beginners prefer to use Creality Slicer as it has fewer settings than Cura. They feel they can navigate and get the hang of it faster than they would with Cura due to its numerous functions.
Another user recommends that a beginner should use either the Creality Slicer or Cura in a quick print mode for ease.
While another said Cura gives them a bit more control than Creality Slicer does, and that Creality Slicer seems to work better with slightly bigger prints.
Cura Vs Creality – Features
Cura
Custom Scripts
Cura Marketplace
Experimental Settings
Many Material Profiles
Different Themes (Light, Dark, Colorblind Assist)
Multiple Preview Options
Preview Layer Animations
Over 400 Settings to Adjust
Regularly Updated
Creality
G-Code Editor
Show and Hide Settings
Custom Support Structures
Multi-User Support
Integrates with CAD
Print File Creation
User-Friendly Interface
Cura Vs Creality – Pros & Cons
Cura Pros
Settings menu can be confusing at first
User interface has a modern look
Has frequent updates and new features implemented
The hierarchy of settings is useful since it automatically adjusts settings when you make changes
Has very basic slicer settings view so beginners can get started quickly
Most popular slicer
Easy to get support online and has many tutorials
Cura Cons
Settings are in a scroll menu which may not be categorized in the best manner
Search function is fairly slow to load
G-Code preview and output sometimes produce slightly different results, such as producing gaps where there shouldn't be, even when not under extruding
Can be slow to 3D print models
Needing to search for settings can be tedious, though you can create a custom view
Creality Slicer Pros
Can easily be operated
Can be found with Creality 3D Printer
Easy to use
Suitable for beginners and experts
Based on Cura
Supports third party software or systems
Free to download
Fast when 3D printing models
Creality Slicer Cons
Sometimes outdated
Only compatible with windows
Only has created profiles for Creality 3D Printers
Many users mentioned that Cura serves as a guide for Creality Slicer. A user switched to Cura because they got a BL Touch and found some G-Code that only works in Cura. They further mentioned that Cura gave their print better quality even though it took more time.
Another user said they switched because they found more tutorials about Cura online than they did for Creality Slicer. They said another reason they switched to Cura is that since they used Creality first, it served as an easy introduction required for them to move to Cura.
People who have used Creality Slicer always find it easy to use Cura since both slicers have similar interfaces and functions. While some find Cura easy to use and as their go-to slicer, others still prefer the Creality slicer so you can just go with the one that works best for you.
The difference between Cura and Creality is not a steep one since they both function almost the same way.