3D print supports are an essential part of successfully creating 3D models. So, it's a good idea to learn how to do supports properly.
I decided to put together an article for people to understand how supports work to improve your 3D printing experience.
3D printing supports can be done manually with custom supports or automatically by simply enabling supports in your slicer. You can adjust support settings such as support infill, pattern, overhang angle, Z distance, and even placement just on build plate or everywhere. Not all overhangs need supports.
Keep on reading through this article to learn some of the basics of creating support structures and more advanced techniques that you'll find very useful.
What is Print Support Structure in 3D Printing?
Like it says in the name, support structures help support and hold the print up during 3D printing. In addition, these structures provide a foundation for the successive layers of the print to be built on.
As the print is built up from the print bed, not every section of the print will lie directly on the bed. In some cases, some of the print's features, like bridges and overhangs, will extend over the print.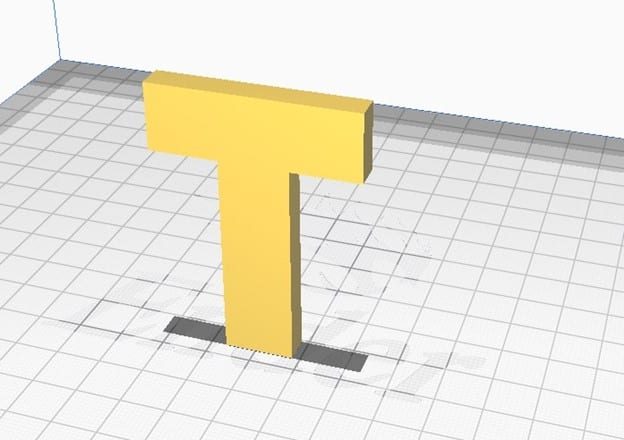 Since the printer cannot build these sections on thin air, print support structures come into play. They help secure the print to a print bed and provide a stable foundation for these features to be printed on.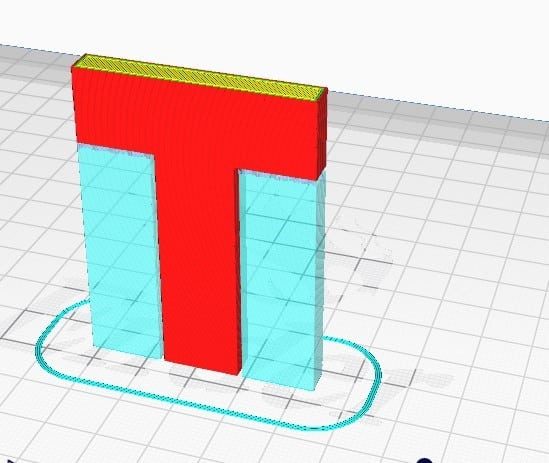 After printing, you can then remove the support structures.
Does 3D Printing Require Supports? Can You 3D Print Without Supports?
Yes, you can 3D print models without support. Not every 3D model requires supports to be able to print. It all depends on the properties and the features of the model.
For example, look at the Daenerys Bust below. It has some slight overhangs, but you can still print it just fine without supports.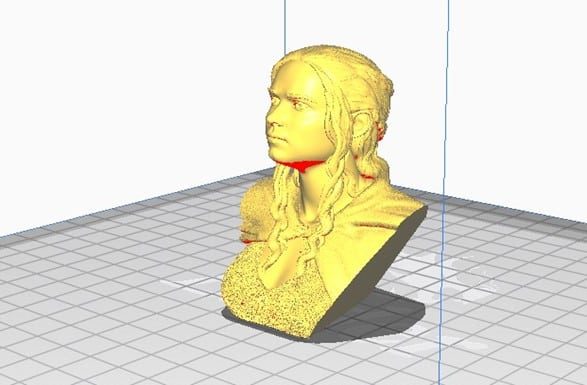 A key example of a 3D print that doesn't need supports is the 3D Benchy. The red areas in Cura show overhangs angles above your "Support Overhang Angle" which is defaulted at 45°. Although you see plenty of overhangs, 3D printers can still handle certain printing situations without supports.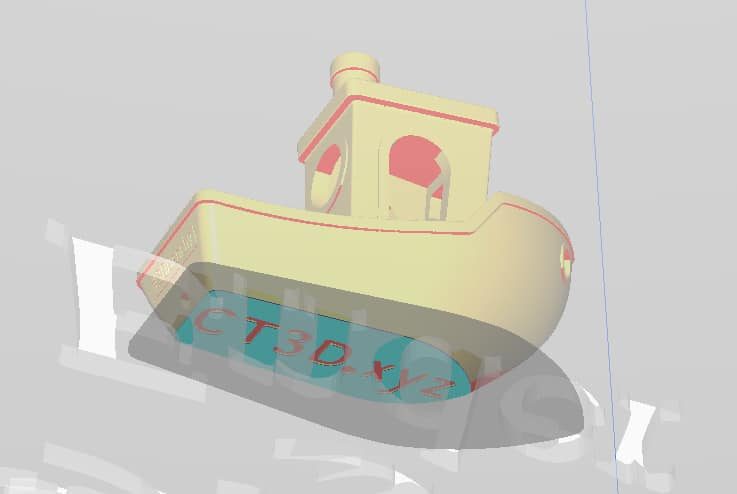 Here's what the 3D Benchy would look like with supports with usual settings in Preview Mode. The supports are shown in the light blue around the model.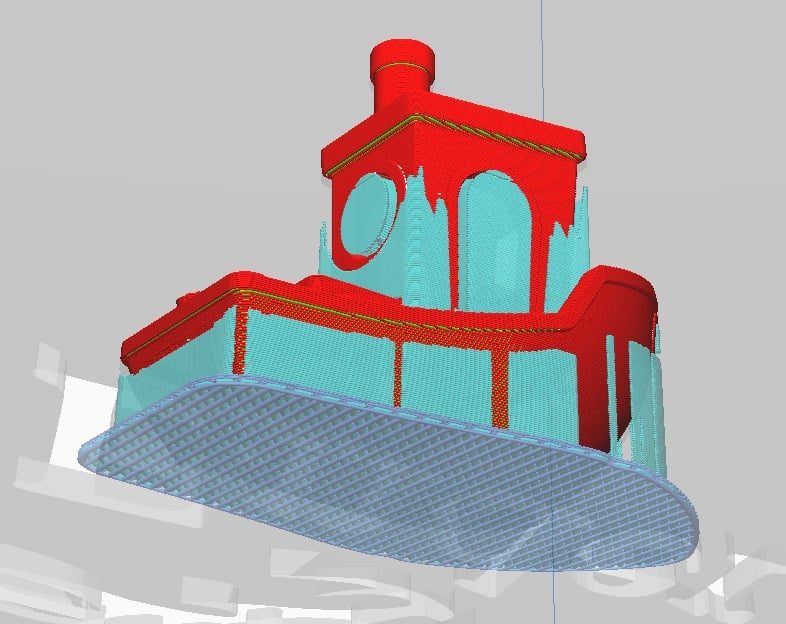 Here's the 3D Benchy without supports enabled.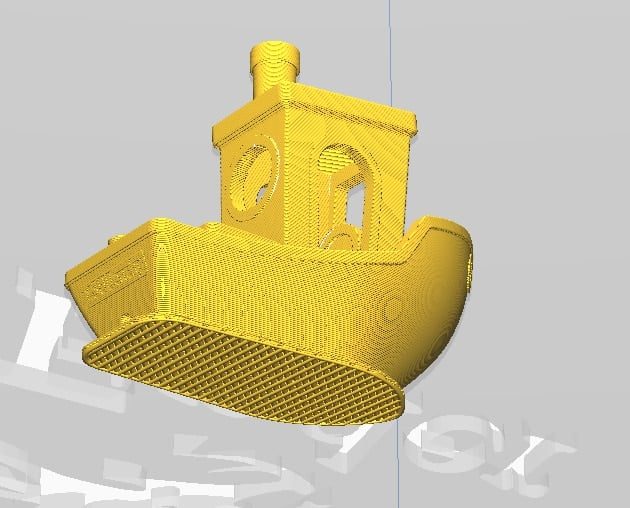 Let's look at some of the features that determine if you need supports.
Bridging and Overhangs
If a model has features that hang over its main body and long unsupported beams and sections, it will need support.
Supports are necessary for models like this to provide a foundation for these features.
Complexity of the Model
If the model has a very complex geometry or design, it will need supports. These intricate designs will often have unsupported sections, and without supports, they won't be printed correctly.
Orientation or Rotation
The model's orientation will decide if it will use supports and how many supports will be used. For example, if the model is oriented at a steep angle, it will require more supports because more sections will hang over the main body.
For example, look at this assassin model. In its normal orientation, it requires quite a lot of support.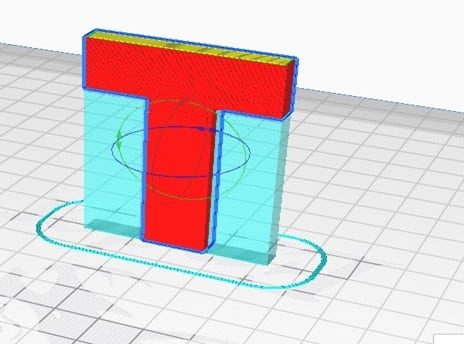 However, if you lay it down on the bed, the overhanging features lie on the bed, and the model doesn't require supports.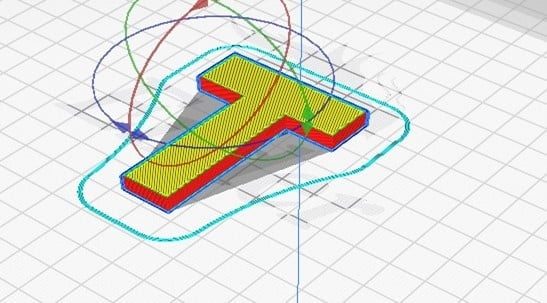 Do 3D Printers (Cura) Automatically Add Supports?
No, Cura doesn't automatically add supports, they have to be enabled manually by checking the "Generate Support" box. Once enabled, supports are created automatically in areas that have overhangs, where the angle can be adjusted with the "Support Overhang Angle" setting.
Cura provides plenty of other options for adjusting supports for your model. In addition, you can review the model and check for unsupported sections.
You can also choose the type of support that's best for you. Cura offers two basic types of supports, the Normal and the Tree Supports.
How to Set Up & Enable 3D Printing Supports in Cura
Setting up and enabling 3D printing supports on Cura is quite easy. It is one of those things that you'll get better at the more you do it.
Let me take you through the process.
Step 1: Import the Model Into Cura
Click on "File > Open file(s)" on the toolbar or use the Ctrl + O shortcut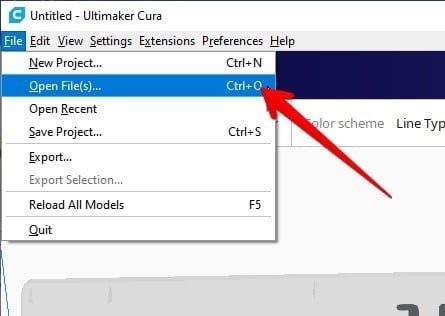 Locate the 3D model on your PC and import it.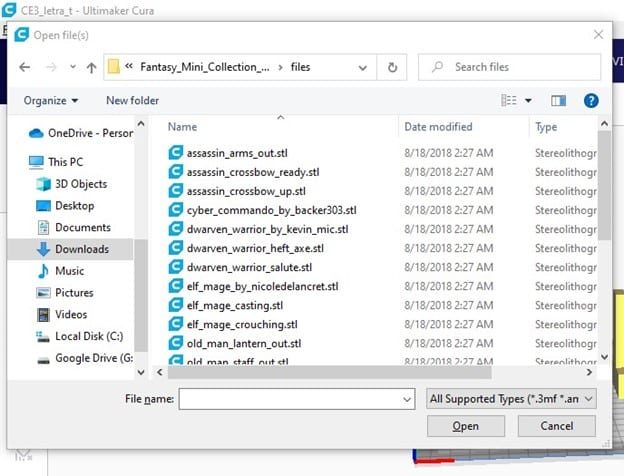 You can also drag the file in Cura directly and the 3D model should load.
Step 2: Enable Supports
There are two ways you can generate supports in Cura. You can either use the recommended print settings or your own custom options.
Here's how to use the recommended settings.
On the right side of the screen, click the print settings box.
Check the box that says "Support".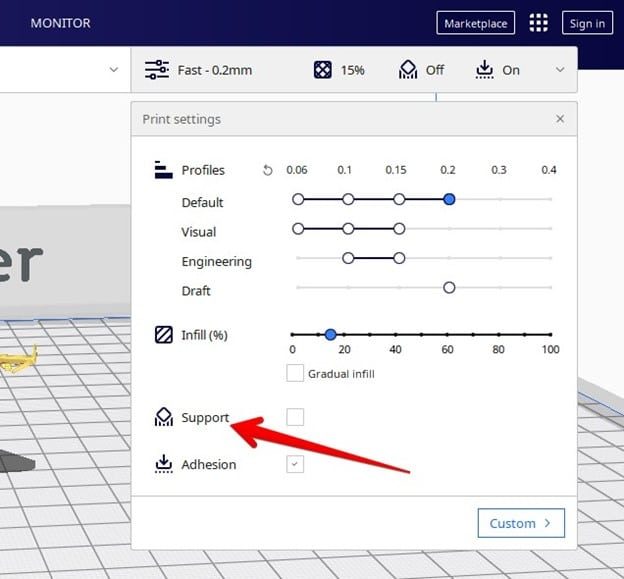 Alternatively, if you want more complex settings:
From the same page, click "Custom"
Locate the Support dropdown menu and click "Generate Support".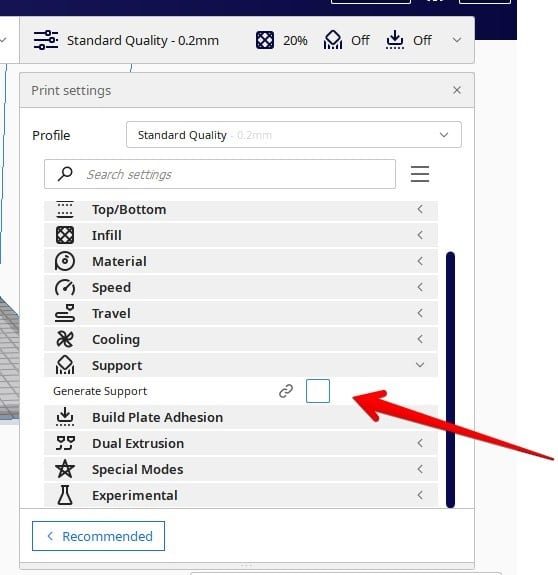 You should see various support settings pop up under the menu when you enable it.
Step 3: Edit Settings
You can edit a variety of settings such as the infill density, support pattern, etc.
You can also choose if you want your supports to touch the build plate only, or for it to be generated everywhere on your model.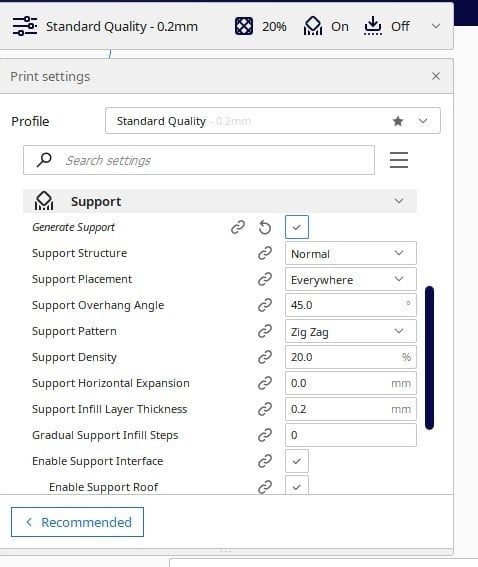 How to Set Up Custom Supports in Cura
The Custom supports setting lets you manually place supports wherever you need them on your model. Some users prefer this option because automatic supports can generate more supports than required, resulting in increased printing time and material usage.
Most slicers like PrusaSlicer and Simplify3D provide settings for this. However, to use custom supports in Cura, you have to use a special plugin.
Here's how you can do it.
Step 1: Install the Custom Supports Plugin
Under the Plugins tab, look for the "Custom Supports" & "Cylindric Custom Support" plugins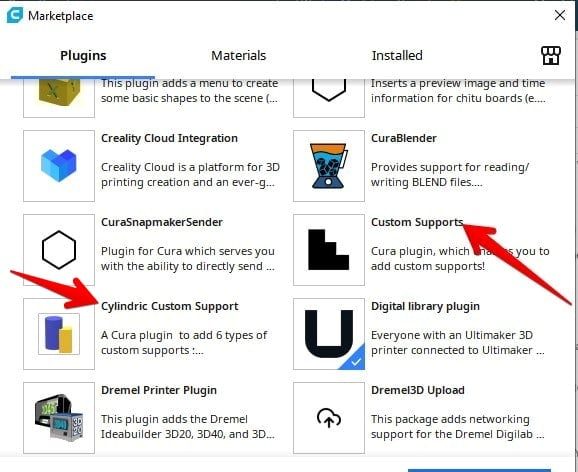 Click on the plugins and install them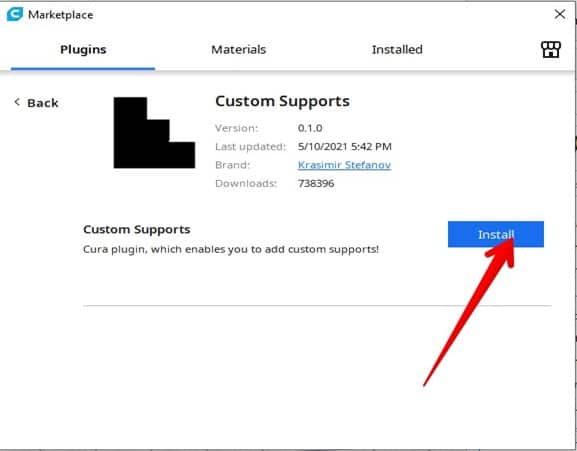 Step 2: Check for Islands/Overhangs on the Model
Islands are unsupported sections on the model that require supports. Here's how to check for them.
Import the model into Cura.
Slice the model. (Note: Make sure all the support generation settings are turned off.)
Rotate the model and check under it for sections that are shaded in red.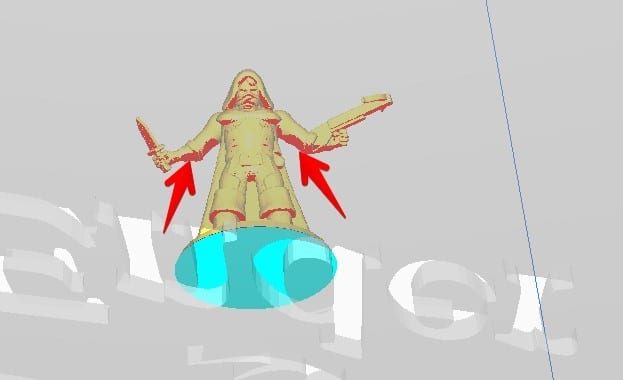 These sections are the places that need supports.
Step 3: Place the Supports
On the left-hand side, you should see a custom support toolbar. Click on the add supports icon.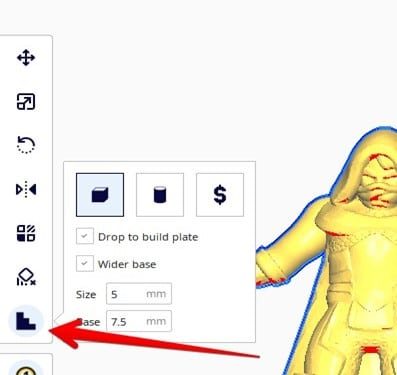 Here, you can choose between cube-shaped and cylinder-shaped supports.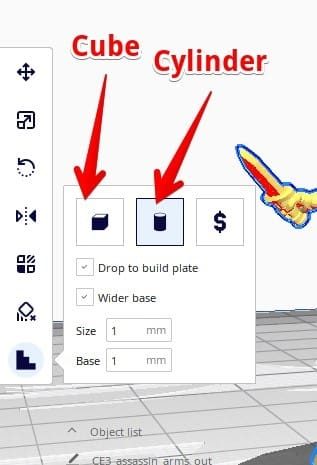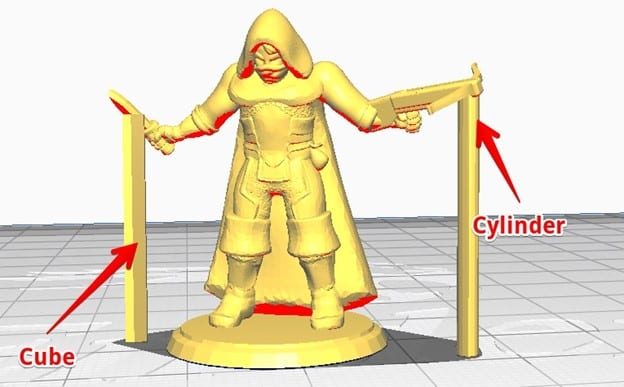 You can even modify the width of the base and angle it to increase the support's stability.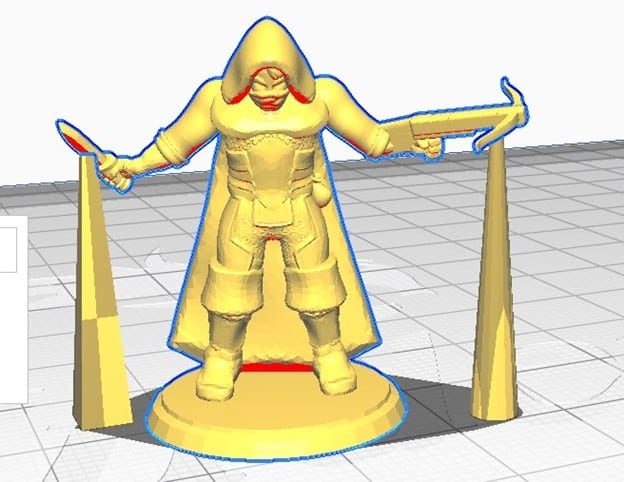 Click on where you want to add the supports. Once you do this, some blocks will appear in the area.
Using the editing tools, modify the blocks until they take the shape you want.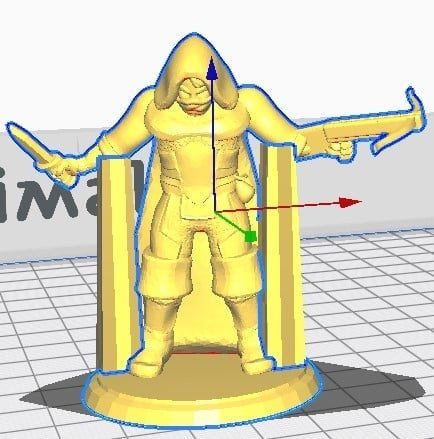 Make sure the blocks adequately cover the area. Also, make sure they are connected to the bed or any stable part of the model.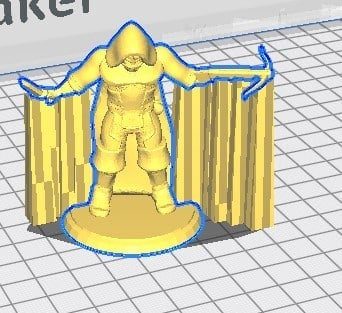 Step 4: Edit the supports.
Go to the custom print settings and open the support dropdown menu.
Here, you can change the support infill pattern, density, and a whole range of other settings as previously shown.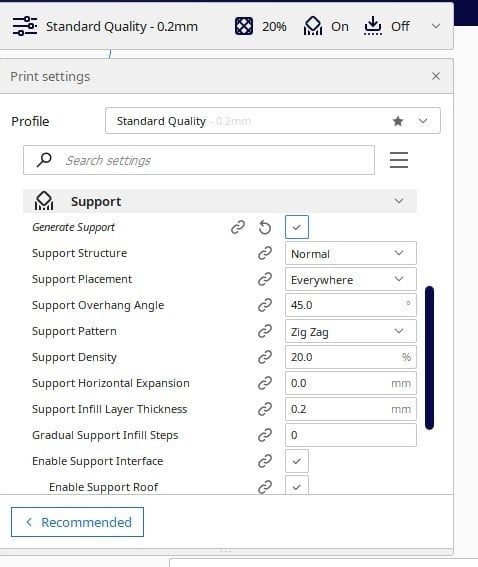 This next part is crucial. Once you're done editing the supports, go up and turn off "Generate Support" before slicing the model so it doesn't create the usual supports.
After you've turned it off, slice the model, and voilà, you're done.
I prefer to use the Cylindric Custom Supports because you get a lot more options of creating custom supports, especially with the "Custom" setting where you can click one area for the starting point, then click the finish point to create a support that covers the main area.
Check out the video below to see a nice tutorial on how to do this.
How to Fix Supports Not Touching the Model
Sometimes you can have problems with your supports not touching the model. This will ruin the print because the overhangs will not have any foundation to build on.
Here are some common causes of this issue and their fixes.
Large Support Distances
The support distance is a gap between the supports and the print to enable easy removal. However, sometimes this distance can be too large, resulting in the supports not touching the model.
To fix this, make sure the Z Support Bottom Distance is equal to the height of one layer, while the top distance is also equal to the height of one layer.
The Z support bottom distance is usually hidden in Cura. To find it, search for Support Z Distance in the Cura search bar.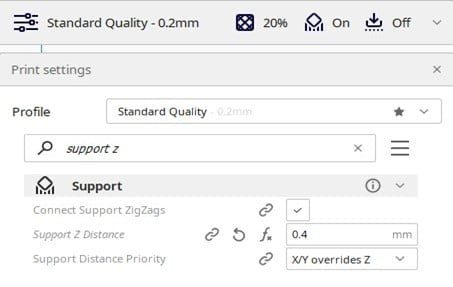 To make it permanent, right-click on the setting and select "Keep this setting visible".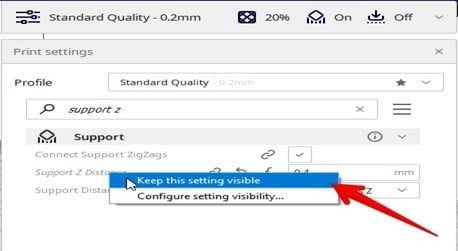 If you're printing complex, complicated features that require more supports, you can play around with these values and reduce them. Just be careful not to make the value too low to avoid problems when removing supports.
Tiny Support Points
Another reason for supports not touching the model is that the areas to be supported are tiny. In this situation, the support will make enough contact with the print to support it.
You can fix this using two ways. The first way involves using Towers. Towers are a special type of support used in supporting tiny overhanging parts.
These towers are circular in cross-section. They taper down in diameter as they go up to support points smaller than their set diameter.
To use them, go to the Cura print settings and search for Tower. In the menu that pops up, tick Use Towers.
You can then select the "Tower Diameter" and the "Maximum Tower Supported Diameter" you want.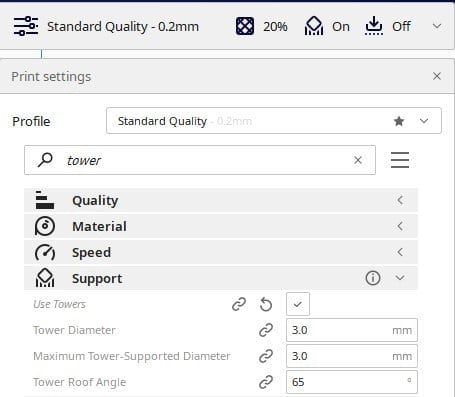 Once you do this, the tower will support any overhanging point on your print lower in diameter than this value.

The model on the left is using normal supports for the top points. The one on the right is using Tower supports for the tiny points.
The second option is to use Horizontal Expansion. This is better than towers for thin, long areas.
It instructs the printer to print sturdier supports to hold up these areas. You can use it by looking for the "Horizontal Expansion" setting in print settings.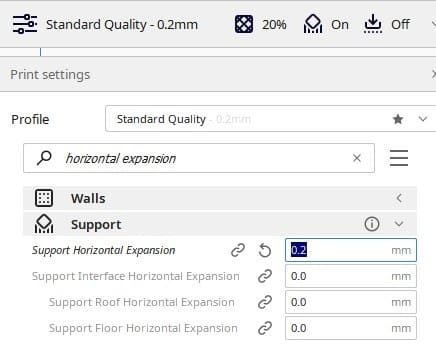 Set the value to something like 0.2mm so your printer will be able to print the supports easily.
Why Are Your 3D Printing Supports Failing?
3D printing supports fail for many reasons. When these supports fail, it automatically affects the entire model, which results in a ruined print.
Let's look at some of the common reasons why 3D printing supports fail:
Poor first layer adhesion
Insufficient or weak supports
Unstable support footprint
How Do I Stop My 3D Printing Supports From Failing?
You can make changes in your print setup and your slicer settings to obtain better supports. Here's how you can do it.
Make Sure Your Print Bed is Clean & Properly Leveled
A clean, well-leveled print bed creates an excellent first layer for your supports. Therefore, your supports will have a smaller chance of failing with a stable first layer.
So, make sure you clean your bed with a solvent like IPA before Printing. Also, make sure it's appropriately leveled using this guide.
Optimize Your First Layer
As I said earlier, an excellent first layer helps increase the stability of the supports. However, a well-leveled print bed isn't the only key to a great first layer.
So, make the first layer thicker than the rest to provide an adequate foundation for the supports. To do this, set the first layer percentage to 110% in Cura and print it slow.
Check my article called How to Get the Perfect First Layer on Your 3D Prints for more in-depth advice.
Use Additional, Stronger Supports
Sometimes, supports fail because they are weak, flimsy, or just insufficient to carry the print's weight. To combat this:
Increase the support's infill density to about 20% to strengthen it.
Change the support's pattern to a stronger one like Grid or Zig Zag
Print the support on a raft to increase its footprint and stability.
For more info on how to stop your supports from failing, you can check out my article on How to Get the Perfect Support Settings.
How Do I Use the Cura Support Air Gap?
The Cura support air gap tool introduces a gap between your supports and the print to make the print easier to remove.
However, you have to be careful when setting these gaps. Too much of a gap can result in the support not touching the prints, while too little can make the supports hard to remove.
The optimal setting for the support air gap varies by location. Most people recommend using a gap of one or two times the layer height (0.2mm for most printers) for the Support Z Distance.
To change it, search for "Support Z Distance" in the Cura search bar and input your new value when it pops up.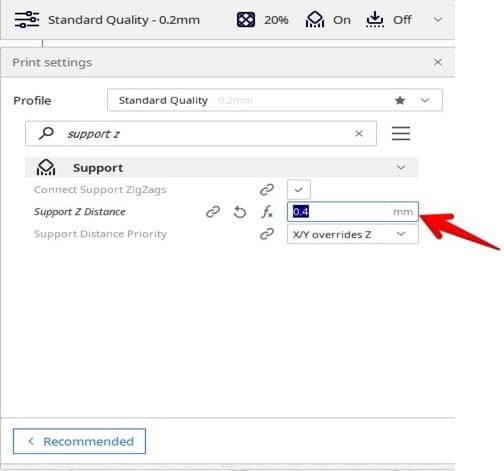 How Do I Use Cura Support Blockers?
Cura support blocker is a pretty handy tool in the slicer that lets you control the areas where supports are automatically generated. Using this, you can select specific areas for the slicer to skip while generating supports.
Here's how you can use it.
Step 1: Initialize the Support Blocker
Click on your model
Click on the support blocker icon on the left panel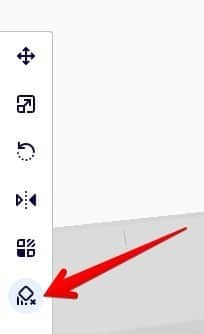 Step 2: Select the Area Where You Want Supports Blocked
Click on the area where you want supports blocked. A cube should appear there.
Using the move and scale tools, manipulate the box until it covers the entire area.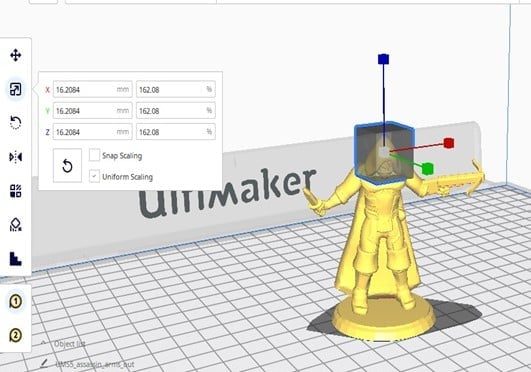 Step 3: Slice the Model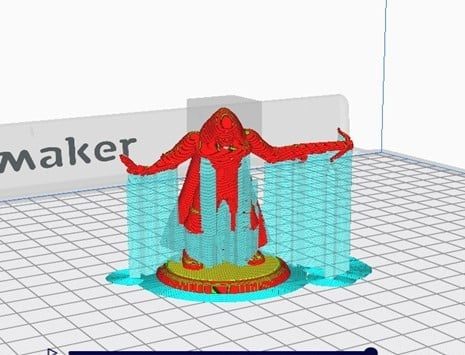 The areas within the support blockers will not contain supports.
The video below is a quick minute tutorial to show you exactly how it looks. You can easily adjust the size of the support blocker area and create multiple blocks to stop supports from being created in specific parts.
How Do I Use Cura Tree Supports?
Tree supports are a relatively new addition to Cura. However, they have many advantages over normal supports, and they produce a better, cleaner print.
Tree supports have a trunk-like structure with branches that wrap around the print to support it. This setup makes the supports much easier to remove after Printing.
It also consumes less plastic after Printing. Let me take you through how you can use Tree supports.
Import your model into Cura.
Go to the supports sub-menu under print settings.
Under "Support Structure" menu, select "Tree".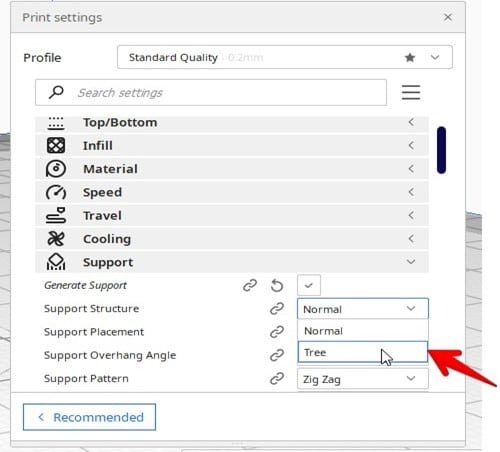 Choose if you want your support base only to touch the build plate, or everywhere on your print.
Slice the model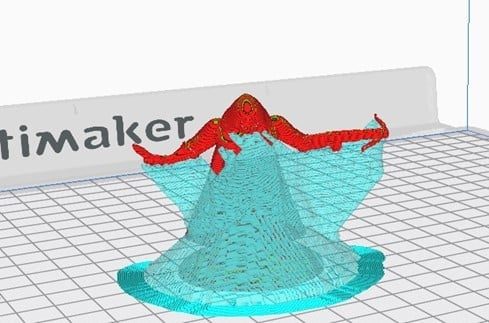 Now you've successfully used Tree Supports. However, before using Tree Supports, you should know that they take slightly longer to slice and print.
Check out the video below by CHEP on how to create Tree Supports in Cura.
Conical Supports
There is actually another option that is between Normal Supports & Tree Supports called Conical Supports which produces an angled support structure in a cone shape that gets smaller or larger towards the bottom.

Simply search "conical" to find this setting which is under "Experimental" settings in Cura. You'll also find "Conical Support Angle" & Conical Support Minimum Width" to adjust how these supports are built.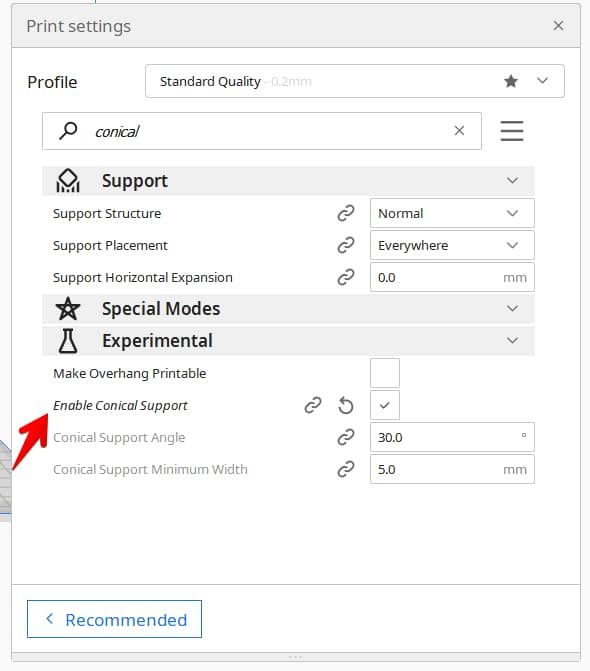 The video below shows you how they work.
Supports are an integral part of creating a top-quality 3D print. I hope as you apply the tips provided in this article, you'll learn how to use Cura supports properly.
Good luck and happy printing!