Can You 3D Print Directly From Cura?
Cura is a slicer application which we import CAD models into to get ready for slicing, or in other words, to 3D print. A question that some people ask is whether we can 3D print directly from Cura.
This article will answer that question, with more key information that you'd want to know.

Can You 3D Print Directly From Cura?
Yes, you can print directly from Cura using a USB connected to your computer or laptop. You can choose to print using a USB connection or by implementing OctoPrint to connect up your main device to your 3D printer. OctoPrint is the best way for printing directly from your computer.
In the past, many people used to print directly from Cura using the USB route, in versions of Cura that went up to 15.04. You can tell it was a while ago because we've come back down to versions 4.8 and onwards.
The USB connectivity, from what I've read around, has not got the same consistent updates or care that it used to get because not many people actually used the functionality after some time.
It does work really well for some people out there, so if you want to start 3D printing from a USB connection, you can do that.
Follow the video below for a simple Cura 3D printing guide with a USB.
Printing from a MicroSD USB reader, then inserting the SD card into your 3D printer became the more efficient, safer, and easier way to 3D print models.
If you are looking to print directly from Cura, I'd definitely look into choosing the OctoPrint option, which requires a Raspberry Pi, a power supply, a cable, and an SD card.
It can get a little complex when setting things up, but there are many step-by-step tutorials on how to get it done properly.
How Do I 3D Print From Cura
Step 1: Add Printer On Cura
Launch your Cura software.
Click on the 'Add printer' icon.
Then select the 'Add a non-networked printer' option.
Under the 'Custom' section, choose 'Custom FFF printer'. (You have the liberty to rename your printer under the 'Printer name' section)
Finally, click on 'Add' to completely add your 3D printer
This step could get a bit more quizzing and technical. Hence, I will be serving you a closer look at this step in another section below. That will make it easier for you to navigate through the procedures. Keep up!
Step 2: Input Settings
Once the 'Machine Settings' window comes on your screen, put in the settings for your 3D printer, under the 'Printer' and Extruder 1' section.
Step 3: Start Printing
Once you're done slicing your 3D model, choose the 'Print via USB' option, then click on it to begin your 3D printing task!
Or you can choose to save the file to a MicroSD card and insert that into your 3D printer
You can also send the G-Code through to your printer using the OctoPrint network.
Step 4: Hold On Till The Printing Is Complete
Finally, your 3D model is on the way! The Cura interface should display an outline of your print job. There are controls that you can adjust directly within Cura to pause/start your 3D prints.
Make sure you do not disconnect the USB cable from your computer before you have finished printing your 3D task.
How Do I Add a 3D Printer To Cura?
Open the 'Printer panel' section, then choose the 'Add printer' option. The "Add Printer" section opens and provides you with two different means to add your 3D printer. At this stage, the two different options at your disposal are:
Adding A Networked Printer
Adding A Non-Networked Printer
Adding A Networked Printer
Here, you are provided with a list comprising all Cura 3D printers you can use within your local network terrain as well as every cloud-enabled printer affixed to your Cura account. The configuration for networked printers is done automatically.
That automation adds to the thrills and benefits of your 3D printing adventure.
Adding A Non-Networked Printer
There is a different list here. This one displays all 3D printer brands and types functional on the Ultimaker Cura software, without excepting 3D printers not available on the Ultimaker Cura software. You are likewise provided with a choice to develop a custom printer for yourself.
After choosing a 3D printer (whether a networked printer or a non-networked printer), all that is left is to click on "Add" to add the chosen printer to the Cura software.
How Do I Print From Cura to Ender 3?
The conference between the 3D printing slicing software Cura and the Ender 3 printer makes things happen as you wish, fulfilling your 3D printing dreams. You can utilize this tool through the following steps.
Download the desired model from Thingiverse.
Load up CAD file into Cura
Put in the relevant settings such as printing temperature, bed temperature, layer height, supports, infill, etc.
Slice the file
Insert USB with MicroSD card in.
Transfer the sliced file to the MicroSD card.
Safely eject and insert into your 3D printer
Find the file within your 3D printer and hit print.
It's a pretty simple process to learn how to print to an Ender 3 with a USB cable.
After a few times of getting your files from your computer or laptop, you'll realize just how easy the printing process is. I can get a sliced file onto a MicroSD card and printing in less than a minute.
What Issues Can Happen With a Cura USB Connection?
There is a plugin within Cura called 'Power Management' which inhibits the system from hibernating or stand-by during the printing process.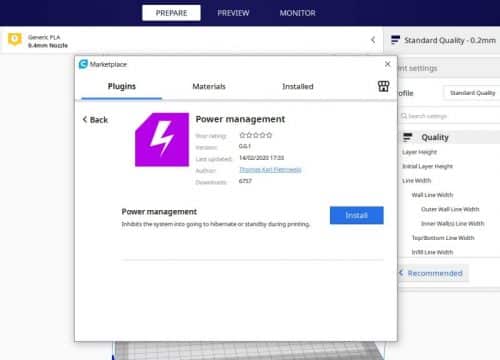 If your operating system suddenly shuts down on you, goes into sleep mode, or even updates itself, then it's going to ruin your 3D print
Sometimes, using too much CPU can cause Cura to slow down and ruin your print by not sending the G-Code smoothly
A simple crash or blue screen on your computer, even though it doesn't happen often, will ruin a 3D print
3D printing directly from Cura works, but it's known to be less reliable than other options
Some people say the USB connection's communication can get lost in some cases, leading to stuttering 3D prints.
The reliability of USB 3D printing depends on what 3D printer and computer you have
Sometimes Cura might not detect your Ender 3 or not connect to the printer via USB which is a big issue.
One solution that has worked for users is to close and restart Cura, or even turn your printer off and on again to get it to work. Make sure you only have one Cura application open and no active connections on your COM ports.
If you have a lot of trouble with this, you may choose to use OctoPrint on a Raspberry Pi instead so you don't have to keep your computer open.
Cura isn't the best slicer for USB stuff, so you could look into using another Slic3r that has USB support.
If your USB isn't working on your Ender 3, then it's possible that the USB stick or memory card corrupted. This has happened to me on one occasion where neither my Ender 3 or computer could read the memory card.
The issue was fixed after I changed memory cards.