Where to Find STL Files for 3D Printing – Thingiverse & Alternatives
3D printing can be plenty of fun, but after a while you start to feel as though you've printed everything out there. There are many great places where you can download free or paid 3D printer designs & models to satisfy your 3D printing needs.
Rather than spending time learning and designing models yourself, you can choose to pick some really high quality, useful, or great looking models straight from a file archive of amazing STL files to make.
I know that many people have trouble finding these designs, so I decided to search around the internet and find 7 of the best alternatives to Thingiverse, where you can download free or paid 3D printed models and objects, so stay tuned to expand your creative abilities.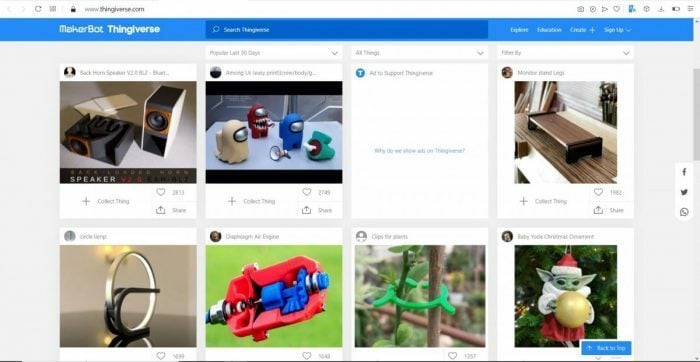 Thingiverse is definitely the most popular entry on this list, a staple website that was a project of the 3D printer giant – Makerbot Industries.
The library of this platform is so immense that no other site comes close to it.
With over 1.92 million downloadable models, there is something for everyone on Thingiverse. It also has a very active community behind it that's contributing to it on a consistent basis.
You even have a separate forum that is packed with common question, queries, information, and tips that you can benefit from.
The best part about this website is that every STL file on it is absolutely free. The community never lets it run out of ideas and you're always going to find an extensive array of models on Thingiverse.
Whether it's attachments for products that came out a few days ago, or your favorite cartoon character, you can really find all sorts of models on Thingiverse.
It was founded back in 2008 and has amassed quite a hefty userbase ever since. Moreover, it has received numerous updates and overhauls over time.
People are much fond of the website's "Education" section where, if you're a teacher, can benefit greatly and introduce thrilling new concepts to the classroom and kids.
Earlier this year in 2020, Thingiverse's interface was heavily changed, making it faster, more fluid, and easy to use. Before that, users complained of clunkiness and slow response times. It's that consistency in listening to users that really makes it a great place to be.
It has a one-click download of the batch of files that comes with the model. There's a summary section, a comment section, you can like models which puts it into a list, and you can even check other people's remixes of the model.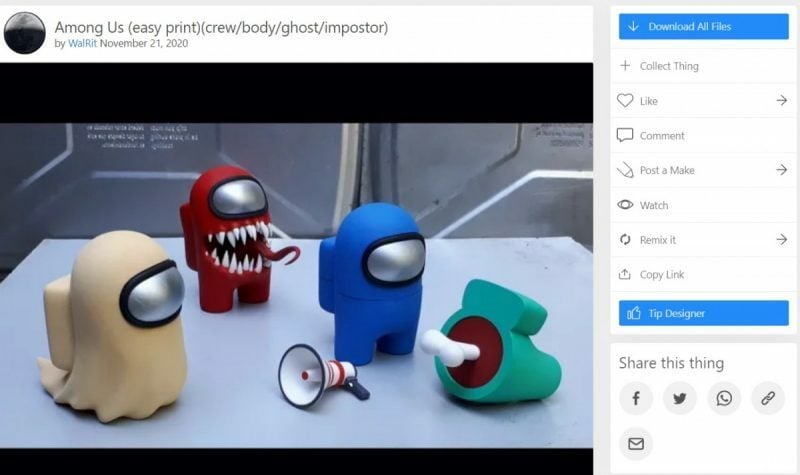 Moreover, you don't have to register for an account to download a model or ten on Thingiverse. You can simply do that on the fly without signing up too.
All designs on Thingiverse fall under the various licenses of Creative Commons. This gives the original creator complete freedom over how they want other people to use their uploaded model.
If you are wondering about the licenses or even selling models, I wrote an article called Can I Sell 3D Prints From Thingiverse? It answers the main question and gives more information on other closely related things.
When users upload their designs to Thingiverse, they can either put in a requirement for attribution or they can allow their design to be okay with commercial use.
Attribution means that whenever someone else uses your design, they'll have to acknowledge you for it. Downloading a design doesn't mean one can forget about the appropriate rights.
Thingiverse has an official 'Legal' section on their website that you can look over. I also wrote an article about laws in 3D printing that has useful information.
Each time you use someone else's model, you basically bind yourself to the license and terms affiliated with it. As long as you're respecting the original creator, you won't have a thing to worry about.
With that being said, Thingiverse is a very open website with tons of amazing designs. When someone thinks of 3D printed models, Thingiverse is the first thing that pops up in their head.
Try Thingiverse today.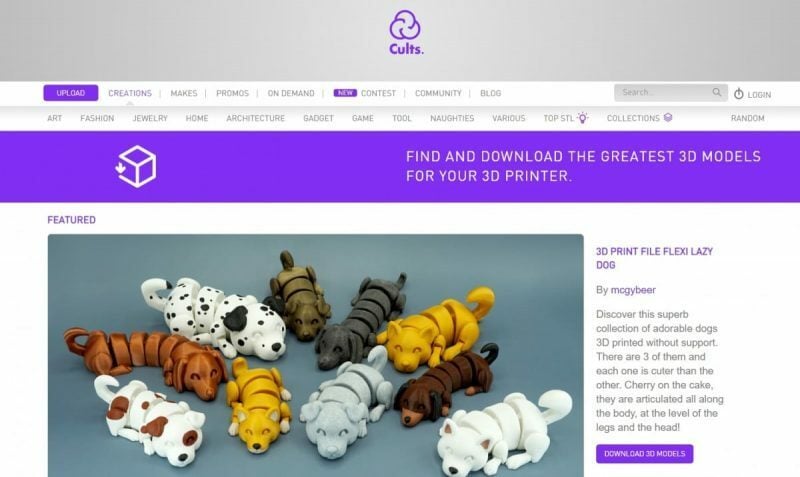 Cults is another big name in the field of 3D printing and has been around for a long time as well. It was founded in 2014 and now comprises more than 1 million members across the spectrum.
Unlike Thingiverse, Cults 3D offers paid designs and is a great alternative. These are some of the most top-notch created designs you're going to find on the site among other freebies as well.
The best thing I like about Cults 3D are the GIFs that they show of the actual 3D printed models moving around, especially their 'Flexi' prints.
Cults 3D's catalog is just as diverse (but not as extensive) as Thingiverse. The categories of downloadable files range from art, jewelry, fashion, home, and gadgets to a whole lot more.
As compared to Thingiverse, Cults 3D boasts a highly refined user interface that's easy to navigate and find desirable models. A few of the cool features is the 'Random' button on the top right that randomly picks a model that you can check out.
They categorize many of their models on the homepage, from 'Featured' to a special 'Cults Selection, down to a 'Best Sellers' list, so you can find all sorts of models at your desire.
What's more surprising about this marketplace is that it's managed by a very small group of people rather than a full-fledged team. Somehow, they've managed to create a brilliant platform for 3D printing enthusiasts.
It's highly likely that out of the 100,000+ STL files on Cults 3D, you'll find something of your taste. There's a dedicated promotions section on the site too, that'll show you what's currently booming.
Unlike Thingiverse, you will have to register for an account on Cults 3D first. It's free and shouldn't take much too long.
All designs on Cults 3D are the property of their owners and are subject to intellectual property rights. It's basically the same as Thingiverse. The moment you exploit others' work, that's when you're asking for trouble.
For the models that are purchasable, it's also worth mentioning that Cults 3D is a very affordable place with reasonable prices.
The website also features highly specialized models and accessories based on famous brands such as LEGO, GoPro, and IKEA. You can get notified with alerts whenever such a model is uploaded to the site.
In addition, Cults 3D also has a service where it lets you hire a designer to find you the models you're looking for.
Try Cults 3D today.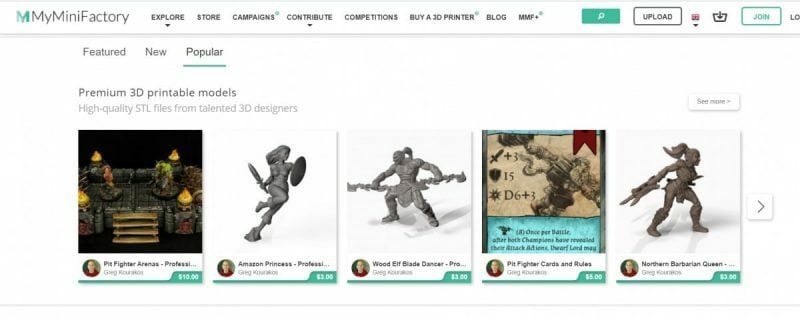 MyMiniFactory is another great place to get your fix of 3D printed models sorted. It was founded in 2013 and ever since then, it has received a lot of contributions from designers around the world.
The website looks and feels top-of-the-line and the interface is very fluid. Furthermore, the website has a strong affiliation with iMakr which is a marketplace for 3D printing accessories.
MyMiniFactory is a spacious repository with more than 130,000 STL files for 3D printers.
It started out small with not a lot of prints, but as the site matured, the community expanded and more and more people started to share their work.
What's quite unique about this website is that each STL file has to go through a test by the community before it gets uploaded. The test relates to the software and a handful of people actually print the model to address any errors.
This is unlike Thingiverse or any other site for downloading files for 3D printing. However, like Cults 3D, MyMiniFactory also allows you to get in contact with a special designer who finds models that you can't.
The website has its focus on engaging with the community that makes it whole.
Thus, it hosts multiple competitions after every other week where you can win prizes and a bunch of other stuff related to 3D printing.
Additionally, there's also an option for sharing your idea with the community of the website.
It can get validated if it's good enough, and who knows? Maybe you'll give birth to a breathtaking new advancement.
Apart from that, the repository has innumerable models for you to view and enjoy printing with. Its interface is also very engaging and makes steering around effortless and undemanding.
What's more, is that MyMiniFactory launched its own store back in 2018. If you're a designer yourself, you can sell your models or purchase them from other designers as well.
Try MyMiniFactory today.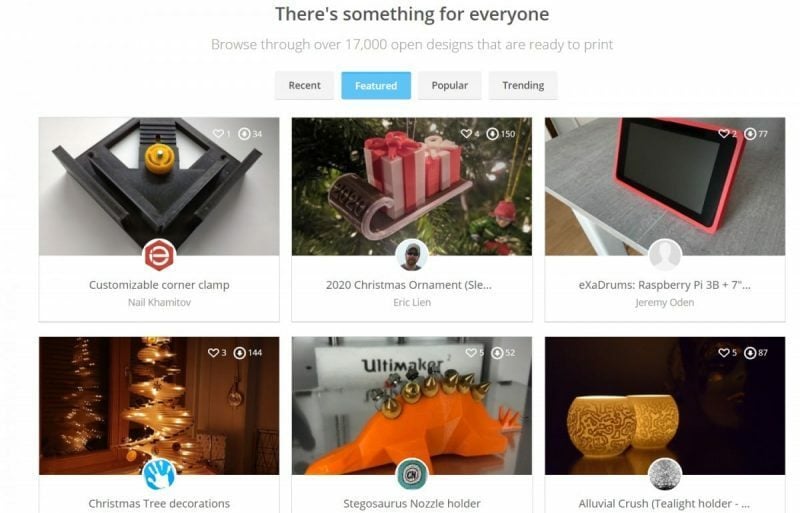 Owned by Ultimaker, YouMagine is the place for high-end designs and more than 17000 STL files that are deemed "ready to print."
On the home page of the website, you can select Recent, Featured, Popular, or Trending STL files to be shown to you. In this way, the site categorizes each model according to its ranking.
Just like MyMiniFactory, the interface is very easy to get used to and isn't complicated at all. You'll have a good time navigating around YouMagine to find 3D models.
Creative Commons takes hold of YouMagine and provides it with its range of licenses. Users either allow their model to be used for commercial purposes or only in terms of attribution, as explained before.
For instance, a "Non-Commercial Share Alike" license under a model means that you are free to download it and remix it to your heart's content, but then your created model would also have to fall under the same license.
While the number of STL files on this website is nowhere near what Thingiverse has to offer, you can definitely notice greater quality because of lesser yet carefully picked models on YouMagine.
YouMagine also has a blog which you can access from within the site. This section contains tons of useful information for 3D printing beginners and experts alike.
You'll see helpful maintenance guides, tutorials, and other information to help you on your journey. Moreover, there are manuals for select 3D printers available as well.
The blog is updated consistently so be sure to check that out for staying up to speed with whatever's happening in the world of 3D printing.
Most of the designs you'll find on YouMagine will be free. Only a fraction of what you see will be paid.
Try YouMagine today.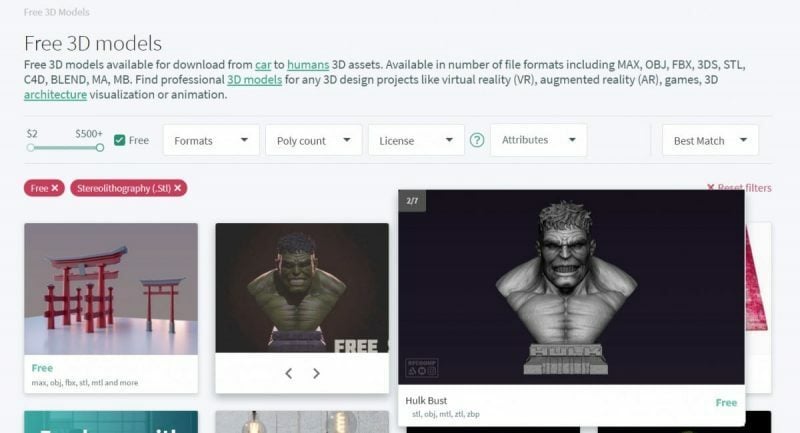 CGTrader was founded in 2011, headquartered in Lithuania, and serves as a model marketplace for Virtual Reality/Augmented Reality. It has over 2 million users and is free to register with.
Although they don't have a main focus on 3D printed models, you can easily navigate over to their free or paid models with their simple search and filter function.
When I filter for 'Free' and '.stl' I found 1044 pages of 36 per page, which translates to over 35,000 STL files that can be scooped up, placed into your favorite slicer, and 3D printed at your leisure.
In terms of the level of quality in the models, you are definitely getting the top-shelf stuff here.
I think the best part about CGTrader is their collection of paid models, where you can really see the effort and detail that designers have put into these designs. When you are ready to step up your 3D printing game, this is the perfect place to go.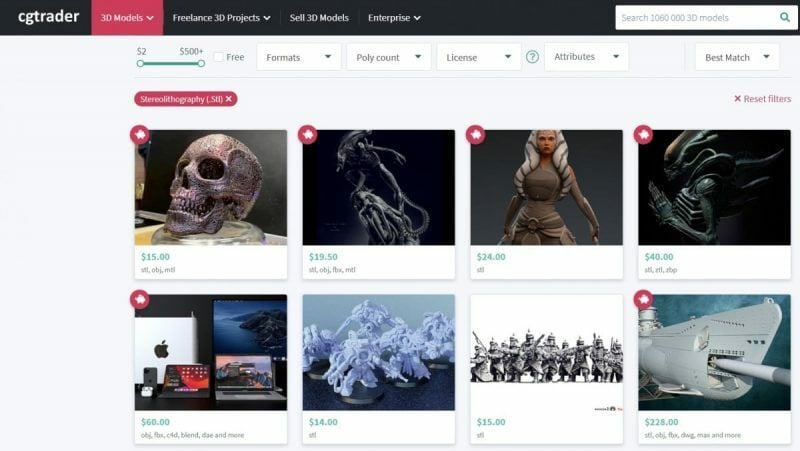 If you happen to have interest in designing 3D models, you can sell your designs through here as well. They even have a section for Freelance 3D Projects where people list the design work they need done, and put up a price.
Have an in-depth look into some awesome models from CGTrader today.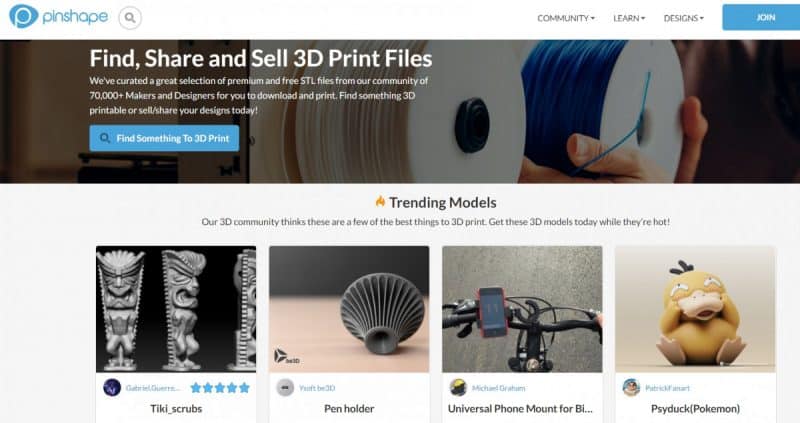 Some refer to Pinshape as one of the best alternatives for Thingiverse. Gauging that statement, one can easily see why it's on this list.
Pinshape has such an immense library of STL files and models for your 3D printing that you might never get enough of it.
Creativity sees no bounds here and the marketplace makes sure you're always jam-packed with ideas.
It has a modernly designed, highly interactive user interface that impresses right off the bat. You can easily navigate around the website to find either the best-selling models or the top-rated free ones.
Every once in a while, Pinshape puts on display a "Featured Designer." This is usually someone whose prints have been downloaded the most and received tons of positive feedback.
Besides that, Pinshape boasts an excellent "Education" tab, just like Thingiverse, where there is loads of content for you to learn the ins and outs of 3D printing.
One more similarity that resembles MyMiniFactory is that Pinshape also holds contests for designers where there is a potential of winning various kinds of goodies, such as exotic filaments, academy courses, and even an Oculus Rift.
On the top of Pinshape's main page, you'll find distinct categories to view models from if you're looking for something in particular. Additionally. you can also choose to view models from all categories.
The cherry on the cake here is Pinshape's community that leaves their valuable advice when printing specific models with select printers. This can help you greatly in choosing the perfect 3D printed model for your need.
Try Pinshape today.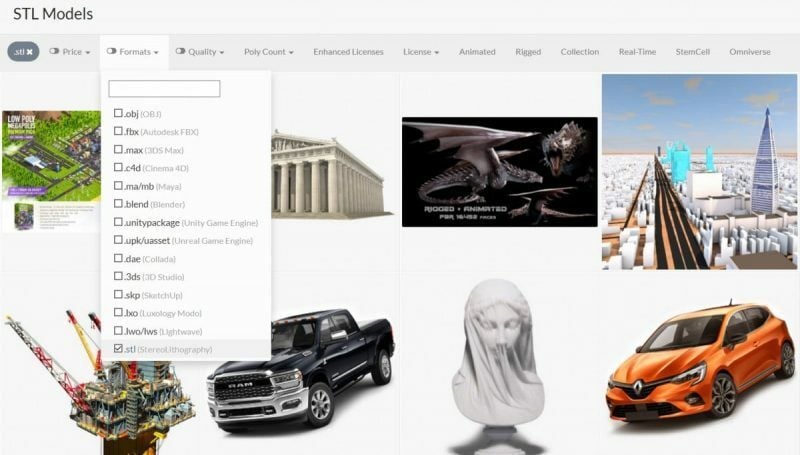 Another elegantly designed website to download STL files for your 3D printer is Turbosquid.
First things first, the website has a beautiful interface that's enough to captivate you at first glance. Everything seems to be organized and arranged neatly.
Numbers wise, it has over 850,000 free and paid models since its focus is more on digital content creation rather than only 3D printing.
However, you can also find STL files on there just as well. All you have to do is filter "STL files" or "3D printing" while searching and you're good to do.
Higher quality does cost money. That's why most of the designs you find on this site are premium-quality and come for a price.
Other than that, there are also top-notch free models as well that you can print from the get-go.
Turbosquid offers complete customer satisfaction with a "best price" guarantee and 24/7 customer support. They claim that you won't find a better price for 3D models anywhere else on the market.
The payments you make for purchasing designs are fully secure as well. If it doesn't work for you somehow after paying, you'll get a quick refund.
Try Turbosquid today.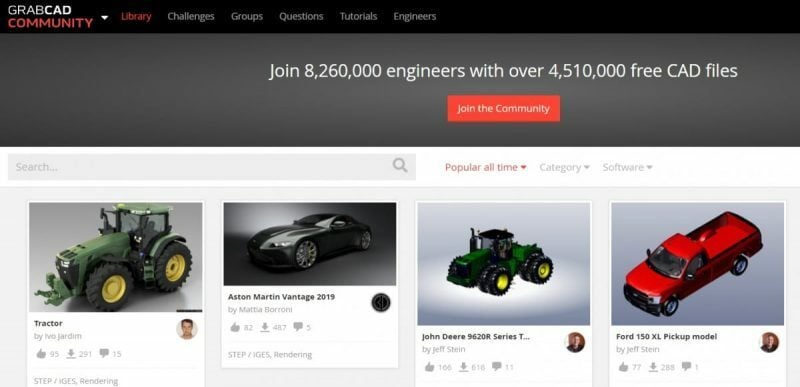 GrabCAD Library is a place for professional-grade 3D designs and nothing less. It boasts over 4.5 million CAD files and more than 8 million real engineers that contribute to the website.
The website has a pretty basic interface where you can choose categories of models and the type of software you need it for.
Do note, however, that the website isn't truly intended for 3D printing, rather it also contains STL files that you can use to 3D print industry-grade models.
For files in other formats, you can try and convert them to STL too, but that can take a long time and the process is generally complex if you're not using third-party software.
The website has a professional service called GrabCAD Print which ensures a highly refined, smooth workflow of your 3D printing endeavors.
It uses software to print 3D models in CAD format and comprises a bunch of helpful features to get you sorted appropriately.
Other than that, GrabCAD Library offers diverse tools such as the GrabCAD Workbench to help you develop your designs and curate them to perfection.
While this website can't play the role of your daily driver, it can, however, come in very handy when you have to print complicated parts.
Try GrabCAD Library today.
STLFinder – Bonus Entry 3D Printer File Respository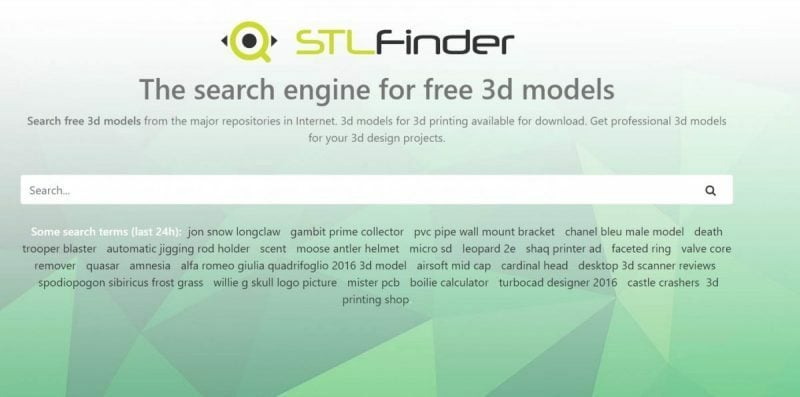 STLFinder had to make its way on this list in one way or the other because of its genuinely unique mode of operation.
With STLFinder, you're not looking at one website for 3D printed models. Instead, you're looking at all of them.
This is actually a search engine for STL files that probes the Internet for every model there is according to your search items.
It has an extremely basic interface. There's a simple search bar right in front, and below it, popular tags that people searched for in the last 24 hours.
STLFinder can find plenty of models that are out there on the Internet. All you have to do is search for it using the search bar, and search through the listings.
You can find files from  GrabCAD, Thingiverse, MyMiniFactory, or Pinshape, STLFinder gathers search results from every website related to 3D printed designs out there.
In this way, you can expand your horizons and discover multiple designs from several sources. There's an option to filter through free and paid designs, and an option to include both.
Try STLFinder today.