What is the Best Alternative to FEP Film for Resin 3D Printers?
Resin 3D printers require changes to the FEP film from time to time, though it can be expensive for these seemingly simple sheets of plastic. I'm sure many people, myself included, wonder if there are alternatives to FEP sheets.
Laminating pouches are an alternative to FEP film on resin 3D printers. They do need preparation such as putting it in the oven to dissolve the EVA on one side for just 5 seconds. Once you've done this, put the PET side facing upwards in your resin vat and that should be done. 
This article will explore these alternatives, and point you out to the best and cheapest places you can get them, saving you money in the long-run.
Keep on reading for the key details of this article, as well as for a nice video demonstration of laminating pouches being prepared.
Best FEP Film Alternative For Your Resin 3D Printer
FEP film is the most common and best material used for 3D printing, but it is quite expensive and could be unaffordable for some users.
That's why they look for some cheap alternatives that can serve them in their 3D printing activities and bring them the quality prints just like the FEP film.
Laminating pouch sheets is an alternative that can be used as an FEP film alternative because of their resistant properties, though there is mixed reviews on how well it works.
What you need to do to the sheet is to heat the sheets in an oven or with a heat gun to make it transparent, then you should be able to use it as normal.
Laminating Pouches for Resin 3D Printers
Laminating pouches are laminating film sheets consisting of several layers of different types of plastics. When touching this plastic sheet, you'll notice that the outer side is hard while the inner side is soft and feels a bit tacky as well.
The outer side of the laminating pouches sheet is usually made up of Polyethylene Terephthalate (PET) plastic while the inner side is composed of Ethylene Vinyl Acetate (EVA) plastic.
Some people have had success with them, though I did read about a few failed attempts, so take it with a grain of salt! You should ensure you are using PET pouches as an FEP alternative because PETG pouches are not hard and can cause issues down the line.
I found a 50-Piece Clear Laminating Pouches (PET, EVA) from Amazon with a thickness of 100 microns which is around the usual thickness of FEP film.
Another set of Laminating Pouches made of quality PET is the Pack of 100 Oregon Lamination Sleeves, also from Amazon, with a 125 micron thickness.
I haven't used it myself, but apparently there are a few successes out there, so it could be worth a try.
PETG laminating pouches are going to get scratched a lot easier and even damaged, mainly because of how soft it is in comparison. PET laminating pouches are much cheaper than FEP film, though not as high quality.
The impact strength of these sheets are strong, are known to be almost very resistant chemically, and very transparent so UV light can penetrate through with ease.
Initially, the sheet doesn't look completely transparent, but you can make it crystal clear just with a few steps.
The procedure to make this alternative is as follows in the video below.
https://youtu.be/4wnYcYb1YRw
Take out your laminate pouch and distribute it into two parts.
Take a piece of kitchen parchment or something similar and place the sheet on it. Make sure that the outer side (PET) is facing down on the sheet while the EVA side is facing up.
Place the sheet in the oven for about 5 seconds at a temperature of 200-210°C. It should make the laminating pouches sheet completely transparent.
The EVA side may still feel tacky, but it shouldn't cause any issues, and you can use it without any hassle.
Now place the laminating pouch on the resin vat.
UV resin must move and come in contact with the PET side. Therefore, make sure that the PET side is on the top and the EVA plastic is facing downwards.
Now you can start printing with an alternative to your FEP film.
A user has shared his experience stating that he wasn't sure about this alternative and decided to give it a try. He used a heat gun for heating purposes, and it worked very well.
A hairdryer can also help, but it may take a little more time to make the sheet fully transparent.
Some people have tried it and said that the sticking does get a little strong, so what you can do is implement some CNC Dry PTFE Lubricating Spray from Amazon. Simple spray some on a paper towel and wipe the surface down to lubricate it.
Although it's said to be an alternative to FEP sheets, I would recommend going for the actual sheets, but many people avoid them because of the price. I decided to put together a few places where you can get the cheaper FEP sheets, still at a good quality.
Where Do I Buy Cheap FEP Sheets for Resin 3D Printers?
There are plenty of options when it comes to buying the FEP sheets for resin printers, but you should go for a platform that can provide you FEP sheets at the cheapest price.
The most suitable options include the McMaster-Carr andFlexvat.com especially if you want to buy a few FEP sheets.
Elegoo FEP Film Sheets on Amazon
Elegoo FEP Film is compatible with the Elegoo Mars LCD 3D printer and provides a great quality base for your resin prints. The product comes with an easy-to-follow tutorial that guides you to change the FEP film with just a few steps.
It is heat-resistant and durable with 95% light transmittance. This ensures the high stability of UV lights. Sheets have a protective film and their thickness is much better as compared to many other brands.
Elegoo is quite well-respected as most people know, so you can be sure to receive high quality products from their Amazon store. At time of writing, they have a rating of 4.8/5.0 which is excellent!
Get yourself 5Pcs of Elegoo FEP Release Film from Amazon today.
Another option that you can find on Amazon for FEP film for a great price is the Calorbot 5Pcs UV FEP Film, sized perfectly for the Elegoo Mars, Anycubic Photon, and Photon S. They are very highly rated and work perfectly for most users out there.
The 3D Club FEP Film on Amazon
The 3D Club FEP Film is compatible with the Photon, Phrozen, and many other resin 3D printers. The best thing about their shipment is that they come in a hard protective envelope to prevent any damages or curves.
These A4 size sheets come in the range of 0.05mm to 0.2mm thickness. The package includes 4 sheets and each sheet is separated with a paper for easy handling.
A user shared his experience of using 3D Club FEP Film stating that he was fond of buying expensive and best quality products for his 3D printing, but they decided to give this FEP film a try.
After using this FEP film, they realized that you don't only get amazing quality from the most expensive products.
The price is very reasonable, yet the quality is top level, so it was a great surprise to experience.
BangGood
BangGood is a really great place to buy cheaper products, although the shipping does usually take a lot longer. For products that you don't need as soon as possible, you can save plenty getting them from here.
You can get 10 Pcs of 140 x 200mm FEP Film for around $30 or 5 Pcs of 280 x 200 FEP Film for 3D printers like the Anycubic Photon Mono X (my review) for around $28.
They mostly get shipped over from China so there is going to be a waiting time on them. If you need a sheet urgently, you should probably go with Amazon.
McMaster-Carr
McMaster-Carr offers you a 24 by 12 inches wide sheet at a price of $17.10. You can easily get 6 FEP sheets of about 5.5 inches which can fit in most of the resin 3D printers, and it will only cost you about $2.85 per sheet.
This is cheaper as compared to the price tags on Alibaba.com, Express.com, Amazon.com, and other marketplaces.
Check out the Clear Slippery High-Temperature FEP Film on McMaster-Carr. It looks a little confusing at first because the navigation isn't great, but it shows you the:
Thickness
Thickness tolerance
Lengths, ft.
Price per ft. ($)
You want to go with the 0.005″ thickness, which translates to 127 microns or 0.127mm, close to the usual 100-150 microns that you see with other brands. Some people even go up to 200 microns and print their resin models just fine.
These are a massive 24″ wide and 1 foot of 0.005″ FEP film costs you under $20 (excluding shipping and tax).
FlexVat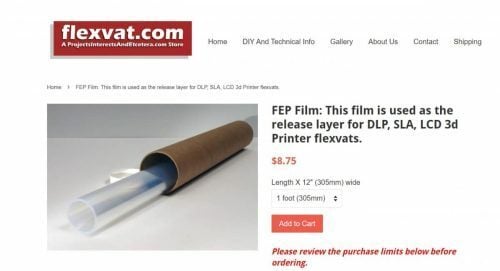 Buying rolls instead of pre-cut FEP sheets is much beneficial if you work on different types of 3D printers and require FEP sheets of varying sizes.
You can easily cut them according to your required sizes. Flexvat.com provides FEP sheets of 12 inches wide for $8.75 per foot.
These sheets are manufactured with care and have high strength as well as puncture-resistance. They've sold over 10,000 feet of FEP film to date, and expect to sell plenty more in the future!
They do currently have a purchase limit of 1 to 5 feet, but that won't matter for most people. It's not sold in sheets by the way, it comes rolled in a tube.