Simple Anycubic Photon Mono X Review – Worth Buying or Not?
Resin 3D printers have been gaining in popularity, though they used to be really small in size. The narrative is changing, with the release of the Anycubic Photon Mono X, it adds a serious contender in those larger resin 3D printers, all for a competitive price.
Many people were in the same boat that I was in. Moving from FDM printing, over to this magical liquid that can turn into plastic right before your eyes, it seemed like a huge step, but it was a lot easier than I thought!
I've been using this 3D printer for the past month, so I felt that I had enough usage and experience to give it a thorough review, to help you make the decision on whether to get it for yourself or not.
To be honest, from delivery to unboxing, to printing, I was surprised at each stage. Follow me on this short journey, through this review to get more desired details on the Anycubic Photon Mono X MSLA 3D printer.
The first thing I loved is just how well packaged the Photon Mono X was, with all kinds of cardboard and plastic corner frames to keep everything sturdy, fixed, and in place during delivery.
There was plenty of padding and styrofoam to ensure it arrives to you in good order. As I removed each piece, it was almost as if they were glowing. High quality parts, professionally manufactured, it felt luxury.
When I compare the unboxing experience to my first 3D printer, the Ender 3, it was a much more pleasing and exciting experience. My favorite had to be the main printer and the Z-axis lead screw, linear rail combination.
It was heavy, shiny, and very aesthetically pleasing, as was the acrylic cover and the rest.
The unboxing experience was great, and assembly just as simple, although I did unfortunately get a US plug rather than a UK plug! It wasn't the greatest scenario, though easily corrected with an adapter, and most probably won't have this issue.
You can realistically get started printing in less than 5 minutes, it's that simple.
This review will look into the features, benefits, downsides, specifications, what comes in the box, tips for working with the printer, other people's experiences and more so stay tuned.
That aside, let's dive into the features of the Photon Mono X to see what we are really working with, from printer, to parts, to software.
Check the price of the Anycubic Photon Mono X at:
Here's a quick peek at some of the prints made on this 3D printer.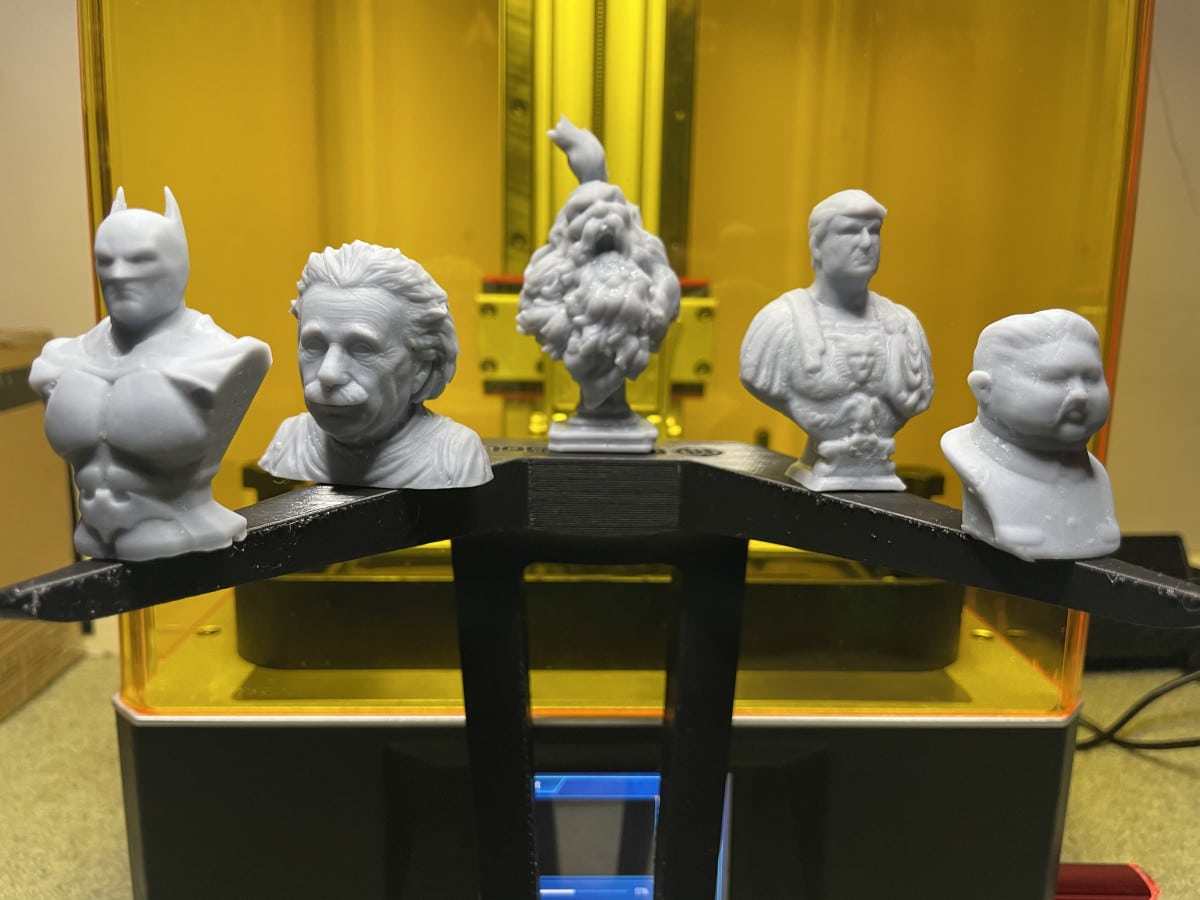 Features of the Anycubic Photon Mono X
I think it's important to go through the list of features that this 3D printer holds, so we can get a good idea of its quality, abilities, and limitations.
In terms of features for the Anycubic Photon Mono X, we have:
8.9″ 4K Monochrome LCD
New Upgraded LED Array
UV Cooling System
Dual Linear Z-Axis
Wi-Fi Functionality – App Remote Control
Large Build Size
High Quality Power Supply
Sanded Aluminum Build Plate
Fast Printing Speed
8x Anti-Aliasing
3.5″ HD Full Color Touch Screen
Sturdy Resin Vat
8.9″ 4K Monochrome LCD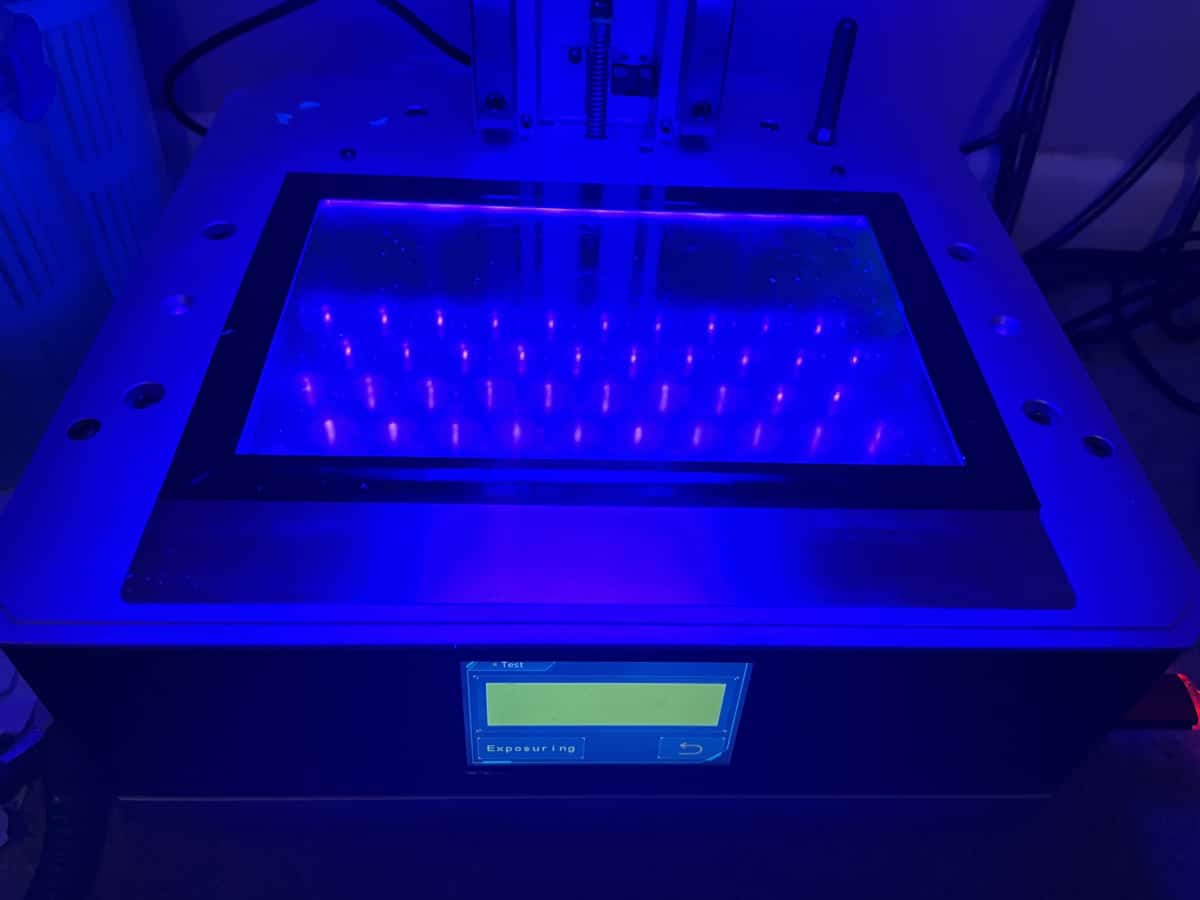 One of the features that sets this 3D printer apart from most is the 4K monochrome LCD as opposed to the 2K versions.
Since it's a much bigger resin 3D printer, in order to match the quality and precision of those smaller machines, the 8.9″ 4K monochrome LCD was a much-needed upgrade.
It has an ultra-high resolution of 3840 x 2400 pixels.
You would usually go down in print quality when increasing the size of a printer, so the Anycubic Photon Mono X made sure not to skip out on that high quality that we look for with resin prints.
When comparing models I have printed on this printer and models in pictures online or in videos, I can definitely say it stays in steady competition. The print quality is amazing, especially when committing to those lower layer heights.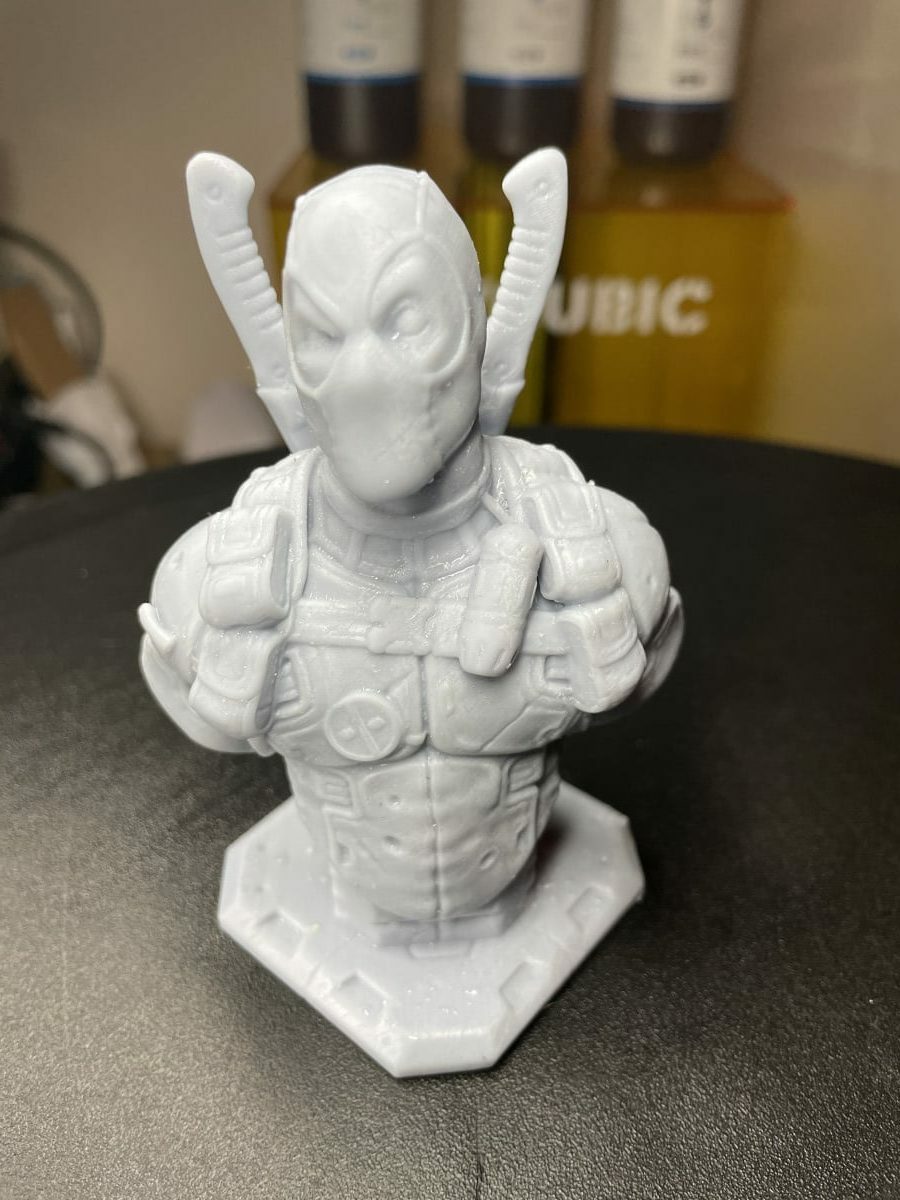 One of the best things about these monochrome screens is that they can last a few thousand hours. Normal color screens used to give up pretty quick, but with these monochrome LCDs, you can expect a service life of up to 2,000 hours.
Another thing that I love is just how short it allows your exposure times to be (more on that later), leading to faster 3D prints compared to older models.
New Upgraded LED Array
The way the UV light is displayed has been upgraded to improve its even spread and uniform light energy throughout the build area. Anycubic decided to go with some high quality quartz lamp beads and a new matrix design for great quality.
This new generation matrix design works very well for the high precision of your 3D prints.
The way your prints cure are a huge part of what makes your 3D prints come out so precise and accurate, so this is a feature that we can all appreciate.
UV Cooling System
Many people don't realize that temperature is at play with resin 3D prints while in operation. If you don't control for the heat on a regular basis, it can really reduce the lifetime of some of your parts.
The Anycubic Photon Mono X has an in-built cooling device that provides a more stable printing performance and longer service life, so you can enjoy your printing experience with lesser worries.
The UV heat dissipation channels throughout the machine works very well to efficiently cool down the necessary parts.
As you see newer printer models come out, they start to tune up and dial-in settings and techniques that make resin 3D printers even more worthwhile.
FEP film can withstand fairly higher temperatures, but when it's constant, it starts to feel the effects thereby decreasing the durability of it.
Rather than need to replace your FEP film so often, this feature helps you improve the durability of the important parts of the printer.
Dual Linear Z-Axis
Being a larger resin 3D printer, the Z-axis is nicely supported by dual linear rails for a significant improvement in stability.
It combines that with the stepper screw motor and an anti-backlash clearance nut, further improving the motion precision, as well as reducing that risk of layer shifting.
This feature works so well, I even managed to forget to tighten the main build plate screw and a 3D print still came out really well! This 'testing' just goes to show how effective the smooth movements are, although I wouldn't repeat it for unspecified reasons.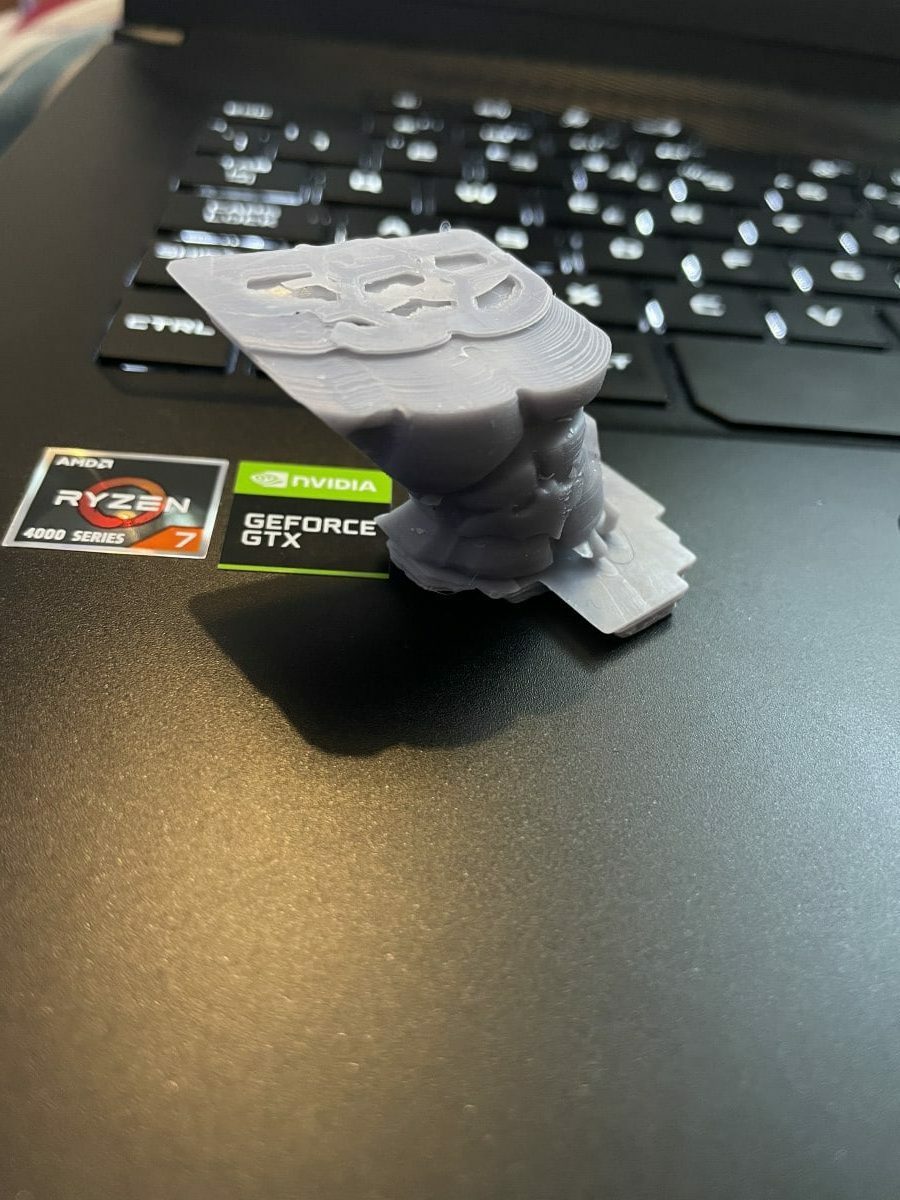 Layer lines come out pretty much invisible when you print with the Anycubic Photon Mono X, especially when you start moving to the upper limits in resolution at 0.01mm or just 10 microns.
Although FDM printing can achieve that, it mostly takes post-processing or an extremely long print. I know which one I would prefer.
Wi-Fi Functionality – App Remote Control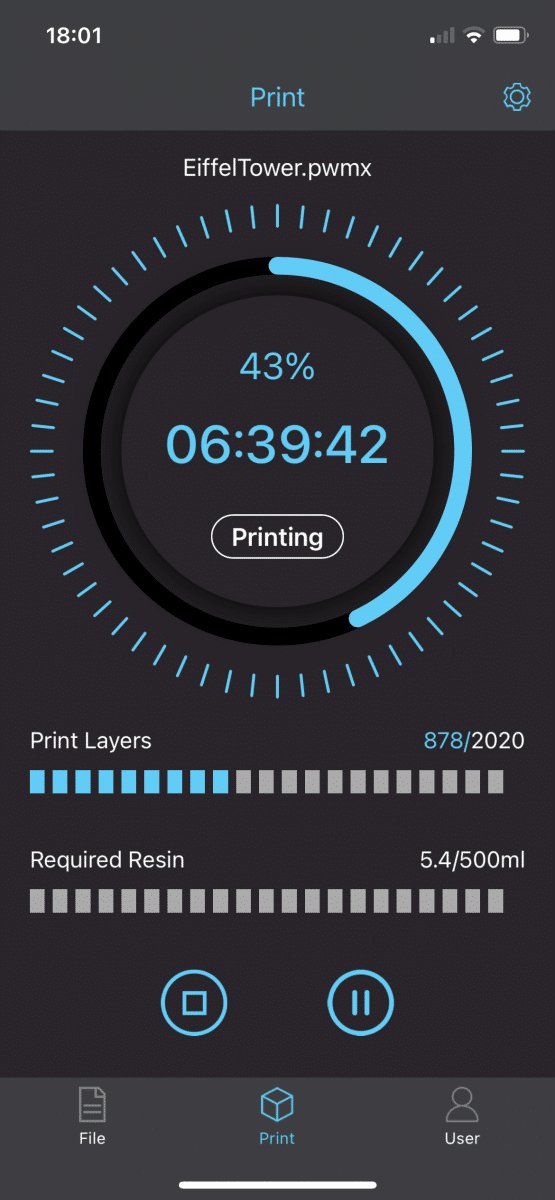 This picture above is a screenshot taken from my phone of the Anycubic 3D App.
Now when you move from an FDM 3D printer like the Ender 3 over to one that has some built-in Wi-Fi functionality, it feels pretty great! I had some troubles setting this up at first, but after following a YouTube guide, the Wi-Fi started working as expected (shown in the video later in this review).
What you can actually do with this app is:
Have remote control over your printing, whether that is changing key settings such as exposure times or Z-lift distances
Monitor your printing progress to see exactly how long your prints have been going, and how long it will take to finish
You can actually begin prints and pause them
Look at a historical list of past prints, as well as their settings so you can see what worked for all of your prints
It works really well and does what I'd expect a Wi-Fi capable 3D printer would do. If you have a webcam monitor, you can pause prints and check whether the bottom layers have proper adhered to the build plate remotely.
You can have multiple Anycubic 3D printers that are Wi-Fi capable and manage them within the application, which is pretty cool.
To set things up, you basically have to screw in the Wi-Fi antenna, get your USB stick and write in your Wi-Fi username and password in the Wi-Fi text file. Then you insert the USB stick into your printer and actually 'Print' the Wi-Fi text file.
Next you go into your printer and hit 'System' > 'Information', then the IP Address section should load if done correctly. If it shows an error, then you want to double-check your Wi-Fi username & password, as well as the format of the text file.
Once the IP address loads, you simply download the Anycubic 3D app and enter this in under the 'User' section, then it should be connected. The 'Device Name' can be anything you want to name your device, mine is 'Mike's Machine'.
Large Build Volume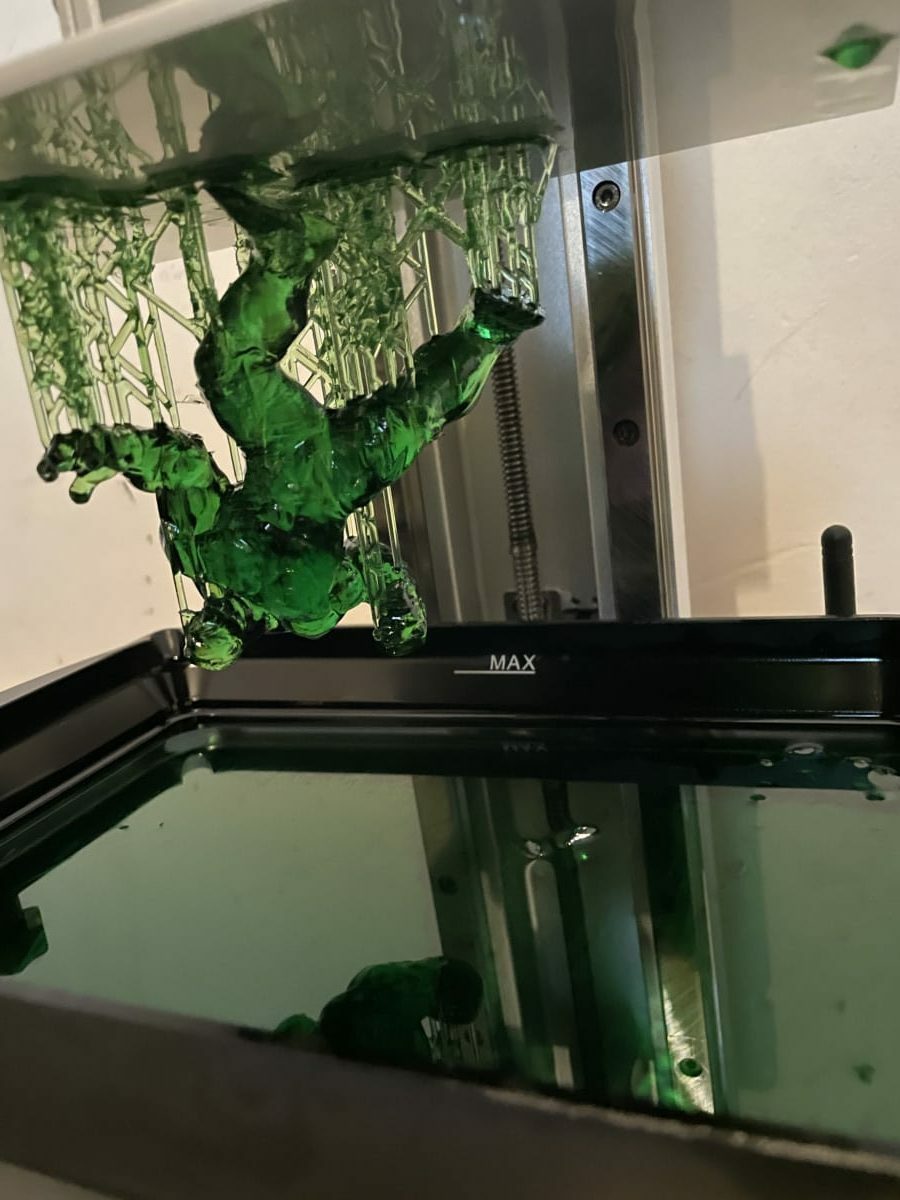 One of the most popular features of the Anycubic Photon Mono X is the large build size that it comes with. When you compare the build plate to some of those older models, you realize just how bigger it is.
When you get the Mono X, you can enjoy a build area of 192 x 120 x 245mm (L x W x H), a really great size for printing several miniatures at once, or creating one massive high quality print. It's great for when you have to split large models.
Although the smaller resin printers work really well, when it comes time to expand your limitations, and create prints that really make an impact, you can do that very well with the larger build volume.
When you compare it to the previous Anycubic Photon S build volume of 115 x 65 x 165mm, you can see just how significantly larger it is. There's about a 50% increase in the X and Z axis, and almost double in the Y axis.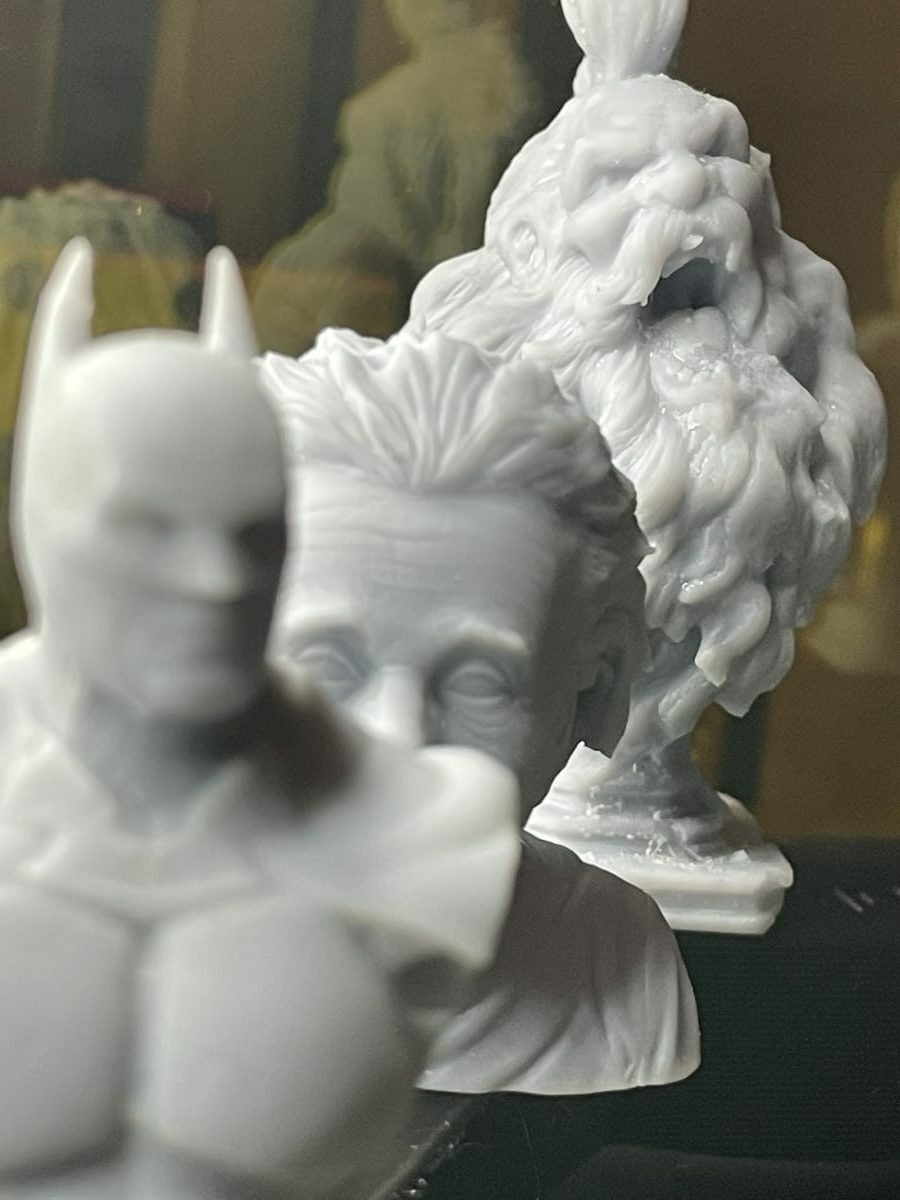 High Quality Power Supply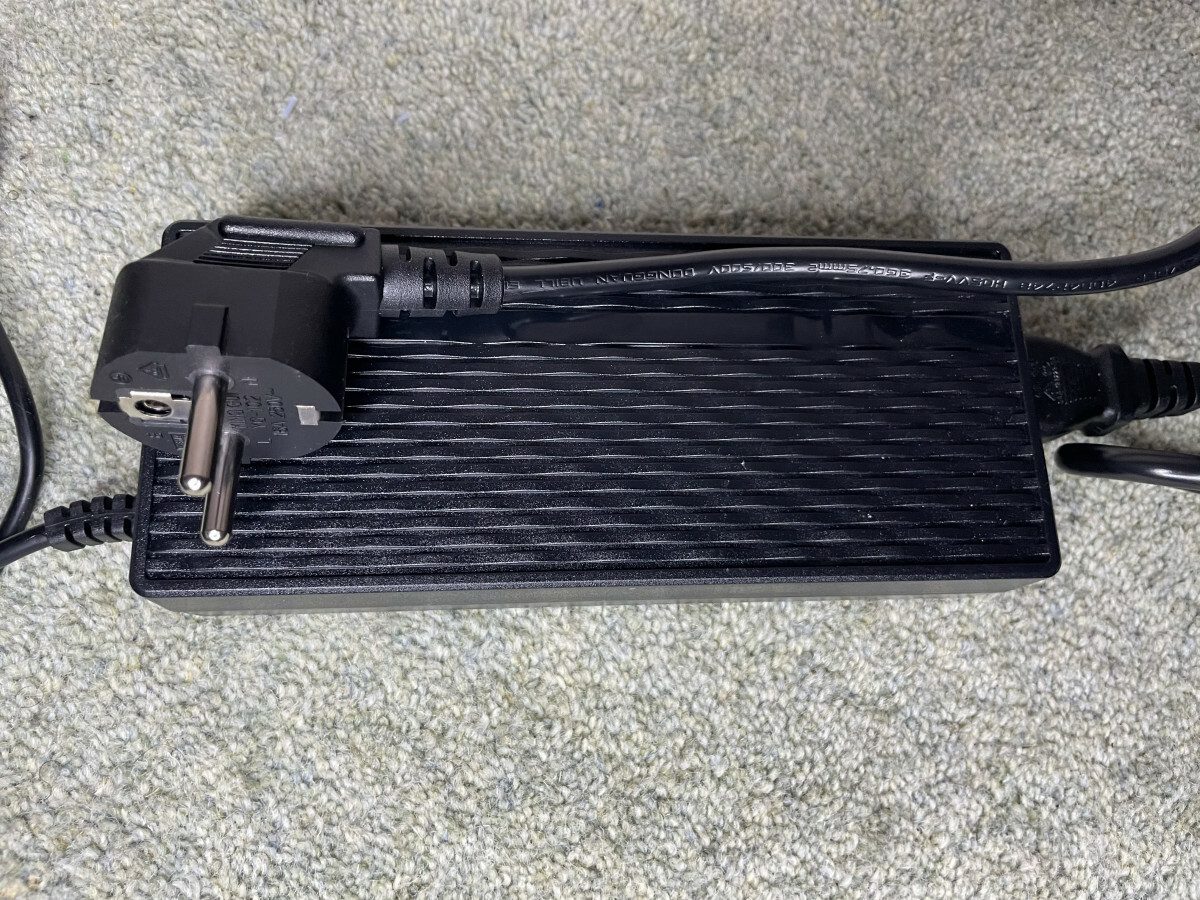 In order to operate such a large resin 3D printer effectively, the power behind it ideally is of high quality. The Mono X has a power supply which definitely gives users the ability to operate it without issues.
The rated power comes to 120W and easily passes TUV CE ETL international safety certifications, ensuring that you have a safe power supply throughout your resin printing experience.
Unfortunately for me, I received the wrong plug for the power supply, though it was a quick fix by purchasing a plug adapter which has been working perfectly since.
Sanded Aluminum Build Plate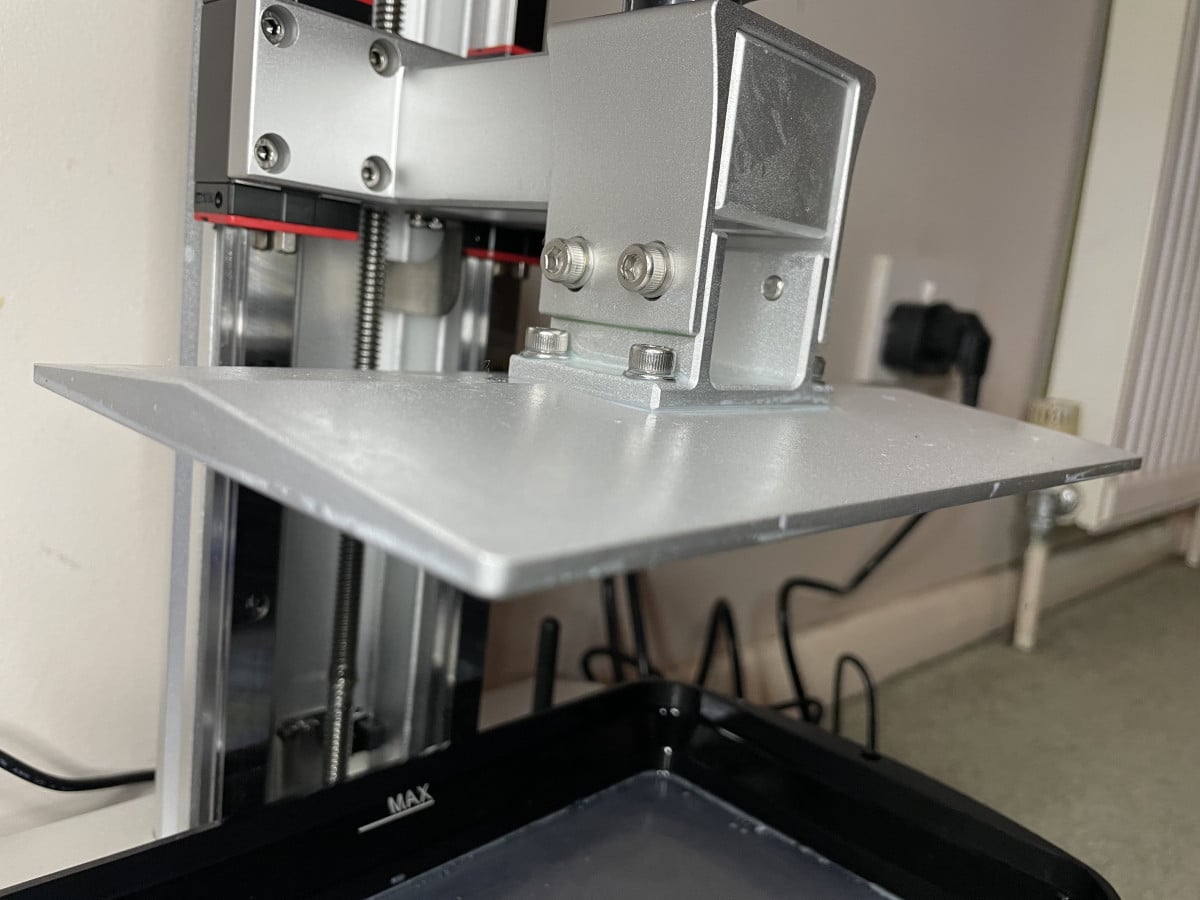 The build plate is aluminum and very well made. When I opened the package, I noticed how clean and high quality each part was, and the shiny sanded aluminum build plate looks really beautiful out the box.
Anycubic made sure to provide a brushed aluminum platform to significantly enhance the adhesion between the platform and the models.
They aren't going to account for badly set up orientations and suction issues with prints, though once you dial things in, adhesion is pretty good.
I did have some build plate adhesion issues to begin with, but that is mostly fixed with good calibration and the right settings.
I done some extra research and found out that PTFE lubricant spray on the FEP film works well. It provides less adhesion on the film, so prints can properly adhere to the build plate rather than the FEP.
You can get yourself some PTFE spray from Amazon. A good one is the CRC Dry PTFE Lubricating Spray, affordable and has worked well for many users.
Fast Printing Speed
Another key feature of the Mono X is the super fast printing speeds. When you hear that single-layer exposures only take around 1-2 seconds, you can start to realize just how quick this machine can go.
Older resin SLA printers would have single-layer exposure times of 10 seconds and above for some resins, though with more transparent resins, they can do a little lower, but nothing compared to this 3D printer.
You're getting a maximum printing speed of 60mm/h, 3 times faster than standard resin printers. Not only is the quality high and build volume larger, you can also finish those larger prints even faster than older models.
There are so many reasons to choose or upgrade to the Mono X, and it has been doing an amazing job for me since I got it.
When you have thousands of layers, those seconds really add up!
Even the off time can be reduced due to the monochrome screen.
Anycubic Photon Workshop Slicer – 8x Anti-Aliasing
Anycubic developed their own slicing software that creates the specific file type that the Photon Mono X can understand, called a .pwmx file. The Photon Workshop honestly isn't the greatest, but you can still do what you need to do to get printing.
Recently I had the software crash a few times, so instead of doing adjustments with the slicer, I used the ChiTuBox slicer to do all my settings, supports, and rotations, then saved the file as an STL.
When saving the file, simply add '.stl' to the end of the file name, and it should convert to an STL file.
Then I simply imported that new STL file back into the Photon Workshop and sliced that file. This worked well to avoid the crashes in the software. You can add your auto-supports, hollow the model, punch holes, and move around seamlessly with the ChiTuBox slicer.
At first, the crashes wern't happening on the Photon Workshop slicer, though it probably depends on the complexity and size of the model.
As I was doing more research though, I found out about the Lychee slicer which recently updated it's application to be able to export files as the exact type you need for the Mono X. This means you can bypass the Photon Workshop slicer and get past the sometimes buggy software.
You have 8x anti-aliasing support which I haven't tried myself, though many people say it works pretty well with the Mono X. Anti-aliaing is a technique that smoothens out layer lines and fixes imperfections in your model.
3.5″ HD Full Color Touch Screen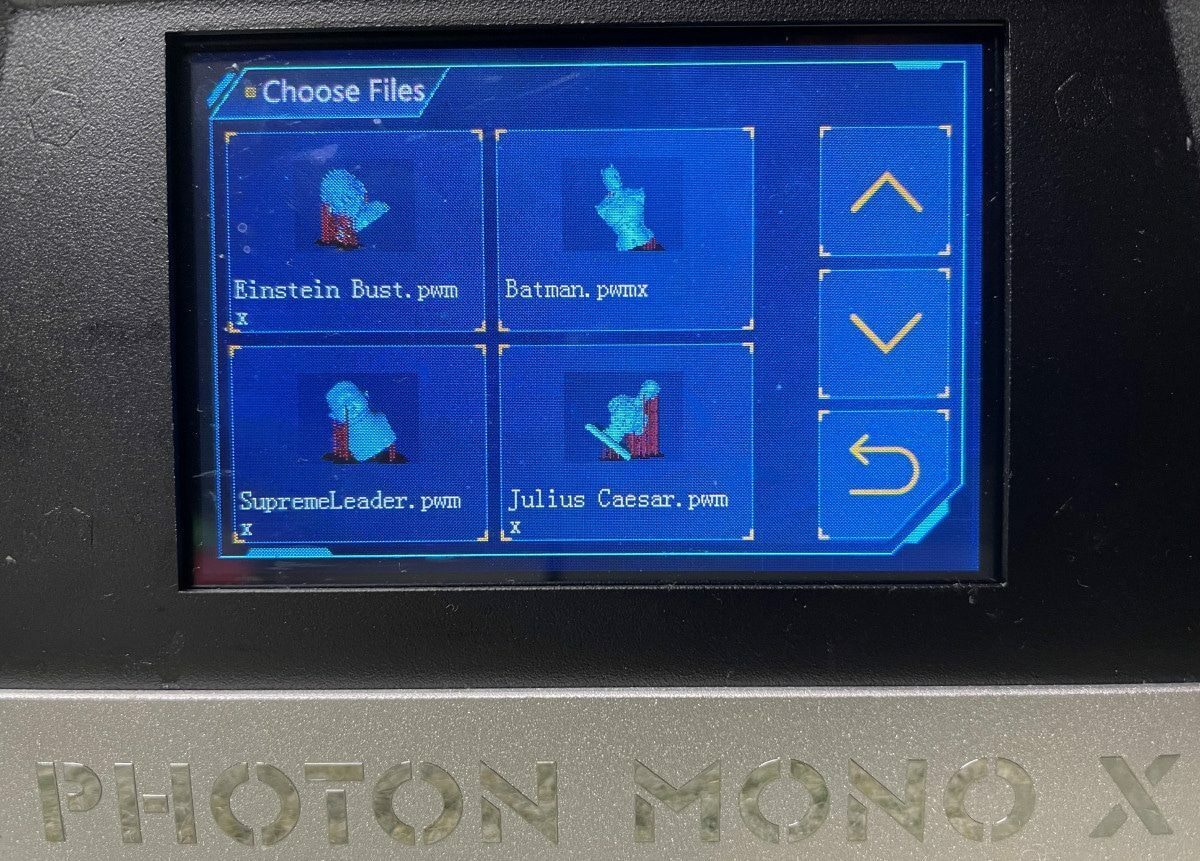 The operation of the Mono X is very clean, simple and easy to navigate. It really does pretty much everything you'd desire with a touch screen on a resin printer, with a lovely responsive display.
It has a preview option for when you have a listing of the models on your USB, which shows great detail. Settings are easy to choose between and change with the numeric entry.
I've had instances where I've input a setting and it didn't go through straight away, though with another entry, it goes through just fine. This could have been the angle at which I was pressing the screen which ended up pressing the back button instead!
Overall, it's a smooth experience and something that most users love.
Sturdy Resin Vat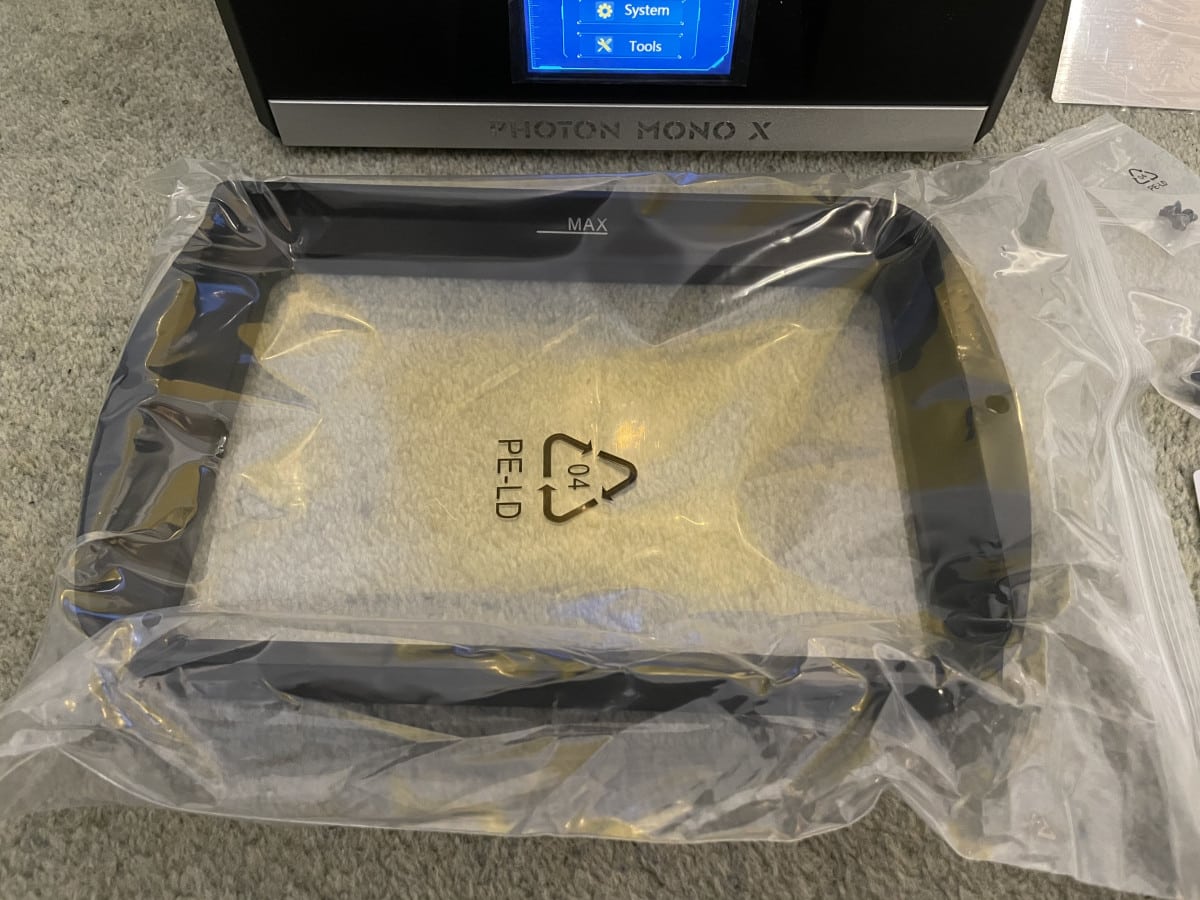 The resin vat sits in place nicely into the 3D printer with the thumb screws giving it even more of a secure fit. When you first touch the resin vat, you instantly feel weight, quality and detail.
They are manufactured very nicely, along with the FEP film that's attached to the resin vat where your resin sits on top of.
I've heard about some other models of resin 3D printers not having a maximum resin level mark on the vat, meaning you don't know where to fill it up to. The Mono X has a 'Max' symbol printed onto the resin tank for easy reference.
Benefits of the Anycubic Photon Mono X
You can get printing really quickly, all within 5 minutes since it's mostly pre-assembled
It's really easy to operate, with simple touchscreen settings to get through and it even has model previews before you start printing
The Wi-Fi monitoring app is great for checking on the progress and even changing settings if desired
Having a large build size with the MSLA technology means full layers are cured at once, resulting in very quick printing
Looks very professional and clean so it can sit in many places without looking like an eye sore
Simple leveling system, requiring you to loosen the 4 screws, place the leveling paper below, press home, press Z=0, then tighten the screws
Amazing stability and precise movements that lead to almost invisible layer lines in 3D prints
Resin vat has a 'Max' line on it and a dented edge which provides easier pouring of resin into bottles for cleaning
Build plate adhesion works pretty well and is very sturdy
Produces amazing resin 3D prints consistently
Growing Facebook Community with plenty of helpful tips, advice, and troubleshooting
There are so many benefits that people love about the Anycubic Photon Mono, it's a worthwhile machine that does it's job, and plenty more.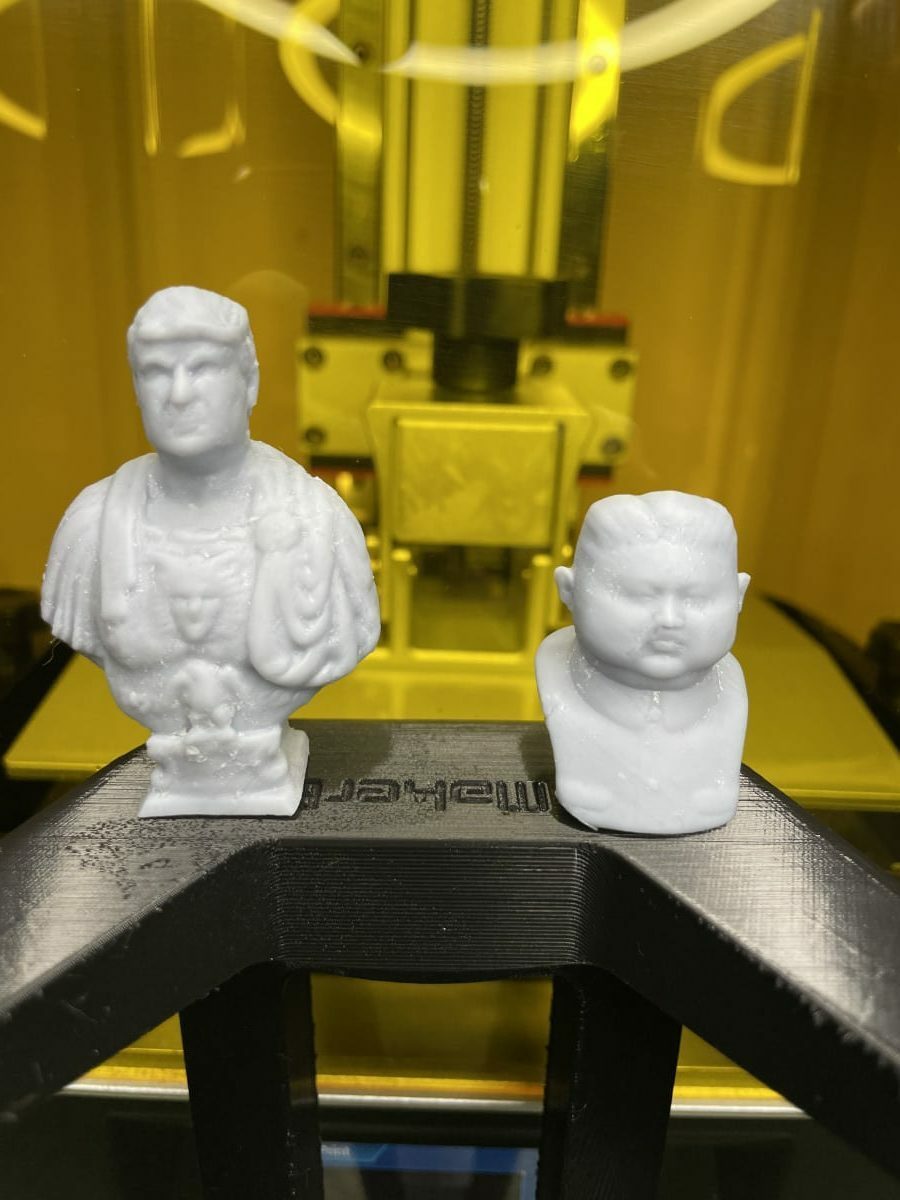 Downsides of the Anycubic Photon Mono X
I think the first downside to mention about the Anycubic Photon Mono X is how it only reads or recognizes the specific .pwmx file. This means that you have to go through extra steps to convert files through the Photon Workshop then transfer that to your USB.
It took me some time to figure this out, but once you know how it works, then it's pretty much smooth sailing. You don't have to slice within the Photon Workshop since it recognizes STL files.
You can make use of Prusa Slicer or ChiTuBox which are popular options, add your custom supports, rotate, scale the model and so on, then import that saved STL file into the Photon Workshop.
As previously mentioned,  I found out about a slicer called Lychee Slicer which can now actually directly save files as the .pwmx format. It has the features that you'll need and desire for a resin slicer.
In terms of the printer itself, the yellow UV acrylic cover doesn't firmly rest in place and just kind of sits on top of the printer. This means that you have to be weary about knocking into it, especially if there are pets, or kids around.
This hasn't been too much of an issue with me, but it can be a little bothersome. There is a small lip which kinda holds it in place, but not too well. You can probably add some kind of silicone or rubber seal to add some grip to the surface/cover.
Even adding some blu tac in the corners or some sticky substance should improve this.
One user reported that the touch screen was a little flimsy when pressing down on it, but mine is really sturdy. This could have been a quality control issue with assembly not securing this specific printer's screen properly.
Removing prints from the build plate after finishing does require care since the uncured resin starts dripping off. It's quite tight in terms of space, so you have to be careful to tilt the build plate properly towards the resin vat to catch the drips.
The pricing seems to be quite steep, though for the build volume and features you are getting, it does make sense. There are sales from time to time so I would look out for those.
I think the best pricing comes direct from the Official Anycubic website, though their customer service can be pretty hit or miss.
I've heard people getting much better customer service by getting the Anycubic Photon Mono X from Amazon, though the prices seem to be a lot higher right now. Hopefully it lowers or matches the price on the website as soon as possible.
If you need customer service from Anycubic, the avenue that worked for me was their Facebook page.
Specifications of the Anycubic Photon Mono X
Operation: 3.5″ Touch Screen
Software: Anycubic Photon Workshop
Connectivity: USB, Wi-Fi
Technology: LCD-Based SLA
Light Source: 405nm Wavelength
XY Resolution: 0.05mm, 3840 x 2400 (4K)
Z Axis Resolution: 0.01mm
Layer Resolution: 0.01-0.15mm
Maximum Printing Speed: 60mm/h
Rated Power: 120W
Printer Size: 270 x 290 x 475mm
Build Volume: 192 x 120 x 245mm
Net Weight: 10.75kg
What Comes With the Anycubic Photon Mono X?
Anycubic Photon Mono X 3D Printer
Aluminum Build Platform
Resin Vat with FEP Film Attached
1x Metal Spatula
1x Plastic Spatula
Tool Kit
USB Drive
Wi-Fi Antenna
x3 Gloves
x5 Funnels
x1 Mask
User Manual
Power Adapter
After Sale Service Card
The gloves are disposable and will soon run out, so I went and purchased a Pack of 100 Medical Nitrile Gloves from Amazon. They fit really well and are comfortable to move around in.
Another consumable that you'll need are some filters, and I also advise you get a silicone funnel holder to plant the filter inside the bottle. I had a terrible time trying to funnel in the resin with just the flimsy filter by itself because it doesn't sit in the bottle enough.
A good set of filters is the Jeteven Silicone Funnel with Disposable Filters (100 pcs). It comes with a 100% satisfaction guarantee or your money back, but they do work really well for all your resin filtering needs.
I'd also get some spare FEP film because it can get pierced, scratched or damaged, especially as a beginner. It's good to have some on stand-by just in case. Since the Photon Mono X is larger, those standard 200 x 140mm FEP films won't work.
We need to get ourselves some 280 x 200mm FEP film sheets to properly fit our resin vat. I found a great source for these called The 3D Club FEP Film Sheets, at 150 microns or 0.15mm. It comes with a nice set of 4 sheets so it can last you plenty of time.
One user who was having many failed prints ended up replacing their FEP film with the one above and it solved their problems nicely.
Customer Reviews of the Anycubic Photon Mono X
In the earlier days, the Anycubic Photon Mono X definitely had some issues here and there, but now with the feedback taken on board, we now have a solid 3D printer that you can be confident in purchasing for yourself or for someone else.
The cover used to crack easily – this has been corrected by implementing a laminate with plastic sheathing around it.
The cover would just rest on the printer without stops – a small lip has been integrated into the printer so it has a stopper at least.
The Photon Workshop is buggy and crashes – this is stil an issue, though using Lychee Slicer is the best solution.
Some build plates didn't come flat and it looks like they sent replacements for the uneven plates then corrected future ones – my one worked really well.
With the issues to one side, most users really love the Mono X, including myself. The size, the model quality, the speed, the ease of operation, there are many reasons why customers would recommend this resin 3D printer.
One user who made prints with 10 objects on their Elegoo Mars managed to fit 40 of the same objects on the Mono X with ease. The operation of the printer is really quiet, so you don't have to worry about disturbing the environment.
Compared to my Ender 3, the noise emitted is so much lower!
The fact that you can have normal layers cure at just 1.5 seconds is amazing (some even down to 1.3), especially considering that previous resin printers had normal exposure times of 6 seconds and above.
Overall, other than the early days with the issues that arose, fixes have been put into place to really improve the customer experience with the Photon Mono X.
Anycubic provide some pretty good service with the printers, though I did have some trouble figuring out the best people to contact when I had an issue.
I ordered their Black Friday 3 for 2 deal on resin where I bought 2KG of Anycubic Plant Based Resin. I ended up getting five 500g bottles of resin which was 500g short of the expected 3KG. The packaging did look strange!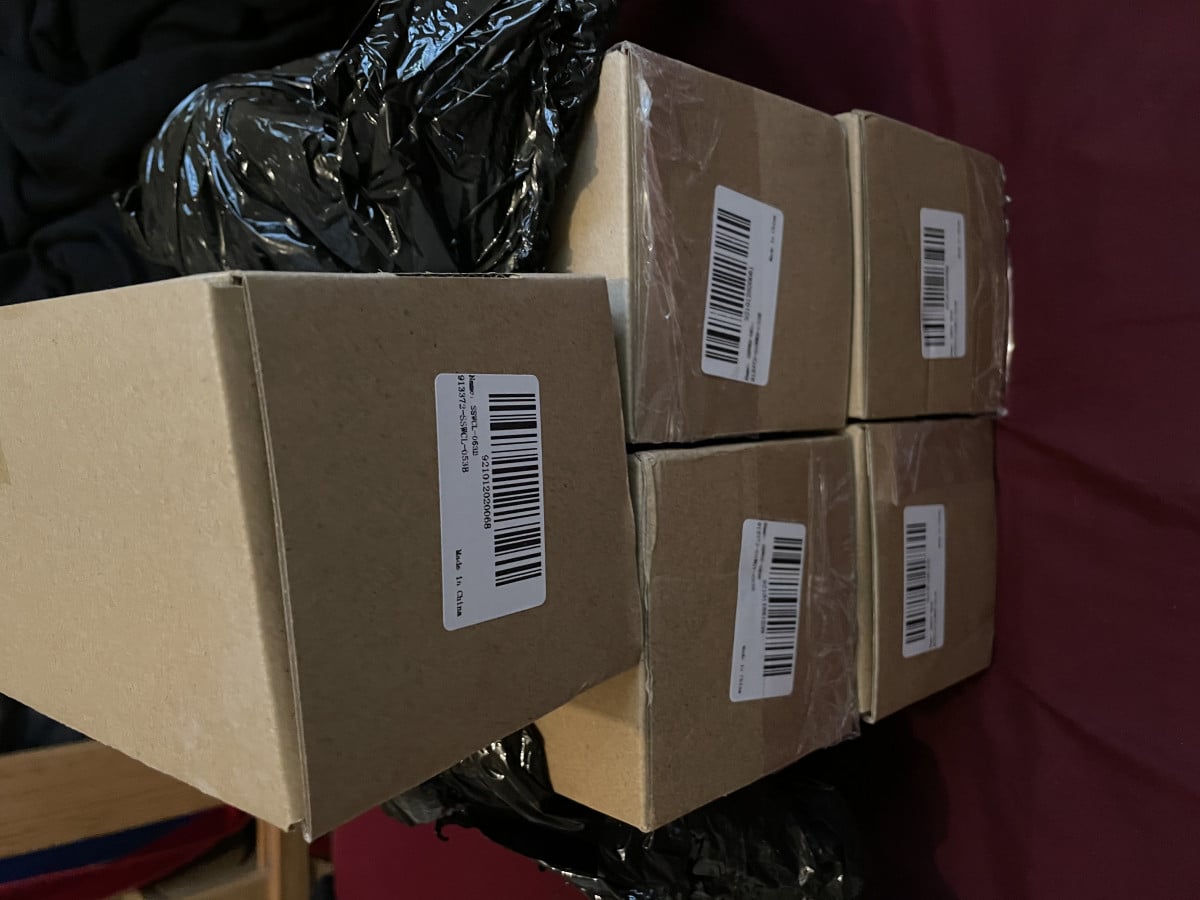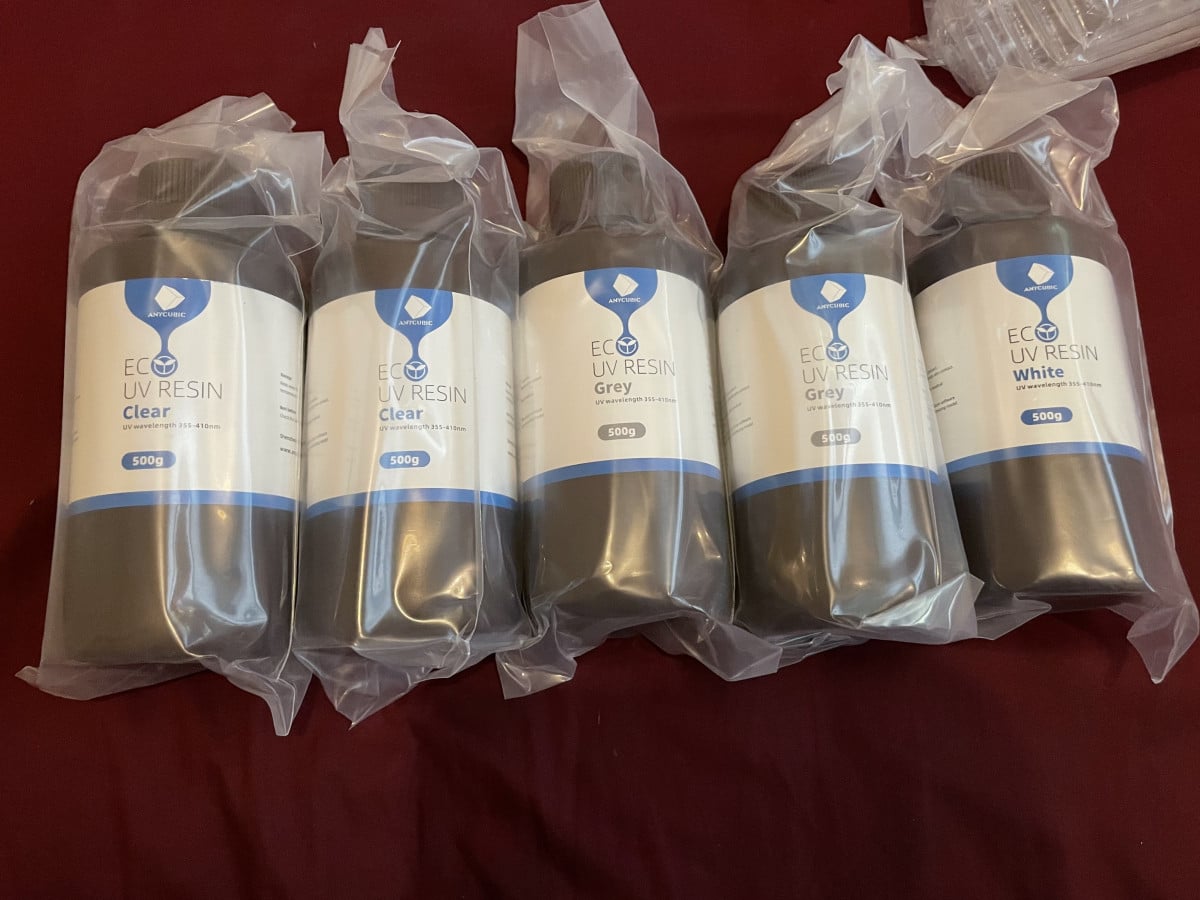 Although this doesn't directly relate to the Photon Mono X, it does relate to the overall customer experience with Anycubic and how much they value top customer service. I've heard mixed stories, with myself getting no responses from their official business email multiple times.
I did finally get a response when I contacted their official Facebook page, and the response was simple, helpful, and pleasing.
The resin is great by the way!
You can get yourself some Anycubic Plant-Based Resin from Amazon or from the Official Anycubic website (there may still be a deal).
It's biodegradable and made from soybean oil for a real eco-friendly experience
Contains no VOCs, BPA, or harmful chemicals – complying with EN 71-3:2013 safety standards
Has a very low odor compared to other resins out there, the normal Anycubic Transparent Green resin really packs a punch in the odor category!
Low shrinkage for better dimensional accuracy with your models
Recommended Settings & Tips for the Anycubic Photon Mono X
Photon Mono X Settings
There is a main Photon Mono X Settings Sheet in Google Docs that users implement for their printers.
Below are the rough limits to what settings people are using with their Photon Mono X printers.
Bottom Layers: 1 – 8
Bottom Exposure: 12 – 75 seconds
Layer Height: 0.01 – 0.15mm (10 microns – 150 microns)
Off Time: 0.5 – 2 seconds
Normal Exposure Time: 1 – 2.2 seconds
Z-Lift Distance: 4 – 8mm
Z-Lift Speed: 1 – 4mm/s
Z-Lift Retract Speed: 1 – 4mm/s
Hollow: 1.5 – 2mm
Anti-Aliasing: x1 – x8
UV Power: 50 – 80%
The USB that comes with the Photon Mono X has a filed called RERF, which stands for Resin Exposure Range Finder and it allows you to dial in the ideal curing settings for your resin prints.
The darker the resin you are printing with, the higher exposure times you'll need to print successfully. A transparent or clear resin is going to have really low exposure times in comparison to a black or grey resin.
I'd look at the Google Docs file above and test out those settings to start you in the right direction. When I first tried out my Photon Mono X, I just went in blind and picked a 10 second normal exposure for some reason.
It worked, but my transparent green prints wern't so transparent! A better exposure time would have been in the 1 to 2 second range.
The Z-lift settings are generally simple, the main thing to keep in mind is that you want to slow things down when you are printing large models, because there is a lot more suction pressure when the build plate is covered.
UV power is a setting that is adjusted directly in the printer's settings. I'd definitely check that over when you get your Photon Mono X, and try to avoid using 100% UV power as it's really not needed with this powerful machine.
Photon Mono X Tips
3D print yourself a Photon Mono X Drain Bracket from Thingiverse, created by frizinko.
I'd definitely recommend joining the Anycubic Photon Mono X Facebook Group for assistance, tips, and print ideas.
You can get yourself a magnetic build plate for easier removal of 3D prints, especially useful if you like to print multiple smaller models at once.
Shake your bottle of resin before pouring it into the resin vat. Some people actually warm up their resin for more successful printing results. Resin does need to work at a fairly adequate temperature, ensuring it's not too low.
If you 3D print in a garage, you might want to get an enclosure with a heater hooked up to a thermostat so it can regulate the temperature.
For larger prints, you might want to decrease your lift speed and off time
In terms of normal exposure, you can get better adhesion with higher exposure times, though you might get better print quality when you lower it.
Lower exposure times can lead to weaker resin prints due to not curing enough, so you might find you are printing weak supports. You want to find a balance between adhesion, print strength, and print detail with your exposure times.
It's going to depend on the brand of resin, the color of resin, your speed settings, UV power settings, and the model itself. Once you get more experience in the resin printing field, you'll find it easier to dial in those settings.
That's why you should definitely join the Facebook group above, because you have a great source of experienced 3D printer hobbyists who are more than willing to assist you.
Photon Mono X Slicers
Anycubic Photon Workshop (.pwmx format)
PrusaSlicer
ChiTuBox
Lychee Slicer (.pwmx format)
As previously mentioned, Photon Workshop isn't the greatest slicer at all when I used it, and is prone to crashes when you are halfway through processing your model.
I'd love to say the Photon Workshop slicer worked great, similar to the Photon Mono X, but they definitely need to implement fixes more often and more promptly.
This can be completely avoided now with the Lychee Slicer, which allows you to save files directly as a .pwmx file for the Mono X.
I've had a look at the interface and I am amazed by the features, simplicity, and ease of use of the slicer. At first it does seem a little busy, but once you understand the process, it is real easy to navigate and adjust your models with ease.
ChiTuBox Slicer is always a good option, though it currently doesn't have the capability to save files as .pwmx, though this may change in the future. The features you can get in ChiTuBox can be found in Lychee Slicer so I'd definitely recommend it.
Anycubic Photon Mono X Vs Elegoo Saturn Resin Printer
(I followed this review to learn how to set up the WiFi, it's worth a watch).
With the release of the Photon Mono X, people wondered how it would stand up against the Elegoo Saturn, another resin 3D printer with quite similar characteristics.
The Photon Mono X is about 20% taller than the Saturn (245mm vs 200mm).
There is built-in Wi-Fi with the Mono X, while the Saturn has an Ethernet printing function.
The price difference is quite significant, with the Saturn being cheaper than the Mono X, though Anycubic have sales that give a great reduced price sometimes.
The Saturn uses .ctb files, while the Mono X is specialized to the .pwmx files, though we can make use of the Lychee Slicer for this format.
Elegoo is known to have better customer support than Anycubic, and I've definitely heard stories of poor service with Anycubic in some cases, even down to my own experience.
One thing that can be annoying is the open screws on the Mono X which can collect resin depending on how much you fill up the resin tank.
In terms of speed, the Mono X has a maxiumum of 60mm/h, while the Elegoo Saturn sits at a lower 30mm/h.
Another less important comparison is the Z-axis accuracy, where the Photon Mono X has 0.01mm and the Saturn has 0.00125mm. When you get down to practicality, this difference is barely noticeable.
This is only for really small prints, since you wouldn't want to print at such a tiny layer height as it would take a very long time to print!
Both 3D printers have the 4K monochrome screens. They both have the same XY resolution, so essentially the same print quality.
Resin 3D printers simply use UV light to cure the resin, specifically designed to be cured with a 405nm wavelength light.
It doesn't change depending on what brand of printer you use.
Most people agree that the Anycubic Photon Mono X is the better printer, but it's most worth it when there is a sale going on. They should definitely look into having a lower set price, because I've seen all kinds of price fluctuations across different sites!
Verdict – Worth Buying the Photon Mono X or Not?
Now that we've made it through this review, I can definitely say that the Anycubic Photon Mono X is a 3D printer worth buying in a few scenarios.
You've been wanting a large resin 3D printer that can print large objects or several miniatures at once.
Printing speed is important to you, having 60mm/h vs 30mm/h with the Saturn, though beaten by the Mono SE at 80mm/h (smaller build volume).
You want your entry into resin 3D printing to be a grand event (like me)
Features such as high quality prints, Wi-Fi functionality, dual Z-axis for stability is desired.
You have the budget to go with a premium resin 3D printer
If some of these scenarios feel familiar to you, the Anycubic Photon Mono X is a great choice for you. If I went back in time before I purchased this printer, I'd do it again in a flash!
Get yourself the Photon Mono X either from the Official Anycubic Website or from Amazon.
Check the price of the Anycubic Photon Mono X at:
I hope you found this review helpful, happy printing!