7 Best 3D Print Tolerance Tests
Tolerance in 3D printing is the acceptable difference/deviation from the actual value of a parameter. For example, most 1.75mm 3D printing filaments mention a tolerance of ±0.02mm. This means that the size can range between 1.73mm to 1.77mm.
To 3D print models with high accuracy and precision, minimize the tolerance as much as possible by 3D printing tolerance tests.
The best 3D print tolerance tests are the Maker's Muse Clearance and Tolerance 3D Printer Gauge(s), the Customizable 3D Tolerance Test, and the Allen Key Tolerance Test. Some other tests that can also get you tolerance include the XYZ 20mm Calibration Cube and Cali Cat – The Calibration Cat.
This is just the basic answer, keep reading to find out more about the best 3D print tolerance tests.

Best 3D Print Tolerance Tests
These are the best 3D print tolerance tests out there that you can print:
Maker's Muse Clearance and Tolerance 3D Printer Gauge V2
The MakersMuse's Clearance and Tolerance 3D Printer Gauge V2 is arguably the most popular and effective tolerance test out there. The gauge has 5 gaps ranging from 0.15mm to 0.5mm, with an extra 0.4mm gap in the center.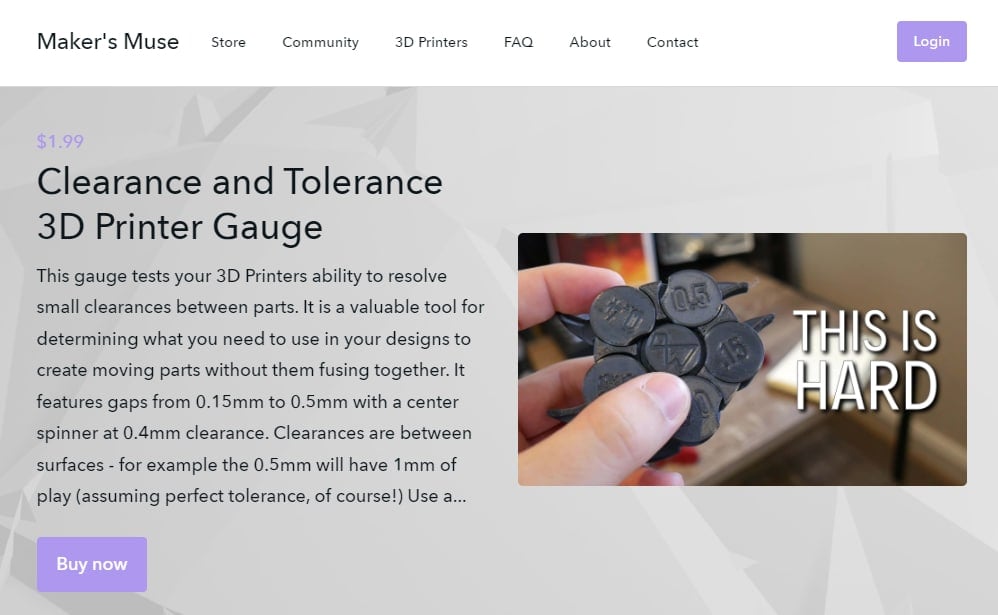 The gauge checks your 3D printer's ability to provide part clearance (the gap between two parts) and helps in tolerance evaluation. It assists in calibrating 3D printer settings to prevent parts from fusing.
3D print the test model and try opening each lock by pushing the claw with your thumb. If it opens easily and reveals "Unlocked", that means you can achieve those clearances and tolerance will be somewhat ± half of that value (i.e. ±0.05mm for 0.1mm clearance).
Below are the tips by Angus Deveson from Maker's Muse to 3D print this test:
Layer Height: 0.15mm
Good Cooling for Highest detail
No Support or Brim required
Use Skirt to Prime the Nozzle
Use Raft to prevent first layer issues, i.e. elephant foot
As suggested by users, calibrate your 3D printer first before printing the tolerance test. Wrong settings can result in inaccurate values. For instance, a too-high extrusion multiplier can cause layers to print thicker and fuse together.
One user got 0.15mm stuck and solved the issue by reducing the print temperature by 5°C and changing the extrusion multiplier from 1.05 to 1.00.
If a lock opens with extra force when it's a bit stuck, it's not advisable to use that value in 3D printing as it can lead to problems in printed parts.
Another user noticed a Repetier-Host error about a non-manifold model, although it sliced fine in Cura. These issues can occur due to tightly nested parts but the new repaired file should work well now without such problems.
Buy from: Maker's Muse for $1.99.
Designed by: Angus Deveson (Maker's Muse)
Inspired by the Maker's Muse gauge, a smaller and free version was designed by the 3DMakerNoob. The Clearance Tolerance Test with 12,000+ downloads, is one of the most popular tolerance tests on Printables.
Below is an example of a user who was able to get all of the pieces to rotate on their Ender 3 V2.
Another user printed V2 and (the older version) Maker's Muse Tolerance Gauge V1 on their Artillery Sidewinder X2 and Ender 3 printers. With the X2 3D printer, they were able to easily free up 0.2mm and 0.15mm with a little force.
However, with Ender 3, the tolerance was pretty good as they got 0.1mm easily and 0.05mm with a bit of force.
Check out the video by Gauge's designer on testing your 3D printer's Clearance and Tolerance.
XYZ 20mm Calibration Cube
The XYZ 20mm Calibration Cube by iDig3Dprinting has been downloaded a whopping 2.6 million times from Thingiverse. It is probably the simplest test to correct dimensional accuracy and test tolerance.
It is 20mm in every dimension and takes 20-30 minutes to print, making it easy for you to test and calibrate your 3D printer quickly.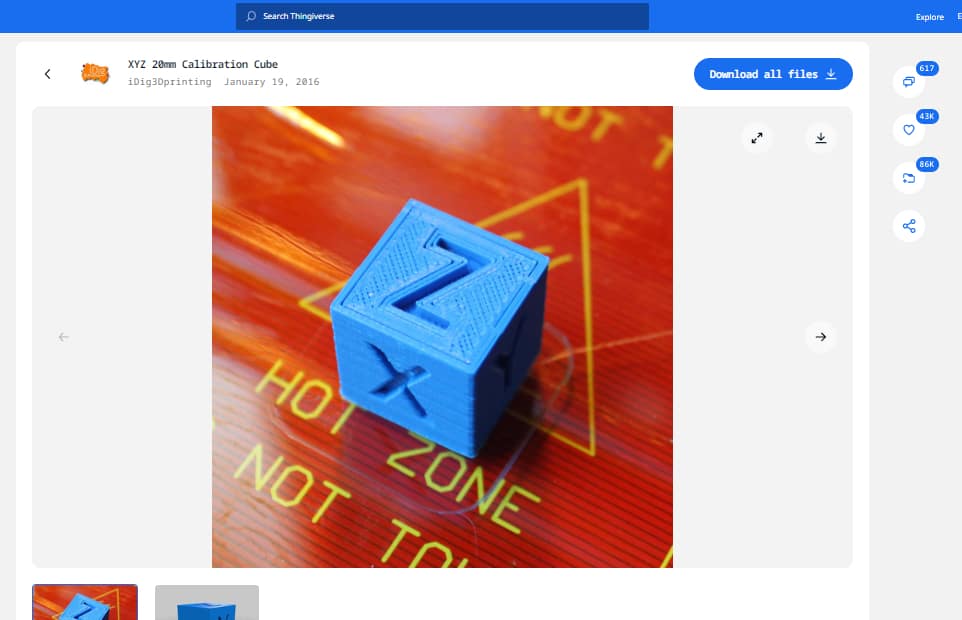 To test tolerance using a calibration cube, 3D print 2-4 of them and measure each dimension (X, Y, and Z) at the same point using a digital caliper. The Jiavarry Digital Calipers is a great option from Amazon. Its sturdy and large LCD screen makes the testing easy and less tiring.
[amalinkspro type="showcase" asin="B08Y8M54M9″ apilink="https://www.amazon.com/dp/B08Y8M54M9?tag=3dly-20&linkCode=osi&th=1&psc=1″ new-window="true" addtocart="false" nofollow="true" sc-id="6″ img-sizes="500:500″ imgs="https://m.media-amazon.com/images/I/51Tq5Zt1IzS._SL500_.jpg" link-imgs="false" specs="【STAINLESS STEEL MATERIAL】The vernier caliper is made of high-strength stainless steel and is waterproof and dirt-proof. The service life of this stainless steel digital caliper is longer than that of calipers with plastic or carbon fiber parts. Powered by battery, comes with a pre-installed battery and 2 spare batteries for gift." btn-color="#ff9900″ btn-text="Buy on Amazon" alignment="alignnone" hide-prime="0″ hide-image="0″ hide-price="0″ hide-button="0″ width="600″ banner="" alt="Digital Caliper Measuring Tool, Stainless Steel Vernier Caliper Digital Micrometer with Large LCD Screen, Easy Switch from Inch Metric Fraction, 6 Inch Caliper Tool for DIY/Household"]Digital Caliper Measuring Tool, Stainless Steel Vernier Caliper Digital Micrometer with Large LCD Screen, Easy Switch from Inch Metric Fraction, 6 Inch Caliper Tool for DIY/Household[/amalinkspro]
Let's say you printed 3 cubes and the measurements for the X-axis are 19.9mm, 20.0mm, and 20.1mm. Subtract the largest value from the smallest (20.1mm – 19.9mm = 0.2mm) and its median will be the tolerance range.
For example, here 0.2mm is the difference (which is also the value of clearance), and the tolerance should be ±0.1mm (19.9mm-20.1mm).
Though 19.9mm to 20.1mm is the tolerance range you have, it can vary depending on the type of material you're printing and the changing status of your 3D printer.
Here is a video on how to 3D print a calibration cube and fine-tune your 3D printer.
Customizable 3D Tolerance Test
The Customizable 3D Tolerance Test is one of the most popular 3D printing tests with 75,000+ downloads on Thingiverse. The gauge roller bearing inside 7 cylinders has 7 different gaps/clearances between the moving parts ranging from 0.1mm to 0.5mm.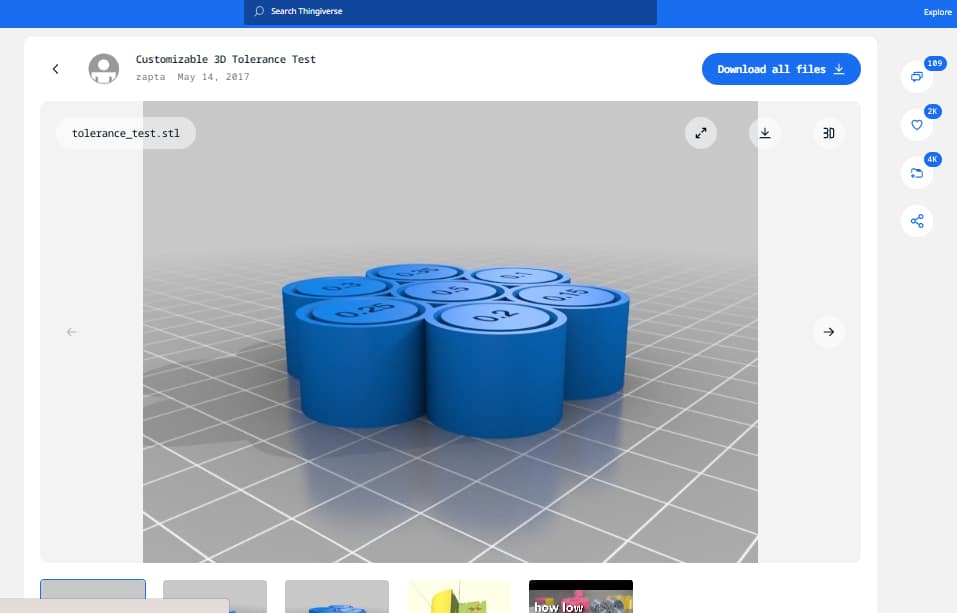 Simply 3D print the test and then try rotating each cylinder by inserting a screwdriver into the slot from underneath. You need to verify which tolerances or cylinders are moving freely and which ones are stuck.
Freeing a roller means you can achieve those tolerances on your 3D printer.
Tolerance Test Allen Key
The Tolerance Test Allen Key by Alex2667 has 23,000+ downloads with 7 makes and 2 remixes on Thingiverse. It has 6 cylinders having clearances ranging from 0.1mm to 0.6mm.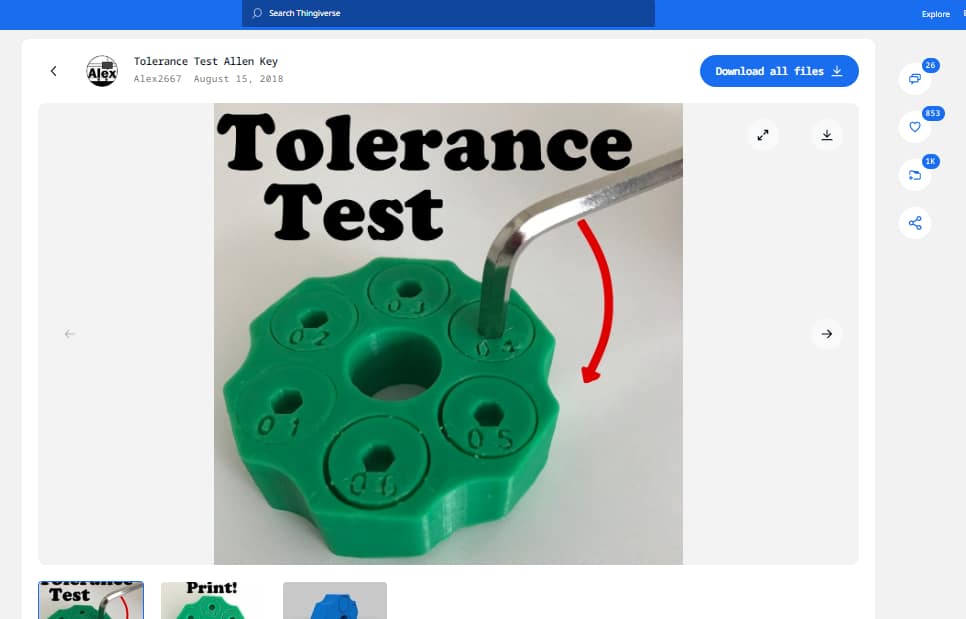 As the name implies, it requires a size 4 Allen key to test clearance or tolerance in your 3D printer. Simply insert the key into the holes and try rotating it to see if the roller inside moves freely. Every moving roller indicates the tolerance values achievable on your 3D printer.
To 3D print this test, the designer recommended:
Print Resolution: 0.2mm
Print Infill: 15-20%
Filament: Hatchbox PLA 1.5mm
Not Raft
No Supports
Printer Tolerance Test
The Printer Tolerance Test is one of the few tolerance tests having 11 clearances from 0.00mm to 0.50mm with a 0.05mm difference between each one. The test comes with a cylinder and square-shaped pegs to gauge the fit. All the values where pegs can fit are achievable in your 3D printing parts.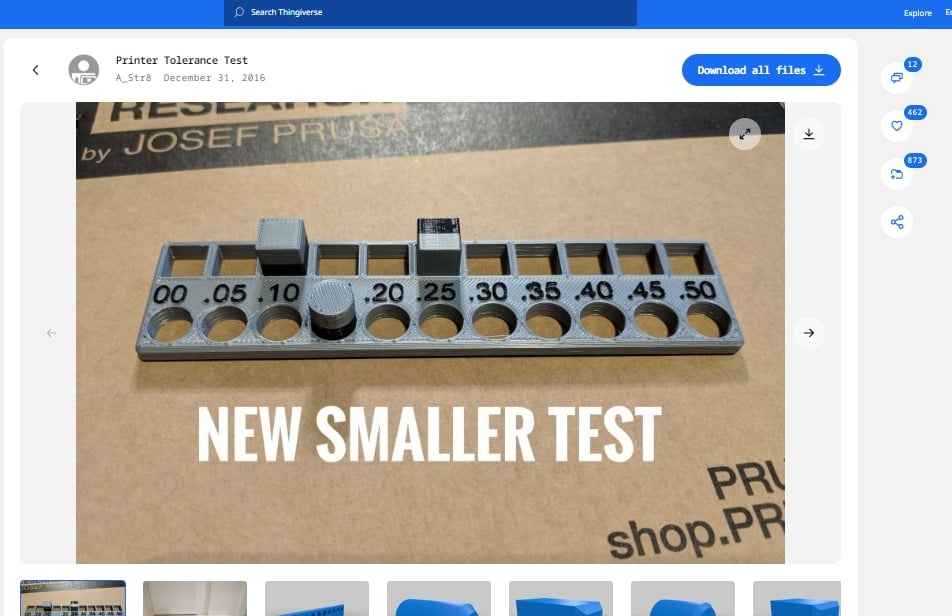 This test directly gives you an idea of how a 3D printed part will fit with specific clearances and what tolerance suits best for your 3D printer.
One user recommended 3D printing the pegs in both vertical and horizontal orientations to assess how different orientations will fit in your specific part/clearance.
To use less filament and reduce the printing time, there is an updated version of the design named "Small Test.stl". This version has smaller pegs and raised text for multi-color printing.
The print settings recommended by the designer include:
Print Resolution: 0.2mm
Print Infill: 15%
No need for a raft or support
The file has 11,000+ downloads for the large test and 7,000+ for the small test on Thingiverse. The model on Printables has 2,000+ downloads.
Tolerance Test by Druppy
The Tolerance Test by Druppy is a simple test with 10 different clearances starting from the perfect 0.0mm up to 0.9mm. Simply 3D print the model and start pushing out the pill-like button starting from 0.9mm and going downwards in descending order.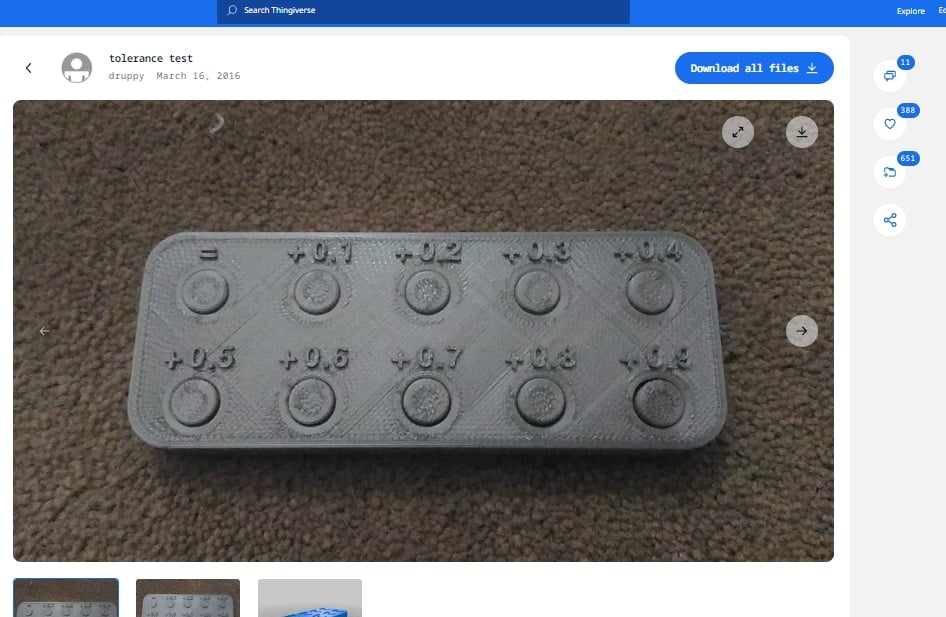 The last button that you can push out of the model indicates the value that can be achievable as a tolerance for your 3D models. Testing tolerance with this model also gives a clear idea of how well a part will fit in that specific clearance, allowing you to print 3D models with perfect accuracy and precision.
With this easy-to-understand test, you should be able to determine your 3D printer's tolerance and adjust your clearances and other calibrations accordingly.
Cali Cat – The Calibration Cat
The Cali Cat or The Calibration Cat having 500,000+ downloads on Thingiverse, is a lot like a calibration cube but with some additional tests and cuteness. The cat has multiple parts with specific measurements. Measuring each part will get you the tolerance range for your 3D printer.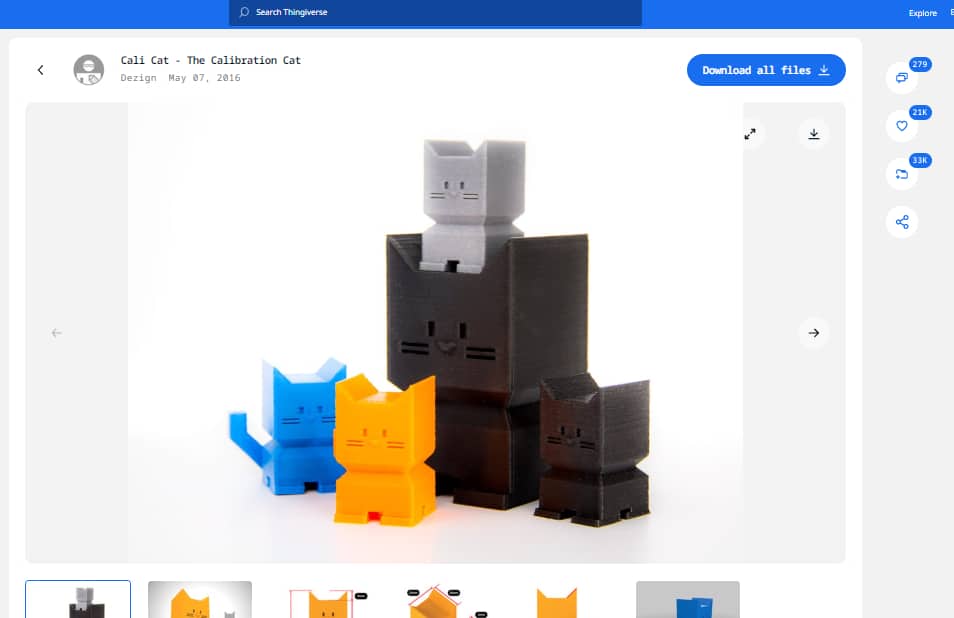 The measurements of a Cali Cat calibration cube are as follows:
Body: 20x20mm
Height: 35mm
Tail: 5x5mm
Unlike most tolerance tests, Cali Cat is a fun and charming model that can be kept at home after printing. It can be printed in 30 minutes which makes testing and adjusting new settings quick and easy.
You can also test dimensional accuracy and material shrinkage. Apart from this particular version, you can also go with a Cali Mouse, Batman Cali Cat, Dual Extrusion Cali Cat, Cali Dog, and more.