5 Ways How to Fix 3D Printer Shutting Off When Heating
One common problem people face during printing is when their printer shuts off during heating. This could be very frustrating, especially if you don't know how to troubleshoot this problem. This is why I have written this article to teach you how to fix your 3D printer when it shuts off during printing.
To fix your 3D printer that keeps shutting off during heating, inspect the power supply unit for any damage and replace it. You can check the wiring of the hotbed and extruder for any loose or damaged connections. Also, make the printer a well-ventilated environment, and the fans are working to prevent overheating.
Keep reading for more information about how to fix a 3D Printer that keeps shutting off during heating.

How to Fix 3D Printer Shutting Off When Heating
Here are some of the best methods to fix your 3D printer shutting off when heating.
Check the power supply unit
Check the wiring
Switch the voltage level
Check your fans
Plug the 3D printer directly into wall outlet
1. Check the Power Supply Unit
The first step in troubleshooting your 3D printer when it powers off is to inspect the power supply. This is because a loose connection between the power supply unit and the printer or the wall outlet could lead to intermittent shutdown during heating.
Therefore, you'd want to check that the power cable is properly connected to the power supply unit and the wall outlet.
Also, a faulty power supply unit can also cause intermittent shutdowns during printing. You can run a simple test to confirm if the power supply is faulty with a multimeter.
Simply get a multimeter, place the probes on the output voltage pins, and observe if the voltage is up to 12V. If it isn't, then you need to change the power supply unit.
You can get this AstroAI Digital Multimeter from Amazon to check if your power supply unit is faulty. After conducting your test and you discover that its faulty, you can get this MEAN WELL 24V Single Output Switchable Power Supply from Amazon to replace it.
It has great reviews from customers and its pretty cheap.
One user shared his experience with his 3D printer whenever he tried to heat up his printer. The printer immediately shuts down once he tries to heat up his bed.
He tried various fixes that didn't work, then he then proceeded to open the PSU and blasted air directly on it, and the extruder was able to heat up to the maximum temperature.
Upon further investigation, he stated that the PSU fan pins weren't outputting anything, which caused it to overheat. Since he didn't know how to fix the PSU, he ended up getting a new one.
Another user purchased an Ender 3 and was able to print a few models afterward. Later, the Ender 3 began to randomly shut down while in operation. He tried troubleshooting this problem with various methods, all to no avail.
He then decided to change the power supply unit, and it has been working fine since then.
You can check out this video from Anycubic on how to detect and replace your faulty power supply units.
2. Check the Wiring
Another way to fix your 3D printer when it shuts off during printing is to inspect the wiring. In most cases, improper wiring or faulty connections are usually the most common causes of your 3D printer shutting down during heating.
You'd want to inspect the wiring of your 3D printer, especially around the heat bed and the hot end. Be on the lookout for a short circuit or loose and damaged connections around these areas.
These factors can interrupt power flow when the printer attempts to heat these components. For example, a loose connection in the thermistor can lead to a situation known as Thermal Runaway Error.
Modern 3D printers are equipped with this safety feature. It is designed to shut down the printer if it detects abnormal temperature fluctuations that could lead to a fire hazard.
While it's an important safety feature, sometimes it can trigger a shutdown due to misconfiguration or a faulty thermistor.
To fix this, you can tighten the connectors, ensure that there is no bridging between the wires of extruders or hotbeds, or replace the thermistors.
One user stated that he owns an Ender 3 V2, and sometimes it randomly shuts down when it is preheating, and after a while, it works fine again. He said he had tried various forms of troubleshooting on his printer, all to no avail.
However, he later swapped the cables from the hotbed with the ones of the extruder and their thermistors and changed the pins in Klipper, and it worked.
Another user also stated that the 3D printer kept shutting down whenever he tried heating it up. He discovered a loose connection to the thermistor for the hotend as one of its wires was not properly connected to the thermistor for the hotend.
This caused the printer to read 0/0 °C temp for the hot end even when it was obvious that the temperature was rising, and after a while, the printer would reboot. He was able to fix it by securing the thermistor connection to the motherboard.
Another user shared his experience with this CR-10 Max that was rebooting whenever he started the heating sequence. He had just changed the thermistor on his hotend when he started having this problem.
He then discovered that he had cut the thermistor's wire short, and he didn't bother to properly route the wire through the bunch of wires.
Also, upon further testing, he discovered that there was a break in the wire due to the back-and-forth action of the printer, which he couldn't detect since it was in a wire protector. He eventually replaced the wire all the way back to the motherboard, and it worked perfectly.
3. Switch the Voltage Levels
If you discover that your 3D printer keeps switching off during heating, then you need to confirm that the printer is set to the right voltage levels.
This is because most 3D printers have dual voltage levels (110/220V), which allows you to use them regardless of your region's threshold voltage.
So, if you discover that your printer keeps shutting down during heating, simply confirm that the printer is at the right voltage level. If you discover that it's not, power off your printer and move the switch to the right voltage level for your region.
Also, ensure that you move the switch completely so that it properly makes contact with the right voltage level.
One user who recently got his 3D printer stated that it had been stopping randomly during heating amidst other issues. His uncle took a look at his printer and observed that it was running at 230V and not 110V, which was coming from the mains.
He switched the voltage level, and the printer worked perfectly.
4. Check Your Fans
As a safety measure, your 3D printer can shut down during heating if the ambient room temperature is very high. 3D printers have electronic components, including the control board, stepper motor drivers, and power supply, that can generate heat during operation.
In a hot environment, the ambient temperature can further increase the heat generated by these components. As a result, you need to ensure that the cooling fans for your hotend and other electronics are functioning correctly.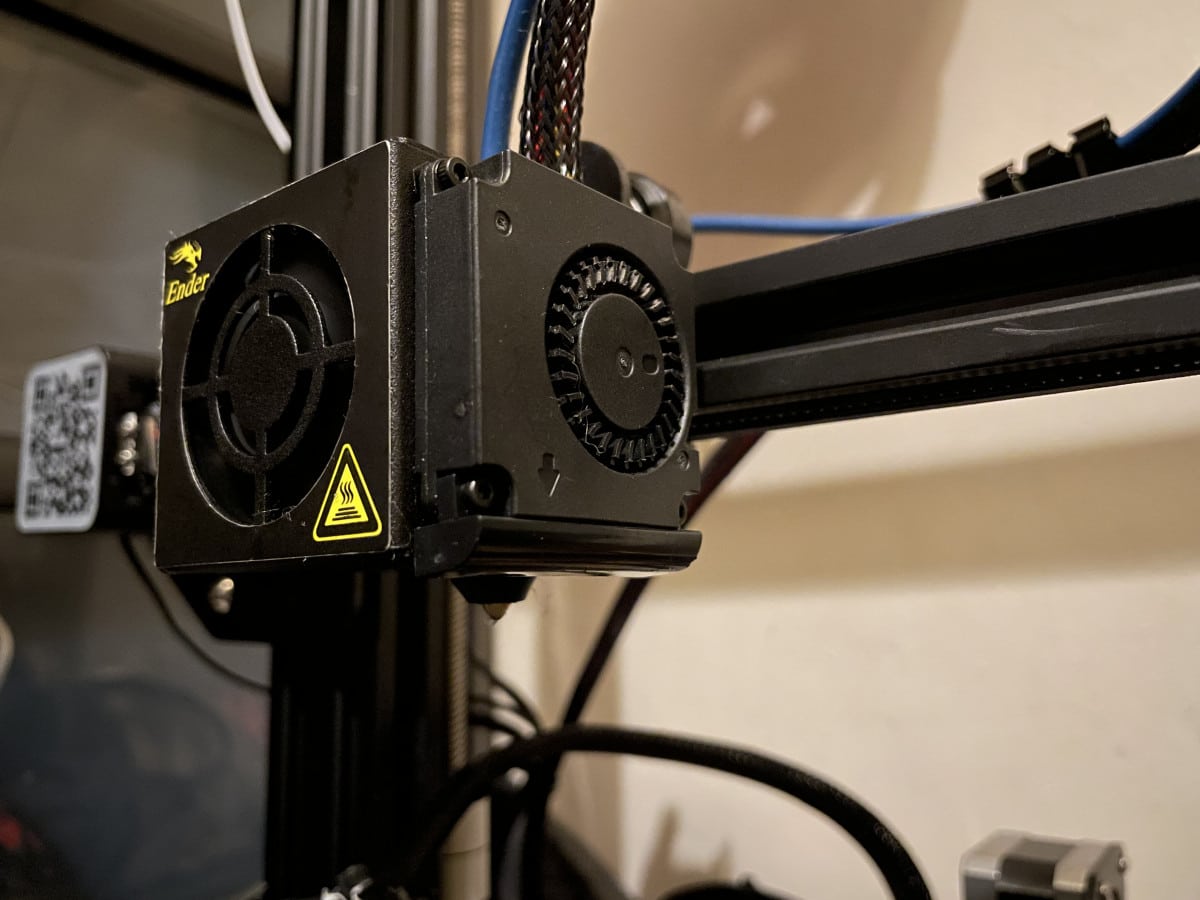 If these fans aren't working, the printer can overheat, leading to thermal shutdowns or component damage. You may either need to clean or replace the fans as needed.
Also, even with the fans working, ensure that the printer is placed in a well-ventilated area with consistent ambient temperatures. Otherwise, the printer could shut down during heating.
One user stated that he just got a new printer, assembled it, and was able to print a 3D calibration cube. He took the printer back to his house and started the heating sequence.
He was able to preheat the bed, but whenever he tried preheating the nozzle, the nozzle's temperature heated up and increased by 10 degrees, then the fan would stop working. After a while, the printer rebooted itself.
At first, he thought it was the PSU, but after more investigation, he discovered that the extruder's cooling fan was faulty (right out of the box), which was why the printer always rebooted. He replaced the nozzle fan and had no more issues during the heating sequence.
5. Plug the 3D Printer Directly Into Wall Outlet
3D printers vary in power consumption depending on their size, features, and heating elements. Commonly, printers have two main power-hungry components: the heated print bed and the hotend (extruder).
These components draw a significant amount of power when heating up, and their combined power consumption can often approach or exceed 200 watts for smaller printers and considerably more for larger ones.
If your printer is plugged into a power strip with multiple other devices or if it shares a circuit with power-hungry appliances, it may be overloading the circuit.
You can try plugging the printer into a dedicated outlet or a surge protector with built-in circuit protection to prevent power interruptions.