33 Best Print-in-Place 3D Prints
One of the best types of 3D prints out there are print-in-place models, simply meaning that these don't need extra assembly, but simply are pre-assembled on the build plate.
I decided to put together some of the best print-in-place 3D prints that you can find, ranging from places like Thingiverse, MyMiniFactory, and Cults3D.
I'm sure you'll enjoy this list and find some great models to download. Feel free to share this with some fellow 3D printing friends!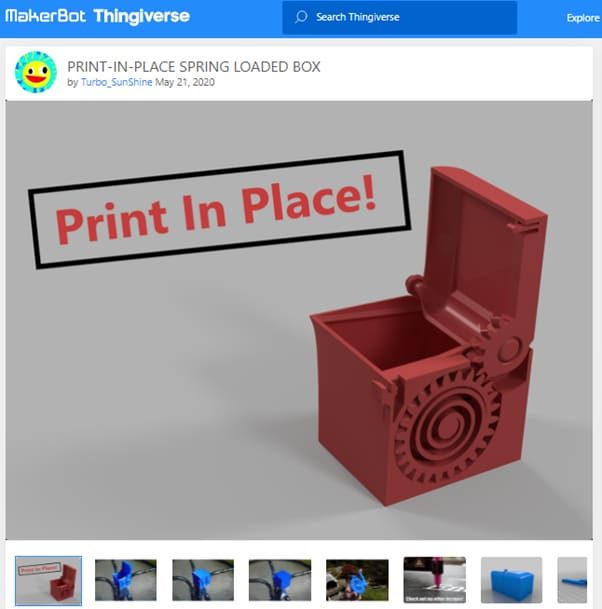 This print-in-place Spring Loaded Box is an excellent example of the capabilities of 3D printing. You don't need any supports or assembly, but you can still create a complex item using design special joints.
To create this model, the designer recommends using a 0.2mm layer height or finer to print the overhangs successfully.
In order to open and close the box, it uses a gear and spring model to open it, along with a small clip to keep it closed.
There are two files for printing, one is a test file for the 'sunshine-gear' component for helping users to fine-tune their printer to 3D print the springs properly, and the other is the complete STL file for the spring-loaded box.
People have got good prints with both PLA and PETG even at a 200% scale, smaller scaled prints can result in poor bridging of the top part.
Check out the spring-loaded box in action below.
Created by Turbo_SunShine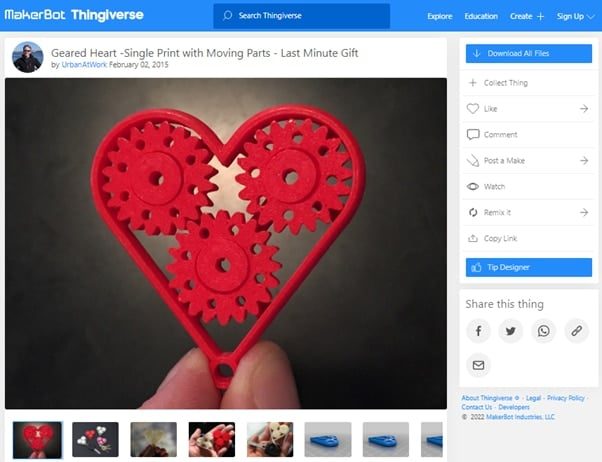 Do you plan of moving your lover's heart! Then this keychain will do the magic, some have even given it to their wives. It has over 300 Makes, usually made with PLA or PETG.
One user tried 3D printing this model with a resin 3D printer and found that the friction of the spinning gears created dust. It's possible to solve this issue by adding a flexible resin to your normal resin so it doesn't grind and is not as brittle.
The designer has created multiple versions of this keychain, including one with larger gaps between the gears so it doesn't fuse together from being too close.
Many users had successful prints where the gears rotated perfectly. Some users had issues getting it to work, most likely due to their printing temperature being too high, or over extrusion. Make sure to calibrate your E-steps before 3D printing this.
It may take a few wiggles to remove some fused parts of the gears, but after that, you should be able to turn the gears.
This print can come handy when you have been busy tinkering all day in the lab and forgot to get something special for someone special to you. It is important to start with a well levelled bed for a good print.
Created by UrbanAtWork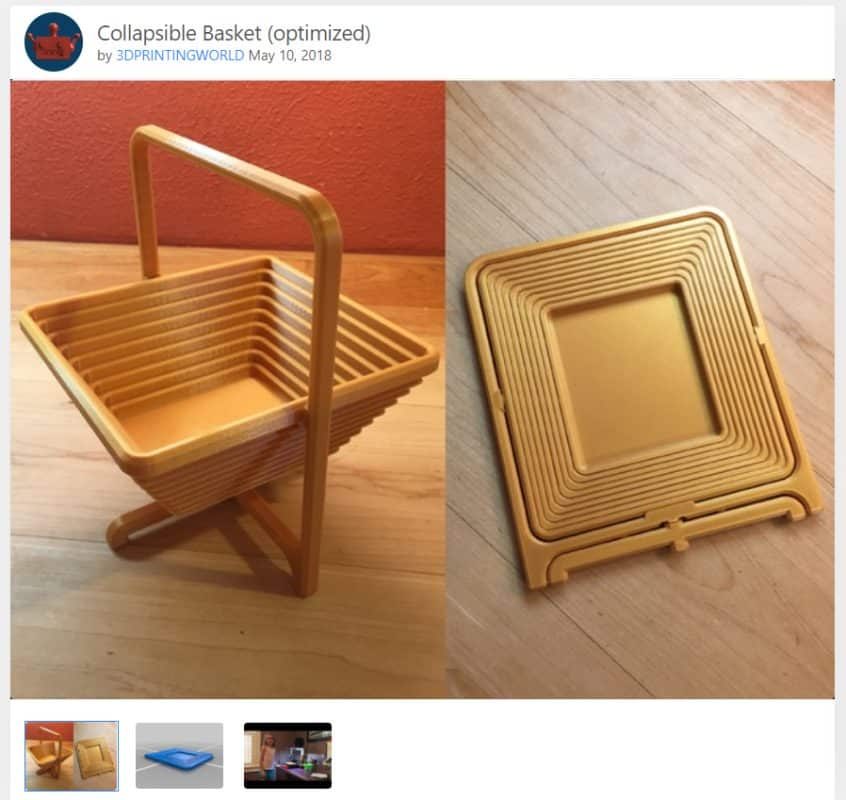 This basket prints in place as one part and doesn't require any supports. It prints flat but folds it into a basket!
This is a remix of the first collapsing basket I designed, that version uses a wood cutting trick where you make a spiral cut on an angle and the flexibility of the material allows it to form the basket. The angle of the spiral cut interlocks the walls of the basket in one direction.
It was cool how this can be accomplished with a saw and some wood but I have a 3D printer and some plastic so I thought I would use some of the advantages a 3D printer has to offer.
I like the new version better because of the features I was able to add since I'm using a 3D printer, but they both use a different method of forming the basket which is pretty cool.
Created by 3DPRINTINGWORLD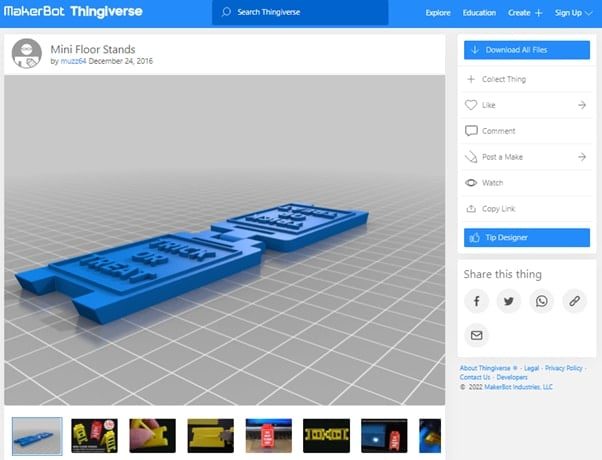 This is a cool Print-in-Place Mini Floor Stand which has a massive series of 124 Thing Files which different fun and useful messages that you can 3D print.
They also have a blank option where you can add your own text in, or use an adhesive sticker that you can write on.
You can implement a color change on your sign to make the letters stand out as soon as you start 3D printing the letters. Simply pause the machine, change the filament, and continue the print.
You can also use a G-Code command to automatically pause the print when it gets to the letters.
Simply scale the Mini Floor Stand up or down in size within your slicer, with the designer mentioning that an 80% scale works just fine. The designer recommends using a raft which should easily peel away after printing.
All you have to do is then stand up the model and lock it in place.
Created by Muzz64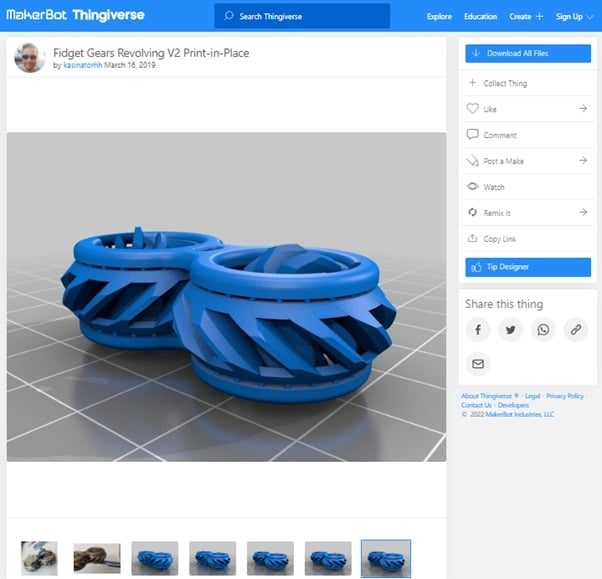 This Fidget Gear Revolving V2 3D print is a popular model that has been downloaded over 400,000 times by users. It's simply a dual gear that you can print-in-place that spins with each other.
It's a nice toy or present to 3D print and give to kids or just as a toy to fidget with. The designer recommends using 100% infill for better stability, as well as optimizing your printing temperature.
A fidget gear that revolves looks cool, though this print requires some bit of cleaning to glitter.
Lowering the retraction count for this print helped some users, though with some work done on post-processing to make the print surface smooth.
Created by kasinatorhh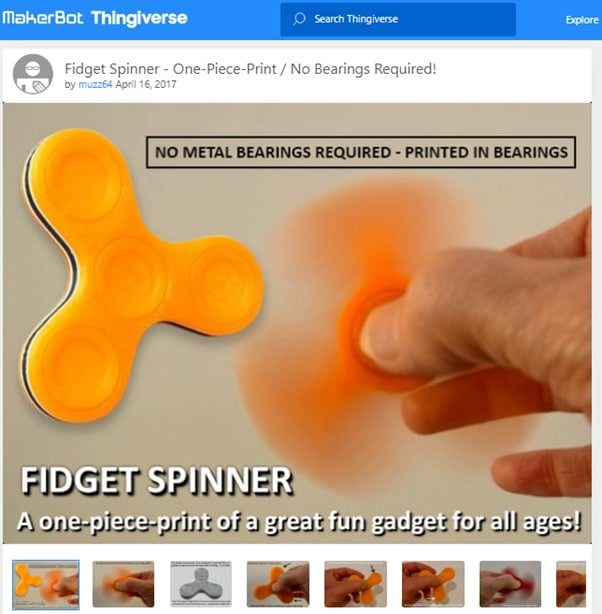 This 3D model fidget spinner comes in 3 versions for printing. One is a loose file version for users who experience issue in getting a fine clearance during printing, the other is a center version with just a single bearing at the center and also a flat version which lacks recesses to hold with your fingers.
Slicing the file well is required for a good 3D print. It is proper to add a small amount of spray lubricant into the grooves between the main body and bearing on the sides of the spinner after printing so that the bearings can break free.
One user printed the original file and it turned out great, only a little WD-40 was added to improve the spin time. Having a larger wall thickness and infill helps to add to the spinner's weight to allow for better spinning.
This gadget is truly fun for all ages, as users enjoyed the results.
Created by Muzz64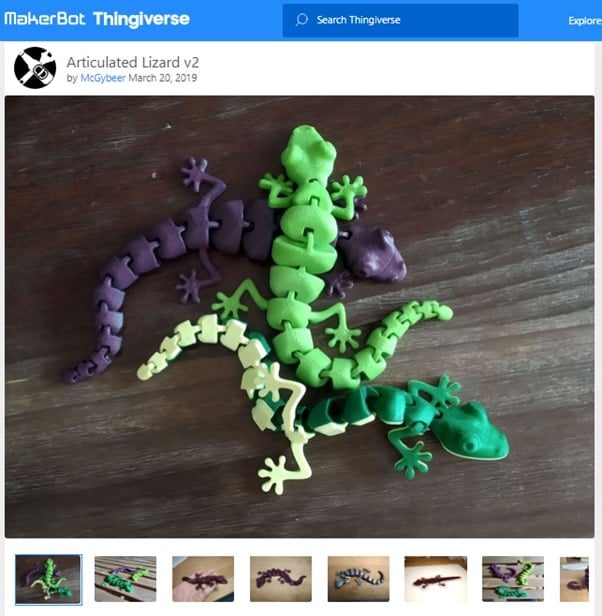 Articulating 3D prints are getting very popular, with all sorts of designs making their way. This one is an articulated lizard design that prints in place and can move around at each joint.
This model is designed very well and has over 700 Makes on Thingiverse, so you can see user submissions of them creating this model.
Many have printed it across various Creality printers and Prusas with PLA filament and got eye-dazzling 3D prints.
One user successfully printed this 3D model alongside a series of other articulated designs with 0.2mm layer height, 10% infill with a small brim and got good prints.
Created by McGybeer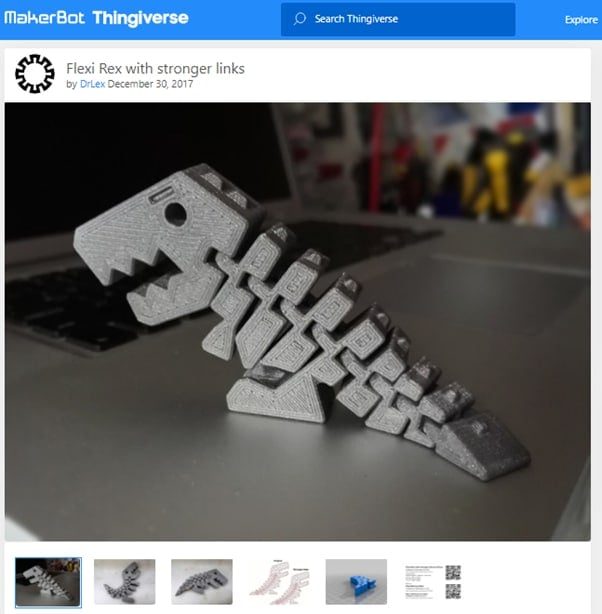 Flexi Rex is a popular 3D model for the lovers of Jurassic World, or just as a cool toy to fidget with, having over 1,280 Makes and 100 Remixes.
Getting the right environment for printing this model is important since a number of users had challenges with the bed temperature, poor bed adhesion and stringing issues when printing this 3D model.
One user was able to attain a good bed adhesion by heating the platform to 60°C and extruder at 215°C with outstanding print with PLA filament.
Print for your kid this toy with PLA, PETG or ABS filament, along with a larger wall thickness like 1.2mm as it has been found to make this model stronger than increasing infill.
Created by DrLex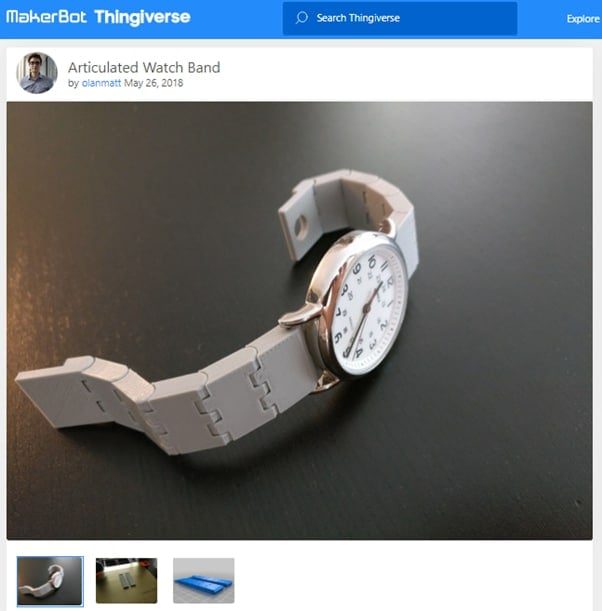 This 3D printed articulating watchband has great articulation that allows the parts of the watch to move freely and close together. It can be used on any wristwatch.
The articulated 19mm Lug-width band is intended for printing using a lower temperature for ensuring parts of tighter tolerances doesn't fuse. I'd recommend optimizing your printing temperature with a temperature tower.
Print yourself this customizable print-in-place watch band, it is a cool piece and has good use.
Created by olanmatt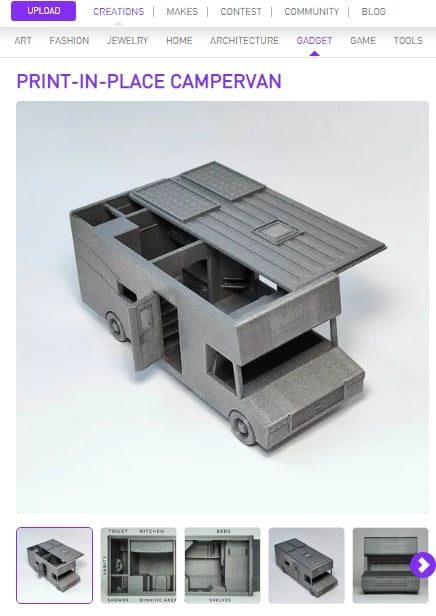 This 3D model, incorporates a fully loaded camper van with a bathroom, toilet, a washbasin and a shower and a lot more, all printed in one piece to really display the capabilities of 3D printing.
For one to 3D print this camper van model well, you should be able to print a bridge of at least 50mm in length. The designer recommends a layer height of 0.2mm and at least 10% infill. This should be able to give a good 3D print.
Created by olanmatt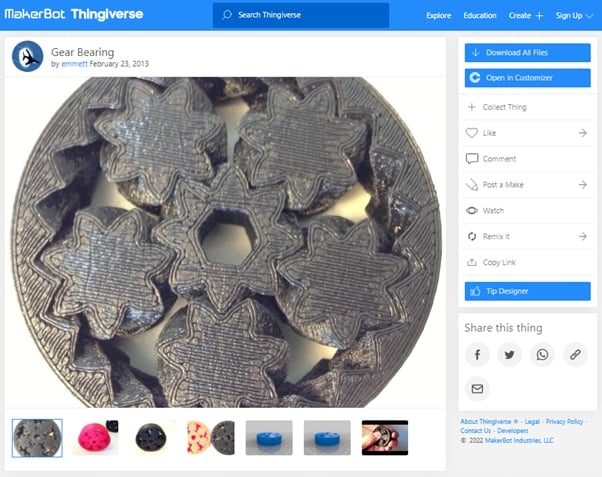 This preassembled 3D gear model is a new kind of bearing that can be created through 3D printing due to the shape of it. It's a print-in-place model and a planetary gear set that functions like a mix of a cross between a needle bearing and a thrust bearing.
Since the gearing is spaced properly, it doesn't require a cage to keep it in place. The gears are all herringbone so it can't be disassembled, while at the same time, being able to act as a thrust bearing.
Check out the video below to see it in action.
You can even use the Customizer app in Cura to adjust the model as it is fully parametric.
People's comments show success with standard PLA on an Ender 3 Pro, while another user notes that using lubricant helps to loosen the gears.
Overall this model has a whooping 6,419 remixes and 973 Makes at time of writing, confirming that it is an extremely good 3D print model.
Created by Emmet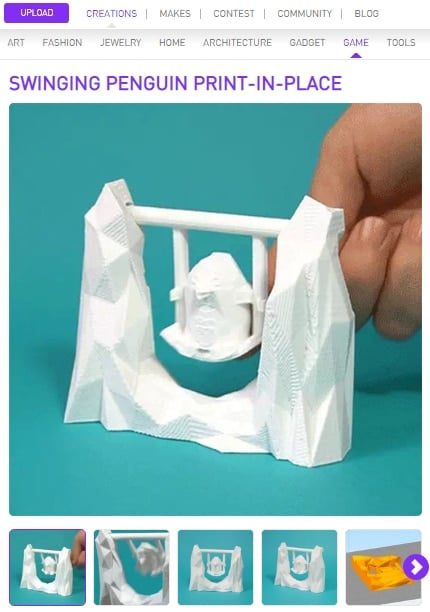 Having a 3D model of a swinging penguin would be quite cool, so try 3D printing this swinging penguin model.It's a model you can print in place and have it actively working. It should be plenty of fun for kids and maybe even a pet.
This 3D model has over 1.1K downloads and is definitely worth giving a try.
Created by olanmatt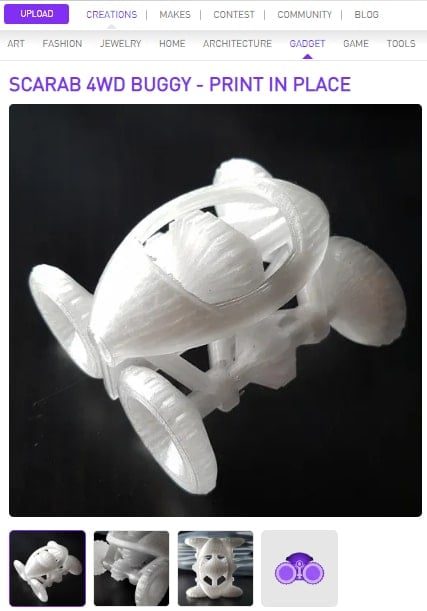 This Scarab 4WD Buggy is a complete preassembled proof of concept of the possibility to 3D print four wheeled driven cars.
The middle gear of this 3D model acts as the frame where all the wheels connect. You can choose your preferred color to print this model, or even apply a spray or polish to make the model stand out more.
Created by olanmatt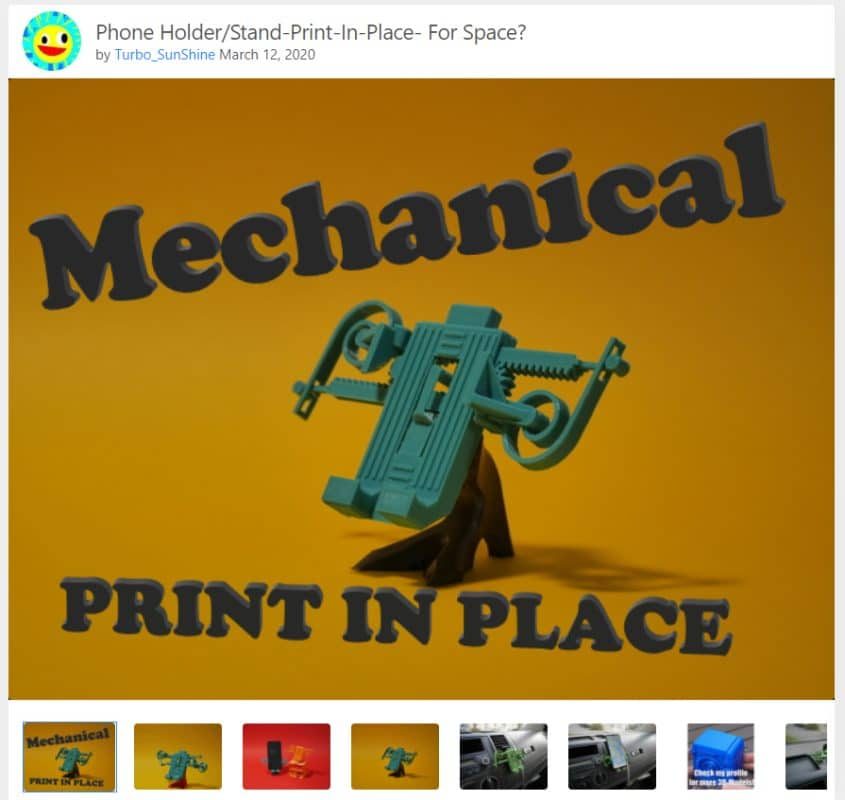 Check out this fully 3D printed phone holder that prints-in-place. Printing this could be challenging if you haven't calibrated your 3D printer, so make sure everything is optimized and calibrated.
They listed some ideal settings for making this 3D print work:
Layer height: 0.2mm or finer
Infill: 15-30% – Cubic
Cooling Fan: 100%
Z-Seam Alignment: Random
Top and Bottom Layers: 3, with lines pattern
Horizontal expansion compensation: -This is printer-specific; I use -0.07mm, but I included a test piece for easier tuning.
The designer showed how it was designed for space, which you can check in the video below.
Created by Turbo_SunShine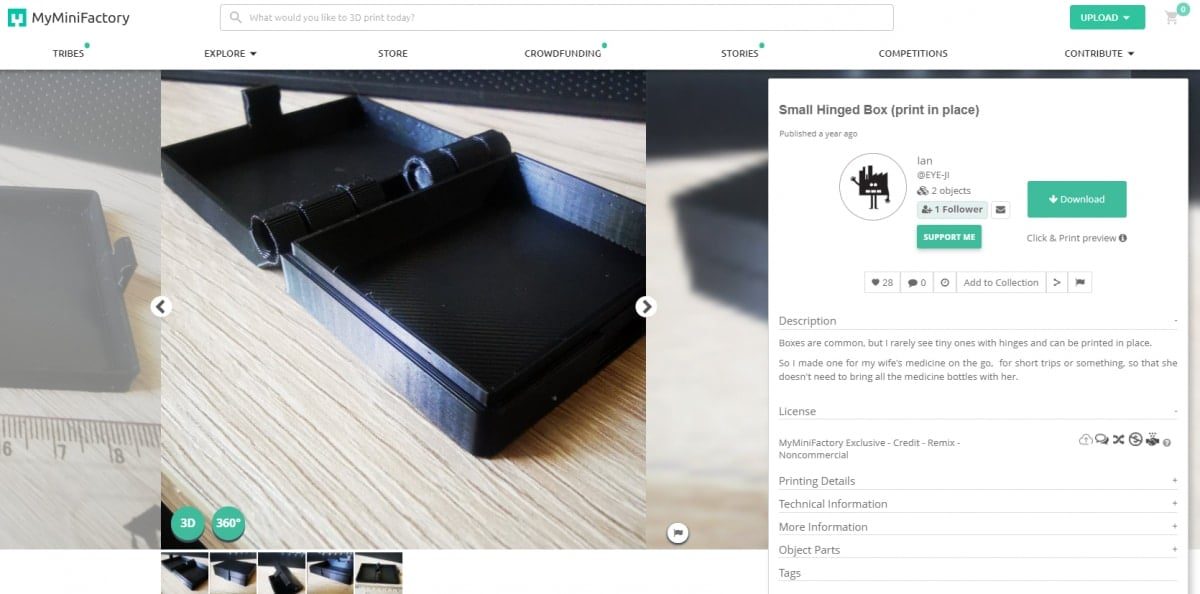 You can create this Small Hinged Box as a print-in-place model to help store objects like jewelry, medicine, or other small things. You want to put supports on the hinges to help them print.
It should take just under 2 hours to create this model.
Created by EYE-JI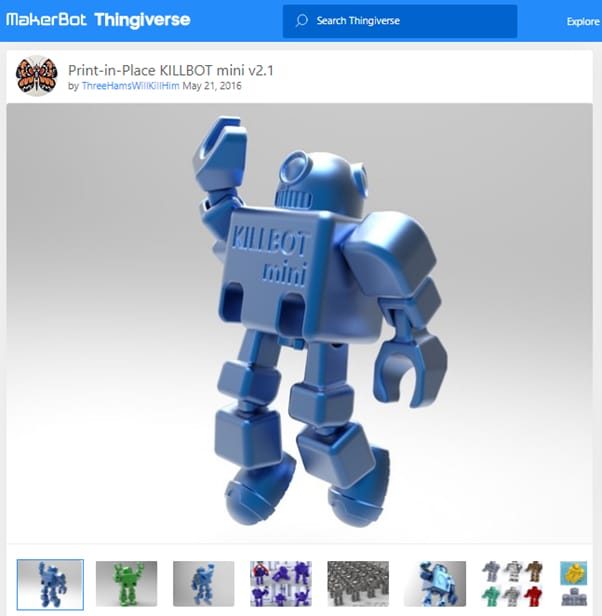 This is a flawlessly articulated KILLBOT with 13 moving parts including the head, arms, hands legs and hips.
This 3D model has printed better for bigger size prints although users had a challenge with the shoulder breaking off, printing with a 0.2mm resolution will help the joints to stick better.
Reinforcing the print with 3 shells and a 10% infill, a user was able to yield a perfect print one on a Prusa i3 MK3.
This is an eye-catching and a good piece of toy to print-in-place.
Created by Joe Ham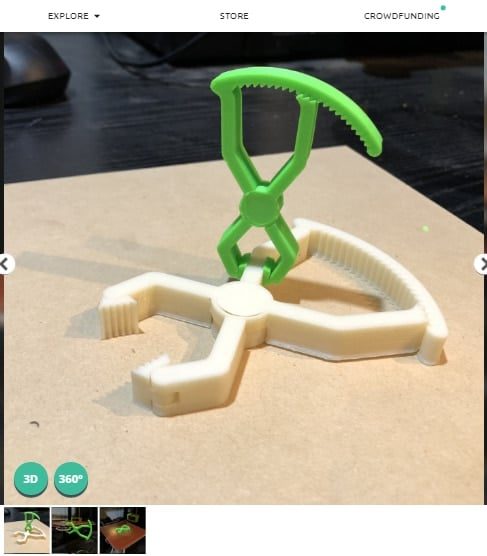 The Ratchet Clamp print-in-place model is a machinery-like sample of a working 3D print with a total of over 17,600 downloads.
A user printed the model using PETG at 150% which worked great. It is advisable to print the 3D model with the horizontal expansion set to 0.1mm to avoid the parts becoming welded together.
You can 3D print and use this ratchet to peg together small objects in your office.
Created by Luis Carreno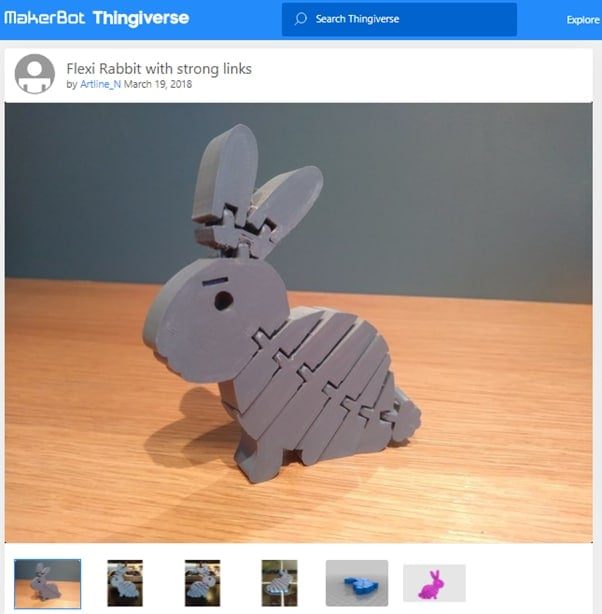 The Flexi Rabbit 3D model uses the same concept as the Flexi Rex, it is a perfect alternative whenever there is a request from your kid for a toy and the kid is a 'Flexi Rex fanatic'.
A user printed this model with PLA at 0.2mm and 20% infill with good mobility on the parts of the Flexi-Rabbit print, reducing the extrusion rate when printing helps to avoid stringing.
Creative parents create the universe for their children.
Created by Artline_N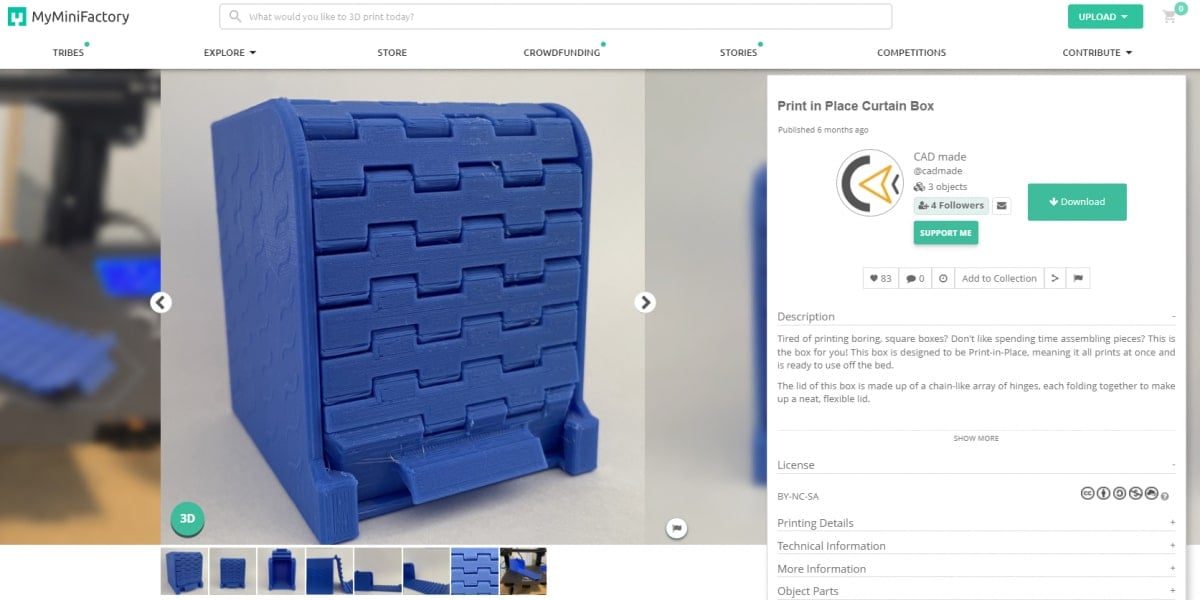 Here's another box 3D print, but with a twist. It's got a curtain-like design built within. If you're tired of printing standard square boxes and you don't like assembling pieces, you'll love this 3D model.
As soon as it's 3D printed, you can remove it from the bed and use it straight away. The lid has an array of hinges that look like chains. Each one folds up to make a cool flexible lid.
Created by cadmade
This is a universal 3D model that comes in 3 main sizes for a small, medium and large sizes to accommodate different sized phone and iPads.
A user found that this 3D model prints well when printed to scale with up to 0.2mm layer height, using 100% infill and 5mm perimeter for a stronger print. Hinges need to be broken gently to become loose after printing.
For the 3D printing nerds, you can replace your phone or tablet's stand by making some custom polycarbonate or nano diamond-infused PLA.
Created by Jonning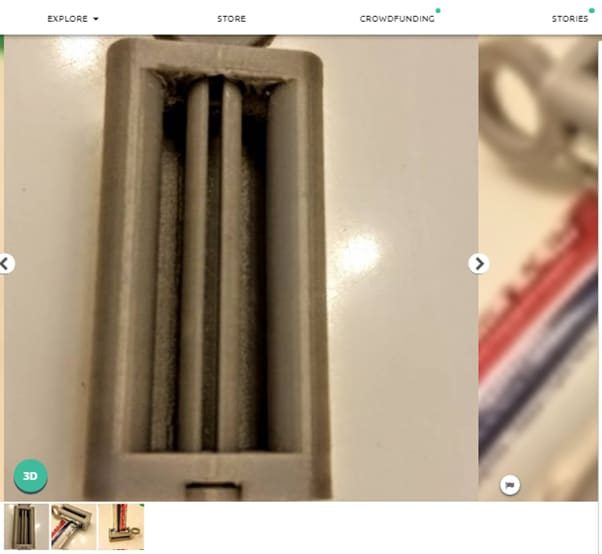 I'm impressed by the functionality of this Toothpaste Squeezer, especially being a print-in-place model. This is a re-engineered toothpaste squeezer 3D model which can do the trick for you if you want to get the last bit out.
To 3D print this model, you can use a 0.2mm layer height and a 30% infill as recommended.
Created by John Hasson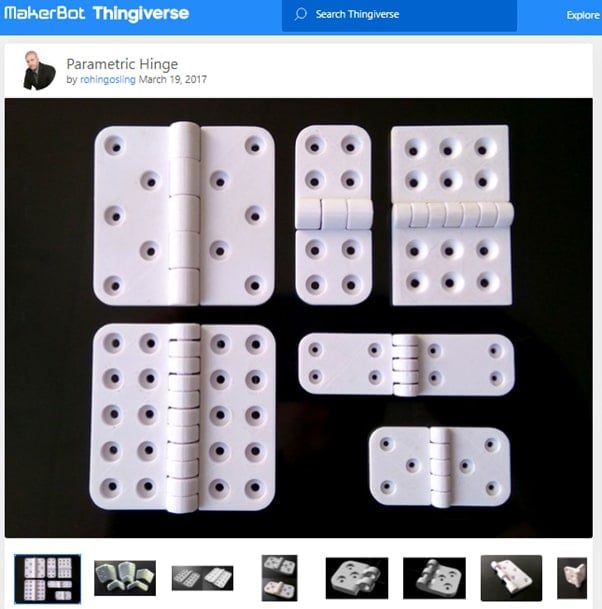 I found this to be a very useful model that people can create. It's a Parametric Hinge model that prints straight from the build plate. The designer definitely took their time to design a functional 3D print, taking into account the details and features.
The files can be downloaded and opened in OpenSCAD for making any changes. A user was able to customize a 2-2 hole for using screws. OpenSCAD also has helped users to reduce the time it takes to generate the file.
For prints that have a large number of knuckles (the hinged part), it is recommended to print with a clearance of 0.4mm, while trying to print at a slower speed and higher resolution is advisable to get the most suitable resolution for your print.
A printable piece of this 3Dmodel could be used for your toy houses or even a dog house, it has been tried with over1379 remixes from users.
Created by rohingosling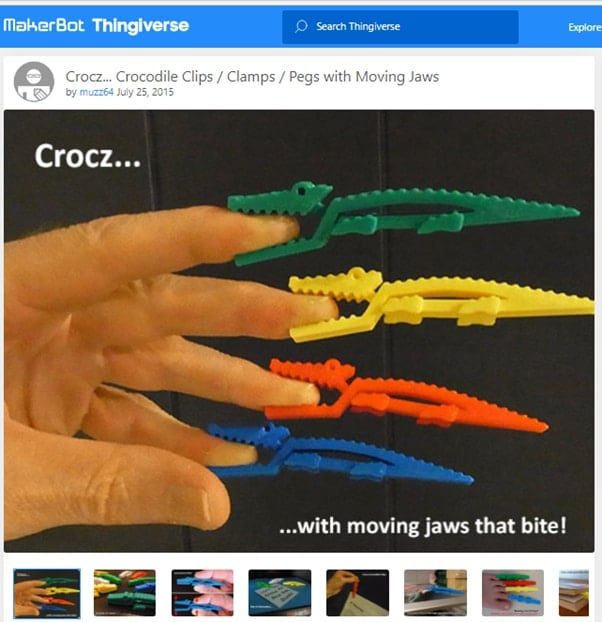 Crocodile Clips! Created by an amazing designer as noted by users of his 3D models. This 3D model has 2 different files, a Crocs version with legs at the sides, and an alternative-Crocs file without legs.
Both of these versions print better with the built-in support, this print is made more durable with 3 or 4 shells and an infill of 75%. Printing the version with built-in support, a lower speed can help avoid getting spaghetti print as it allows the layers to bond better as they print.
Many users have printed this clips in large volumes and have found that the printed crocs have the strength to be used as clamps or pegs with a strong grip.
Created by Muzz64
This Preassembled Picture Frame Stand is a great 3D model for making it easy to support a picture place on the table. It is freely scalable and easy to print in place using 0.2mm resolution and 20% infill.
Created by Ash Martin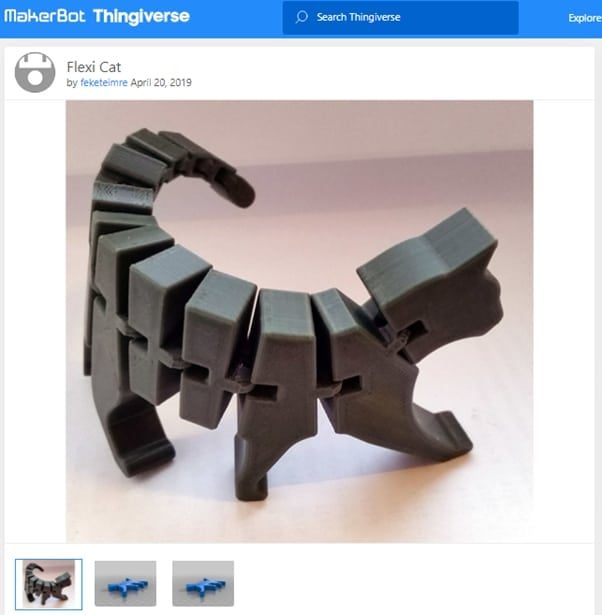 This is flexible model, created by a designer who was inspired by the Flexi Rex. It is fairly easy to print and has over 400 Makes, along with some remixes.
Some users experienced challenges with bed adhesion, this can be solved by adding a raft to the print. Also, a printing temperature of 210°C, a bed temperature of 65°C and a 0.2mm layer height worked fine with PLA filament for many users and they got good 3D print.
Created by feketeimre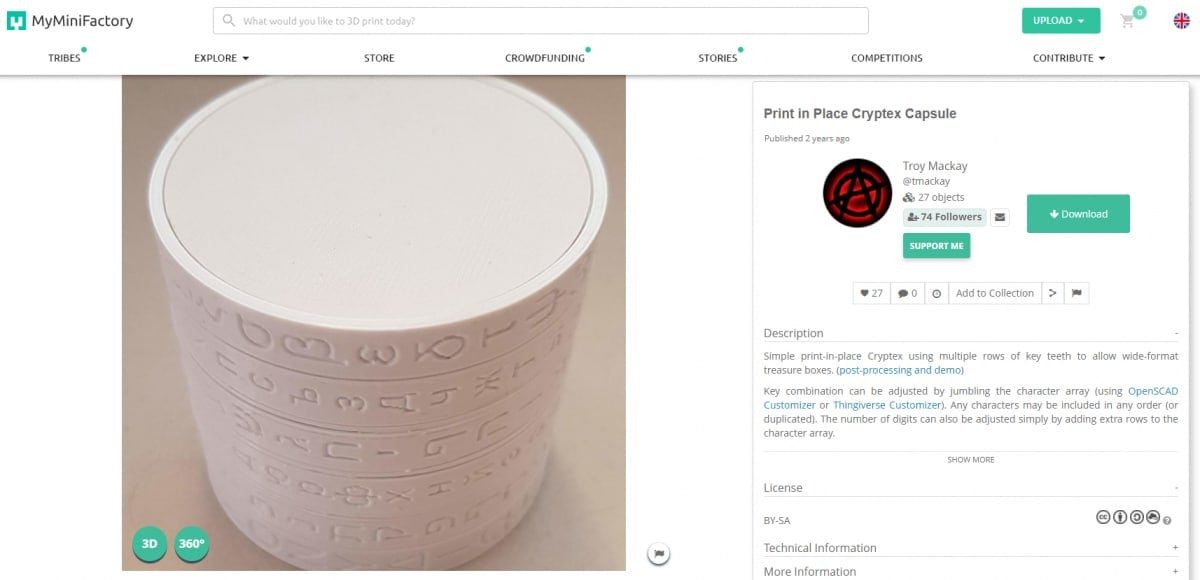 This simple print-in-place model is a Cryptex that uses multiple rows of key teeth to produce a wide format treasure box. It's a pretty cool model where you can adjust key combinations by jumbling up your characters using the OpenSCAD Customizer or Thingiverse Customizer.
Check out the demonstration video below.
Created by tmackay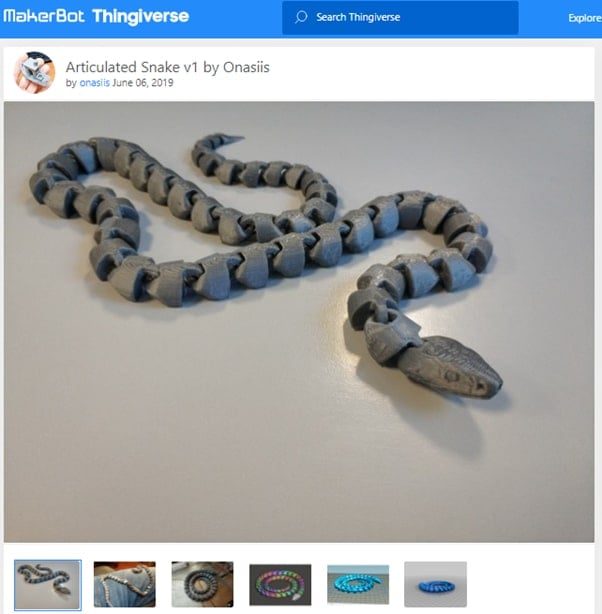 Flexi models are rocking in print-in-place models, the articulation level achieved in this model of a snake is amazing.
Printing with a raft for better adhesion can help you to get the print to adhere nicely. The model is actually two feet in length at 100% scale size.
One user had his granddaughter look for models on Thingiverse and stumbled across this model. He took some clear glitter PLA and created this model successfully in about 20 hours, with great results.
Created by Salvador Mancera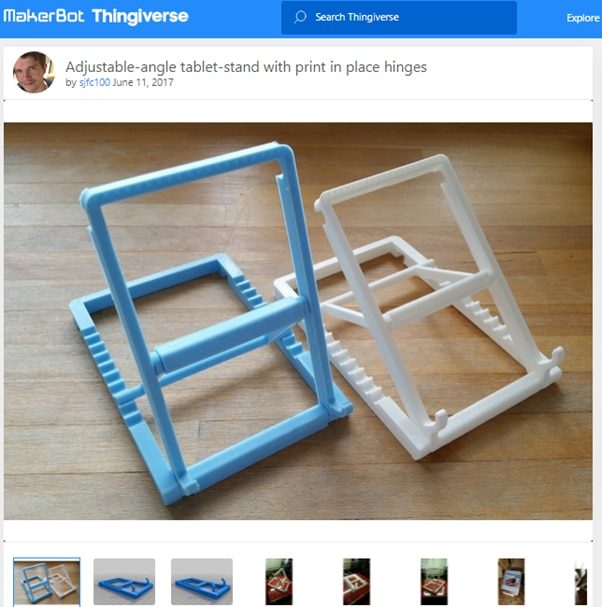 This adjustable-angle tablet stand with print-in-place hinges comes in 3 files. One is for tablet, another for smartphone and another update was added to accommodate even thicker tablet cases.
This model is designed using Creo Parametric to assemble its 3 parts. The design ensures that the correct tolerances are present in the hinges and reduced binding.
A user printed a 10.1" tablet stand with the updated file version of this model with PLA on an Ender 3 Pro, having 0.2mm, 20% infill and a speed of 30 and was impressed by the print.
Printing this 3D model with a 10mm brim helps to ensure a good layer adhesion, giving better prints.
Created by Sam Chadwick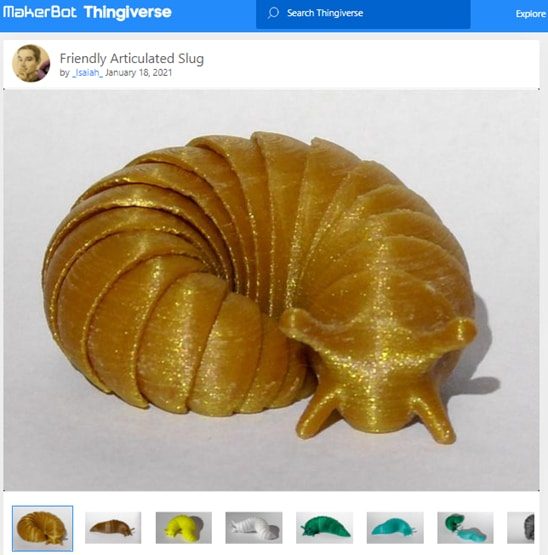 This is a beautifully crafted slug 3D model that has segments that can move very freely and fully if carefully printed, it has over 140 Makes and a number of remixes.
To get a good print out of this 3D model, a slower speed of about 30mm/s and a full-blast fan to cool the print nicely is required for PLA. Once the 3D model is printed, a pair of pliers can be used to crack between segments, wiggling the parts a little also helps to free loose the segments.
It's recommended to print this model with thicker walls for more durability.
Many people have obtained good print result with PLA filament on Ender 3 Pro even without adding a brim to the print. You can scale the model up as you want, to create a large articulating slug.
The designer of this 3D model apparently wants the world to echo the sound of slugs!
Created by Isaiah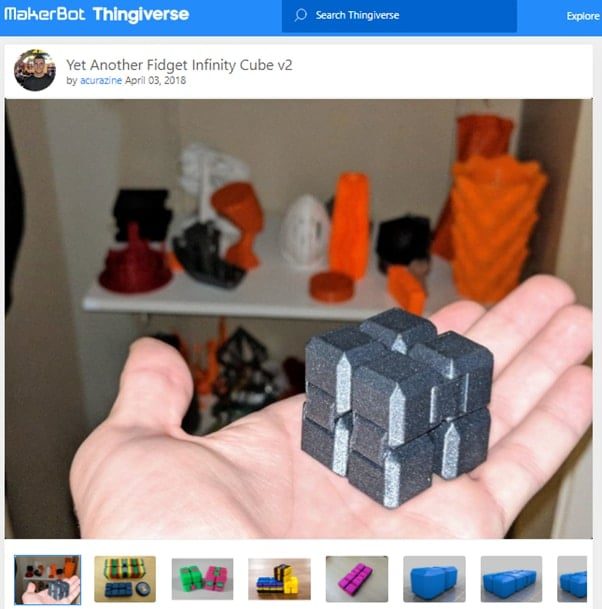 This 3D model is composed of cubes joined together with hinges that allow it to turn immediately after printing, it was designed using Fusion 360 and is a great fidget toy.
There are 3 files for users to download including a test file. The print file version is optimized for printing using 0.2mm and 10% infill, which is enough for solid surfaces.
To get a good print of this 3D model, ensure that the first few layers adhere well.
Created by Acurazine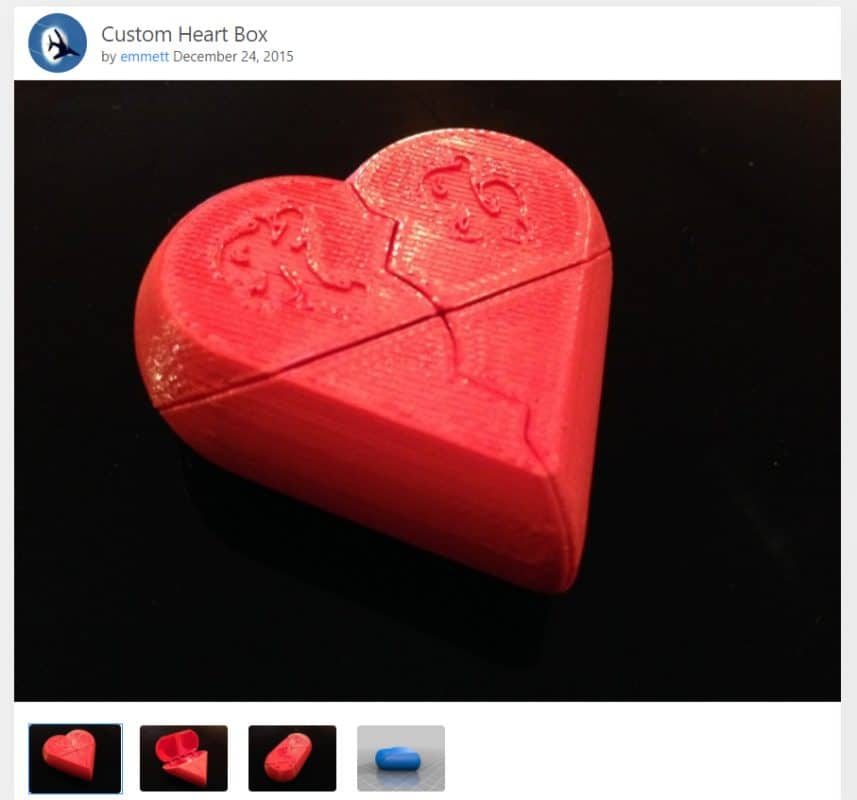 This preassembled Secret Heart Box is another awesome print-in-place 3D model, it is made up of two halves with the upper piece able to open or close.
A user was able to print this 3D model using PETG filament, at a 0.2mm layer height and a 125% scale which helped to solve overhang issues at the surface of the caps.
The designer actually updated a previous model of a heart box to make it better. They redesigned the latching mechanism so it doesn't wear out.
They recommend using some kind of putty knife or Xacto knife to separate the two pieces after printing.
This print has over 1,000 remixes, showing just how popular this model is.
Created by emmett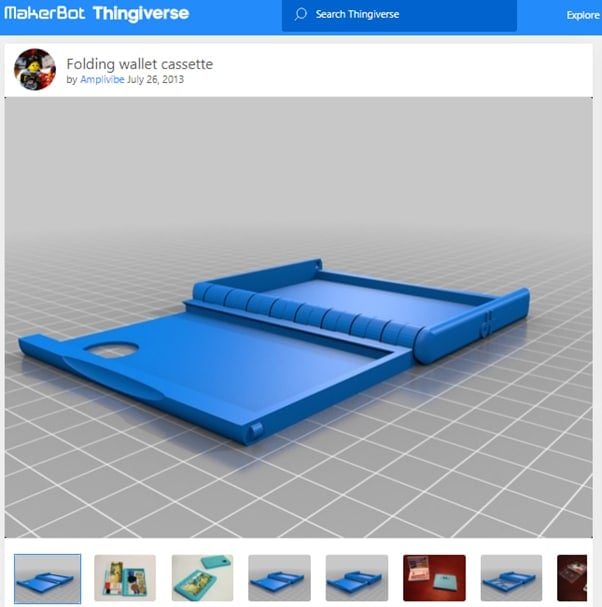 This 3D model is designed to enable a user to stack up to 4 or 5 cards and some small change on its side. It is designed using OpenSCAD with over 15 files available for downloading for users to try them out.
With varied improvement on its versions, I consider V4 a good choice for this print-in-place 3D model. This version gives better prints on the hinges with better overhang and better closing lids. Sanding the lids a little can also help to make the lids open and close easily.
Users have obtained a good 3D print with varied material including ABS, PETG and PLA. Printing the first layer at 0.25mm then reducing it to 0.2mm for the other layers can help getting the layers to stick well.
Some small force can be applied to loosen the hinges after printing.
Created by Amplivibe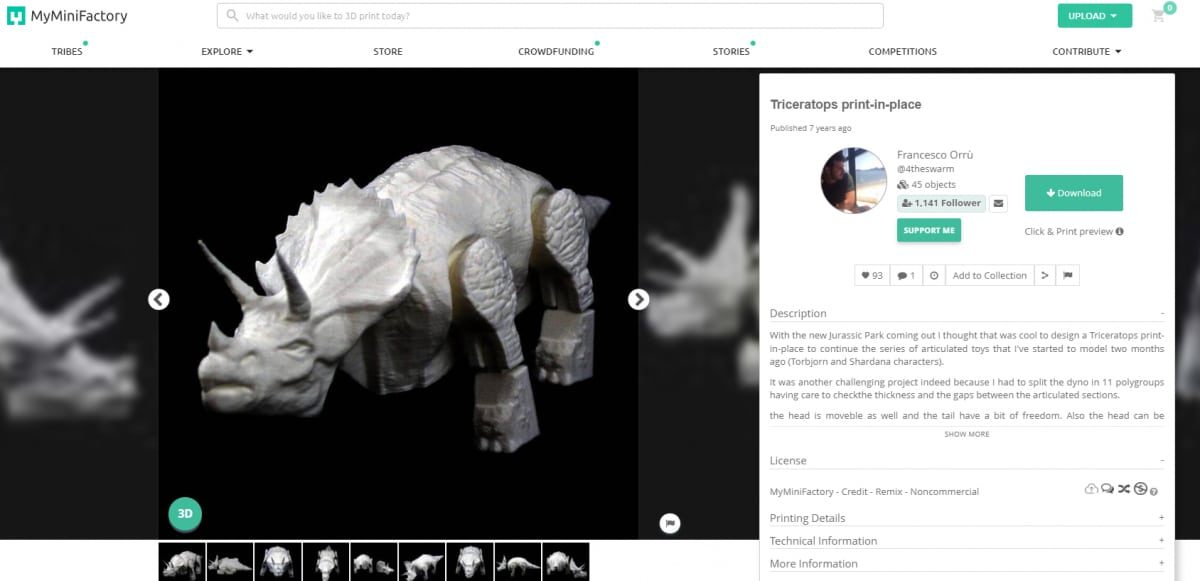 This is another articulating model but this time, it's a Triceratops that prints in place. If you're a Jurassic Park fan or dinosaur connoisseur, you'll love this model. It's a complex model but with a decent 3D printer, you can get this 3D printed and articulating successfully.
The head and tail are movable, and the head can actually be detached from the model.
One user did have trouble with the legs falling over, but with the help of a Raft, they got this created.
Created by 4theswarm