30 Best Marvel 3D Prints You Can Make
In the world of 3D printing, there are a wide variety of objects and characters from the Marvel Universe that can be printed.
I've compiled a list of the best 30 Marvel 3D prints in this article. Go ahead and download any of these for free.
This Baby Groot model is one of the most downloaded Marvel models for 3D printing. The designer was inspired by the appearance of the character in the "Guardians of the Galaxy 2".
It is a wonderful decoration to have around your work desk or a kid's room.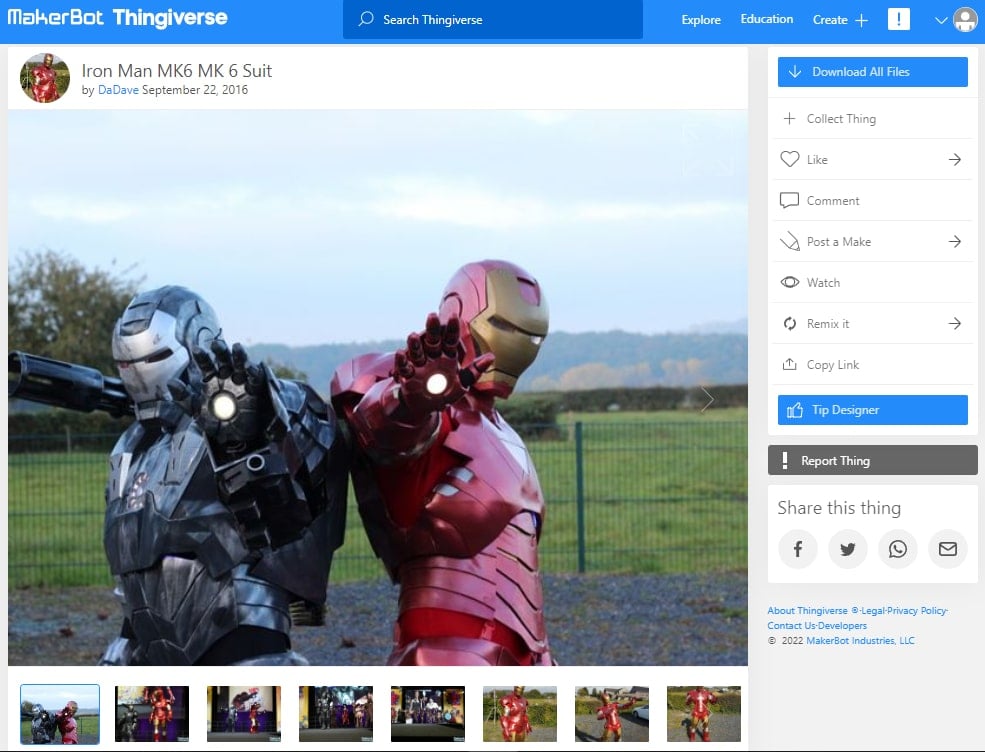 If you ever wanted to cosplay as Iron Man, this is a great option for a costume. This complete Iron Man MK6 Suit will look great, but be aware that it is not very comfortable.
This is great for Halloween or any sort of costume parties.
Here is a video of the Iron Man MK6 Suit working.
You will feel just like the Norse god with this Life Size Thor's Hammer, which is almost the exact size of the prop used in the movies. You can also scale and change its size pretty easy if needed.
The hammer will print in two sections and will take a bit of post-processing to look like the one in the movies.
Check out the video below to see the Life Size Thor's Hammer in action.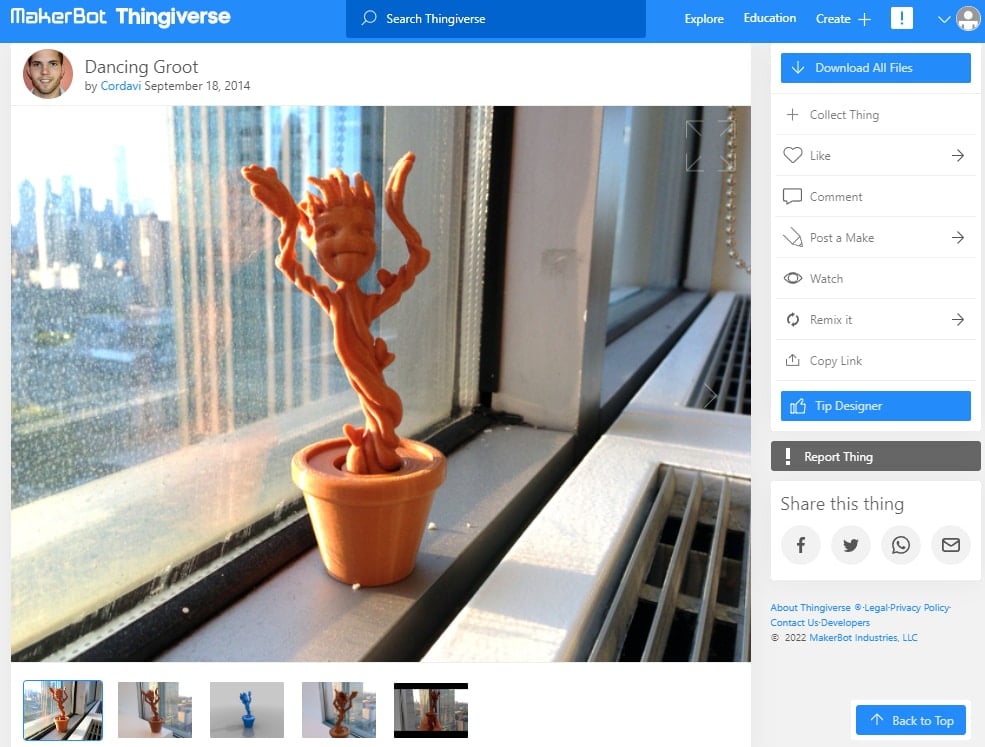 This Dancing Groot is a fun little decoration item inspired in the character Groot from the "Guardians of the Galaxy" movies.
It is an easy model to print as you won't need any rafts or supports when making it.
Check out the video below to see the Dancing Groot in action.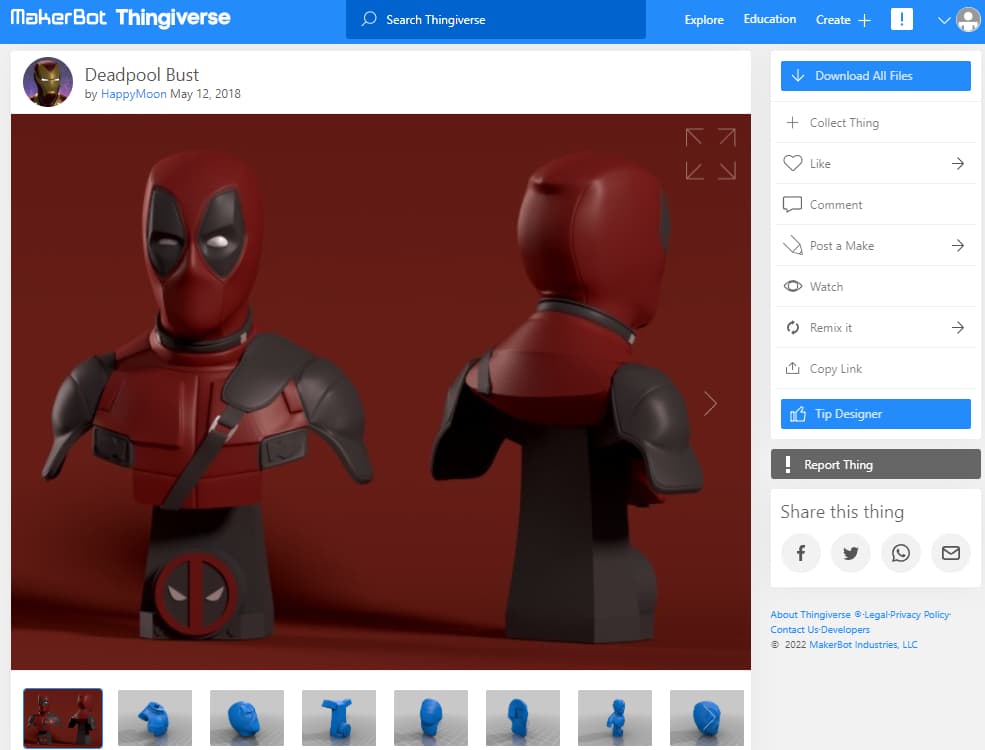 This beautiful Deadpool Bust is another great Marvel model that is available to be 3D printed.
Its default scale is at 15cm including the base, and it was modelled after screenshots from the first "Deadpool" movie.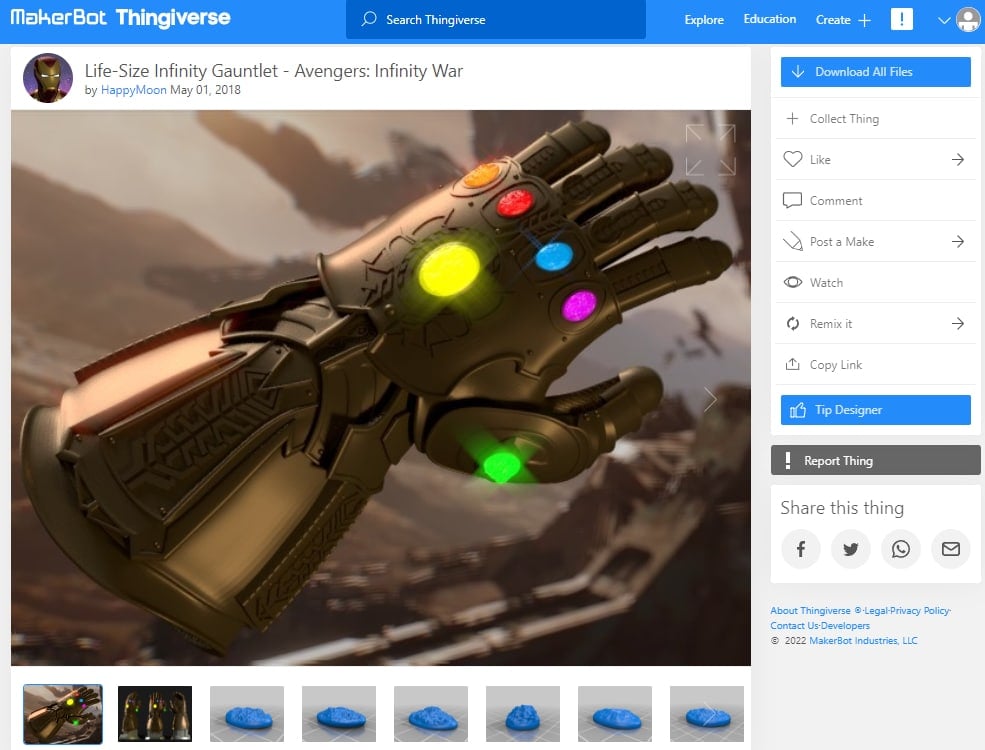 If you're looking to feel powerful, then the Life-Size Infinity Gauntlet will be perfect! It is a beautiful model, perfect to decorate your TV room or bedroom.
The model was created using Blender and its default size is around 50cm tall, not including the base.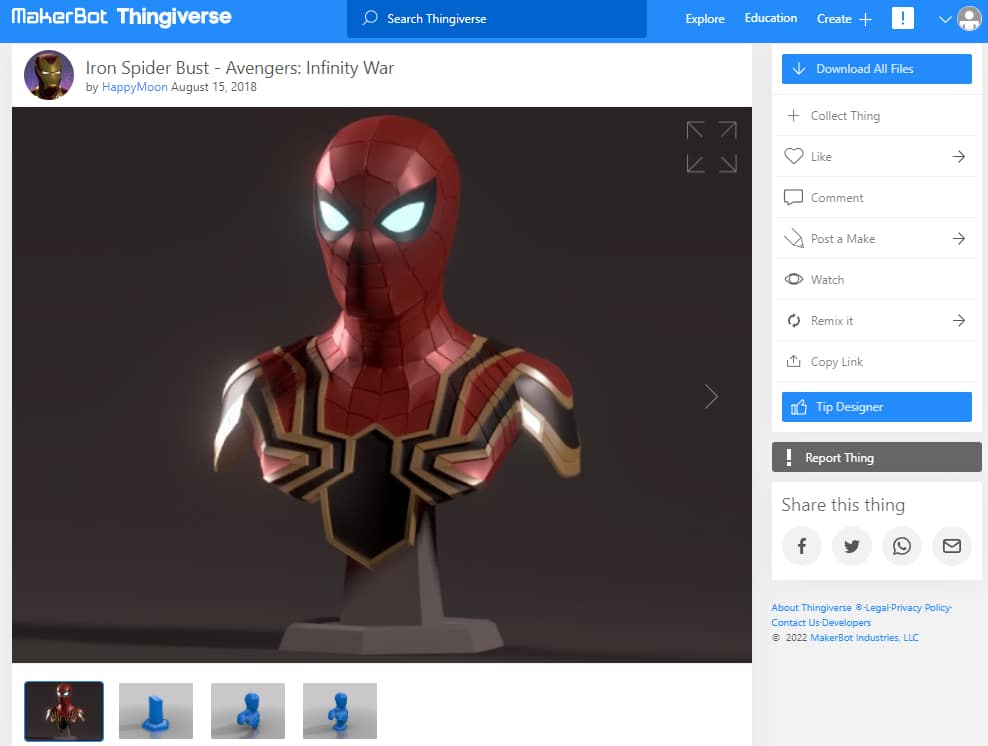 Another great Marvel model you can 3D print at home is the Iron Spider Bust. 
It was designed using reference pictures, primarily from "Homecoming" and "Infinity War" movies.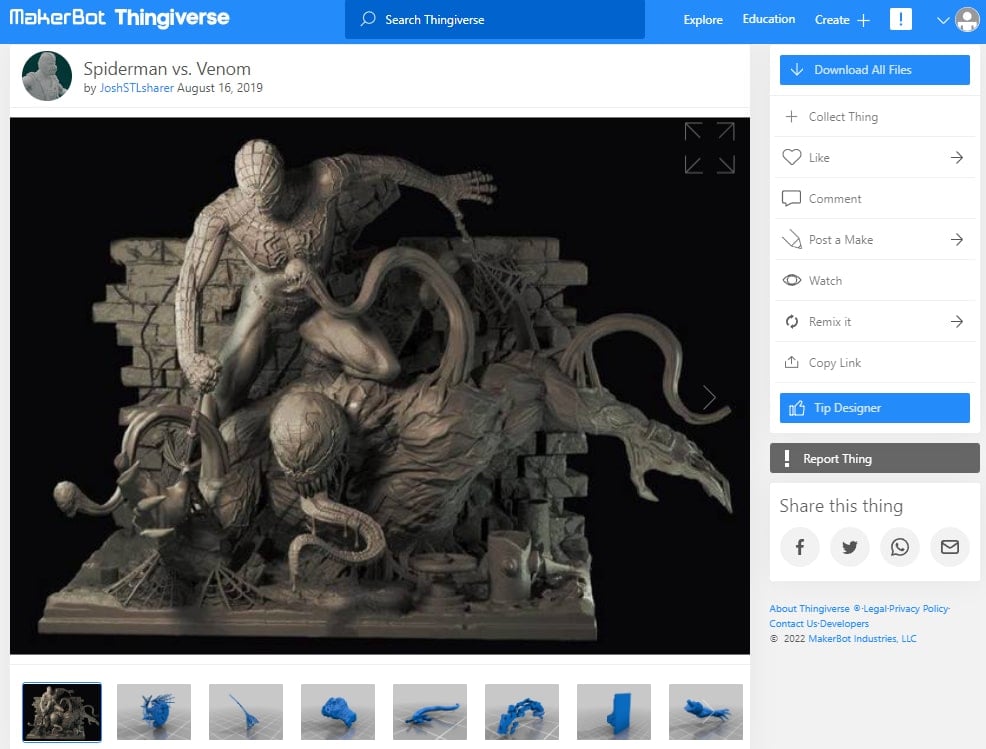 For people who enjoy highly detailed models, there is Spider-Man vs Venom, which features the two characters fighting with a lot of really cool details and textures.
This model will look amazing as a decoration and will impress any Marvel fans out there.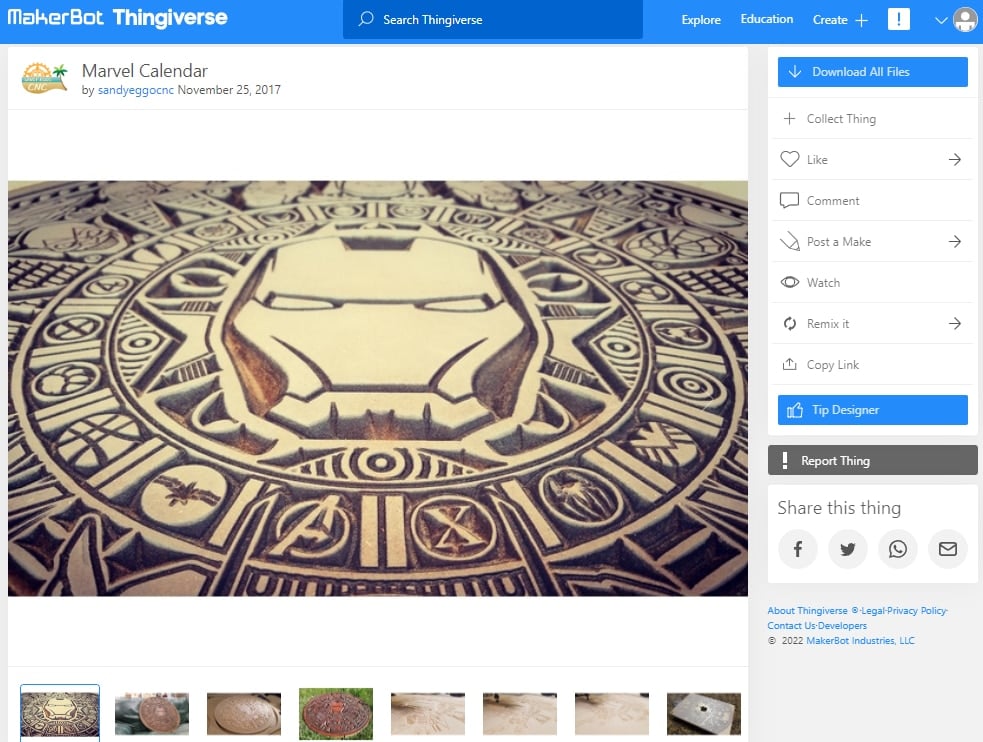 If you want to be able to count down your days with your favorite heroes, then this Marvel Calendar may be perfect for you.
The designer took more than 60 hours creating it, and the result is a beautiful model with a lot of detail that looks great anywhere.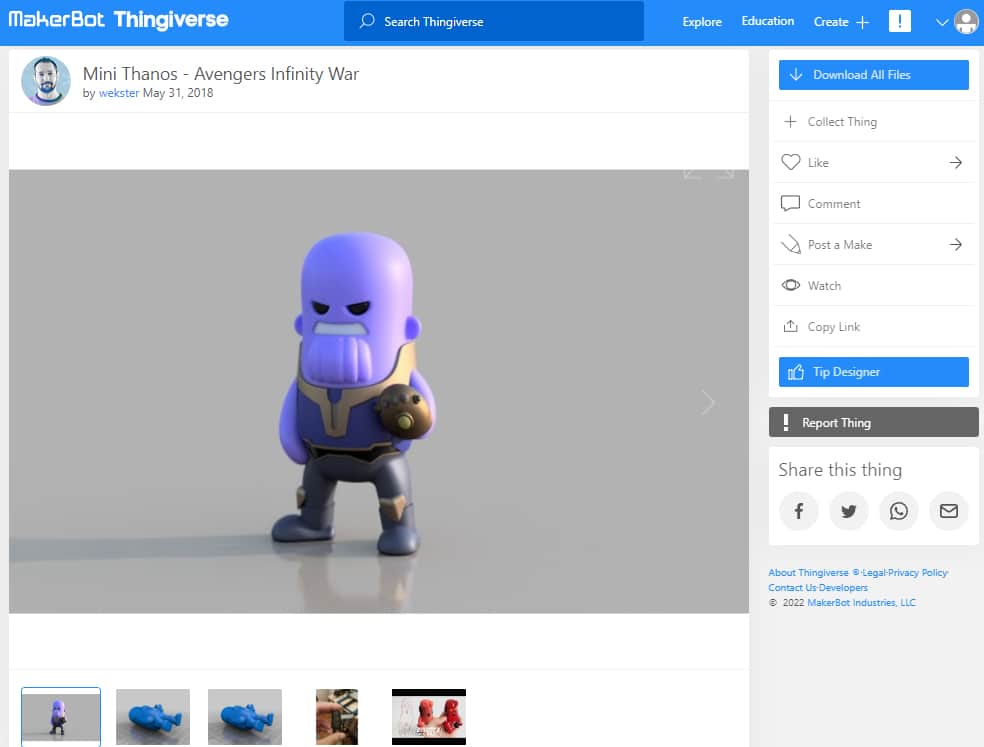 Evil never looked so cute as it does with this Mini Thanos model. Based on the character Thanos, this model brings him in a more cartoon style. 
It works great as a kid's toy and also works as a cool little desk decoration.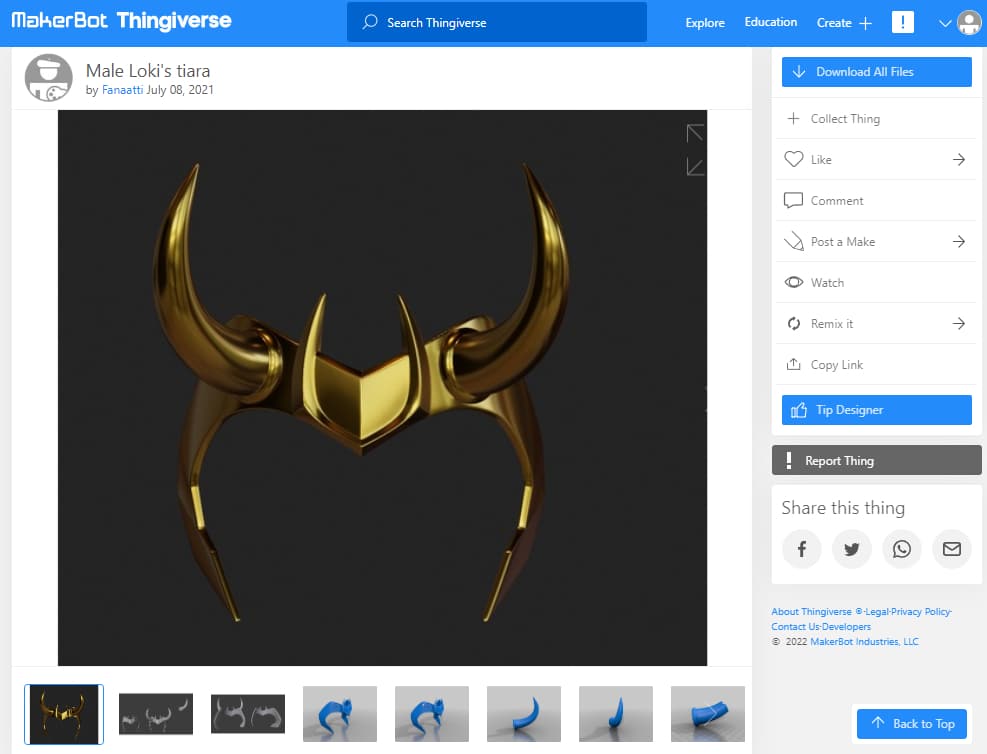 The Male Loki's Tiara is perfect for anyone looking to cosplay as the character Loki from the Marvel Universe.
For people looking to make a successful Loki cosplay, this is the most important item, as most of the rest of his outfit is a lot easier to find.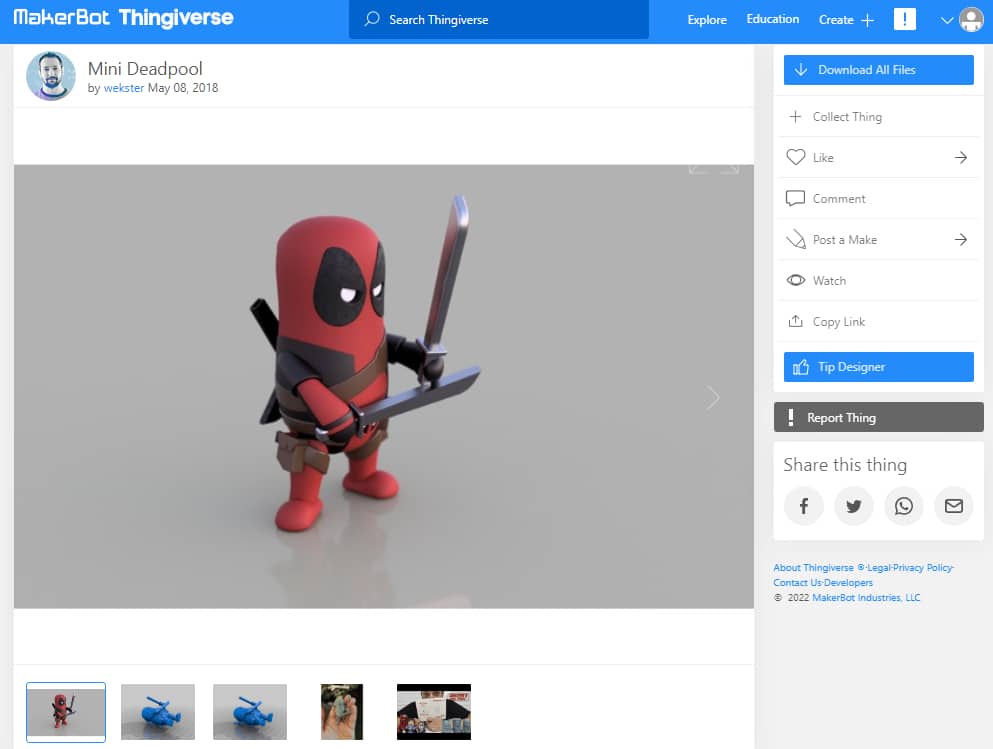 Deadly and cute, the Mini Deadpool is another cartoon version of a Marvel Character, this time using Deadpool as a base to create a more childish look to the hero.
It features two versions, one that comes with only two swords and another that comes four swords.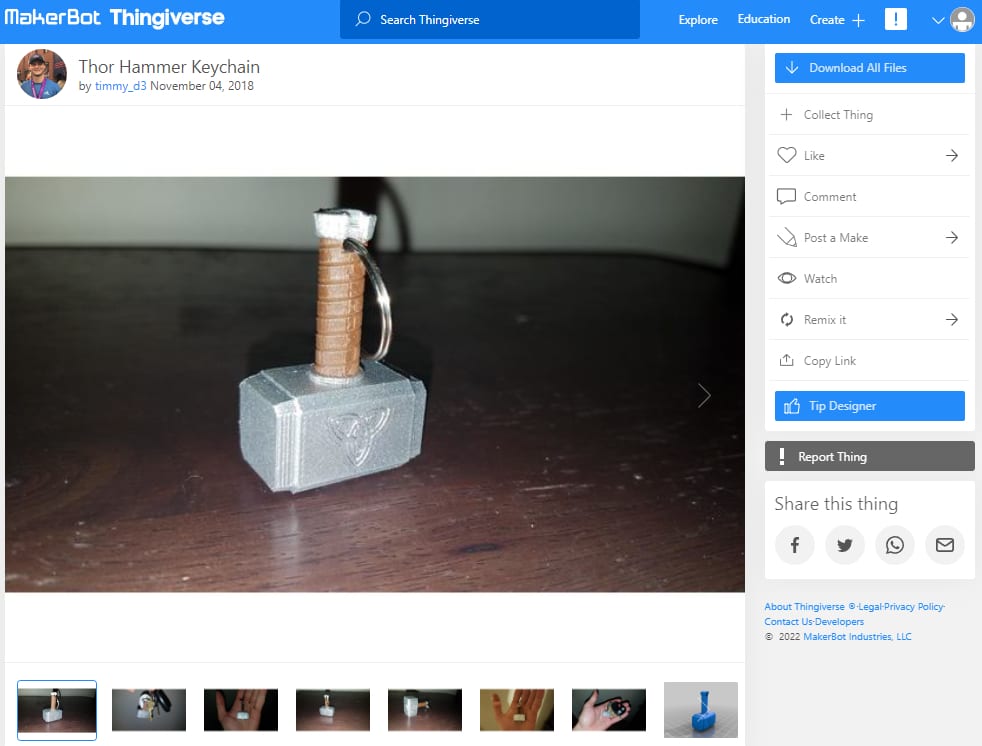 This Thor Hammer Keychain is one of the easier and quicker 3D prints you can make of any Marvel object.
It looks great holding your keys, and it also works as a nice gift for any Thor enthusiasts out there.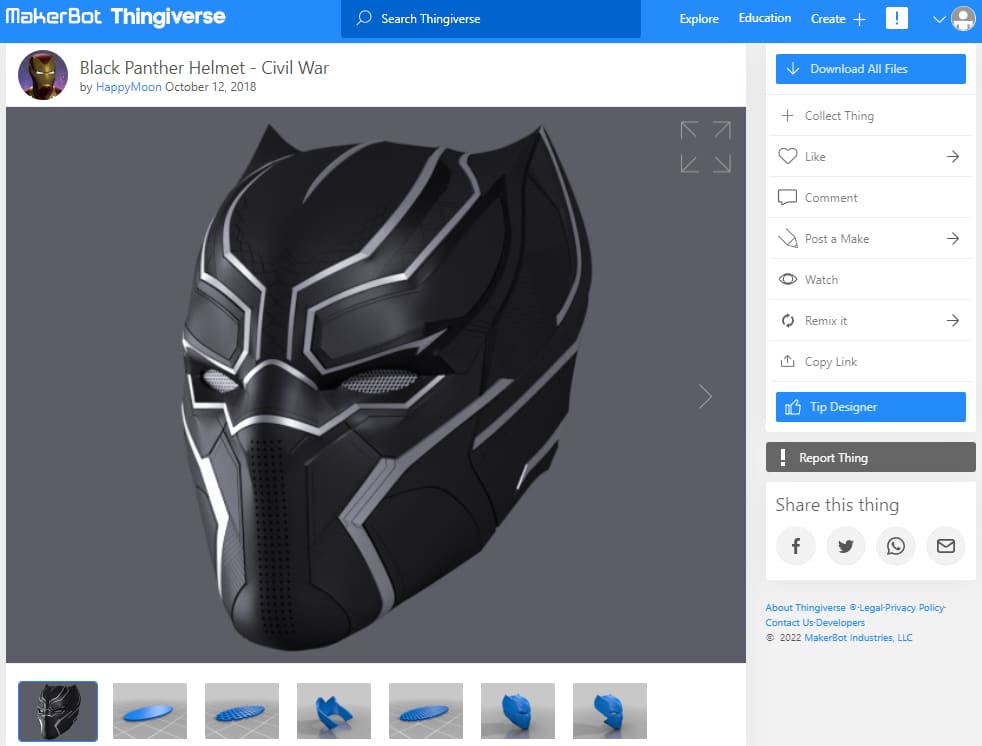 Here is another great helmet option if you're looking at putting together a costume based on a Marvel hero. This Black Panther Helmet will impress anyone that sees it.
It is inspired by the look of the character during the "Avengers: Civil War" movie.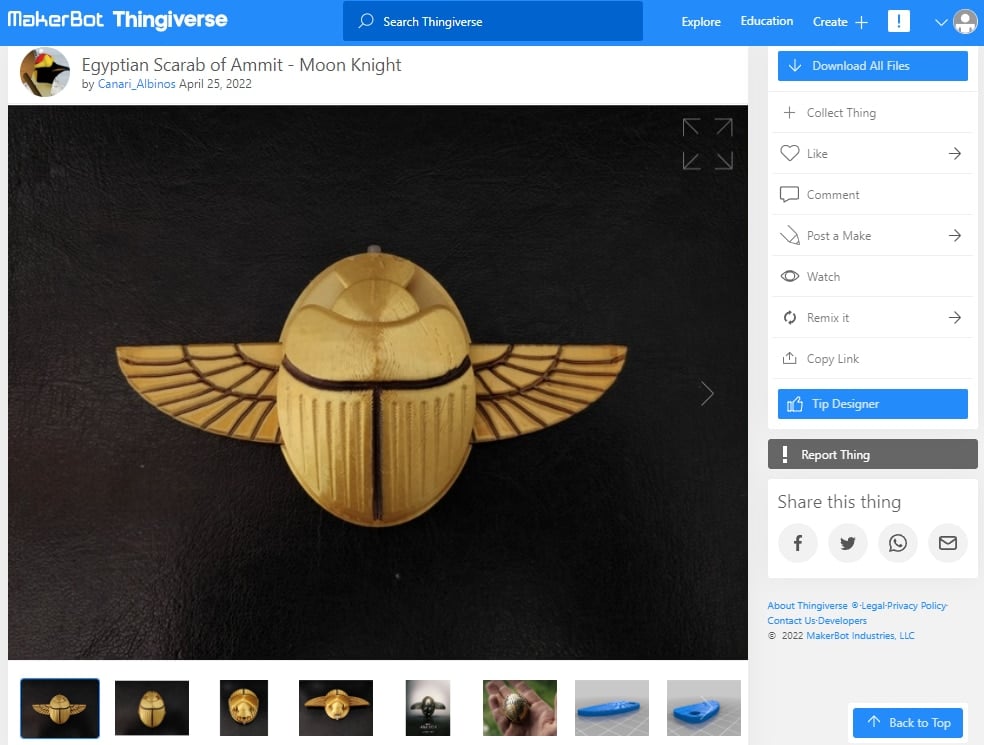 If there are fans of the Marvel Moon Knight series, you'll love this Egyptian Scarab of Ammit model, which is a mysterious object that holds a lot of power.
It is a beautiful model that can open and close its wings freely. You'll just need to insert two Small Rubber Bands, that you find over at Amazon.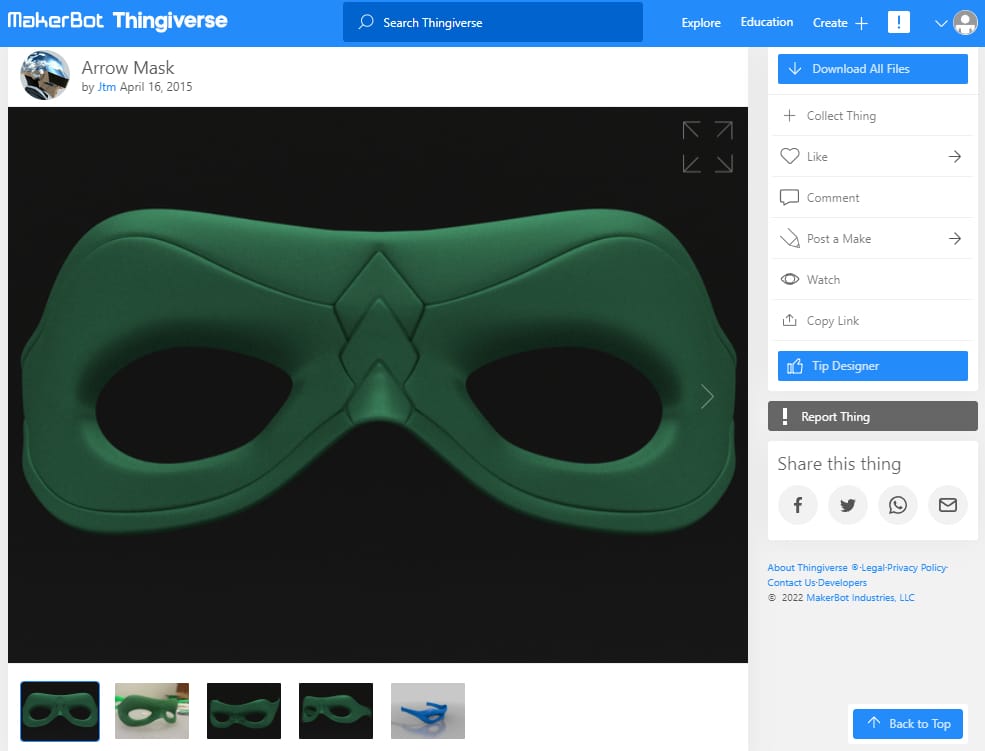 If you're looking to make a Marvel costume that doesn't feature any complex part then this Arrow Mask is perfect for you.
You can easily scale the model differently to fit any face, as the default was made for 6.5 to 7 inches wide.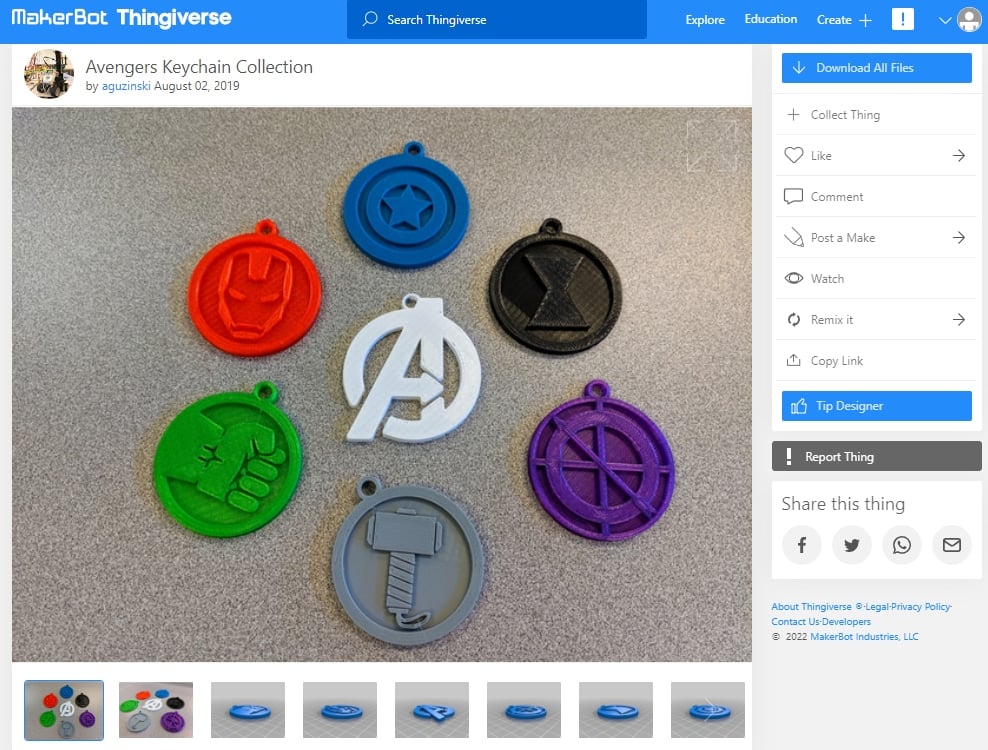 This Avengers Keychain Collection is an awesome collection of different keychains with logos from the Avenger's franchise.
It features the classic Avengers logo, plus the symbols for such heroes as the Hulk, Thor, Iron Man and others.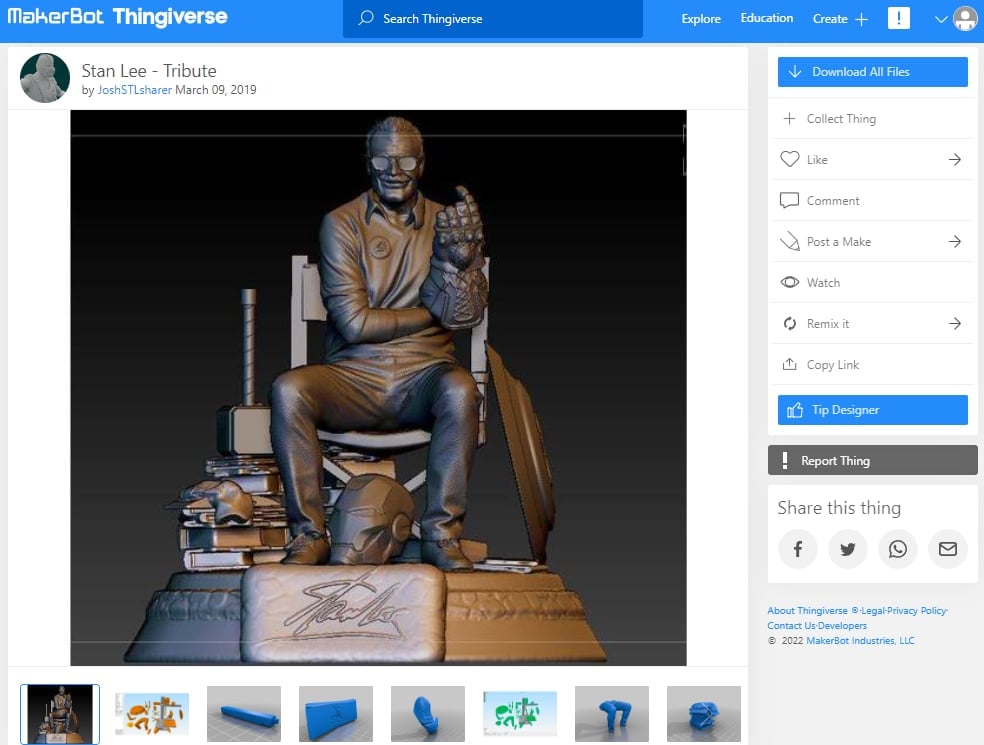 Here is a model that serves as a beautiful tribute to one of Marvel's most prolific creators, Stan Lee. 
He created a lot of the most famous heroes from the brand, such as Spider-Man, Hulk, Iron Man and others. The model features references to a lot of his most famous creations.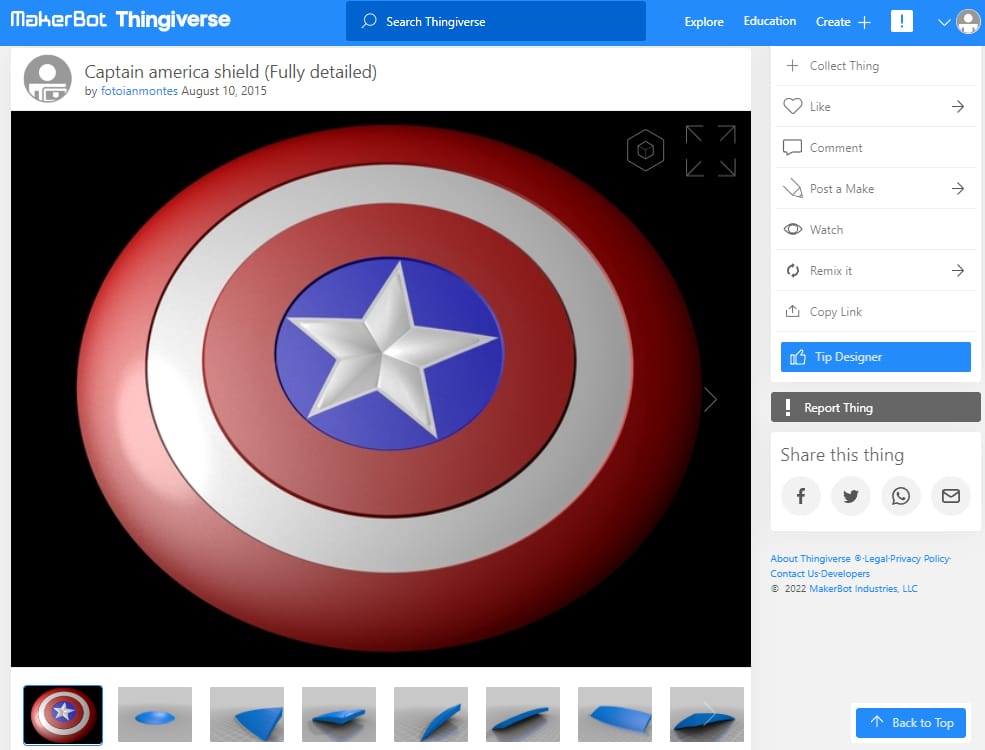 One of the most iconic Marvel objects is the Captain America Shield, available here at real scale and fully detailed.
The shield's default size is 28 inches, but a few users who downloaded it suggest that printing at 24 inches works better for movie accuracy.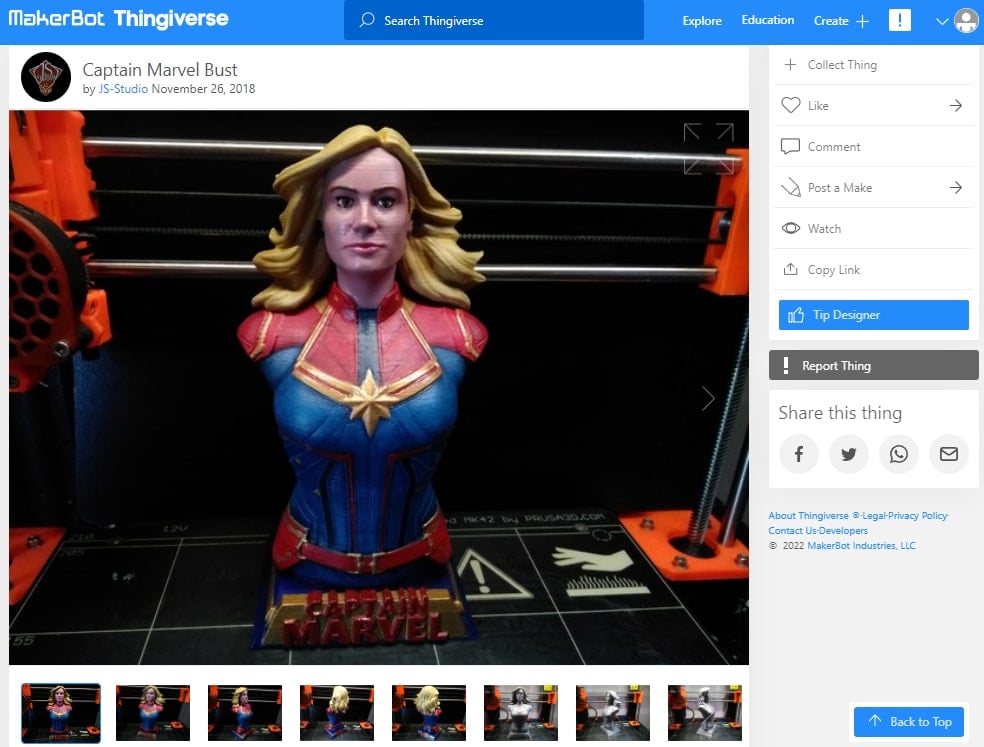 Featuring nice details, this beautiful Captain Marvel Bust is another great Marvel model that looks great as decoration anywhere.
It also works as a cool gift for anyone who enjoyed the "Captain Marvel" movie.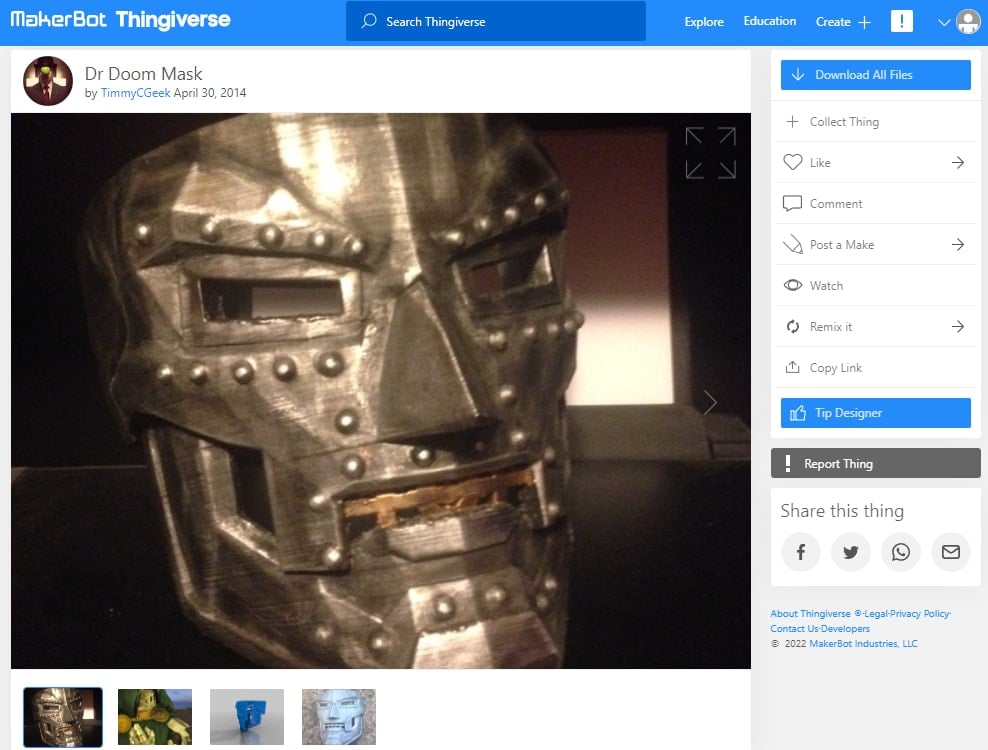 Here is a perfect model for anyone who ever wanted to feel like a Marvel super villain. With the Dr. Doom Mask on, you'll sure feel like one.
Users recommend to print it upside down without using supports to have the best end results.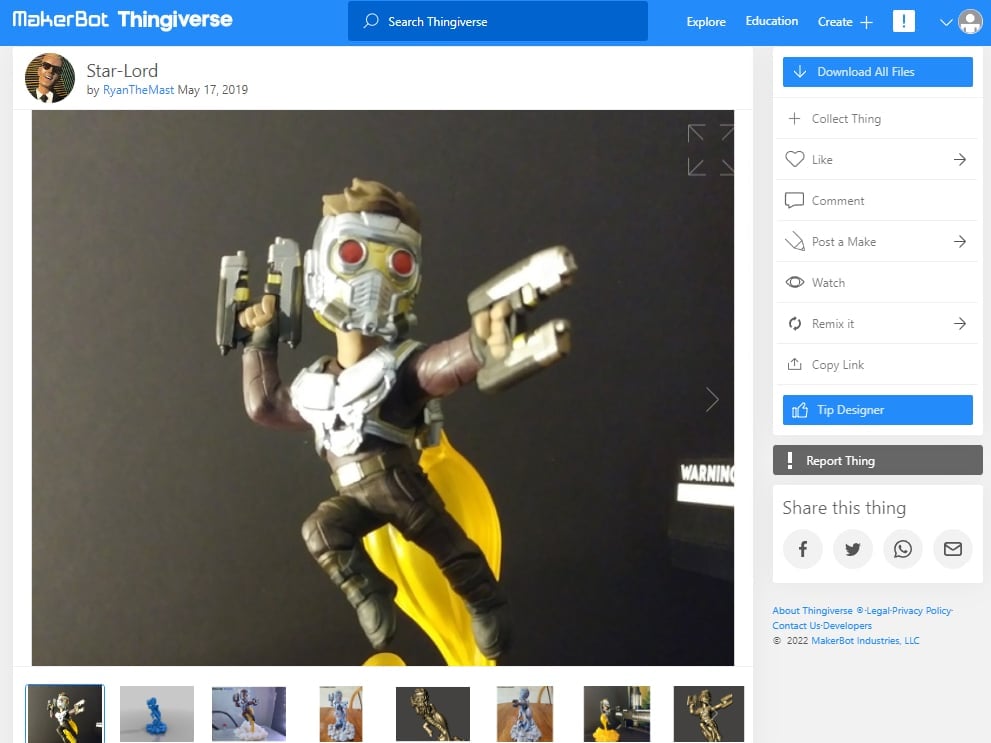 Another great and fun looking character to have as decoration around your house or office is the Star-Lord model, from the "Guardians of the Galaxy" movies.
The designer gave the character a more cartoon look, making the model very original. It will impress anyone who's a fan of the franchise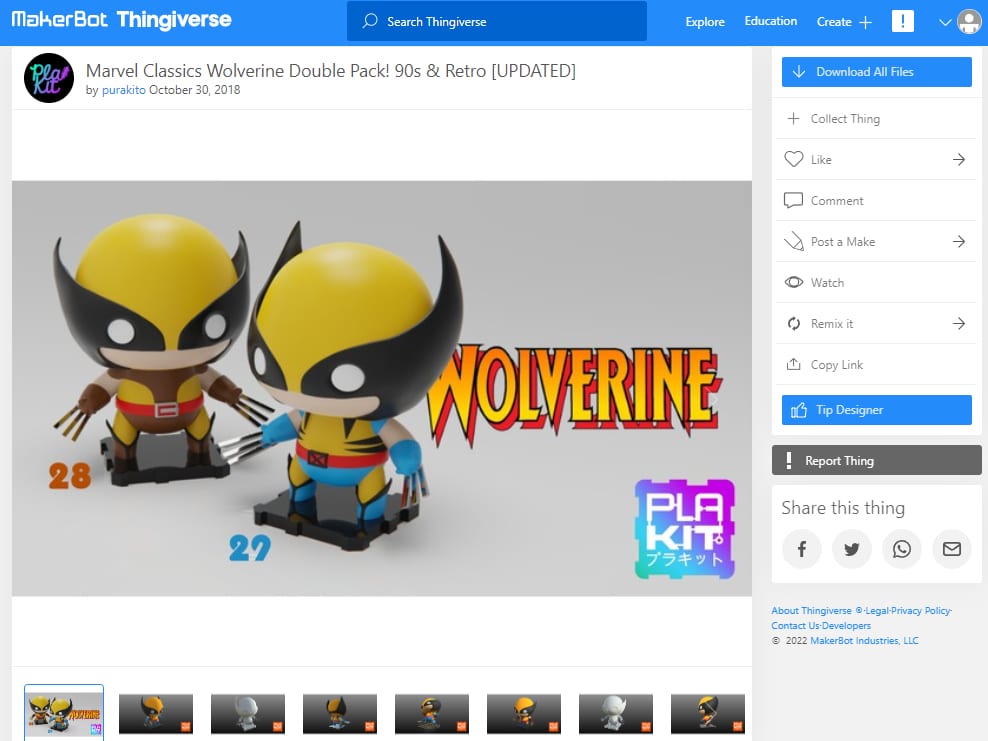 Another awesome looking model is the Wolverine Double Pack, which features the beloved X-Men character in two different versions.
These models have a very cute design that is similar to Funko Pops toys.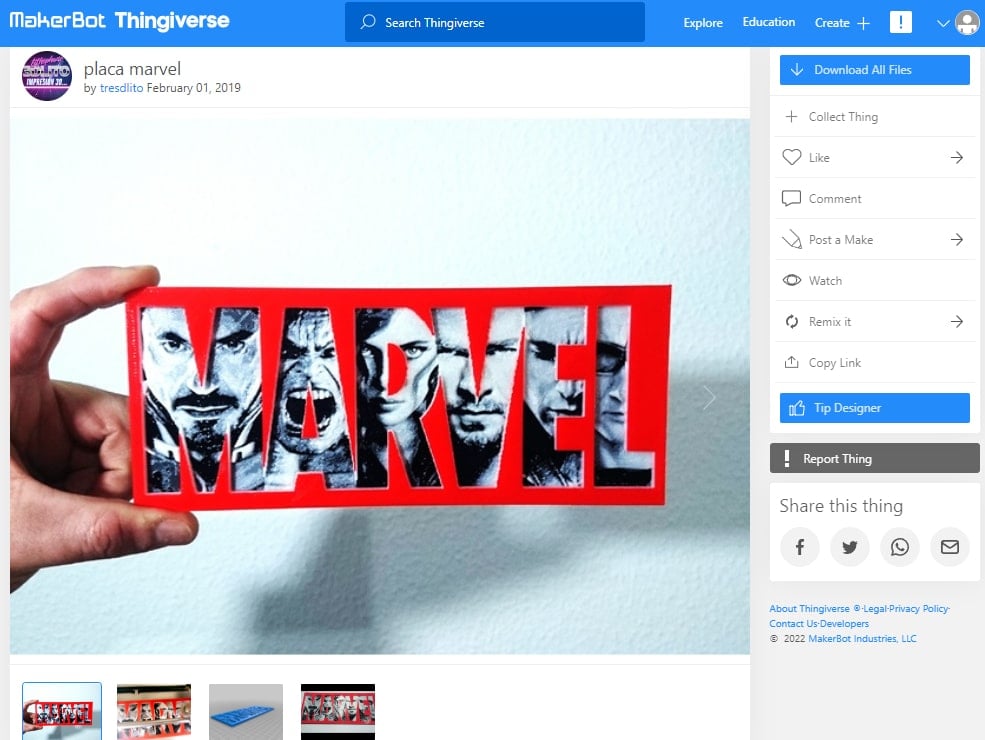 Nothing better to showcase that you are a true Marvel fan than having the Marvel classic logo 3D printed.
It serves as a great gift for anyone who enjoys the Marvel Universe, as well as a cool little piece of decoration.
Check out the video below to see the printed Marvel Logo.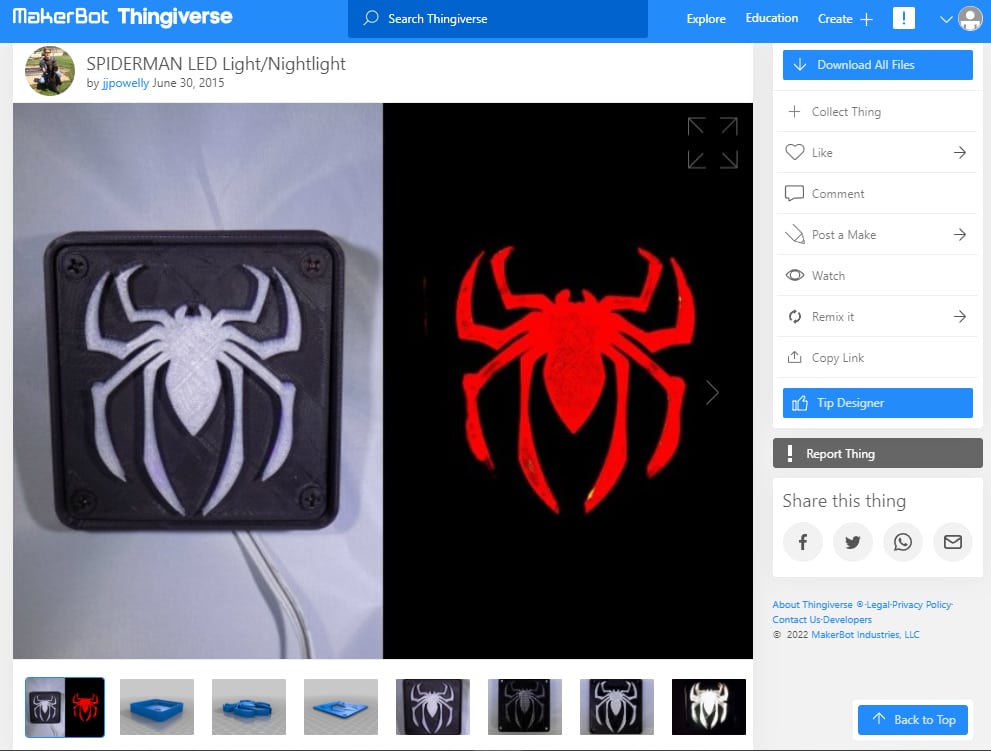 This awesome Spider-Man LED will look great as a lamp and impress anyone that comes across it.
To be able to get it fully working, you'll need to get an RGB LED Strip that you can control with a remote, which is available at Amazon.
Check out the video below to see the Spider-Man Led in action.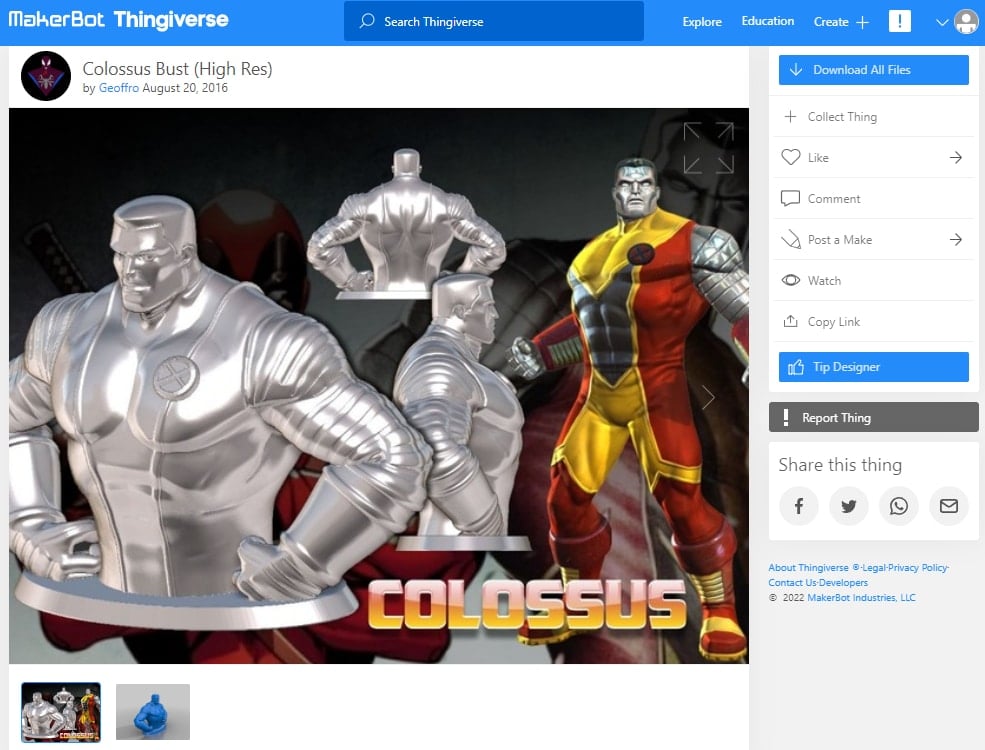 This Colossus Bust is another great option of Marvel models to be 3D printed. It was modelled after the character classic look from the comic books.
It is a very easy print and will work as a great benchmark item as it will show off your layer quality.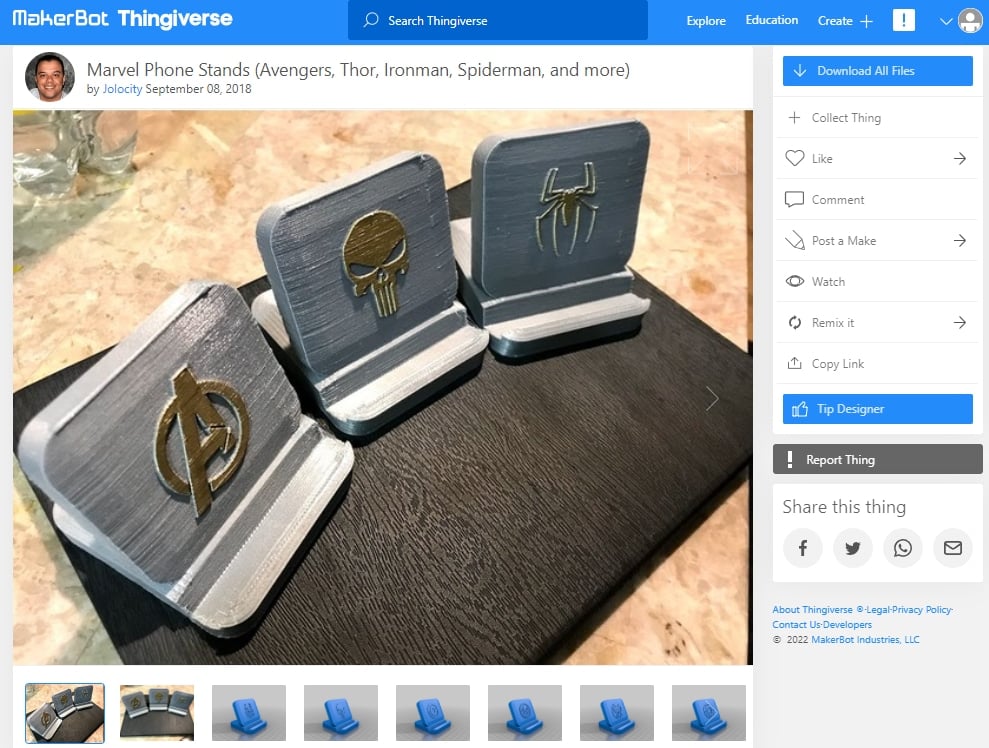 Another really cool Marvel item that can be 3D printed are the Marvel Phone Stands, which comes with a lot of different design options.
You can print the one you like the most or make a collection with all of them. Featured as an option is the Avengers logo, the Punisher skull, the Spider-Man logo and much more.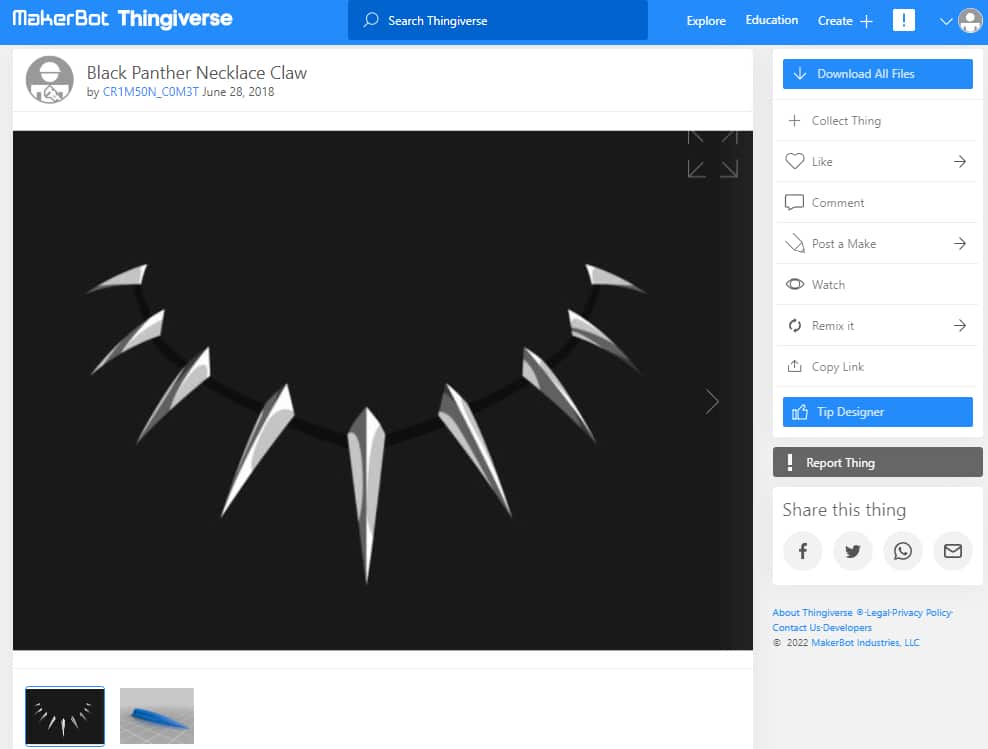 If you're looking at putting together a Wakanda inspired costume, then this Black Panther Necklace Claw will work perfectly.
It is recommended to print from ten to seventeen claws to recreate the full necklace.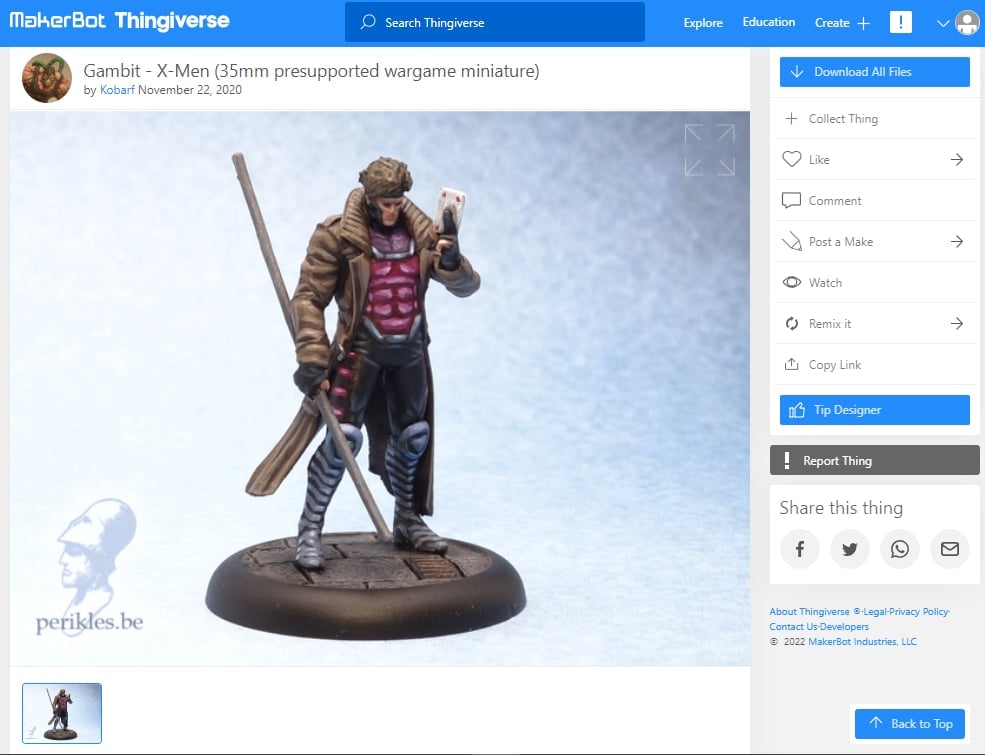 Featuring a lot of cool details, this Gambit model is a great option to gift any Marvel or X-Men fans out there. It also comes with its own base.
It was designed as a miniature to be used in 35mm war games, but the model can also serve as a cool little decoration.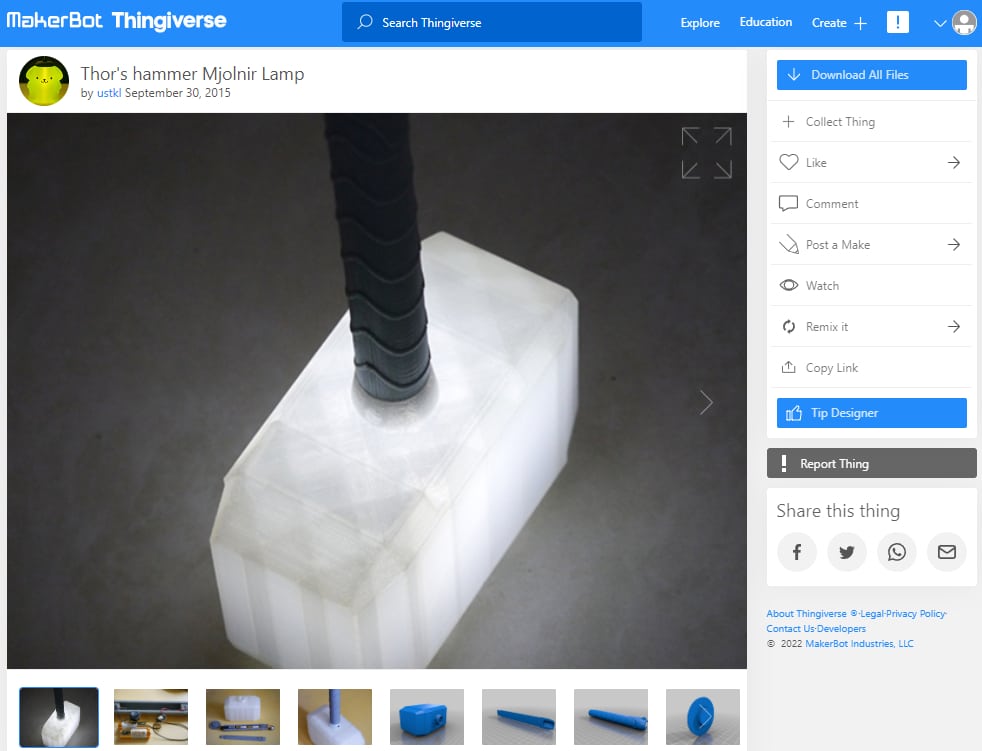 The Thor's Hammer Lamp is a really cool item that will impress anyone that sees it, even people unfamiliar with the "Thor" movie franchise.
To make the hammer light up you'll just need a couple of AA batteries, a pair of AA battery conductor plates, a 16mm round power switch and a 1W LED with aluminum PCB.
All the items listed above are found on Amazon at accessible prices.
If you found this article helpful, feel free to share it.