For aquarium enthusiasts, there are a lot of great models that can be 3D printed, some will serve as decoration while others will help you out with the more technical part of owning a fish tank.
I wrote this article to compile a list of the 30 Best Aquarium 3D Prints. They are all free to download, so go ahead and grab the ones you like.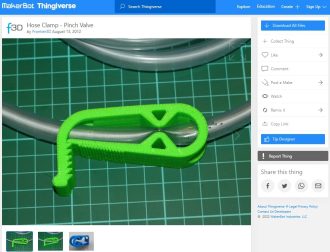 Anyone who owns aquariums and fish tanks knows the importance of being able to seal any tube you have to control liquid flow. 
That's why this Hose Clamp model is extremely useful, besides being such an easy print to make.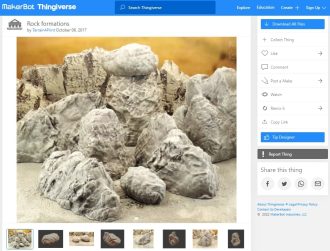 For people looking to improve their aquarium's decoration, this awesome Rock Formations model is perfect.
All the rocks are hallow, and you can scale them down as much as you want to fit the size of your fish tank.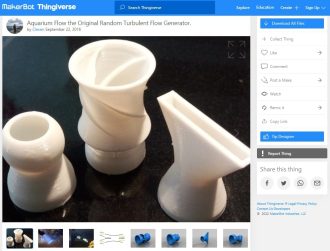 Aquarium Flow is just a pretty name for the Random Turbulent Flow Generator, which will generate an improved water flow for your aquarium.
This will significantly improve the health of the environment.
Check out the video below to see how the Aquarium Flow was created.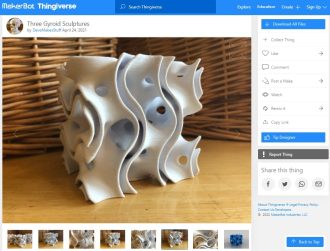 One of the most modern and elegant decorations for any aquarium is the Three Gyroid Sculptures model.
They are quite detailed and still offer plenty of space for the fishes to swim through.
Check out the video below to see how the Three Gyroid Sculptures looks after printing.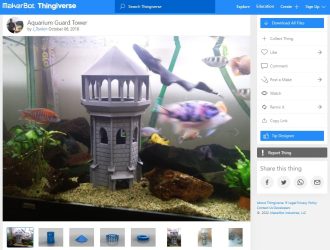 This Aquarium Guard Tower is another awesome decoration that will really set apart your aquarium from all the others.
Just be aware that you should glue all the parts together, or they may float apart until being fully filled with water.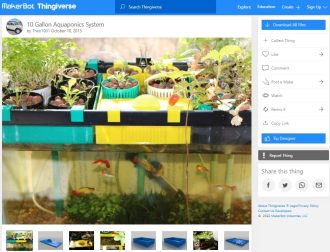 Here is a great option for anyone who likes to double their aquarium into a water-based plant growing system.
The 10 Gallon Aquaponics System model allows you to do just that while still creating a healthy environment where the fish and the plants will be able to stay.
For those who are into steampunk or shipwreck inspired designs, this Aquarium Pipework will be perfect decoration.
It is recommended you print it with ABS, and it can serve as a nice gift for anyone who wants to change the look of their fish tank.
Check out the video below to see the printed Aquarium Pipework installed and underwater.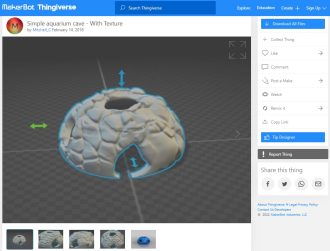 This Simple Aquarium Cave is one of the most downloaded aquarium STL files as it features a very basic cave with little texture, perfect for any aquarium.
Users recommend printing this model using an aquarium safe plastic, such as ABS.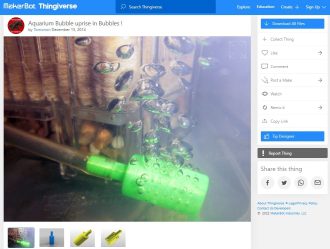 Check out this awesome Aquarium Bubbler, which will highly improve your fish tank's water flow.
This model is a really nice upgrade to any sort of aquarium, especially one with a large quantity of water.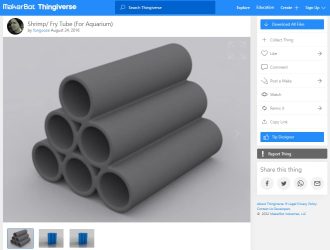 For those who besides fish also own shrimp and other similar species in their aquarium, this Shrimp Tube will be perfect.
It provides a nice breeding space while still serving as decoration for the fish tank.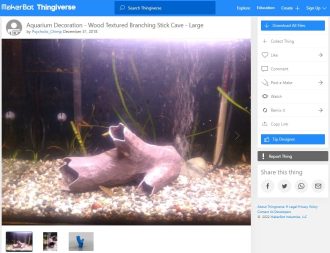 Many users downloaded and decorated their aquariums with the Wood Textured Branching Stick Cave model.
With many different points of entrance for the fishes, this model offers not only a nice decoration as a great addition to their environment.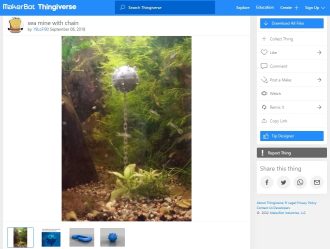 If you're looking for a more serious decoration, then you may really like this Sea Mine with Chain model that's available to download.
The model comes in two parts, the chain and the sea mine. It is recommended you print around ten chain pieces for one sea mine.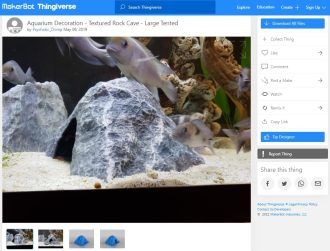 Another great option of functional decoration for your aquarium is this Textured Rock Cave model, where your fishes can hide inside while still making the tank look nicer.
It is recommended you print this model with PETG, which is aquarium safe and a natural filament, so there will be no dyes or additives that can harm the animals.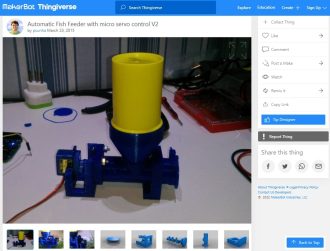 For anyone looking for a way to ease the need to daily feed your fish, this Automatic Fish Feeder model will be perfect for you.
Just be aware that you'll need a 9g Micro Servo to make the model fully functional. They are available at Amazon for great prices.
Check out the video below to see the more about the Automatic Fish Feeder.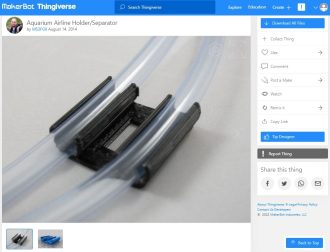 Aquarium air lines may be organized and secured with the help of this Aquarium Airline Holder/Separator model, which has a mounting hole in the middle.
It is one of the easiest and quickest 3D prints for aquariums that you can find online.
This Hideout Rock model is another great model to be 3D printed for any aquarium or fish tank that wants to improve its ambient.
While it features a lot of room for plenty of fish to hide, it also looks pretty nice, doubling as a great decorative piece.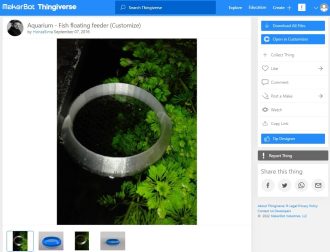 Another really cool and helpful model that you can 3D print for your aquarium is the Fish Floating Feeder.
With it, you will be able to fish your feed more easily and have a better distribution of food among them.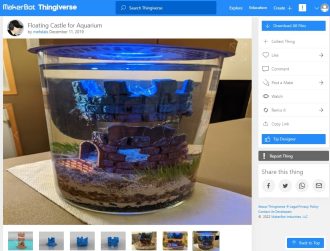 This is one of the best looking decorations for aquariums that you will find online. The Floating Castle model will make any fish tank look a lot prettier after its inclusion.
It will make a great gift for anyone who wants to get a new decoration for their aquarium.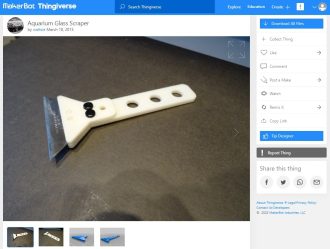 Many users have found great help with this Glass Scraper model, which is an easy and quick print and will help you to get rid of any algae that's sticking to the glass.
Just be aware that you'll need to get a stanley blade to be able to assemble the model correctly.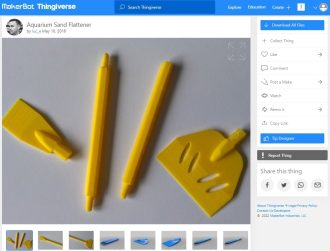 Another great model that will help you with your aquarium's maintenance is the Sand Flattener.
This model will really make it a lot easier to fix imperfections and equally spread sand among the bottom of your aquarium.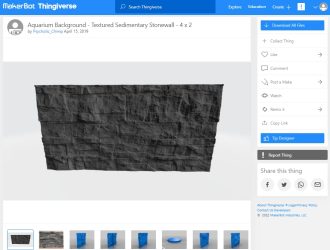 Nothing will improve the look of your aquarium as much as 3D printing this background, the Textured Sedimentary Stonewall model.
Printing this model is easy and doesn't need supports. You may print as many panels as needed to fit your aquarium.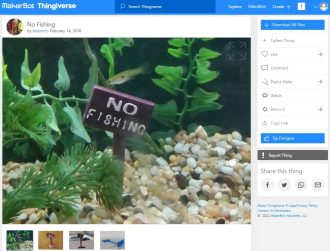 In case you're afraid someone may look at your aquarium and start having bad ideas, this No Fishing model will be perfect for you.
Many users recommend this model as it features a very creative design and is very easy and quick to print.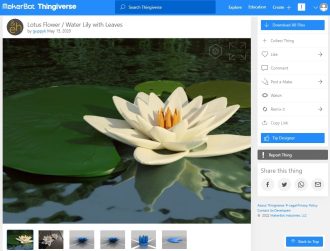 If you're looking for a more elegant decoration for your aquarium, then this Lotus Flower with leaves may be the model for you.
You should print this model at 20% infill or less so all of its parts will swim accordingly.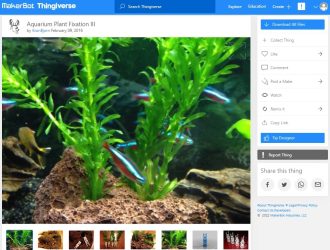 In case you're having problems fixating the plants on your aquarium, this model will be very helpful.
The Plant Fixation model will serve as a nice decoration for your fish tank, while also helping you keep all your plants fixated nicely.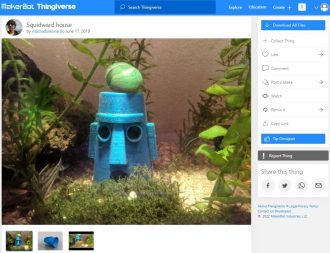 For any Sponge Bob fans out there that also own an aquarium, this Squidward House model will be a great gift.
It serves as an amazing piece of decoration for your fish tank while still having space for the fish to play around and inside it.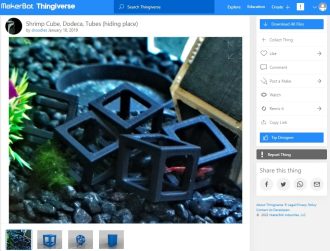 If you're also a shrimp owner and want to provide a new hiding place for them, then this Shrimp Cube model will help you out.
You can print as many as you like and place them around a pile or in different spots of your aquarium.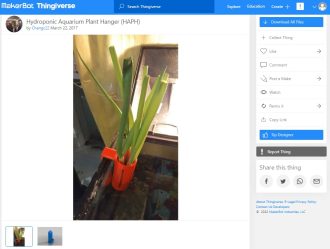 For people looking to try a little bit of hydroponic gardening with the help of their aquariums, the Hydroponic Aquarium Plant Hanger is the perfect model.
This model is perfect for anyone that wants to start small and test just a few little plants on their fish tank.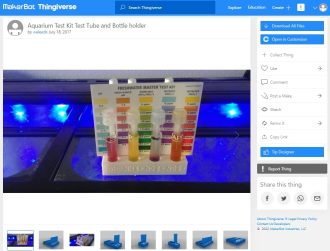 When owning an aquarium you'll need to do several tests, such as pH or Nitrate tests. This model features better containers for the chemicals you'll be using, so you're able to these tests regularly.
The Test Kit model will really improve the routine of any one taking care of their aquarium. The kit comes with test tubes and a bottle holder.
Another great piece of decoration that you can 3D print for your aquarium is the Fan Coral model.
This model was designed after a 3D scan of a real Fan Coral. It will really improve the look of any aquarium out there.
If you're really looking to impress everyone with the look of your fish tank, then these Flaming Stunt Hoops model will be perfect.
Everyone will be amazed by the fishes jumping through the hoops. This is definitely one of the most fun decorations out there.