30 Best 3D Prints for Camping, Backpacking & Hiking
In the world of 3D printing, there are many different items to download for camping, backpacking, and hiking. They can be handy and help you enjoy these activities even more. 
For this article, I decided to compile the 30 Best 3D Prints for Camping, Backpacking, and Hiking. Go ahead and download any of these for free.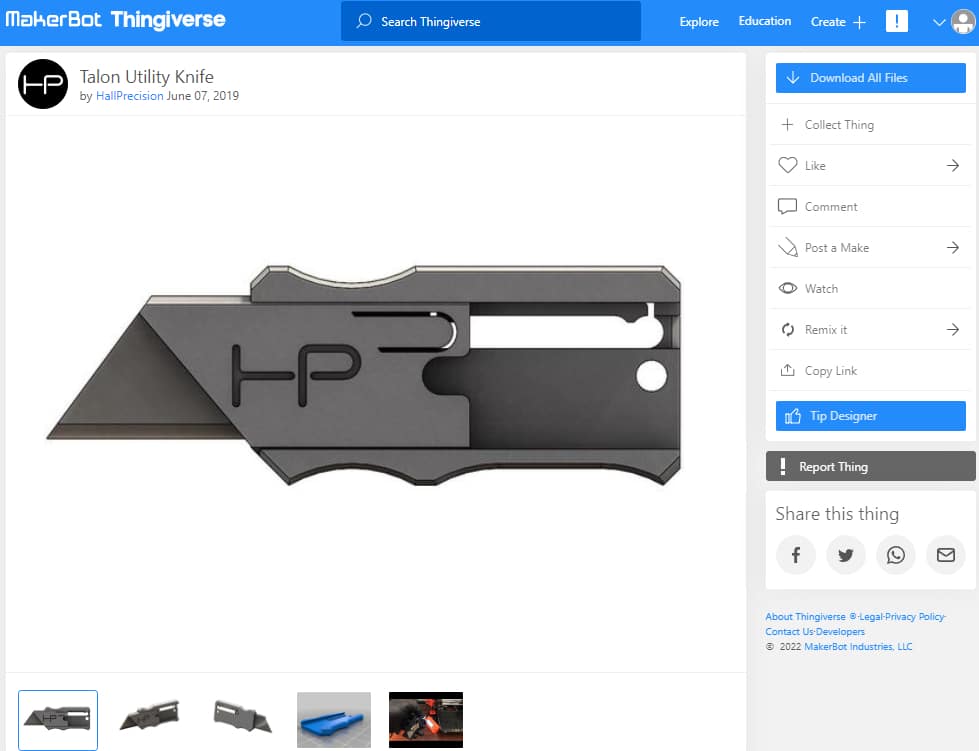 For anyone who loves camping, this Talon Utility Knife model will be of great help as it can fit on a keychain, making it super easy to find.
Having a utility knife when going camping is always useful, as you may need it for several different reasons.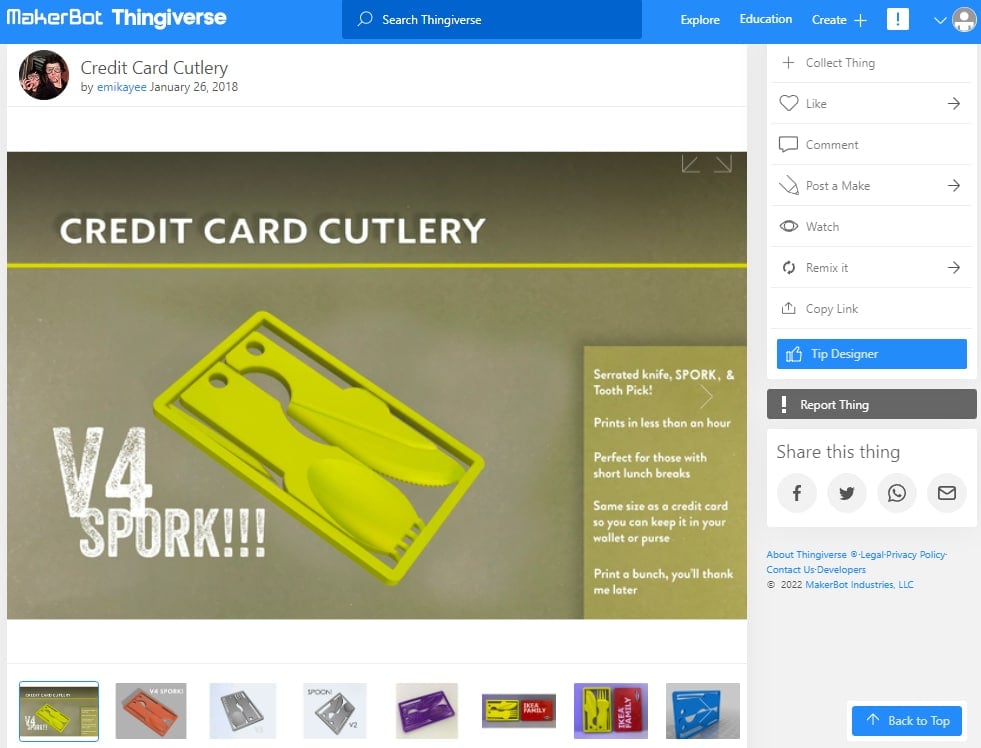 This is a great option to 3D print if you're thinking about going camping or backpacking. The Credit Card Cutlery has the utensils you need to eat but on the size of a credit card.
Perfect to bring with you on the road or a camp trip. Just remember to print those in food-safe filament and with a stainless steel nozzle. Due to the nature of 3D printing and the layer lines, you want to use these once and then dispose of it since bacteria can get between the layer lines.
Natural filaments without additives are better to use as well.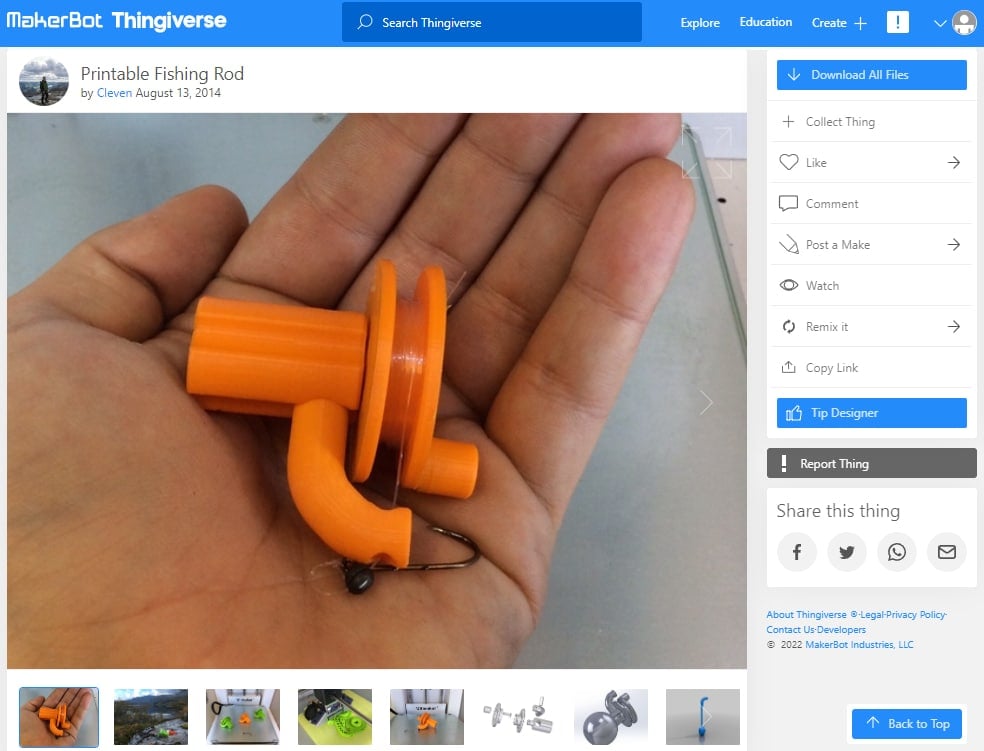 For anyone who enjoys a relaxing fishing trip, then this Printable Fishing Rod model will surely catch their attention.
As they are small, they are perfect to have on a camping trip, and use them in case you find a random fishing area.
Check out the video below to see the Printable Fishing Rod working.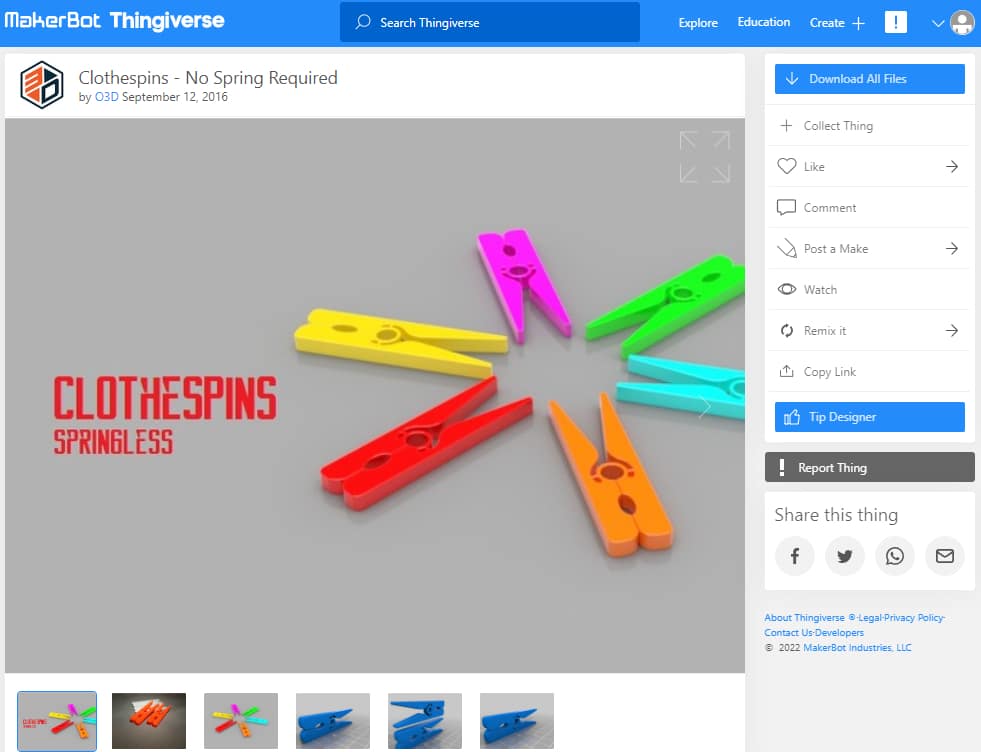 The Clothespin model is perfect for anyone who enjoys keeping a camping trip organized, as they are more durable than wooden clothespins and don't require any springs.
Many users downloaded this model as it is one of the quickest and easiest prints to make.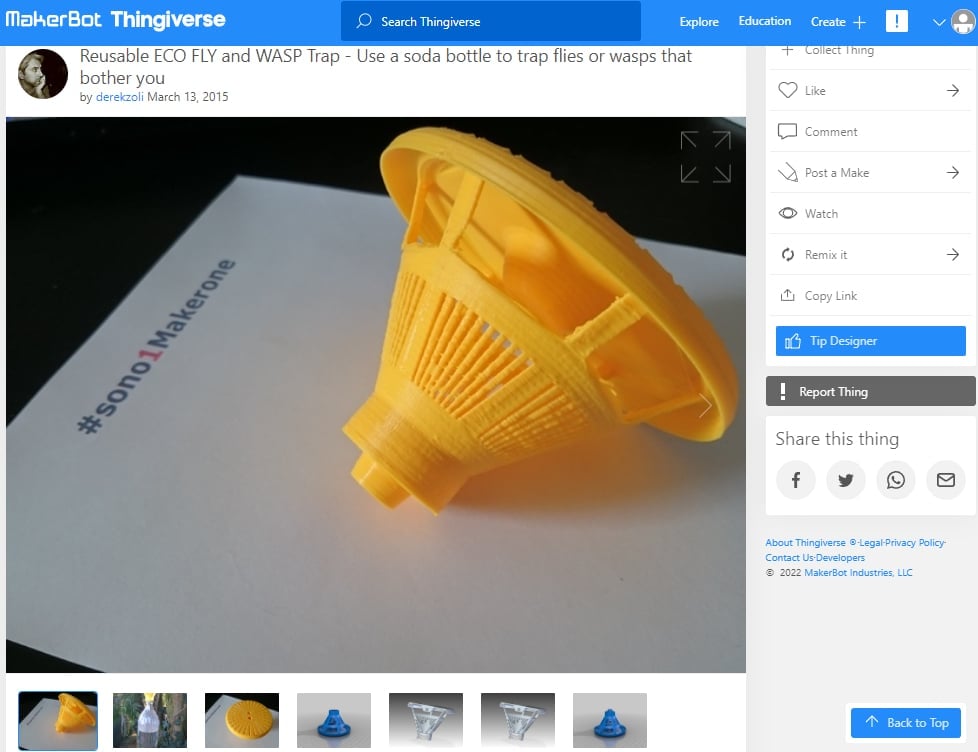 For people who enjoy camping but hate bugs, this Reusable Eco Fly and Wasp Trap model is a great option to 3D print before going on a trip. Any soda bottle with the same thread may be used to attach this trap.
Fly or wasps drawn by fragrance will enter the bottle because of its funnel form but will be unable to exit, helping to keep your camping trip more pleasant.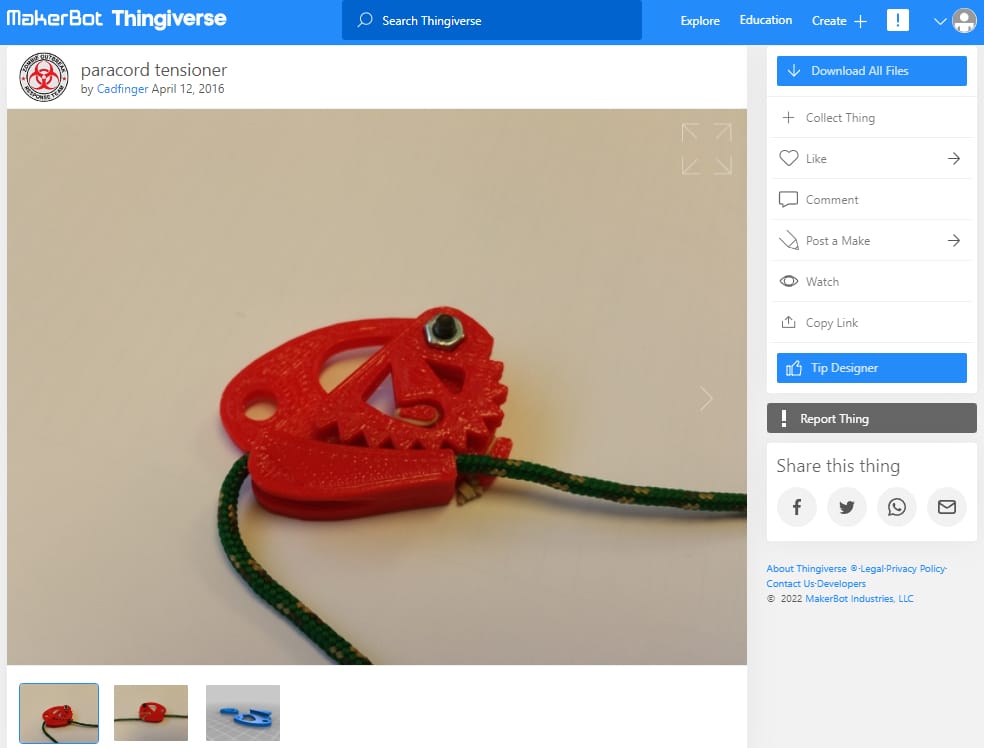 If you're planning on going hiking or camping then you should consider printing this Paracord Tensioner as it can be really useful.
The designer's objective was to create a paracord buckle that could be used for hiking and camping that was sturdy, lightweight, and multifunctional.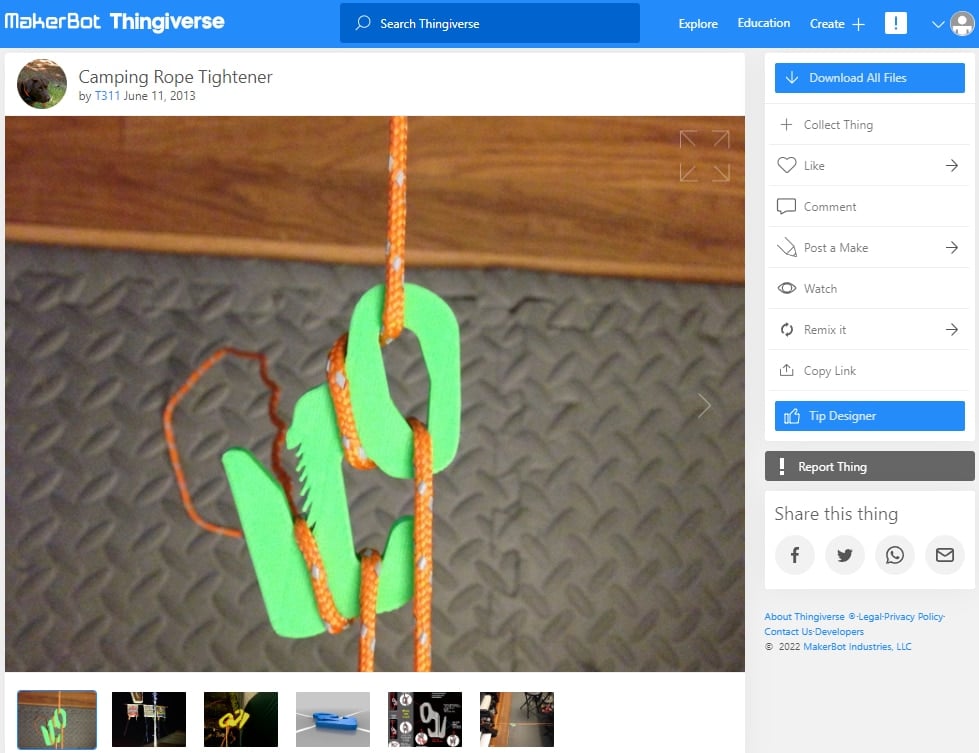 This model's design was inspired by the figure nine style rope tighteners that you can find around your local stores. 
Users recommend you print this design with 100% infill, so you can achieve a better result that will keep your ropes well-tightened.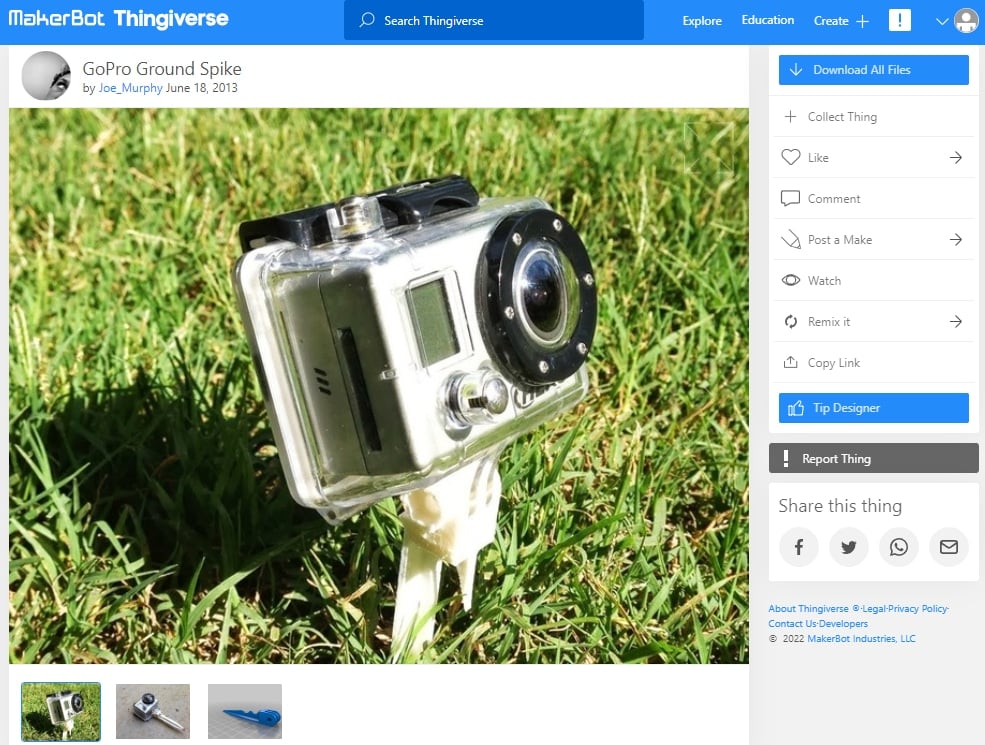 If you're someone who enjoys recording camping trips, especially using a GoPro camera, this model will really interest you.
The GoPro Spike mount is adaptable, you can put it in the ground or use it as a handle.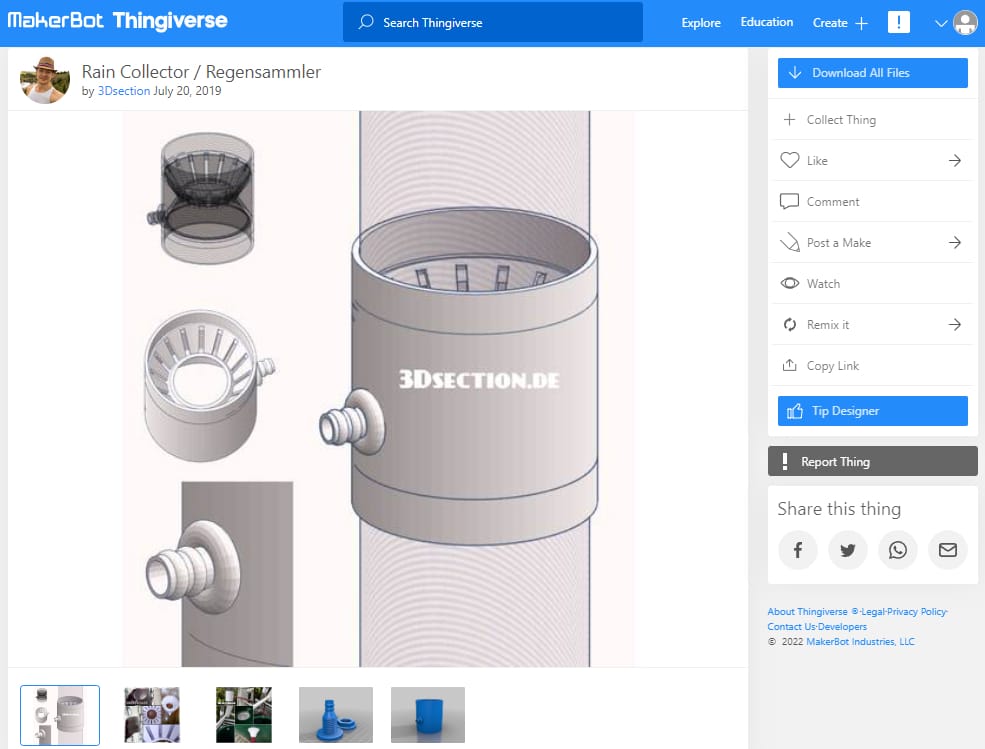 For people who like to collect rainwater when camping, this Rain Collector model will be ideal.
The rain barrel includes an automatic stop feature that kicks in after it is fully filled with rain. Until the water in the barrel is drained, anything over the waterline will run down the pipe.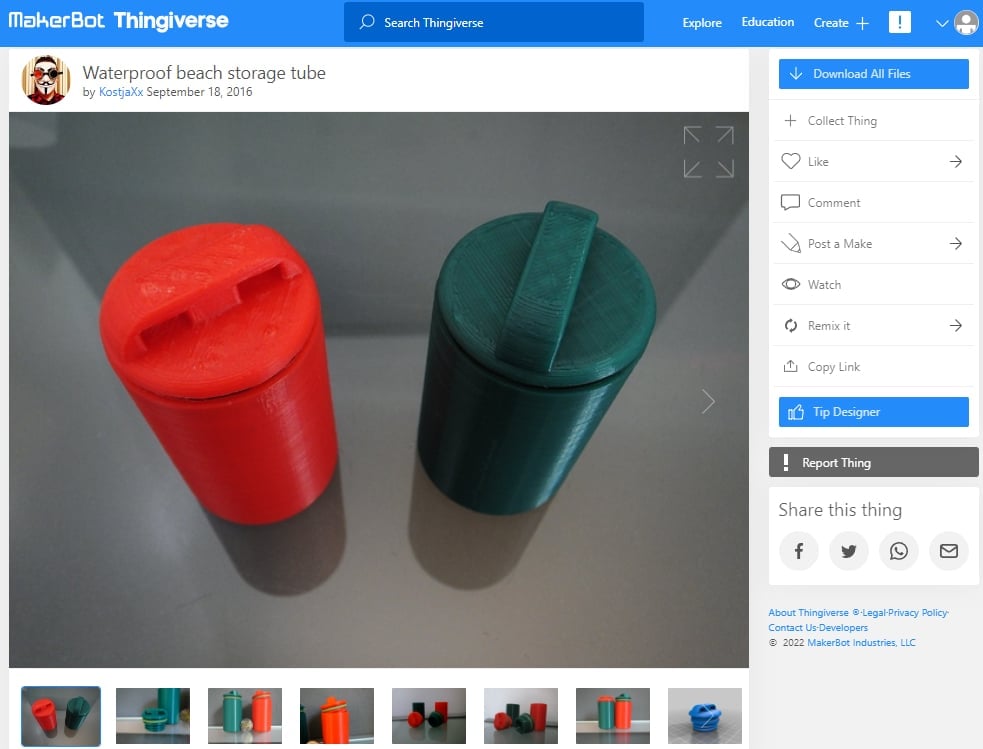 This Waterproof Storage Tube is perfect for anyone who's camping near the water or experiencing rain during their backpacking days.
With this model, you'll be able to store money or other important objects that can not come in contact with water.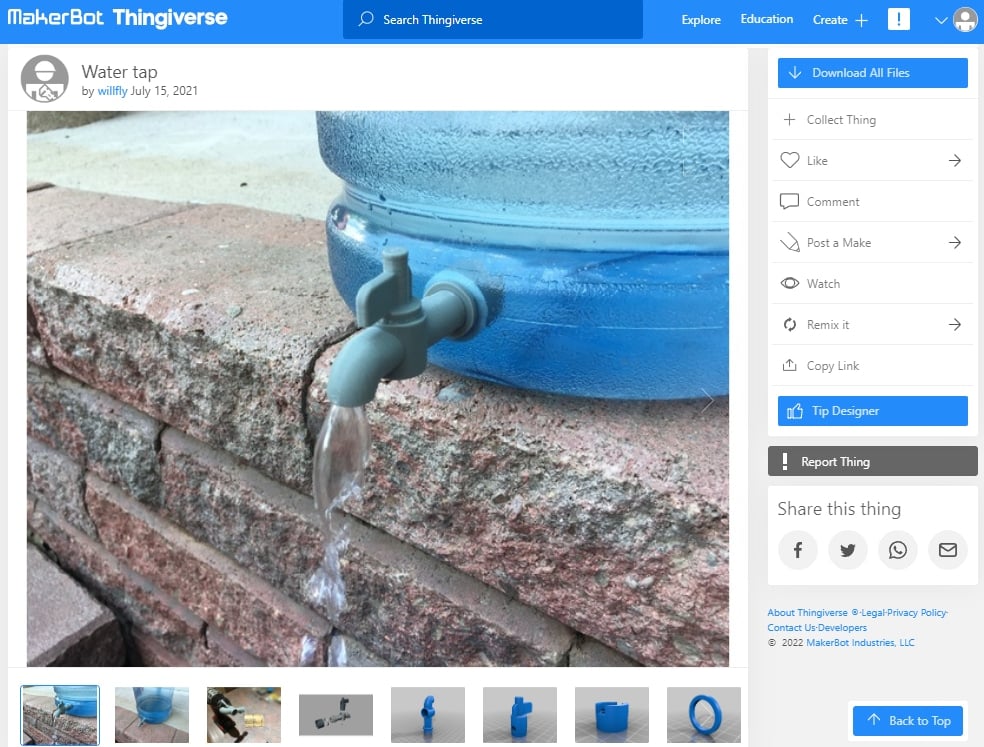 If you're looking for an item that can give you easy access to clean water in water gallons when camping, this model will be very useful for you.
The Water Tap model will help you to wash your hands and your food very easily.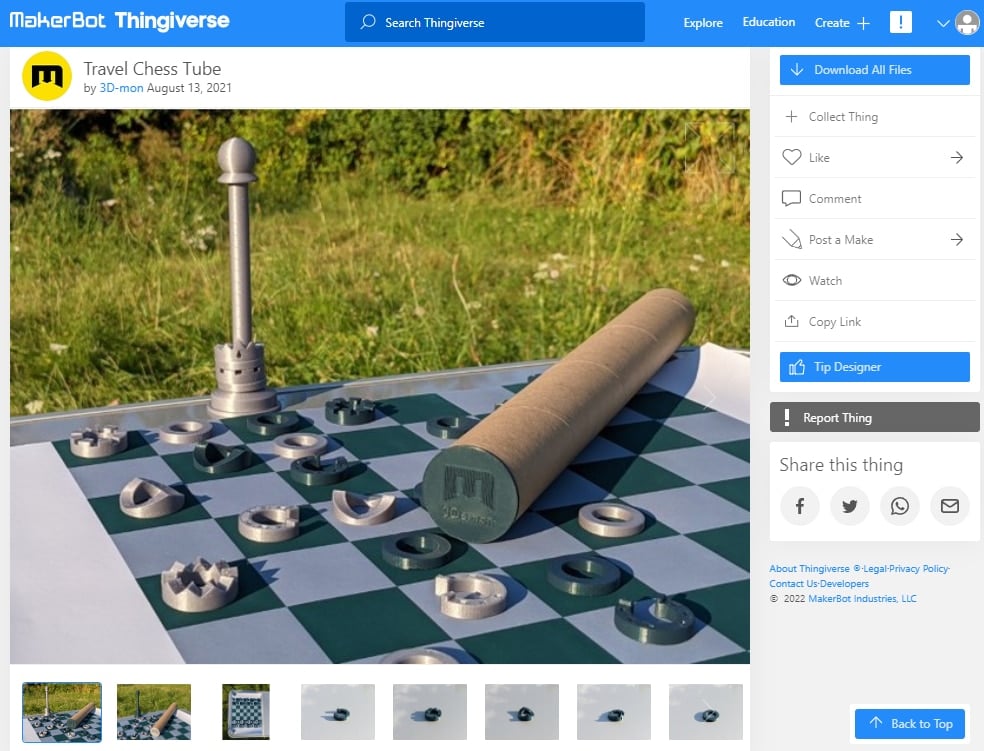 For people looking for fun distractions during a camping trip, the Travel Chess Tube model will be really helpful.
It's also a great gift for any chess players who enjoy a relaxing camping trip or a backpacking lifestyle.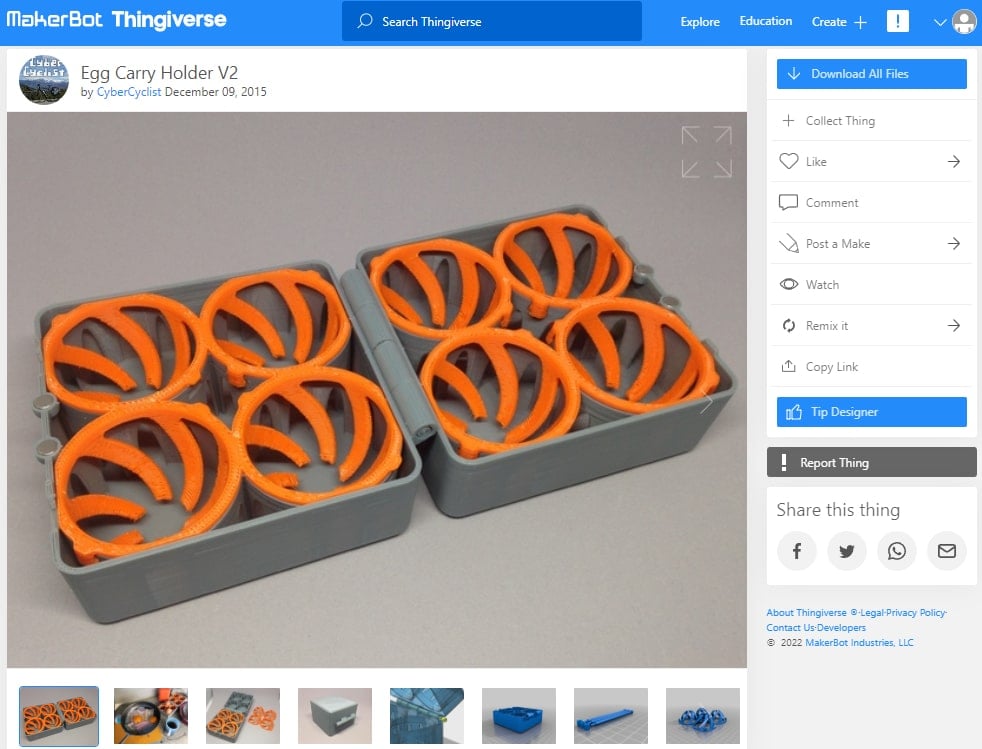 This is a perfect model for backpacking or planning a camping trip where there will be cooking involved.
The Egg Carry Holder model is ideal for people who want to carry eggs around difficult paths and works perfectly for anyone who's biking as well.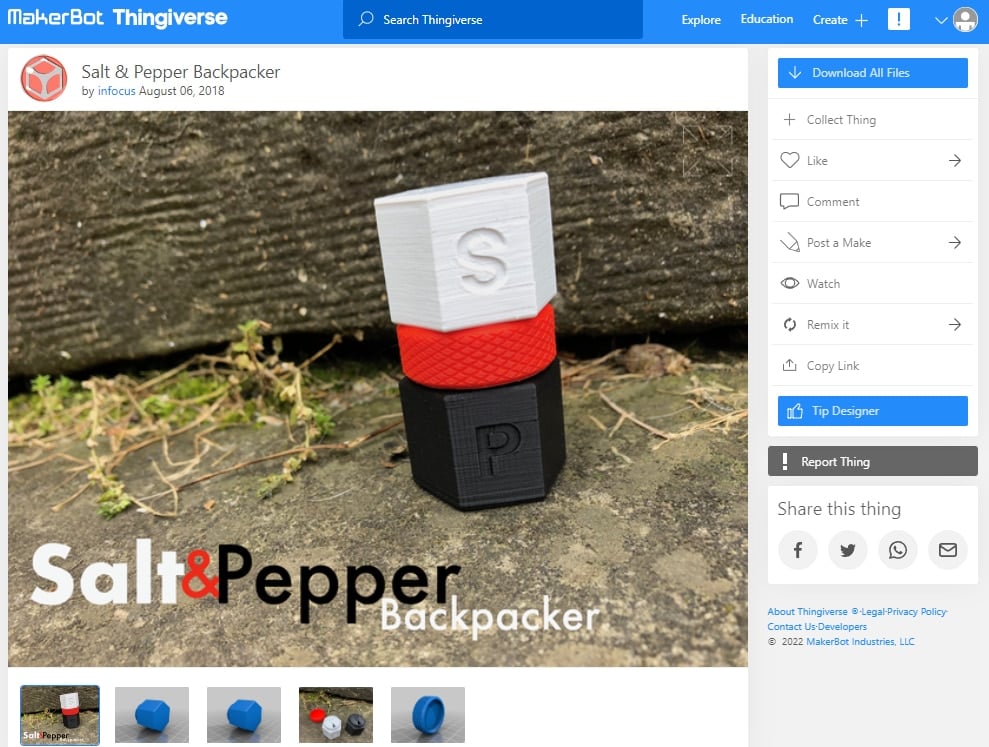 Here is a Salt & Pepper Backpacker model that works as a shaker for salt and pepper while hiking and camping.
To fill it, simply pour the spice onto a piece of paper, fold it over, and pour the mixture into the container's triangle aperture before capping and packing it.
For any photographers out there, who enjoy going out backpacking and on camping trips to catch amazing visuals, this model will be perfect.
The Camera Backpack Mount model will work with heavy DSLR cameras and allows you to easily and safely fasten your camera to your backpack's shoulder strap with this mount. 
During activities like hiking, you may use this attachment to access your camera whenever you want and never miss a moment.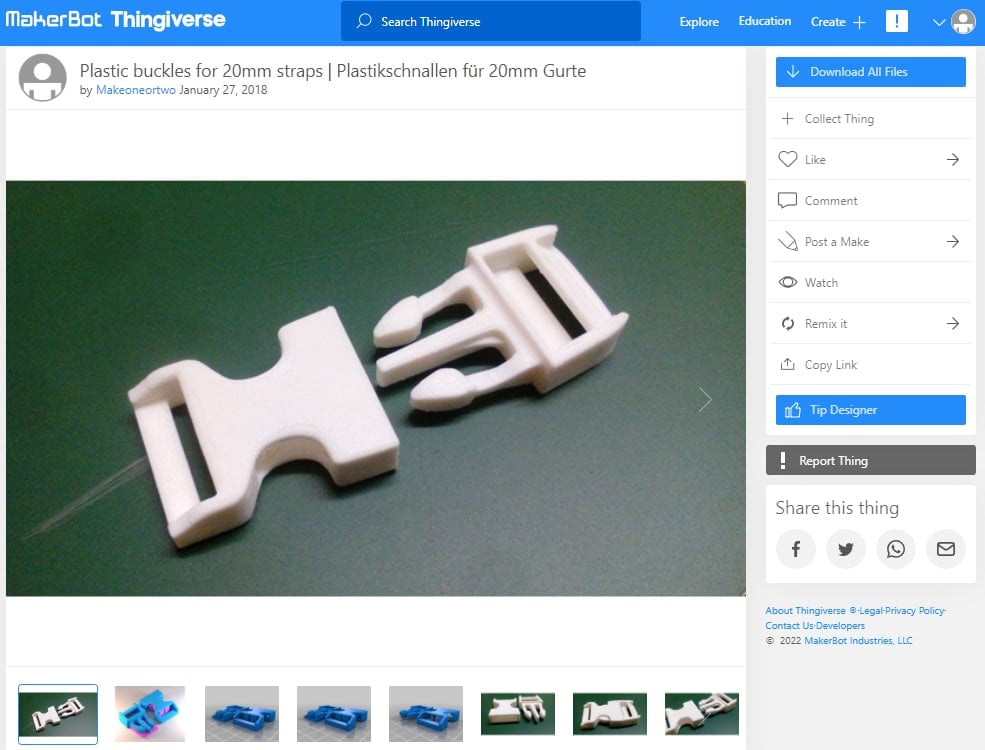 This Plastic Buckles model is another great option to 3D print before going hiking or backpacking.
Users recommend to print it with ABS and 100% infill to achieve the best possible end result.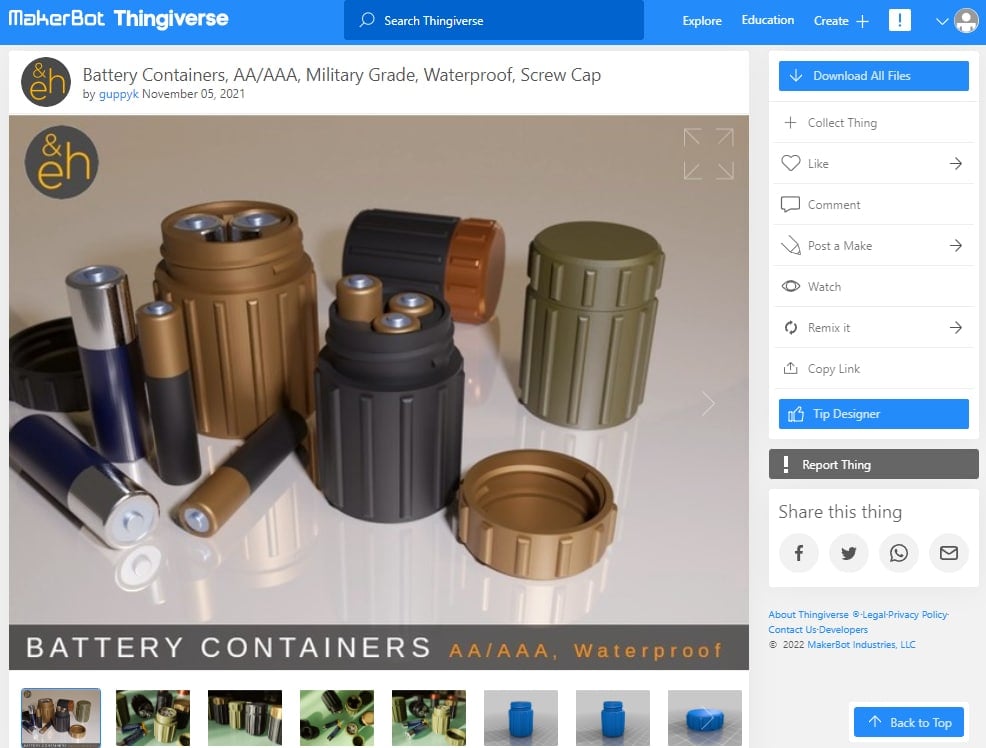 For anyone who's planning on going hiking and bringing batteries, this model will be very useful.
The Battery Containers model will allow you to store AA and AAA batteries in a waterproof container that can withstand rough handling when hiking or doing other outdoor activities such as mountain biking.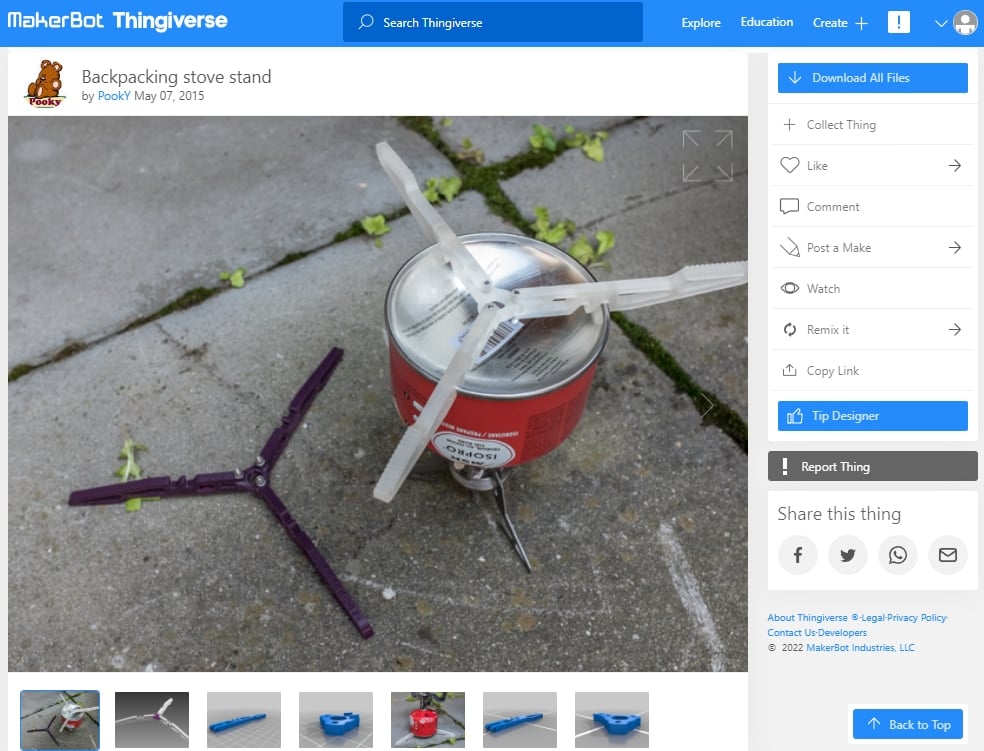 If you're planning on bringing gas canisters when going hiking or camping, the Backpacking Stove Stand will be ideal. This model features a basic folding stove stand that works with the majority of gas canisters.
The diameter of the canisters appears to vary slightly depending on the brand utilized. You may shorten the part's legs and print it a little smaller if needed.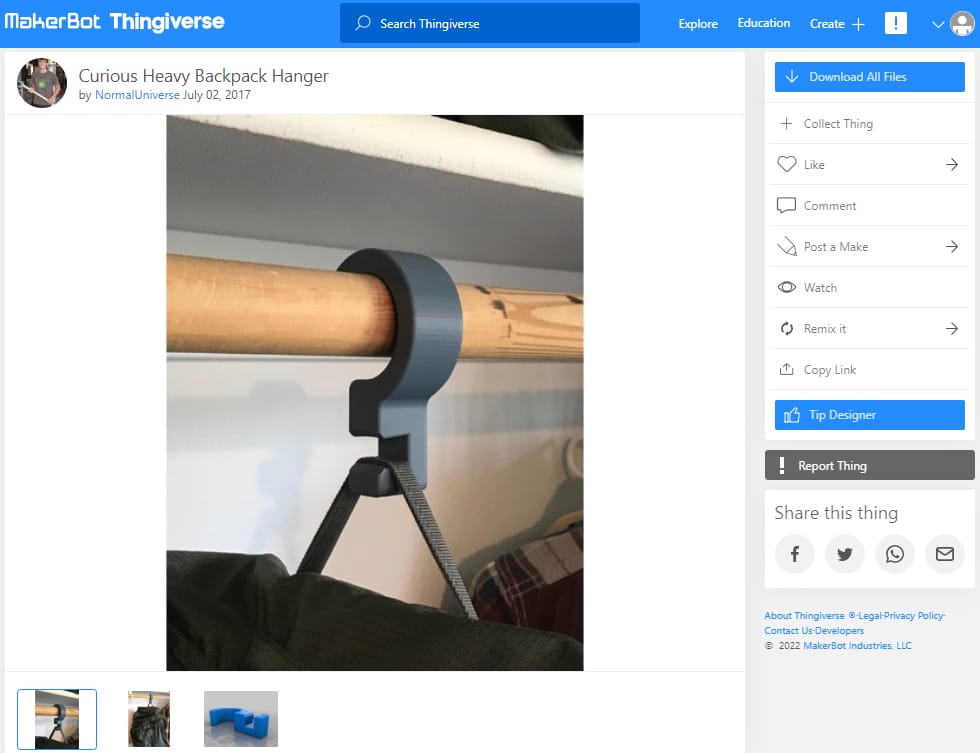 Many users have downloaded this Curious Heavy Backpacker Hanger, which is perfect for hanging up your sleeping bag, tent, and pack in your closet. 
Designed for kits that weigh more than 10 pounds and can't be supported by standard hangers. 
You may hang large objects on this hanger, which also resembles a question mark. The surface of the hook part is slanted to stop the load from sliding out.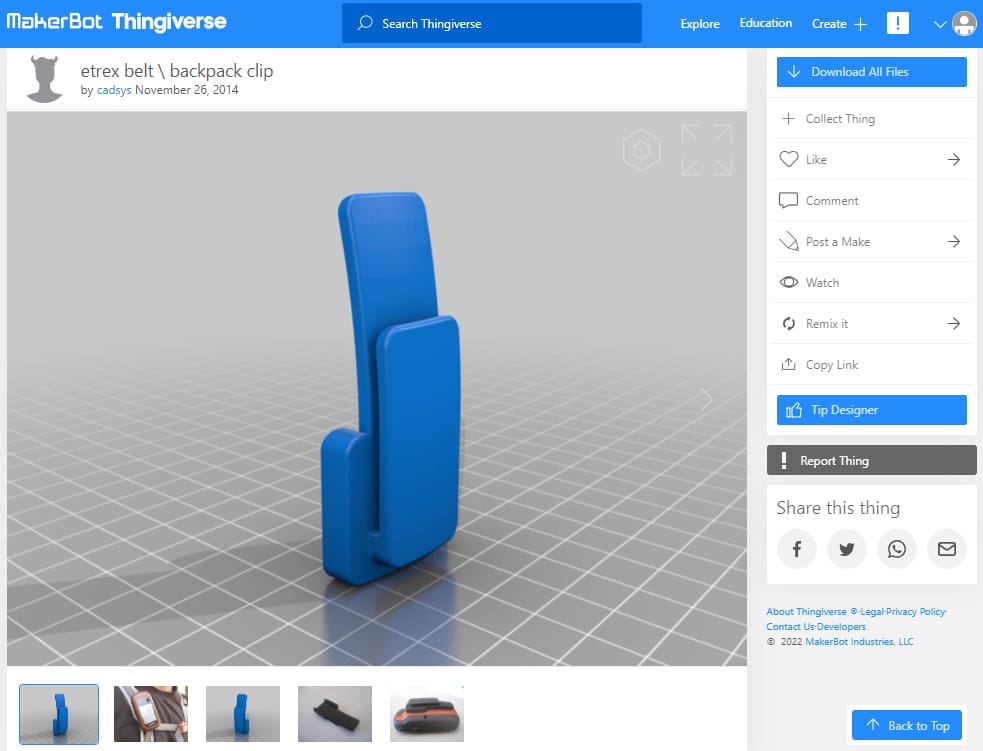 This Etrex Belt/Backpack Clip is perfect for people who like to go hiking with the help of a GPS, like the Etrex 22, available on Amazon with great reviews.
Users recommend printing it vertically with no rafts and no supports and using 100% infill.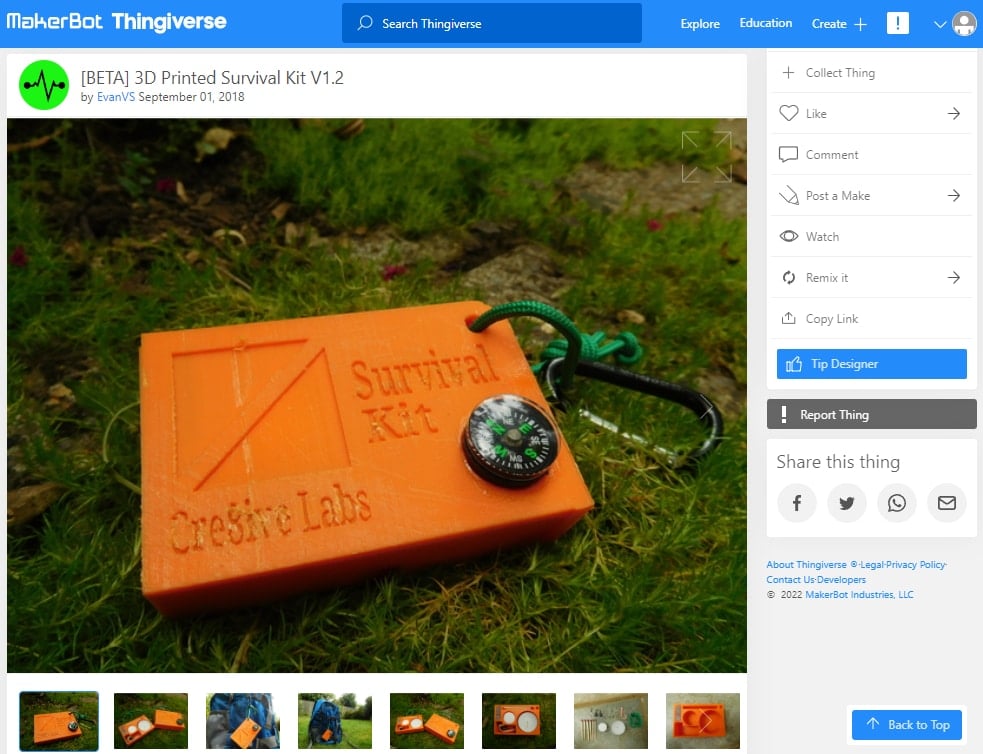 Here is a perfect model for anyone who ever wanted to go hiking or backpacking safely.
The 3D Printed Survival Kit model can fit many different items in the same container, perfect for saving space. From a compass to matches to a fishing line, this model can fit a lot of useful tools.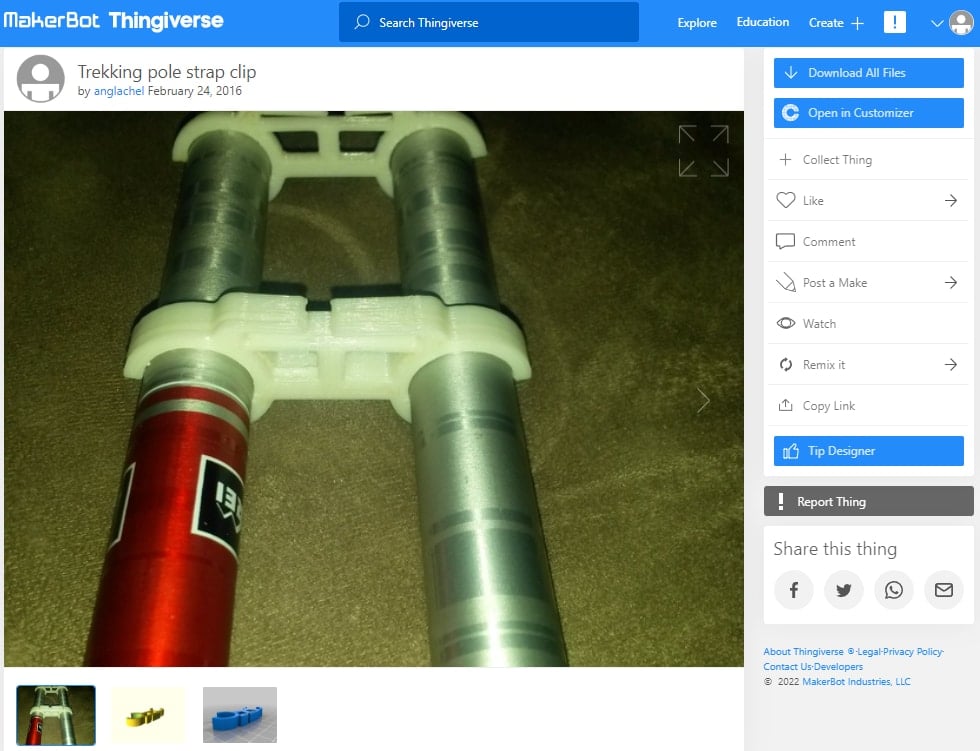 This model, named the Trekking Pole Strap Clip, features a simple trekking pole holder that can be attached to any backpack with a strap, even a molle bag.
To fit baskets, you might need to position poles so that they face different ways (as in the picture).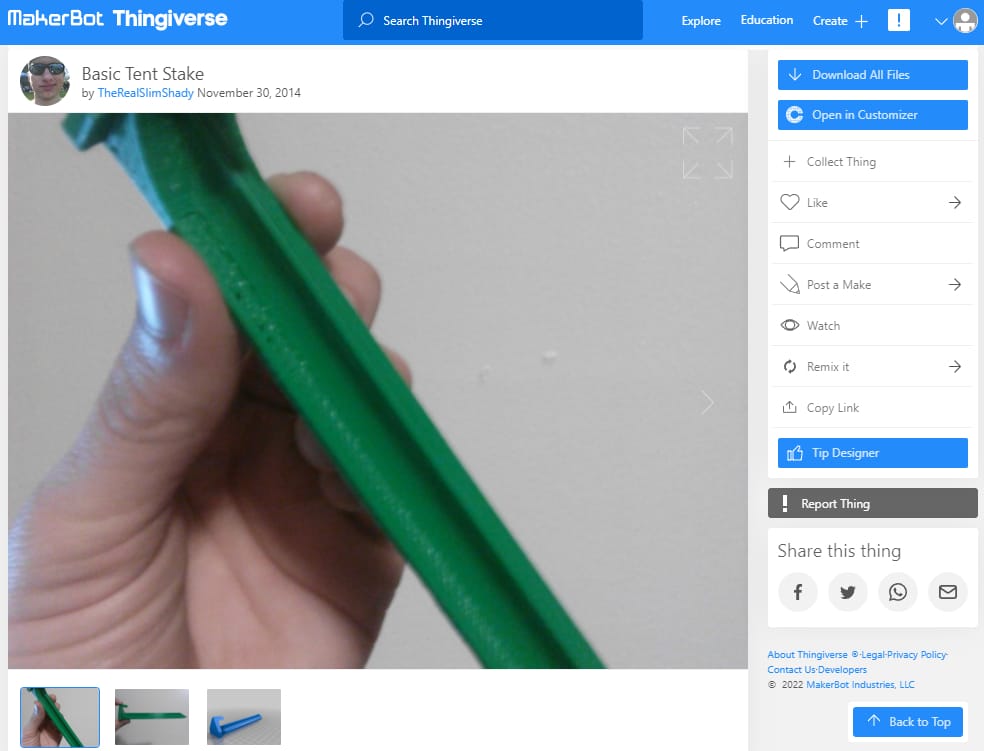 For anyone who may have lost a tent stake, this Basic Tent Stake model may be very useful.
It can also help to bring it along as a replacement tent stake, especially when going camping or backpacking.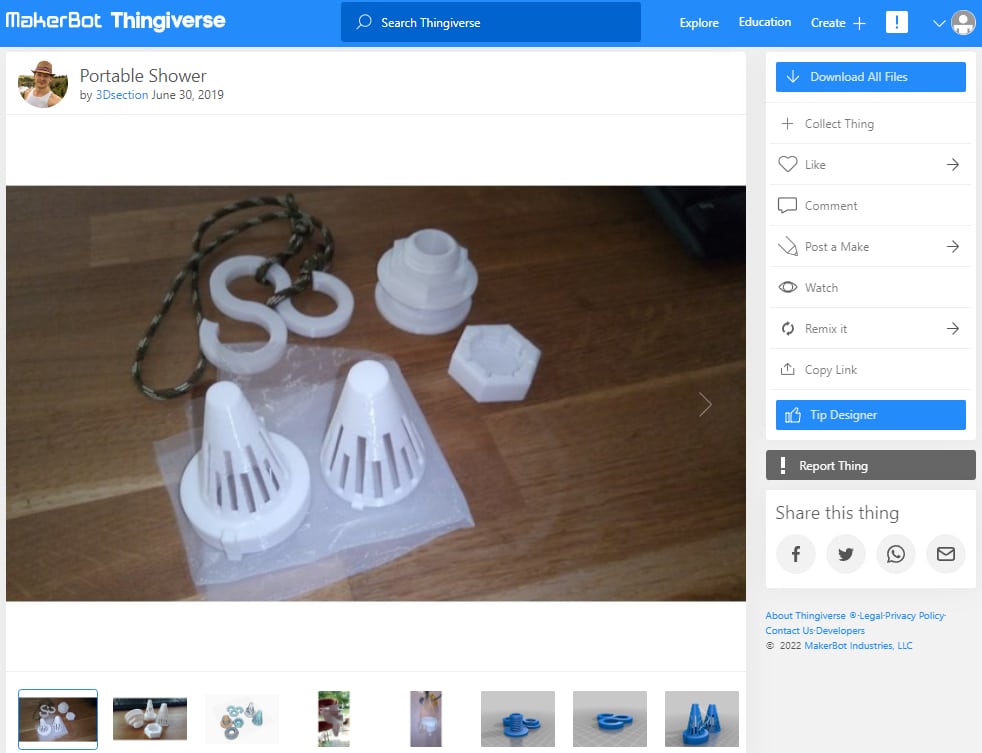 If you're someone who loves hiking and backpacking, then this Portable shower model will be perfect for you.
Many users have downloaded this model which may be utilized as a filter, an outdoor shower, or a water storage bag for camping.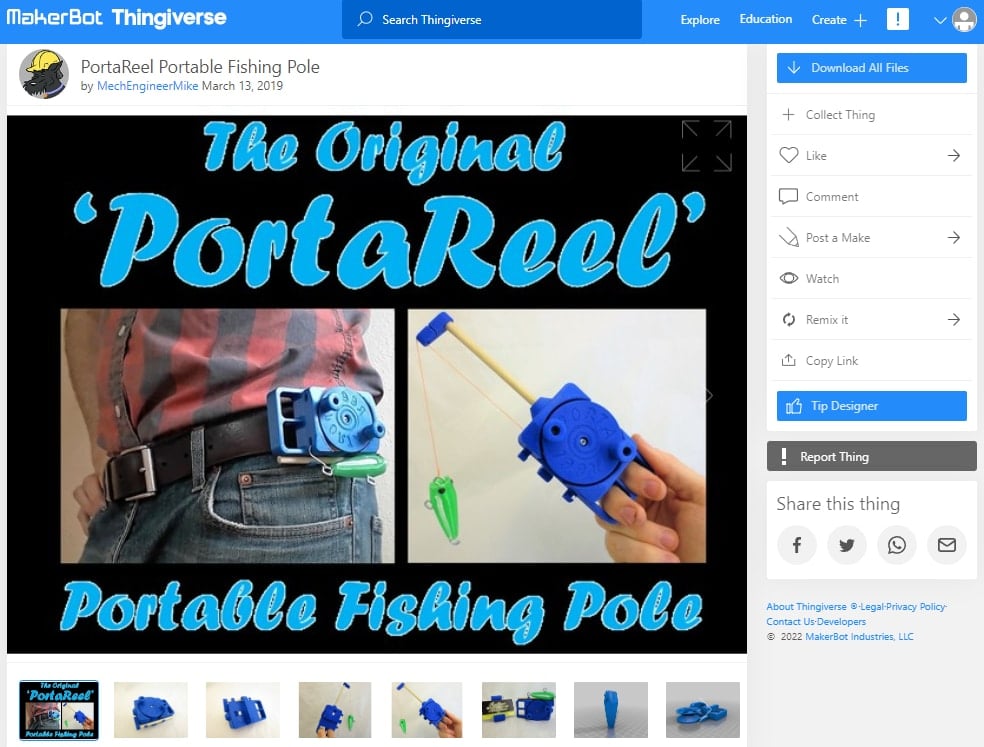 This Portable Fishing Pole model is intended to be used as a reliable backup or survival pole for sporadic chance fishing when camping or hiking.
It includes a clip to fasten to your belt and is the same size as an Altoids tin. The reel is locked and unlocked using the same clip.
Check out the video below to see the Portable Fishing Pole in action.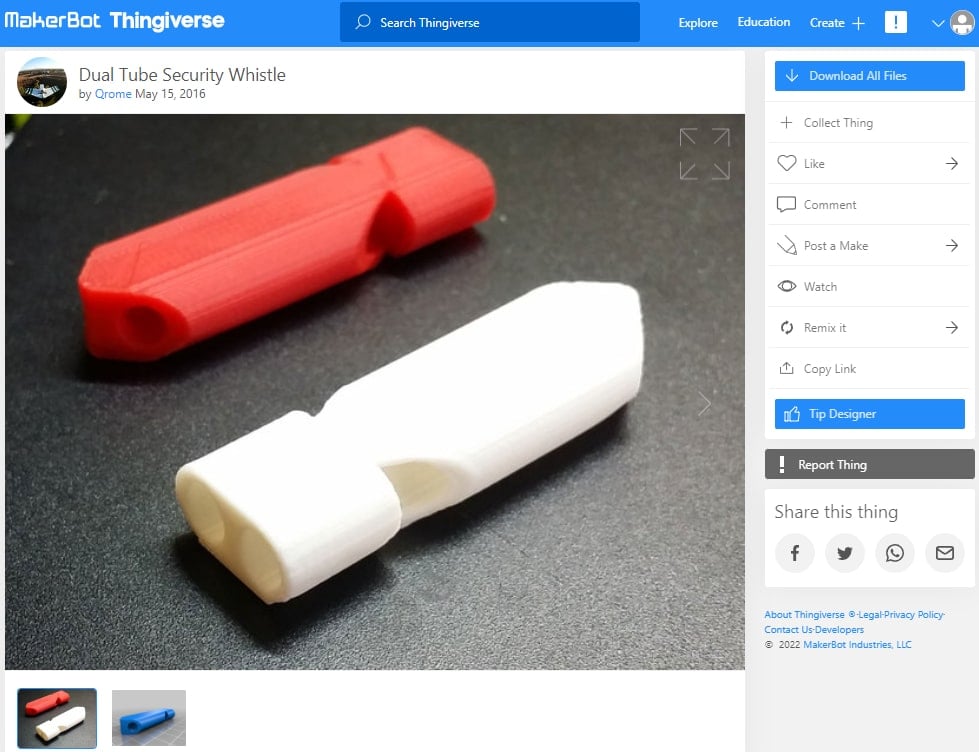 Check out this model, the Dual Tube Security Whistle, which features an extremely loud twin-tube whistle, and is ideal for general security and outdoor hiking. 
The whistle can be produced in roughly 35 minutes at a resolution of 0.2mm and a speed of 50mm/s.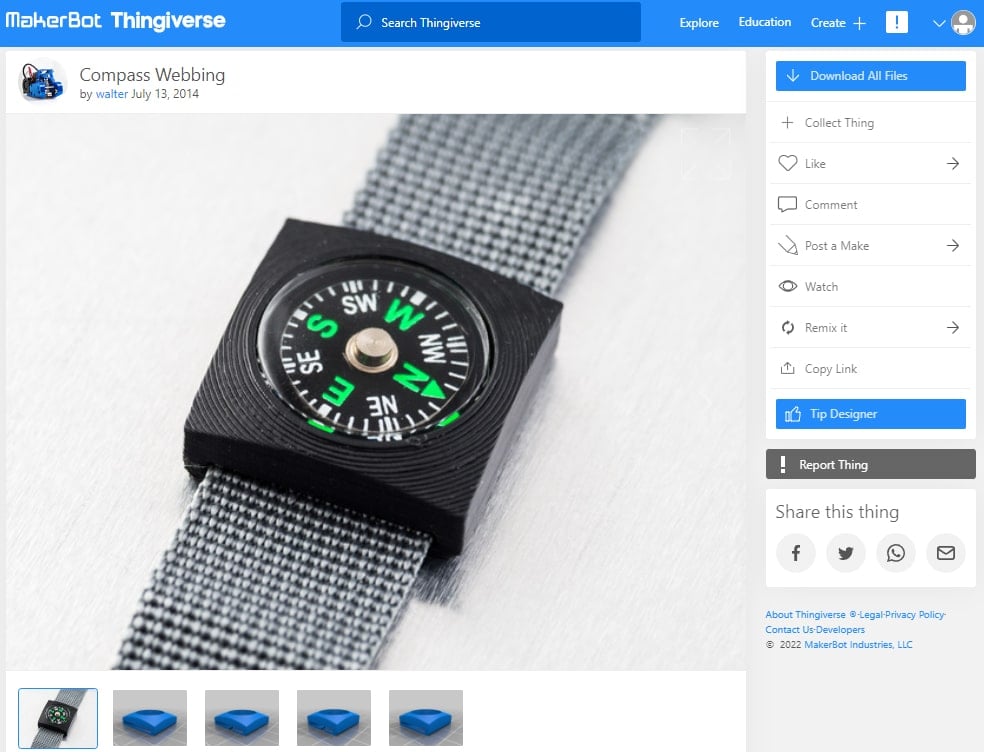 Another cool item that can be 3D printed to help you with your hiking and backpacking experience is the Compass Webbing model.
Perfect for anyone who wants to be able to strap their compass, this model allows you to attach a small compass to the webbing, making it a lot easier to carry.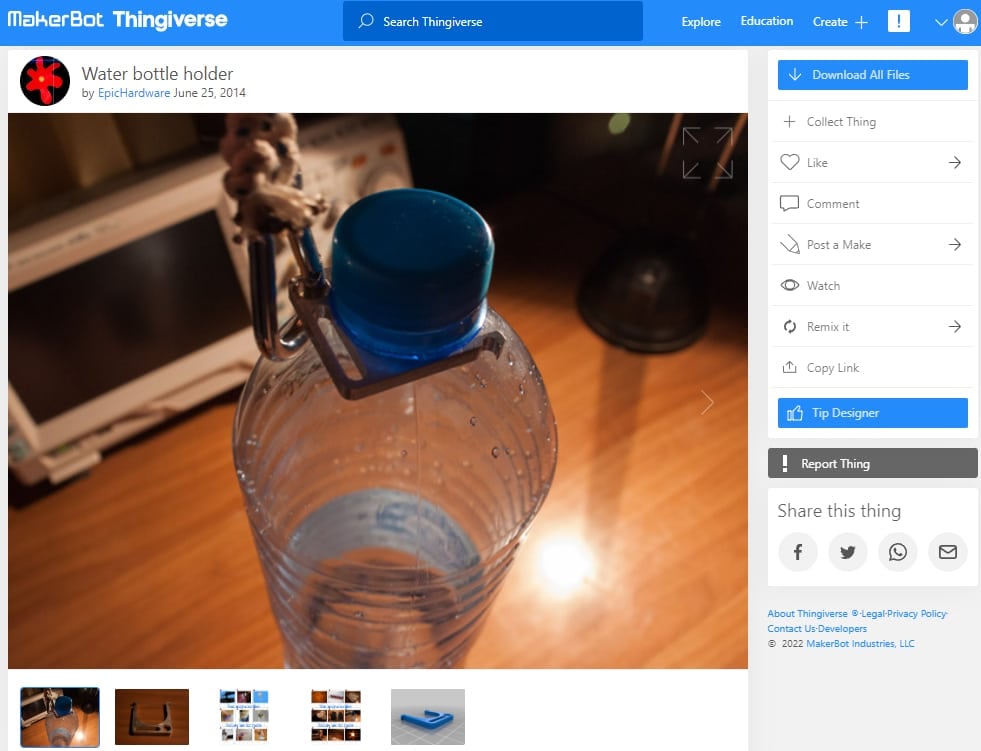 Check out this really useful model, the Water Bottle Holder, which is great for people who are into hiking and backpacking.
Use this little device to attach water or soda bottles while traveling, camping, or hiking. A quick and easy method to transport water bottles.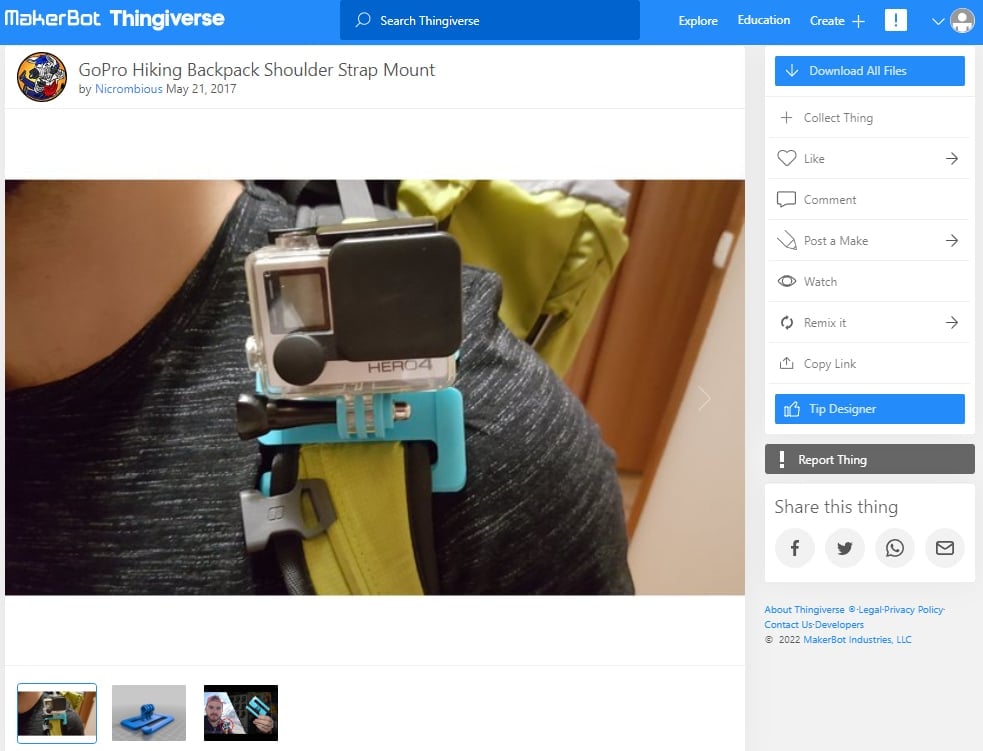 If you plan on going hiking and taking your GoPro but do not know the best way to carry it, this model, the GoPro Hiking Backpack Shoulder Strap Mount, will be ideal for you.
Many users have downloaded this model as it is a quick and easy print to make. They recommend printing it with the help of supports.
Check out the video below to learn a little more about this model.
For anyone who hates tangled cords and wants a tool that can help you with them, the Mini Cord Winder model will be very helpful. 
This winder has several cutouts for material removal, a boat-style clip on the side to tie off the end, and a spot to start a loop end or tiny hook.