15 Best Paid STL Files For 3D Printing
Many people have 3D printed some cool objects, but then they start to wonder whether there are some better paid STL file out there. I decided to put together a list of some of the best paid STL files that you can purchase and start 3D printing yourself.
Feel free to share this with some fellow 3D printing friends.
Disclaimer: The prices of the models are correct at time of writing.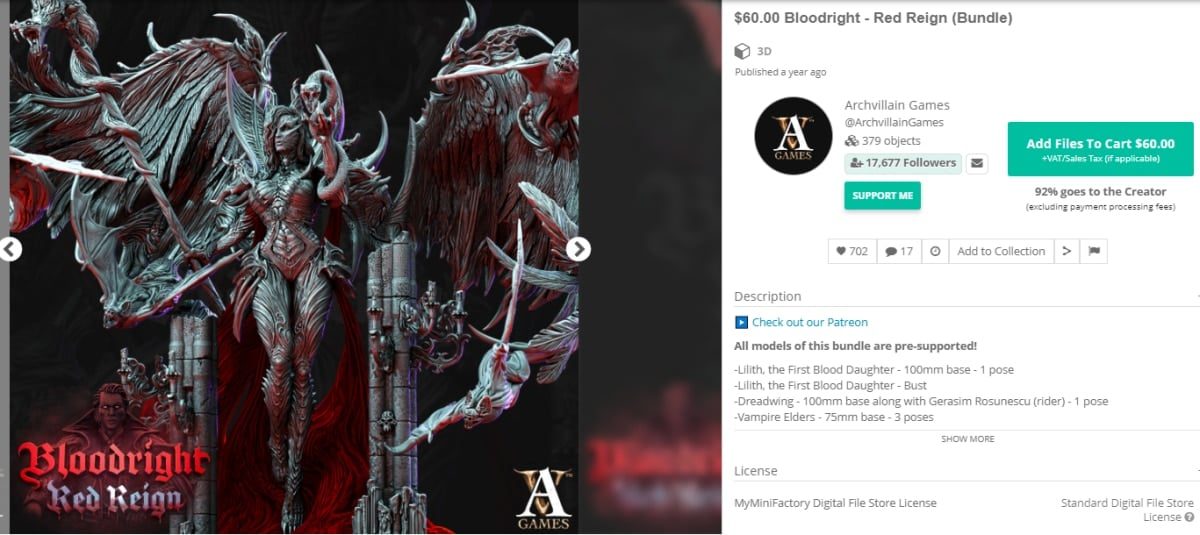 The Bloodright action figure collection from Archvillain Games is a cool piece for collectors to add to their action figure collection. It consists of a wide range of fascinating characters like Lilith, Dreadwing, Vampire Elders, and so on. These characters also come in various poses.
The designer stated that the pre-supported models are not guaranteed to work in every setup. This is because it is impossible to account for various types of resin, print settings, or the printing environment where it is being printed.
You can also get up to 50% discount from the Archvillain Games store if you are a tribe member.  You must have a MyMiniFactory account before you can become a tribe member.
Here is a link to check out the various models included in the Bloodright collection.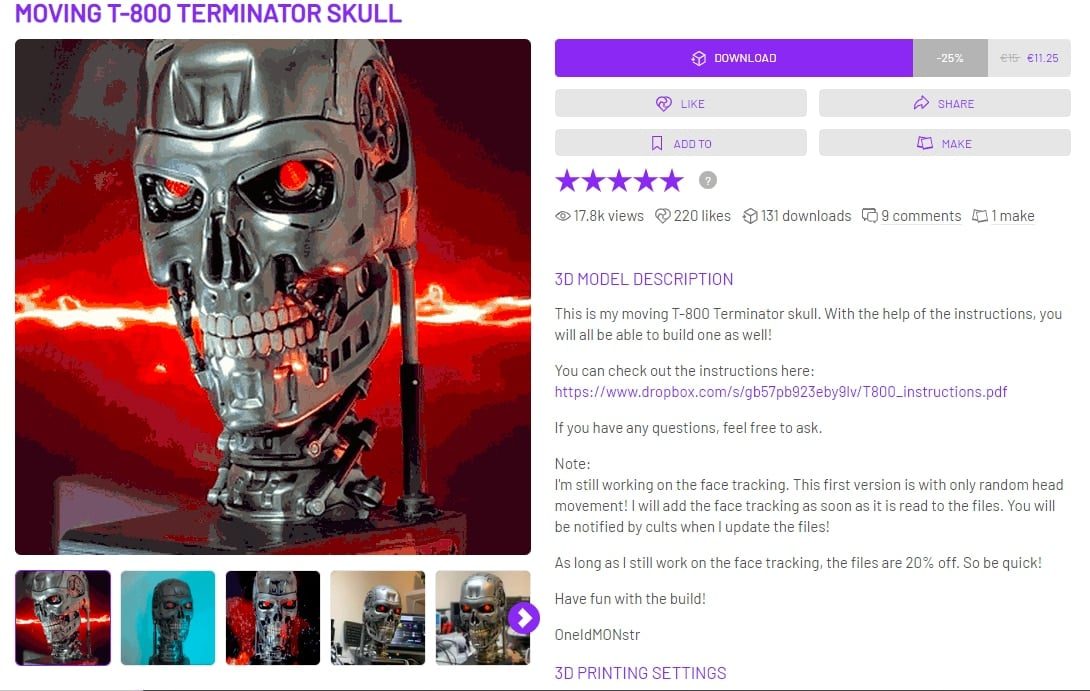 This Terminator skull brings back fond memories of the classic terminator movie. The model's resemblance is quite striking due to the high level of detailing on the model.
When the parts of this model are printed and assembled, it is capable of making random lateral movements. Its eye sockets have been designed to house LED lights to give it a more realistic look.
The designer stated that while he is still currently working on the face tracking model, this current model can only make random linear movements.
Also, the designer stated that all parts of the model, except the base (0.2mm) were all printed at 0.1mm with tree supports. He also stated that the smaller pieces were printed with resin on the Elegoo Mars and the larger parts on the Ender 3.
Here is an instruction manual on how to assemble the Moving Terminator Skull.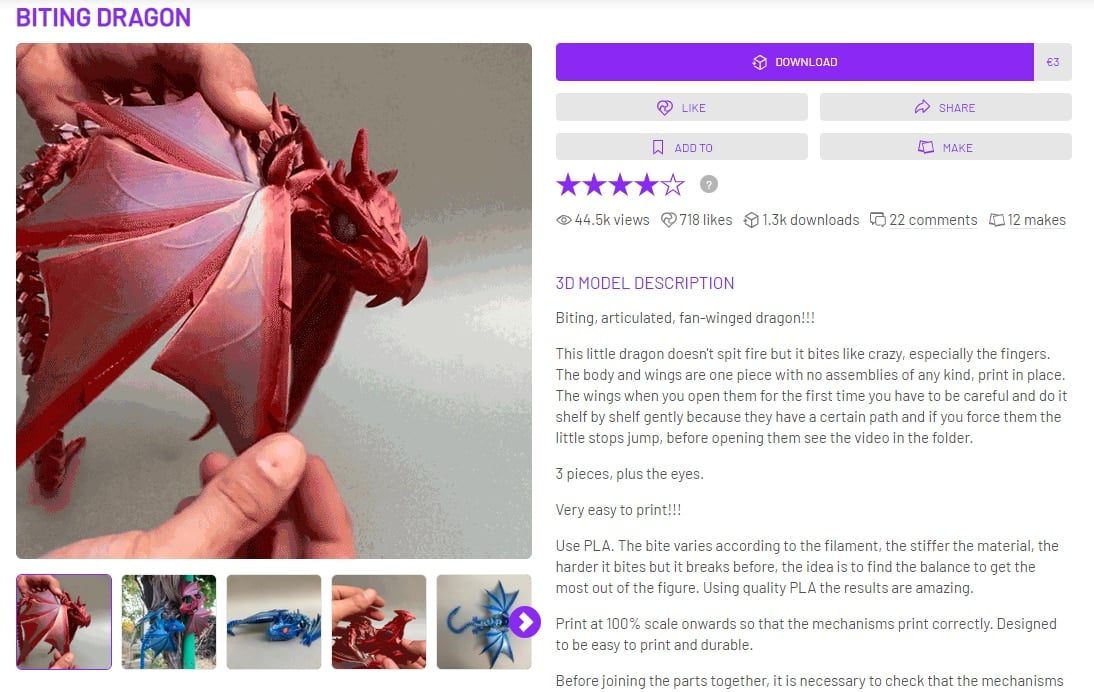 Just like its name implies, this is a biting dragon model. The Biting dragon model is made up of segmented joints that allow the model to move along its joints, including its mouth.
The stiffer the filament, the harder the bite and vice versa. The goal is to find the balance to get the most out of the model. The designer recommends using High-quality PLA to achieve amazing results.
In general, it is a cool-looking piece that can be added to one's catalog of action figures. The body and wings are one piece requiring no assembling of any kind to put it in place.
The designer also recommends printing the model with PLA at 100% scale. The type nozzle used should be 0.4mm in diameter, layer height set to 0.2mm, and wall settings set to 1.2mm or more, with infill at 30% or more.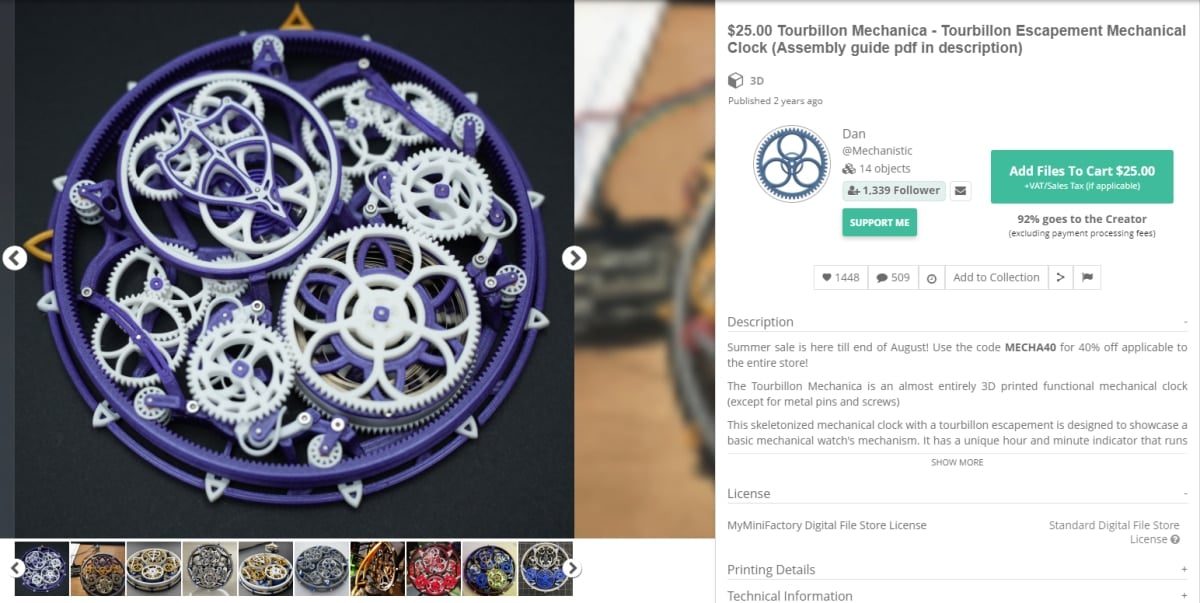 The Tourbillon Mechanica is a skeleton-like mechanical clock designed to showcase how the mechanical clock works. It features a unique hour and minute indicator that runs around the perimeter of the clock.
This entire piece is 100% 3D printed except for the metal pins and screws used to assemble the components together.
The designer recommends that the base, being the largest piece, can only be printed on a 250x216mm hotbed. Although there is an updated split base design for people with smaller printers (160x110mm) which can be downloaded for free.
The Tourbillon wall clock can be printed and used as a functional wall clock for personal use or gifted to friends and family that are watch collectors.
Check out this instruction guide on how to assemble the Tourbillon Mechanica.
Here is a video that shows how to assemble the Tourbillon Mechanica.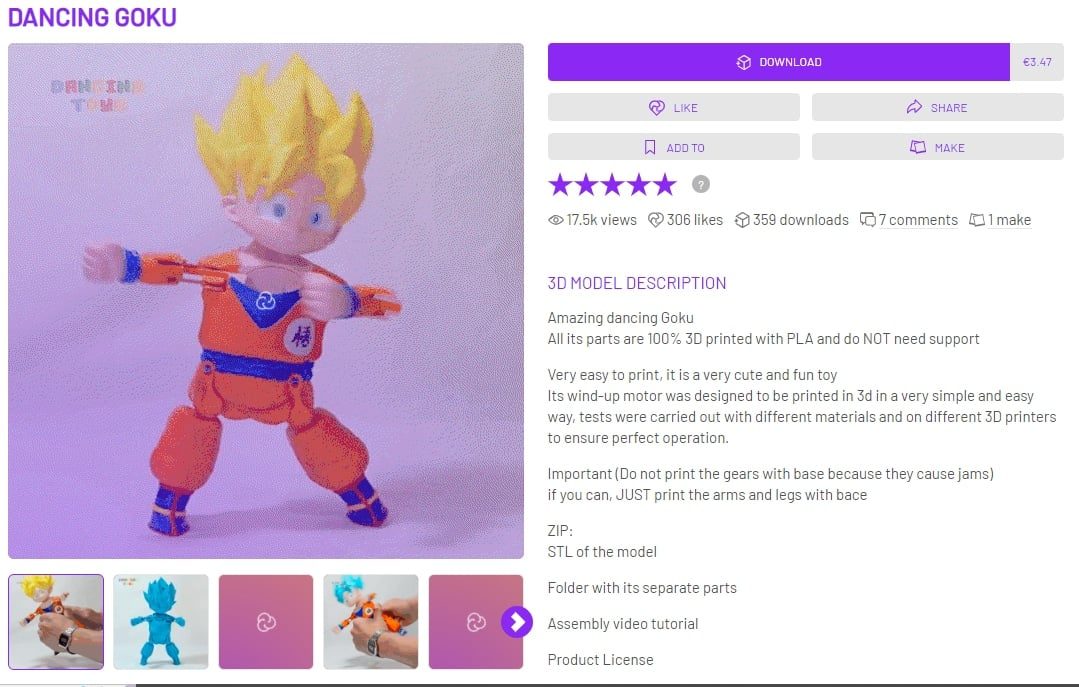 The Dancing Goku model is a toy for kids. It features a windup motor that kickstarts dance movements to the delight of kids when the tension in the motor is released.
The designer stated that all parts are 100% printed with PLA and do not require supports. He also recommended not printing the gear with the base because they cause jams.
He also recommended printing at 0.2mm layer height, infill at 3-5% at a print temperature of 190-200C on a 60C hotbed. The download pack also comes with a video tutorial for easy assembly.
This fictional Jesus character was inspired by the Transformer movie. The printed model when assembled, is a figure of Jesus on a cross that transforms into a mecha (robot) character when various parts of the cross are rotated.
Check out the video below to see it in action.
The Jesus Mecha Christ was printed with lots of support and orientated vertically when printed.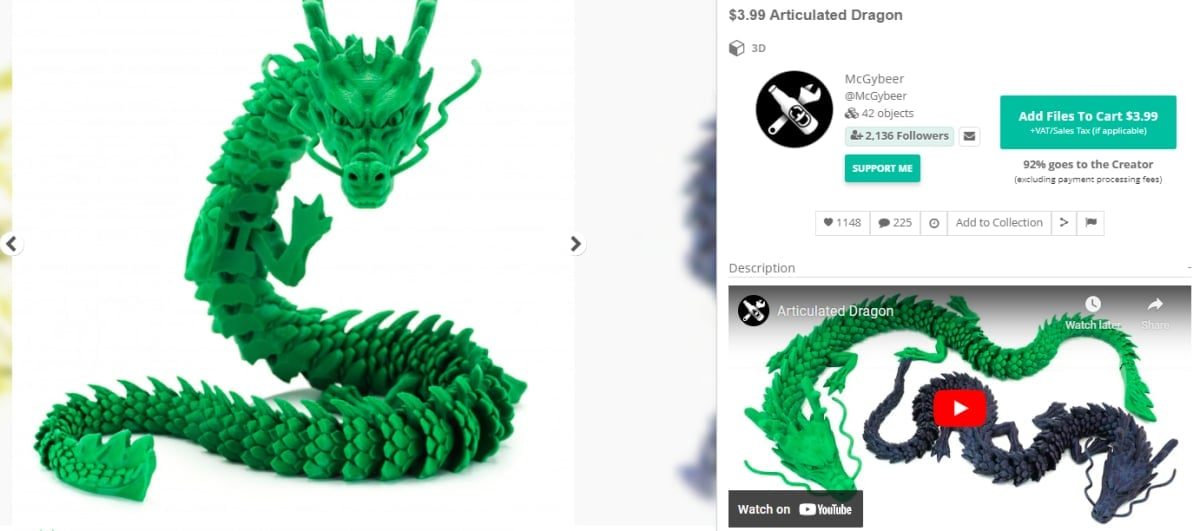 The Articulated Dragon is a flexible segmented model printed in one piece without support. This model can move along its joints and can serve as a decorative piece or toy for kids.
The designer recommends that the first layer be slowly printed (8mm/s) with a dense first layer (0.3mm). Also, to attain a great first layer and proper bed adhesion for this print, ensure the printer is properly calibrated.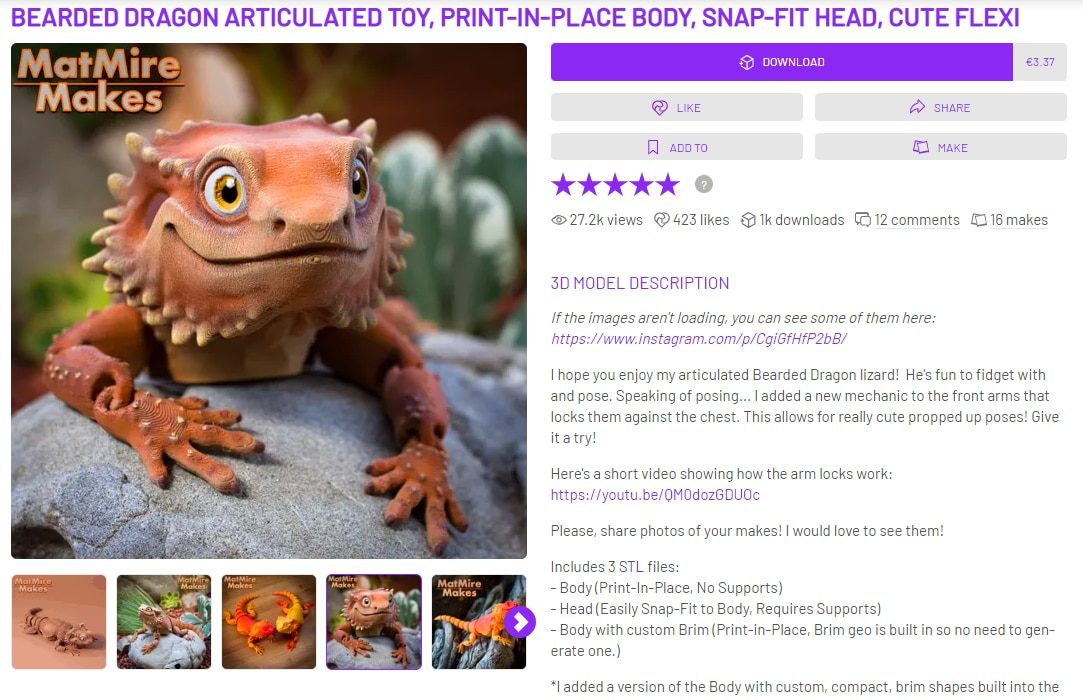 The Bearded Dragon model is a crossbreed between a dragon and a lizard. It is made up of segmented joints that run across its entire body. As a result, the model is capable of unrestricted movements along these joints.
The Bearded Dragon with its calming facial expression and large endearing eyes makes it appealing to kids.
The designer recommends printing the body without support but it should be printed with rafts or brims, while the head should be printed with supports for optimal printing.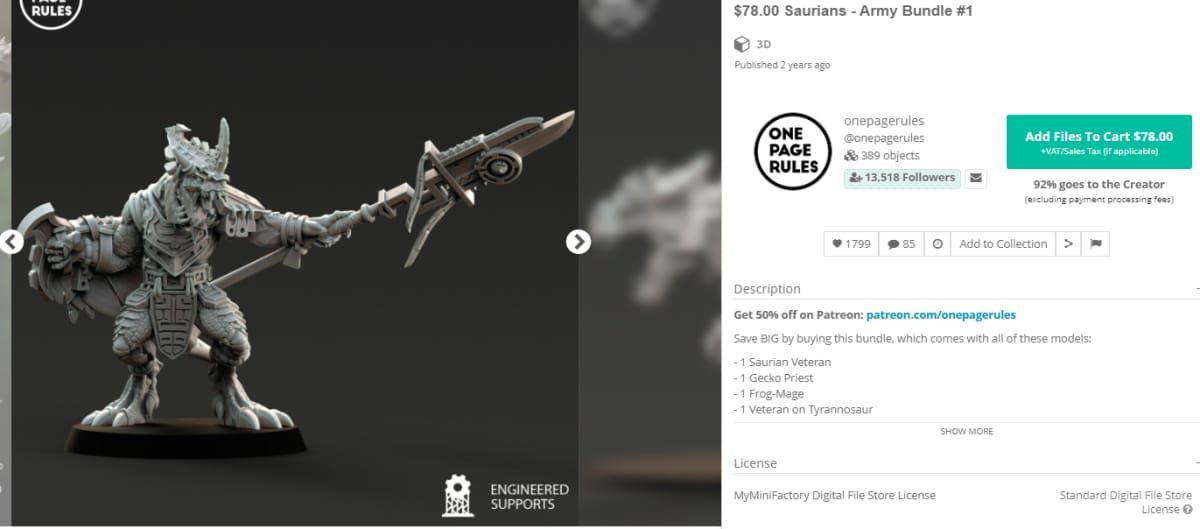 Saurians generally refer to reptiles. The Saurians army bundle from onepagerule is a collection of reptile-inspired characters like lizards, dinosaurs prepped for war.
The army bundle features over 30+ characters with the detailing on each of them having a high level of realism.
All models in this bundle come with supports, so additional supports are not needed.
You can get a 50% discount when you sign up on the OnePageRule Patreon channel.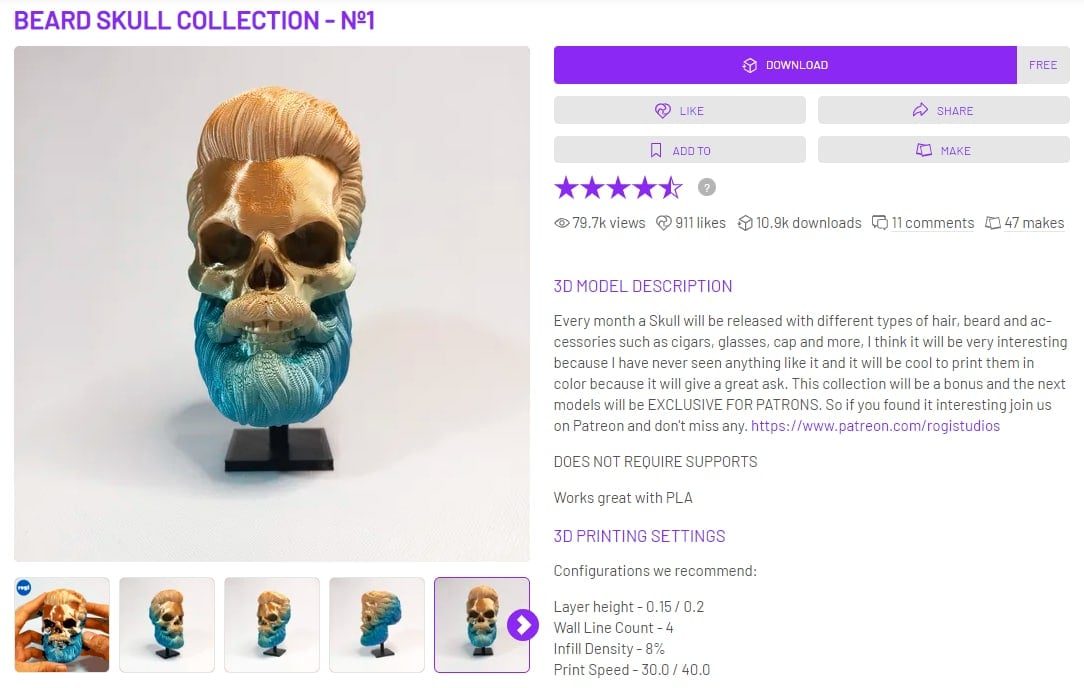 The Beard Skull collection is an array of skulls with various kinds of hairstyles, beards, and other accessories like caps, glasses, cigars, and so on.
This particular model has a slicked back hairstyle with medium hair length, and full beards, and is available for free. To check out the full Beard Skull collection, you need to join the RogiStudios Patreon channel.
The Beard Skull model can be used as a decorative piece for your living space or on Halloween since it has that spooky vibe.
For the print settings, the designer recommends a layer height of 0.15-0.2mm, an infill density of 8%, and a print speed between 30-40mm/s. The model can be printed without supports.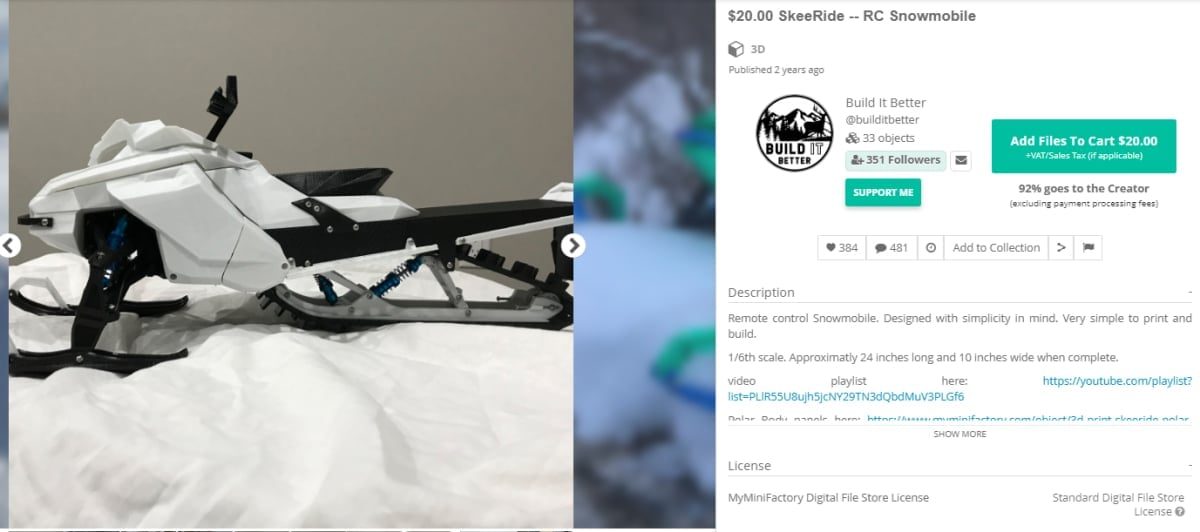 The Skeeride RC mobile is an enclosure to house the internals of your remote-controlled toy automobiles. The snowmobile is approximately 24 inches and 10 inches wide when printed and assembled.
This Skeeride automobile enhances the fun during winter, as kids can have glide around in the snow using this snowmobile.
The snowmobile is very easy to print and assemble since every part is assembled using only M3 screws.
The designer recommends print settings of 0.2mm layer height, 15% infill for non-structural parts (hood, seat), and 75% infill for structural parts (frame, arms, gears).
You can check out this YouTube playlist from Build it Better on how to assemble the Skeeride mobile after printing.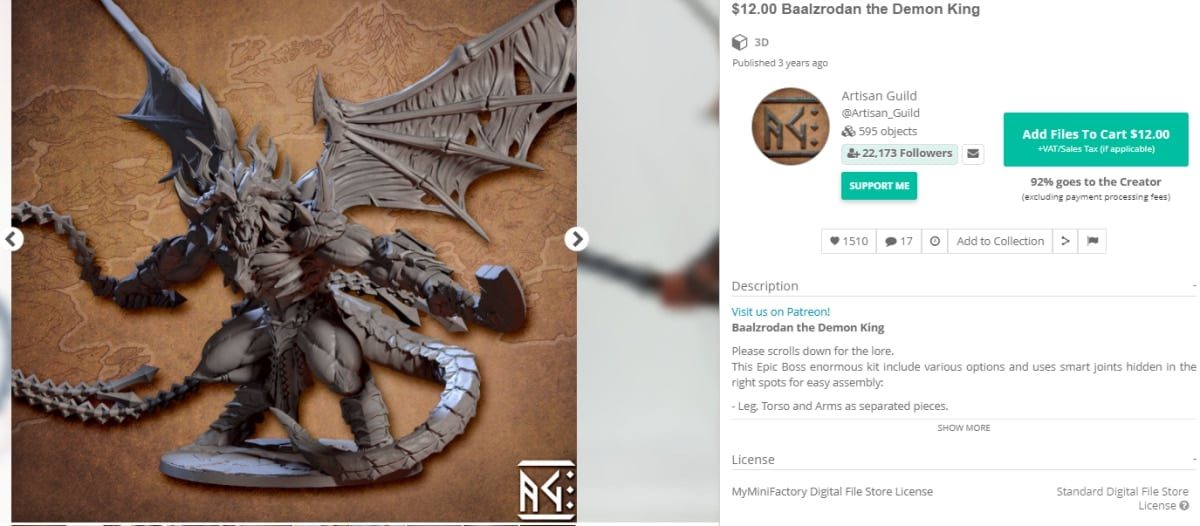 The Baalzrodan model from the Artisan Guild collection is based on a fictional warrior demon king. The Baalzrodan kit comes with various parts of the model that would need to be assembled after printing. Once assembled, the joints (smart joints) provided, hide the traces of the joints, giving it a better-refined look.
The model can also be customized to wield any of the weapons provided in the kit.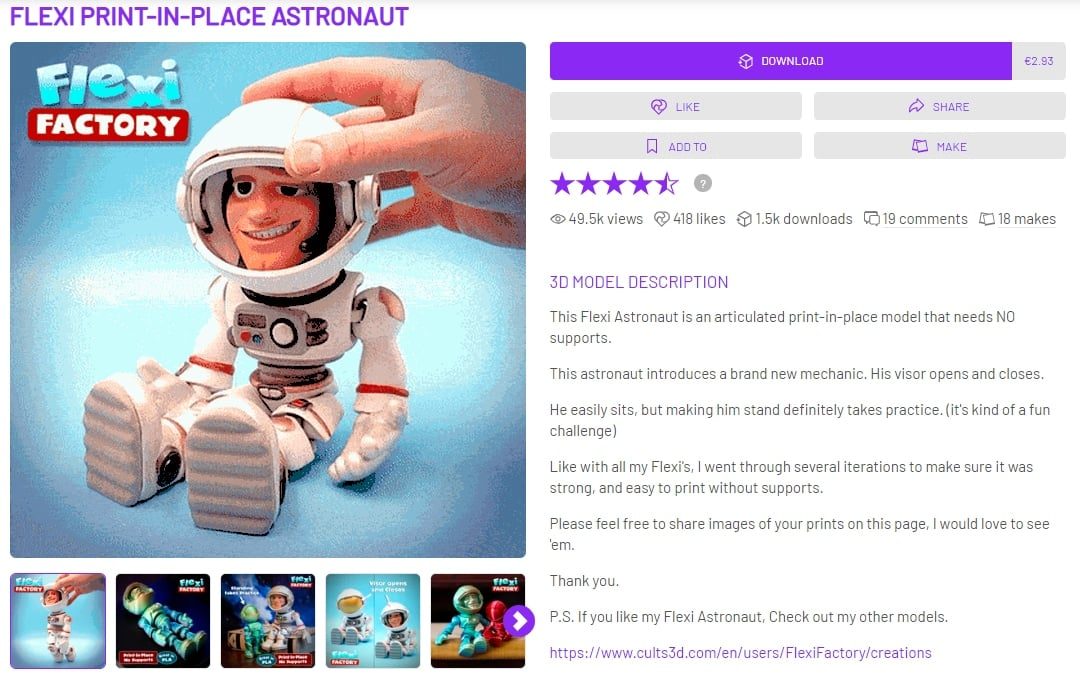 Flex Astronaut is a segmented model with flexible joints that can make certain movements along its joints. The Flexi Astronaut can sit and stand, to the delight of kids. Its visor can also be opened and closed to reveal the face of the astronaut. The entire model can be printed in place without supports or the need to assemble its parts.
The designer recommends a 15-20% infill when printing.
This Succubus model is a female demon character inspired by supernatural folklore.
The download package comes with various files that would need to be printed individually and then assembled later on. The figure can be customized in two head variations, one with a mask or without. There is also a fully assembled model in the download files.
The Succubus character is presented holding a human heart in one hand and the other hand with a long spear with her bat-like wings at almost full stretch.
This model requires lots of supports when printing for ease of printing.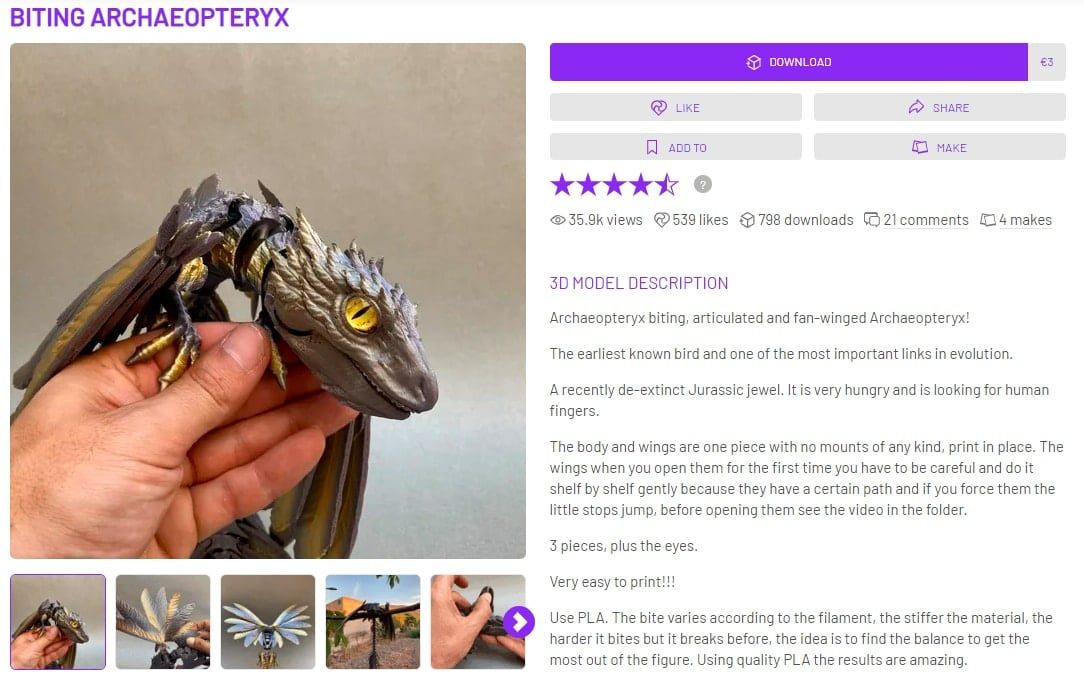 This is also another articulated model capable of moving along the several joints on its body, including its mouth. The Archaeopteryx can make various poses due to its flexible joints and can literally bite.
The Jurassic park-themed model is very easy to print. The body and collapsible fan-like wings are one piece and can be printed together in place.
The designer recommends using a 0.4mm nozzle to print, a layer height of 0.2mm, infill density at 30% or more, printed without any supports. Also, he recommended setting the Z hop to 0.4mm on some prints, although the default is 0.2mm on Cura.
For people struggling with various 3D printing issues, you might want have wanted more guidance towards getting ideal 3D printing results. I created a full course that's available to purchase called Filament Printing 101: Beginner's Guide to Filament Printing that takes you through some of the best 3D printing practices early on, so you can avoid those beginner mistakes.