When Should I Use Supports on 3D Prints? 6 Reasons
Supports play an important role in temporarily stabilizing prints, which reduces sagging or collapsing when you're printing. Sometimes, it can be a bit challenging to determine when to use them. I wrote this article to explain the scenarios when you should use supports.
You should use supports when printing objects with complicated designs, floating segments not connected to another part of the print, overhangs, and bridges. Supports are also necessary where a section of the print has a small contact area on the build plate.
I will provide more details in the article, so keep reading!

When Should I Use Supports on 3D Prints?
Here are the main scenarios where you might need to use supports on 3D prints:
Where the model has an overhang or bridge
When printing a model with complicated designs
If the print has floating segments
If a section of the print has a small contact area on the build plate
In suspended parts that arch or curve
When the designer of the model recommends it
1. Where the Model has an Overhang or Bridge
When your design includes overhanging features that can sag or collapse during printing, then it might be necessary to use supports. Overhangs are angled sections that extend past the previous layer.
However, not all overhangs require supports. The rule of thumb is that if the overhang tilts at an angle greater than 45°, you'll need supports to prevent the print from failing. Anything less than that can be supported by the previous layer being printed.
For example, you will not need supports when printing a model of the letter Y since the overhang angle does not exceed 45°.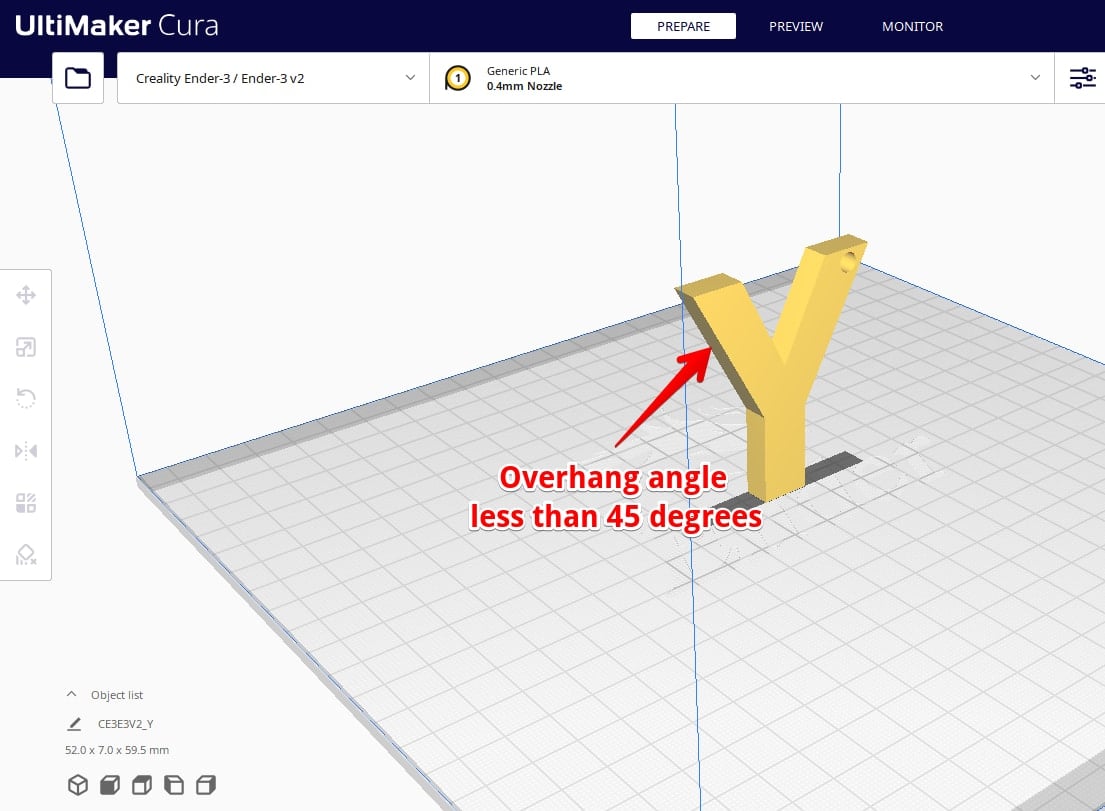 However, you will need supports when printing a model of the letter T because the overhang angle exceeds 45°.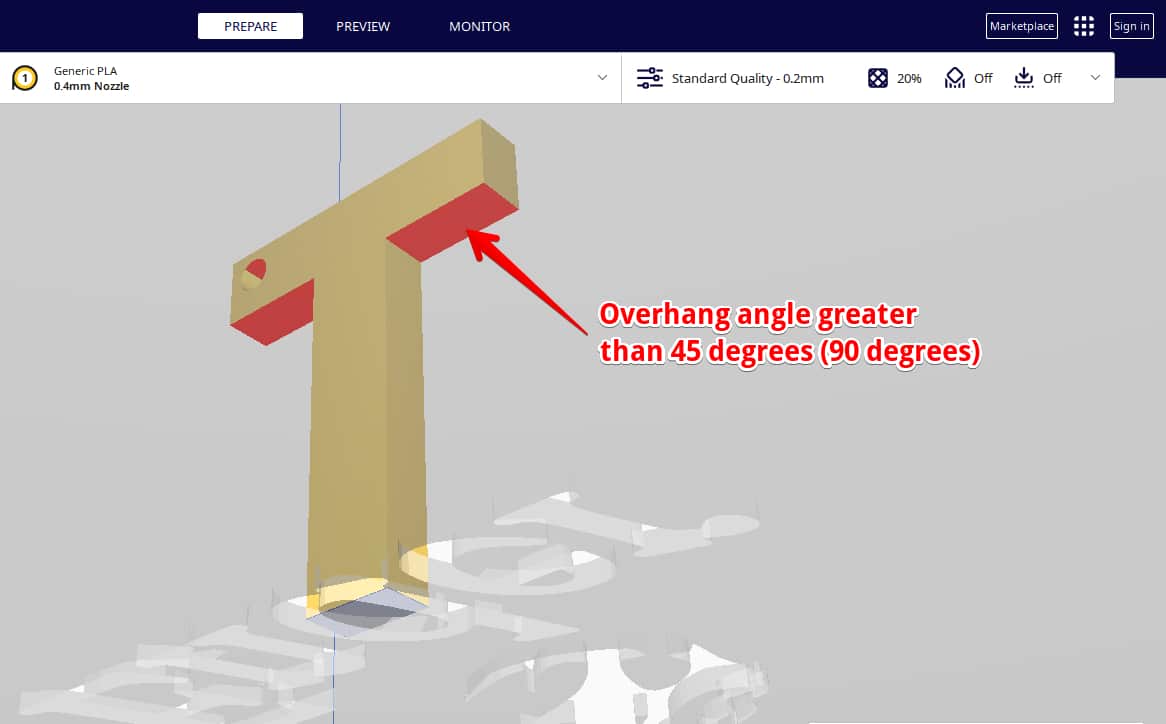 Similarly, you will need to use supports when your model has bridges. Bridges are horizontal sections that span between two supporting points without anything beneath. Printing bridges without proper support can cause sagging, warping, or collapse to some parts of the print.
Generally, bridges less than 10mm long can be printed without supports. However, I would advise you to use them if printing anything greater than that.
Below is a good example of a model with bridge sections that will need supports.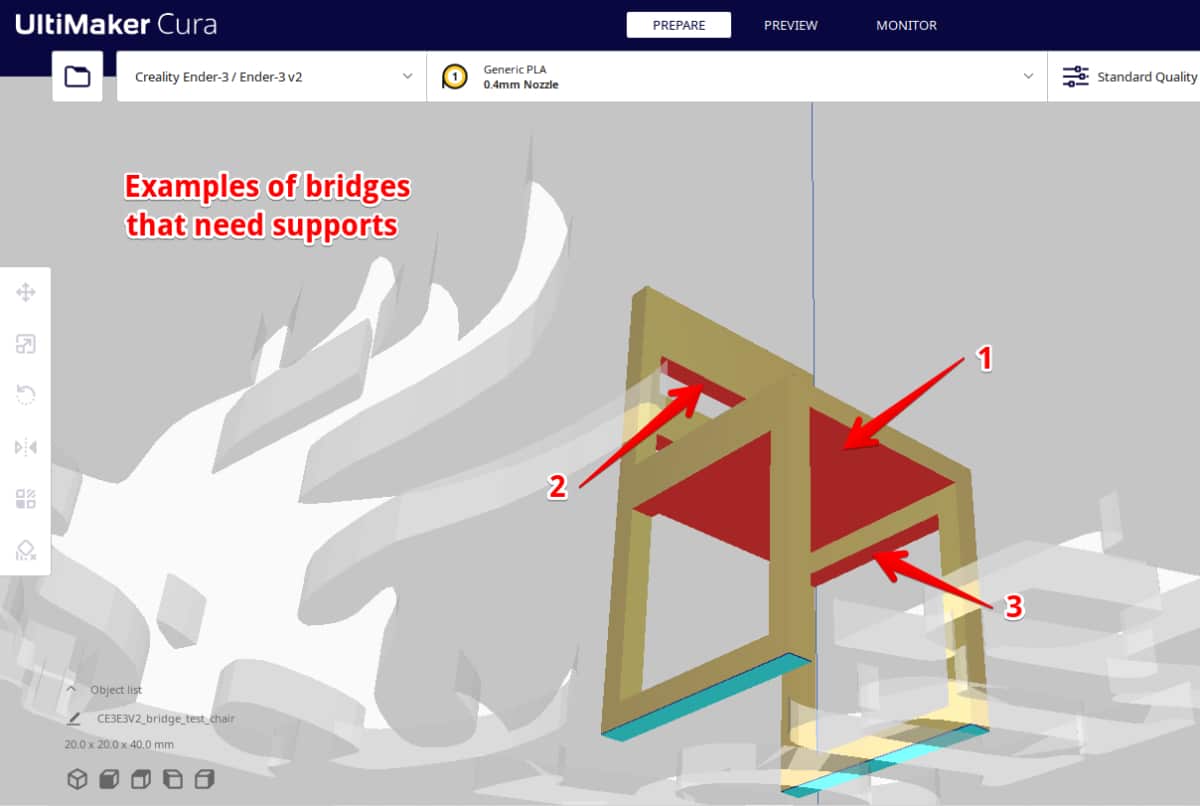 One user said that overhangs are primarily needed wherever there are overhangs above a certain degree.
This is because when your walls become vertical, there is less and less overlap between where the new layer will be placed on the old layer, and the new layer will start to droop and fail.
Another user said you could use your slicer's support overhang angle setting to determine where supports are necessary.
He added that overhangs greater than 45° need support since some printers couldn't print them. However, some printers could print as high as 70° with the right conditions such as good cooling and a good printing temperature.
Check out the video below that illustrates how to use the support overhang angle setting and print an overhang test to see the optimal number for your printer.
2. When Printing a Model with a Complicated Design
Another time you might need to use supports is when printing models with complex designs. Such objects pose a great challenge to beginners and experts.
They might consist of complicated geometries and intricate details that are fragile and prone to collapsing during printing. Using supports will provide the necessary reinforcement to add stability and minimize the risk of print failure.
Ultimately, this will help ensure that your printed object comes out exactly as it was designed. Here is a model of a lion with an intricate design which might necessitate supports.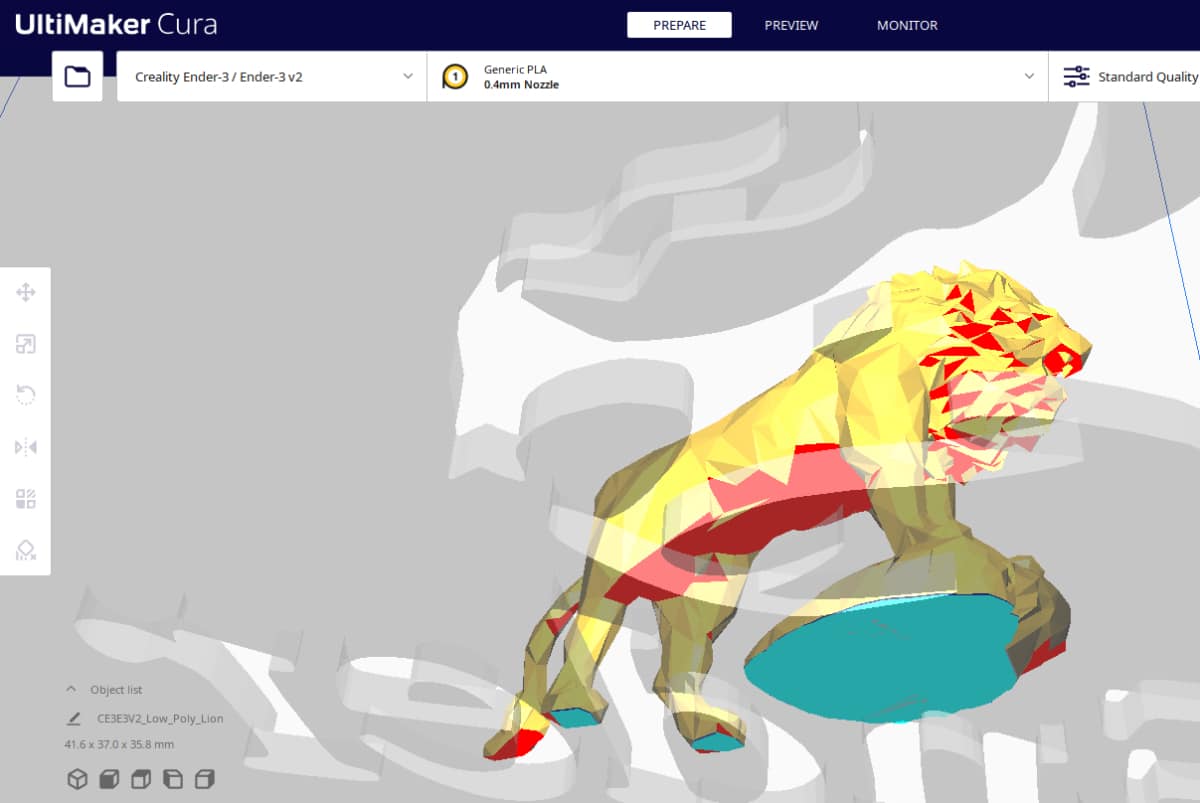 One user wanted to know when he could use support when using the PrusaSlicer to print his first model. Someone recommended using support if the print was complicated. He added that you should use support enforcers when using PrusaSlicer specifically.
Here is a quick video by Simon Ellis explaining how to add a support enforcer in PrusaSlicer.
3. Limited Contact Area with the Build Plate
Supports come in handy when the contact area between the print and the build plate is minimal. When a section of the print has limited contact with the build plate, it can fail to adhere properly, which can cause it to get detached or it leads to warping.
By adding supports, you create a stable foundation for your print, thus reducing the chances of it detaching from the build plate.
One user explained that adding support on the build plate or support enforcers when you have a very small contact area can help the printed part to stay attached to the build plate.
4. If there are Floating Segments in your Print
When your design includes floating segments, then you need to use supports. Floating segments are those sections of the model that are not connected to another part of the print, which means they are totally unsupported.
These parts require supports as temporary scaffolds to hold them in place until they solidify and gain stability. Otherwise, your printer will print in mid-air and ooze filament strings onto your build plate, likely ruining your print.
A user said you would need supports where your prints have floating segments not connected to another part of the print. He added that after you turn on the support setting in your slicer, supports will automatically be generated, after which you can break them off and remove them.
Another user wanted to determine if his prints needed support when for FDM printing. Someone advised them to visually scan the model from bottom to top using their slicer and see if there were any floating islands.
He added that most slicers show red to indicate where supports are needed.
Cura displays areas that need support in red, for example, for this Charmander model.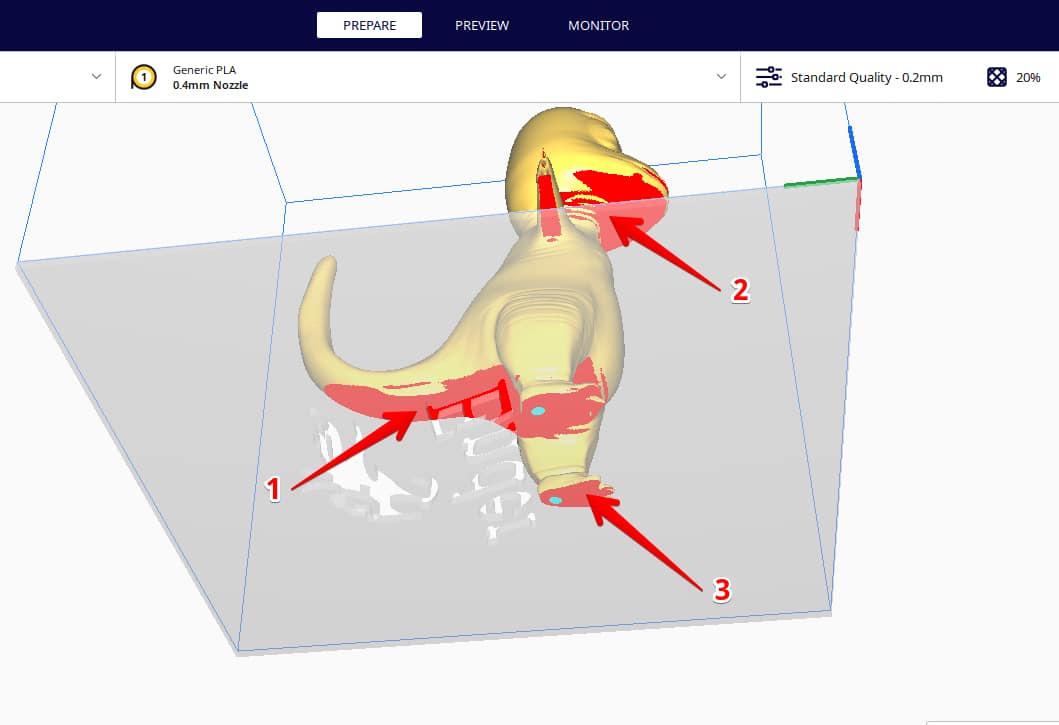 Below is an example of a floating segment on a Charmander model that will need support after slicing and previewing.
You can check out this video to learn how to scan your model in Cura to find floating segments that need support.
5. In Suspended Parts that Arch or Curve
Suspended parts of the print that arch or curve rely on supports to remain stable and retain their structural form. Supports provide a foundation where the molten filament can be extruded and solidified in the desired shape.
Without proper support, these parts can collapse under their own weight or that of the newly printed layers. Additionally, gravity can cause the material to droop or sag, ruining 3D prints.
A user noted that any arch-like shape where both sides don't reach the ground requires some support. For example, when printing the spout end of a faucet, you'll need to support it since the printer will try to start it at the bottom and print it into space.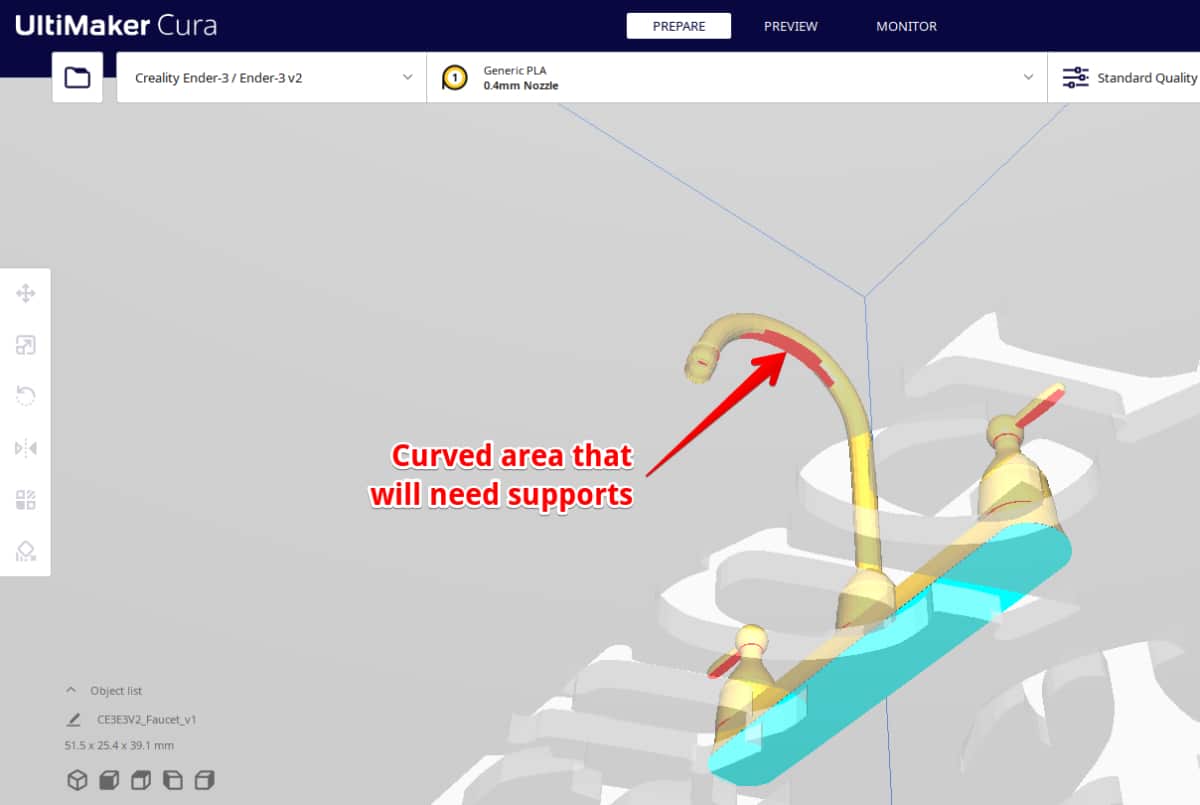 6. When the Designer of the Model Recommends It
Designers normally know the capabilities and shortcomings of 3D printing technology. They understand how certain geometry and features can affect the printability of a model.
Based on this knowledge, they may recommend supports for certain parts in order for the print to achieve the intended shape and functionality.
If you're downloading models from Thingiverse, you may find this information by choosing the model you like and clicking "Thing Details".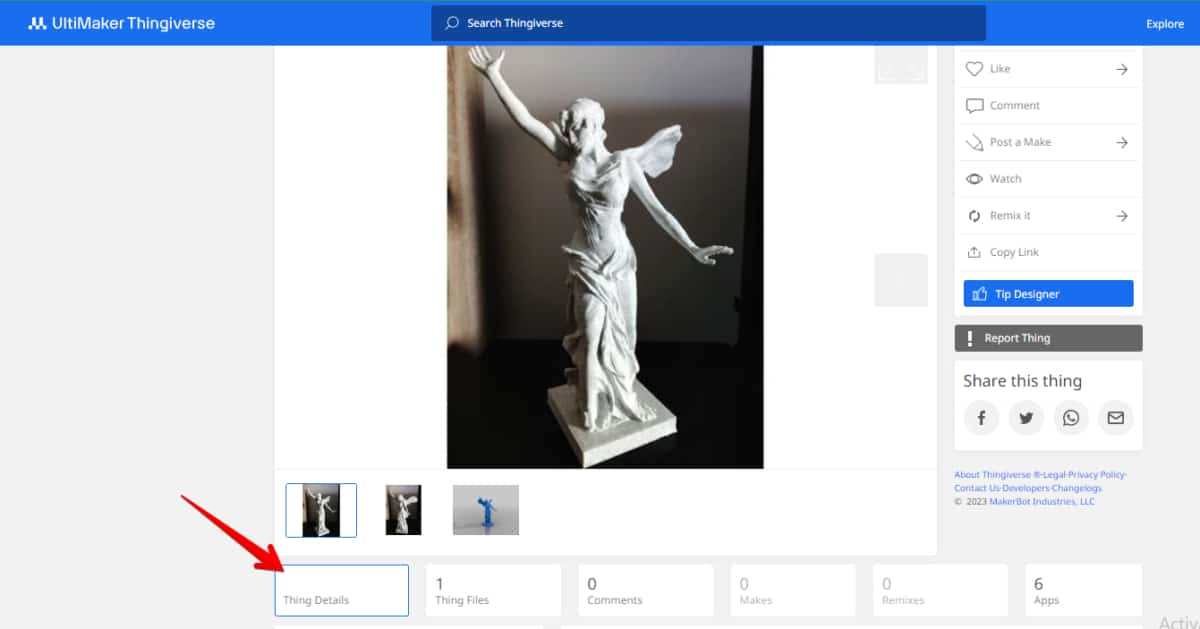 After that, go to the "Summary" section where you may find recommendations for using supports if they are necessary.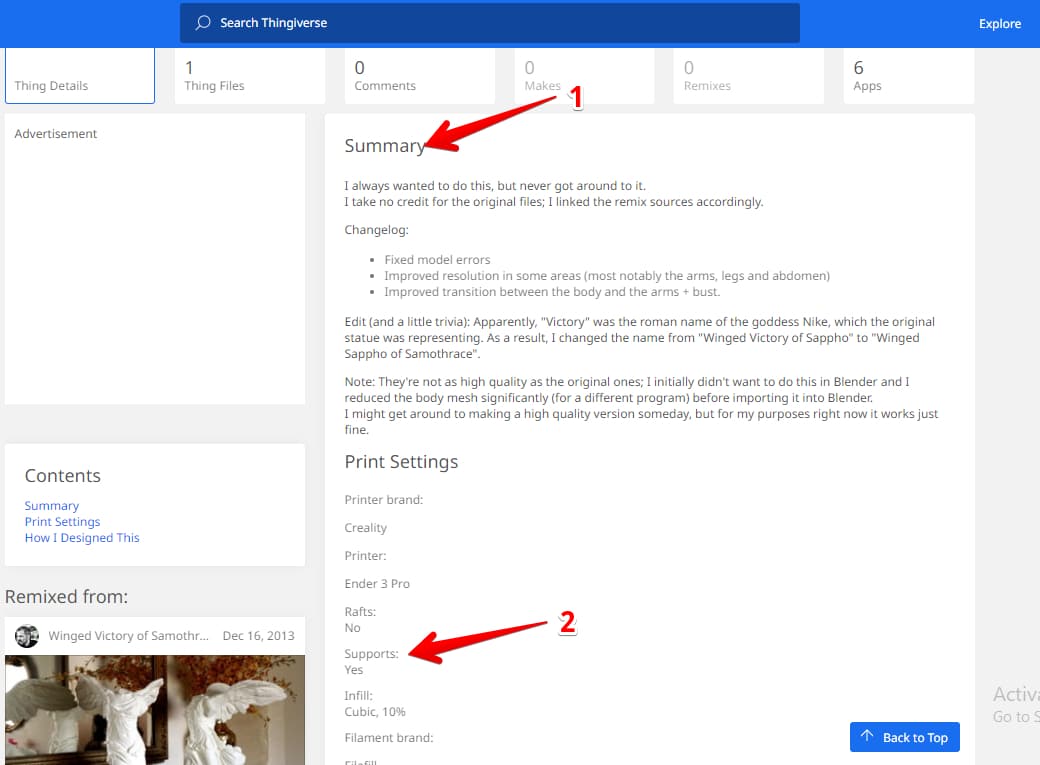 How to Enable Support in Cura
To enable support in Cura, you first need to install the latest version from Ultimaker Cura's original website. After that, you can follow these steps:
Launch Cura and import your model
Go to "Print Settings" and locate the "Support" setting
Check the "Generate Support" box
Adjust the support settings (Optional)
1. Launch Cura and Import Your Model
Open the Cura software on your computer and import the 3D model you want to print by pressing Ctrl + O or going to the toolbar and clicking File > Open File.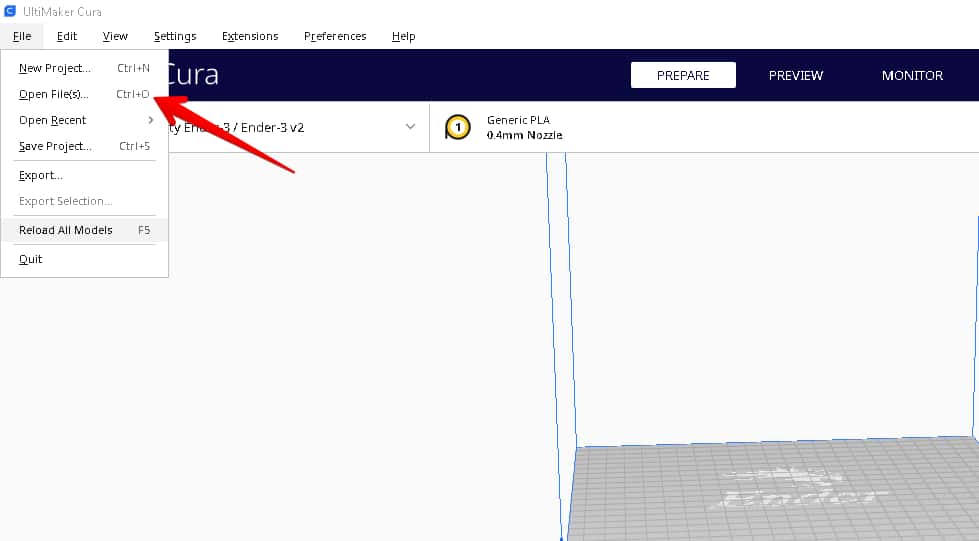 Select the File from where you saved it on your computer and click open to import it into Cura.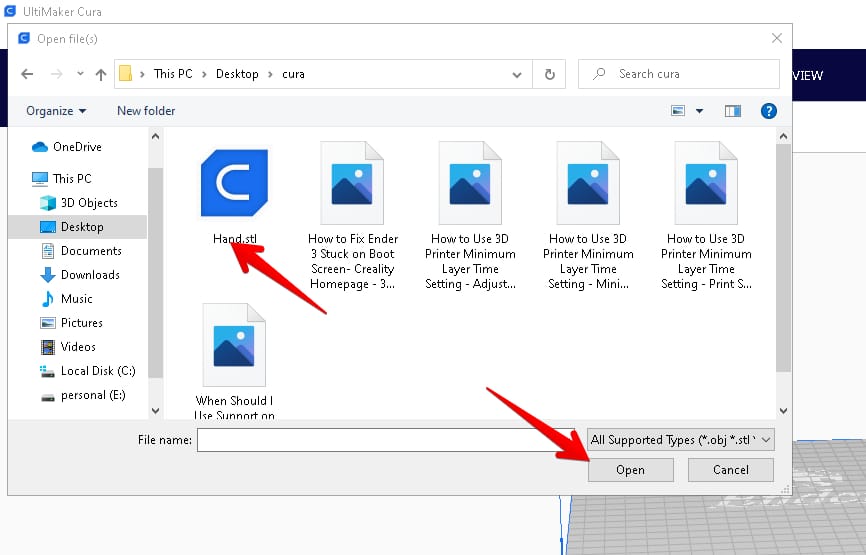 2. Go to the "Print Settings" Panel and Locate the "Support" Setting
On the left side of the screen, click on the downward-facing icon to open the print settings panel. Scroll down and find the category labeled "Support."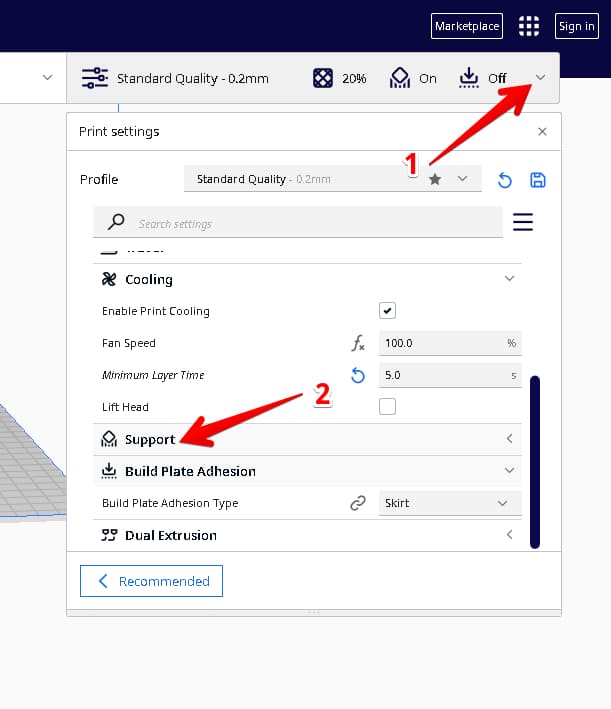 3. Check the "Generate Support" Box
Now, check the "Generate Support" box for Cura to generate support for your model.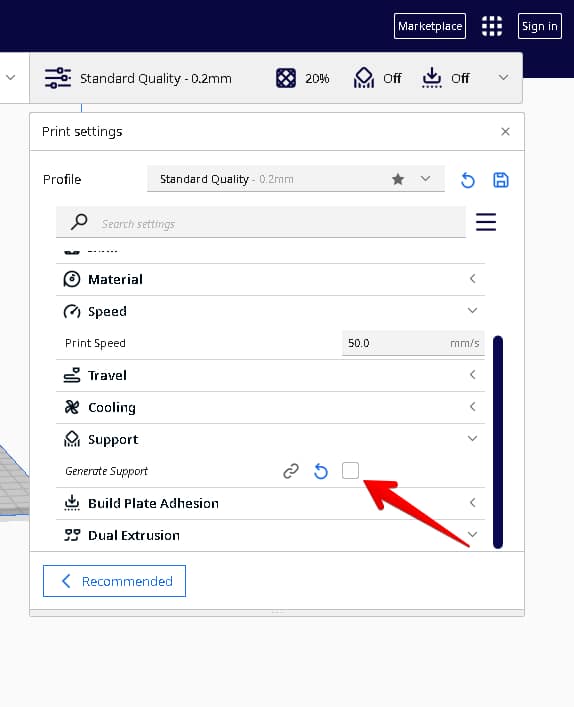 4. Adjust the Support Settings (Optional)
You can fine-tune the support settings by adjusting parameters such as Support Overhang Angle and Support Placement if needed.
This is how you can enable automatic support in Cura. However, if you want to know how to add custom supports, you can check out this article I wrote: How to Add Custom Supports in Cura.