What Are the Ender 3 Supported File Types?
The Ender 3 is one of the most popular 3D printers out there and it is used by many hobbyists and professionals. Many users wonder what the Ender 3 supported file types are.
The only file type that the Ender 3 can 3D print are G-Code files. These files convert settings and movements that come from a 3D model design into a set of instructions that your 3D printer can understand. You can create G-Code files through a slicer software like Cura or PrusaSlicer.
Keep reading for more information about the Ender 3 supported files.
What Are the Ender 3 Supported File Types
G-code files are the only file type supported by the Ender 3 for 3D printing. They are a special file format that's used to control the movements of a 3D printer, along with instructions like temperature of the nozzle, bed, cooling, how much material to extrude and much more.
You wouldn't be able to 3D print file types like an STL file directly since the 3D printer cannot understand it. What you need to do is take an STL file that you download from Thingiverse for example, then put it through a slicer software.
Here is an example of what a G-Code file looks like.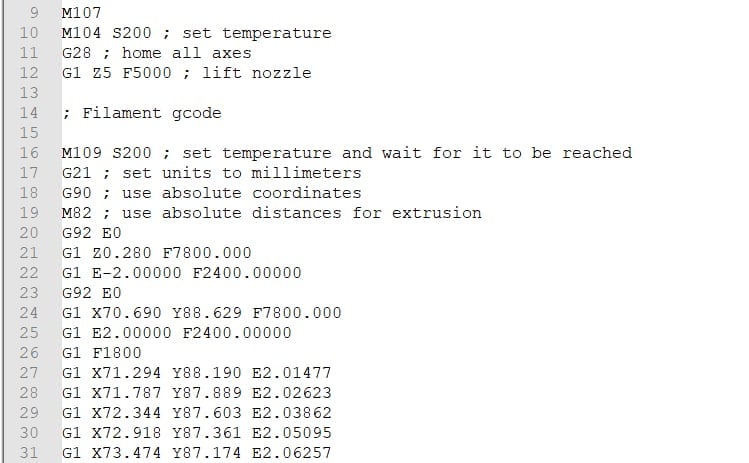 Each line consists of instructions that your 3D printer will follow in order.
If you understand G-Code files, you can start to customize certain settings like when your 3D printer should cool down, or whether to remove a set of instructions so that your 3D printer starts in mid-air to finish off a failed print for example.
The slicer software that you use does most of the work with changing the G-Code though, since there can be thousands of lines of G-Code. Slicers also have a section where you can add G-Code at the start or end of the print.
Some cool things you can do in a slicer like Cura is even add custom scripts which will add G-Code to do certain things like automatically adjust temperature at a certain layer height, or even pause the print so you can change filament over.
It's possible to download G-Code files directly rather than using a slicer, but do keep in mind that G-Code files are tailored to one specific 3D printer. Even if you have the same 3D printer, it could have instructions that can cause issues from movements or heating.
I'd usually recommend that you slice your own files and not directly download G-Code unless it is a trusted source that people have verified.
One user explains that G-codes are tailored to one specific printer and they also include all the other slicer settings that you may want to change such as the placement of the model on the bed, the size of the model, the orientation, or even infill density.
I wrote an article called Best Free 3D Printer G-Code Files – Where to Find Them, which can help you find some cool G-codes to print on your Ender 3.
Check out the video below for detailed information about G-codes.