This Year's Best Deals: Anycubic's Black Friday Blitz! (Ad)
Get ready for the ultimate 3D printing event of the year! Anycubic proudly presents the Black Friday Blitz, a spectacular showcase of the best deals on a wide range of printers, including cutting-edge FDM and resin models.
But that's not all – top-notch consumables like PLA and precision resin are also part of this incredible event, all with unbelievable discounts!
Don't miss this chance for enthusiasts and professionals to snag the perfect 3D printer at prices that represent the peak of affordability and quality for the entire year.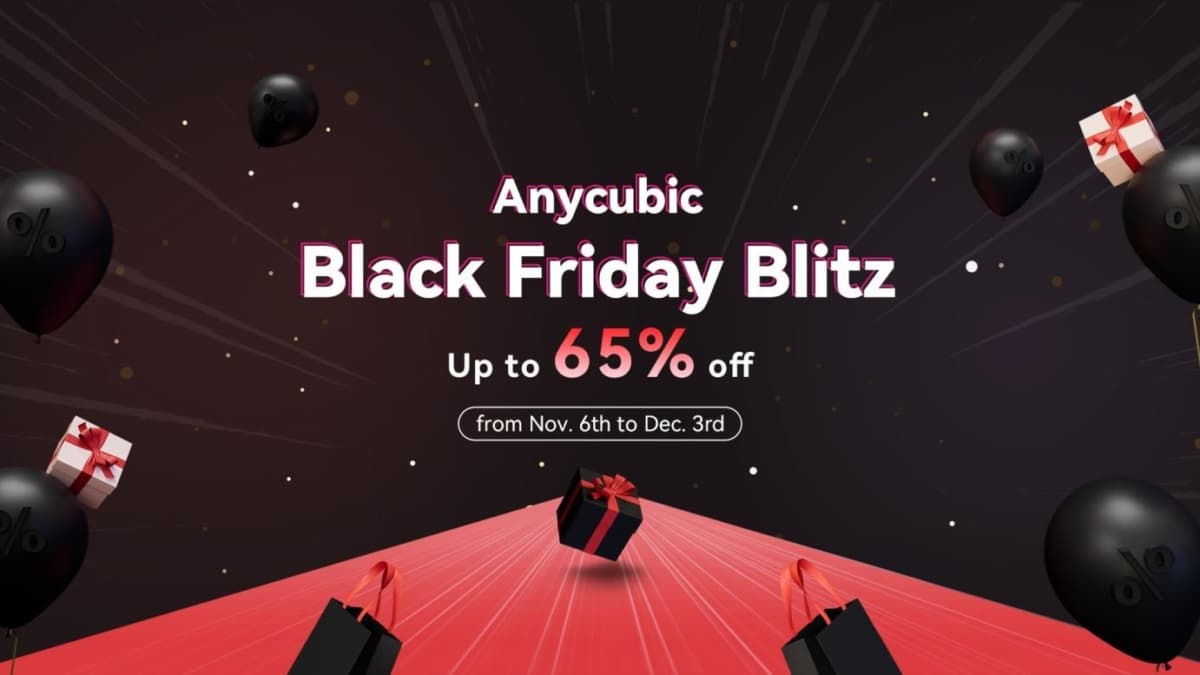 Beginner's Best Pick: Kobra 2 Neo
Allow us to introduce the Kobra 2 Neo, a veritable jewel for those embarking on their 3D printing odyssey. This user-friendly marvel guarantees swift installation, and boasts auto-leveling capabilities that ensure a smooth start for even the most novice of enthusiasts.
Key Features:
5X High-Speed Performance: Revel in the astonishing maximum print speed of 250mm/s, coupled with a recommended print speed of 150mm/s. This ensures a perfect blend of precision and performance, empowering you to breathe life into your ideas with unparalleled speed and accuracy.
New Integrated Extruder: A spectacle of engineering prowess, this upgraded extrusion system and cooling mechanism work in concert to seamlessly melt filaments through the 60W hot end. Supported by a 7,000 rpm cooling fan, it guarantees rapid cooling and precise molding of your model.
LeviQ 2.0 Automatic Leveling: This unique module design exhibits remarkable intelligence. It compensates for Z-axis offset post-automatic leveling, effortlessly adapting to various user needs and scenarios. This feature makes it equally efficient and user-friendly, whether you're a beginner or a seasoned enthusiast.
For a more in-depth exploration, delve into Anycubic's extensive offerings on dedicated Amazon Store.
Professional's Top Choice: Photon Mono M5s
Engineered with professionals in mind, the Photon Mono M5s stands as a testament to precision and intricacy in 3D printing.
Key Features:
12K Exquisite Detail: The Photon Mono M5s boasts a revolutionary 12K resolution screen on its 10.1-inch display, ensuring an awe-inspiring 19-micron X accuracy. This results in printing details as precise as a strand of hair.
Leveling-Free Prowess: A leap forward in the pursuit of printing success. A mechanical sensor on the cantilever arm ensures a flawless fit between the printing platform and the floating leveling module, automatically adjusting based on detection results. Bid adieu to leveling woes and embrace an elevated printing success rate.
Smart, Simple, and Efficient: Equipped with features such as auto-device readiness, standby checks, resin detection for monitoring resin levels, and prints status detection for unwavering peace of mind.
Discover More Deals!
This is just the tip of the iceberg. Embark on a journey to unearth more treasures in Anycubic's extensive range. Explore Anycubic online store, and find them on Amazon, eBay, and Walmart. Don't let these exceptional Black Friday offers slip through your fingers!
About Anycubic
Since its inception in 2015, Anycubic has been resolute in its commitment to advance 3D printing technology, ensuring its accessibility and affordability to people from all walks of life. Witnessing people bring their wildest imaginings into tangible reality fills us with immense joy.
Since 2015, Anycubic has made its presence felt in over 200 countries and regions, becoming a beacon for those who dare to dream and create. Join us in this exciting journey!